"You knew there were going to be fans in the building, but I don't think any of us expected the impact they would make. They were incredibly loud and passionate and you hear the number of people that were going to be here and think 'that will be nice,' but they had an impact tonight and we can't thank our fans enough, we appreciate the support they give us and we certainly look forward to the day where we can have this place full like it normally is." – David Quinn, on 2/26/21, moments after the Rangers 6-2 thrashing of the Boston Bruins.
"It was great. During the anthem, it sounded like 20,000 [fans] not 2,000 [fans]. It was awesome to have them here. They gave us a spark." – Adam Fox, also on 2/26/21, an Adam Fox who once again led all Rangers in minutes/TOI during this game, playing 21:41 overall. Fox also had another multi-point game with two assists. In turn, Fox was named the second star of tonight's Rangers victory.

"FIRE DQ!" – many Ranger fans all season long. If you're part of the "FIRE DQ" crew, it would be nice if you could give him the same amount of credit after wins, as the blame you dole out to him after losses. Since that Devils debacle from last week, the Rangers are 3-1 since, with all three wins against Stanley Cup contenders. (Flyers/Capitals/Bruins.)
"I will do cartwheels if the Rangers find a way to beat the Bruins on Friday night." – Yours truly, on 2/24/21, during my Rangers/Flyers game recap. Needless to say, my neighbor living in the condo below me has given her ceiling the broom treatment. In addition, my form on this cartwheel was as poor as Zibanejad trying to score a goal this season!
"Johnny Hartford. Johnny "Dances with Hartford Wolves" Brodzinksi. Johnny Not Ready." – Once again, yours truly, during my 2/24/21 Rangers/Flyers recap. As friend/reader of the blog Steve S. said to me after the game, I now have to make an adjustment and start referring to Johnny Brodzinski as "JOHNNY BROADWAY!" (I'll allow it, at least for one night!)
---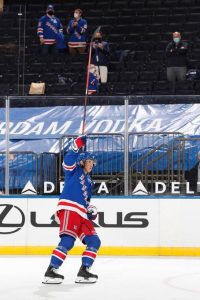 Greetings and salutations everyone and welcome to another blog here on BlueCollarBlueShirts.com. WOW. I mean really, what else is there to say? I guess I'll start off by saying this – we are going super long tonight. We're going to smash that 10,000 word barrier with this Rangers victory!
Even if you're the most positive and most optimistic fan, out of everyone that makes up the entire New York Rangers fan base; there's just no way you saw this coming, right? While I have adopted a "glass half-full" mentality this season, not only did I think that the Bruins would win this game, but I thought this game could've got out of hand for the Rangers and quick at that. Instead, despite the Rangers missing Artemi Panarin, Kaapo Kakko, Filip Chytil, Jacob Trouba and the 2019-2020 version of Mika Zibanejad, the Rangers not only beat the Boston Bruins on Friday night – they kicked their Father Finkin' ass! Suck it Marchand, ya rat bastard! (That said, Marchand remains my favorite player to hate, but wish he was on my team player.)
The adrenaline throughout Rangerstown, USA is cascading like water at Niagra Falls. Without question, this win over Boston was the biggest Rangers win of the year. This was bigger than the 5-0 win over the Islanders. This was bigger than the 4-1 win over the Capitals from last Saturday. After all, in those two wins, the Rangers had their best player on the ice, in Artemi Panarin.
There were a bunch of negative streaks snapped tonight, meaning the Rangers produced positivity all around. By downing Boston here, the Rangers snapped a six game losing streak to the Bruins, a streak which had spanned over two years. In addition, the Rangers won their first game without Panarin in the "Panarin Era". Prior to this game, the Rangers were 0-4 without Panarin.
But wait, there's more!
For the fourth straight game in a row, the Rangers power-play came up with a PPG. Even better, this power-play goal wound up being the game winning goal too. That says something, as it hasn't been often this season where a Rangers PPG is the game winning goal. Chris Kreider also continued his scoring streak, as he picked up another goal in this game. Once again, for the fourth straight game in a row, Kreider wiped his ass with that "Casper Kreider" ghost sheet. The Rangers penalty kill, which has been fantastic all season, despite a brief hiccup last game with a decimated roster; once again were flawless, stopping the Bruins on all three Bruins power-plays.
When you look up-and-down this line-up tonight, there's something good to say about everyone, except for the lost cause in the #93 jersey. Even then, Zibanejad remains a key part of the Rangers penalty kill.
Ryan Lindgren played a team-high 29 shifts, where he continued to wreak havoc on Boston's offense and where he also collected four hits. More impressively, Lindgren, a true stay-at-home defenseman, picked up two assists tonight!
Outside of Brendan Lemieux and Brett Howden, every bottom six forward picked up a point tonight. However, that's not a knock against either player, as both players played well. Lemieux even drew another penalty in this game, as he leads the team in penalties drawn.
All of the fat cats picked up at least a point too tonight, where of course, Mika Zibanejad was the lone exception.
Goaltender Alexandar Georgiev had a great game in net tonight, recording 31 saves in the team's victory. While I'd have no problem if CZAR IGOR goes on Sunday, Georgiev was good enough tonight to earn a start in the rematch between these two teams.
When you look at the defensemen outside of the incredible duo of Fox and Lindgren; Miller returned to the line-up tonight, where he was a major defensive presence, especially on the PK. Brendan Smith, who is emerging as a voice of the team, had another solid game himself, where he even got an assist added to his ledger.
The mercurial Jack Johnson, WITHOUT QUESTION, had not only the best game of his Rangers career, but he had a game that made Jacques Martin look like a genius. No joke, I don't know what game I'd consider to be Jack Johnson's best game as a Ranger before this one. Maybe one where he was scratched? All joking aside, I guess Johnson's best game as a Ranger was the Philly game on 2/24. Whatever the case, this was easily Johnson's best game as a Ranger, with whatever his second best game was, being light-years behind this one.
Oh, and that Alexis Lafreniere kid? He had another solid showing tonight, picking up the first NHL assist of his young career. He also came a millimeter away from scoring another goal too. You're starting to see it all come together a bit for him. I was also told by several fans who were at the game, including people like Shawn S., Joe F. and Robbie L., that Lafreniere really stood out away from the puck, which is stuff you don't always see on television.
And let's not forget David Quinn either, who once again, pushed the right buttons and whose line-up decisions paid off – line up decisions that many questioned going into the game. (I can admit I did, as I thought Bitetto should've played over Johnson, as I'll soon get into.)
---
There's a lot of stuff to get into tonight. However, before doing so, as usual – the PLUGS segment. Of note, check out last night's blog if you missed it, as I recapped everything regarding Filip Chytil in that piece. Anyway, here are my most recent blogs in case you missed them:
(And how could you miss them, as I plug these tomes like a cheap whore every day!)
---
---
---
---
As you know, this was the first Rangers game played in front of fans this season. While MSG was only able to open up at a 10% capacity, 1800 fans is better than zero fans. (Of note, the Rangers announced a "sell-out" crowd of 1800 fans, meaning that the club sold every ticket that was available. The secondary market is something different.)
During the last few blogs on this site, I told you how I was interested to see how this all played out. I also told you how I was going to monitor the secondary market. Based on all of the information I received going into this game, all of the predictions I gave out wound up coming to be. And while I'm not here to give myself a pat on the back, I am here to smile about the scalpers taking a beating, a beating that was as bad as the beating the Rangers laid on the Bruins on Friday night!
At 4PM, tickets that were going for over $450 just a few days ago, had plummeted down to $83: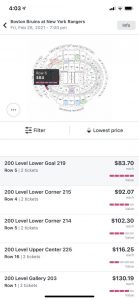 Of note, there were 162 tickets remaining on Stubhub at this time. In other words, nearly 10% of all tickets available for this game.
As we got to 6:00PM, which was two hours later, 54 tickets were either sold or pulled off the market. More importantly, the tickets dropped to $20 a seat! Take a look:
A half hour later, at 6:30PM, you could get into M$G for less than $10: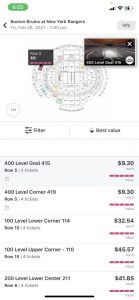 I talked to many people who attended tonight's game. I was told that 90% of the arena, the seats that weren't for sale, were zip-tied down. However, I'll let you in on a little trick that I talked about several seasons ago.
If you plan on attending a game, monitor Stubhub and Ticketmaster, the two largest secondary market re-sellers. Once you find tickets that are cheap enough for your budget, grab those. Then, while inside of M$G, continue to monitor Stubhub and Ticketmaster. See what tickets/seats that are still available. By 7PM, (the usual start time for a game) all tickets are pulled off of these reselling outlets. While there is a chance some seller just uses those tickets, 99/100 times, those seats will be empty for the entire game.
Let me make this even easier for you. And I can tell you from first-hand experience, that I've done this many times in my life and it has always worked. (Both at M$G and on the road.) You just need to know when to pick your spots. For example, this will rarely work against the Islanders or on a Saturday night; games which usually are a sold out house and with a late arriving crowd.
That said, if you're looking to "beat the system", let me break this all down:
— Wait until 6:30PM to buy your tickets. Tonight, you could've got in for $9, by purchasing seats at the top of the house, in the 400's section.
— Once inside, take a look at Stubhub and Ticketmaster. Take a look at the seats that haven't sold. Pay close attention to seats that are going for ungodly prices, prices that no one in their right mind would entertain, such as $350 seats in the lower bowl. (100's section.)
— At 6:59PM, keep refreshing these two apps and see what seats are available. From your seat in the arena, spy where those seats are. (You could also screen shot these apps here, since the apps will stop showing all available tickets at 7PM.)
— With usually a 7:10PM puck drop, wait until 7:05PM or so to see if anyone shows up.
— At 7:06, make your descent downstairs. By the time the National Anthem plays, everyone is standing and the corridor leading into these lower sections are usually crowded by people standing, as they wait for the National Anthem to finish.
— Once the anthem finishes, the ushers always let a mob of people just go to their seats, without checking tickets/seat locations, as the game is about to start.
— Enjoy the game in great seats for huge savings on the dollar.
— Buy me a beer for giving you this information!
There's a reason why this site is entitled BLUECOLLAR BLUESHIRTS! After all, I could be a pig and hog all of this information and my findings to myself! I'm telling you, I've done this about 25 times or so and have never had an issue.
---
I talked to about two dozen or so fans tonight, both during and after the game. From all reports, and of course a win will always bring great vibes, especially a win like this one; there were no issues. Everyone had a great time. M$G did a great job of making sure everyone was safe, which really, I never thought would be an issue. My issue was always about these 72 hour COVID-19 tests; test results which become worthless the second you leave the doctor's office.
I was told by several fans that there was a place across the street from M$G tonight, where they were selling PCR tests for $250, where like Domino's, this place guaranteed a result in thirty minutes or less. In addition, I was also told, and as I predicted, that you could've forged a negative test result and no one would've been none the wiser.
At the gate, a M$G representative would look at the negative test, wouldn't look through it meticulously, and as long as that piece of paper/mobile result said negative; this MSG representative would then wave that fan right into the arena. While I wouldn't do this, (after all, my photoshop skills are terrible) for anyone who is half-way decent at photoshop, you could've easily forged your way through the door, bypassing the hassle and risk of going to a place where sick people congregate – just to produce a piece of paper to say that you didn't have COVID-19 72 hours ago.
No one is going to admit to forging negative results. I'm not advocating that you do so either. However, if that's the route you go down, you won't find much resistance; or at least that's what I'm being told by fans who attended this game. As long as you have a piece of paper that says negative, you'll be allowed to enter. I was told by one reader, who wished to remain anonymous, that they felt they could've wrote the word "negative" with crayon, on a piece of loose-leaf paper, and they would've been told "enjoy the game".
---
Prior to the game, the Rangers uploaded the following videos, encouraging fans to attend tonight's game, where Anthony Bitetto said he was jacked to see "Dancin' Larry" do his thing:
Anthony Bitetto: Living the dream. pic.twitter.com/3owQeMvMWK

— New York Rangers (@NYRangers) February 26, 2021
It's like Opening Night all over again. 😍

From all of us to you: We 𝒄𝒂𝒏𝒏𝒐𝒕 𝒘𝒂𝒊𝒕 to see you tonight. pic.twitter.com/ld9YwCrPPJ

— New York Rangers (@NYRangers) February 26, 2021
As hinted at during the past two blogs on this site, perhaps the most famous Rangers fan at M$G, in "Dancin' Larry", wasn't in attendance for this game. Similar to yours truly, Larry has a "wait-and-see" approach and wants things to settle down a bit before returning to M$G.
In response to Bitetto's comments, "Dancin' Larry" said the following on social media:
"THANKS FOR THE SHOUTOUT BITETTO!!!!!! I'LL BE BACK AS SOON AS THE WORLD GETS A LITTLE BETTER!!!!!"
Ironically, it would be Anthony Bitetto taking a seat inside of M$G tonight, and not on the bench. Despite this being the first game where his family could finally see him play inside of M$G, while as a Ranger; David Quinn made Bitetto a healthy scratch tonight, opting to use Jack Johnson instead. While I was disappointed to see this, Johnson, as noted earlier, had a tremendous game. That said, I could understand why the Bitetto family would be disappointed tonight, especially knowing that the parents of Fox and McAvoy got to see their respective sons play tonight.
As a fan of the Rangers, I can't be upset, especially with this game being the biggest win of the season. However, I could see why the Bitetto family would be irked.
Hopefully, Bitetto will be back in the line-up sooner than later and his family can see him take M$G ice for the first time in person, while playing for the home team.
---
Just a few more notes about the M$G experience tonight.
I was told by season ticket holder Shawn S., that when it comes to the jerseys that the fans were wearing tonight, the three most popular jerseys that fans had on their backs were Zibanejad, Lafreniere and Leetch jerseys. I was a little surprised about this, as I figured there would be more Panarin jerseys being worn. I talked to a few other fans after talking to Shawn and they pretty much confirmed what Shawn said, adding that there were a bunch of Lundqvist and Messier jerseys being worn too.
As noted on a prior blog, I mentioned for all of the "reverse retro" jersey promotion that the Rangers have been doing, they still don't have an Adam Fox reverse retro jersey for sale. I was told that Fox jerseys were being sold at M$G tonight. However, the Rangers did not have Colin Blackwell jerseys up for sale tonight. While that isn't really shocking, it should be noted that Blackwell has had a much better season than Zibanejad has had so far.
One common thing I got from Ranger fans tonight, especially fans from Long Island – they all missed their post-game slice at "ROSES PIZZA". That place really was the GOAT, when it came to Penn Station food.
---
In other Rangers related news, WFAN laid off the plagiarizer known as Sean Hacknett on Friday. While I think it is in poor taste to celebrate someone losing their job, the fact of the matter is that Hacknett, who had his press pass taken away from him three years ago, and as first reported on this site; has spent a lot of that time since having his press pass revoked, by making up lies and spreading Adam Hermanesque fan fiction material concerning Tony DeAngelo. (Holy run-on sentence Batman. It's late, this blog is long, and give me a break! After all, where else are you going to find this kind of content from someone who polishes off a bottle of whisky when writing these manifestos?)
Even recently, when Larry Brooks refuted a lot of the lies regarding Tony DeAngelo; Hacknett didn't issue a retraction, an apology or even report on what the Hall of Famer Larry Brooks said. Instead, Hacknett doubled-down with his nonsense on DeAngelo, which was all politically motivated. Funny how politics has been a major story this season, not only when it comes to the Rangers, but by the people who cover them.
In recent weeks, Hacknett has been advocating for the Rangers to fire David Quinn. In other words, Hacknett actively was asking for the Rangers and the NHL to banish Tony DeAngelo from hockey. Once the Rangers exiled DeAngelo, Hacknett then zoned in on David Quinn, asking the Rangers to fire him too. In perhaps in some poetic justice and/or cruel irony here, on Friday 2/26, WFAN told Sean Hacknett that his services were no longer needed.
Ever since having his press pass taken away, Hacknett was obsessed with trying to spread false information in regards to Tony DeAngelo. While it was exposed here years ago, how Hacknett plagiarized Rick Carpiniello articles repeatedly, Hacknett seemed to relish in his own destructive writing/tweeting about DeAngelo. Hacknett just couldn't keep his political biases out of whatever he was plagiarizing. It's one thing to be a dopey fan who hates DeAngelo over politics, it's another thing to be a member of "the press" and do the same.
As of this moment, WFAN needs someone to cover the Rangers. If you know how to copy and paste Rick Carpiniello articles, you'll be just as qualified to write for them as Hacknett was. And if you can come up with just one original thought, you'll be more than qualified than Hacknett ever was!
And to be clear, I don't enjoy seeing people lose their jobs. However, this firing was long overdue. Hacknett brought nothing to the table and a lot of what he wrote was mean-spirited. Say hi to DQ on the way out Hacknett!
---
When it comes to the line-up for this game, everything I talked about last night is what we saw tonight, with one exception – K'Andre Miller was back and Bitetto wound up being scratched.
In a Filip Chytil update, he's not ready yet, but he could be ready to go on Sunday. That said, after this win, and knowing DQ's history to use the same line-up after big wins, maybe DQ doesn't rush Chytil back now.
As far as Kaapo Kakko goes, on the broadcast, Rosen said that Kakko is quarantining despite not displaying any COVID-19 symptoms. His status is still day-to-day.
Lastly, there is no update on Artemi Panarin.
We're almost up to the game review/recap portion of the blog. Two more segments left! GAMBLING segment time!
Here's what I said before the game:
Season over-under record: 7-9-1.

I want to be bold and say a Georgiev shutout tonight, but Boston owns #nyr lately & they will be pissed off.

-5.5 is tricky for this game. I'm gonna ride the new trend and take the OVER. pic.twitter.com/0HlEgQKOEz

— BlueCollarBlueShirts (@NYCTheMiC) February 26, 2021
With eight total goals tonight, this game easily went OVER. My record now creeps closer to .500, at 8-9-1. And while Georgiev didn't get a shut-out tonight, he did play extremely well. In addition, and for what it's worth, Boston did play pissed off, but the Rangers matched Boston's anger and wouldn't back down from anything.
BOX SCORE time!
The following graphics and information come courtesy of ESPN.com:
SCORING:
PENALTIES:
GOALTENDERS:
| | | | | | | | | | | |
| --- | --- | --- | --- | --- | --- | --- | --- | --- | --- | --- |
| SA | GA | SV | SV% | ESSV | PPSV | SHSV | SOSA | SOS | TOI | PIM |
| 33 | 2 | 31 | .939 | 25 | 1 | 5 | 0 | 0 | 60:00 | 0 |
| | | | | | | | | | | |
| --- | --- | --- | --- | --- | --- | --- | --- | --- | --- | --- |
| SA | GA | SV | SV% | ESSV | PPSV | SHSV | SOSA | SOS | TOI | PIM |
| 34 | 6 | 28 | .824 | 23 | 2 | 3 | 0 | 0 | 60:00 | 0 |
TEAM STATS: (Notice how the Rangers won every key and pertinent team stat tonight.)
---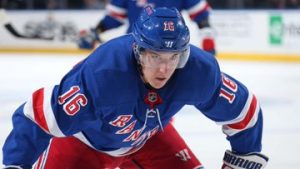 Usually at this point of the blog, I'd do my moaning and groaning spiel about how bad Steve Valiquette was. However, the second I saw his image appear on my TV, I just muted him. I couldn't take it. Once 6:30PM hit, I was really monitoring the secondary market and talking to fans who were in the arena. I just couldn't be bothered by Valliturd tonight. Having to see him during the intermission and post-game shows was painful enough.
I'll say this, during the post-game show, Valiquette started naming every non-white player he could think of, for helping him with his legendary Hall of Fame 46 NHL game career. This was done in promotion of some documentary that the M$G Networks were airing, a documentary which will be forgotten about the second March 1st rolls around. (I'll probably eventually get to this documentary tomorrow, as I always do these blogs after the game and then catch up on everything else later.)
(And really, that's what always bothers me about the non-stop Willie O'Ree stuff in February and something in which O'Ree has even referenced himself during an interview on the MSG Networks. How come the NHL, and everyone else, doesn't talk about O'Ree from March-January? Once February hits, like people wearing green and being Irish on St. Patrick's Day, everyone is all about Willie O'Ree. Then, once February is over, they put Willie O'Ree back into the closet, only to bring him out and dust him off the next time February rolls around. It's kind of hypocritical. If you want to promote diversity in the game, it should be a year-round thing, not a one month thing. Long story short – it's okay to talk about Willie O'Ree in November and/or April too. A lot of the time, the Willie O'Ree stuff feels like a story only worth talking about in February. That should change.)
Anyway, I bring this up, because if I were one of the black men that Vally was crediting for helping him with his career, I'd be running the other way. I wouldn't want to be associated with Vally at all! Heck, I don't think any white man wants to be associated with Vally either, except for the people who swim in spreadsheets and worship charts.
Enough about Vagistat for one night! We got great things to talk about!
---
Prior to puck drop, we had a horny camera man who showed the same blonde haired woman four different times and in a span of two minutes. I hope that camera man was seated. This camera man seemed like a hot dog at MSG – a foot long.
After not giving us any line-up information at all, the M$G Networks aired the National Anthem. Since this is February, MSG went the PC route here with their choice of singers.
And let me be clear here and explain myself before you start throwing the -ism's around – if this performance was live, I wouldn't have cared. However, since this performance was prerecorded, I thought if NYR/MSG were going to use a prerecorded National Anthem, they should've used John Amirante's version from June 14th, 1994. No one, and I MEAN NO ONE, will ever be able to match that energy and performance. It is my opinion that NYR/MSG should've used this Amirante version of the anthem, as a way to get fans jacked during their return to MSG. Instead, like everything else, NYR/MSG decided to look for woke pats on the back.
(And to be more crystal clear, this anthem wasn't bad or anything. It just wasn't Amirante.)
That said, prerecorded anthem, live anthem, white singers, black singers, young singers, old singers, Democrat singers, Republican singers – at the end of the day, it didn't matter. The Rangers were pumped enough, just with the fact of having fans in the crowd and it wouldn't take long for the Rangers to display their enjoyment and energy in this game.
---
Six seconds into this game, Brad Marchand and Adam Fox got into it. Take a look for yourself:
Adam Fox and Brad Marchand getting into it early. Don't know why Marchand dropped his gloves. #NYR pic.twitter.com/01zL1XKM0A

— Rob Taub (@RTaub_) February 27, 2021
While yes, Fox headlocked Marchand after a hit, it was Marchand who threw his gloves down and started fighting with Fox. This happened right in front of an official, but no call. I mean really, what the Father Fink is going on here? You have a ref watching Marchand not only drop his gloves, but throw hands. No call? This horrible display of officiating was ridiculous. I feel like friend of the blog Howie S. here.
And I'll say this, if you're not going to call this, so be it. However, later on in this game, Lemieux would do something less offensive, yet he'd get a two minute minor. There was just no consistency from these officials tonight. Had the Rangers lost this game, there would be a ton of bitching about the officials from everyone throughout Rangerstown, USA right now.
---
A story-line that existed throughout the game, and as you'd expect; was the fact that the fans were back in the arena. Sam Rosen was as giddy about this as a school girl. However, I'm in agreement – the fans made this game much more enjoyable. You heard every chant. And do you know why? THERE WERE NO SUITS! With people working from home these days, you had FANS in the seats, rather than these kale sushi eating, wine cooler drinking, "I'll have caviar with your finest red", suits in the crowd. That said, at the start of this game, there was one shot of an adult male drinking a "Bud Light Passion Fruit Seltzer", but not everyone in life is a winner!
No joke, and I got this from people at the game too, you didn't see anyone in suits tonight, outside of the announcers. All you saw in the crowd during this game was Rangers blue all over the place, whether it was shirts, jerseys, hoodies, hats or whatever. While you did have some fans of the Bruins in the house, the bottom line is that you had FANS in the house. This felt like a game from an era ago, as there were chants of "TUUKKA HAS COVID", "FATHER FINK YOU BRUINS", "FINK YOU MARCHAND" and other charming insults in chant-like form.
And if you think I'm making that "TUUKKA HAS COVID" chant up, here's the evidence:
https://t.co/Ho1tWGSWDm pic.twitter.com/stfJdTEiM4

— Aidan (@AidanNYR) February 27, 2021
Aidan, who reported on this chant, said this chant occurred numerous times!
Speaking of Rask, he would make his first save of the game on a Gauthier wrap-around attempt. Strome would then feed Miller, but Miller would shoot wide. On the next Rangers possession, Mika made a deft move to the net, where he got a sneaky shot off, but despite Rask juggling the puck, you know what happened. No goal for Mika.
Seven minutes into the game, the Rangers looked much better defensively than they did in Philly, where you could see defensive structure was really stressed by DQ and his staff. The Bruins just couldn't get anything going as the period progressed, with the Rangers laying bodies all over the place; with Lindgren's hits really standing out.
I made this point on Twitter at the time, and Vince Mercogliano brought it up to DQ in the post-game. Remember during the bubble in Toronto, where DQ said something like "being physical just isn't about hitting, it's about battling and winning pucks in the dirty areas?" Well that's what this game felt like. The Rangers were beating the Bruins to every loose puck, winning every battle at the boards and just imposed their will on these Boston bozos. If anything personified last season's slogan of "FAST, PHYSICAL, RELENTLESS", it was this game. Now do it again. Then do it again and again and again!
Hell, ten minutes into this game and even Jack Johnson was standing out, after pinning and owning DeBrusk on the boards.
As the period continued, Georgiev denied a backhander from Pastrnak. With 9:27 remaining in the period, Rask got lucky and was able to contain a loose puck off of the stick of Ryan Strome, which would foreshadow what was to come.
On the next Boston possession, Coyle would get a breakaway chance, only for Lemieux and Miller to catch up to him, with Lemieux breaking up Coyle's potential shot on net. The Rangers hustled and broke their holes all game.
With 7:30 remaining in the period, the Bruins only had four SOG, as the Rangers would not give up.
With 6:44 to go, and after previously shooting wide for a turnover on the possession prior to this one; Julien Gauthier befuddled Sam Rosen with this goal:
Gauthier with his 2nd career @nhl goal 🔥🔥 pic.twitter.com/JD5c3CGQc3

— Rangers on MSG (@RangersMSGN) February 27, 2021
1-0, GOOD GUYS!
On the goal, a goal that Sam Rosen didn't see and said hit off the post, PDG screened Rask, Gauthier shot from Ovi's office and the puck found the limited space that Rask was offering. Needless to say, to grab the lead on Boston here was huge for the Rangers. This was truly one of those "good things happen if you shoot the puck" type of goals.
And with the way MSG exploded with the goal, I was hoping for Lafreniere or Mika to pot one next, as you know M$G would've went nuts for that.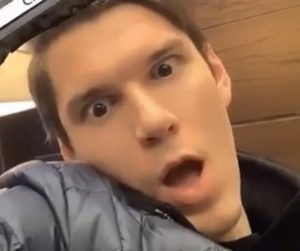 Georgiev, who was "FABULOUS, SAM, ABSOLUTELY FABULOUS" tonight, admittedly got a ton of help from his defense and sometimes the iron tonight. However, he would protect the Rangers lead for the rest of the game.
With about five minutes to go in the period, Lafreniere came this-close to making this game 2-0, as he hit the cross-bar. This puck looked like it went in, as everyone jumped out of their seats. However, it wasn't a goal.
With 4:33 remaining in the period, Miller was boxed for holding Jack Studnicka, a Jack Studnicka that was a filthy piece of shit tonight. (I believe that's the correct terminology!) Of note, this call was soft as baby poo, which was infuriating, considering the no-call on Marchand from the start of this game.
The Rangers PK was great here, especially when JACK "FATHER FINKIN'" JOHNSON bailed out Libor Hajek and made a huge defensive play on Pastrnak, preventing what most likely would've been a Bruins PPG.
After the Rangers PK was successful, Lindgren laid some love on Pastrnak, where he absolutely floored Mr. Pasta with a nice hit.
As the horn went off to signal the end of the period, the score remained NYR 1 – Bruins 0. This was good of a period as any from the Rangers this season, especially when you consider the competition and the fact that the Rangers were without their best player in Artemi Panarin.
The Rangers, as they'd do throughout the game, led the Bruins in every stat imaginable, including SOG, face-offs, forced turnovers, and special teams. They also were out-hitting the Bruins 17-8 and these hits were smart hits, as it prevented the Bruins from getting any sort of offense going, as the Bruins finished the period with only six shots on goal.
---
After our "SECOND PERIOD, WHAT DO YOU LOOK FOR HERE JOE" question from Mr. Rosen, (how about a goal from Zibanejad, ya ding-bat?) the two teams reconvened on the ice.
I should mention, I also saw some fans crying about Lafreniere's ice time in the first period. As if DQ sits there with a stop-watch and watches the seconds each player gets. Seriously, I will never care about TOI, especially not after a win. The only TOI stat that really impresses me is Fox, just because of all the big minutes he plays.
Six seconds into the period, Jack Johnson high-sticked Kuraly in the face. Despite it being obvious that Johnson did this, the refs assessed the penalty to Kevin Rooney for whatever reason. However the issue here, despite my mini-rant on TOI in the previous paragraph, was why was Johnson on the ice to start this period to begin with? It should've been Fox and Lindgren.
Georgiev would make three huge saves during this successful Rangers PK and also got help from his iron, as Studnicka produced a <ding>. (<DING> "SAVE BY LUNDQVIST JOE!")
In what felt like the most "unRangery" thing ever, the Rangers did what teams have been doing to them all season – scoring a goal after killing off a penalty.
Right after the kill, at the 2:32 mark, Lafreniere picked up the first assist of his career, on this beautiful pass to Ryan Strome:
Strome with the goal and Lafrenière with his 1st @NHL assist!! pic.twitter.com/HhVsWgG7DC

— Rangers on MSG (@RangersMSGN) February 27, 2021
2-0, GOOD GUYS!
On the goal, Kreider muscled the puck up ice, got the disk to Lafreniere, Lafreniere threw some sauce on it and Strome, who has had trouble with this lately, banged home the goal against the confused goaltender.
On the next possession, we had a scrum around Rask, where Lemieux was audibly heard saying, "WHAT THE FATHER FINK WAS THAT?" I cracked up.
4:02 into the period, the Bruins would get on the scoreboard. There was some confusion around Georgiev. Georgiev came out to his right, leaving the entire net exposed when trying to make a stop on Pastrnak. Instead, Pasta fed an all alone Patrice Bergeron, who then scored one of the easiest goals of his career. I understand Boston's "Perfection Line" is one of the best in the game, but Georgiev misread this big-time and the Bruins made him pay. That said, it was really the only mistake Georgiev would make in the game.
2-1, Rangers.
At this point in the game, it was up to Georgiev to keep this as a one-goal game, as you couldn't risk blowing a 2-0 lead to these Bruins. Georgiev would do just that, stopping Marchand several times here.
6:54 into the period, these inept officials reared their ugly heads into this game again.
Lindgren and Marchand would go at it one on one, only for Studnicka to sneak up and blindside Lindgren with his stick. Lindgren was bleeding here. In a normal NHL game, not only would Marchand be boxed for roughing (he started it) but Studnicka would've been assessed a four minute double-minor, for drawing blood on Lindgren. How the refs only called a two minute minor on Marchand here is beyond me. These refs were BRU-TAL tonight and should be fined and suspended for their piss-poor job.
After the refs botched this, we had "FATHER FINK YOU BRUINS" chants. We needed a chant of "THESE REFS SUCK" too.
The Rangers power-play was pretty crappy here, where they essentially just took two minutes off the clock.
As we approached the mid-point mark of the game, Georgiev would make a stick save on Pasta and then make a huge save on McAvoy. After a stoppage, Mika was complaining to a referee about something. Maybe Mika should worry about getting a haircut and scoring a goal.
After a commercial break, which featured a documentary about race in hockey, Micheletti and NO JOKE, said the word "fabulous" four times in ten seconds when describing this documentary. "BLACK PEOPLE IN HOCKEY ARE FABULOUS SAM! RACE IS FABULOUS. HOCKEY IS FABULOUS. MY PROSTATE EXAM WAS FABULOUS!"
After Georgiev held the Bruins off the board, during a post-whistle scrum in front of Igor's net, Brendan Lemieux slammed DeBrusk down by the collar of his jersey. While this was going on, and while the penalty was being announced, Sam and Joe wouldn't shut the Father Fink up. When they realized Lemieux was in the box for roughing, they were surprised, as they were incessantly yammering on about something as the refs called out the penalty.
As talked about earlier, how this is a call on Lemieux is beyond me, especially when Marchand threw his gloves down in front of a ref and received no punishment for doing so.
The Bruins power-play was tremendous here, as they had 7867867896789 chances to score, including hitting iron again during this, yet failed to come up with a goal. Worth mentioning, Mika got one-on-one with the opposing goalie here, but you know the rest – backhand flip and Mika can't score for shit. Cut your hair hippie.
With 5:41 remaining, Marchand went to the box again, this time for a blatant high-stick on Kreider. Kreider draws his first penalty of the season!!!! Even the refs couldn't ignore this penalty.
Mika pulled his usual shit show during this power play, being blocked once, twice, three times a lady here. Rask would also make a stop on one of Mika's shots too. The Bruins would eventually get their kill.
Now back at even strength, Buchnevich and Marchand collided knee-on-knee. Marchand was in pain and he slowly skated to the bench. The MSG crowd was not sympathetic here, as they gave Marchand an earful.
With 1:18 to go in the second period, the game changed.
As the scoreboard still remained at 2-1, Nick Ritchie would hurt his team by blatantly tripping Brendan Smith.
With the Rangers on the power-play, this happened:
Blackwell & Kreider make it 4-1 🎯🎯🎯 pic.twitter.com/whMTJGAN8a

— Rangers on MSG (@RangersMSGN) February 27, 2021
3-1 GOOD GUYS!
12 seconds later, 4-1 GOOD GUYS!
---
On the power-play goal, a goal that was scored ten seconds into the NYR PP, Adam Fox, who has really been adapting well in his new role as the quarterback of this power-play, blasted a shot from the point. Blackwell tipped it and boom, 3-1!
On the face-off that followed, Kreider laid a hit, worked the puck around the net, created some space and ripped a shot past Rask. 4-1!
Just like that, this one goal game was now a three goal lead for the Rangers. This will sound like foo-foo talk, but I was so proud of these mooks! This is where I was practicing my cartwheel, much to my downstairs neighbor's dismay!
If this wasn't enough high-stakes drama for you, the end of this period wouldn't be simple.
After a Georgiev save on John Moore, Studnicka got into it with Jack Johnson. Trent Frederic, who like Jared Fogle, must have a thing for young kids, as he was harassing Lafreniere and Hajek all game; then got into it with Johnson. Johnson floored his ass with a hit to the head. This was the best thing Johnson has ever done as a Ranger.
DESPITE STUDNICKA BLATANTLY RETALIATING AND HITTING JOHNSON IN THE MOUTH WITH HIS STICK, the refs, FOR THE SECOND TIME IN THIS GAME, ignored what Studnicka did. Instead, off-setting minors on Johnson and Frederic were called, despite Studnicka hitting a Ranger in the face for the second time in the game. Are the refs boning this guy or what?
After what felt like forever to calm everything down, the final eight seconds of the period came off the clock, where the Rangers maintained their 4-1 lead and continued to dominate every pertinent stat. (I don't know what the "EXPECTED" stats were, I'll let a seven foot douchebag tell you about that!)
I also want to add this. While this crowd seemed like an old school crowd, where fans near the penalty box were jaw-jacking with Marchand; if this was truly an old school game, some fan would've dumped a beer on Frederic here. Of course, I must stress that I don't condone such behavior, but I would've enjoyed it!
---
Once the four on four foreplay was nearly over, the Rangers would score a pair of identical goals.
1:45 into the period, Fox, from the right side of the ice, would make a perfect tape-to-tape pass to Buchnevich, where Buchnevich finished off Rask while inside of his paint. 5-1 GOOD GUYS. Just before you could say the "rout was on", less than two minutes later, the Rangers would score the same type of goal from the left side of the ice, this time with Rooney feeding JOHNNY BROADWAY! 6-1 GOOD GUYS!
At this point in the game, it was over. This felt like being in high school during homecoming and kicking the ever-living shit out of your rival in a football game. You could've took the stairs out of M$G at this point, because everyone was walking on air with all of this positive energy.
With the "FIRE DQ" people all but mute on social media, Strome and Brodzinski, who were unselfish here due to the score, just missed on making this 7-1.
At the 7:51 mark of the period, Brad Marchand got a rare goal against the Fox/Lindgren duo. 6-2. I had a "who cares?" feeling about this goal, and I think the Rangers may have too, as once it was 6-1, it was all about draining the clock.
The rest of this game were the Rangers protecting the lead, playing smart hockey, not giving up any chances, continuing to finish plays and controlling the puck.
With 4:01 remaining in the period, Lemieux drew a penalty, as Zboril held him. Here's what's funny and what needs to be mentioned here. Mika Zibanejad hadn't played for over a ten minute span at this point in the game/third period. Similar to the game with Washington, where the Rangers had a three goal lead and a late power-play, DQ put out his bottom six forwards and third pair defensemen. However, in his first shift in over ten minutes, Mika joined the power-play. In other words, Mika has been such a pile of flaming poo offensively, that with the rest of the PP1 unit benched, DQ put Mika out, in an attempt to get something going.
And let me reiterate this, since I said this last blog – Mika's two assists in Philly are forgotten, because he couldn't score a goal, failed on multiple breakaways and the Rangers lost. In this game, all of Mika's failures are swept under the rug a bit, which will only be brought back the next time the Rangers lose and Mika has another game like this.
I don't know if Mika is cursed, committed an abusive act against a child in a previous life or what – but this is how this Rangers power-play went. The Rangers had the puck for 100 seconds. Once Mika got the puck, he turned it over and killed this power-play. That's how bad Mika has been offensively. 18 games in, this is no longer a slump. This is a bad season. He's just lucky he's not in a contract year.
As the clock ticked down and with celebrations all over the place, we got to triple zeroes. Rangers 6 – Bruins 2. The two teams will return on Sunday afternoon, for a matinee game, on NBC.
---
I gotta mention this too. After the game, the Rangers took some extra time on the ice, in their salute of the fans. I loved this. Even better, most of the players, including Alexis Lafreniere as pictured above, started handing out pucks and sticks to the kids in the crowd. I always love this. This is how you create fans for life. I can tell you personally, from my autograph seeking days as a teenager, I have never forgotten how nice ex-Rangers were to me, guys like Mike Richter, Theo Fleury, Jeff Beukeboom, Adam Graves, Petr Nedved and many more. Something so simple, as giving a stick to a kid, creates a bond that can never be broken.
This will sound cliche and "Hallmarky", but really, I think the Rangers missed the fans as much as the fans missed them.
Of course, and not to rain on anyone's parade here, the Rangers have to do this again on Sunday.
---
As a reminder here, I never have a problem with plugging someone else's stuff, whether it be a blog, a podcast, a Twitter account, a Facebook group or whatever else. In that vein, I wanted to plug a new Rangers facebook group that I've enjoyed, that's ran by Haik Parunakyan. That group is called "You Know You're a Rangers Fan When…" You can visit the group and interact with other Ranger fans by clicking this link: You Know You're a Rangers Fan When….
If you haven't already, subscribe to this blog for the next update:
---
I hate to say, "I'll be back for the next game, unless something truly breaking happens in-between", because every time I say that, something crazy happens. For now, as I close here, I'll say this – I'll definitely be back on Sunday with another Rangers/Bruins game recap/review.
On a personal note, I talked to about 25 different fans who were in the arena tonight. Thanks for sharing your perspective with me, as it helps me relay your information to the thousands of readers each and every one of these blogs receive. That's what this site is all about, as it's ran by a fan for fans.
Until then, and as always here, thanks for reading and…
LET'S GO RANGERS!
Sean McCaffrey
BULLSMC@aol.com
@NYCTHEMIC on Tweeter
Follow the BlueCollarBlueShirts.com Facebook Group by clicking this link: https://www.facebook.com/groups/1564026407193056/