Greetings and salutations everyone, and welcome to another blog here on BlueCollarBlueShirts.com.
Where was this Rangers team (at least the team that played in the first forty minutes of tonight's win over Dallas) on Saturday, when the team hosted the last place NJ Devils?
On Tuesday night, the Rangers kicked off their last time zone change road-trip of the season, by downing Dallas by a final score of 4-2. The first forty minutes of tonight's victory were the complete opposite from the last time the Rangers played, when they were embarrassed by the NJ Devils.
I don't mean to rain on anyone's parade tonight, especially after this huge win, but during the game and even now, I'm still thinking about that Devils loss, and for one reason – those two points were huge. Sure, there have been many games and points the Rangers have given away this season, but ever since CZAR IGOR got here, the team has never been hotter. These 2019-2020 New York Rangers are setting single-season win-streaks during this time and are also setting franchise road winning streaks as well.
I'll get into the playoff picture at the end of this blog, but with this win, due to the other results across the league, the Rangers kept pace, rather than advancing in the standings. That said, there is still plenty of time left, but in regards to making a run for a playoff spot; the Rangers can ill afford to lose games down this final stretch of the season.
There is a ton of stuff to get into tonight, as the Rangers made a bunch of news and transactions before this game. However, before getting there, as usual, here are my last few blogs in case you missed them:
---
---
---
---
---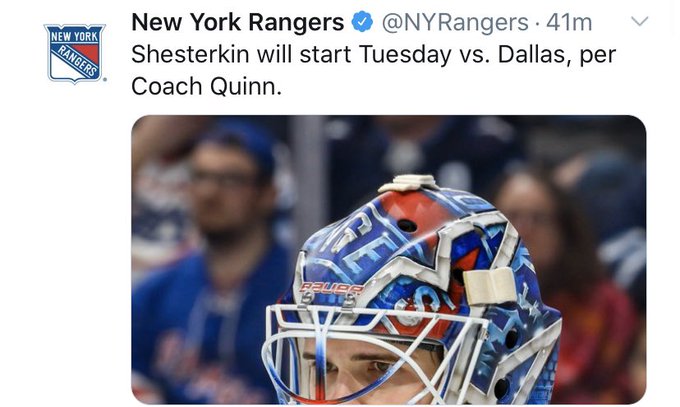 Instead of running down the news in chronological order, I'm going to recap the news in order of most importance. (Quick FYI here: during tonight's game, Filip Chytil was injured. The team, and David Quinn, in his post-game, said that Chytil has a lower-body injury and will most likely miss Wednesday night's game in Colorado. A roster move is expected and may be made by the time I get to the end of this blog. I'll save all that stuff for the end of tonight's manifesto.)
On Monday, after the Rangers practice, David Quinn announced that Igor Shestyorkin would start on Tuesday against Dallas. DQ also said that he was going to go with either Georgiev or Lundqvist on Wednesday. We'll see if DQ sticks to that. After tonight's game, and with two days off between Wednesday's game with Colorado and Saturday night's game with Arizona, I think DQ should go right back to Igor. While no one bangs the drum of Georgiev more than me, now is not the time to be fooling around. You need to go with your best option in net.
As we saw tonight, despite all these social media jagoffs whining about DQ and screaming about how "IGOR WAS RUSTY", DQ made the right decision with Igor tonight. In turn, Igor rewarded DQ, the team and us fans, with a 31 save performance, with two goals allowed. Neither goal could be pinned on Igor tonight, unlike the game on Saturday. Also a result – Igor picked up his tenth win of the season. Igor, Georgiev and Lundqvist are now the first goaltending trio in Rangers history, to each pick up ten individual wins in one season. Of course, Igor got to his ten wins much faster than the other two and for $8M less than Henrik Lundshit.
Outside of Shestyorkin starting tonight, the other big Rangers news was this: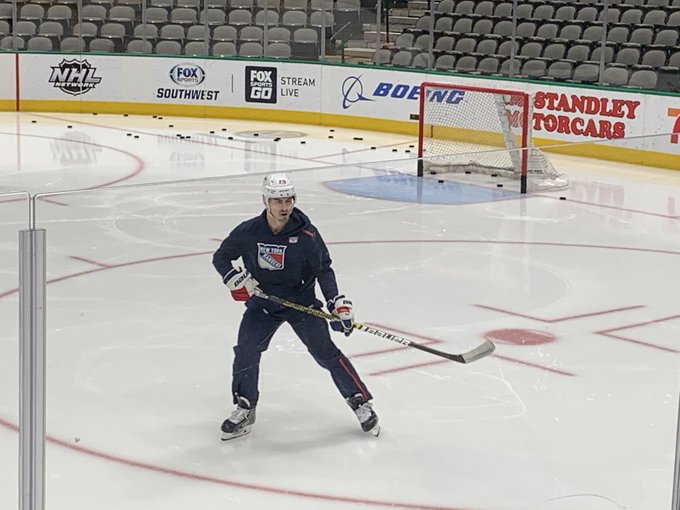 Despite being on a 4-6 week injury time-table, Chris Kreider returned to practice on Tuesday morning, during the Rangers pregame skate. Every NYR beat reporter was quick to tweet pictures and videos of Kreider's return to the ice. In addition, the RangersMSG twitter account also covered the news:
Kreider back on the ice this morning!!!! #NYR #LGR pic.twitter.com/jC0Bf0dDQe

— Rangers on MSG (@RangersMSGN) March 11, 2020
While Chris Kreider isn't expected to return any time soon, the fact that he's already skating is a great sign. To me, what's even better? The fact that Kreider is traveling with the team. While he can't be on the bench during these games, he's traveling and with the team. That's a leader to me.
And truth be told here – I'm not shocked that Kreider is back on the ice already. As I said at the time of his injury, I expected Kreider to return sooner than later. The guy is a physical specimen and a freak of nature. He wants to be out there. He isn't some wussy baseball player, who is going to sit out for two years. Kreider wants to be right back out there, and as soon as possible.
With Igor back in net and Kreider still out, here were the lines and pairs Quinn used tonight:
FIRST LINE: Di Giuseppe/Zibanejad/Buchnevich
(After starting games with the Panarin line, DQ started this line to open up the game. That move worked out!)
SECOND LINE: Panarin/Strome/Fast
(Once again, Panarin picked up an assist tonight, as he continues his point streak and adds to his career high in points racked up.)
THIRD LINE: Howden/Chytil/Kakko
(Kakko had his second best game of the season tonight. Chytil was injured in the first period and wouldn't return to the game.)
FOURTH LINE: Lemieux/McKegg/Gauthier
(I thought Lemieux and Gauthier really stood out tonight, especially Lemieux.)
Defensively, we had this:
FIRST PAIR: Lindgren/Fox
(Solid as usual, with Fox having the first goal of the game and later adding an assist on the insurance goal.)
SECOND PAIR: Staal/DeAngelo
(I thought Staal, at least defensively, was more noticeable than TDA tonight.)
THIRD PAIR: Smith/Trouba
(I thought Smith was better than Trouba. Smith continued to fulfill his role as the ultimate team player tonight.)
As it always goes around this time of year, as teams get knocked out or eliminated from NCAA Hockey playoffs, NHL teams try to sign some of these players. The Rangers made several of those signings on Monday. However, before signing players, the Rangers also made this move:

#HWP Transactions

Hartford has assigned Adam Huska to the Maine Mariners of the ECHL.

In addition, Hartford signed Francois Brassard through a PTO. Brassard played in 14 games with Maine this season. pic.twitter.com/BFBvaRdoFf

— Ricky Milliner (@Milliner06) March 9, 2020
This does not bode well for Adam Huska; at least for right now anyway. With Igor Shestyorkin promoted to the Rangers, Huska has had a chance to be the MAN. It hasn't worked out that way for he or Hartford, as Hartford continues to slip in the AHL standings. Before Shestyorkin's call-up, Hartford was first place in the conference, a fact that isn't true today.
Aside from signing Francois Brassard, the Rangers also announced that they have signed defenseman Zack Giuttari and forward Mike O'Leary to AHL Wolfpack deals.
With the Rangers signing young talent left and right, and with the University of Wisconsin done for the season, this brings us to this guy:
As of this writing, the Rangers have not signed K'Andre Miller, nor has Miller agreed to go with the Wolfpack. It remains to be seen if Miller will finish out his college career in Wisconsin, or jump to the pros. The NYR beat reporters are saying that the Rangers are nearing a deal with Miller, but as is always the case, we won't find out what Miller does until a Canadian reporter breaks the story. After all, it was TSN's Elliotte Friedman, who reported over the weekend, that the Rangers extended the contracts of both GM Jeff Gorton and assistant GM Chris Drury. Of course, the NYR beat reporters had no clue that such extensions were coming. All Ranger news is always broken in Canada. Anything else is just messenger pigeon material.
I think the extension of Jeff Gorton was a no-brainer. How could anyone argue against giving Gorton more term at the helm? When it comes to Drury, he's the more interesting story here, as it has been rumored that several NHL teams were interested in him as a GM. Instead, Drury chose the Rangers, remaining in his role as the assistant GM of the Rangers & the GM of the Wolfpack.
Who knows what happens over the course of time, but unlike Gorton, who was once groomed by Senile Sather to take his job in the near-future, there are no signs of Jeff Gorton stepping down any time soon. While Drury could always leave for a GM job elsewhere; for the time being, by signing an extension, Drury is telling the organization that he's happy where he is and happy with his role.
In related news, Gorton and Drury also announced this signing:
As I always say during news segments like this – I don't watch college hockey, unless I catch some of the Frozen Four. I have no clue who Patrick Khodorenko is, nor will I bullshit you about him, like other bloggers/podcasters/fans do. All I can do is share with you the press release about Khodorenko's signing, courtesy of the Rangers.
The following comes from https://www.nhl.com/rangers/news/rangers-agree-to-terms-with-free-agent-forward-patrick-khodorenko/c-316071112 :
The New York Rangers announced today that the team has agreed to terms with free agent forward Patrick Khodorenko on an entry-level contract. Khodorenko's contract begins in 2020-21, and he will join the Hartford Wolf Pack of the American Hockey League (AHL) immediately on an Amateur Try-Out (ATO).

Khodorenko, 21, skated in 36 games with Michigan State University this season, registering 16 goals and 17 assists for 33 points, along with 20 penalty minutes. He led the Spartans in several categories in 2019-20, including goals, assists, points, and shots on goal (96). Khodorenko posted 11 multi-point games this season, including four multi-point games during his six-game point streak from Oct. 26 – Nov. 14. He also served as an alternate captain for Michigan State during the season.

The 6-0, 200-pounder skated in 143 career collegiate games over four seasons (2016-17 – 2019-20) with Michigan State, registering 54 goals and 66 assists for 120 points. Khodorenko was selected to the Big Ten Second All-Star Team in 2018-19, as he established collegiate career-highs in goals (18) and points (39). He did not miss a game throughout his four-season collegiate career, and he recorded at least 13 goals and 32 points in each of his final three seasons.

Internationally, the Walnut Creek, California native represented the United States at the 2014 World U17 Hockey Challenge. Khodorenko helped the United States earn a silver medal in the tournament, as he registered six points (one goal, five assists) in six contests.
I told you there was a ton of news and notes to get into! We'll get to this game and win over Dallas eventually, I promise!
Away from college kids and ATO news, how about some New York Ranger news, in specifically, in a one Magic Mika Zibanejad?
The following, which was written prior to today's win over Dallas, comes from https://www.nhl.com/rangers/news/zibanejads-star-continues-its-rise/c-316073748:
Mika Zibanejad scored goals in all of the Rangers' games this past week, and the NHL recognized him among its League-wide Three Stars. If those things sound like old news it is only because Zibanejad has been producing for the Rangers with an almost incredible consistency.

The novel part of Monday's announcement was that Zibanejad, just after he was honored as the Second Star for the month of February, started off the month of March by taking home NHL First Star honors of the week. The accolade was announced as the Rangers were practicing on their ice in Westchester, two days after Zibanejad scored for the seventh time in the calendar week to raise his career-high total to 39 goals, and counting, this season.

With one more goal he would become the 20th different player to have a 40-goal season for the Rangers.
It so happens that the most recent week in which Zibanejad earned his Star also was the first week since he lost his familiar left winger, Chris Kreider, to a fractured foot. That injury happened two Fridays ago in Philadelphia; the Blueshirts have played four games so far without Kreider, and Zibanejad not only has stepped up with goals in each of them, he has nine goals – nine goals! — in the four games. It all was highlighted, of course, by his unforgettable, franchise-record-tying five-goal outburst to beat the Washington Capitals last Thursday at Madison Square Garden.

When the subject of his past week came up on Monday morning, Zibanejad wanted to talk only about how his team fared, not himself — "We just have to remember what made us successful for those two months" in January and February, he said. And when the subject of Kreider's injury arose, Zibanejad gave just a slight what-can-you-do shrug, and repeated that it's not as if he is trying to do extra to make up for his close friend's absence.

"I try not to change my game," Zibanejad said. "I know there's a lot of talk about how obviously he is a big, key player for us, and for our line. He does so much for our line when he's out there.

"I've said this before: It's hard to kind of play for two guys. And the guys who have been playing with us, with me and Buchie, have done a good job." (For the record, Pavel Buchnevich, his right winger, has points in every game since Kreider went down, too.)

Zibanejad has scored 21 times in the Rangers' 20 games since the All-Star break, most in the NHL. During last week, not long after he individually outscored Alex Ovechkin 5-2 in the Rangers' Garden win over Washington, he jumped past the Capitals captain into the League lead in goals per game, with 0.71 (39 goals in 55 games).

With Kreider out and the Rangers in playoff mode down the stretch of the season, "Guys get a different opportunity," Zibanejad said, "and you just have to step up. That's what we have to continue doing."

It's what Zibanejad has continued doing, and the rest of the League continues taking notice.
Congratulations to Mika Zibanejad, who after this news, picked up his 40th goal of the season tonight! More on him to come!
And now, to switch gears for a second, let's talk about the news in the world today, in the Corona Virus.
I don't know about you, but I'm sick and tired about the Corona Virus talk. To me, this Corona Virus nonsense is just another story that exemplifies the pussification of the world today. After all, do you know how many times I got dysentery and typhoid, while playing "The Oregon Trail" as a kid?
I'll try to limit my political thoughts here, but in what should come as no surprise to anyone, the ultra liberal state of California, is the first U.S. state to be overwhelmed by fear first. Check out this message from the San Jose Sharks, which was released on Tuesday: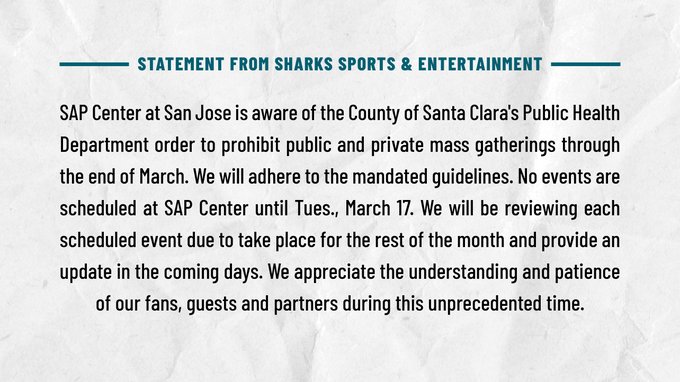 This Corona Virus has people cut off at the knees. While I'm sure this virus is "real", I think it's also blown way out of proportion. The media needs fear to sell stories and to increase ratings/ad revenue. With the media's favorite news story in Donald Trump pretty much a lock to win the 2020 Presidential Election, and with no major snowstorms or deadly weather events to talk about; the media is selling this Corona Virus as if it's their own personal Willy Wonka's Golden Ticket.
Seriously, any time I turn on the TV or read a newspaper, all I hear about is Corona Virus and how people should stay in their homes & never leave their house. After all, if you "Bubble Boy" yourself from the world, that means you're in your house and can watch more fear-mongering stories on television!
I will say this too – with all these government officials and fear mongers telling everyone to stay inside, I wonder how many kids will have the name "Covid" in 9 months? What a name. It's kind of like David!
In this sissy world, where there are 78678667896 genders and sexual preferences, the name Covid could work for a baby boy, a baby girl, or a baby half-giraffe/half-skunk, should your baby identify that way!

As we've seen and as reported on this site previously, the NHL (and now the NBA & MLB) are no longer allowing reporters locker room access. Instead of one-on-one interviews, where you get some good quotes and personal insights, players are now interviewed on the podium, in a group setting.
There have also been rumblings about these leagues either canceling games or holding these contests in front of empty arenas – and I'm not talking about your regular Islander game at the Barclays, where games are held in front of a Honda SUV, Butch Goring, Shannon Hogan and three idiots. I'm talking about games where no fans will be permitted to attend. This news will effect me personally, if such a thing happens in the near-future, as I'm currently scheduled to go to Pittsburgh and Buffalo next week, to watch the Rangers on the road.
I'll say this – I'm hearing the airlines are now refunding tickets. I'm not sure if the same applies for hotels. My four hotel nights were more expensive than my airfare. Either way, I'm going! After all, I'm more worried about the Lundswiss virus effecting the Rangers next season, than I am about this corona virus effecting me!
To close on this topic, as I know this blog is going to go super-long tonight, unless you have a city full of Walking Dead zombies, canceling any event is just a move out of panic to me. In this world where everyone is offended by everything and where these loony liberals are trying to blame the President of the United States for a disease that started in Asia, because those people will eat anything, including vermin; I don't think we've reached the peak of the hysteria yet. I just hope this doesn't effect NHL games.

And because I need to get this joke out of my system, in my last shot on this Corona Virus nonsense, if liberals let Trump build his wall when he wanted to, we wouldn't have a Mexican beer virus right now! DEPORT THE CORONA VIRUS!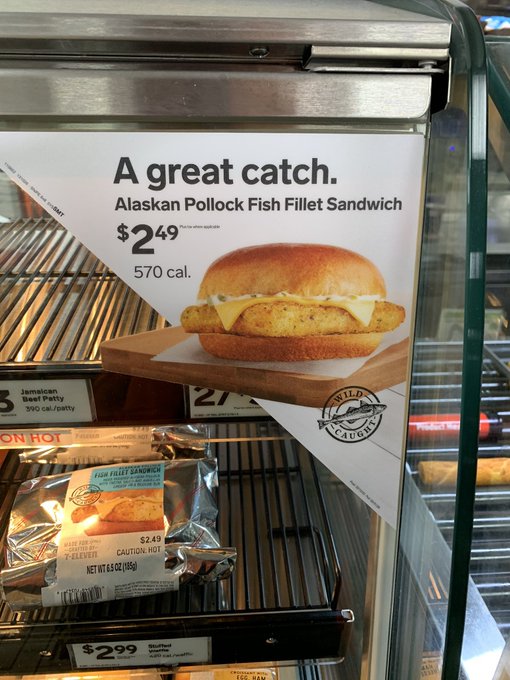 Speaking of gambling, let's go to the GAMBLING segment of the blog. Here's what I said before the game:
Season over-under record: 33-32-3

A super rare FABULOUS line of -5.5. The books believe in Igor & Bishop. Rangers have been in a lot of high scoring games lately, good and bad.

I'm playing the trends – OVER. #nyr #PlayLikeANewYorker pic.twitter.com/TAEKf3aZb6

— BlueCollarBlueShirts (@NYCTheMiC) March 10, 2020
Just like the Rangers, I was a winner tonight. My record goes back to two games over .500, at 34-32-3. And isn't it amazing Suzyn, how right Vegas always is? You either won this bet by half a goal or lost by half a goal. Outside of a push, it doesn't get closer than that.
At this time, let's go to the official box score of this game, courtesy of ESPN.com:
SCORING SUMMARY: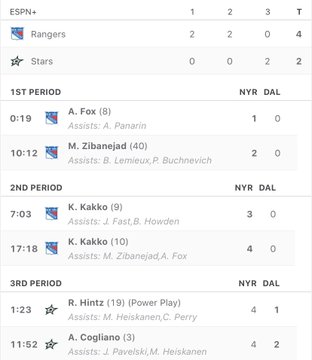 PENALTIES: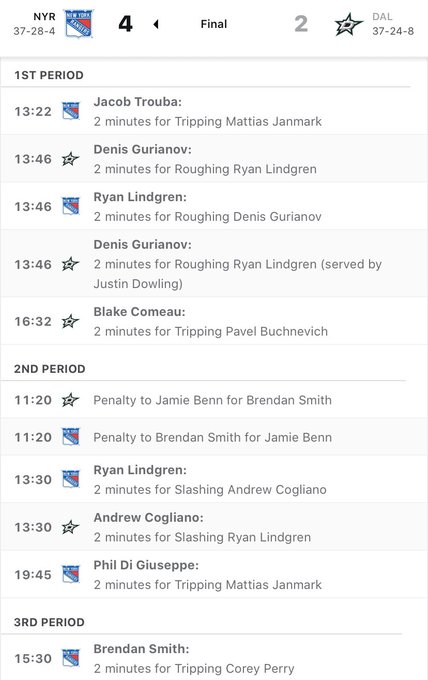 TEAM STATS: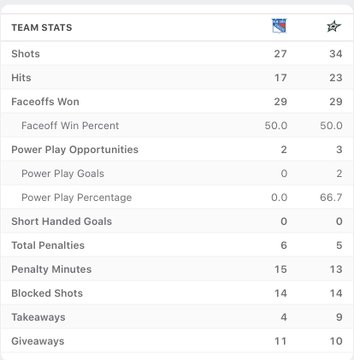 GOALIES:
| | | | | | | | | | | |
| --- | --- | --- | --- | --- | --- | --- | --- | --- | --- | --- |
| SA | GA | SV | SV% | ESSV | PPSV | SHSV | SOSA | SOS | TOI | PIM |
| 27 | 4 | 23 | .852 | 21 | 1 | 1 | 0 | 0 | 57:39 | 0 |
| | | | | | | | | | | |
| --- | --- | --- | --- | --- | --- | --- | --- | --- | --- | --- |
| SA | GA | SV | SV% | ESSV | PPSV | SHSV | SOSA | SOS | TOI | PIM |
| 33 | 2 | 31 | .939 | 26 | 1 | 4 | 0 | 0 | 60:00 | 0 |
THREE STARS: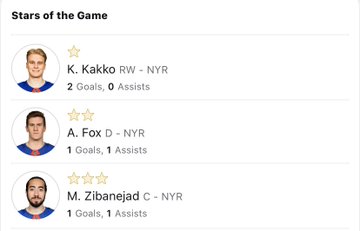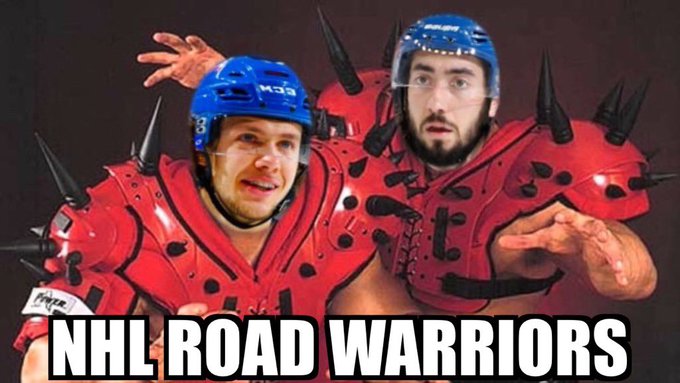 Prior to the MSG Networks pregame show, NYR beat reporter Vince Mercogliano reported the following:
Igor Shesterkin will start tonight, and when asked if he still thinks it'll be a different goalie tomorrow in Colorado, DQ said, "Yeah." Alex Georgiev or Henrik Lundqvist? "We'll kick it around after the game over a beer."
This is about the 7th time this season David Quinn has mentioned drinking beer. Unless he's drinking one of those soy-boy vegan Michelob 64's or any other one of those calorie counting beers, DQ sounds like a man after my heart! Plus, from what I've been told, he's not a big Lundqvist fan either! QUINN FOR JACK ADAMS!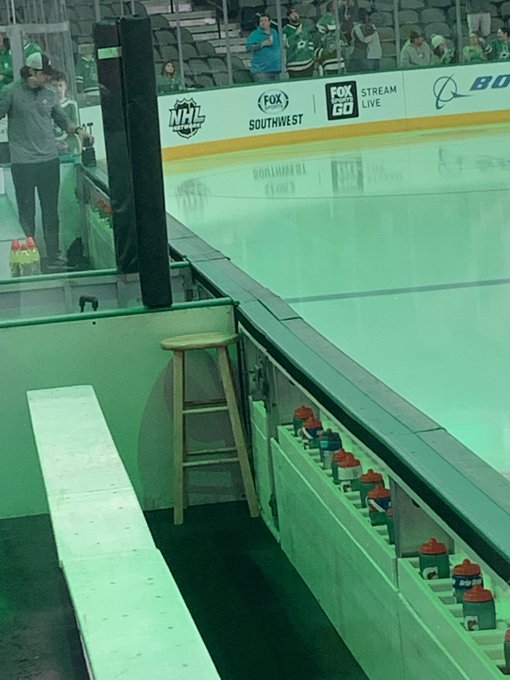 This game aired on M$G3 tonight. For some reason, and I think it was because of the protective netting and those super-imposed ad graphics that these teams air on them, the broadcast, visually, was migraine-inducing. For whatever reason, aesthetically, this was the worst broadcast of the season. The color contrast was off all game. I don't know if it's because this was on M$G3, the way things are set-up in Dallas, the white netting or what, but this game was tough to watch at points, viewer-wise.
The M$G Networks pregame show actually talked hockey for once, after doing two segments on Ricky Ricardo, the Pepsi Sugar Free Diet Soda Rot Your Teeth Out of Your Head Chief Fan Officer. What a title that rolls off your tongue smoothly, just like Pepsi!
I also have to add this too – I'm surprised M$G sprung for both Vally & Carter tonight, as in the past, during late night starts, the broadcast usually does all the pregame/post-game stuff, live on location and without the studio guys.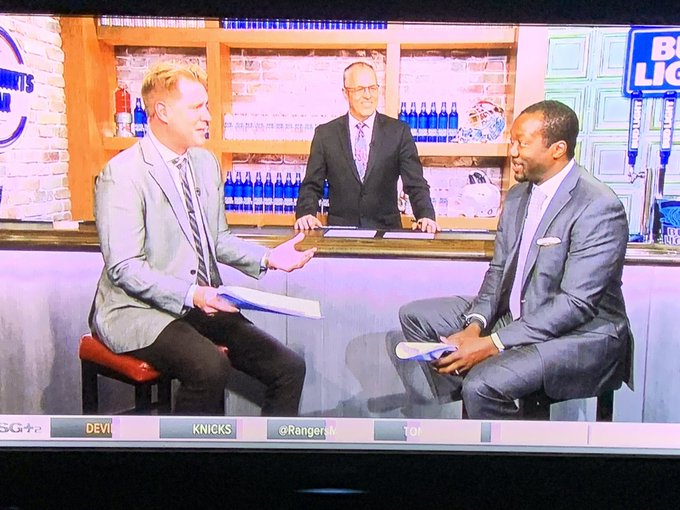 Of course, and as always, the lines for this game or any sort of news as recapped above, made it the airwaves tonight.
If there was any theme from the broadcast, it was Sammy the Schnozz bringing up how Dallas lost their last five games and haven't scored in forever. Despite Igor Shestyorkin having a shut-out going into the third period, all Sam Rosen could do was talk about how Dallas hasn't scored. I'm surprised he didn't scream out "MAZEL TOV JOE!", when Dallas scored their first goal in this game tonight. No joke, Sam was pom-poming for the Stars during the entire broadcast. It was Father Finkin' sickening. I wonder if Sam would be rooting for Dallas goals, had Lundqvist been in net?
5000 words in. Might be time to talk this game now, eh?
Before you could pop the top of your first beer, the Rangers made this a 1-0 game, just 19 seconds into the first period:
Adam Fox's goal 19 seconds in got Sam Rosen all 🔥🔥🔥 🆙 pic.twitter.com/9lSD2PA41m

— Rangers on MSG (@RangersMSGN) March 11, 2020
1-0, GOOD GUYS, just like that.
On the goal, Panarin once again makes a great pass, Fox walks right into a shot and blasts it by Bishop. What a season for both of these two new additions to the Rangers.
This goal, and really this start, pretty much set the tone. For the next 39+ minutes, the Rangers absolutely owned the Stars here. The Stars, who are in the playoff mix, looked like the Rangers on Saturday against the Devils. Outside of Benn and Bishop, it's like the Stars didn't give two shits who won or lost this game.
And really, as a Ranger fan, it was nice to be on the right end of things here. Very rarely, do the Rangers capitalize on a struggling team and their misfortunes.
Five minutes into the game, the Rangers remained up 1-0 and led the SOG department by a tally of 4-1. Speaking of the number four here, I think that's how many times Sam Rosen said "BIG BEN BISHOP" and how many times Joe Micheletti said "FABULOUS", at this point in the broadcast.
I thought this new fourth line played their best 60 minute game of the season tonight, and it was apparent they were clicking right off the bat, as they had two tremendous shifts to start this game.
With David Quinn preaching defense prior to this game, the Rangers would continue to lead the SOG stat, by a tally of 7-2. That seventh Rangers shot also went for a goal, as Zibanejad picked up his 40th goal at the mid-way point of the period:
If our calculations are correct, Sam Rosen has said, "ZIBANEJAD SCORES!" 37 times in the last week. Here's the latest. #NYR #LGR pic.twitter.com/2cCIK7rmeP

— Rangers on MSG (@RangersMSGN) March 11, 2020
2-0, GOOD GUYS!
On the goal, what a sweet and soft touch pass from Lemieux. It was like he was passing the puck to a baby and Mika easily handled business.
When it comes to Mika Zibanejad, you know the deal. He's been dominant all season. As mentioned on prior blogs, the only concern I've ever had with Zibanejad is his history with concussions. As a result, in this season at least, he's been making the heads of opponents spin all season.
Here's a few notes on Zibanejad after his 40th goal, courtesy of @NYRSTATSINFO:
— Per NHL Stats and Information, Mika Zibanejad, who tallied his 40th goal of the season while skating in his 56th game in 2019-20, has reached the 40-goal plateau in a season in fewer games than any other player in franchise history.
---
— According to NHL Stats and Information, Mika Zibanejad is the second Ranger in franchise history who has registered a goal in 11 games over a 12-game span (Andy Bathgate in 1962-63).
---
Not shabby.
With 8:32 remaining in the period, CZAR IGOR would make his first "real" save of the game. Prior to this, he wasn't challenged much.
As the clock read 6:38 to go, Jacob Trouba, who continued his normal game of shooting at everything but the net, (okay, I'm exaggerating here) took a penalty for tripping. The Rangers PK, which has been abysmal lately, got their first action of the game.
I'll say this now, just to get it out of the way – the Rangers face-off game improved tonight, especially on special teams. The Rangers would win every opening PK face-off tonight.
About 20 seconds into the Rangers PK/Dallas PP, Ryan Lindgren leveled Klingberg with a clean hit. Denis Gurianov took exception to that hit and immediately went after Lindgren. This all resulted with Gurianov and Lindgren going off, with Gurianov getting an extra two minutes for roughing. This then gave us about 1:40 of four vs four foreplay, with the Rangers then getting an abbreviated 20 second power-play.
During the four vs four, CZAR IGOR made a FABULOUS breakaway save on Faksa.
With the penalties over, and the teams back at full strength, Sam and Joe were already giving out their play of the game, despite there being 44+ minutes of hockey remaining. (Mika's 40th goal got the nod here.)
With 3:28 to go, "The Lundswiss Killer", in Blake Comeau, was boxed for tripping Buchnevich. The first two-minute Ranger PP of the game came up next. Once again, and unfortunately, with a chance to step on the neck of their opponent, the Rangers couldn't go up 3-0 here. The Rangers need timely PPG's. Instead, Dallas killed this Rangers power-play and kept themselves alive.
In fact, right after the Dallas PK, Comeau would get a point blank shot off on Igor. However, since Lundswiss isn't in net (if you don't know, Comeau always kills Lundqvist, check the stats) Igor made this huge save.
At the horn signaling the end of the first period, the Rangers remained up 2-0, despite losing the SOG battle by a tally of 10-9.
Outside of the failed power-play, this was as good of a period the Rangers have had of any.
After our usual, "SECOND PERIOD, WHAT DO YOU LOOK FOR HERE JOE?" spiel from Stars fan Sam Rosen, we were shown a shot of Dave Maloney, who was stationed right by the Dallas Stars cheerleaders. They don't call him "Dirty Dick" Dave for nothing! (I'm totally making this up. Then again, never let the truth get in the way of a good story!)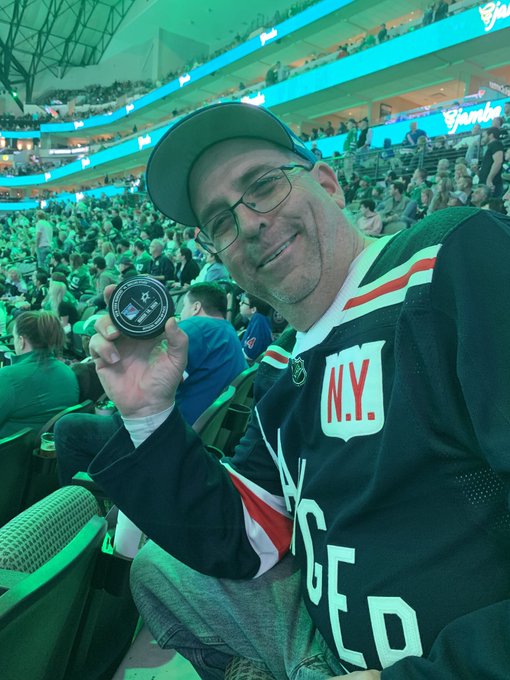 To start the period, Panarin made a bad turnover to Jamie Benn. No worries. Igor stopped the tough shot.
While the Rangers twitter account posted the information during intermission, it would take Sam & Joe five minutes into the period to mention this: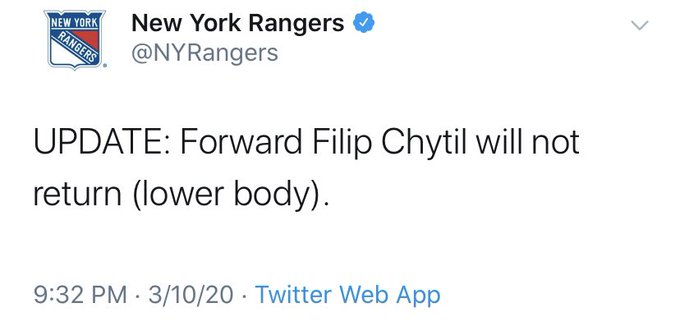 The Rangers, if it's possible, were perhaps better in this second period than they were in the first period. While Igor made a few tough saves in here, it wasn't too crazy.
One thing that was hilarious in this period, was when Mika swooped around Bishop. Bishop already hung his head, as he thought Mika beat him, despite Mika not shooting the puck! That's how scared Mika has these goalies right now!
After Igor stopped Gurianov, Gauthier, on the other end, would make a move to Bishop. This would then lead to Howden making a great pass to Kaapo Kakko:
What a setup by Howden and finish by Kakko!#NYR | @NYRangers pic.twitter.com/wh7WBVrsWb

— Rangers on MSG (@RangersMSGN) March 11, 2020
3-0, GOOD GUYS, with just under 13 minutes remaining in the second period.
On the goal, Howden sets up Kakko perfectly. The net must've looked like a soccer net, with a midget playing goaltender. I think I could've even scored this goal, with two beers tied behind my back!
Now don't take what I'm about to say as negative. I'm just giving you all the information. Kakko would later score the fourth goal of the game, as he picked up two goals tonight. However, Dallas was absolutely horrible tonight. How much of Kakko's success tonight was because of how bad Dallas was? I mean, Dallas was dreadful in this game. Can Kakko build on this?
If there is anything 10000000% fact here – Kakko's confidence was noticeable. He was beaming ear-to-ear after this goal, which would be the game winning goal tonight. The weight of the world is now off his shoulders. This game was a huge step in boosting Kakko's confidence. Now he must build on it. This can't be the apex of his season. He must continue to roll, especially during these next upcoming games.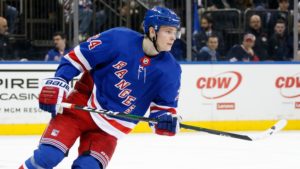 This second period seemed drawn out, as there were a ton of stoppages. Also slowing down the game were a bunch of penalties.
At the 11:20 mark, Brendan Smith and Jamie Benn were tossed for fighting. This was a classic and clean-cut fight here. Both agreed to the fight like gentlemen. When the refs tried to break it up, Benn pushed the ref, said let us go and then waited for Smith to get ready. No dirty stuff here at all.
When it comes to who won the fight, it was pretty even, with neither man going down. They fought for a while too.
While Smith and Benn exchanged words in the penalty box, just a minute after their fight, Ryan "Duct Tape & Gum" Lindgren and Andrew Cogliano went at it. I thought Lindgren got away with the extra act of violence here, as he blatantly cross-checked Cogliano in the head region. Whatever the event, these two joined Benn and Smith in the box too, albeit only for two minutes.
Once everyone came out of the box and both teams had all their man-power and after a few saves from Igor, Kakko would push the game to 4-0, with just under three minutes to go:
Kakko's second of the game. #NYR #LGR pic.twitter.com/EtIe2neytY

— Rangers on MSG (@RangersMSGN) March 11, 2020
4-0, GOOD GUYS!
Talk about being lucky.
On this goal, Kakko originally had the puck and had a perfect shot on goal opportunity. Instead, Kakko tried to thread the needle through two Dallas defenders and to Pavel Buchnevich. The pass was easily intercepted, as if it were a pass off of the hand of Tony Romo, in a Cowboy's playoff game, from years ago.
With Kakko making a terrible turnover, the puck would then be played by Adam Fox, who fed Mika Zibanejad, who then found Kakko, a Kakko who made a huge individual play with his hands, right in front of Bishop, for the goal.  Instead of groaning about a turnover, you were celebrating a goal.
Despite there only being 14.8 seconds remaining in the second period, for whatever reason, PDG thought it was a good time to trip up Janmark. The Rangers would win the face-off and after two great periods, the score remained Rangers 4, Dallas 0.
The third period of this game resembled the Rangers/Devils game from Saturday and was the complete opposite of what we saw from the first two stanzas. In fact, the only highlight of this Rangers third period, outside of a few Igor saves, was when Michael Silvers had a FABULOUS photo-op: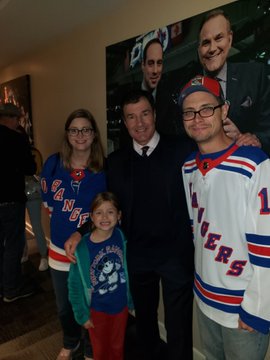 With Dallas still on the power-play to open the third period, Roope Hintz, after the Rangers PKers were shot, beat Igor. Nothing Igor could do here. 4-1, good guys.
Dallas, who must've been lit up by head coach Rick Bowness during intermission, were a different team here. They dominated the Rangers for most of this period. To make things uglier, I was even sent this tweet: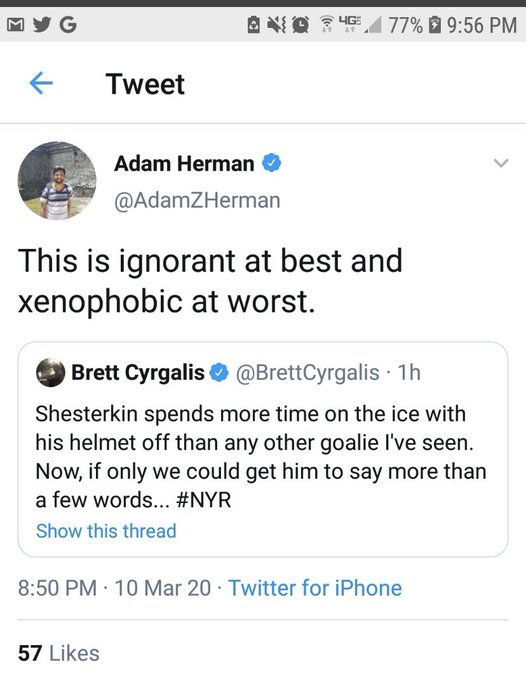 In a third period devoid of much doing, Andrew Cogliano would score at the 11:52 mark. 4-2, good guys. At this point, I was just clock watching. After seeing 19 shots in the first 40 minutes of this game, Igor would see 14 in this period.
For whatever reason, despite the Rangers winning many of these games lately, whenever they have a lead, they seem to get too laissez-faire with it. Whether it was the Islanders game, the Caps game, or whatever other game you want to look at, with a lead, the Rangers have been too loose.
While Igor did give up two goals in this period, the majority of the 12 saves he made here prevented this game from entering one-goal territory.
In this shit-show of a third period, a period where I needed a shift-change for my underwear, we would enter the Adam FOXwoods Final Five mark of the game, with the Rangers still up by two. However, with 4:30 to go, Brendan Smith was sent to the sin bin for a tripping call.
Igor would make four short-handed saves during all of this, preventing Dallas from getting a PPG.
With 2:13 to go in regulation, Dallas pulled Ben Bishop. The Stars owned the puck here, but never put a puck on net, despite being down by two. Their loss.
After a whistle, with 58.8 seconds remaining, Dallas used their timeout. If Dallas didn't use their timeout here, I thought DQ should've, just to slow things down and to get his PK/defense a rest, with Dallas having the extra skater on.
In a game where the Rangers were the better team for 2/3rds of it, the Rangers would hold Dallas off the board in this final minute. 4-2 GOOD GUYS, your final. I'll say this – instead of celebrating a dominating win, with the way this third period went, I felt like the Rangers ESCAPED with two points. Whatever the case, a win is a win and I'll take it!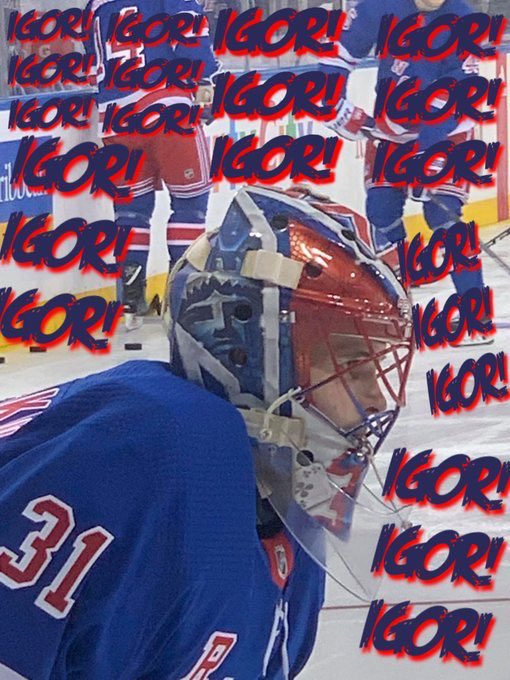 When it comes to this game tonight, the Rangers did their job. They won the first game of this three game trip and beat a good team, even if Dallas was on a five game losing streak.
This blog is going so long already and it's very late, but seriously, there are so many guys you could highlight. Igor had a great bounce back game. Zibanejad had two points and his 40th goal of the season. Panarin continued to rack apples. Kakko broke out of his slump. Adam Fox had another two-point game. Lindgren and Smith played hard and physical. Lemieux and Gauthier were noticeable all game. In short, (easy for me to say) this team was clicking tonight.
Of course, the big post-game news was when DQ announced that Chytil is not likely for Wednesday's tilt, in Colorado.
I'll save you my Vinni Lettieri rah-rah speech. I'm sure you're sick of them already. However, as I said over the course of my last two blogs on this site – I'm surprised the Rangers didn't call-up someone for this trip for this very reason. Even if you press-boxed Lettieri or whoever, at least you would have insurance in case someone went down. Now someone has gone down.
It's now 2AM as I put on the finishing touches of this blog. I have to be up in three hours!
As of this writing, the Rangers haven't called up anyone. However, there's this:
#HWP Transaction

Hartford has called up forward Jake Elmer from the Maine Mariners, per the #AHL transaction list.

This could be a sign the #NYR may do a call up ASAP. Both clubs play tomorrow night. Stay tuned.#PlayLikeANewYorker pic.twitter.com/bjGZlI3eEa

— Ricky Milliner (@Milliner06) March 11, 2020
Again, if it were up to me, I'm calling up Lettieri. The Rangers need offense where ever they can get it. Again, you know my talking points on Lettieri already. If you don't know, refer to the archives of this site or google "Bluecollarblueshirts.com Vinni Lettieri".
I don't see Kravtsov being called up. Now is not the time for that, not in a playoff race and not with a moody teenager.
Aside from calling up a forward, one thing the Rangers could do is call up Hajek or Raddysh and return Smith as a forward on the fourth line. I know Hajek would be the name most Ranger fans would want, but according to my people in Hartford, Raddysh is higher up on the depth chart. Again, we're in a playoff race, so you might not want to sacrifice what Smith gives you defensively, for a weaker NHL defenseman.
Speaking of the playoff race, here's what it looks like, at the conclusion of all games played on Tuesday night: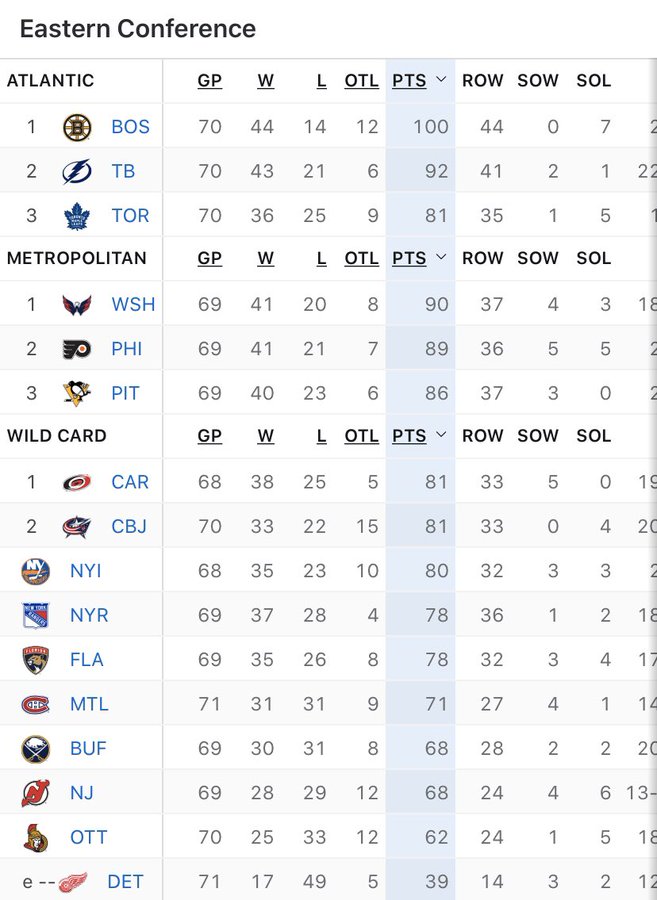 While this win was great tonight, at the end of the night, all the Rangers did was keep pace. They still need to win about 85% of their final 13 games, to really get a playoff spot and to maintain a playoff spot. Again, I go back to that game with the Devils. Such a brutal loss.
If there is anything the Rangers have going for them, when you look at the teams in front of them (and Florida) the Rangers have the ROW and head-to-head tiebreakers over everyone. In other words, should the Rangers finish up with the same amount of points as Carolina, Columbus or the Isles, the Rangers get the nod for the tournament.
There is no time to bask in the glow of this Rangers victory. The Rangers are right back at it, with a game in Denver on Wednesday.
Blog-wise, I may have to do a super-quick recap tomorrow, as the game starts at 10PM and I have to wake up early Thursday morning.
Until then, cross your fingers for Lettieri, start Igor in legal pot country, thanks for reading and as always…
"LET'S GO RANGERS!"
Sean McCaffrey
BULLSMC@aol.com
@NYCTHEMIC on twitter