Greetings and salutations everyone and welcome to another blog here on BlueCollarBlueShirts.com.
What do you say after a game like this? "Forget it and move on?" Father Fink that. That would be a cop-out.
Simply put, when recapping tonight's game, the Rangers choked, shit the bed, wet themselves, "Plaxico'd" themselves in the foot and stepped on their own dicks tonight. And don't listen to the lazy take of "this was a trap game". No, this was a CRAP game. And an inexcusable one at that. After all, trap games happen to playoff teams. When you're not a playoff team and lose to a bad team – you FAILED and sunk to a new low.
As mentioned in the past on these blogs, while I don't like to use the term "MUST WIN", unless it's mathematically applicable, for all intents and purposes, the Rangers had to win tonight's game against the Devils, just to keep pace with the rest of the teams chasing a playoff spot in the Eastern Conference. In turn, the Rangers, hosting a last place Devils team that just played 24 hours prior and a Devils team that traded off nearly everyone at the deadline, minus P.U. Subban, came out like dog crap. In turn, the Devils decimated the Rangers, as the Devils beat the Rangers 6-4.
There are no excuses to be made here. You can't blame the schedule for this loss. You can't blame the season being a roller-coaster. And unlike that 9 foot pile of douchebags, in Steve Vagistat, you can't blame Mika scoring five goals 48 hours ago for this loss. I'm not even joking here – after tonight's loss, there was Steve Statiquette talking about how Mika's five goals was very emotional and may have hurt the Rangers tonight. How many Bud Light Seltzers is this prick consuming during these games?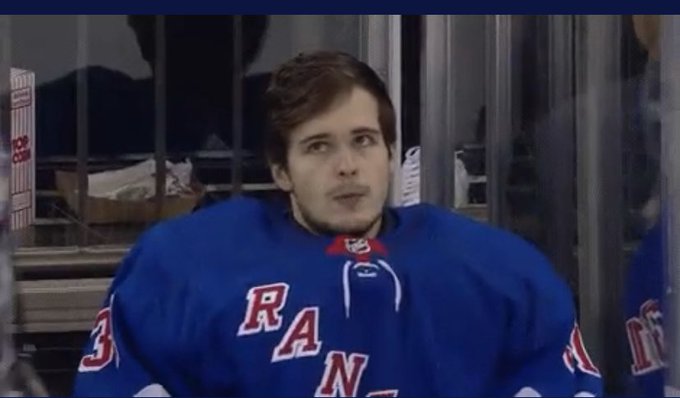 If you've been following me on social media, know me personally or read these blogs religiously, you know my opinions already. I want the playoffs. Tonight's game did not help that goal. After the win over the Capitals on Thursday, I was riding a high. As I'll get into, when it was rumored on Friday that Igor Shestyorkin might start this game tonight, as he eventually did, I was walking on clouds. Everything was gumdrops and rainbows. (Not Pride Night Rainbows.) Instead, 48 hours after Mika's historic game on Thursday, the Rangers got Hiroshima'd and Nagasaki'd.
As usual, before getting into everything, here are my last few blogs in case you missed them:
---
---
---
---
---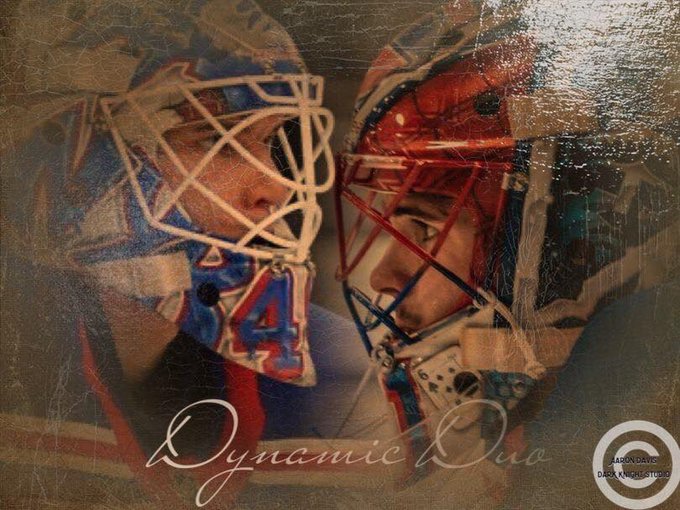 The biggest news, prior to tonight's game, was the return of Igor Shestyorkin. After fully practicing these last two days, it was made official, 90 minutes before puck drop, that Igor would indeed start this game with the Devils.
To me, when I found out Igor would be playing tonight, a day before he was supposed to be "EVALUATED", it told me that perhaps the Rangers intentionally overshot the injury time-table diagnosis, just in case Igor wasn't going to be able to play for a while.
And don't get it twisted – this was huge news, as everyone jumped to report the news first:
IGOR IGOR IGOR pic.twitter.com/98xOfGxY1t

— BlueCollarBlueShirts (@NYCTheMiC) March 7, 2020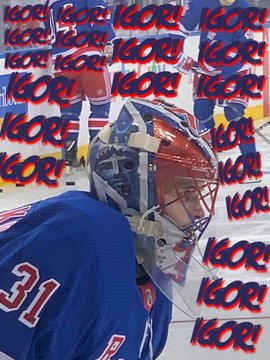 Let me get this Igor rant out of the way now.
As I said last blog, if Igor was able to go, I wanted him to start this game. Everything was in his favor. The Devils suck. The Devils were on the second half of a back-to-back. As I said on social media on Saturday afternoon, even if Igor had a bad game tonight, I would've been fine with it, only because I thought the Rangers offense would be able to carry him & the team to a win. How wrong I was.
It was my thinking, that if Igor had rust or feeling some ill-effects of his injury, this would be the game to shake it all off in. The Devils are a bad team. They've fired their GM, their coach, traded their former Hart Trophy winner and traded nearly everyone else that's worth a damn, besides Jack Hughes and Gusev. And you may mention PU Subban here, but let's face it – no one was trading for Subban and his horrible contract.
While hockey games are always played on the ice, and not on paper and certainly not on a spreadsheet, I just couldn't fathom the Rangers losing this game.  You would think that after nearly 38 years on this planet, I would know better; but just like a delusional Jets fan, I thought this would be an easy win for the Rangers. After all, I said this prior to the game:
I really want to drop two grand on the Rangers tonight. That's how confident I am that Igor & NYR blow these assholes away. #NYR #Playlikeanewyorker

— BlueCollarBlueShirts (@NYCTheMiC) March 7, 2020
I'm an atheist, but I'll say this – THANK GOD I didn't put in such a bet!
While I wasn't going to drop $2000 on a bet, no matter what the odds were, I include that above tweet just to show you how confident I was going into this game. I thought the Rangers would follow-up their historic win over the Capitals and just pounce all over the Devils.
Just to give you another example of my confidence and how wrong I freaking was about this game, I also tweeted this out, prior to game time:
Igor shutout tonight. Bang. #NYR #PlayLikeANewYorker

— BlueCollarBlueShirts (@NYCTheMiC) March 7, 2020
And to roll with the "law of threes" here, let's just fast-forward to the GAMBLING segment of tonight's blog. Here's something else I tweeted before the game:
Season over-under record 33-31-3

No Ranger goalie announced yet. Igor is probable. I really like the 6 total goals, but I'll go the under with CZAR IGOR.

Anything but a Rangers win will be a disgrace. I don't mind the 2:1 on NYR. Chase the value with #PlayLikeANewYorker -1.5. pic.twitter.com/F7mKu1eWe4

— BlueCollarBlueShirts (@NYCTheMiC) March 7, 2020
Wrong, wrong, wrong. My over-under record drops to 33-32-3 on the season. Pathetic.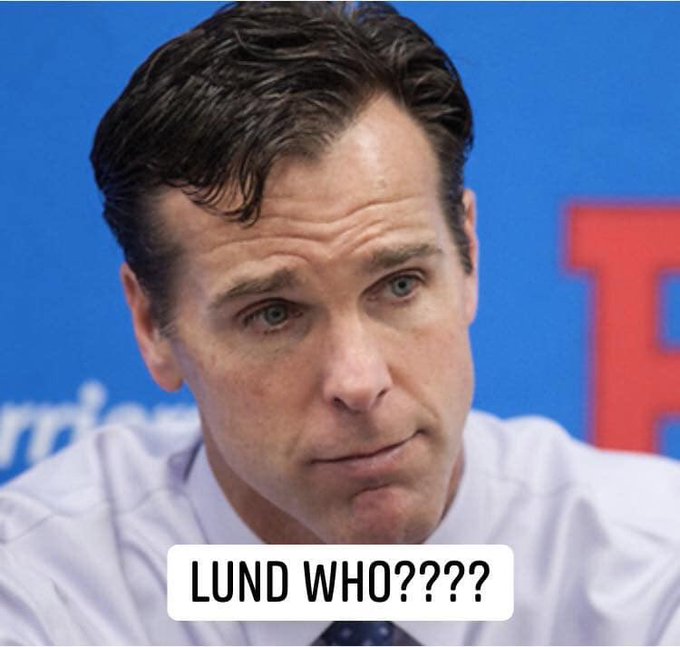 When it comes to Igor starting this game tonight, here's what Quinn said BEFORE the game:
"I wasn't sure what the timeline was going to be. You just really kind of check in with your players when they're hurt and see how they feel on a daily basis. This didn't really creep up on anyone inside the walls of our locker room."
Here's what Quinn said about Igor AFTER the game:
(In regards to Igor being rusty, battling through the injury or just having a bad game.) "Maybe a little bit of all of that. That being said, the goaltender was the least of our problems tonight. I don't think we had one guy have a good night tonight."
As far as what Igor said after the game, he felt his layoff threw him off more than anything else. He also took full responsibility for the loss, unlike another certain goalie I know.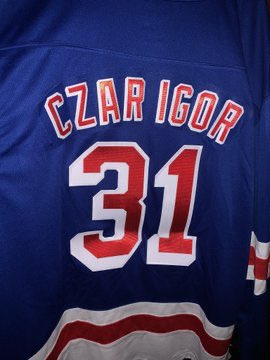 As I'll get into in the recap portion of the blog, the second Igor gave up a bad goal in the first period, I knew what was coming from the NYR "Twitterati" – "THEY RUSHED HIM BACK!" "QUINN HATES HANK!" "IT MADE NO SENSE TO PLAY IGOR TONIGHT!"
All of that crap to me is 20/20 hindsight, because outside of a few members of the Cult of Lundswiss, who think that Lundqvist should start all 82 games, even in his present state, I didn't see anyone upset about Igor starting tonight. In fact, the reaction to Igor starting tonight was the complete opposite. Everyone wanted to see this happen, with yours truly banging the biggest of drums here.
Yes, Igor had his worst game of the season and that includes his starts in the AHL too. He didn't have it tonight. While DQ was being nice in his post-game interview, and blaming the team in front of Igor, let's face it – this wasn't the Igor we've been accustomed to.
I will also say this. There's not one fiber of my being, even after this game, where I think the Rangers rushed Igor back. They know the deal. They wouldn't take a risk like that. After all, the Rangers were playing a last place Devils team. They could've easily went back to Georgiev tonight, had Igor not been ready. I 100% believe that Igor was 100%. I believe him too – the layoff hurt. And truth be told, DQ isn't wrong either – the team in front of Igor sucked after the first period.
And I'll say this too – I fully expect Igor to play the next game in Dallas.
Speaking of the team in front of Igor, here's what you had tonight: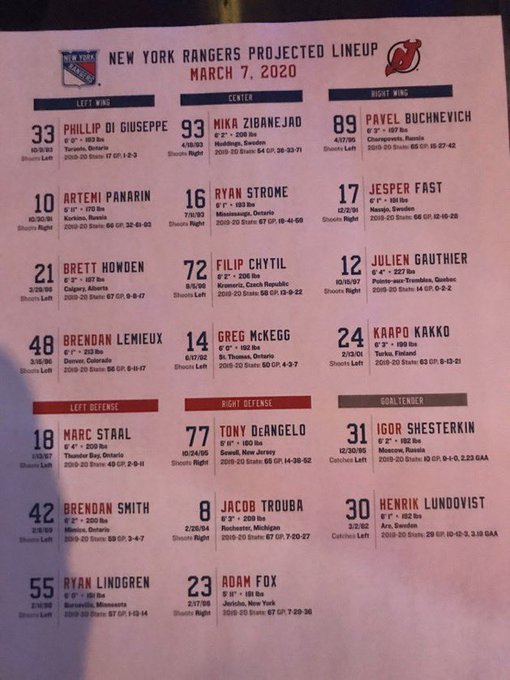 As I wrap up the news portion of this blog here, away from Igor & the Ranger lines, the biggest news, prior to this Battle of the Hudson game, is when Carolina beat the Islanders earlier in the day, during a 1PM matinee game.
And really, this day couldn't have gone any worse for me. Here's a quick recap: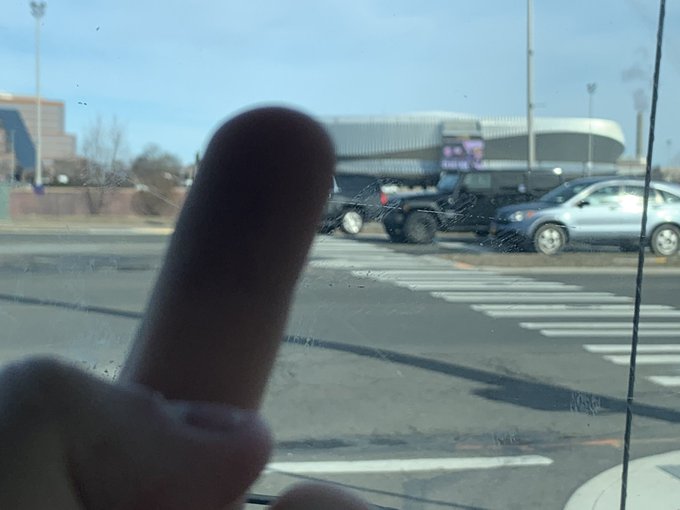 Knowing that Igor was expected to start in net tonight, when I woke up on Saturday morning, I felt like I won the lotto. Despite having to work on a Saturday, nothing was going to bring me down!
As the work day commenced and made its way past lunch time, the Islanders hosted the Carolina Hurricanes. For us Ranger fans, we needed a Carolina win. An Islanders win wouldn't have hurt us too bad either. The only thing we didn't need was a three point game. Of course, the Canes beat the Islanders in overtime, meaning the Canes got two points in the standings and the Islanders got one.
At around 4PM today, the updated standings looked like this: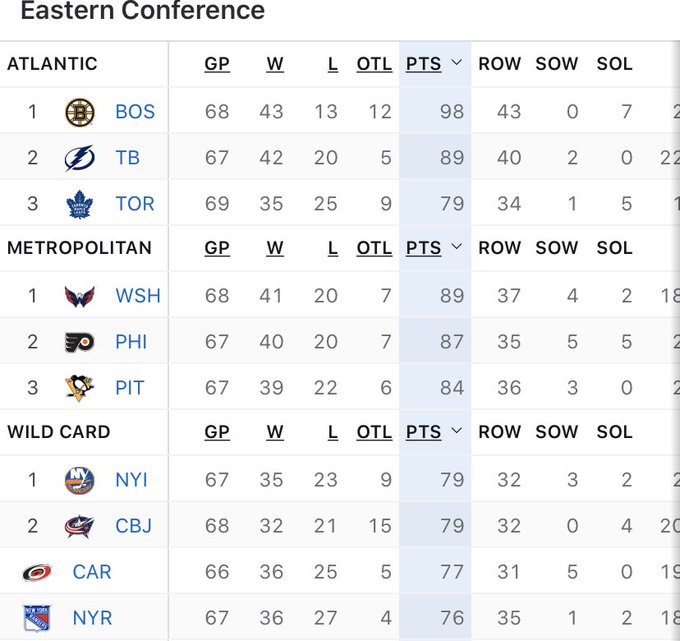 As a result of this horrific three point game, all the Rangers could do was handle business on their end, LIKE THEY ARE SUPPOSED TO AGAINST THE DISASTROUS DEVILS. Instead, the Rangers had their worst game of the season tonight. And to cap this terrible day off, we now have daylight savings time, where we will lose an hour of sleep. As someone who barely sleeps at night, and writes these blogs into the wee hours of the morning, this is not good news!
What a shitty Saturday. For the cherry on top, I found my cat sleeping in the sink twice today, which means she's probably sick, which means a disgustingly high vet bill in my future. That's what I need right now. These vets have some racket. Even worse, they don't take insurance and you can't write these medical bills off on your taxes! (Although I do know someone who writes off his four dogs off as dependents! Name withheld to protect the innocent! And really, you should get some tax break for taking care of a pet. As anyone with a pet knows, they are family!)
Ugh. This day has been awful.
Let's go to the box score and race through this recap. As usual, the box score comes from ESPN.com:
SCORING SUMMARY: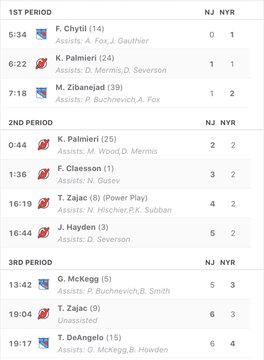 PENALTIES: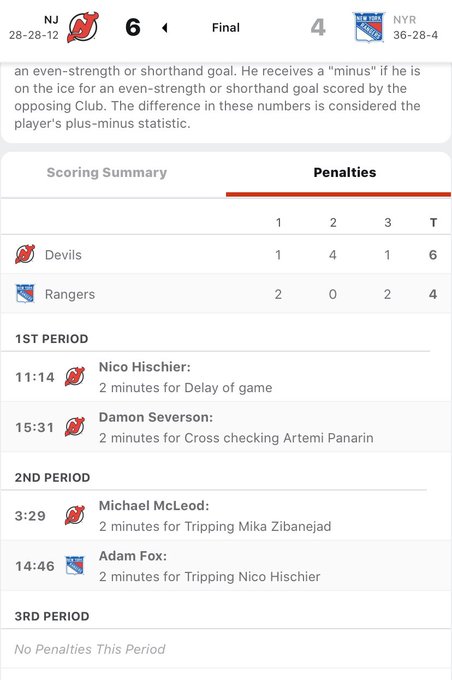 TEAM STATS: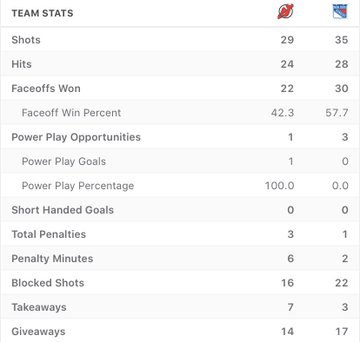 GOALIES:
| | | | | | | | | | | |
| --- | --- | --- | --- | --- | --- | --- | --- | --- | --- | --- |
| SA | GA | SV | SV% | ESSV | PPSV | SHSV | SOSA | SOS | TOI | PIM |
| 35 | 4 | 31 | .886 | 28 | 0 | 3 | 0 | 0 | 60:00 | 0 |
| | | | | | | | | | | |
| --- | --- | --- | --- | --- | --- | --- | --- | --- | --- | --- |
| SA | GA | SV | SV% | ESSV | PPSV | SHSV | SOSA | SOS | TOI | PIM |
| 23 | 5 | 18 | .783 | 17 | 1 | 0 | 0 | 0 | 39:06 | 0 |
| 5 | 0 | 5 | 1.000 | 5 | 0 | 0 | 0 | 0 | 17:27 | 0 |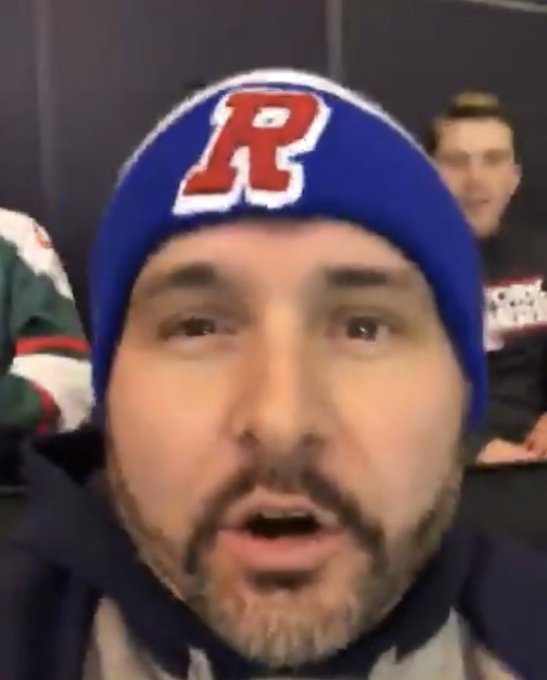 As usual, the M$G Networks pregame show was horrible tonight, with Steve Statiquette foreshadowing a Rangers loss. From there, we had about 5 different teases for the Pepsi Fan CFO contest, as the winner was going to be announced tonight. The Rangers hyped up the result of this contest, as if it were powerball numbers and the result of a Presidential Election. More on this Pepsi Fan CFO thing to come.
Speaking of Steve Vagistat, he is calling Igor "Zesty Shesty", in what may be the worst possible nickname for CZAR IGOR. Like most things, nicknames aren't Vally's strong suit.
In what should surprise no one by now, the Rangers lines or the Devils starting goalie were never mentioned on the pregame show. However, we did see Lundqvist congratulate Zibanejad for his five goal game. That's what was pertinent tonight.
If there was any treat tonight, Kenny Albert called the game with Joe Micheletti. Sam Rosen was attending his grandson's bar mitzvah. In related news about Jewish ceremonies, I heard Valiquette enjoys a good bris, even if he doesn't know the family that's holding the circumcision.
Speaking of Joe Micheletti, and I have every right to say this, because I've been defending him all season – he was absolutely Father Finkin' horrible tonight.
There were two things I wanted from Kenny Albert tonight. I wanted him to shout-out Sam Rosen in the second period, by saying "SECOND PERIOD JOE, WHAT DO YOU LOOK FOR HERE?" I also wanted Kenny Albert to bitch-smack the bejesus out of Micheletti.
No joke, at this point, I think Micheletti just says the word "fabulous" to troll the viewers. There is no way that Micheletti is unaware of how many times he says the word "fabulous" on a broadcast. Micheletti says the word "fabulous", more times than 978679868967896 homosexual men say that word during a gay sex orgy in San Francisco on Halloween night.
Everything is freaking fabulous according to Joe Micheletti. PROSTATE EXAMS! FABULOUS! MISCARRIAGES! FABULOUS! A FATAL DWI! FABULOUS! POLYPS ON YOUR ASSHOLE! FABULOUS! TAX EVASION! FABULOUS! MORMONS! FABULOUS! THE DEATH OF A LOVED ONE! FABULOUS! TERRORISM! FABULOUS! INCEST! FABULOUS! HEROIN OVERDOSES! FABULOUS! HENRIK LUNDQVIST!  FABULOUS! JERRY SANDUSKY! FABULOUS, FABULOUS, FABULOUS!
While I have talked about Joe Micheletti and his affinity for the word "fabulous" on this blog before, it was never more annoying than tonight. The Rangers are getting their shit pushed in all game and Joe is talking about the fabulous Devils. Infuriating.
Seriously, someone get this man a thesaurus.
How about this, I'll even do the homework for you Joe! The following synonyms/alternative words for the word "fabulous", comes from https://thesaurus.yourdictionary.com/fabulous:
Made known or famous by fables; legendary.
Not genuine; spurious; counterfeit
Worthy of remark or notice
Seeming too unusual or improbable to be possible
That causes wonder; marvelous; amazing
Causing wonder; surprising, astonishing, or extraordinary
Having a strange or weird appearance; grotesque; odd
So implausible as to elicit disbelief; unbelievable:
Causing wonder; surprising, astonishing, or extraordinary
Extraordinary; outstanding:
Extraordinary; marvelous:
Extremely large in amount, extent, or size; enormous:
That causes wonder; marvelous; amazing
Remarkable or extraordinary; wonderful.
Wonderful or superb; remarkable:
Having or deserving glory; famous.
Causing wonder; surprising, astonishing, or extraordinary
Arousing or intended to arouse strong curiosity, interest, or reaction, especially by exaggerated or lurid details:
Brilliant with light or color; radiant:
(Informal) Unusually fine, admirable, enjoyable, etc.
That causes wonder; marvelous; amazing
(Rare) Of or for a dandy; foppish
Being one generation removed from the relative specified. Often used in combination:
(Chiefly Brit., Slang, former) Excellent; fine; splendid
(Informal) Outstanding; exceptionally fine
Fashionably elegant; stylish.
(Archaic) Capable of making one tremble; terrible.
Currently very popular or successful:
Having a sharp edge or point; that can cut well
Without anything superfluous; simple
(Informal) Attractive, smart, stylish, enjoyable, etc.
Remarkable; extraordinary
Of, or having the nature of, a myth or myths
Imaginary, fictitious, or not based on facts or scientific study
(Mythology) Of or pertaining to mythology
Of, relating to, or recorded in myths or mythology.
---
Father Fink the word Fabulous!
And if Joe is just doing this to be funny, for the sake of Ranger fans sanity, please don't use the word "fabulous", 67896789678966 times, when the Rangers are stinking out the joint. No joke, for two periods in this game, the Rangers looked like the were playing the role of a couple in a romantic comedy movie, skating around Rockefeller Center during Christmas Day. What the Rangers did tonight wasn't hockey.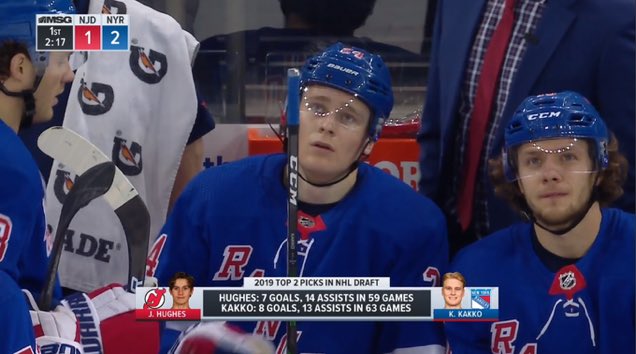 If you can't tell by now, I'm not thrilled with this game. I'm going to blow through this recap, or at least go as quickly or as short as I possibly can! After all, what other daily blog goes as long as this one? One click, no ads, 10K words!
This game wasn't all bad. Or at least not at the start of it. Very quickly, the Rangers jumped out to a 6-0 SOG lead, which is a rarity these days, and certainly ever since CK20 went down. In fact, after waiting 8-12 minutes for a SOG in recent games, the Rangers had a SOG 34 seconds into this game!
Just 5:34 into the game, Filip Chytil kicked off the scoring, after a FABULOUS pass from Gauthier:
Filip Chytil with his 14th of the season, what a dish from Gauthier!#PlayLikeANewYorker pic.twitter.com/7EvDZb8DYD

— Hockey Daily 365 (@HockeyDaily365) March 8, 2020
1-0, GOOD GUYS!
On the goal, Adam Fox dishes the puck to Gauthier. Gauthier swoops around the net, finds Chytil all alone in the slot and bam, easy as that. Not bad for this new third line, eh?
Less than a minute later, Kyle Palmieri beat Igor with the worst goal Igor ever allowed in his life. Palmieri, adjacent to the goal line by the boards, shot a meaningless puck, and somehow and someway, it squeaked by Igor's skate and the goal post. 1-1.
However, just after this rare gaffe from Igor, Mika Zibanejad, the hottest player in the NHL right now, picked up his 39th goal of the season:
6 goals in 2 games? Sure why not

Mika with the beauty!! pic.twitter.com/C16CCjIBwq

— Rangers on MSG (@RangersMSGN) March 8, 2020
2-1, GOOD GUYS. Of note, Adam Fox assisted on both goals.
This was a tremendous (another adjective that isn't "fabulous") play here. Adam Fox keeps the puck from crossing the blueline and runs a give and go play with Zibanejad.
Unfortunately, this is where the Ranger highlights end.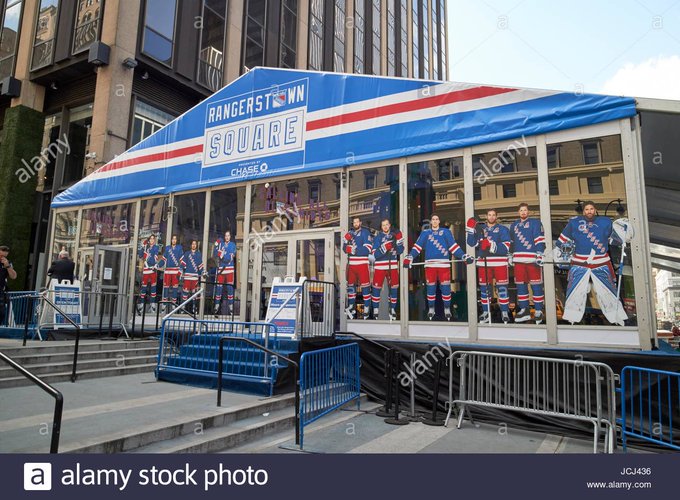 With the Rangers up 2-1 and Igor settling down, making several big saves, including a breakaway save, the Rangers would get back-to-back penalties in the period. Nico Hischier went off first, for a delay of game. The Rangers PP looked absolutely awful here, not even logging a SOG. Then, as Nico came back on the ice, Severson was boxed for cross-checking Panarin. On this Rangers power-play, they got one measly shot on goal off. Two power-plays, two blown chances.
In fact, during these two Ranger power-plays, the best SOG came from the Devils, when Igor made his breakaway save. Even with the save, the shot hit off Igor's glove and off the post.
I said it at the time, so this isn't hindsight being 20/20 – the Rangers had a chance to put their foot on the Devil's throats and failed to do so. Instead of going up 3-1, or even 4-1, the Rangers special teams were 0-2 here. Not a recipe for success.
During the second power-play, Kaapo Kakko also went high and wide, from two feet away. The kid doesn't have it right now and his body language emited a feeling of no confidence.
With three seconds left in the first period, Igor would stop Jack Hughes.
At the end of twenty mintues, we remained Rangers 2, Devils 1. Here's what I said at the time:
2-1 good guys after twenty. I don't care about the goal allowed. Only bad thing was the Rangers PP. This game should favor NYR as the game continues. #NYR #PlayLikeANewYorker

— BlueCollarBlueShirts (@NYCTheMiC) March 8, 2020
If I was right about anything, it was how the Rangers PP came back to bite them in the ass.
And oh, before this blog really takes a turn for the worse, let me give you some levity here, and share with you a video the Rangers released, prior to tonight's game, as Tony DeAngelo & Mika Zibanejad read "mean tweets":
They had @TonyDee07 pull up the receipts from the Mika trade, straight savagery 🤣

(via @NYRangers)pic.twitter.com/1N9DrOA7xD

— Rangers Videos (@SNYRangers) March 7, 2020
You know what I would pay to see? Tony DeAngelo reading the Twitter account of that overweight liberal female with the disgusting, infected & rusty-as-Igor-tonight, nose ring. No joke, and I don't want to give her free publicity here, but this nasty woman literally tweets out death threats and hatred about Tony DeAngelo all day long. All because TDA has different political views than her. SAD!
During the intermission, the Rangers announced that Ricky Diffendale won the Pepsi Fan CFO contest. I'll never remember this kid's last name, so I'll just call him Ricky Ricardo until he gives me a reason to remember his last name.
I'll say this – I was surprised that a young blonde female did NOT win this. The Rangers even had a young blonde female in their final four, but instead, went with a guy who kissed Valiquette's ass during his interview.
This is no secret – I am not a liberal. I am not "woke". I am not politically correct. Shocker! That said, I can't believe the Rangers went with some vanilla factory-made white male here. I would've bet my life savings that a hot chick, a tranny or anyone not white would've won this thing. The last person I saw winning? A white male. I guess Vally wanted someone who would kiss his ass and suck his charts full-time.
At the end of the day, it doesn't matter who wins this contest. The only people who care about this contest are the people that entered. If this Ricky Ricardo guy gets Frank Boucher's #7 into the M$G rafters, then I will give a shit. Until, then I don't care.
Speaking of Frank Boucher, when I made that above comment on Twitter, I got this response:
Don't remember any player wearing that number honestly

— Nathan Cohen (@NathanCohen24) March 8, 2020
These are the idiots that I deal with on Twitter. And to be fair, I don't know if Nathan is an idiot or not. Maybe he's just uneducated. Throw out my quest to get Boucher's number retired. HOW DO YOU NOT KNOW WHO ROD GILBERT IS? I mean, Rod Gilbert's #7 was the first number the Rangers ever retired, back in 1979. HIS FATHER FINKIN' NICK NAME IS MR. RANGER!
This is what happens when this young generation only cares about one cupless goalie.
Man, I'm in a mood tonight, aren't I? Here's why:
For the next twenty minutes, the second period of this game, was the worst period of Rangers hockey all season. Worth mentioning, everything went downhill after they announced Ricky Ricardo as the Pepsi Fan CFO/Vally ball fluffer.
I'm so freaking disgusted, mortified, offended, upset, pissed off and miserable about this period, that I'm not even going to bother recapping every play in the period, as I usually do in these recaps. I'll just give you the low-lights:
— 96 seconds into the period, the Devils scored two goals, as the result of laziness, sloppiness and Igor not being on top of his game.
---
— The Devils tied the game at 2-2, when Kyle Palmieri scored off a rebound goal.
---
— Less than a minute later, Freddie Claesson, you know, an ex-Ranger, put the Devils up 3-2, when he was left all alone. Freddie Claesson folks.
---
After the Devils capitalized on the Rangers inability to give a shit, David Quinn took his timeout: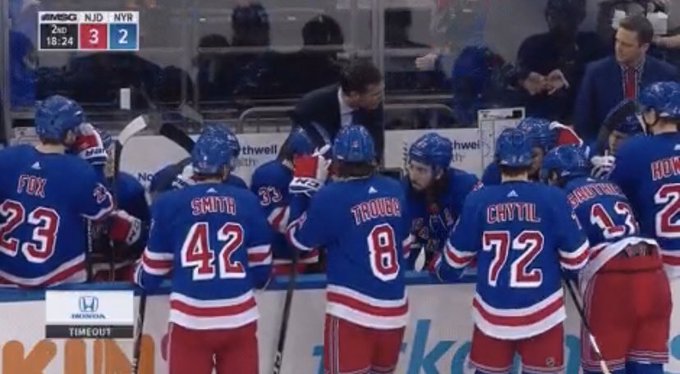 — Two minutes after the Devils took the lead, the Rangers had a chance to tie the game, as they got their third power-play of the game. Of note, the Devils had no power-plays up to this point. Once again, the Rangers power-play was held off the board. If there is any consolation, Blackwood robbed Buchnevich on a one-timer. At least the Rangers had one GOOD LOOK on net, but that doesn't cut it. 0-3 on the PP, against a tanking Devils team.
---
— With the Rangers doing OO-GATZ, M$G was so quiet, that you could hear announcements being made at Penn Station. "The 8:12PM train to Long Beach is on Track 17. Please step over the homeless people and keep clear of the closing doors."
---
— Micheletti and Albert kept talking about Mika's five goal game, AS IF IT HAD ANYTHING TO DO WITH THE RANGERS GETTING THEIR ASSES KICKED TONIGHT. FABULOUS! And really, after this game tonight, that Mika 5 goal game now feels like it took place ages ago.
---
— With about five minutes to go in the period, Adam Fox took a penalty. Travis Zajac would then score on the Devils PP. 4-2 bad guys. The Rangers were statues here. With these crazy liberals wanting statues of Christopher Columbus being taken down, these moronic momos should've begged the Rangers to remove the statues on this Rangers PK.
---
— As the Devils doubled-up the Rangers, Kenny & Joe were giving Shestyorkin the save of the game, despite 25 minutes of time left in regulation, in a game where the Rangers took it up the Hershey Highway.
---
— Just to give you the full scope here, and with no penalties in the third period, the Rangers PP was 0-3 tonight and the PK was 0-1. FOUR FAILURES!
---
— John "WHO ARE YOU?" Hayden, scored his third goal of the season, beating Igor on an easy shot. 5-2, bad guys, with this goal coming 25 seconds after the Devils PPG.
---
I'm telling you guys, I tried keeping the faith. I really did. Here's what I said at the end of this kick-in-the-nuts period:
5-2 Devils after two periods. This is me saying it – I see Lundqvist coming in for the third. And I see the Rangers coming back. #PlayLikeANewYorker #NYR

— BlueCollarBlueShirts (@NYCTheMiC) March 8, 2020
Remember that FaceApp, where you can age yourself? Well I just ran my picture through it, and here's what I will look like in 30 years, if the Rangers don't cause me a heart attack first:
As predicted above, Lundqvist did indeed come in for the third period. After a making a breakaway save on Jack Hughes to start the period, Lundqvist would see only four more shots in his limited appearance.
That, right there, tells you the sense of urgency the Rangers had here. After getting pummeled in their Vallyhole, instead of coming out with some snarl and gnarl, the first play of the period saw the Devils on a breakaway. Pathetic.
Obviously, tonight's second period will go down as the most horrific period of the season, especially when you consider all the circumstances – the Devils suck, the Rangers needed this win and the playoff push. That said, the third period, logistically and optically, may have been even worse.
Despite having their brains beat in, as the Rangers took a beating in their flesh tunnel, the Rangers treated this period as if someone told them their dog and their grandmother died. The effort wasn't there. They were just skating around in circles.
And I don't want to hear one word about the Devils defense, as I saw on social media. THE DEVILS SUCK. They have many AHL guys on their team. Furthermore, the Rangers have to handle business. YOU CAN NOT, and I repeat, CAN NOT, make any excuses for this Rangers team tonight.
The third period was a chore to the finish line.
With six minutes and change left, Greg McKegg got an "A-Rod" goal, when he deflected in a shot off of the stick of Brendan Smith. To be fair, while McKegg will never have A-Rod status, you get the point. It was a meaningless and too-little-too-late goal for the Rangers. 5-3, bad guys.
With three minutes and change remaining, DQ pulled Lundqvist for the extra attacker. After a stretch of nothing, Zajac scored the final dagger, with under a minute to go, the empty net goal, pushing the score to 6-3 bad guys.
In something that will only mean something for stat nerds, TDA's agent and the back of a hockey card, DeAngelo scored a fluke goal, when a puck he shot bounced off a Devils defender and past Blackwood. 6-4. Of note, McKegg picked up an assist here. A two point game for the Kegger! I can't even feign to be happy here.
6-4, your final from M$G. Worst loss of the season, hands down. This loss is like coming home and seeing your best friend bang your wife.
I have nothing left to give you. It's late, I'm on no sleep and as mentioned as many times as Micheletti uses the word fabulous – I get no joy writing blogs like these. After all, I started this site to share my excitement about the Rangers. I didn't start this blog to wallow in the mire.
If there's anything to add here, as mentioned on my last two or three blogs, with the Rangers going out west, now may be the time for the Rangers to call someone up to replace Kreider.
I've talked about Kakko in the past, as recent as my last few blogs, where I defended him; but it might be time to give him a game or two off. You can see he's worn down mentally, just through his body language and non-stop face grimaces of late. Call up Vinni Lettieri and give me something to cheer for.
If anything went the Rangers way tonight, it's the fact that Columbus lost tonight too, being downed by the Oilers 4-1. That means the Rangers are still three points away from a playoff spot, so Zed isn't 100% dead yet.
After playing six games in ten nights, the Rangers now have two days to think about this loss. On Tuesday, the schedule resumes, as the Rangers visit Dallas on Tuesday and then will play the next night, on Wednesday, in Colorado. After that, it's another two days off, before a Saturday night game in Arizona.
Work schedule permitting, due to the late game and my early start at work, I'll be back Tuesday night; barring anything crazy happening Sunday or Monday.
Despite how bleak things look now, I choose to keep the faith. Let's go Playoffs!
As always, thanks for reading and win or lose…
"LET'S GO RANGERS!"
Sean McCaffrey
BULLSMC@aol.com
@NYCTHEMIC on twitter