Greetings and salutations everyone and welcome to another blog here on BlueCollarBlueShirts.com. Despite what you may think, I take no gratification of being proven correct, in regards to Henrik Lundqvist being horrible once again.
In my last blog, I talked about the Rangers loss in Philadelphia on Friday night. In that blog, I gave the team a complete pass. While you don't want to make excuses, you can't ignore the facts either. In that game, the Rangers were playing their third game in four nights and were on the second half of a back-to-back, against one of the best home teams in the NHL, in the Flyers. The Flyers also had the advantage of having two full days off before that game and were well rested, while the Rangers didn't get into Philadelphia until 3:00AM Friday morning.
Speaking of my last blog, you can read that blog, and all my most recent blogs, by checking out the links below:
---
---
---
---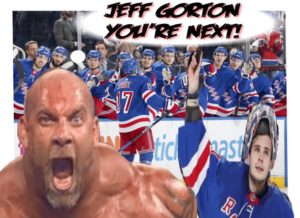 ---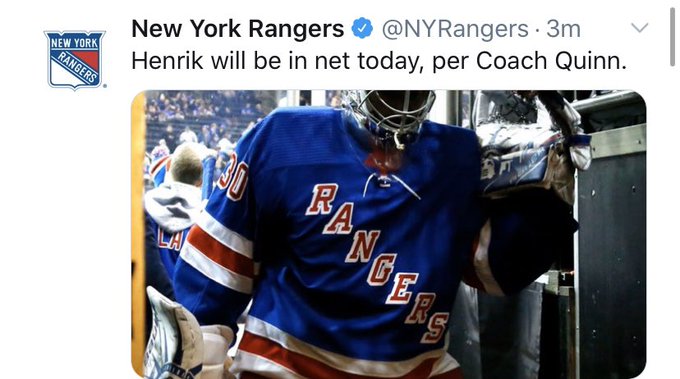 Going into this game with the Flyers today, as I said at the end of my last blog, I had no issues with Henrik Lundqvist playing today. I also had no issues with Alexandar Georgiev playing on Friday night. After today's loss to the Flyers, I saw a lot of people on social media using 20/20 hindsight. And really, even with 20/20 hindsight, I don't think it mattered who started on Friday; the Rangers just didn't have their fastball in that game.
With Lundqvist having another horrible start, in this game with the Flyers on Sunday, it's very easy to say "Georgiev should've started." I wouldn't have minded Georgiev starting this game, but I had no issues with Lundqvist getting the nod either. Georgiev has to rest some time. However, if Georgiev did start, I would have understood. After all, once again, this was the "biggest game of the season", something that will continue until the Rangers either clinch a playoff spot or are eliminated from the playoff race.
Unless the Rangers were going to call up Adam Huska or J.F. Berube, to me, it made sense that Lundqvist got this game. As we've seen from Quinn this season, whether it comes to his line-up or his goalie, he will always ride what has been working. If the line-up is hot in a win, DQ uses the same line-up in the next game. If the goalie is hot, Quinn rides the goalie. While you can argue that Georgiev should've started this game, since he's the best option and because of the playoff implications, the Rangers do have a tough stretch of games coming up. Lundqvist, prior to this season, does have a favorable history with the Flyers. If there was any game for Lundqvist to start, with Igor out, this was the game.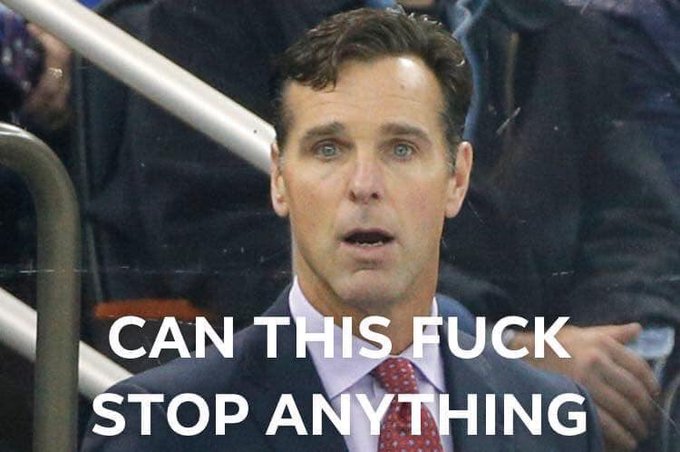 During this game and at the end of this game, I saw many Ranger fans go to the bridges, as they took their proverbial swan dive. What none of these fans seemed to realize was this – these are the games the Rangers have won during this recent winning streak. The difference in this game, as opposed to the recent games, was that the Rangers didn't have an NHL caliber goalie in net today.
Ever since Igor got here, in the win over Colorado, take a look at my blogs from that point in time or just check the Rangers box scores. With Igor & Georgiev rotating, and the only goalies to pick up wins during the Rangers historic winning streak, the Rangers were giving up 35+ shots a game. On most nights, they were giving up 40+ shots on goal a game. However, what allowed the Rangers to win those games, was the fact that in nearly every game, Georgiev & CZAR IGOR would make 40+ saves a game, or come close to it.
There were several first periods during this winning streak, where Igor or Georgiev would make 20+ saves in the first period alone. By the 13th Flyer shot in today's game, Lundqvist had already surrendered four goals, putting the Rangers in a four goal deficit.
I don't want to hear about some chart nerd's "expected stats" and all that other seltzer drinking foo-foo bullshit. When you look at today's first period, Flyers goalie Carter Hart was remarkable, stopping everything. On the other end of the ice, as usual, Lundqvist did his chronic bed-wetter act. It looked like he even shit himself a few times too, which would be unfortunate for the fans sitting in the 400's, as Lundqvist was deked out of his underwear twice in this game.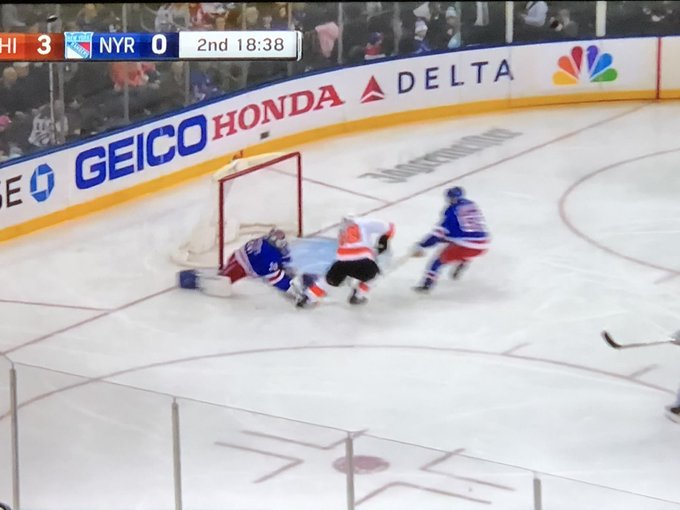 I think I'm going to need several shovels for this Lundqvist burial today! However, before continuing to dig out the birthday boy's grave, let's take a look at the other news and notes, that occurred prior to today's game.
First up – the line-up. With Chris Kreider out, the topic of the Rangers line-up was a hot button topic. I don't know why. After Quinn announced his line-up today, I saw people argue tooth and nail about it. When I see stuff like that, it makes me question if people watch this team at all.
As anyone knows, David Quinn will always shake up his lines if he isn't happy with what he's seeing. While Di Giuseppe got the nod to replace Kreider today, if Di Giuseppe had a bad game, it's not like DQ would've kept Di Giuseppe there all game. Quinn is never shy to shake things up, in-game.
Here were the lines and pairings for today:
FIRST LINE: Di Giuseppe/Zibanejad/Buchnevich
(This was the best Rangers line of the game, hands down. Mika could've finished with two hat-tricks today, had Carter Hart not been as good as he was.)
SECOND LINE: Panarin/Strome/Fast
(This was Strome's worst game as a Ranger. Fast also failed on several GOOD LOOKS today too.)
THIRD LINE: Howden/Chytil/Kakko
(They weren't bad, but they didn't stand out as they had been recently. Of note, with Strome having a bad game, Howden replaced Strome on the power-play.)
FOURTH LINE: Lemieux/McKegg/Guathier
(I thought these guys did okay in their role, but Lemieux was sandbagged by the officials with another reputation call.)
Defensively, we had the same old:
FIRST PAIR: Lindgren/Fox
(If these were still Lundqvist's Rangers, Lindgren would've been stapled to the bench today.)
SECOND PAIR: Staal/DeAngelo
(Staal made some key plays defensively today. TDA's points all came from the power-play. In fact, every Ranger point today game from the power-play, as the Rangers were held off the board during five vs five play.)
THIRD PAIR: Smith/Trouba
(These two weren't horrific or anything, but there were times in this game where the Rangers were down and Trouba wouldn't shoot. Can't make a comeback if you don't shoot.)
Of course, and in net, was Lundqvist, who we'll continue to look at as we continue along here.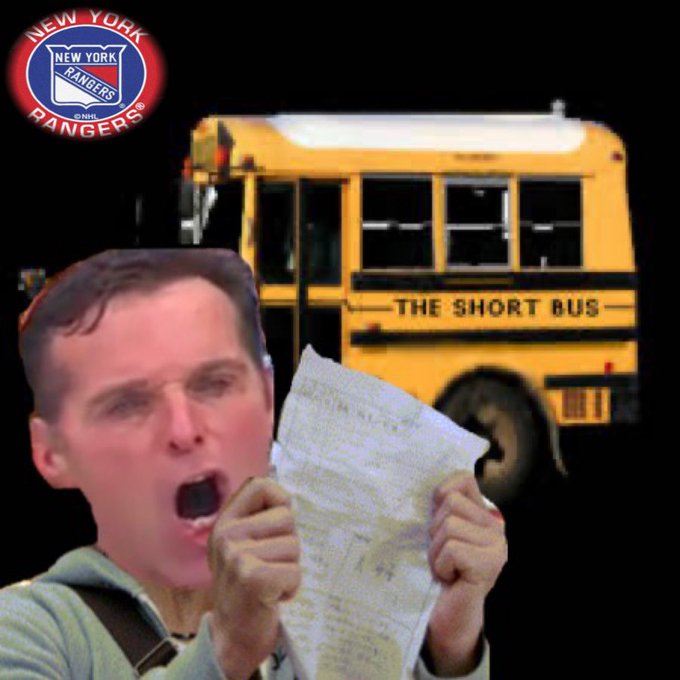 After announcing Lundqvist as the starter at 10:30AM, David Quinn gave a few news and notes to the media.
On the topic of Ranger goaltenders, DQ said:
"We have faith in all 3 of these guys. I know, for Hank, unfortunately, these guys have gotten hot when they've got their opportunity, so he hasn't played a lot. But he's worked his tail off in practices, he's ready to go, mentally, and, excited about getting him in there."
---
When it came to the topic of Lundqvist having any type of rust today, DQ said:
"There might be a little rust, but there's really nothing we can do about that. We want him in there. Georgie's played a lot in a short period of time, and Hank's looked good in practice and he's had a helluva career. So…"
---
Chris Kreider, as mentioned on my last blog, will miss an unknown amount of time. At this moment, the Rangers didn't release an injury time-table for Kreider yet. I don't know what the delay is.
In addition, the Rangers didn't add anyone from Hartford to the roster. While I would love to see Lettieri get a call-up, I didn't think that would happen immediately. After all, DQ seems to be happy with McKegg. I don't know if that will hold true for the rest of the run here, but for the time being, DQ is going with McKegg.
Furthermore, with the Rangers at home for the next week, and not out in California or in Western Canada, carrying an extra player isn't a dire issue.
David Quinn said as much, when asked about all of this:
"We're comfortable with these guys. They're only in Hartford, so they're close by if we need somebody. We've only got two recalls, so we don't feel right now that we need anybody here."
On the topic of the Rangers without Kreider, DQ said:
"I don't think anybody thought that we were going to have any success without Mika & we went 8-4-1. We beat some good teams w/out Mika. I think we all feel that we're a much better hockey team today than we were in Nov. when we didn't have Mika."
---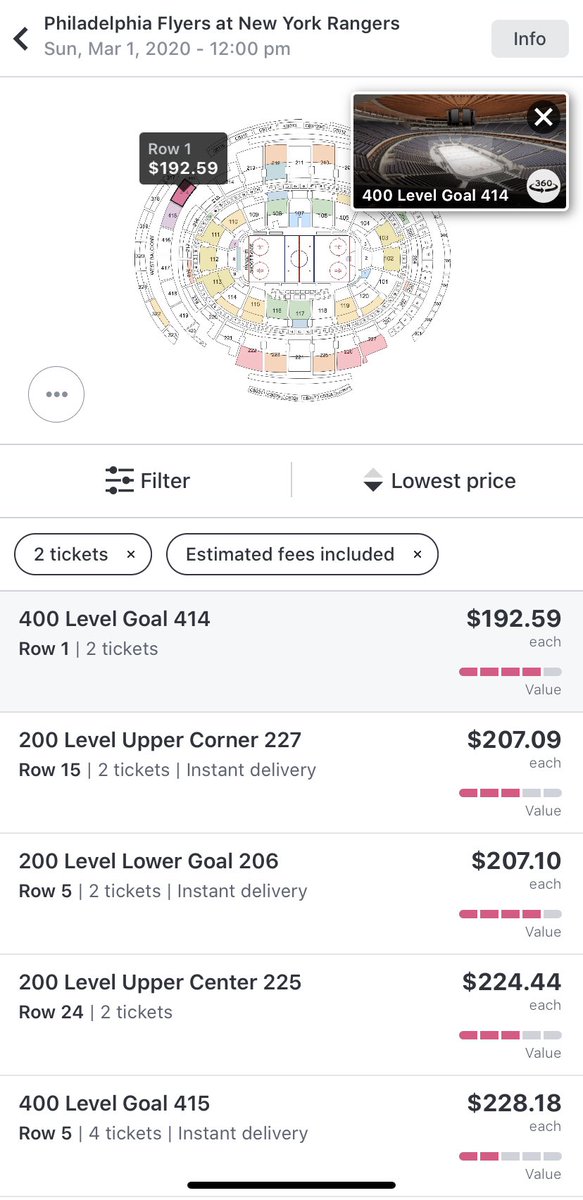 Today's game had a rare 12PM matinee start, as the Rangers tried to promote a heated rivalry game with Philly as "FAMILY DAY". You know, FAMILY DAY, where it would cost a family of four $800 to just walk into the door for this game, where they would have the honor of bumping their head on the iconic M$G roof.
$800 for four tickets. That doesn't include transportation, food/drinks, concession or the headaches of navigating around that cramped top level rotunda. FAMILY DAY – $1000+ for a family of four to sit in the worst seats in the house. For some people, that's a house, condo or rent payment. And what did you get for $1000? You got a goalie whose been outplayed by a zamboni goale in Toronto this season. SAD!
However, if you needed to rake up a few bucks for this game, you should be following my gambling picks, as I've been on a heater all week. Here's what I said before the game:
Season over-under record: 31-30-3

Two conflicting things here – Hank in net, which means high scoring game. However, most 12pm games are low scoring.

I think DQ riles these guys up. It's #nyr chance to take the second seed. Big game for #10.

Rangers 6, Flyers 4. OVER!!!! pic.twitter.com/jKII3AwHx1

— BlueCollarBlueShirts (@NYCTheMiC) March 1, 2020
With eight total goals scored, I'm now on a four game over-under win streak. My record now improves to 32-30-3 on the season.
And to be fair and give you the full story, even with Lundswiss in net today, I thought the Rangers had a shot to win this. Thankfully, I only track my over-under picks! And again, to give you all the details, I would never bet the Rangers to win a game with Lundqvist in net. I would only bet the over.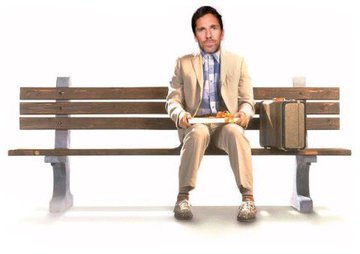 At this time, let's go to the official box score of the game, courtesy of ESPN.com:
SCORING SUMMARY: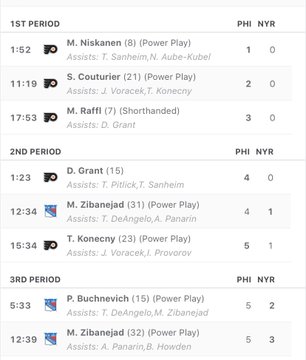 PENALTIES: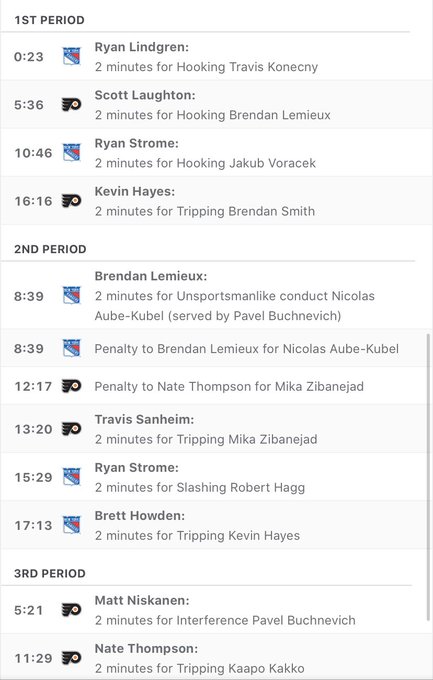 TEAM STATS:
(Note the face-offs. After losing the battle at the dot on Friday, where the Rangers barely won 30% of all puck drops, the Rangers had a 51% winning percentage today. Furthermore, look at the SOG stat. I would have to go through everything, but I believe 26 SOG is the least amount of shots the Rangers have given up since CZAR IGOR got here. No excuses for the "SPANK HANK" job the Flyers put on Lundqvist today.)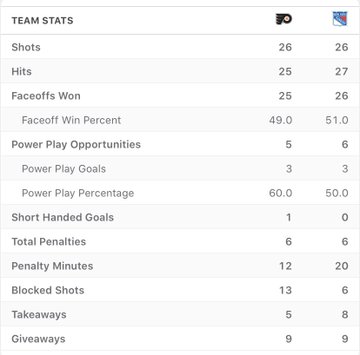 GOALIES:
| | | | | | | | | | | |
| --- | --- | --- | --- | --- | --- | --- | --- | --- | --- | --- |
| SA | GA | SV | SV% | ESSV | PPSV | SHSV | SOSA | SOS | TOI | PIM |
| 26 | 3 | 23 | .885 | 18 | 0 | 5 | 0 | 0 | 60:00 | 0 |
| | | | | | | | | | | |
| --- | --- | --- | --- | --- | --- | --- | --- | --- | --- | --- |
| SA | GA | SV | SV% | ESSV | PPSV | SHSV | SOSA | SOS | TOI | PIM |
| 26 | 5 | 21 | .808 | 14 | 0 | 7 | 0 | 0 | 57:42 | 0 |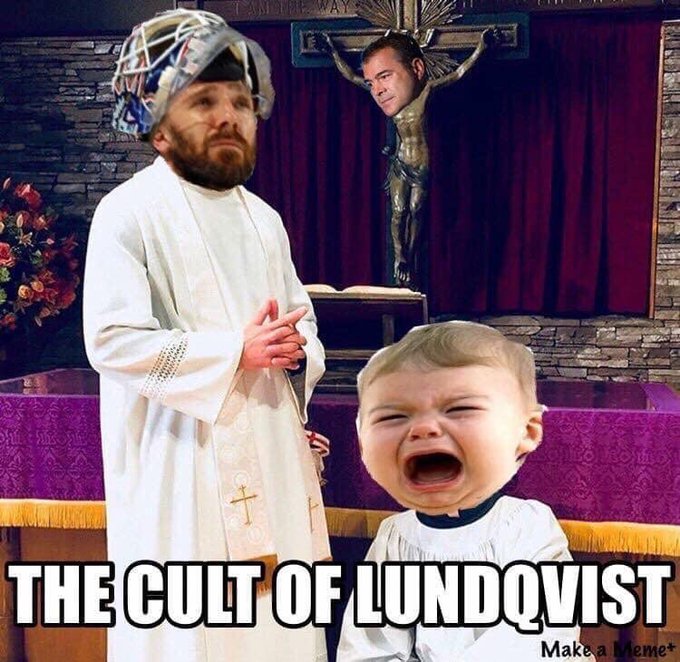 Today's game was a national game, as this aired on the NBC networks. On the bright side, that meant that Kenny Albert and Eddie O. had the call. That also meant that we didn't hear the word "FABULOUS" 798678967896789 times. In fact, we didn't hear that word once.
In hindsight, with the Rangers and Lundqvist getting their ass kicked, the biggest highlight of my three hour Rangers television viewing experience, is when I turned on NBC at 11:30am, looking for a pregame show. Instead, we had that televangelist Joel Osteen on, as he tried to part rubes from their money.
Real quick and I don't want to go into this really, I'm an atheist. When I see stuff like this though, having a pro wrestling background, I appreciate Osteen's hustle. The guy just sold out Yankee Stadium, where tens of thousands of simple-minded idiots are all lined-up gleefully, to put another level on Osteen's 7th beach house. As the great Booker T. once said, "Don't hate the player, hate the game!"
However, the closing of Osteen's speech, to his wide-eyed gullible marks, had me in tears. He said verbatim, "are you carrying that donkey? It's time to put that jackass down." This quote was said two minutes before the actual NBC pregame show started at 12PM, which is another story to itself.
Being someone who has never shied away of kicking the Cult of Lundswiss when they are down, I give you this picture: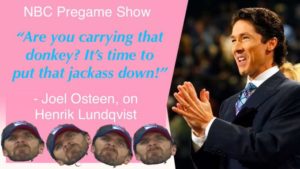 Once Joel Osteen finished taking people's money, we went to the NBC pregame show, which featured Mike Milbury.
Listen, we all know the deal. Milbury hates the Rangers. He even has said as so, on multiple occasions. However, when it comes to trashing Henrik Lundqvist, Milbury is almost at my level!
For about 5 straight minutes, Milbury said Lundqvist doesn't have it, he's old, he's rusty, the other goalies are better and said this would be a huge test. Milbury bashed Lundqvist so much, that he even forgot Georgiev's name, saying, "in a big game like this, they should go with the other guy."
Milbury would later add, "starting Lundqvist is a gamble and a crap-shoot." However, to be fair, he also talked about Igor being out and how Quinn had to start this loser sometime.
Of course, I found this entertaining. Away from Milbury, there were two storylines all game that NBC hammered non-stop throughout the duration of the broadcast – Lundqvist is old and Kevin Hayes used to be a Ranger. That's all these guys talked about all game. That said, I guess it beats Steve Statiquette and his Bud Light Selzter soy boy charts. Shit, I rather listen to Osteen than Vagistat.
It was also during this mini-pregame show, where we saw a shot of people sitting at rinkside. You had about 6757 kids, all holding up cardboard signs, as if they were Penn Station panhandling beggars. "GIVE ME A FREE STICK!" "GIVE ME A FREE PUCK!" "LET ME SMELL YOU!" "TOUCH ME!" I think I even saw Joe Unfortunato with a "GIVE ME YOUR FIVE HOLE UNDERWEAR HANK!" sign.
I get kids wanting free shit, but is this what parents are teaching their kids these days? Beg for free crap? This all comes off very "participation trophyish" to me. The price of admission doesn't just get you a seat in the arena anymore. You must walk out with player or game used paraphernalia!
That said, I rather see kids begging for free shit, than these overgrown adult males, jumping up-and-down, like a methed-up "Price is Right" contestant, whenever the free t-shirts come out.
NEXT.
Going into today's game, with every team ahead of the Rangers losing on Friday and Saturday, I had a good feeling. Just win this game and you get the second wild card seed. The Rangers owned their own destiny once again. However, the fate of this game would be decided quickly.
In what was a much louder crowd than usual at puck drop, as everyone knew how big a win would've been, just seconds into this game, Ryan Lindgren was boxed for hooking Konecny, as Konecny was going to the net.
On Lindgren in this game, this wasn't one of his better performances. As I'll get into with Strome, you can't go too bat-shit here, because these guys have been playing well all season. Bad games happen. It's just a shame that many bad individual games happened all at once today. And without Igor or Georgiev today, the Rangers didn't have a goalie to bail them out.
On the Flyers power-play, Lundqvist would record his first save of the game, the first save of few, as he stopped Voracek. That led the sheep in the building to baaaa and chant "HEN-RIK". You wouldn't hear that chant for the rest of the game.
Just 1:52 into the game, we had the VINTAGE and CLASSIC Henrik Lundqvist special – a goal allowed. Here's Matt Niskanen:
Steadzo Glensky! #PHIvsNYR | #NowOrNever pic.twitter.com/PwQo2eRbU1

— Philadelphia Flyers (@NHLFlyers) March 1, 2020
1-0, bad guys.
Listen, I rarely bury goalies for PPG's, but this goal allowed was an omen to come. For some reason, Lundqvist is way out of position as usual, gives up the easy rebound and Niskanen easily scores. This trend would continue all game.
Again – these are the types of shots Georgiev & Igor have been stopping all season, especially in frantic first periods. Once Lundqvist gave up this goal, you already had the "oh shit, not again" feeling and the Rangers looked to have that same feeling too.
It was also after this goal, that I saw many tweets like this one. I'm using Mike's tweet here, since he has a great taste in TV like yours truly:
The #Rangers are within striking distance of playoff positioning, and they go with Lundqvist in net.

It's like #PlayLikeANewYorker means play to narrowly miss the postseason.

— Chibs 🇮🇪 (@LateRoundCorner) March 1, 2020
After the poor goal allowed, Trouba would break up a Flyers scoring chance. Then, on the other end, Strome & Panarin tried to hook up, but just missed. Sean Courturier, who was a game-time decision with the flu, then got the puck and Hank made a save here. No Henrik chants after this elementary save though!
5:36 into the game, Scott Laughton hooked Brendan Lemieux, as Lemieux continues to lead the team in penalty minutes drawn.
On the Rangers first power-play of the game, Hart would stop DeAngelo. Then, Strome set up Mika perfectly, but Mika went wide at a net that was the size of a soccer net or Lundqvist's five-hole. In hindsight, I think about Strome's bad game today. Had Mika scored here, maybe things turn out differently for everyone.
Hart would finally stop Kakko, as the Rangers power-play came to a close.
Of note, during a TV timeout, the Rangers aired a video package for Hayes & AV. We didn't see this on TV, despite NBC reminding us 7867896789678967896789676 times that Hayes once was with the Rangers. POORLY PRODUCED!
At the 10:46 mark of the period, Ryan Strome was boxed for hooking. This was an easy call for the refs and a bad penalty for Strome to take, especially with a weak goalie in net for the Rangers.
Thirty seconds later, Lundqvist allowed the guy with the flu to beat him:
Feeling fine. Looking better. #PHIvsNYR | #NowOrNever pic.twitter.com/Vcv20mPwfi

— Philadelphia Flyers (@NHLFlyers) March 1, 2020
2-0, bad guys.
Again, I don't like to blame the goalie after PPG's, but this was the second rebound goal Lundqvist allowed on the PP. You don't see this stuff from IGOR, rarely ever and it only happens once in a while with Georgiev. At this point in the game, it already happened twice for Lundswiss.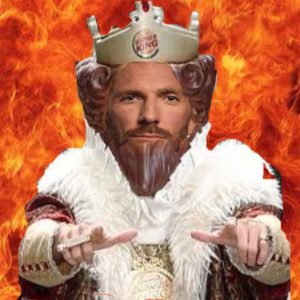 I must mention here – at this point in the game, I was inundated with social media taggings, all begging Quinn to pull Lundqvist. If there was ever a time to pull Hank, with winning the game in mind, this was the time to do it. However, to be fair, it's tough to solely blame a goalie for two PPG's. It's not like the Rangers were scoring goals either. Then again, as I continue to debate with myself on this blog, we've seen Igor & Georgiev hold the fort down, until the Rangers find their goal production.
With the Cult of Lundswiss crying their eyes out on social media, I saw this tweet, from @NYRKELSMADS:
As we went under five minutes remaining in the first period, Carter Hart was denying all comers. It looked like the Rangers would get another chance to crack him, when at the 16:16 mark, Kevin Hayes tripped up Brendan Smith. Rangers power-play.
On the NYR PP, NYR would have several chances. The best chance is when DEMAGANGELO (Credit, as always, to: @NYRKELSMADS) fed Panarin. Instead of taking the one-timer, Panarin did his hesitation move, a move that has worked several times this season. However, this hesitation gave Hart time to slide over and make the save.
Right after this, Raffl checked Strome right into the boards. This could've been boarding, but it wasn't called.
This then led to this short-handed goal:
The special teams have been special today. #PHIvsNYR | #NowOrNever pic.twitter.com/Y6w7Lnqo5O

— Philadelphia Flyers (@NHLFlyers) March 1, 2020
3-0 bad guys, with just under three minutes remaining.
When Raffl scored this goal, it was like someone told everyone in the crowd that all of their grandmothers and pets got the coronavirus. It was deadly quiet.
And yeah, this is a breakaway short-handed goal, but guess what – put on your Father Finkin' big boy pants and make save. You're only paid $8.5M to do so. Furthermore, we saw Georgiev make two of these exact same saves, in the Rangers last game with the Flyers, on Friday night.
Down 3-0, this was the last chance DQ had to put in Georgiev. More on that as I continue. That said, if the Flyers made it 4-0, DQ would've went past the point of no return.
After one period, the score remained 3-0 Flyers. The Flyers also had the SOG advantage too, up 13-9. Goaltending was a story here, as Hart was great; Lundswiss was not. Of course, the Ranger special teams were horrible here. The Rangers PP was 0-2 and scored a goal. The Flyers PP were 2-2 and had a shorty.
There are so many different facets of hockey that you need to be good at to win games. You need to win on special teams. You need to win face-offs, especially face-offs in your offensive zone. The Rangers were doing neither here.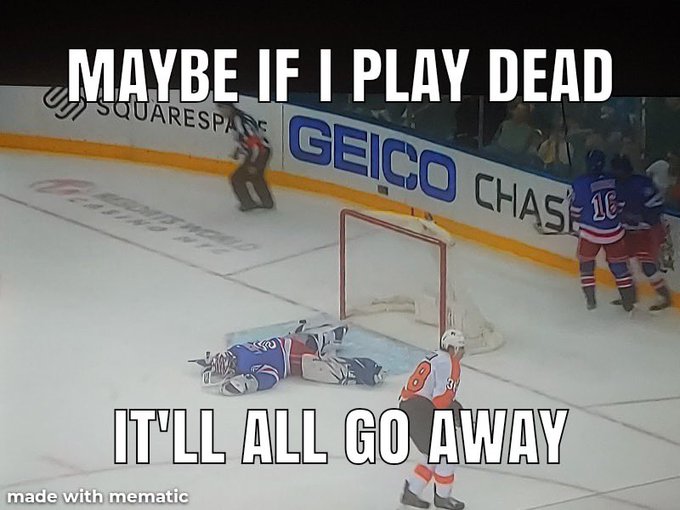 I'll say this too, because I said it on social media and I saw others saying it too – I hate day time games. However, the Flyers did their job, so you can't blame the starting time of this game for the Rangers loss.
Of course, during any Lundqvist game, especially a bad one, my social media goes crazy, as if it were the red light behind Lundqvist. I'll share with you what I said on social media at this time:
Contrary to popular belief, I was rooting for Lundqvist to have a good game. I WANT THE RANGERS TO WIN YOU IDIOTS. I just know they can't with Hank. #NYR #PlayLikeANewYorker

— BlueCollarBlueShirts (@NYCTheMiC) March 1, 2020
Just 1:23 into the second period, you know, the first two minutes of a period, we had the Lundqvist special:
(•_•)
<) )╯
/ \ Another.

\(•_•)
( (> Flyers.
/ \

(•_•)
<) )> Goal.
/ \#PHIvsNYR | #NowOrNever pic.twitter.com/nRVnDeCPXT

— Philadelphia Flyers (@NHLFlyers) March 1, 2020
4-0, bad guys. We hit the point of no return.
What Lundswiss was doing here, I can't tell you. He leaves his net, as if there were was money on the boards to go collect. Grant, moving at 1.2 miles-per-hour, then beats the bitch, as if he was doing Chris Brown cosplay on Rihanna.
This is where I really saw the Georgiev stuff heat up on social media. However, times have changed. GEORGIEV IS THE NUMBER 1 GOALIE, at least until Igor comes back. Down 4-0, there's no reason to burn your starter when the third string goalie is being lit up like the Rockefeller Christmas Tree. This game is already over at 4-0. At this point, it's about salvaging this game into something respectable, which the Rangers did do. Let Lundqvist take his lumps and allow your starter, in Georgiev, to focus on Tuesday, when the Rangers host the Stanley Cup champions & the current best team in the west, in the St. Louis Blues.
Down 4-0, there was nothing positive to say about this team. Even with a four goal deficit, Trouba would get the puck deep and instead of shooting, waited until the Flyers caught up. Mind-boggling.
Marc Staal would then break up a Flyers 3 vs 2 chance. Could've been 5-0 right there.
At the 8:39 mark of the period, Brendan Lemieux was trying to get the Rangers going and tried to instigate a fight. He got a two minute minor for "unsportsmanlike conduct" and a 10 minute game misconduct slapped on him too. Total reputation call. These refs are fairies. Can you imagine calling this type of penalty in a playoff game? You're going to kick a guy out of the game for ten minutes, just because he mouthed off and shoved someone? What has happened to the NHL? This is what happens when you have all these seltzer drinking chart boy losers running this place.
The Rangers would kill the Flyers PP here, not because of anything the Rangers did, but because the Flyers shot high and wide a bunch of times. Then, at the 12:17 mark, Nate Thompson high-sticked Zibanejad. Rangers power-play.
Sixteen seconds into the Rangers power-play, Panarin pushed a puck over to Zibanejad and Zibanejad deflected/quick shotted at Carter. 4-1, bad guys.
The only things of significance here were these facts:
— Panarin keeps his points streak alive. He wound up finishing the game with 90 points overall on the season. Career high.
— Mika hit 31 goals on the season. Each goal scored is a career high for him now.
— The Rangers, with this goal, ensured they wouldn't get shut-out. They haven't been shut-out this season, as say the Islanders, who have been shut-out five times this season.
Right after this goal, Fast had a good chance to score, but just missed. Could've cut the lead in half here.
A minute after making it 4-1, Sanheim was boxed for tripping Zibanejead. Mika drew his second penalty of the game! Now it was interesting.
The Rangers had the puck for most of the power-play here, but opted to fancy pass than put pucks on net. The Flyers would get a clear when a pass from Mika to TDA was wide, and the puck crossed the blue line. The Flyers would kill this off and the Rangers blew a huge chance.
After the Flyers kill, Ryan Strome immediately took a penalty for slashing. This was a bad penalty. In turn, Ryan Strome was benched for the rest of the game. I'd have to look it up, but Strome played only 11:42 tonight. I would have to imagine that's a season low for him.
Just five seconds into the power-play, the Flyers pushed the lead back to four:
Sunday Funday. #PHIvsNYR | #NowOrNever pic.twitter.com/DvFFzw50pJ

— Philadelphia Flyers (@NHLFlyers) March 1, 2020
5-1, bad guys. For Hank, or really any goalie, not much you can do here, except hope the puck bounces off of you.
With 2:47 to go, and with the Rangers already having three power-play goals, Brett Howden went off for tripping.
The Flyers looked disinterested to run the score up here. The Rangers successfully killed this Flyers PP and at the end of two periods, the score remained Flyers 5, Rangers 1.
Come the third period, it seemed like many fans left M$G and that people checked out of this game. I even had one fan say to me, (name withheld to protect the innocent) "this game sucks so bad that I'm going to hang out with my wife."
Once this third period started, I agreed with "CTL ALT DELETE" Jennifer Eberhart, when she said, "They should just use a running clock and get this game over with."
On the first play of the period, Lundqvist looked for an icing. As that would've helped his stupid ass. It wasn't an icing either. Then right after this, Fast missed on a GOOD LOOK, which seemed to routine for him today. And as mentioned above, Strome didn't touch the ice in this period, so DQ was mix-mashing his lines all period.
Obviously, today's blog is Lundqvist heavy. However, before you sic the pitbulls on me, it's all NBC talked about too. He just doesn't belong on this team anymore. His contract, more than ever before, is a huge distraction. Even when Lundqvist made a huge glove save in this period, no one gave a crap. And to credit someone who noticed this before I did, check this tweet out from "The Draft Analyst", who does great spots on "The Blueshirt Underground Show":
Not a single Ranger tapped Lundqvist for his glove save after a brutal turnover by Staal and blown coverage.

I'd love to know the truth.

— Steve Kournianos (@TheDraftAnalyst) March 1, 2020
And real quick, BSU had a special Saturday afternoon show, which you can watch/listen to here:
And while I'm plugging things, how about this hilarious post, from the Garden of Ill Repute Facebook Group: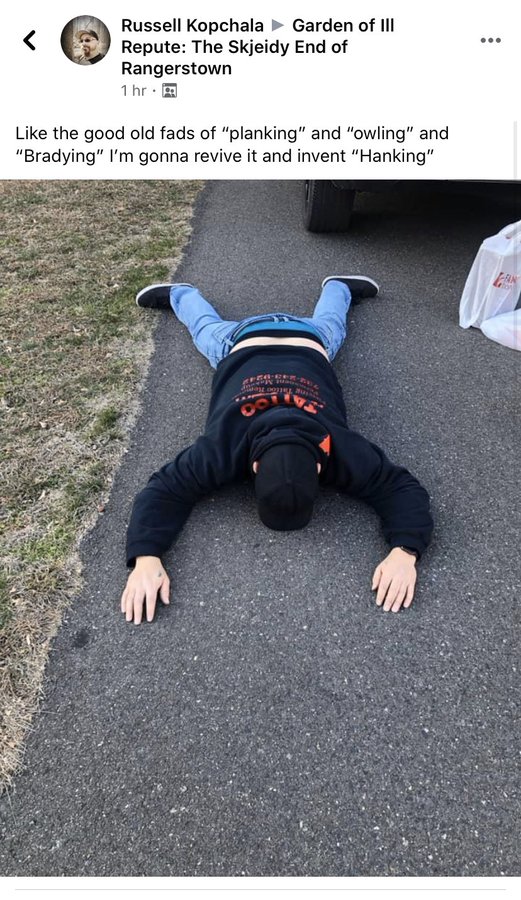 For the first time in a while, I'm just going to press the fast-forward button here, as the Rangers were down 5-1. What's the use of going into every little detail here?
5:21 into the period, Niskanen was boxed for tripping Kakko. Just seconds later, after winning the PP offensive zone face-off, Buchnevich deflected a TDA shot past Hart. 5-2, bad guys.
At the 11:29 mark, Thompson took his second penalty of the game, this time for tripping. A minute later, Zibanejad scored a beautiful goal, where he took a pass from the blue line from Panarin, made some fancy moves with the hands and backhanded it past Hart. 5-3 game.
And for those who may wonder, I don't have clips of these goals since the Rangers Twitter account didn't post them. I guess they threw in the towel too. I'm sure these goals are somewhere on the internet, but I'm not scouring all over the place to find them.
With the score now 5-3, things were a bit interesting. The Rangers would get chances, but Hart, unlike Lundqvist, made big stops, including one on Fox and two on Di Giuseppe.
I thought DQ may have waited too long to pull Lundqvist for the extra attacker, as Lundqvist was pulled with 2:15 to go. The Rangers had the puck for the whole time remaining here, but they didn't put ONE SHOT ON GOAL! Can't make a comeback if all you're going to do is pass.
As the final horn went off, and the happy-sad music blared through the M$G speakers, the final was Flyers 5 – Rangers 3. A big loss for the Rangers, as we all know what a win would've meant.
All in all, a bad loss for the Rangers, where Zibanejad's two goals and one assist will be forgotten about. No one is talking about Panarin's or TDA's multi-point games either.
After the game, Lundswiss said this:
"Personally, you want to go out there & try to build a good feeling, and obviously that was pretty tough giving up 3 1st-period goals. I don't think I was very good. A couple of tough situations, that's for sure. I thought maybe we took some sloppy penalties & that cost us."
At least unlike his Cult, he can admit he was never good. Of course, he had to throw the team under the bus with him, which is the norm for Lundswiss.
In a game that showed you how much the Rangers missed Igor Shestyorkin, which is why his name came up in the post-game, DQ said the following about CZAR IGOR:
"He feels a lot better. He's been on the ice and has taken some shots – nothing high. He might be back sooner than we envisioned, but it really is an injury that you're going to have to kind of monitor daily."
For the Rangers to have any chance of making the playoffs, they will need Igor back. Having Lundqvist play, even if it's only every three or four games, puts this team in a hole. You're better off with David Ayres.
As I write these words on Sunday evening, the Canucks vs Blue Jackets game is yet to have commenced. Furthermore, every team relevant in the Eastern Conference playoff standings are off tomorrow. So here's what we have, playoff/standings wise: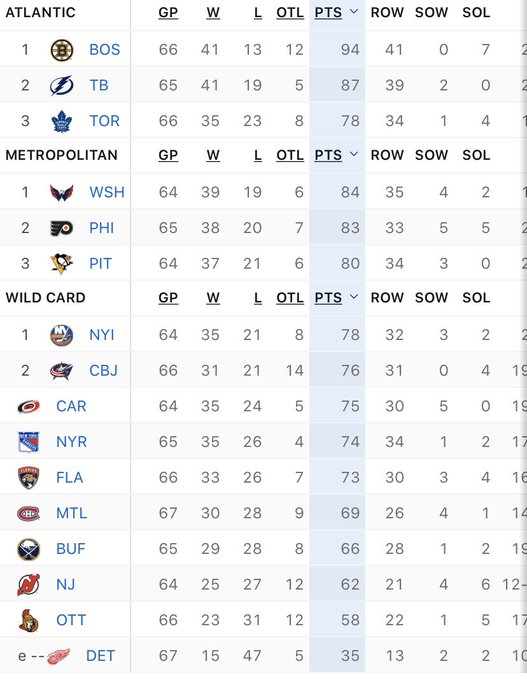 As it stands, if Columbus loses on Sunday night, the Rangers, despite being swept by Philly this weekend, are still one win away from a playoff berth.
Of course, the Rangers need to start winning again here. The schedule is not in their favor, as after this loss tonight, they now host St. Louis on Tuesday and Washington on Thursday. The Rangers then get a break on Saturday night, where they will host the last place Devils, a game that I'm sure Lundqvist is licking his lips to play in.
On Monday March 2nd, Lundqvist turns 38 years old. It's funny and ironic, as I bury him for being old, I turn 38 this year too. However, I'm not bringing down a whole team of people at my job!
This game was set up to be Disney story for Lundswiss. The old hero returns. He gets a chance to get the Rangers a playoff spot. His birthday is tomorrow. Instead, his day was the equivalent of a cherry bomb in a toilet. The Flyers may have well pulled down their trousers, and took a nice steamy and meaty cheesesteak dump on Hank's birthday cake. Speaking of that cake, I'm told that cake is made up to look like a shampoo bottle.
After being blown away in his last two games, you have to wonder this – if the Rangers do buy Lundqvist out this off-season, would any team even want him on the cheap? What's the use? He should save face and retire.
As I was putting this blog to bed, and posted the above graphic about how I thought Georgiev has to go on Tuesday, I saw this tweet, from some foaming-at-the-mouth Lundswiss Cultie: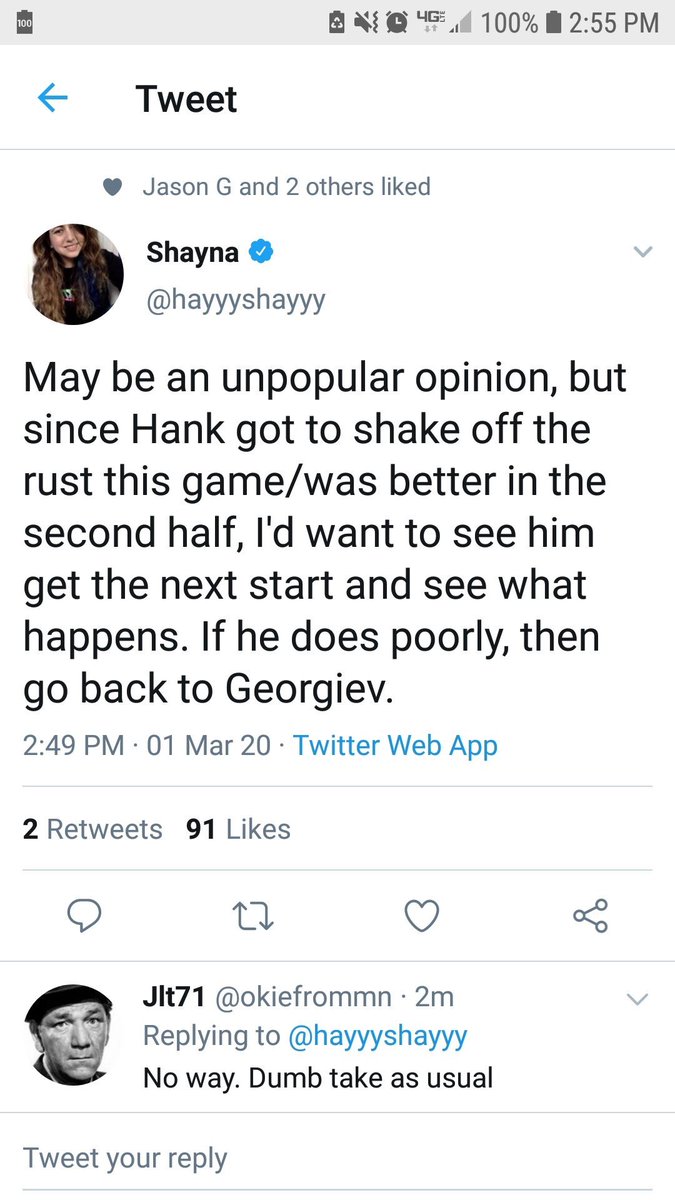 Barring something major tomorrow, such as Lundqvist announcing his retirement; I'll be back tonight to look at the Blues vs Blueshirts game.
Until then, keep the faith, thanks for reading and as always…
"LET'S GO RANGERS!"
Sean McCaffrey
BULLSMC@aol.com
@NYCTHEMIC on Tweeter