Greetings and salutations everyone and welcome to another blog here on BlueCollarBlueShirts.com. For the first time ever, I have no clue what happens next for the Rangers, or for America either.
March 11th, 2020 will be a date talked about by future American and sports historians, as the Corona Virus has now directly effected and impacted the sports world. Prior to tonight's Rangers game in Colorado, the NCAA announced that March Madness games would be played in front of empty arenas. After that announcement, the NBA officially suspended their season, after a player on the Utah Jazz was diagnosed with the Corona Virus. Even worse, the New York City St. Patrick's Day Parade, was also canceled today. Prior to this year, the parade had gone off without an issue for 258 consecutive years.
I talked a lot about the Corona Virus in my last blog. Just so I don't have to repeat myself here tonight, here's that blog, plus my most recent blogs, in case you missed them:
---
---
---
---
---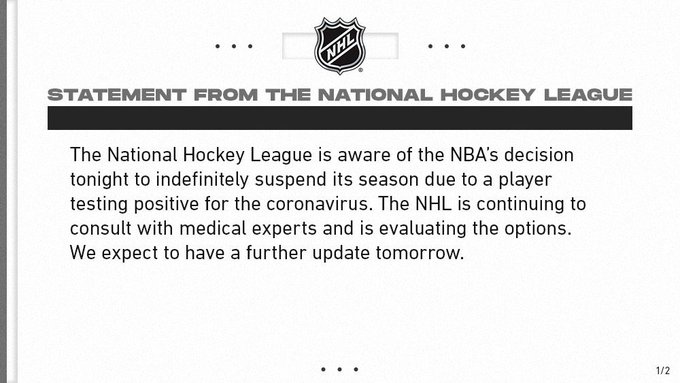 As mentioned last night, the Sharks were the first NHL team to announce that their schedule may be in limbo, as their home arena is closing its doors for a while. On Wednesday, the Columbus Blue Jackets addressed the issue, as a pocket of people near Columbus, Ohio were diagnosed with the virus. CBJ basically said what the Devils said prior to their last home game – attend games at your own risk and if you're sick, stay home.
Of course, the NHL will have the final say on this issue. As an optimist, I hope the schedule is unaffected. After all, when you look at basketball vs hockey, it's two different animals. In basketball, you're wearing shorts and a tank-top. You have guys sweating all over each other, passing a sweaty basketball around and there is a lot of skin-to-skin contact. In hockey, you don't have all that, as the guys are all wearing equipment. Plus, where in basketball, players are directly passing a ball to each other, in hockey, the puck is never touched by the skin of a player, as it's moved around with a stick. Outside of Brad Marchand and the occasional fight, there isn't much skin-to-skin contact in hockey.
I don't know what the exact number is (it's 1:00AM as I start this blog and I don't have the time to research this) but I would venture to say that at least 33% of NHL teams share an arena with an NBA team. As you're aware, the Rangers are one of these teams, as they share an arena with the Knicks. Canceling NHL games could go "hand-in-hand" with this.
Even at the end of this Rangers/Avalanche broadcast tonight, we were told that the Rangers were staying put in Denver. Prior to all the craziness of today, the Rangers were scheduled to fly out to Arizona after this game with Colorado. For the NHL, and for everyone really, we are now living in uncertain times.
It's tough to get too deep into the Rangers tonight, because we don't know when they will play again. This corona virus is crippling the way of life for everyone. Sporting events are being canceled, parades are canceled, concerts are canceled, everything is canceled, canceled, canceled. This all feels like the start of a George Romero movie, where a disease or virus cripples the world and turns everyone into flesh-eating zombies. The message from governments and the media are – "if you don't have to leave your house, don't."
This virus has gotten so big, that even Donald Trump was forced to address the nation on Wednesday night:
I'm not going to get into politics here, but Trump's speech directly effects every citizen and people across the globe. Trump announced a 30 day travel ban to and from Europe. Hockey wise, with many of these guys being Europeans, that means many of these guys won't be able to travel home, once the NHL regular season concludes in a few weeks, should the NHL schedule resume without a stoppage. This ban would also prevent a European parent, such as Zibanejad's father, who was just in NY last week, from attending games too.
If any major event will feel the effect of the travel ban, it will be WWE's "Wrestlemania", scheduled to take place on the Sunday after the NHL regular season ends. That event draws 100,000+ people, with many people from all over the world attending. While I'm sure "Wrestlemania" and its economic impact won't get many mainstream headlines, just imagine if the Superbowl was this Sunday?
A week or so after 9/11, Rudy Giuliani, who became the face of the rebuild and spirit of New York City, went on "Saturday Night Live" and told New Yorkers & Americans that it was okay to "laugh again" and to get back to every day life. 9/11 was an act carried out by cowardly terrorists. While the aftermath of 9/11 wouldn't be known until years later, where we did get back to some sense of normalcy; with this corona virus, we're all being told to stay in our homes, as we create a country of "bubble boys".
Sports-wise, when 9/11 happened, Major League Baseball postponed games, but would eventually get back on track. The World Series was pushed back two weeks, but it was ultimately played. 9/11 was just one day, even if its aftermath still lives on to this day, as many lives were effected with losses of friends and family. With this virus, this will be a lingering thing now. And unlike the disgusting 9/11 attacks, which was limited to several areas in America, this corona virus is world-wide.
As mentioned, tonight's Rangers game started at 10PM EST, so it's really late as I write this and I have to be up early tomorrow. I don't want to go into too much speculation here, because we don't know what the NHL will do. All we know right now, is that the NBA has postponed their season, which optically, puts pressure on the NHL to do the same. Should an NHLer or fan get the corona virus at a game, that story would be a public relations nightmare. It would also open up lawsuits/litigation as well.
I will say, when you heard David Quinn talk after this game, it didn't look good. It seemed that he knew that a postponement announcement was most likely coming. He had a very somber tone in his voice. We'll see.
Again, I don't want to do the speculation here, as I've seen people work themselves up over what may happen. Maybe the NHL expands the playoffs. Maybe the NHL ends the season with teams only having 12 or so games left on the schedule. Maybe the NHL plays empty arena games. Since it's late and since we don't know, I'll wait until the NHL announces something before writing about it.
I will say, as mentioned previously on these blogs, I have a trip planned to Pittsburgh and Buffalo set for next week, to watch the Rangers play on the road. That trip is not looking good right now! And really, even if I didn't have a trip coming up, I still don't understand how this Mexican Beer flu has brought the world to its knees. It just seems unfathomable in 2020. In these times, how do we have something that is promoted as deadly as the "Bubonic Plague"?
As much as I thought this stupid corona virus, something I don't even want to waste my time talking about, would blow over, it looks like this is the start of the hysteria rather than the end of it. Wait until the subways in NYC get shut down. The fact that Trump is banning international travel for 30 days, tells me that he thinks and his people think, that we're due for 30 more days of this story, if not 30 days away from a cure/vaccine.
I don't want to make this the corona virus blog, but it's a topic that can't be ignored, obviously. As I was watching this Rangers game, which took place after Trump's speech, like many of you, the only thing I could think of was – "is this the last Rangers game of the season?" And that's not an over-reaction. Again, I'll talk about the future once the NHL officially weighs in on what's going on.
Let's talk hockey.
With the Rangers playing last night in Dallas, there were only a few light news and notes, prior to puck drop tonight. Let's take a look: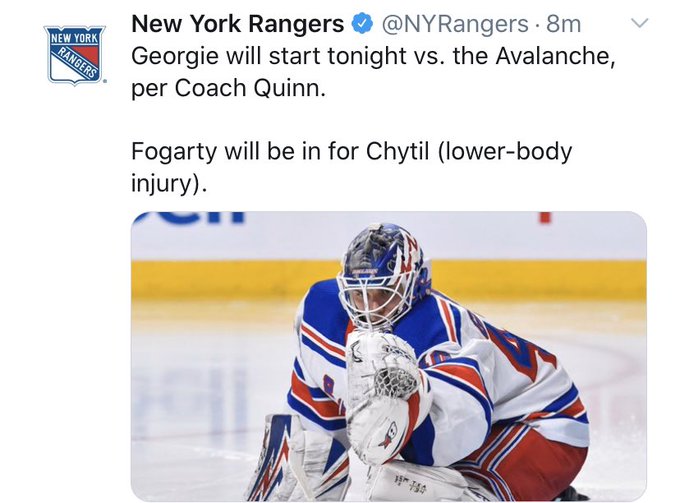 At 8:30PM Wednesday evening, David Quinn announced Georgiev as his starting goaltender for this game. Of course, this led to the Cult of Lundswiss crying up a storm. If anything is worse than the corona virus right now, it's the Cult of Lundswiss whenever Quinn announces Georgiev starting over Lundqvist. These delusional douchebags haven't figured it out yet – DQ is going with the goalie who gives him the best chance to win. Lundswiss isn't that guy.
If anything, this announcement told you that DQ was sticking with his word from Monday, as recapped in last night's blog. Maybe he didn't want to give Igor two back-to-back games after his rib injury. Maybe Quinn thought Georgiev at 100% was a better option than Igor at 75%. The only thing we do know – Quinn 100% knows he can't win with Lundswiss!
I'll get more into Georgiev once I get into the game recap, but when you look at his performance tonight, he was good. He had a 1.000% save percentage (no goals allowed) during five vs five even strength play. He gave up two power-play goals and was beaten in overtime, on a deflected puck after terrible and lazy defense from Buchnevich and Lemieux. Goaltending wasn't the issue tonight, as you'll soon see.
In other Ranger news, with Filip Chytil out, the Rangers announced this on Wednesday morning: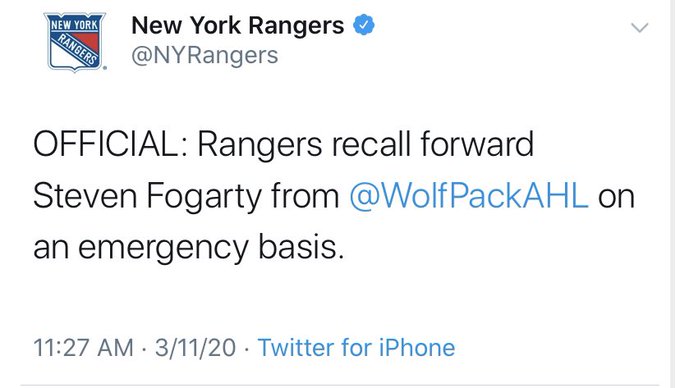 When it comes to the Rangers calling up Fogarty, I get it. He's been here already. He's a big guy. You can plug him with the fourth line. Had the Rangers called up Lettieri, Lettieri doesn't really fit the role they need, as Lettieri is a scorer, who wouldn't get much of a chance to light lamps playing 5-6 minutes with the fourth line. Still, it would've been nice to see Lettieri get a chance, even if he's serving an AHL suspension right now!
I'll give you the new Ranger lines as we continue along.
In indirect Rangers related news, Modell's has announced that they are filing for bankruptcy. Like many of you, Modell's was one of those stores I frequented throughout my whole life. When I think of Modell's, my favorite memories come from the late 1990's, when the Yankees were ripping off World Series wins like it was nobody's business. Once the Yankees won the World Series, just hours later, Modell's would be open, with all the championship swag and merch.
As a fan and a consumer, of course I'm aware that all that stuff was over-priced stuff. That said, to this day, I still have all of my shirts and hats from Ranger, Yankee and Giant championship victories. And really, if you're a life-long fan of a franchise, what's over-paying a bit, after your team wins a championship? You won't remember how you overpaid $20 for something, but you'll always remember the championship victory.
The most notable thing about Modell's going out of business? This snippet from the NY Times story: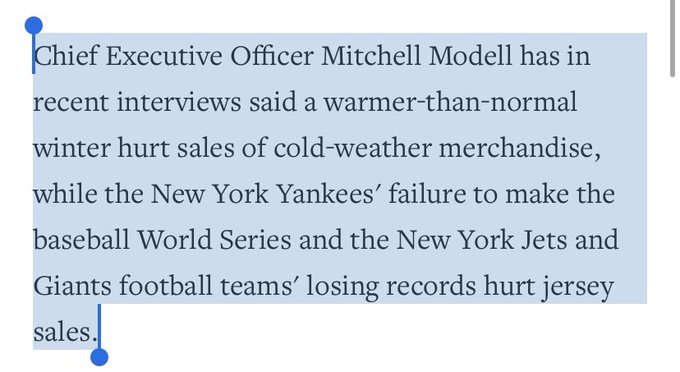 I totally get it, but to blame the Yankees for your failures? Come on! To even put the Yankees in the same sentence as the Giants and Jets is 100% wrong and totally disgraceful!
Plus, this comes off as BS to me. You're telling me that Modell's, which has been around as long as I can remember, is going out of business because of one bad year in the NY sports world? Seems like FAKE NEWS to me. If anything, Amazon and Fanatics put Modell's out of business. Modell's just became another brick and mortar victim of e-commerce. If you don't adapt with the times, you'll be left in the dust.
I will say, it's sad to see Modell's go.
Moving along.
In our final news update of the blog, Ron Duguay released the latest episode of his "Up in the Blue Seats" podcast, which featured the rarely heard from Don "MURDER" Murdoch. You can listen to the show by clicking the link here:
— Ron Duguay (@RonDuguay10) March 11, 2020
Don Murdoch obviously played before my time. The only footage I've ever seen from him come from old highlights. However, his name has always intrigued me, ever since I read "Thin Ice". (In my opinion, it's one of the best hockey books of all time. You can read my review of the book here: https://bluecollarblueshirts.com/thinice/)
I know "Thin Ice" was written 40 years ago, but if you can remember that book, Murdoch was one of the featured players in that book. I've read that book 6-7 times now and to this day, even if I'm taking a crap on the toilet, I'll bring that book in with me and re-read my favorite parts, especially the stuff about that crazy fan Robert Marcus!
I've talked to Duguay in-person about this book, and he told me he never read the whole thing. I told him what Larry Ratso Sloman said about Dave Maloney, and Duguay wasn't aware of the exact stuff Ratso said about Maloney. I was later told today by a fan, when Duguay tweeted out that he was going to be interviewing Murdoch, that when this fan recently asked Maloney to sign his copy of "Thin Ice", Maloney out-right refused. In fact, Maloney told this fan that "Thin Ice" is the one thing he will never sign. That's how controversial and crazy this book was/is.
If you read my review of "Thin Ice" or have followed these blogs, I've mentioned several times that I still don't know how that book was ever released. There is no effing way that book gets released today, in 2020. Of course, it would be tough to do a book like this today anyway, as the players don't party the way they used to. Plus, with Duguay being the greatest example of this, when "Thin Ice" was released, the only thing the Rangers had to worry about was "Page Six" of the New York Post. They didn't have to worry about cell phones/cameras in everyone's pocket. There was no social media to provide lurid details of a player's personal life after a game at a bar/club.
And like I always say, when comparing eras, can you imagine Joe Namath, in his prime, playing in today's world of TMZ and camera phones? He'd be demolished by the media.
Prior to his interview with Murdoch, Duguay asked for questions from Ranger fans and he wound up using one of mine on the podcast. On the topic of "Thin Ice", Murdoch said that Sloman took some liberties and used stuff that was "off-the-record". I believe him, as I've been told the same story by other Ranger alumni. In addition, my dad, who gave us the term "FATHER FINK" for these blogs, told me the exact same story, about how Sloman betrayed some of these players, by violating the journalistic code of "off-the-record".
The other question I asked, that was answered on the podcast, was about Murdoch being drafted by a big city/party town franchise. Murdoch, like many, thought perhaps his career would've gone differently, if he wasn't drafted by the Rangers, who play in a city of bright lights and everyone up all night. It's 20/20 hindsight stuff now, but Murdoch did feel that he wasn't able to handle New York properly and let it get the best of him. That said, Murdoch only blames himself for his wild years in NY and doesn't fault the Rangers or anyone else.
Prior to Duguay's interview with Murdoch, Murdoch has somewhat become a forgotten figure, by not only the Rangers themselves, but in the history of the Rangers. I've recapped how horrible the Rangers are with their history, especially in all my Frank Boucher stuff and how the Rangers ignored the Frank Boucher family.
When it comes to Murdoch, you never see the alumni association reach out to him. He's not brought out to autograph signings or meet & greets. He's not part of the "Rangerstown" alumni marketing.
I thought Duguay did a good job of bringing Murdoch to the forefront a bit here and hopefully, as a result, the Rangers will re-open the door for Murdoch. I'm not saying the Rangers should retire his number or honor him, but it would be nice to see him brought to game. Let him meet the fans. Let him do a segment in-studio. Let him have one last lap around M$G and shake hands (if you're still allowed to do that in 2020) with the fans.
For Ranger fans older than me, and for fans who wondered, "what happened to Murdoch?", this interview was perfect.
---
Man oh man, it's getting late. Let's power through this.
Gambling segment time!
Here's what I said before the game:
Season over-under record: 34-32-3.

Tough game to call with Georgiev v Francouz. Colorado is all beat up with a slew of injuries. With #NYR, you never know what team will show up.

Rangers on a b2b makes me think the under of -6.5 hits. I see a 4-2 NYR win. Heart bet tho! pic.twitter.com/GyU4ubodjp

— BlueCollarBlueShirts (@NYCTheMiC) March 12, 2020
With a 3-2 final score, the under did indeed hit tonight. My record now improves to 35-32-3 on the season. For all of our sake's, let's hope I'm giving out an over-under prediction on Saturday night.
At this time, let's take a look at this Colorado Avalanche vs New York Rangers game. As usual, the box score comes from ESPN.com:
SCORING SUMMARY: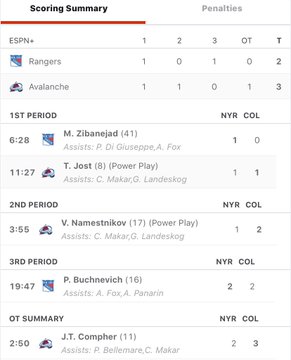 PENALTIES: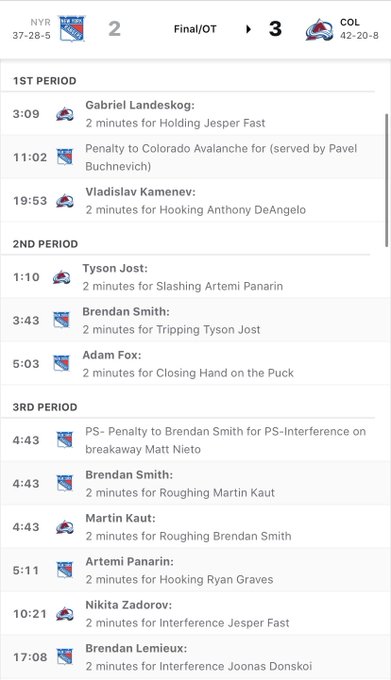 TEAM STATS: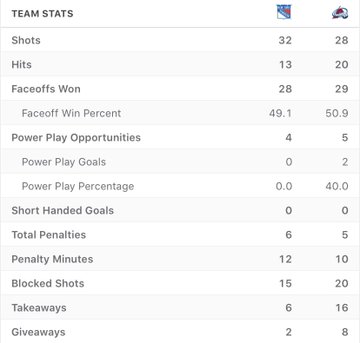 GOALIES:
| | | | | | | | | | | |
| --- | --- | --- | --- | --- | --- | --- | --- | --- | --- | --- |
| SA | GA | SV | SV% | ESSV | PPSV | SHSV | SOSA | SOS | TOI | PIM |
| 32 | 2 | 30 | .938 | 21 | 3 | 6 | 0 | 0 | 62:50 | 0 |
| | | | | | | | | | | |
| --- | --- | --- | --- | --- | --- | --- | --- | --- | --- | --- |
| SA | GA | SV | SV% | ESSV | PPSV | SHSV | SOSA | SOS | TOI | PIM |
| 28 | 3 | 25 | .893 | 21 | 1 | 3 | 0 | 0 | 61:44 | 0 |
Long story short tonight – the Avalanche did everything humanly possible to give this game to the Rangers tonight. The Rangers just failed to capitalize.
In tonight's 3-2 OT loss, the Rangers tied the game with 13 seconds left. When the Rangers tied the game, I saw many people say "THE RANGERS STOLE A POINT!" That statement is 100% false. The Rangers gave Colorado two points tonight.
The Rangers could've won this game 9-2 tonight. Shit, Ryan Strome could've even tied Zibanejad, Pavelich and Murdoch, with a franchise high five goal game as well. Ryan Strome missed four of the easiest shots in the world tonight, as I'll get into. I don't want to pile up on Strome here, as I'm sure no one is hurting and more upset right now than Ryan Strome himself, but his inability to score cost the Rangers tonight. That said, it's not all on him either.
The Rangers special teams were down-right awful tonight. As mentioned, the Rangers power-play was 0-4. The Rangers penalty kill allowed Colorado to score on their first two power-plays. Like many hockey games, this game was swung on special teams. Without the Colorado power-play goals, the Rangers win this game in a cake-walk. Instead, the terrible PK cost the Rangers a point. The special teams may have cost Georgiev a shut-out too.
Away from Strome and the special teams, despite the Rangers putting 32 shots on goal, they could've had 20 more. The Rangers continued to fancy pass themselves out of shot opportunities. The biggest offender? Artemi Panarin.
As I've said a lot this season, I find myself more and more in-tune with Joe Micheletti. He said something in the post-game that I was going to say tonight – Panarin has gotten to the point where he is too unselfish. There were about 6-7 times in this game, where Panarin had a clear look at the net, but instead, he tried to feed a teammate. I know I'll probably get crucified for criticizing Panarin here, since he's been a god-send since arriving to New York, but he needs to be selfish. He has a great shot. He needs to shoot the puck. There were just too many times in this game, where Panarin turned over the puck, rather than putting a shot on goal.
There were so many points in this game, that I thought the Avalanche bet on the Rangers to win this game. They were begging to be put out of their misery. Instead, the Rangers couldn't muster up much, and when they did, goaltender Pavel Francouz was there to close the door.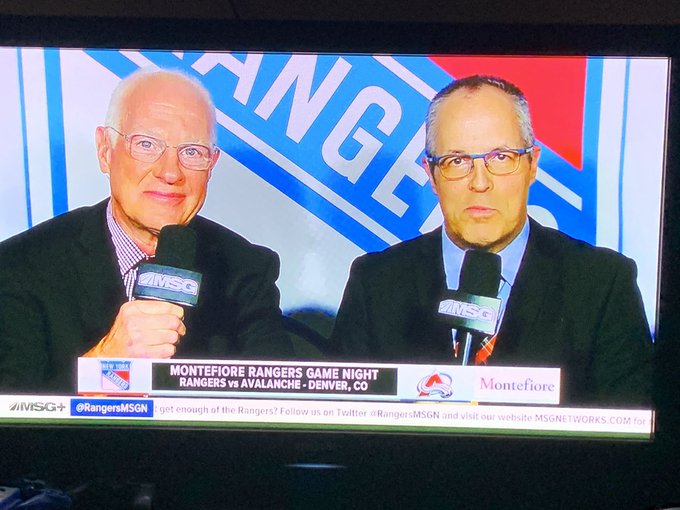 The best thing about these late games? No Steve Vagistat!
If you read these blogs religiously, outside of my Statiquette jokes, what do I always bring up? I always bring up how the pregame show never tells you the lines, what's going on with the other team and who the goaltenders will be. In tonight's pregame show, without the 9 foot pile of douche around, to give us inane and meaningless charts, we actually had a hockey broadcast!
For starters, without Scuba Steve diving for stats, we were actually told what was going on with the other team for once: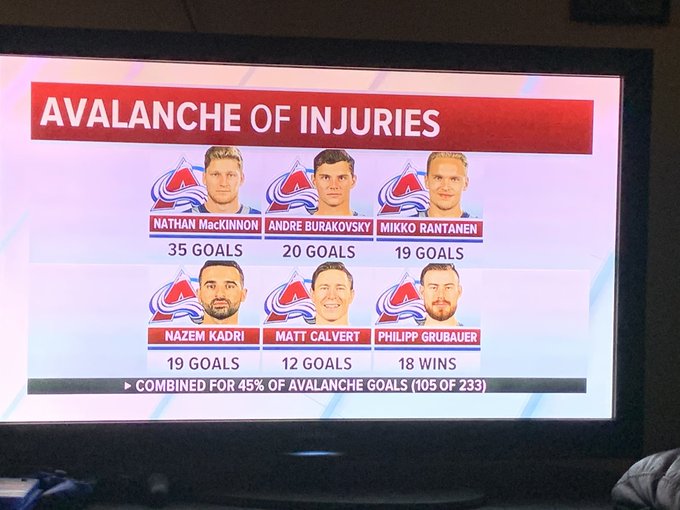 After showing us what was going on with the Avalanche, for the first time this decade, we were shown the Ranger lines, rather than Steve Vagisil making corny jokes at the Bud Light Bar: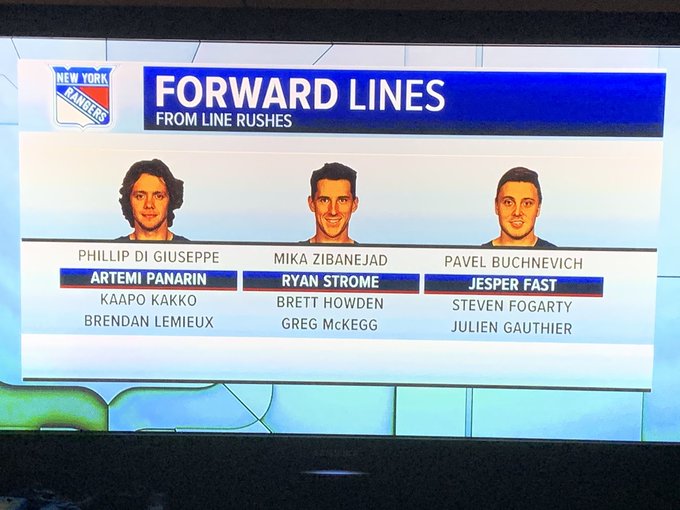 Of note on the lines, Kakko shifted wings, Fogarty went to the third line and by the time the third period started, Panarin and Mika would be shifted with each other.
Also on the broadcast? A nice feature segment on the starting goalie, in Alexandar Georgiev, as he broke down film. I rather see these player profiles, as we've seen in the past during other late EST start times, than see Vally and Carter hee-haw it up with silly word puns.
And as I said this during the California trip and the Western Canada trip, when all of these segments are hosted on the road, – Joe Micheletti really shines here. Say what you want about his announcing, but in the analyst role, I always find him to be on the money and agreeing with him. That said, maybe I'll throw myself into the Ranger Fan T-Shirt business and come up with a Micheletti "FABULOUS" shirt. No joke, Micheletti said the word "fabulous" no less than 31 times tonight. (I stopped counting after 31.)
Micheletti has really been the MVP of these broadcasts this season. Not only does he break down things accurately and give us good feedback, he also has to cover up for Sam Rosen left and right.
Note: It's getting really late, I gotta do this game recap quicker than usual.
The Rangers simply dominated this game. Despite the high altitude angle that Micheletti was pushing and despite playing the night before, the Rangers were the better team, sans whenever the special teams came on the ice. Five on five, the Rangers owned the puck for most of the game.
The Rangers came out on fire to start the game. Then, when Colorado finally touched the puck, Georgiev would make a save on a good point blank shot.
In the Rangers first chance to score, the Panarin line would get a chance, when Strome fed Panarin. Panarin juggled the puck, losing the handle, but got a shot off. Fast went for a rebound, but 3:09 into the period, Landeskog tripped Fast up. The Rangers, as they have been lately, got an early and the first power-play of the game.
The Rangers had the puck for 144 seconds straight during this power-play, but didn't put many pucks on net. Mika would get a shot off and then Francouz would freeze a Buchnevich rebound. Of note, Smith was on the ice when the second PP unit came on. Colorado would kill this penalty, as the Rangers failed on this power-play.
6:28 into the game, Mika Zibanejad, because who else, would kick off the scoring:
No one, no one can stop Mika Zibanejad. #LGR #NYR pic.twitter.com/XdQLd11iaZ

— Rangers on MSG (@RangersMSGN) March 12, 2020
In what's becoming the norm, Zibanejad scored on an individual effort, as he streaks to the net from center ice, beats a couple of Colorado defenders and deposits a puck past Francouz. 1-0, GOOD GUYS. While PDG and Fox get assists here, this goal is all Mika.
Once again, like the game with Dallas, defense was the mantra here, as Georgiev only faced four shots in the first ten minutes of this game. At this point in the game, SOG were 7-4, in favor of NYR.
The game went downhill with 8:58 remaining, when the Rangers took one of those infamous "too many men on the ice" penalties. Previously this season, David Quinn said to blame him if the Rangers took another one of these penalties again. You're up DQ.
On the Colorado PP, just 25 seconds into it, Tyson Jost beat Georgiev glove side. 1-1. Really, you could see this goal coming from a mile away. The Rangers kick ass all period, fail to push the lead, take a dumb penalty and BOOM, just like that, tied game.
Prior to this Colorado PPG, the crowd was dead and the Rangers were skating circles around the Av's. After this goal, Colorado woke up a bit and so did the crowd. I've seen this movie before.
Around this point in time, in real time, I was told that Tom Hanks has the corona virus, as does his wife. Based on Tom Hanks movies, why would anyone travel with him? WILSON! And hell, it doesn't shock me that Forest Gump doesn't wash his hands either, Jenny.
The rest of this period saw the Rangers pass themselves out of SOG. With seven seconds remaining in the period, Kamenev hooked Tony DeAngelo. This put the Rangers on the power-play. As you'd expect, the Rangers didn't score in these seven seconds, meaning the Rangers would open up the second period with 1:53 of PP time.
1-1 after one period. SOG, 10-8 Rangers, and that included a save that Georgiev made when out of position. During that play, after the whistle, Colorado knocked the puck into the net. The refs, to their credit, immediately waved the goal off.
Two ways to look at this period, and really this game as a whole.
OPTIMIST: The Rangers got a point from a good team, while on the road, as they played the second half of a back-to-back.
REALIST: The Rangers pissed two points away and didn't blow this game out of the water when they had the chance.
And really, let me show you the standings right now, as a result of this OT loss: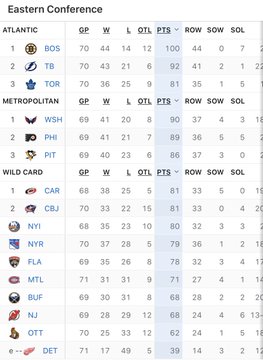 Again, I don't want to speculate, but just say the NHL cancels the rest of the season and comes back with the playoffs in a few weeks. If that happens, the Rangers are out of it. Now take a deep look at the standings. Had the Rangers handled business, against last place in the Metro NJ Devils on Saturday, and won this game tonight, as they should've, that's three points. That would've given the Rangers 82 points, which would've made them the first wild card. As the first wild card, the Rangers would avoid Boston, a team that has given them headaches, and would've given the Rangers a much more winnable series against Washington.
Instead, the Rangers shit the bed tonight, the season could be over and the Rangers could have a long time to think about all these blown chances.
Want to talk about failed chances? Here we go.
The Rangers opened up the second period on the power-play. Francouz would make a point-blank save on Panarin. All in all, Francouz made six saves on Panarin tonight. Who knows, maybe Francouz could've made 10 saves on Panarin or maybe Panarin would've scored, had Panarin shot the puck a few more times when wide open?
70 seconds into the period, and with 40 seconds left on the Rangers power-play, Panarin drew Tyson Jost for slashing. This gave the Rangers 40 seconds of a 5 vs 3 power-play. As I've said 78678967896789689 times on this site, if you can't score on 5 vs 3 power-play, you don't deserve to win. And that's what happened.
Francouz would immediately rob Buchnevich on the power-play. This was a good try from Panarin to Buchnevich. Goalies get paid to play too. Then, in the first of many Strome follies, Francouz would vacate the net going west, leaving Strome all alone to the east. Strome's freaking skate was right by the post, but somehow, despite a wide open net in front of him, Strome put the puck on the iron. Instead of a PPG, and going up 2-1, Strome skated to the bench and proverbially hung his head. LOST OPPORTUNITY.
The Rangers blew this 5 vs 3 chance. Of course, because you had to see this coming, immediately after Colorado killed both Ranger power-plays, Brendan Smith went off for tripping at 3:43.
Stop me if this is a repeat episode. Just 12 seconds into the Avalanche power-play, ex-Ranger VLADISLAV NAMESTNIKOV (Or Damestnikov, for my buddy @WHALEPACK) scored the Colorado PPG. 2-1, bad guys.
No joke, you could see this coming from miles away. The Rangers fail on the biggest chance of the game? Check! Rangers can't score on a power-play? Check! A player misses a goal from a foot away? Check! The Rangers immediately take a penalty after their PP expires? Check! The Rangers PK gives up a momentum goal on said penalty kill? Check! An ex-Ranger scores the said opposing team's PPG? CHECK CHECK CHECK!
RIDICULOUS! SAME OLD RANGERS!
Of note part I: on the Vlad goal, Georgiev was completely screened. While I thought he had a chance on the first Av's PPG, on this one, he had no shot.
Of note part II: The Ranger special teams were now 0-5, while Colorado was now 5-5, with two goals.
A minute after Colorado took the lead, we had a Fox in the Box, as #23 took a penalty for throwing the puck. Finally, the Rangers PK did something and had a successful kill here. Too little too late.
After this kill, Francouz stopped Zibanejad with the glove and with help from the iron. Rosen had no clue what was going on. Micheletti walked him through it.
After stopping Zibanejad, Colorado had a two on one rush, led by Landeskog, which was broken up by Trouba. If Trouba didn't break this up, it would've been 3-1 right here.
If there is anything Sam Rosen got right in this game, it were the non-stop and incessant ad reads. I get this is not him and he's doing his job, but after every whistle, we had an ad read like this:
"IF YOU WANT CORONAVIRUS AND WHATEVER MAGIC JOHNSON HAS, COME ON DOWN TO THE GARDEN FOR RANGERS vs THE FLAMES, PRESENTED BY DELTA WHICH IS PRESENTED BY PEPSI, WHICH IS PRESENTED BY SPENCER'S GIFTS FLESHLIGHTS!"
Even funnier? After Giannone solemnly read the NHL's statement about the possibility of canceling games, Sam Rosen plugged the upcoming schedule with the same amount of glee as a kid in a candy store. You can't make this up.
After great saves from Georgiev and Francouz, Ryan Strome continued to have his game from hell. With Francouz laying down, as if he was imitating Henrik Lundqvist, Strome had all day and an open net to shoot at. Instead of flicking a simple wrister into the soft mesh netting, Strome went for a slap shot that went wide. Incredible.
On the next Rangers rush, they had a 3 vs 2, but instead of shooting, the Rangers once again fancy passed themselves out of a SOG. Panarin was the offender here, but it wasn't just him. All of these guys were doing it, including Zibanejad, Buchnevich and DeAngelo, to name a few.
I don't do pills, but as this period progressed, and really the entire game, I understood why people take xanax. The Avalanche was serving this game up on a silver platter, yet the Rangers refused to eat.
The more I talk about this failed period, the angrier I get. It's late. After two periods, 2-1 Colorado.
Without Valiquette here to do his cosplay during intermission, we were shown what felt like a 20 minute segment of Chytil and Kakko playing ping-pong. I'm not making this up. Truth be told, I rather watch these guys play ping-pong and talk the virtues of the sport of "table tennis", than ever see Vally again on the broadcast.
The third period was one big kick in the dick, until the final 13 seconds.
Georgiev had his best period of the game here, denying everything. Francouz was just as good, if not better, as these two goalies made game saving save after game saving save. Of course, Sam and Joe would give the save of the game to Francouz!
The topic of the Steve McDonald Award was brought up for the first time on the broadcast in this period. My bet? Mika Zibanejad gets it, just because this award usually favors who's the hottest at the time. A month ago, I would've said Panarin would win it.
The Rangers inability to score continued in this third period. Gauthier would make a strong power move to the net. Francouz would make the save, despite losing his stick and glove in the process. Then, after this, with the net empty, Ryan Strome hit the iron again. While this wasn't as bad as the first time he hit iron, if you're hitting iron, that means you could've scored a goal.
4:43 into the game, Georgiev's number was called, when Brendan Smith hooked Nieto on a breakaway. This gave Nieto a penalty shot. Georgiev ate up Nieto alive:
Georgie with the stop on the penalty shot! 👏 👏 👏 pic.twitter.com/wzQctJCvaU

— Rangers on MSG (@RangersMSGN) March 12, 2020
Prior to the penalty shot, after the Smith hook on Nieto, both Smith and Martin Kaut went at it. This led to four on four foreplay. Then, during the four vs four, Panarin took a stupid hooking call, while in the Rangers offensive zone. This gave Colorado 1:32 of a 4 vs 3 power-play.
On the Rangers PK, Staal made a great defensive play. We also saw Mika get a crack at a shorty, but Francouz charged a loose puck, preventing Mika from getting possession.
With the teams back at full man power, Francouz would rob Kakko after a picture-perfect pass from Mika. All Kakko had to do was lift the puck a centimeter, and he would've scored. Maybe I'm Monday Morning Quarterbacking here though.
With under 10 minutes to go, Zadorov would get boxed for creaming Fast. Interference was the call here.
On the Rangers power-play, they did nothing. Another wasted chance.
In what was a big save, with 3:30 to go, Georgiev stopped Landeskog on a great opportunity. Had Landeskog scored, this would've been it.
With 2:52 to go in the game, Brendan Lemieux took a stupid stupid stupid stupid stupid and did I mention stupid, penalty, when he put a dirty hit on Donskoi. Lemieux rocked Donskoi's world with a hit from the back. Donskoi would go to the locker room and didn't return to the game.
I mean, how stupid can you be? You're chasing a goal and you put the other team on the PP, with under three minutes to go!
Despite being a man down, the Rangers would get two chances to score while short-handed. On the biggest chance, Mika would get one of his patented short-hand breakaways, where as usual, he went backhanded. Francouz had it scouted. Huge save here. Then, Howden would have a chance at a rebound goal, but no dice.
The Rangers would kill this Lemieux penalty, but now there were only 52 seconds remaining in regulation, in a 2-1 game. Georgiev was immediately pulled once the team returned to full strength.
With 35.7 seconds left in the game, DQ took a timeout after a Colorado icing.
After fancy passing all game and preferring passes over shots, it finally paid off for Panarin, as with 13 seconds left, both Panarin and Buchnevich would see their point streaks continue:
THE TYING GOAL. WOW!!! #LGR #NYR pic.twitter.com/aUPVkRO5LP

— Rangers on MSG (@RangersMSGN) March 12, 2020
2-2!!!! FINALLY! After owning the Avalanche all game, the Rangers finally had a chance to win this freaking thing!
I felt like Agent Harris in "The Sopranos":
Of course, that's not what happened.
The Rangers would have two chances to put this game away in the overtime.
On the first one, Panarin and TDA had a two on one. Panarin, rather than shooting, was unselfish and passed. This led to a turnover. All he had to was shoot. At the very least, TDA was there for the rebound.
On the second chance, Mika would ring a puck off the crossbar. He was right there for another overtime game winning goal.
With Panarin/Mika/TDA off ice, for Buchnevich/Lemieux/Fox, JT Compher deflected a blast from Cale Makar into the net. Buchnevich and Lemieux watched, and half-heartedly waved their sticks. To his credit, Micheletti was irate by this horrible defense. Game over.
I don't care what anyone says – the Rangers blew this game tonight. Colorado did everything they could to lose, but the Rangers rolled out the red carpet for the home team victory.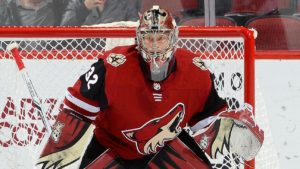 In the post game, David Quinn said:
"We're obviously aware of the NBA decision. We can't speculate on what course of action will be taken by the NHL. Logistically, we'll stay here tonight & make a decision following the NHL update tomorrow morning. This is a very fluid situation w/ things constantly changing."
If you didn't hear Quinn, and are just reading this, his tone didn't sound optimistic about a game on Saturday. We'll see.
If there is a game on Saturday, I'd imagine CZAR IGOR goes.
As far as this blog and the Rangers, I'll come back once something is announced. If everything goes according to schedule, I'll see you Saturday night with a Rangers/Coyotes recap. However, I'm thinking the worst here – I see the NHL following the NBA's lead. I hope I'm wrong. For all we know, this could've been the last game of the season, which would really be disappointing.
I'll add this before leaving – if the schedule is postponed, rather than canceled, this could be somewhat good news for the Rangers, as it will give Kreider some time. I'm throwing out numbers here, but instead of playing 3-4 games, perhaps Kreider could play 8-10. Again, I'm giving you the glass half full here.
Talk to you soon.
As always, thanks for reading and…
"LET'S GO RANGERS!"
Sean McCaffrey
BULLSMC@aol.com
@NYCTHEMIC on twitter