Greetings and salutations everyone and welcome to another blog here on BlueCollarBlueShirts.com.
Where to start, where to start, where to start, where to start and oh yeah, where to start? (And yes, I said that five times to honor Mika Zibanejad!)
While not a mathematical "must win" game for the Rangers on Thursday night, against the Caps; for all intents and purposes, this game was pretty much a "must win game". With the Blueshirts on a three game losing streak, the Rangers chances at the playoffs were slipping away. However, with tonight's Rangers 6-5 overtime win over the Capitals on Thursday night, coupled in with the teams the Rangers are chasing losing on this same date, the current playoff picture now looks like this: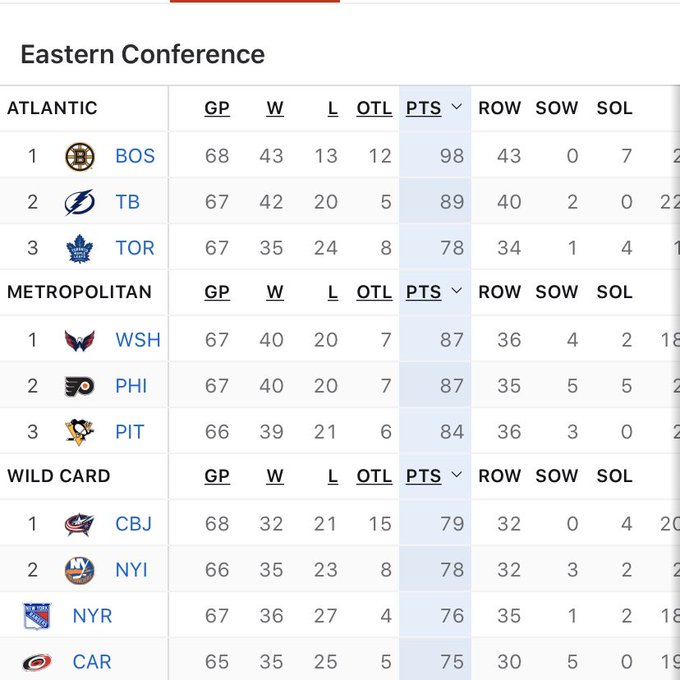 I'm starting this blog about an hour after this game concluded, and even as I write these words, I'm still giddy and excited. I know I've said this a lot this season, but say it with me folks – "THIS WAS THE BIGGEST AND BEST WIN OF THE SEASON." Sure, the overtime win over the Islanders was great. (And hey, the game winning goal in that win over the Islanders was ironically scored by Mika Zibanejad too!) However, as the Rangers play against the hour glass here, each game becomes more important than the game prior.
There are so many different things to talk about tonight. Fortunately, as someone who works in construction and outdoors, my shift was canceled tomorrow, due to the rain that's on the forecast for Friday. That will give me plenty of time to get through everything, as I can see myself going over 10,000 words again!
Before jumping into everything, in this 11 total goals game, here are my last few blogs, in case you missed them:
---
---
---
---
---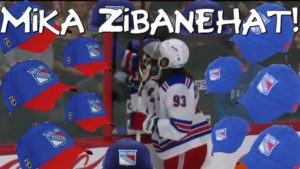 As Ranger fans, and yours truly, bask in the glow of Mika Zibanejad's FABULOUS (Trademark: Joe Micheletti) performance, let's run down all the news and notes that occurred prior to this game tonight.
Here's what the Rangers tweeted out after practice on Thursday morning: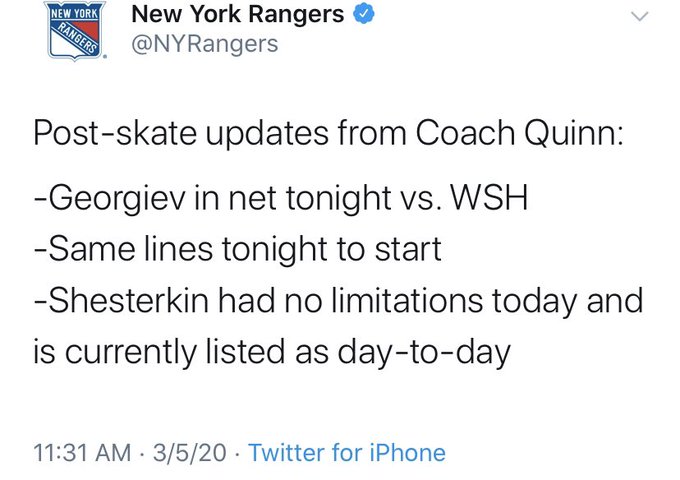 When it comes to the lines and Georgiev in goal tonight, I wasn't shocked. I expected as much. I didn't think the Rangers or Georgiev played bad against the Blues. There's a reason why the Blues are the Cup champs and the best team in the NHL of the last 365 days. The Rangers played well. They were just beaten by a better team. Due to that, I didn't see any reason to shake anything up.
To me, and I'm sure to you too, the biggest news was that Igor Shestyorkin is now day-to-day. His return is much anticipated. It was even an NHL.com headline story:
Goalie Igor Shesterkin, who's missed five games after sustaining a rib fracture in a car accident, took part in the Rangers' morning skate and is day to day.https://t.co/V9xZfwl2GH

— NHL.com (@NHLdotcom) March 5, 2020
While I don't mean to disparage Alexandar Georgiev here and while I will openly disparage Henrik Lundswiss here, let's face it – for the Rangers to grab a playoff spot, maintain a playoff spot and make any sort of noise in the playoffs, ala Columbus or Carolina of the 2019 Stanley Cup playoffs, the Rangers need CZAR IGOR back. I don't think that can be debated.
It's been ten days since the car accident. When the accident first occurred, we were told that CZAR IGOR would be EVALUATED in two weeks. Instead, ten days later, Igor Shestyorkin is taking full practice, facing all types of shots (both high and low) and is now upgraded to day-to-day. In other words, there's a possibility that Igor Shestyorkin could go on Saturday against the Devils.
I will say this – you can't fool around with Igor here and I don't think the Rangers will. You can only start Igor if he's 100%. You can't rush him back if he's not at 100%. The long-term picture is much more important than anything else. However, if Igor can 100% go on Saturday, you run him out there. And if Igor can go, what a perfect opponent to do it against – versus one of the worst teams in the NHL, in those Devils of Newark.
I'll also get this out of the way too. If Igor can't go, despite Georgiev's horrid game tonight, I would go right back to Georgiev on Saturday. I wouldn't play Lundqvist again this season, unless Igor has a major setback and the Rangers are forced to give Georgiev a rest.
To me, if Igor can't go on Saturday, I would want to see Georgiev right back out there, and forget this game with Washington. It just serves the Rangers no purpose to put Lundqvist out there.
And while I'm getting ahead of myself here, should the Rangers qualify for the playoffs, unless you're a Cult of Lundswiss member, there is just no reasoning for the Rangers to carry Lundqvist on the playoff roster either. Both Igor & Georgiev are much better. And hell, this is the second time this season, (November game in Montreal being the first) that the Rangers pulled off a huge and monumental win, when Georgiev was struggling. When Lundqvist struggles, that's it. Game over. For whatever reason, whenever Georgiev is off, the Rangers seem to rally in front of him. That never happens with Lundqvist and his many off games.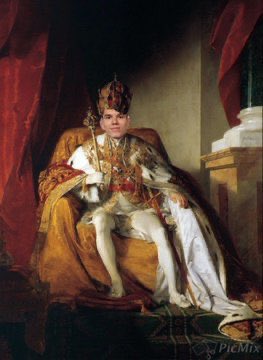 I'll get more into Georgiev as we continue this blog, but in closing on CZAR IGOR here, if Igor doesn't return Saturday, but can return as early as next week, the Rangers will be in a good position.
If you're aware of my opinions on social media, know me in person or read this blog religiously, you know how I feel – I want the playoffs. Father Fink the tank or a soft Euro draft pick with the 14th overall pick in the draft!
Two months ago, I didn't think there was a shot in hell of this team making the playoffs. However, at the current time, if Igor can come back and if the Rangers continue to play the way they've been playing, I definitely can not only see this team making the playoffs, but stealing a round or two too! Again, I look at the run Columbus had last year, when they knocked off and swept the best regular season team of the modern era, in the 2018-2019 Tampa Bay Lightning.
And hey, how about this question – WHY NOT THE RANGERS?
In another injury update, on Wednesday afternoon, NYR General Manager Jeff Gorton, at a recent NHL GM gathering in Florida, told the NHL Network that Kreider is anywhere from 4-6 weeks returning. However, it's suspected that CK20 may return before that injury time table, only because of Kreider's elite conditioning and training.
We'll see what happens with Kreider. If CK20 is out for a month, that means he probably misses the remainder of the season. However, if the Rangers can make the playoffs, that means they would get a fresh and healthy Kreider for a playoff bid.
As far as any other pregame news tonight, there wasn't much. The only thing to add here is that the Rangers have not called anyone up from Hartford yet, to replace CK20. To keep something in your head, let's see if the Rangers call someone up when they go on their road-trip next week, when they head out west and play Dallas, Colorado and Arizona. With Kreider definitely out for that trip, I would suspect the Rangers would call up someone, just to have someone on hand, should something happen.
As mentioned above, the Rangers used the same line-up as they've been using ever since Kreider went down. Here's the line-up, for those who may have forgot: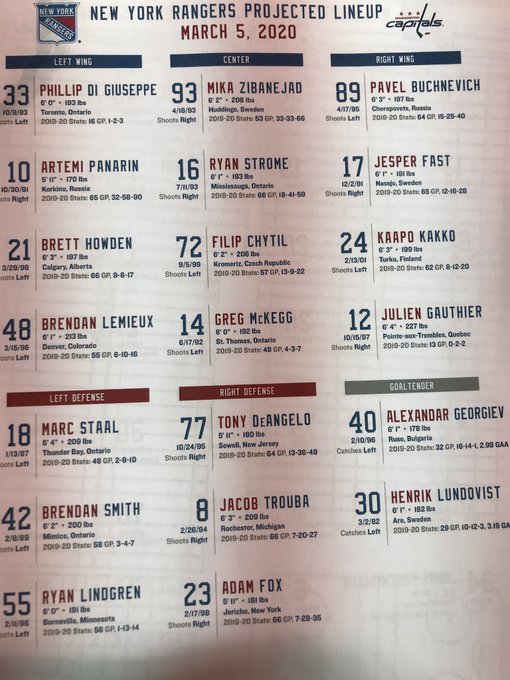 Again one last time on this site – I saw many people bitching and crying about DQ's line-up tonight. "KAKKO NEEDS TOP 6 MINUTES!" "GAUTHIER SHOULD BE ON THE FIRST LINE!" "CALL UP HAJEK FOR STAAL!" "PLAY LUNDSWISS!" Outside of playing Lundswiss, since he sucks and is not an asset, I don't get why people cry about Quinn's lines. He literally shakes things up every game. If something isn't working, he makes the in-game adjustments.
And real quick, let's take a look at those four complaints, four complaints that I saw plastered all over social media on Thursday:
KAKKO NEEDS TOP SIX MINUTES – really? What has he done to earn that? The guy is struggling and doesn't score. You want to promote him against one of the best teams in the league? If Kakko can't score on the third line against bad teams, what makes you think he's going to light it up against the Capitals?
---
GAUTHIER SHOULD BE ON THE FIRST LINE – why? Because some people say he plays like Kreider? Because Gauthier has admitted he molds his game after Kreider? What's wrong with Phillip Di Giuseppe? (PDG for the remainder of this blog.) Maybe DQ thinks he gets more out of Gauthier on the fourth line, as it balances his lines out better? Plus, just two weeks ago, Gauthier was playing games in front of 1000 people in Charlotte. Now you want him on the first line vs Washington?
---
CALL UP HAJEK FOR STAAL (or SMITH!) – Are you nuts? Staal and Smith have been solid in their roles this year.  You want these veterans against a veteran team. And news flash – Hajek isn't even the best defenseman in Hartford either. Furthermore, during this game tonight,  DQ proved to be correct by the way, in regards to playing Staal & Smith, as Staal played well defensively and Smith was all over the place. (In a good way.)
---
LUNDQVIST NEEDS TO START – Georgiev can give up the same goals as Lundqvist. Shit, if Lundqvist started tonight, I think this game would've been over after the first Washington power-play. As I'll get into, Georgiev had a mixed bag of a game. He was superb on the PK and made a big breakaway save. However, with goalies, you're more remembered for the goals you give up, rather than the saves you made. That's understandable, if not unfortunate, on behalf of the goaltender.
---
GAMBLING SEGMENT TIME!
Here's what I said before this game:
Season over-under record: 32-31-3

Huge game tonight. Caps will be pissed off. Rangers need this win.

I feel NYR 4-3. Lots of heart tho. I'm going OVER. pic.twitter.com/liPPzktqkv

— BlueCollarBlueShirts (@NYCTheMiC) March 5, 2020
11 total goals scored? Yeah, the OVER easily hit tonight! My record improves to 33-31-3.
And while I didn't have the score right, I did predict a one goal game! With Samsonov in net for the Capitals, the Capitals getting beat bad last night and the Rangers desperately needing this win, I felt we would have a high scoring game. I just didn't think it would be this high scoring!
At this time, let's go to the official box score of this game, courtesy of ESPN.com:
SCORING SUMMARY: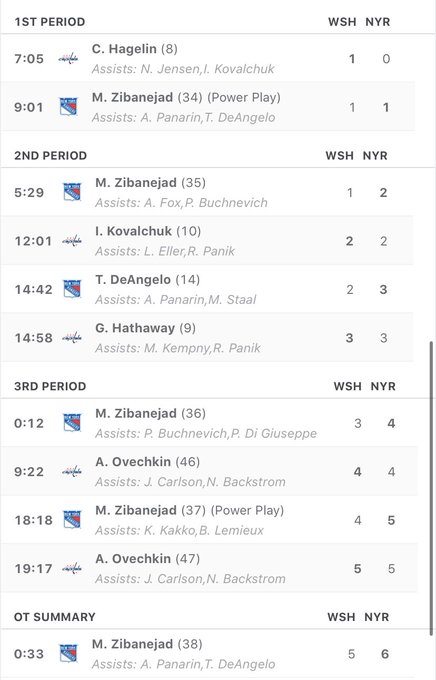 PENALTIES: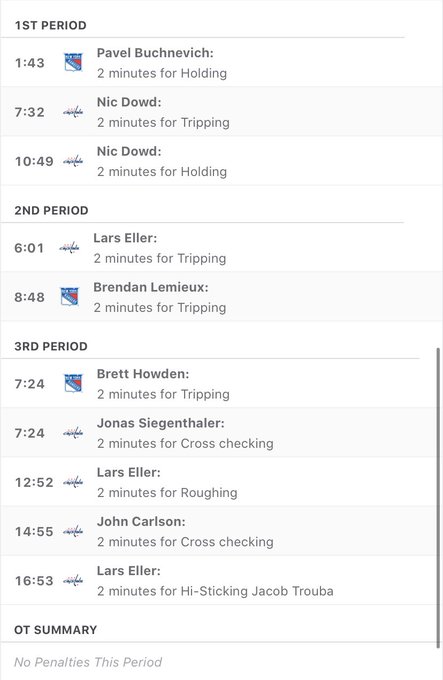 TEAM STATS: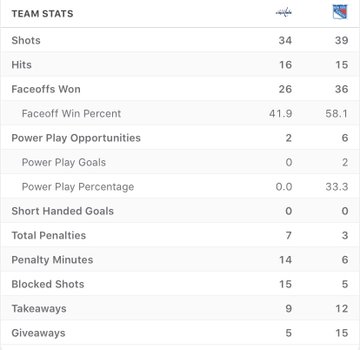 GOALIES:
| | | | | | | | | | | |
| --- | --- | --- | --- | --- | --- | --- | --- | --- | --- | --- |
| SA | GA | SV | SV% | ESSV | PPSV | SHSV | SOSA | SOS | TOI | PIM |
| 39 | 6 | 33 | .846 | 25 | 2 | 6 | 0 | 0 | 58:52 | 0 |
| | | | | | | | | | | |
| --- | --- | --- | --- | --- | --- | --- | --- | --- | --- | --- |
| SA | GA | SV | SV% | ESSV | PPSV | SHSV | SOSA | SOS | TOI | PIM |
| 34 | 5 | 29 | .853 | 19 | 2 | 8 | 0 | 0 | 60:29 | 0 |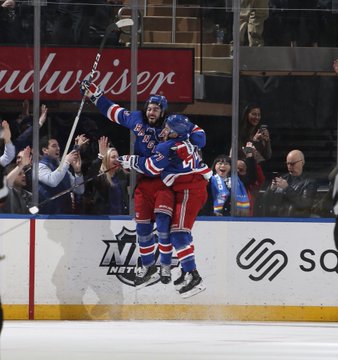 As mentioned earlier this month, tonight was "PRIDE NIGHT" at M$G, where the Rangers & the NHL all get together, get woke and use the LGBTQpi,XYZe=MCsquared community as a cash grab. I've talked about this topic so many times, so I won't do my "Greatest Hits" here. All I'll say is this – shouldn't the Flames be the opponent on this night?
Some of you will find that Flames joke funny. Some of you will also shake their head and hear this:
If there is anything that really truly irritates me about the Pride Night game, it is the bullshit tag line of "RESPECT", "ACCEPTANCE" and "TOLERANCE". Of course, none of that applies if you're Muslim, a devout Christian, don't want to talk sexuality with your kids or don't believe in celebrating people with genital mutilation surgeries as heroes.
And while I don't want to go down this rabbit hole, but with liberals pushing all of their nonsense about sex change operations, how long is it before pedophilia is part of LBGTQ? After all, pedophilia is a mental disease! These poor souls can't control it! We should honor them! Like Lundqvist giving up 6 goals a game, it's not their fault! How dare you hate on the pedophiles! You intolerant SOB!
Again, I don't want to write stuff I've written in the past (Just google BlueCollarBlueShirts.com + Pride Night, or just check the archives of this blog for more) but I'll never understand for the life of me, why homosexuals are lumped in with people who have severe mental problems, mental problems so bad, that they get a sex change operation. After all, homosexuality exists in all types of nature. Hell, I once had two gay cats. I've also seen videos of gay dogs on the Book of Face as well. What I haven't seen, is an elephant cutting off their trunk for a Steve Vagistat sized five hole.
I will say this, instead of the Rangers and the NHL patting themselves on the back all night, with all their rainbow self-serving bullshit, (as said 78678696 times on this site, the only color in that rainbow that the Rangers & M$G care about is green) I would've rather seen Sam Rosen and Joe Micheletti explain the 73 types of genders that these demented liberals have come up with.
And wouldn't it be nice, if the Rangers honored their history in the same valor & bravado, whenever they try to promote underage transgender surgeries as normal? I guess Frank Boucher should've lopped his penis off.
No joke, tonight, I would've paid real money for thirty minutes of Sam & Joe going through each type of gender that these super left-wing morons have come up with. Can you imagine the exchanges?
"OH JOE, PETER PANSEXUALS JOE!"
"That's simply fabulous Sam!"
Of course, to be true to form, Sam would have to screw some of these labels up too.
"TRANMISSIONARY PEOPLE JOE!"
And as usual, Joe would be quick to correct Sam:
"That's a transgender Sam. You know, like Valiquette."
Speaking of Vagistat, let's get off this cash grab night and move on to the M$G Networks pregame show.
Once again, the pre-game show was horrible. Outside of all the Pride Night mentions, Vagistat once again went to his expected stats and made up foo-foo math. Not mentioned once on the broadcast? The line-up, the Caps goalie, the Igor update, the Kreider update or anything of relevance.
In what was ironic, in segment one, Vally & Giannone were going on and on about donating to some wackjob charity. Sure, donate money to a charity that raises money for sex-change operations for four year olds. Immediately after, we had a Montefiore commercial, as they promoted a real life-saving necessary operation for a kid. I'm not making this up.
And this is another thing that bothers me about this cash grab night. The Rangers are plugging a charity that raises money for teenage sex change operations. However orphans? The needy? The Garden of Dream kids? Kids that need necessities such as food, clothing and shelter? Eff them. It's more important to pump kids, with mental problems, with testosterone or estrogen. The homeless and less fortunate can find another day to eat, those selfish shits!
I'm telling you between all of this and now liberals banning plastic bags (how am I supposed to clean out a litter box?) if these 2020 liberals were around in the 1940's, you would be reading this blog in German right now.
We were then shown a segment of the Pepsi Fan CFO contest. I'll set the odds now:
A young blonde chick wins. -10,000
A fat neckbeard wearing male wins. +10,000
We also then had some segment promoting music week. Imagine being one of these Rangers, with limited free time and limited family time, and you're forced to spend 30 minutes with these producers, talking about if you sing in the shower or not? A sex change operation sounds better!
Then, in one of the latter segments of the pregame show, Vally brought out more of his stupid stats. He then talked about how Ovechkin contradicted all of his stats. You don't say? Hockey games are played on the ice, not on a spreadsheet? Who would've thought?
And finally, and my last mention about Pride Night for this blog, Micheletti said the word "FABULOUS" 19 different times tonight. A season high!
Right before puck drop, after Vally ignored this information during his 30 minutes of inane babble, Sam & Joe told us who the Caps starting goalie was. It was Samsonov, as Holtby played last night, in the Caps loss to Philly.
Just 90 seconds into the game, Pavel Buchnevich took a stupid penalty, for holding, while the Rangers were in the Caps defensive zone. This game seemed like a nightmare already!
The Caps would put four SOG during this early PP, but the Rangers held the Caps off the board. Georgiev made a great save on Wilson during this. The biggest thing here was that the Caps tried to set up Ovi three times on this power-play, but Ovi never got a SOG off. Also of note, Ovi was on the ice for the entire power-play.
Immediately after the Rangers PK was successful, Georgiev would make another save. I believe he was up to six saves in the first four minutes of this game. On the other of the ice at this time, Samsonov had 0 saves, as the Rangers wouldn't get their first SOG off, until their first power-play.
Once again, hurting the Rangers SOG chances was Kaapo Kakko. Early into this period, Panarin made a FABULOUS intercept and set Kakko up. Instead of shooting, Kakko skated beyond the net and then tried to make a pass to Chytil. No SOG. Can't score if you don't shoot.
In what would later be named the save of the game, Georgiev robbed Panik on a breakaway:
Georgie with a big stop on the breakaway. #NYR #LGR pic.twitter.com/UPanLZVZFP

— Rangers on MSG (@RangersMSGN) March 6, 2020
More on Georgiev as we move on.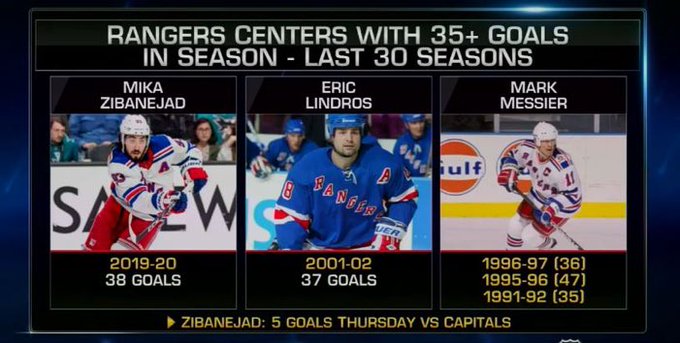 Of note, after Georgiev's big save, Lemieux, who made the turnover that led to the breakaway, immediately skated to Georgiev and thanked him. If you recall, I talked about Lundqvist's glove save in the game with Philly and how no one skated to him. Food for thought.
Despite four saves on the PK and a breakaway save, Georgiev's night wouldn't stay flawless. Far from it.
7:05 into the period, Carl Hagelin, because of course, every ex-Ranger must score in these games, beat Georgiev glove side. 1-0, bad guys. On the goal, it looked like a good snipe to me. Could have Georgiev stopped it? Maybe, but I think burying Georgiev for this goal allowed is hindsight being 20/20. I didn't think this goal scored was that egregious at the time.
Less than 30 seconds later, Nick Dowd was boxed for tripping. This put the Rangers on the PP.
The Rangers, who didn't have a SOG while five vs five yet, would pick up a goal here on the power-play:
Mika with a beauty of a deflection on Panarin's blast.#NYR | @NYRangers pic.twitter.com/MCA1rlBXXY

— Rangers on MSG (@RangersMSGN) March 6, 2020
1-1, 9 minutes in.
On the goal, Panarin blasts a one-timer pass from Tony DeMAGAngelo (Credit as always, @NYRKELSMADS) and Zibanejad, guest-starring in the role that Kreider usually plays, crashes the net and deflects the puck past Samsonov. Great execution!
From here, the Capitals, who spent more time in the penalty box tonight than Steve Statiquette spends in a Swedish bathhouse, would take their second penalty of the game. Once again, Dowd went to the box, this time for holding Staal.
In the effort of being fair here, I must say, these refs were horrible tonight. While all their calls would pay off for the Rangers, the calls we saw in this game were calls ignored in the game with the Blues. There were a lot of ticky-tacky penalties called in this game, while tackles and blatant trips were ignored on Tuesday night. Wouldn't it be nice to have a league full of conformity? I guess not!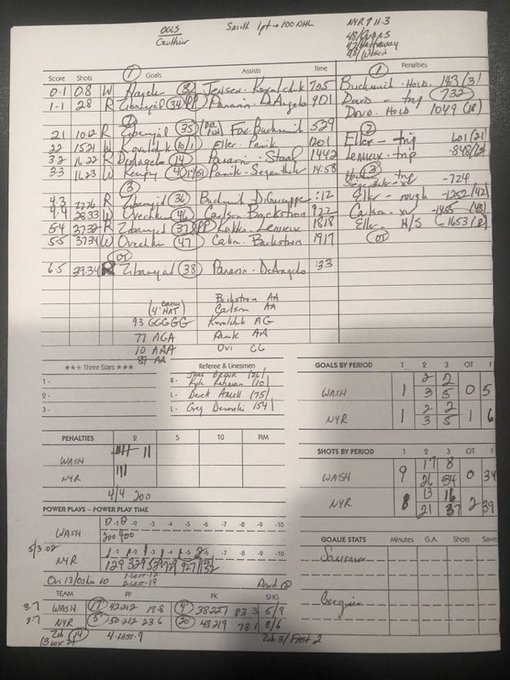 The Rangers weren't sharp on this PP. The Caps killed this easily. Despite the extra power-play that the Rangers had, with six minutes left in the first period, it were the Caps up on the SOG department, doubling up the Rangers by a tally of 8-4.
After some post-whistle theatrics from Tony DeMAGAngelo and Tom Wilson, we saw the replay of a Brendan Smith shot block, where he blocked a shot with his cheek. Despite being busted open, Smith never missed a shift. Had this injury happened in baseball, with a player getting hit by a line drive, that baseball player would've been out for 9 months. Hockey players.
For some reason, at this point in the game, Sam & Joe started talking about their favorite player in Carolina, in Brett "Don't call me Joe again Sam Rosen" Pesce. These two started talking about how much they love Carolina. Not mentioned once – the Canes are winless since acquiring Brady Skjei ten days ago. And how about this – the last Carolina goalie to win a game for the Canes? David Ayres, the same David Ayres who has as many wins as Lundswiss does in 2020.
As this game progressed into the final minutes of the first period, Ryan Lindgren, like Smith, continued to take his daily beating. I'm not saying that's a bad thing. I'm just saying that I wouldn't be surprised to find out that Lindgren is being held together by duct tape and gum.
As we got into the final minute of the period, as usual, Jacob Trouba, despite being all alone in front of the goalie and perfectly centered, went wide on a shot. We're used to this.
After one period, the score remained 1-1. Both teams finished with 9 SOG, which tells you that despite a slow start, due to the Buchnevich penalty, the Rangers came on strong. I thought this was another good showing for the Rangers, especially due to the competition.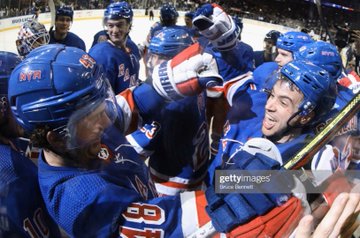 Funniest about the intermission? The psychotic and deranged liberals, who plague this fan base like the corona virus, crying about Tony DeAngelo making history, with his 50th point of the season. Losers. SAD!
After our usual, "SECOND PERIOD, WHAT DO YOU LOOK FOR HERE JOE" spiel from Sammy The Schnozz, Fast would open up the period with a near rebound goal. Close, but no cigar. No smoking here.
On the next possession, Strome tried a cross-ice pass to Panarin, but TJ Oshie deftly intercepted it. Right after, the Caps had a 3 vs 2, but Marc "F'N" Staal shut down Ovechkin! No SOG!
Then, as if they were foreshadowing what was to come, Sam & Joe ranted and raved about Kovalchuk for what felt like an hour. At one point, I thought Joe was reading off Kovalchuk's Wikipedia page.
Despite Georgiev's rough night in net, I thought Samsonov was way worse. He was out of net all game, dropping equipment, losing his mask and looking like the rookie he is out there. Lemieux would come close to scoring here, after knocking Samsonov's stick out of his hands.
It was also at this time that I saw this tweet, from old enemy, new friend Michael Silvers:
Hagelin looks just as fast at 31 as he did with the Rangers 5 years ago. Apparently Kreider will lose his speed by 31. So I'm told anyway. #NYR #PlayLikeANewYorker

— Michael Silvers (@msilvers1979) March 6, 2020
I would like to tell you that I came up with the above point by myself, but I will always credit someone if they said something first. That said, Silvers is right on the money here.
Right around the 5:17 mark of this second period, Kuznetsov would trip Zibanejad. The Rangers put the extra attacker on the ice, and what may have been a first this season, during a delayed penalty, Zibanejad scored:
Zibanejad just put a hole in the net 👀 #NYR pic.twitter.com/CXwAB4vIks

— Rangers on MSG (@RangersMSGN) March 6, 2020
2-1, GOOD GUYS. Ovi who? Okay, okay, okay – I'm too quick with the "Ovi who?" crack!
What a blast from Zibanejad here.
About 30 seconds after Mika's second goal of the game, Lars Eller, who did the Caps no favors in this game, with three penalties, took his first penalty of the game, this one for tripping. As you would think, I was hoping for the insurance PPG here. It never came, as it was actually the Caps PK who had the best SOG attempt during this two minute NYR PP.
After the Caps kill, Lemieux took a tripping call. The Caps looked good on their delayed penalty/extra attacker offense, with Georgiev making a great save, all while being screened by Tom Wilson.
On the Caps PP, Georgiev made two huge saves on Oshie. Just like the first Caps PP, Georgiev finished with four saves during this second Caps PP.
With the teams back at even strength, at the 12:01 mark, Sam & Joe's favorite player, in Kovalchuck, absolutely sniped a one timer from the circle. 2-2.
On this goal, Georgiev had a piece of it, but not all of it. I thought it was tough to blame Georgiev for this goal, especially with how well he was playing at this point. It's not like he was beat by something bad here, it's just that expectations are higher, and when you look at this 60+ minute performance as a whole, all these goals add up.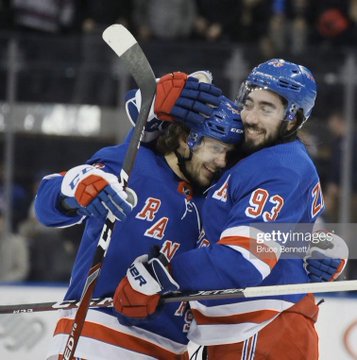 In case you're not aware, I'm a jinx and my jinx ability doesn't favor any team. Here's what I said, with the game tied at 2-2:
Rangers still without an even strength goal, as we hit 7:30 remaining in the second period. They haven't had one of those goals in 2+ games now. #NYR #PlayLikeANewYorker

— BlueCollarBlueShirts (@NYCTheMiC) March 6, 2020
Right after this tweet, Tony DeMAGAngelo broke the 5 vs 5 goalless curse:
Man, that pass from Panarin 😲🚨 pic.twitter.com/cYaio3Kbnu

— Rangers on MSG (@RangersMSGN) March 6, 2020
3-2, GOOD GUYS, with just five minutes and change remaining. What a pass from Panarin and what a finish from DeAngelo!
Before I could start trolling the DeAngelo haters on Twitter, just 16 seconds later, the Caps won the face-off, Kempny pushed a puck to Hathaway, and Hathaway took one of those half shot-half deflection type of deals, and beat Georgiev. 3-3 game. This was not a good goal for Georgiev to allow.
On the next Rangers possession, Panarin had Fast wide open, which would've put the score 4-3, but this wound up being a missed connection.
In the final minute of the period, Samsonov would stop Buchnevich and TDA, on two GOOD LOOKS.
After two periods, the score remained at 3-3. As always, the old adage remained – win the period, win the game.
During the intermission, DeAngelo was the featured interview. He said he was frustrated about blowing two separate leads. Then he hit us with the old adage. Damn right – win the period!
12 seconds into the third period, Mika and the Rangers regained the lead:
Sam Rosen going nuts on Mika Zibanejad's hat trick is fantastic. #NYR #LGR pic.twitter.com/RgE9gXxWjt

— Rangers on MSG (@RangersMSGN) March 6, 2020
4-3, good guys. A HAT TRICK for Mika Zibanejad. Little did we know, this wasn't even the tip of the iceberg!
What was also funny, is that the public address announcer had to tell fans to stop throwing out these silly little rainbow scarves and flags that were given out to fans before the game. Direct quote: "It's a hat trick, not a scarf trick!"
Oh, and as I mentioned on social media, with the price of hats these days, it's like throwing $50 on the ice! Also of note here, after Mika's hat trick, Micheletti called him "FABULOUS", four times in a row. FABULOUS FABULOUS FABULOUS FABULOUS! Little did Joe know, he would need one more FABULOUS for Mika at the end of this game!
After a delay, as the crew cleaned up all the merchandise on the ice, we resumed play. From this point on, this was fingernail chewing and chain smoking hockey. I found myself clock watching a lot here.
7:24 into the period, Brett Howden and Jonas Siegenthaler took off-setting penalties. This led to four vs four foreplay.
Remember how I told you I was a jinx? After Ovi went wide for the tenth time in the game, I tweeted this:
Ovi has gone wide a lot tonight. #NYR #PlayLikeANewYorker

— BlueCollarBlueShirts (@NYCTheMiC) March 6, 2020
Immediately after this tweet, with just ten minutes and change to go, Ovechkin blasted one from his office past Georgiev. 4-4. Tie game again. Third lead blown.
Two things here. Getting beat by Ovechkin isn't the end of the world. The guy is chasing Gretzky for most goals all-time in the NHL. There's a reason for that. Ovechkin beats everybody. That said, Georgiev could've had this, or at least make a better attempt. And this is coming from me, the leader of the Georgiev Fan Club.
I'll also say this – I saw that Georgiev was struggling tonight. He was very streaky tonight. He was lights out at some times and questionable at other times. From this point in the game, I didn't want to see him face another shot. He made me feel like whenever Lundqvist is in net. I didn't trust him. He didn't have it tonight, simple as that. However, to be fair, there were many games this season, where Georgiev did have it and the Rangers did not, and Georgiev stole some wins. At the end of the night, it was nice to see the Rangers reciprocate, and pick up Georgiev after his worst game of the season.
Back to my jinxes, or signs of good fortune. Here's what I tweeted at 4-4:
8:59 to go here, not a game for goaltender fans. I still think Georgiev has the edge on Samsonov. Can Mika go for four? #NYR #PlayLikeANewYorker

— BlueCollarBlueShirts (@NYCTheMiC) March 6, 2020
I also want to share this, in regards to the Ovi goal: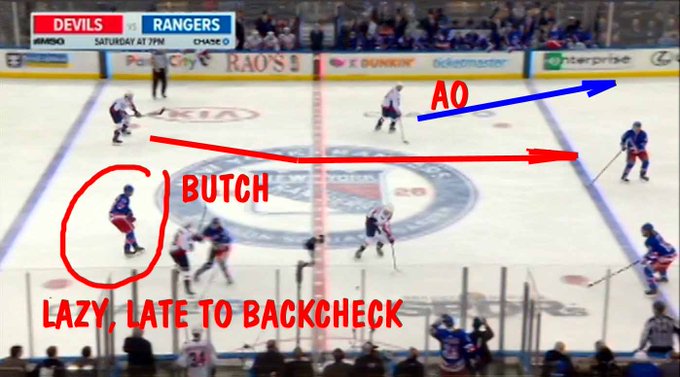 After the Caps hit the cross-bar, which nearly made me shit my pants, the Rangers would get three consecutive power-plays. If you're a Caps fan, you're probably irate about this. However, all three calls were legit. None of these penalties called here were fugazi. (Bonus: with six minutes of straight power-play time, this kept Ovi off the ice, as he never plays on the Caps PK.)
At 12:52, Lars Eller was called for roughing, as he boarded Brendan Smith. I don't know why roughing was called here. It should've been a boarding call. However, in the grand scheme of things, it doesn't matter – the Rangers rightfully had their power-play.
The Rangers had the best looking power-play, without a goal scored, of all-time here. The key moment during this, is when Samsonov showed us what he learned from Holtby, when he threw his mask off, thus getting a stoppage.
Seriously, the Rangers couldn't have been any better on this PP, but just couldn't get one to go their way.
As Ellers came out of the box, John Carlson blatantly cross-checked Lemieux. Thankfully, Lemieux didn't retaliate, thus potentially taking a penalty himself. The Rangers were back on the power-play, but unlike the power-play previous, the Rangers did not look great here.
In these two minutes, two minutes where the Caps PK took care of business, with just two seconds remaining on this Caps PK, Ellers once again took a penalty, this time for high-sticking Trouba. This was an easy call.
After failing on the two power-plays previous, the third time was a charm here:
Zibanejad's 4th of the game 🚨🚨🚨🚨 pic.twitter.com/Rsyv2MJZ5d

— Rangers on MSG (@RangersMSGN) March 6, 2020
5-4, GOOD GUYS, with just 1:42 remaining!
On this goal, I don't know if this was a set "puck on pads" play or not. Kakko blasted the puck at Samsonov and Zibanejad easily scored on the rebound. I haven't seen the post-game interviews yet, but to me, it looked like Kakko was trying to score. I don't think this was a pass off the pads or anything like that. It just worked out that way. I could be wrong. I'm just stating my opinion of what I saw here.
Whatever the case, the Rangers had the lead with 100 seconds left in regulation.
After this Rangers PPG, Samsonov was pulled. The Caps would own the puck for the next minute and after a bad rebound allowed to Carlson, Ovechkin easily scored on the rebound, with 42 seconds left in regulation. 5-5.
For Georgiev, this was his fourth blown lead of the game. I know he made some great saves in this game, but you can't blow four leads and find a silver lining. Again, I'm a Georgiev guy. I'm just being fair.
At this point in the game, I just wanted the Rangers to get out of this and at least get the point in the standings.
Going into the OT, I was nervous as hell. The refs and the Caps were giving the Rangers these two points, but Georgiev was throwing it away.
33 seconds into the overtime, Mika alleviated all fears:
AHHHHHHHHHH

ZIBANEJAD NETS HIS 5TH OF THE GAME FOR THE OT WINNER!!!!#NYR | @NYRangers pic.twitter.com/3Q63lIrUrM

— Rangers on MSG (@RangersMSGN) March 6, 2020
Panarin, the best passer on the team, if not the league, finds Mika Zibanejad on a breakaway, and as usual, Mika goes backhand for the goal. 6-5, GOOD GUYS, YOUR FINAL!
I know I've limited the cursing on these blogs and have used "Father Fink" to mask my f-bombs, but come on, I think this game gives me the right to use an f-bomb here – MIKA FUCKING ZIBANEJAD!
FIVE GOAL GAME!
THE RANGERS WIN, THHHHHHHHHHHHEEEEEEEE RANGERS WIN!
This site, BlueCollarBlueShirts.com, features the longest daily Ranger blogs of any other Ranger fan site on the internet today. However, even I, the author of these manifestos, is overwhelmed tonight. There's just so much to talk about and even if I had infinite time, I don't think I could cover everything adequately.
Mika Zibanejad, and rightfully so, will get all the headlines and talk tonight. What will be somewhat swept under the rug after this game, are all the other Ranger multi-point games. Panarin had 3 points. Ditto DeAngelo. Buchnevich, despite his bone-headed penalty, had two assists. Kaapo Kakko would've had the game winning assist, had Georgiev blanked the Caps in the final minute.
At this time, before continuing my pontificating, I want to share with you all of the stats, from this historic game, courtesy of @NYRSTATSINFO :
Tony DeAngelo registered his 50th point of the season, and he is the first Rangers defenseman who has tallied at least 50 points in a season since Brian Leetch in 2001-02.
---
Artemi Panarin has recorded at least one point in 52 of 66 games he has played this season, and he ranks second in the NHL in games with a point in 2019-20 (Draisaitl – 55).
---
Since Jan. 31 (the Rangers' first game following the NHL All-Star Break and bye week), Mika Zibanejad's 17 goals are the most in the NHL.
---
Mika Zibanejad is the first Rangers center who has tallied at least 35 goals in a season since Eric Lindros in 2001-02.
---
Artemi Panarin is the ninth Ranger (and first left wing) in franchise history who has recorded 60 or more assists in a season (Ratelle, Gilbert, Rogers, Leetch, Messier, Zubov, Gretzky, Jagr).
---
Mika Zibanejad has registered the fourth hat trick of his NHL career (second this season), and his first hat trick at MSG.
---
Mika Zibanejad is the first Ranger who has tallied four goals in a game since Ryan Callahan on Mar. 6, 2011 vs. Philadelphia.
---
Mika Zibanejad tied the single-game franchise record for goals with five.
---
Mika Zibanejad is the second player in NHL history to register five goals AND the game-winning goal in overtime in the same contest (the first was Sergei Fedorov on Dec. 26, 1996 vs. Washington).
---
And lastly, this comes from Kenny Albert:
.@DaveMaloneyMSG had a bird's-eye view for all three 5-goal games in @NYRangers history! Played in the first one (Don Murdoch 1976), on the team but scratched/injured in the second (Mark Pavelich 1983) and between the benches tonight (Mika Zibanejad) @RangersMSGN

— Kenny Albert (@KennyAlbert) March 6, 2020
Want to know something crazy? The following stuff trended on Twitter after this game:
– Mika
– Zibanejad
– Mika Zibanejad
– Give him the C
– Mika Virus
– And oddly enough, "Sam Rosen". OH JOE!
I'll tell you one thing – come the "Steven McDonald Award" voting time, it's going to be a tough call. If the vote was held tonight, Mika wins in a landslide. However, how can you ignore Panarin? Then, if you're looking for "heart and soul" guys, you got people like DeAngelo, Strome, Lemieux, Smith, Fox and Lindgren. I mention this, because this is a good problem to have.
I'll also say this about Georgiev. After tonight's game, as I said on social media, Georgiev owes Mika a steak dinner, a lobster, a high quality escort (not one of those HBO "Hunts Point Hookers") and should carry his bags for him next game! I know I sound harsh on Georgiev tonight, but if I don't criticize him fairly, I'll never hear the end of it from the Cult of Lundswiss; the people who only comment to me when Georgiev is not playing well. (Not one peep when Lundqvist is giving up 5+ goals a game though!)
And as posted earlier in this blog, look at the standings. The Rangers are one win away from catching the Islanders, the same Islanders that Georgiev has a 3-1 record against this season. So while many may pile up on Georgiev tonight, don't for one second forget about all the great games Georgiev has had this season. Without Georgiev this season, the Rangers aren't in the position they are in. Not only does he lead the team in wins this season, Georgiev also has a career high in wins during this season; even if this win wasn't the best of wins for your KING OF KINGS!
And isn't it amazing Suzyn, that in the Rangers 93+ year history, it was number 93, picking up the third five goal game in franchise history?
Here's Mika Zibanejad on his game tonight:
Mika Zibanejad can't fully wrap his head around scoring 5 goals:

"It's a night I'll remember for a long time" pic.twitter.com/XzIRizFQbp

— Rangers Videos (@SNYRangers) March 6, 2020
38 goals now for Zibanejad. If he didn't miss those 13 games earlier in the season, he would easily have 40+ right now. I still think he hits 40. Shit, if he continues this, he'll hit 50!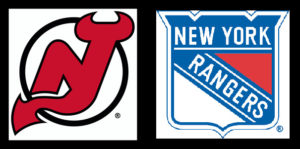 You guys can sound-off on me in the comments, on email or on social media, because I feel like I short-changed you tonight. I hope this blog doesn't come off that way however. That said, there is so much to talk about and I hope I nailed all of it. Due to my excitement with this win, I feel like this blog is all over the place; but hey, if you're a reader, isn't that what you want? Some passion. It sure beats those basement blogs with charts, heat maps and hieroglyphics! And unlike these basement losers, I will never root for this team to lose. I want the playoffs!
There's a lot to be positive about right now. If Igor comes back Saturday, even better.
Up next for the Rangers, a Battle of the Hudson game with the Devils, on Saturday night, in Madison $quare Garden. Simply put – the Rangers have to win that game. Good teams beat bad teams, and to quote the great Eddie Gieck, of "The Blueshirt Underground Show", the Devils are "baaaaaaaaaaaaaaaaaaaad!"
I know I might sound redundant and too "fan boyish" here, but to me, and I know I've said this a lot – this was the best win of the season, hands down. Look at the opponent. And the Rangers won this without their number one goalie and without Chris Kreider.
We Want The Cup! (Too soon?)
See ya guys on Saturday night.
As always, thanks for reading and…
"LET'S GO RANGERS!"
Sean McCaffrey
BULLSMC@aol.com
@NYCTHEMIC on Twitter