Greetings and salutations everyone and welcome to another blog here on BlueCollarBlueShirts.com. Once again, and now with just seven games remaining – the Rangers continue their flirtation with first place.
On Thursday, following their pair of back-to-back games against Carolina (Tuesday) and at Philadelphia (Wednesday), the Rangers took the day off. While the Rangers were resting, the first place Carolina Hurricanes hosted the Detroit Red Wings, an original six team that has already been eliminated from playoff contention.
Rather than the first place Canes increasing their lead over the second place Rangers; instead, the Blueshirts received some help from their original six brethren, as the Red Wings shutout the Canes 3-0. Ironically, it was the Canes' former goaltender, Alex Nedeljkovic, leading the way for the Wings, as he recorded 46 saves against his old club.
For the second time in three weeks, the Canes had lost a game where they were the better team, due to an opposing goaltender having the best night of his season. Previously, on March 20th, Alexandar Georgiev had posted a 44 save shutout against the Canes.
As a result (and including a Penguins 6-3 victory over the Islanders on Thursday night too – a win which clinched a playoff spot for Pittsburgh), the Metropolitan standings now look like this: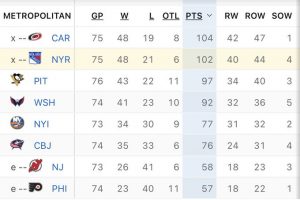 After the Rangers' 4-2 loss on home ice to these same Carolina Hurricanes from Tuesday night; the Blueshirts needed outside help in their chase for first place. Detroit, who the Rangers will host on Saturday afternoon, gave them that help. Come tomorrow, the Rangers will need to do what Carolina couldn't – beat Detroit.
If the Rangers can continue their winning ways, and if Carolina can lose a game or two along the way too, then the stakes on April 26th will exponentially increase.
On that date, and in what will be the Rangers' third-to-last game of the season, the Blueshirts will host the Canes at M$G. Win that game, and who knows – the Rangers could grab first place all to themselves.
While anything can happen during these final seven games of this 2021-22 season, including what goes down between the other teams jockeying for playoff positioning; as the head coach and his players said on Friday, April 15th – they can only worry about themselves. They just have to play their own game.
And as noted before on this site – it's my opinion that you can't worry about trying to find favorable playoff match-ups. None of the eight teams that will represent the Eastern Conference during the 2022 Stanley Cup Playoffs will be easy outs.
Whether the Rangers see the Penguins, Capitals, Bruins, Maple Leafs or the Lightning in the first round; each team has their own strengths and weaknesses. Plus, to go all the way, the Rangers will have to take care of business on their own end. You just can't worry about anyone else.
Whatever the Rangers do, and who they play, will be fine with me – after all, they're in the playoffs.
However, should the team be able to finish in first place, I think that would say a lot about this team – a Rangers team that none of the seven other Eastern Conference teams wants to see come May 1st.
Before diving more into the Rangers news from Friday; some sad news to report.
---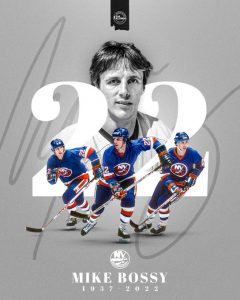 Mike Bossy, a heavy smoker back in his day, passed away today at the young age of 65.
I bring up Bossy's smoking here, not to be critical, but only to say that it was something that Bossy always expressed regret over, including during his "Player's Tribune" article which I linked to several blogs back. It's most likely what led to Bossy's lung cancer.
As talked about over the last few weeks, Bossy had not been doing well.
Just last week, with not much hope in sight, he left hospice care and returned home. He wanted to spend his final days at his home with his friends and family.
Mike Bossy is arguably the greatest Islander of all-time. In fact, I'm not so sure if this is even debatable.
It's been a tough few months for the Isles. Prior to Bossy's passing, Bossy's dynasty teammate, Clark Gillies, passed away on January 21st of this year. (He too died of cancer.)
While Bossy tortured the Rangers during his heyday, that was also the Rangers own doing.
As mentioned repeatedly on this site, during my first book, during my upcoming second book, and once again here today – the 1977 NHL Entry Draft, the 1977 NHL Entry Draft, and did I mention the 1977 NHL Entry Draft?
---
In case you don't know, on June 14th, 1977, a date which eventually became infamous for the Rangers, while becoming one of the best days in all of Islander history; John Ferguson, the Rangers general manager at the time, thought that Mike Bossy was "too soft." Ferguson thought it would take too much time to "toughen up" Bossy and to get him to play defense.
In turn, Ferguson drafted Lucien DeBlois eighth overall during the 1977 NHL Entry Draft. Five picks later, with the thirteenth overall pick, Ferguson selected Ron Duguay. Two picks later, the Islanders selected Mike Bossy with the fifteenth overall pick of the draft.
Over time, this draft became another huge "WHAT IF" question of Rangers' history, a history full of them.
While to their credit, the Rangers had some good teams, including one that challenged for the Stanley Cup in 1979; neither DeBlois, nor Duguay, were Mike Bossy.
With Mike Bossy, one of the greatest right-wingers in all of NHL history leading the way (his career was only marred by injuries – a ten year HOF career that would've only been better had it not been for these injuries), the Islanders went on to win four consecutive Stanley Cups.
To this day, the Isles four straight Stanley Cups from the early 1980s remains as the last dynasty in NHL history.
Unless the NHL decides to rid themselves of the hard salary cap from this era – it's likely to remain the last NHL dynasty forever.
To put salt in the wound, during every single one of the Islanders four Stanley Cup victories (1980, 1981, 1982 and 1983) – they defeated the Rangers on their way to the silver. And of course, Bossy was a big part of that.
Ferguson could've selected Bossy twice. He didn't. The Rangers' Cup drought, which began with the 1940-41 season, remained in tact. The Islanders, with Bossy, would then experience the best years of their existence.
And it all started on that day of June 14th, 1977.
---
Currently, and rightfully so, Mike Bossy is being eulogized everywhere. The Islanders website, TSN, NHL.com and many players from Bossy's time, including Wayne Gretzky, have all posted nice tributes.
Friend of the blog, the legendary Stan Fischler, also penned a column about his friend. You can read it here: https://www.nhl.com/islanders/news/mavens-memories-my-mike-bossy-moments/c-333031300
While you can read excellent tributes and recounts of Bossy elsewhere; I have a few personal Bossy stories. The one that stays with me the most, is from my days as a teenager.
During the mid-to-late 1990s, I was an autograph seeker. I know I've mentioned this before on this site. While I was obviously a Ranger fan, the Nassau Coliseum was only ten minutes away from where I lived. Once my friends (a year older than me) got their driver licenses, we would go to the Coliseum to get autographs, where we usually tried to meet players from the visiting team, who all stayed at the adjacent Marriot Hotel.
On one of these days, which was during the "John Spano Era," and shortly before Spano was exposed as a fraud; my friends and I bumped into Mike Bossy. At that time, Spano was bringing in all of the Islander legends, in an attempt to inspire a fan base that were enduring tough times. You may have heard about the "FISHSTICKS" era before!
I can't remember the exact date, but I do know, and as normal for yours truly and my crew, that I was wearing a Rangers jersey. I'd always wear it, even if the Islanders weren't hosting the Rangers.
While I was too young to remember the prime of Bossy's career, I, along with my friends, obviously knew who he was and what he did. I should also mention that whenever we went to the Coliseum, we had trading cards and a few pucks with the Isles logo on it.
On that day, Bossy stopped and signed pucks and cards for us. After doing so, and before entering the Coliseum, Bossy told us (and this wasn't the exact quote, as I can't remember what he said verbatim from over 25 years ago), "you guys are rooting for the wrong team!"
I'm sure Bossy has signed numerous items for Ranger fans over the years. I'm sure he forgot about all of these interactions, as this was just a way of life for him. However, for people like me, and I'm sure others too – it's a memory that I won't forget.
While I'll always hate the Islanders whenever they take the ice, and I'll have a few choice words for them too; away from the rink, these people are humans too. Bossy was one of the good ones.
RIP.
---
To go back to the Rangers here; after taking Thursday off, the Rangers reconvened for practice on Friday.
Two news items came out of the practice.
One, Patrik Nemeth was back with the team. He wasn't interviewed after the practice, nor did the media even ask Gallant about him. What a shock.
Two, Lafreniere, scratched in the win over the Flyers, was at the practice too – where he was skating with the fourth line.
I'm not going to repeat everything that I said on Wednesday night, but I understand why Gallant wants to keep Barclay Goodrow on his third line. After all, that's what I'd do!
While who knows what Gallant will do tomorrow; usually, his practice lines are an indication of what he'll do come puck drop.
At the practice, Gallant used the same top nine forwards and the same six defensemen.
Gallant, who would later say that Lafreniere would be playing on Saturday, had #13 skating with Kevin Rooney, Ryan Reaves and Dryden Hunt.
Again, while we won't know anything official until tomorrow; if Lafreniere does play on the fourth line, you'd have to figure it will be at the left wing position, his natural position.
I'd also assume since he just got back, and needs more games under his belt, that Kevin Rooney will be playing on the fourth line too. Under this scenario, that means that either Reaves or Hunt will be scratched, where of the two, I think you'd see Hunt get the day off.
I also like the idea of Reaves and Lafreniere together, only because they have formed a fast bond. Maybe it will translate on the ice.
We'll just have to wait until tomorrow to see what actually happens.
Following the practice, Gallant met with the media. Here's his interview:
---
Gallant opened up his "Turk Talk" by talking about the Rangers' power-play. After being foolishly asked if he wanted to "get the power-play back on track," the head coach reminded the media that his power-play is second-best in the league.
Gallant was then asked if his players wanted to work on the power-play. After rolling his eyes, Gallant said it was a coach's decision. Gallant then reaffirmed that he had no issues with his power-play at all.
(As talked about before on this site, in regards to the power-play not scoring during the last two games, I think it was more of the team being unselfish, and trying to get Kreider to goal #55, more than anything else.)
The media, who still has a raging hard-on for Alexis Lafreniere, then asked Gallant about the 2020 first overall pick. Gallant said there was no issue with Lafreniere and made clear that it was the head coach himself who thought that #13 had looked a bit tired – and not anything Lafreniere had said to him. Why some people can't process this, I do not know.
After praising his new third line of Goodrow/Chytil/Kakko, Gallant said that Lafreniere would be playing on Saturday, while adding, "we'll see where he goes."
Gallant, who you can tell is tired of the repetitive line of questioning, especially whenever Lafreniere's name comes up; then reiterated that he has four extra forwards and two extra defensemen. Not everyone can play.
Gallant then repeated what he's said ever since the NHL Trade Deadline – he'll rest guys when needed, try to win every game possible, and that he wants his players to make it tough on him whenever he makes his line-up. (Meaning that they play so well that it's impossible for Gallant to scratch them.)
Gallant also added that when it comes to making his line-up, he talks to his staff and medical team too.
On Tyler Motte, Gallant said that "he's still a ways away from returning," and that he doesn't see him rejoining the team during the remainder of this regular season. Gallant didn't rule out Motte returning for the playoffs, which is dependent on how far his team goes.
Gallant then talked about the Detroit Red Wings, and the shutout that goaltender Alex Nedeljkovic had on Thursday night. As the head coach always does, Gallant praised an inferior opponent, said "they work hard," and how the Rangers must continue to do what they've been doing.
Gallant mentioned how important preparation is, and how sometimes, it doesn't translate on the ice. Gallant said this happens across the league every night, while inferring to the upsets across the league from Thursday night.
In a comment that made you say "blah," even if you understood it; Gallant said the dynasty Islander teams from the early 1980s were his favorite teams growing up. Gallant praised the great Mike Bossy and also joked and said that he modeled his own game after Clark Gillies – a player who had no problem with dropping the gloves, just like Gallant would later do during his own career.
Gallant also expressed his sympathies over Bossy's passing and said that he got to know him well when Gallant was an assistant coach with the Islanders. (Gallant was an Isles' assistant during the 2007-08 and 2008-09 seasons.)
One of the Rangers' 7896766767677886566465 alternate captains was interviewed on Friday too. Here's my dark-horse candidate for the Steven McDonald Extra Effort Award, Barclay Goodrow:
---
Goodrow said that clinching a playoff berth was a huge thing for the team and echoed his head coach's comments when talking about preparation.
When it comes to his time in Tampa and in relation to today, Goodrow once again talked about being prepared and being ready for the playoffs. Goodrow also echoed his head coach one more time, and said that it's about what he and the Rangers do – and not what the opponent is doing.
Goodrow also praised his newest linemates, Chytil and Kakko, and then talked about the good games they had in Philadelphia.
Goodrow said as a team leader and as a veteran, sometimes he'll give his younger linemates advice.
Goodrow said more times than not, it's just little things that he brings up. He also said that he has fun playing with the younger players on the roster. Goodrow also laughed about how sometimes it's tough, since sometimes he's on lines where each player has a different native language.
When it comes to the team itself, Goodrow talked about the Rangers' penalty kill, where he said he feels that the PK has found their footing again, after previously slipping a bit.
Goodrow also raved about Kreider and "CK50." Goodrow said that Kreider works extremely hard and he's getting results. Goodrow also feels that Kreider makes it all look too easy and that his work ethic is contagious.
Goodrow also said that the NHL is an "Any Given Sunday" league (my words, not his), where he said any team could win a game on any given night.
Goodrow then hit the "P" word again, as in "prepare," and said that the Rangers will have to be prepared tomorrow when they host the Wings and that they can't take them lightly.
---
As noted earlier, the Rangers have to do their job and handle the Wings.
Saturday's matinee game, where the Rangers have been historically bad during these early afternoon affairs, although now under Gallant, the team has fared better during them; is the third-and-final match-up between these two Original Six teams.
On February 17th, the Rangers dropped a 3-2 shootout decision to the Wings on home ice.
On March 30th, the Rangers needed overtime to defeat the Wings in Detroit, 5-4.
In other words, it's time for a change of pace – a win for the home team on Saturday!
Just a few parting shots before signing off.
---
After the Rangers released their "CK50" puck, I'm wondering if the Rangers will honor Kaapo Kakko next, as a result of his two-goal game against the Flyers from Wednesday night:
As stated Wednesday, I'm glad Kakko had success. Now do it against the good teams.
Speaking of pucks, how about this one, one that I've shared before on this site:
In an update on this 1928 Stanley Cup puck, one that former team president John S. Hammond acquired, only to be sold many years later by his family; the puck actually sold for $61,000 last year, at auction. Whoever bought it for $61,000 then decided to resell it at that whopping price of $499,995.
While these pucks (just like any piece of sports memorabilia) are only worth what someone will pay for them; at the same time, this puck belongs in the Hall of Fame. Of course, you can't knock someone's hustle, and only a super-rich person would donate such a unique item.
And if I had that Elon Musk money, maybe I would drop the cash to buy it! And I'd give it to the HOF too – as I wouldn't give it to the Rangers, a franchise that flat-out ignores their history time-and-time again! (I heard there is a book out there about this!)
---
Speaking of Rangers' history, how about closing out with the following:
April 14th, 2022 marked the 94th anniversary of the first Stanley Cup won by the Rangers. Led by Frank Boucher's heroics (he scored every game winning goal of the series, and had the Conn Smythe Trophy been around at the time, he would've won it), the Rangers defeated the Montreal Maroons in a five-game set, where they won the series 3-2.
This was also the same series where then head coach and general manager, Lester Patrick, suited up in net, in relief of an injured Lorne Chabot. (NHL teams didn't carry two goalies during this era.)
The Patrick story has been exaggerated a bit over the years, as some believe that Patrick carried the Rangers in the series; but the story itself is true – Patrick entered the series during the second period of game two and then went on to win the game. (The Rangers then used Joe Miller for the final three games of the series, as Patrick did NOT man the net for the remainder of the series.)
As many of the 1928 Stanley Cup champs would say in later years – they wouldn't let Patrick see much of anything, and went into defense-first mode. Bill Cook would score the game's first goal during the third period, but Nels Stewart would later tie the game for the Maroons. Boucher then scored in overtime to win it.
This now brings me to what I wanted to close with, and with a tip of the cap to Kenny Albert, who as recapped on Tuesday, had his own "Lincoln/JFK" conspiracy idea (I'm using these words tongue-in-cheek), in regards to all the fifty-goal scorers in Rangers' history.
April 14th, 2022 was the 94th anniversary of the 1928 Stanley Cup win. The Rangers won the Stanley Cup in 1994. 28 years later, the Rangers are now looking for the Stanley Cup again!
Isn't that amazing Suzyn?
PLUGS time!
---
On Thursday evening, Ron Duguay and company returned with a new episode of "Up in the Blue Seats." To listen to the show, click the link below:
— Ron Duguay (@RonDuguay10) April 14, 2022
---
On Friday morning, "2 Guys, 1 Cup" returned with a new episode. To listen to the show, click this link:
The return of Kaapo Kakko, the summer travel plans for Vitaly Kravtsov, Chris Kreider scoring his 50th goal, what our bottom 6 should look like come the playoffs, and the overall playoff picture. #NYR https://t.co/CSF4LXicpq

— 2 Guys 1 Cup Podcast (@2G1CRangers) April 15, 2022
---
My first plug of tonight's blog – the mandatory plug for my book, "The New York Rangers Rink of Honor and the Rafters of Madison Square Garden".
As mentioned previously, the book is now available in hardcover, in paperback and in Kindle formats. To purchase a copy of the book, visit this link:
https://www.amazon.com/Rangers-Rafters-Madison-Square-Garden-ebook/dp/B09CM5N2WD
For those still looking for signed paperback versions of the book, I have re-ordered more copies. I now have a few signed copies for sale at $25 a pop (includes shipping price) through me directly. Here is all the information on that:
---
Here are my last few blogs, in case you missed them: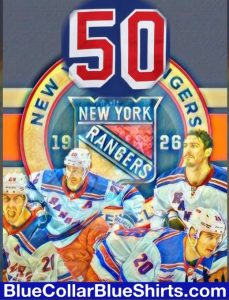 ---
---
---
If you haven't already, subscribe to this blog for the next update:
---
Up next: another game that the Rangers should win, when they host their Original Six rival, Steve Yzerman's rebuilding Detroit Red Wings.
As always here, thanks for reading and…
LET'S GO RANGERS!
Sean McCaffrey
BULLSMC@aol.com