"We had our hands full today and we'll have our hands full tomorrow." – Rangers head coach David Quinn, on 4/17/21, after the Rangers 6-3 victory over Devils. This one quote sums up the entire game from Saturday afternoon.
---
Greetings and salutations everyone and welcome to another blog here on BlueCollarBlueShirts.com. Whew. I'm glad this game is over!
In a Saturday afternoon matinee affair at M$G, which was promoted as "Kids Day", the Rangers defeated the Devils by a final score of 6-3. The irony here, is that it wasn't the Rangers "Kid Line" or the other young players on this team, carrying the Rangers in this victory. Instead, it were the Ranger Fat Cats doing all of the heavy lifting, behind a hat trick out of Pavel Buchnevich, four points out of Artemi Panarin and three points each out of both Ryan Strome and Mika Zibanejad. Heck, even Chris Kreider scored an "A-Rod" empty net goal in this game too.
Conversely, the Rangers first round lottery picks of the last three NHL Drafts, in Vitali Kravtsov (2018), Kaapo Kakko (2019) and Alexis Lafreniere (2020), had only one shot on goal – combined.
I don't take the lack of production out of the Baby Blueshirts in this game as a negative thing, or at the very least, think that's the story-line today. Instead, I'm happier over the fact that the Fat Cats produced. That's the main angle to me after this win.
When you break it all down, the Ranger Fat Cats are paid to deliver and win games. The Kids are not. If you had to draft a perfect script going into this season, it would be the Fat Cats carrying the Rangers the whole way, while the kids developed. Instead, on most nights, it's been the Fat Cats struggling worse than the young players, especially when you look at the Rangers defensemen. Of course, Artemi Panarin and Ryan Strome would be the two exceptions here, but without a doubt, the Rangers haven't gotten enough out of guys like Chris Kreider, Mika Zibanejad and Jacob Trouba.
This blog could've had a much different tone today. While not "mathematically correct", this game was pretty much a "must-win" game for the Rangers, especially after the Bruins shut-out the Islanders on Friday night. (I'll have more on the standings at the end of this blog.)
After racing out to a 4-0 lead, and in less than 21 minutes worth of game time played; by the 6:38 mark of the third period, the Devils made this a one-goal game. Once again, the Rangers, while playing with a big lead, went into "prevent defense" mode, where really, using the word defense here isn't appropriate at all. The Rangers did anything but play defense, sans the stellar goaltending out of CZAR IGOR.
As Ranger fans, and for the Rangers themselves, the only thing that matters is the final score and the two points in the standings. However, the Rangers almost let a sure-fire victory slip through their fingers. In fact, the Devils were the better team for the majority of this game. After the Rangers quick start, the Devils took control of the game, and it would take two late empty net goals, out of both Buchnevich and Kreider, to ensure the Rangers victory. Crisis averted.
For the Rangers and David Quinn, they know what happened today. They know they can't let this happen again. Against a better team, a team that's not full of AHLers; the Rangers, as they have done so many times this season already, and to the top four teams in the division, would've blown this game. It should also be mentioned, that despite giving up three goals, (more on this in the game review/recap portion of the blog) CZAR IGOR had another great performance in net. Without question, if it weren't for the bevy of saves Shestyorkin made in the second period, this game most likely would've played out differently.
For David Quinn, he needs to figure out why his team takes their foot off of the gas whenever the team has huge leads. If this is a case of "being respectful" to your opponent, DQ needs to send the message and tell his guys to throw that junk out the window. The Rangers can ill-afford to give up any more points in the standings. The Rangers should not worry about embarrassing their opponents and should always be in "kill-mode".
I don't want to harp on the Rangers almost blowing this game all blog long. You know it, I know it and they all know it. With a quick turnaround, as the Rangers and Devils will rematch for the last time this season on Sunday afternoon; the Rangers (and us fans) need to be happy about the final result and zero in on finishing the job tomorrow – by sweeping this "four-game series." (As explained on a previous blog, the Rangers are taking this one game at a time, rather than looking at these four consecutive games with the Devils as a series. And that's the right attitude and approach to have.)
It's my goal to finish this blog before the UFC and Ben Askren fights start, so let's get into it!
However, first up, and as usual here – the PLUGS segment.
Here are my last few blogs, in case you missed them:
---
---
---
---
While I usually gripe about this during the M$GN segment, for whatever reason, M$GN decided not to give us the line-up for today's game, even if it was fairly obvious what the line-up would be.
As predicted last blog, and as expected by everyone else who follows this team; DQ went right back to the same line-up in this game, as he has been using ever since Kravtsov made his debut and when Howden returned. Again, one more time on this site – Julien Gauthier remains the odd-man out, but really, you can't blame DQ here. The only thing that matters is winning and picking up points and that's what this most recent line-up has been doing. (And to a lesser extent, Phillip Di Giuseppe is now an odd-man out, but really, I don't see PDG being on this roster next season anyway.)
Of course, CZAR IGOR was in net today, following his back-to-back shutouts over this Devils team. I'll say this here and get it out of the way now – while I'm not the coach, (as you may have heard) I'd go right back to CZAR IGOR on Sunday; back-to-back games be damned!
In no order of importance, here's why I'd go with CZAR IGOR on Sunday:
— He's now seen this Devils team three times in a row, and should in theory, have a feel for all of these Devil shooters. Why throw Georgiev in cold against the Devils, when Igor has them figured out?
— Igor has been playing tremendous throughout this three-game winning streak. There's no reason to slow him down now.
— Igor missed so many games this season, that playing a back-to-back shouldn't phase him. In addition, come the playoffs, whether it's this season or next, sometimes you have to play back-to-back games. Against these Devils, there's no better time than now, in giving Igor some repetition in this department.
— After Sunday's night game, the Rangers have a one-off with the Islanders on Tuesday night. Let Georgiev start that game, because despite Igor being the starter, Georgiev has the better history with the Isles. While I wouldn't be worried if Igor does play against the Islanders, I'd go with what's been working and Georgiev vs the Islanders is what's been working.
---
Gambling segment time.
Here's what I said before the game:
Season over-under record: 18-23-2

Igor in net for #nyr , Devils haven't announced their starter yet. Under has been hitting like crazy lately.

I'm taking the under on the -5.5, as Igor records his third shutout in a row! pic.twitter.com/noIi9Hl4xn

— BlueCollarBlueShirts (@NYCTheMiC) April 17, 2021
As I'll explain later, I am 100% convinced that the M$GN jinxed the hell out of the Rangers in this game. The only thing that matters here is that the Rangers won, but that said, I take the "L" with my over-under prediction. My record now drops to 18-24-2.
In addition, I also bombed with my M$GN gambling app pick, as this was what I foresaw prior to the game: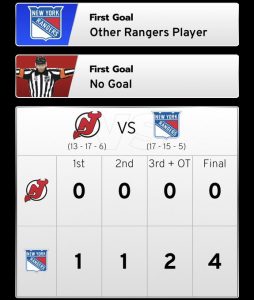 Oops!
BOX SCORE time.
The following information and graphics come from the new world-wide leader in NHL coverage, in ESPN.com.
SCORING:
PENALTIES:
GOALIES:
| | | | | | | | | | | |
| --- | --- | --- | --- | --- | --- | --- | --- | --- | --- | --- |
| SA | GA | SV | SV% | ESSV | PPSV | SHSV | SOSA | SOS | TOI | PIM |
| 28 | 4 | 24 | .857 | 17 | 1 | 6 | 0 | 0 | 58:40 | 0 |
| | | | | | | | | | | |
| --- | --- | --- | --- | --- | --- | --- | --- | --- | --- | --- |
| SA | GA | SV | SV% | ESSV | PPSV | SHSV | SOSA | SOS | TOI | PIM |
| 33 | 3 | 30 | .909 | 26 | 0 | 4 | 0 | 0 | 60:00 | 0 |
TEAM STATS:
---
As I quickly recap the M$GN pregame show here, I have to get this out of my system – outside of John Giannone, everyone on this broadcast, you know, the guys being paid by M$GN, all went out of their way to jinx the Rangers today.
I've talked about the topic of "jinxes" in the past, so I won't rehash or do my "Greatest Hits" here. All I'll say here is that there are unwritten rules in sports and in sports broadcasting, and these goofs at the M$GN shit on these rules all the time. In addition, it's one thing if this game was a national broadcast, it's another when the home network routinely goes out of their way to jinx and root for the other team too.
Here's what you heard today out of the Ranger broadcasters, and one of the Twitter accounts associated with the Rangers:
— During the Rangers collection of four goals, Sam Rosen would not stop praising the Devils and would often make excuses for them. He was as sympathetic to the Devils as the Rangers were, after Panarin's goal in the second period. Rather than wanting more goals, Sam tried to see this game from the Devils perspective, as if any Ranger fan cared. Hell, I was rooting for ten goals and a hat trick out of Kravtsov!
— Joe Micheletti, who also had a shoulder for the Devils to cry on, started talking about "the dreaded three goal lead" and how the Rangers could blow it. The Devils were a pubic hair away from tying this game in the third period, after back-to-back goals in a time span of 1:02.
— Steve Valiquette, who was crying about Henrik Lundqvist not getting respect out of people who wanted Lundqvist off of this team years ago (more on this later on in this blog, as Vally ignored the main talking point/argument when talking about this) talked about how Ranger fans were spoiled by Igor and how great Igor was playing. Igor would then go on to give up two goals in the third period. (Albeit, I wouldn't blame Igor at all here, as I'll get into in the game recap/review. I'm just talking about the jinxes here.)
— And as I'll also show you in the game recap segment of this blog, the @NYRStatsInfo account started talking about the shut-out CZAR IGOR had going in the second period. Immediately after sending out that tweet, where the word "shut-out" was used, the Devils scored. Again, the unwritten rule here is that you never talk about shut-outs in hockey, just like you don't talk about no-hitters and/or perfect games in baseball. For whatever reason, these goofs and the Rangers twitter account just don't give a flying Father Fink. They'll step on every crack, cross paths with every black cat and break glass whenever they can.
---
Since today was "Kids Day", you know, where the parents of a family of four have to spend over $1000 to attend one of these games; the M$GN pregame show showed us a bunch of pictures of the current Rangers as toddlers. While I get the tie-in, was it necessary for the M$GN to share pictures of a four-year old Artemi Panarin in his underwear? Are the Rangers trying to draw the Jared Fogle demographic?
While the M$GN pregame show remains useless, (remember, they couldn't even bother to show us the line-up) I did like the segment with Anson Carter. In a produced segment, Carter was shown giving back to the community and teaching young kids how to play hockey. Some people may consider this as "fluff", but I'll take seeing the Rangers alumni doing positive things in the community than listening to Vally drone on and on about his made-up fake news stats. (How did that Royal Road and HIGH DANGER chances garbage go for the Islanders on Friday night? Ugh!)
As far as anything else prior to puck drop, there are two things to talk about. One, in a rare showing, we saw the National Anthem being sung on the broadcast. Good stuff. However, I don't get why M$G can't have a singer in the building. Instead of having the singer live and in front of a crowd, a prerecorded rendition of the song aired on the scoreboard. Similar to the mask that Gingras always wears, I just don't get it. And if you're going to go with a prerecorded version, go with John Amirante!
The other thing to mention here, was that the Rangers honored a fan who recently passed away, named Nick Springer. I can't say I was aware of his story prior to this game, but once again, some of the unsung heroes of this NYR alumni, in both Adam Graves and Rod Gilbert, were featured here. I've already written a whole blog on "Saint Adam Graves" and why I think he deserves a statue in front of M$G. At the same time, I think Rod Gilbert's positive contributions on behalf of the franchise are sometimes overlooked.
Either way, RIP Nick Springer and my condolences to his friends and family.
---
With the Ryan Strome line on the ice to start the game, the Rangers would get quick control of the puck. From there, Devils goaltender, in the journeyman known as Aaron Dell, and to his credit, would pass his first test, denying Strome after a great pass from Panarin. Dell would soon fail his next few tests.
Of note here, since it's been a topic of conversation lately, DQ didn't change his lines in-game once. In other words, Kreider remained on the first line all game while Vitali Kravtsov played with the fourth line all game. I can't question DQ here, as he knows these guys and has been successful lately when changing his lines in-game and knowing when to hold off. Speaking of Kravtsov, on his first shift, he won a puck battle on the side boards, as he continues to play physical hockey and isn't scared of contact.
The first 7+ minutes of this game was mostly all Devils, as they quickly out-shot the Rangers and had control of the puck. However, the Rangers would flip the script at the 7:26 mark of the period, after Mika fed the birthday boy some cake:
Happy Buchday 🎂🎈 pic.twitter.com/X9lzBkddPo

— Rangers on MSG (@RangersMSGN) April 17, 2021
1-0, GOOD GUYS, as Pavel Buchnevich easily finished off Dell after receiving a great pass from Mika. This goal was one of the turning points of the game, because prior to this, the Devils were playing well, but after this Buchnevich goal, the Devils would soon unravel.
That said, the Devils would get a chance to tie this game, as after this goal, the Devils had a 3 x 2 odd-man rush. However, they "Plaxico'd" themselves here, and didn't even get a shot off.
With 10:54 to go in the period, Damon Severson was boxed for holding Brett Howden. Leave it to Brett Howden, as this penalty would change the game.
As the Rangers struggled a bit on the power-play, 45 seconds into this power-play, the Devils were nabbed for having too many men on the ice. In turn, the Rangers received 1:15 worth of 5 x 3 power-play time. As talked about 67867866676 times on this site already, if you can't score with a 5 x 3 power-play, you don't deserve to win games. And as we'd soon see, the Rangers would deserve to win this game, as the Rangers would score on both of these power-plays.
After some great passing, at the 10:27 mark of the period, Ryan Strome, and from a bad angle, rang one around the iron and scored:
DID YOU HEAR THAT 🛎️

That's the sound of a POWER PLAY GOAL pic.twitter.com/I9hnwIqVA1

— Rangers on MSG (@RangersMSGN) April 17, 2021
2-0, GOOD GUYS, as Strome scored after what would be another primary assist out of Mika. Even better, the Rangers scored early, which meant that they'd still remain on the power-play, and with 1:25 worth of time.
As the second power-play was nearing its conclusion, at the 11:48 mark of the period, Buchnevich picked up his second goal of the contest:
Another one for the Buchday Boy 🎂🎂 pic.twitter.com/dpMH28l9KT

— Rangers on MSG (@RangersMSGN) April 17, 2021
3-0, GOOD GUYS. The rout was on, or so we thought.
I had a few thoughts at the time of this goal. Those thoughts were:
— Keep it going. (They wouldn't.)
— I hope Buchnevich gets a hat trick on his birthday. (He would, but it would happen in the final two minutes of the game.)
— The Rangers need to play like this against the top teams of the division. We all know what the Devils are. The Rangers SHOULD'VE won this game as they eventually did. Now treat every first period and game as you played here.
The Rangers, up 3-0 early, didn't let up in this first period. Panarin and Strome would have another odd-man rush, an opportunity that was broken up by Tennyson.
With three minutes remaining in the period, and after Hajek was slammed into the boards, we had a 10-man melee. While no punches were thrown during this, all ten players on the ice went at it. In turn, Bastian and Wood of the Devils were sent to the box, along with Brendan Smith. The Rangers would get another power-play here, after previously going 2-2.
The Rangers third power-play didn't come up with a goal here, but at the time, you didn't mind. During the third period, you flash-backed to this, especially when the score was 4-3, Rangers.
After twenty minutes, the Rangers remained up 3-0. Great period, especially after the sluggish start.
---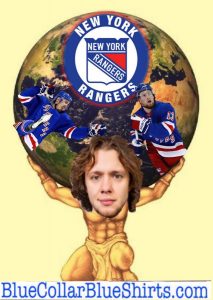 After our regular comment of, "SECOND PERIOD, WHAT DO YOU LOOK FOR HERE JOE?" <run these bastards out of the building Sam!> Kreider was shown using smelling salts on the bench. Funny aside here, regarding smelling salts.
Those smelling salts are the real deal. My buddies and I once sat right next to the Rangers bench in Detroit, in what was the final game at "The Joe". (Not Micheletti.) One of my friends, in the infamous TEN O'CLOCK TOMMY, was fading from boozing. During a TV timeout, Jim Ramsey tossed smelling salts at Tommy as a joke and Tommy took it. In turn, Tommy woke up and had "crack-like" energy, while receiving this second wind. The more you know!

After Strome won the opening face-off of this second period, 32 seconds into the period, this happened:
Ohhhhh so this is what Buch and Bread were talking about!

It all makes sense now pic.twitter.com/399ZtOFuMQ

— Rangers on MSG (@RangersMSGN) April 17, 2021
4-0, GOOD GUYS, after a goal from the Breadman. This was a shot that Dell had a piece of, but it was that kind of day for him, as the puck bounced backwards into his net. Up 4-0, and in just 20:32 of game time, this game felt like a wrap. Instead, the Rangers wouldn't score again for the rest of the game, that is, until the final minutes of regulation, with both goals being of the empty net variety.
Again, because I mentioned this earlier, I don't know if the Rangers just stopped playing, were in celebration mode, didn't want to embarrass the Devils or what; but I know this – the Rangers need to rack up the points in these situations, as if they were an expert dart player playing against a novice. To their credit, the Devils woke up a bit here too and made a game of it as well, but I really think the remainder of this game was more on the Rangers slacking off, more than the Devils doing anything that great.
The second period was the CZAR IGOR Shestyorkin show. Igor would make 7-8 tough saves, as the Rangers defense looked like they didn't care. It felt like the Rangers defense were trying to see how many impossible saves CZAR IGOR could make during this, as if they were trying to create highlight film tape for Igor.
After Igor had already made his tremendous saves, at the 7:11 mark of the period, Blackwell was boxed for hooking Merkley. This was probably a good penalty to take, as it kept Merkley off the board, as Merkley got right in front of Igor. What was definite here, was the great play made from Blackwell after taking this penalty, as Blackwell pushed a loose puck, a loose puck which was behind Igor, right into the back of Igor's pads, before that puck could cross the goal line.
Igor, who continued his Dominique Wilkins "Human Highlight Reel" act, stood tall during this Rangers PK, as he was now up to nearly a dozen saves in the period. After the kill, with 9:16 to go in the period, Dell made a glove save on Buchnevich, thus denying Buchnevich of a hat trick at this point in the game.
As the game progressed, the @NYRStatsInfo account tweeted out the following:
Per @PR_NHL, Igor Shesterkin has established a #NYR franchise record for the longest shutout streak against one opponent, breaking the record held by Dave Kerr (198:07 against the Montreal Canadiens during the 1939-40 season).

— NYR Stats & Info (@NYRStatsInfo) April 17, 2021
Not even two seconds after tweeting that, at the 12:37 mark of the period, Mike McLeod scored. 4-1, good guys. Again, enough with the jinxing bullshit!
Of note, wouldn't it be nice if the Rangers had a "Rink of Honor" and celebrated Davey Kerr, you know, the only goalie in Rangers history to win both the Stanley Cup and the Vezina Trophy? And yes, this is my way of telling you that I have a book coming out, entitled "The New York Rangers Rink of Honor"!
As the Rangers defense continued their Houdini act, Igor would continue to make big saves, as the chant of "EE-GORE" rang throughout the building.
With 1:38 to go, K'Andre Miller, who didn't exactly have his best game of the season today, was boxed for interference, after impeding the progress of Andreas Johnsson. All you could think of here was to get out of the period without giving up a PPG, which to their credit, the Rangers did.
4-1 after forty minutes, but aside from Panarin's goal, this period was terrible. I can't stress enough about how terrible the Rangers defense looked during all of this.
---
It was during this intermission break, where Steve Vagistat started comparing Lundqvist to Igor and denounced anyone who has ever drank from the five gallon jug of "Lundqvist Haterade". I don't want to go too deep into this, but since I had people messaging me about this, let me bullet-point this and move on very quickly:
— The main gripe out of me, as somewhat the leader of the "get Lundqvist off of this team" party of thinking; was always about Lundqvist's contract. Who was proven correct at the end of the day – me or Vally? To this day, not one Top 5 paid NHL goaltender has ever won the Stanley Cup in the salary cap era. Three rookie goaltenders making the minimum have. (Matt Murray twice, Binnington once.)
— With the Rangers in a rebuild, it made no sense to keep Lundqvist around. The Rangers waited too long and instead of getting something back for Lundqvist, were forced to buy him out.
— Many people are saying this, including Larry Brooks, who gave Lundqvist the "King" nickname in the first place – you see more shot-blocking for CZAR IGOR and you never hear CZAR IGOR throw his teammates under the bus in post-game interviews.
— For a team rebuilding, it's good to have the goalie of this new core here ASAP, in order to grow with the team in front of him. It made no sense to put CZAR IGOR in Hartford at all last season. The only reason he was there was because Lundqvist was here. Eventually this situation sorted itself out, but it cost Igor somewhere from 12-15 NHL starts.
There's also this:
I don't want to turn this into a bash Lundqvist type of thing, because hell, as I said a few blogs ago, I wouldn't mind seeing him back with the Rangers next season if he's healthy. In fact, I think it would make sense, as I outlined during that blog. (Lundqvist at $1M or less is better than Georgiev's current deal, where again, my opinion here on Ranger goaltenders is SALARY CAP related.)
While I totally understand if Vally is upset with these blogs, (I don't know if he still reads them anymore, but he did sound salty, and not smelling salt salty, during this) he just ignored the biggest point from anyone whoever wanted Lundqvist moved – the salary cap, a cap that Vally talks about when talking about other players, except for the guy he once carried the bags of. Isn't that amazing Suzyn? The age-old adage applies here – "never let the truth get in the way of a good story!"
---
If the second period was disastrous, the third period was a nightmare, that is, until the final two minutes.
The Rangers would open up this period by killing the final 22 seconds of the Devils power-play. After killing the Miller penalty, Kreider would go wide after another solid pass from Mika. Later on, Kreider hit a post, which seemed innocent at the time, but would become more important as the game played out. After this, on the other end, Igor made three saves in a timespan of five seconds, as the Rangers defense allowed the Devils to continue their target practice.
At the 5:07 mark of the period, after a shove from Brendan Smith, Nathan Bastian collided with CZAR IGOR. This then gave us another ten-men scrap, where both Smith and Kreider were foaming at the mouth, in their attempts to get at Bastian. While you will always applaud the team for sticking up for their goalie, this was another turning point of the game, and this time, in favor of the Devils.
Bastian and Kreider would take off-setting penalties here, meaning that we now had two minutes of four vs four foreplay.
With 14:26 to go in regulation, PK Subban fired a slapshot, where not only did Miller screen Igor, (not exactly a flamingo, but close to it) but he didn't attempt to block the shot either. 4-2, good guys. Then with 13:22 remaining, Sharangovich scored on an innocent looking shot. 4-3, good guys. I thought Igor could've made a save on Sharangovich here, but Sharangovich had a clean look.
In other words, after being up 4-0, with 13:22 to go and after two rare goals allowed while four-on-four, the score was now 4-3, Rangers. All of the jinxes were adding up!
After the Devils third goal, DQ took a time-out, in an attempt to settle his guys down, where I'd also assume he told them to play some Father Finking defense too.
For the remainder of the period, your asshole was in your esophagus here, as you could just feel a Devils goal coming. Fortunately, that would never happen, as Igor buckled down and denied all comers, and there were a lot of comers during this. (Not those type of comers, you sickos!)
As Igor continued to rack up highlight reel footage, with 7:06 to go in this period, the Rangers only had two shots on goal. With 6:16 to go in the game, the first line and the Fox/Lindgren pairing had a good shift, the best Rangers shift of the period, where Dell made two huge saves on both Mika and Lindgren.
In what was another turning point in the game, with 5:55 to go, Blackwell was boxed again, this time for slashing. The Devils would get a power-play here, and in an attempt to tie the game with this newly found man-advantage.
The Rangers PK, which has been great all season, held the Devils off. In addition, Miller got a short-handed breakaway chance here, only for Sharangovich to catch up to him and break it up.
After the kill, Panarin would have a breakaway chance himself, only for Subban to deny it and keep this as a one goal game.
With two minutes remaining, Dell went to the bench for the extra attacker. With 1:21 to go, Buchnevich, from center ice, fired a puck into the wide-open empty net. 5-3, GOOD GUYS and a hat trick for the birthday boy. Of note, it was reported that Buchnevich became the first Ranger in 95+ years of Rangers history, to score a hat trick on his birthday. That sounds like a future #CadillacTrivia question.
Even with the two goal lead, I was still nervous! Once the Devils got the puck after the face-off following Buchnevich's empty netter, Dell was pulled again. With 21 seconds remaining, Kreider scored an easy empty netter, doubling up the score to 6-3, GOOD GUYS. To Kreider's credit, he didn't celebrate this goal as if he was at a New Year's Eve party. He knew he had a bad game today and he knew this was an "A-Rod" goal. His facial reaction to this goal was the equivalent of getting a prostate exam.
As the final horn went off, we remained 6-3, as the Rangers picked up the win and the two points in the standings. Whew.
---
With the win, the Rangers are now back to an NHL .500, at 22-16-6. Unfortunately, with the scumbag Islanders losing two straight games to the Bruins, all the Rangers did today was keep the pace. As you know, not only do the Rangers need to keep winning, but they need Boston to start dropping some games too. And as said previously, I wouldn't even worry about the Flyers.
It should also be mentioned here, that with this win today, the Rangers now have their third three-game winning streak of the season, with this current streak not including a win over Buffalo during it, as opposed to the two other previous winning streaks. Of course, it's arguable if the Devils are currently worse than the Sabres are right now. For the Rangers to make the playoffs, not only will they have to win on Sunday, but they'll need to keep streaking against the top teams of the division. Beating up on just the Flyers, Sabres and Devils won't cut it.
Come Sunday, the Rangers must go on a season-high four-game winning streak and bust out the brooms against Lindy Ruff and these disgusting Devils. For as great as winning these three games have been, a loss on Sunday will negate everything, that is, as far as playoff hopes go.
If you haven't already, subscribe to this blog for the next update:
---
Back at it tomorrow. I'm now off to watch the UFC show and the Askren fight!
Stay FABULOUS my friends.
Until then, and as always here, thanks for reading and…
LET'S GO RANGERS!
Sean McCaffrey
BULLSMC@aol.com
@NYCTHEMIC on Tweeter