Greetings and salutations everyone and welcome to another blog here on BlueCollarBlueShirts.com. If I've learned anything this week from reading NYR social media, it's this – "'Tis the season for rumor mongering, fa la la la la, la, la, la!"
For both New York Ranger fans and for members of the NYR lame-stream media alike, at least the ones that aren't currently engrossed in the NHL Stanley Cup playoffs right now; it's just been open season for MAKING UP SHIT. No joke, every time I scan social media or open up a newspaper, it's just a never-ending geyser of never-ending nonsense.
I guess I can understand why some NYR fans and media members aren't into the NHL playoffs that are currently taking place right now. Some people will just watch the Rangers and that's it. (And that's okay, to each their own.) In addition, with the Islanders looking like they have a real shot at this, these playoffs can be hard to stomach for NYR fans. After all, for most NYR fans, yours truly included – watching Barry Trotz & his team dominate the playoffs is as sickening as mixing White Castle mozzarella sticks with a Taco Bell black bean burrito chaser at 2AM. That said, as a hockey fan, I must begrudgingly tip my hat and face facts – the Isles are playing great right now.
In tonight's blog, when it comes to the Rangers stuff, I'll have a recap of the latest episode of Tony DeAngelo's "Watch Your Tone" podcast; the first podcast he's done since getting himself into hot water, as recapped on a previous blog. (Link of that blog below.) Elsewhere on this blog, I'll shoot down the latest garbage being spewed by the click-bait writers and Ranger fans; people who are currently using the video game "NHL '20" as a trade simulator. After all the Rangers stuff, I'll get into the latest stuff concerning the NHL playoffs, before wrapping things up.
However, before rocking and rolling, as usual – the PLUGS segment.
In case you missed them or need a refresher, here are my last few manifestos:
---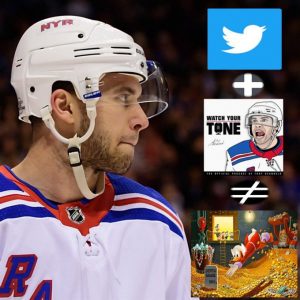 ---
---
---
---
Our top story for tonight's blog, is the latest episode of Tony DeAngelo's "Watch Your Tone" podcast. As mentioned already, this was the first podcast released by TDA & company, since TDA was baited into challenging a moronic fan to a physical altercation on social media.
Before getting into the podcast recap, I wanted to make mention of a quick TDA news item.
In a recent article written by Vince Mercogliano, which you can read by clicking here, Mercogliano addressed TDA's incident on Twitter. Of note, only Mercogliano has reported on this.
The other three NYR scribes, which make up the proverbial "Mount Rushmore" of the NYR lame-stream media (refer to my Lundqvist/NYPD blog for more on why I use the term "lame-stream" here, while describing these people) in Larry Brooks (NY Post), Colin Stephenson (Newsday) and Rick Carpiniello (The Athletic), none of them have not made mention of this TDA story. As I've said in the past, due to Mercogliano being much younger than the other three writers, Mercogliano usually covers the social media nonsense, while the other three writers, ignore it. (That said, all four of these writers collectively, have all decided to ignore the Lundqvist/NYPD story. UNITY!)
In Mercogliano's article, Mercogliano said, that prior to TDA's most recent incident on Twitter, that DeAngelo told him that NYR didn't care about his social media presence. During this season, on this very site, that's what I speculated too – as long as TDA isn't committing crimes, supporting pedos or doing any sick stuff like that, it was my opinion, that when it comes to TDA, all the Rangers care about, regarding TDA, is producing. And that's what TDA did all season, which you can read more about here: http://bluecollarblueshirts.com/31720/
I don't care how you feel about TDA, his opinions on politics or anything else that's non-hockey related. This is the fact, a fact that can't be disputed – TDA produced, and at a high level, all season for the Rangers. Anyone debating otherwise is selling you a crock of caca.
A few blogs ago, I forewarned Tony DeAngelo that the liberal lynch mob on Twitter was gunning for him. Last week, I recapped how they got him, in a blog that you can read here: https://bluecollarblueshirts.com/82020/
In Mercogliano's new article on DeAngelo, Mercogliano, while talking about DeAngelo's physical challenge to a jerk-off on Twitter, said that "the Rangers took notice" and commented on how DeAngelo quickly deleted his tweets. Mercogliano, as I did last blog, then talked about how engaging with Twitter trolls was bad decision by DeAngelo; especially considering how TDA is up for the biggest contract of his career right now. Mercogliano, as yours truly also said last week, said that DeAngelo's agent couldn't be happy right now either.
Fact of the matter is this – Mercogliano, nor myself, are true geniuses here. With TDA standing to sign a contract, a contract that could be worth $5M+ in the next few weeks, now is not the time to get into social media spats, no matter how hard someone is trying to goad you into one.
Again, as I said a few blogs ago, I can understand how these social media cretins, who have attacked DeAngelo's own family in the past, can get to DeAngelo. I even saw one Tweet, before it was deleted, where someone posted DeAngelo's home address. I don't know how true that tweet was, regarding DeAngelo's address, but I will tell you, when trying to see if that tweet had any merit, within seconds on Google, you can find an address listed to DeAngelo.
Think about that. You can find out people's addresses within seconds, just by using Google. This is scary. After all, just look at what recently happened with the WWE's Sonya Deville and the near-death experience she recently went through with a crazy stalker fan, a crazy stalker fan that broke into Deville's own home, after getting her address by using the internet.
It's time for a quick tangent here. If I've learned anything about the tweet regarding DeAngelo's address and the Sonya Deville story it's this – there has to be some sort of rules and regulations put in place, regarding the internet and making addresses public. It's too easy to find out the address of a celebrity or athlete. (In the past, I've seen a Yankees fan use Twitter to share Aaron Judge's address too, for autograph seeking purposes. While this fan may have not had any ill-intentions for Judge, making Judge's address public is a huge invasion of privacy. It only takes one nut.) Even for common folks in the American public, no one should have access to your physical address. Why is this information even public in the first place? What is gained by making people's addresses public? Do you need these addresses for your Christmas card list or something?
(And if you don't believe me here, Google yourself and the state you live in. Within seconds, you will find yourself, every relative you've ever had, every neighbor you've ever had and your address all listed on the internet.)
The bottom line is this, in concern to DeAngelo and his social media accounts. I know it's tough for him. He's 24 years old. He grew up with social media. However, he has to realize that he's not your average 24 year old. Not many 24 year olds are up to make money that can set them up for the rest of their life. I know he must be steaming when he reads the shit about him, but he just has to let it slide. He's in a different position in life than these losers, who all live with their parents, who troll him. He just needs to move on or just not read any of the crap. I know I've said all of this stuff before, but it's worth repeating again.
Anyway, knowing the DeAngelo story and after reading Mercogliano's article, I was interested to see how DeAngelo & his boys would respond on the "Watch Your Tone" podcast. As usual, I have an in-depth recap of the "Watch Your Tone" podcast for you.
---
To listen to the show yourself, click the link below:
It's up! https://t.co/wyDkZbmOXb

— BlueCollarBlueShirts (@NYCTheMiC) August 26, 2020
Let's now get into the recap of the show.
As usual, we start off with Frank Sinatra's "New York, New York" to open the show. In addition, and has been the case for some time now, TDA is joined by Brother Lou and buddy Aaron Huffnagle. Ron the Gambler remains MIA. Supposedly, Ron the Gambler needs a new microphone and has been lazy in acquiring one.
TDA says he has something big to talk about. It's not about his Twitter scandal from earlier in the week. TDA brings up the recent trade between Pittsburgh & Toronto. TDA also brings up the firing of Caps bench boss Todd Reirden, as I predicted a few blogs ago. TDA's co-hosts talk about Kasperi Kapenen landing in Pittsburgh. TDA feels Pittsburgh GM Jim Rutherford is trying to add to this core and how Rutherford is trying to give the Crosby/Malkin tandem one more run. TDA then weighs in on the trade from Toronto's perspective.
TDA says the Reirden firing was expected. TDA feels that Washington will hire an experienced coach. TDA says what I said on social media – Peter Laviolette would be a perfect fit. Brother Lou thinks Gerard Gallant could be a great fit too. TDA and Lou feel that Ovi still has a lot left.
After talking the news, TDA welcomes Brendan "Pepe" Lemieux to the show. TDA mentions how fans of "Watch Your Tone" want to hear from Lemieux. TDA says he's going to use fan questions when interviewing Lemieux, questions that TDA already knows the answers to.
Lemieux mentions how he is wrapping up his "stay-cation" in South Carolina and how he plans on returning to NY soon, in order to train for next season. Lemieux then mentions his recent catches during his fishing trips, mentioning how he caught a 60′ fish.
TDA then brings up Lemieux's father, in Claude Lemieux. TDA asks Brendan what was it like to grow up with Claude Lemieux as a father. Brendan Lemieux says his father's career helped his own. (Claude is Brendan's agent too, FYI.) Brendan says he can only speak for himself and says his dad being in his corner has always helped him. Brendan also mentions Claude's four Cups and how his dad's advice helps him. Brendan then mentions what it was like growing up in NHL locker rooms and how it's all he's ever known.
When it comes to players that Brendan admired growing up, while watching his father Claude play, Brendan brings up Peter Forsberg, Jeremy Roenick and Joe Thornton.
Lemieux says how 2020 has been a "shit-show". That's an understatement. Lemieux says the pandemic hasn't truly effected him, since he's young and in good shape. Pure honesty here. Lemieux then says, in regards to the bubble, how returning to play was kind of like returning from an injury. Makes sense to me.
Lemieux talks about his suspension in a round-about way, saying the Rangers vs Canes series was a tough series to watch. Lemieux brings up how it hurt to watch Jesper Fast get hurt. (No mention of Skjei by name here.) Lemieux said the series "sucked", but it was a learning experience. DeAngelo mentions how Lemieux had a great game in Game 3. TDA thinks if Lemieux was around for the first two games, the result could've been different. Lemieux says you have to move on and how you can't change anything. Lemieux thinks this experience will be positive moving forward. Lemieux says you can't play the "what-if" game and says how you have to take it one game at a time.
Brother Lou asks Brendan if he ever feels pressure as the son of a famous father. Of note, I think you can make a case for Claude Lemieux for the Hockey Hall of Fame, especially when you do the comparable game.
Brendan says he knows how fortunate his dad was. Brendan brings up his dad's career and how his dad played in front of great goaltenders. (Roy and Broduer, and it doesn't get much better than that.) Brendan brings up his dad's great playoff career. (That's why I think Claude has a shot at the HOF, because his playoff numbers are amazing.) If there is anything Brendan tries to emulate from his dad, it's the way his dad played in the playoffs. Brendan says he while he tries to play the game like his dad, he thinks it's tough to try to be his dad too.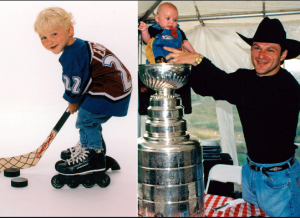 TDA compliments both Lemieux's on their style of game. Brendan Lemieux is then asked about making the NHL. Lemieux mentions his AHL career and how he played his AHL career in the same arena as the Winnipeg Jets. Lemieux talks about the transition he had to make when making the NHL, mentioning his lack of minutes in the NHL, when compared to his AHL playing time. Lemieux says he has no interest in playing in the AHL anymore, but says his AHL playing days were a great experience. Lemieux then adds, how if he was a GM, he'd want all his players to play in the AHL, just for the experience.
TDA then chimes in about what he said last week, and how the AHL helped him as well as a player. Lemieux says it's good to be humbled and how learning in the AHL is a positive. Lemieux says there's a fine line, in regards to being in the AHL for too long and how you eventually need to make the jump to the NHL. TDA and Lemieux then talk about how Brendan once was in a stacked Winnipeg organization and then trying to figure out when it was the right time to call up Lemieux. TDA then says Lemieux looks better in Rangers blue!
Lemieux then talks about being a fourth liner and how fourth liners adjust to the NHL. This was an open and frank conversation here. This is worth listening to here, rather than going by my recap. Lemieux then talks about how AHLers sometimes feel the need to break into the top six of an NHL club. (Obviously, this doesn't apply to DeAngelo here, since he's a defenseman.)
Brother Lou talks about Lemieux's game and how Lemieux isn't shy when it comes to dropping the gloves. Lemieux says sometimes he likes fighting and how sometimes he just fights for his teammates. Lemieux feels that most of the time, he fights to help the team, rather than for his own personal glory. Lemieux and TDA then bring up how Lemieux does a great job of drawing penalties.
TDA says he loves how Lemieux sticks up for his teammates and how people don't mention how Lemieux draws penalties. I guess TDA doesn't read this blog! Lemieux & TDA don't know how many PIM Lemieux has drawn this season. (Lemieux was second, Panarin was first for NYR in 2019-2020. Of note, Lemieux also missed a few games this season, thus effecting these stats.)
Tony DeAngelo then brings up Trevor Letowski, the former NHLer turned coach, who coached both DeAngelo (Sarnia Sting) and Lemieux (Windsor Spitfires.) TDA hints that Letowski will be a future guest of "Watch Your Tone".
Lemieux says he loved playing for Letwoski. Lemieux says Letowski was a great coach and brings up some playoff memories while playing for Letowsi and the OHL Windsor Spitfires. Fun stuff here. TDA then mentions how Letowski texted him recently, about this podcast.
Lemieux then talks about his superstitions, mentioning how he puts on his gear and how he says his prayers during the National Anthem. Lemieux then talks about his all white Warrior stick that he used and how Warrior is phasing them out.
Lemieux says he loves Rangers fans. Lemieux says he loves playing for the blue shirts and loves playing for the blue collar fans. I knew I named this blog appropriately! Lemieux says he loves playing in M$G and how can't wait for things to return to normal.
TDA says the fans in New York love Lemieux too. TDA then wraps up the interview from here. If you got anything out of this interview, especially the ending – Brendan Lemieux wants to remain a New York Ranger. Let's hope that stays the case after this off-season.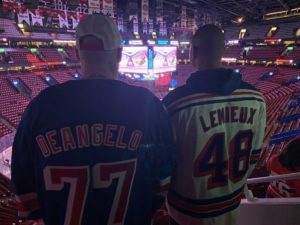 After closing with Lemieux, TDA mentions how he travels with Lemieux on the road and how Lemieux is a great and opinionated guy. You can see how these two mesh well together.
The podcast then diverts into round two of the NHL playoffs. Everyone says they are surprised with Dallas being up 2-0. (More on this at the end of this blog.) The crew then mentions the rough start Dallas had and how things turned around against Calgary. Ugh, don't remind me!
TDA then says he's more surprised about Colorado's lack of depth scoring and how Dallas will happily oblige with only Colorado's top line scoring in these games. My thoughts exactly! TDA says that he still thinks the Avalanche are alive and how they could still win this series, even if they fall to 0-3 in the series.
TDA then brings up Vegas vs Vancouver, and the comments that Marc-Andre Fleury's agent, in Allan Walsh made. (Check out my last blog for the full story on this situation.) TDA says he understands the comments that made Walsh made. TDA echoes what I said last blog, and how Walsh shouldn't be a distraction here. I will say, and AGAIN, I am a huge fan of DeAngelo (after all, I spent an hour listening to this podcast and another 20 minutes recapping it) but it was pure IRONY, to hear DeAngelo talk about Walsh using Twitter in a negative fashion. Maybe from an outsider's perspective, when looking at Walsh, TDA can look at himself and realize how Twitter can be toxic. (And to be fair, no one was goading Walsh here, as DeAngelo detractors do to him.)
Also worth mentioning here – prior to TDA selling for a jackoff on Twitter, TDA was defending Brett Howden on social media. This is the same Brett Howden who has Walsh as an agent, the very same agent that went after the pissant Adam Hermtrans on social media. IT ALL TIES IN TOGETHER HERE FOLKS!
TDA's co-hosts agree with Tony – Walsh was in the wrong here and mention how MAF has been a great teammate over the years, including the stuff that MAF previously endured with Pittsburgh.
TDA's co-hosts joke about the picture depicted above and how Walsh probably has it framed already. TDA says this is unwanted media attention and how the players in Vegas are probably laughing about this. TDA says he knows for a fact that the players aren't bothered by this and how the VGK are just focused on advancing to the next round.
Of note, this podcast was recorded before Vancouver's game 2 win. Everyone feels that Vegas will win the series, even if Vancouver steals a game or two. TDA feels that Vegas is the best team in the West, but says he doesn't see Vancouver going away anytime soon. TDA says he could see this series going seven games as well.
TDA and the boys then move to the Eastern Conference, and mention how they are recording this podcast during Game 2 of the Boston vs Tampa series. TDA sees this series going seven games too. Huff brings up how Tampa usually chokes in the playoffs and they need to get it done. The crew then talks about the goals scored in Game 2.
Up next is Philly vs the Islanders. TDA says when the Isles are defending and look outplayed, they always overcome it. TDA praises Varlamov here. TDA says Philly needs to score, because the Isles can win the 1-0 games. Brother Lou mentions how the Isles play well under Trotz and how the Isles don't give up much. TDA says when you watch the Isles, you can see how the whole roster is on the same page. Huff feels like that Giroux needs to step-up and get going in the series.
The topic of conversation then turns to the NBA. TDA mentions how the 76ers are out of the NBA playoffs. Of note, I don't give a flying Father Fink about the NBA, so I had no clue what the guys were talking about here. The guys mention the Clippers a lot. Is Danny Manning still there? TDA then says that Kawhi Leonard is the best player in the NBA. TDA then talks about the 76ers firing their coach and how the 76ers kind of buried their now fired coach, in Brett Brown. TDA says players should never throw a coach under the bus.
TDA then talks about the NFL and how it will be weird to see the NFL with no fans. (I'm saying this here – it will be weird to see the NFL without the tailgating community.) It's mentioned here, that without fans, it will effect the game, in regards to fans getting loud to throw off a snap count.
TDA says the podcast, moving forward, will solely feature talk dedicated to hockey. It seems that all the MMA talk, of previous podcasts, is now deaded. We then get an ad read for shaving pubic hair.
The show closes out with a plug for the t-shirts that the podcast is pushing. The podcast then closes out with "Born in the USA".
Of note, and it has to be mentioned here – no mention of TDA's Twitter shenanigans from last week. In addition, in a note which goes hand-in-hand with this – no more "Mean Tweets" segment either.
In closing on this podcast, the Lemieux interview was good. I will say, I don't blame TDA and the boys for ignoring TDA's Twitter stuff from last week. Bringing that up doesn't do anything but create negativity. Nothing would be gained by talking about that crap. It was a wise decision to ignore that shit and just talk hockey. However, as a stupid beer-bellied blogger, it is a story that TDA didn't mention this stuff, which is why I bring it up. That said, just like the podcast, it's time to move on from that and push forward. Let's hope TDA remains a NYR!
Based on what we heard in this episode, it seems that Trevor Letowski will be a guest next week.
Let's move on to stuff that's grinding my gears right now!
---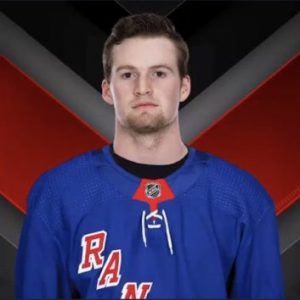 I know, I know, I know – I sound like I'm in repeat mode and doing my "Greatest Hits" here, but I have to say this again – Alexis Lafreniere will be a New York Ranger, come October 9th, which is the date that's currently scheduled for Round One of the NHL draft.
If you're a regular reader of this blog, you know me – I try to read everything and follow everything. You also know that this blog's credo is "10,000 words, no ads, one click." I mention this, because as my buddies on the Garden of Ill Repute Facebook Group said – "if I had a blog or podcast that had ads, I would make up rumors and trade scenarios too!" That said, this blog is a hobby for me, and something to do while slamming back a few cocktails. I'm not here to sell you fake news, in order to make a few cents with an Amazon affiliation link!
(Thanks Nick & Yan, both from that group, for the inspiration of that paragraph written above! Also, if you're a Rangers fan on Facebook, join the Garden of Ill Repute group. The combination of news, solid opinions, overwhelming sarcasm and ball-busting is impressive. And let's hope that Nick A. does a regular NYR themed blog one day. No one has their own writing style better than Mr. TR!)
Quick plug alert! For more Ranger Facebook Groups that I think that are the best out there, check out this page, that has all of them all linked for you: https://bluecollarblueshirts.com/ranger-links/ (And I know Russell K. – nobody cares!)
(Another fun group is the NY Rangers Bleed Blue Crew,  group, a group where Al "SMD" D. is always a fun adversary and friend to debate with. I think he, along with Nick A., (I'm not using last names here, just for Google search purposes) provide insightful commentary on the Rangers and on the NHL in general.
Let's face it – things are a bit dormant in Rangerstown, USA right now. Aside from whatever Tony DeAngelo is doing on Twitter, the only other stuff to talk about is fantasy and armchair GM scenarios. Again, this goes back to what I said at the top of this blog – if you're not into these NHL playoffs (and that's fine if you're not) when it comes to the Rangers, there's not much to talk about.
And truth be told here, I'm not innocent here either. After all, during these last few blogs, I've been giving you my own fantasy scenario, where Henrik Lundqvist retires, thus saving the Rangers $8.5M on the salary cap, goes back to play in Sweden during this pandemic (where he can be close to home with his family) and then, as a free agent after the 2020-2021 season is complete, makes this happen:
That all out of the way, and with my own admission of being guilty of "fantasy booking" here, let's talk facts – Henrik Lundqvist's career is nearly over, if not over completely. (I still think he will try to chase a Stanley Cup.) In the case of Alexis Lafreniere, he has his whole career in front of him, and if things work out for him, he may be winding down his career in the year 2040. (How sick is that to think of? The year 2040. It puts things into perspective doesn't it? How old will you be in 2040? Lafreniere will be 38 years old on New Year's Day of 2040, which is my current age as I write these words, here in August of 2020. MIND BLOWN!)
On a past blog, I wrote about the history of NHL teams trading the number 1 overall pick of a draft. To give you a short recap here – it doesn't work out for the team trading away the number 1 overall pick of a draft. Only Florida, since the turn of the century/millennium has done this, and they did this twice, when they traded away the rights to drafting Marc-Andre Fleury (Florida had Roberto Luongo at the time) and Rick Nash (who Florida really got a lesser return for.)
Ever since that Rangers ping-pong ball, which sky-rocketed from the bottom of a Poland Spring five gallon bottle and all the way up the narrow neck of the jug, which declared NYR the winners of the Lafreniere sweepstakes; I've seen about a million-and-one trade scenarios, concerning this rare and never-seen-before good fortune.
Again, as said previously on this site – for really the first time in history (1965 draft and Andre Veilleux doesn't count, as the rules were different at the time and it was a five-team first round draft) the Rangers have won the draft lottery – the one good thing to come out of the year 2020! Instead of talking about the future, potential Cup wins and throwing a ticker-tape parade (via Zoom of course, due to these current "Age of 'Rona" times we live in) I see a large bulk of losers thinking up ways to move the first overall pick of the 2020 NHL Draft.
I guess I should say here, when it comes to all these bullshit Lafreniere trade scenarios – I get it. Some Ranger fans have nothing else to talk about. That said, there's just no freaking way the Rangers are trading the rights to Lafreniere at all, and for the following reasons:
— Take a look at the Rangers marketing materials of late, in particular with their mass mailings, where NYR is asking people to become season ticket subscribers. One of the main talking points? The Rangers have the first overall pick of the 2020 NHL draft. Do you think they will try to push season tickets on people by saying, "WE TRADED THE NUMBER 1 OVERALL PICK OF THE DRAFT, BECAUSE DAVID FROM THE BASEMENT SAID WE SHOULD!'
— The history of trading the number 1 overall pick of the draft. It doesn't happen much and when it does, the team trading away the pick has lost those trades.
— For Jeff Gorton, JD and the NYR brass, do you want to be known as the guys who traded away the number 1 pick of the draft, the first time this has ever happened in NYR history? Even if Lafreniere turns into Pavel Brendl, Jamie Lundmark or <GASP> Lias Andersson (and for the record, neither of these three players were a number 1 overall pick of a draft) for the NYR front office, you're better off failing with Lafreniere than trading his rights for the unknown.
— To expand on my previous point, even if Lafreniere is a bust (and I don't envision that being the case) no one would blame the NYR front office for selecting Lafreniere. Now think of this scenario – if the Rangers were to trade Lafreniere for a potential haul, and that haul were to be bust, then there would be a ton of flaming shit, inside of a paper bag, on both the doorsteps of both Gorton and JD. And if Lafreniere was to flourish on another team? Ranger fans would be calling for Jeff Gorton's head to be guillotined!
— In perhaps the biggest point – MONEY, MONEY, MONEY! The Rangers aren't going to trade away a player, that will provide a huge economic boost to the Rangers (at least initially and hopefully for years to come) for players that are considered less talented. After all, this isn't the NFL, where teams draft for positional strength. This is the NHL, where you take the best player available, and then fill out the rest of your roster holes via free agency, trades and with other draft picks.
This all said, I do understand that the Rangers front office, in this case specifically, in Jeff Gorton & John Davidson – they do have to listen to offers. They have to do their due diligence. However, besides the Oilers offering Connor McDavid, Leon Draisaitl, their first round pick and a prospect for Lafreniere and Henrik Lundqvist (and Lundqvist would have to say yes to this ridiculous deal that would never happen) there's just no way the Rangers are punting on Lafreniere. (And as mentioned last blog, those silly Ottawa rumors? Ottawa Senators owner Eugene Melnyk has already rebutted them.)
Like a comedian testing material at a small night club while preparing for a Netflix special, I have to be honest with you – I tested the following material on social media, before doing this blog. That said, what I'm about to say is no joke.
During the last few weeks, I've seen both Ranger fans and the NYR lame-stream media, come up with all of these dumbass Lafreniere trade scenarios. They usually read like this:
If (insert team here) offered NYR a chicken parm, their first round pick, (insert prospect here), (insert cheap contract of a decent veteran here), a case of Fresca and a 30% off Bed Bath & Beyond coupon, should NYR trade their first overall pick?
The biggest feedback I got to this joke? Ranger fans sure love a good chicken parm! (And if you're an Italian restaurant or pizzeria that makes a chicken parm that is rubbery and stringy, then you deserve to be shutdown faster than Deblasio or Cuomo shutting you down!)
That said, I can't wait for NYR to draft Lafreniere & end all of these hypothetical and idiotic Lafreniere trade scenarios!
Tick-tick-tick – is it October 9th yet?
Speaking of dumbass scenarios, let's talk about a new rumor which was conjured out of the basements of the chart nerd Ranger fan variety – the Rangers and offer sheets.
---
I don't know which basement this following rumor originated from, but whoever started the "RANGERS MUST PUT IN AN OFFER SHEET ON ANTHONY CIRELLI" stuff, well that crap is starting to get legs. Even better, not only are Ranger fans coming up with this nonsense, but fans of the Vancouver Canucks are doing this too!
The Cirelli offer sheet idea originates from the fact that Tampa Bay will face a cap crunch this off-season, no matter how far they go in these 2020 Stanley Cup playoffs. With a boatload of talent, Tampa Bay is going to have to say goodbye to someone. (Ironically, this is the same reason why TB traded JT Miller to Vancouver, due to cap issues. Now you have Canuck fans looking for another Tampa player. Again, this is why I hate the salary cap. Good teams are punished for being successful.)
In the case of Anthony Cirelli, he's currently a second line center on the Bolts. He's also 23 years old, which means he may have not even entered his prime yet. Of course, the Rangers have center depth issues, with Mika Zibanejad being the first line center, Ryan Strome as your second line center and everything really up for grabs after those two. And yes, Strome is a Rangers RFA too, the same Ryan Strome that is four years older than Cirelli and perhaps in the prime of his career.
However, let me now burst the bubble of these Anthony Cirelli offer sheet rumors/ideas.
---
For people who may not be aware of what an offer sheet is, let me give you the NHL definition of an offer sheet. The following comes from Wikipedia:
In the NHL, an offer sheet is a contract offered to a restricted free agent by a team other than the one for which he played during the prior season. If the player signs the offer sheet, his current team has seven days to match the contract offer and keep the player or else he goes to the team that gave the offer sheet, with compensation going to his first team.
Furthermore, there are these details:
 To be tendered an offer sheet, a player must:

Have at least one NHL contract expire.
Have played at least 80 NHL games if a forward or defenseman, or 28 NHL games if a goalie (applies only for players who have 3 years of NHL service).
Be younger than 27 on July 1 of that year.
Be without a contract for the upcoming season.
Be tendered a qualifying offer by the current team by June 25 or the Monday after that year's NHL's Entry Draft (whichever is later)

If any of those conditions has not been met, the player becomes an "unrestricted free agent" and cannot receive an offer sheet.
For what it's worth, during the last seven years, meaning this has only happened once in this new salary cap era, we've only seen one NHL offer sheet and that occurred last off-season, when the Montreal Canadiens put in an offer on Carolina's Sebastion Aho. The Carolina Hurricanes quickly matched the offer, even joking about the Canadiens making an offer, while matching and signing Aho.
When it comes to the New York Rangers and their history of offer sheets, only two offer sheets stand out. The most memorable NYR offer sheet took place in 1991, when the Rangers successfully made an offer sheet on Adam Graves. I'd say that worked out for the Rangers.
The second most important offer sheet in franchise history took place in 1997, when the Rangers made an offer sheet on Joe Sakic. This was the off-season where the Rangers parted ways with Mark Messier. If it wasn't for the success that the movie "Air Force One" had that summer, the Colorado Avalanche, then in a non-salary cap league, would've never been able to match the Rangers offer. Instead, the Rangers let Messier go to the Canucks, Sakic stayed put in Colorado, where Sakic would go on to win multiple Stanley Cups. As a result of all this malarkey, the Rangers would then enter their "Dark Age" era.
The two other offer sheets in Rangers history? An offer sheet on the Edmonton Oilers Geoff Courtnall, in August of 1988. The Oilers would match the offer, who in turn, would trade Courtnall to Washington. The other offer? Back in August of 1995, on "The Grim Reaper" Stu Grimson, an offer that the Detroit Red Wings quickly matched.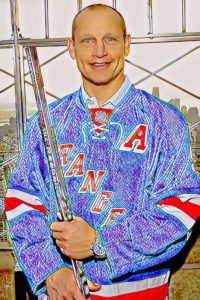 If you know anything about Jeff Gorton and his recent dealings with other teams, the two teams that stand out the most as Gorton's frequent trade partners are the Boston Bruins and the Tampa Bay Lightning.
The other thing you should know is this – offer sheets are very rare. In addition, and most importantly, in the minds of general managers, a GM peer making an offer sheet on your talent is the equivalent of someone hitting on your spouse. GM's frown on offer sheets. Offer sheets are considered to be underhanded. Offer sheets are a pure slap in the face. In short, no GM is happy when another GM offer sheets someone on their roster. In a league where GM's need to have good relationships with fellow GM's, general managers rarely rock the boat with these offer sheets.
Knowing Gorton's trade history and partners, and knowing how offer sheets are rare, it seems extremely unlikely, as in .000000001% of a chance, that Jeff Gorton would make an offer sheet in general; much less on the Tampa Bay Lightning and new TBL GM Julien BriseBois. While Gorton's previous trades with Tampa were with previous GM Steve Yzerman, it's hard to imagine Gorton trying to snake one past a franchise he's done a lot of business with in the past.
If anything, and knowing the Rangers could use help at the center position, it's more likely that Gorton would trade for a center, even if it's with Tampa and Cirelli, than try to undercut one of his peers. To GM's, a general manager that tries to offer sheet, is a GM that's pretty much the NHL's version of Benedict Arnold.
With Jeff Gorton having a solid reputation and a GM that's respected around the league, it's hard to envision Gorton putting a knife in the back of a fellow GM.
Again, NYR fans and the NYR lame-stream media have too much time on their hands. While I get the excitement of playing General Manager and fantasizing over different scenarios, the idea of Jeff Gorton getting down in the mud here? Well that is a scenario that pretty much seems impossible. I can't see this idea coming to fruition. It's bad business. It's a dirty tactic. It's like pointing someone in bar-room darts, (those damn triple 20's) for the sake of being an asshole. Why would Gorton throw away his pristine reputation here, for an offer that Tampa would most likely match anyway? Plus, the Rangers have their own cap issues with RFA's. They wouldn't want this to happen to them, nor do they want to fool around here.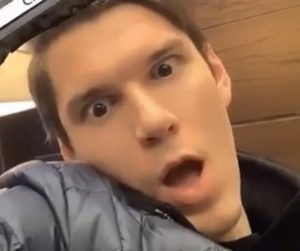 In closing on all of these Lafreneire trade scenarios and Rangers offer sheet ideas, most of this tomfoolery comes from fans who possess the brainpower of an amoeba. I get trying to create content or have something to talk about, but really, can you really imagine the Rangers trading Lafreniere and putting in an offer sheet? This isn't a video game.
Truth be told, when I look at where this stuff originates from, it's from the same people who've been crying, as if someone stuck a 10 foot suppository up their ass, all season long, about how NYR WILL DEFINITELY TRADE GEORGIEV this season. These idiots are still saying this, despite it being known that the Lundqvist/NYR divorce is coming sooner than later. All of this stuff comes from the same people who have been telling you all season, how NYR will trade DeAngelo, Strome and Lemieux, for whoever is the liberal player of the month.
Face facts – Jeff Gorton isn't listening to any of these rumors, and even if he reads this blog, he can give two shits less of what I say or what any fan says. He has the plan. He knows the team. He knows what's best. Put your faith in Jeff Gorton and let's hope Gorton assembles a roster that brings home the Cup!
---
Real quick here, when it comes to the Rangers roster next season.
In an update regarding past blogs and news I have given you here on this site, despite the SHL in full pre-season mode, there's nothing to report back to you, regarding Lundqvist's status. Gun to the head, I think we'll see something sooner than later. The longer this goes, the more it seems unlikely that Lundqvist would return to the SHL's Frolunda Indians. Again, you can't blame Lundqvist here, as he looks to cash in on what will most likely be the biggest annual salary of his career.
In addition, this could be a game of chicken here. Lundqvist may desire to play for his native team, but if the Rangers are going to buy him out, why not take that money first, then return to the Frolunda Indians? While it would be nice if he retired, at least from a Rangers perspective, he could have his cake and eat it here too. Why not get paid, then go play for the Indians? He doesn't owe the Rangers anything here. They are the ones that gave him that stupid contract. He just signed it with glee.
While on the topic of Swedish NY Rangers, another name that has recently made the news is Jesper Fast. We all know the deal on Fast. He loves the Rangers. He's been the Player's Player of the Rangers for five consecutive years now. He doesn't want to leave New York. However, with the abundance of wingers, and the most likely addition of winger Alexis Lafreniere, it really doesn't make sense for the Rangers to retain Fast, especially with the team's cap issues. It's being reported by many news outlets, most notably by Bleacher Report, that the Nashville Predators have an interest in Fast.
As I wrote on past blogs, while I would have no problems if the Rangers retained Fast, I don't think I'd miss him either. Fast, in my opinion, is at the end of his prime, and for a young team that's focusing on a new core, it seems like a parting of the ways makes sense.
Lastly, as I'm talking about Rangers from the old core (as of this writing, only Lundqvist, Fast, Chris Kreider & Marc Staal remain from the 2013-2014 NY Rangers Stanley Cup run) I just don't see the Rangers moving on from Marc Staal. I know the rumors are out there, but it just makes no sense for the Rangers to move on from Staal, in his last contracted season with the Rangers.
As I've been saying all season on this site, Marc Staal hasn't been bad, no matter what some Steve Vagistat stat nerd disciple tells you. While Marc Staal is currently an "old" 32 year old player, as he has tons of miles on those tires, he's really stepped up ever since NYR moved on from Ryan McDonagh and Dan Girardi; the former two pillars of the Rangers blue line.
While Ryan Lindgren is currently first on the Rangers left defenseman depth chart, it's not a given that K'Andre Miller knocks it out of the park in Year One. And even if Miller lives to the hype, there's still a third LD spot to fill, and I don't see it being Brendan Smith. With the uncertainty of the 2020-2021 schedule (it's currently being rumored that we may even have bubble cities, at least initially) the Rangers, as we've seen with Vitali Kravtsov and Nils Lundkvist, may allow a bulk of their prospects to play elsewhere.
I think Staal finishes out his contract with the Rangers this year. Hell, I could even see the Rangers giving him a one or two year deal after this contract. He's still the best stay-home defenseman the franchise has. Of course, and in the effort of disclosing all information and rumors here, there's the chance that the Rangers may try to flip Tony DeAngelo (barring another Twitter incident) to the left side, but why screw with what's working? I truly feel NYR has the right side of their defense set for many years, with Trouba, Fox and TDA.
---
I'll save all my round two playoff thoughts for a future blog, but I want to mention here, the two underdog teams, the two qualifying round teams remaining of these playoffs, in both the NY Islanders & Vancouver Canucks, well both of them are teetering on moving on. Of these two teams, I like the Islanders chances of moving on the best.
For the Islanders, they decimated the Flyers in game one, as the Islanders dictated the pace and made the Flyers play their game. For goalie Seymon Varlamov, he might make Islander fans say "Sorokin who?"
In the case of the Canucks, who evened up their series with the Vegas Golden Knights on Tuesday night, I think VGK will rebound. It should be interesting to see if head coach Pete Deboer now goes with Marc-Andre Fleury in net. And can you imagine a scenario, where the new starting goalie in Sin City, in Robin Lehner, faces the Islanders, his old team, in the SCF? Please hockey gods, don't let this happen!
In the other two series to determine who moves on to the Conference Finals, Dallas has a commanding 2-0 series lead on the Avalanche. I didn't see that happening. For the Avalanche, a Stanley Cup favorite, it's been their top line all series, with no production elsewhere. Losing goalie Philipp Grubauer hasn't helped matters, but really, this has been a series where Dallas has once again shown their comeback ability. While Dallas netminder Anton Khudobin has played well, goaltending hasn't been the issue for Colorado. The issue is outside of MacKinnon, Landeskog and Rantanen, no one else from Denver has done much of anything.
On Tuesday night, and with a back-to-back game by perhaps the time you read this, the Bolts & Bruins are tied at one game a piece, as a result of Tampa winning game 2 in overtime, without Steven Stamkos & Ryan McDonagh. For Tampa, these are two huge injuries, but they were able to prevent going in an 0-2 hole to last year's Eastern Conference champs. Is it me, or does Stamkos seem unreliable during playoff time, whether it's with his injuries or play on the ice?
For Boston, their top line continues to excel, although goalie Jaroslav Halak, in steed for the recently departed-from-the-bubble Tuukka Rask, looks questionable. If Bolts goalie Andrei Vasilevskiy remains true to form, the Bolts will win this series. It was Halak that let up a few questionable goals, in Tampa's overtime win from Tuesday night.
Again, I'll have full recaps of the second round once the round is completed.
If you haven't already, subscribe to this blog for the next update:
As far as the next blog, I'll be back soon enough. I'll definitely have an NHL Round Two Stanley Cup playoff recap and a Conference Final prediction blog, even if my picks have sucked as of late! If my picks tell you anything, it's that the Stanley Cup remains the hardest championship to win in sports and is the most unpredictable playoffs to predict.
As always here, thanks for reading and…
LET'S GO RANGERS!
NYR WILL DRAFT LAFRENIERE!
MAKE YOUR MONEY DEANGELO!
Sean McCaffrey
BULLSMC@aol.com
@NYCTHEMIC on Tweeter and on Parler