Greetings and salutations everyone and welcome to another blog here on BlueCollarBlueShirts.com. The faster we get to the end of this series, a first-round affair that I believe that the New York Rangers will ultimately win – the better.
Of course, once there – the nerves, the anxiety, and the jitters will just become even worse! Welcome to the playoffs!
Maybe because it's been five years since the Rangers last hosted a playoff game at the "World's Most Expensive Arena" – but man, oh man, does Tuesday's loss still sting. However, it's over. For the Rangers, and for us fans – we must "keep on truckin'."
I purged myself of my thoughts from the realm of negativity during last night's blog. To go on-and-on about the piss-poor officials, and a Rangers team that didn't do themselves many favors after the first 25 minutes of Game 1 – well that won't change anything. What's done is done.
In my final thoughts about Game 1, I will say this – come the end of the series, when the Rangers move on to the second round (positive thoughts people) – we'll all look back at this first game as a stepping stone and as a character-defining game.
For a Rangers team that's rebounded from adversity all season long – what better time than now to rebound again, and use this Game 1 loss as a learning lesson?
And hopefully in a week's time, when we breathe that deep sigh of relief – we'll also be able to appreciate what CZAR IGOR did even more.
Similar to Chris Kreider's 50th and 52nd goals of the season, goals which were scored during Ranger losses – it was tough for him to celebrate these goals, only because of the final score.
As time moves on, and as the team, the fans and everybody else distances themselves from these losses – we will then be able to honor these accomplishments more.
After all, and for those who choose to adopt the "glass half-full" mentality like myself – Tuesday night featured CZAR IGOR in his first ever playoff game. All he did was casually set a franchise record for most saves ever recorded during a playoff game, where in addition to that – he now has the second most amount of saves ever recorded all-time during a playoff game.
Simply stated – the NHL has been around for over a hundred years, and it only took CZAR IGOR, in his first ever playoff game, to make history. Wow.
---
As an "unofficial" historian of the franchise (Stan Fischler considers me as one and that's good enough for me!), I want to add this – should CZAR IGOR win the Stanley Cup in 2022, then you can also start the argument that he's the greatest Ranger goalie of all-time – if you aren't thinking this already!
Yeah, I'm talking a bit crazy here, especially since #31 only has one playoff game under his belt, and a loss at that – but during his short NHL career, he already has a Vezina under his belt, an honor that will become official soon enough.
If he can win the Stanley Cup, a fifth Stanley Cup that's eluded the Rangers for so long; then Mr. Shestyorkin will join Davey Kerr as the only two goalies in franchise history to win both the Vezina and the coveted silver trophy.
(As talked about in-depth during my book – why isn't Davey Kerr in the Hall of Fame and why isn't he honored by the Rangers in their rafters today? His career was cut short because of money, as rather than accepting a small offer by then general manager Lester Patrick – Kerr returned home instead. Once there, he made more money (and didn't have to deal with traveling either) than he would've had he remained in New York. Different times, different times!)
And yes, I'm trying to keep a positive mindset here too!
That said, when it's all said and done, I think that when CZAR IGOR calls it a day (and hopefully that day is many, many, many moons from now) – I think he'll settle once and for all the Henrik Lundqvist vs Mike Richter vs Eddie Giacomin "bar room" debate (arguments that are usually generational), where he'll be the hands-down unanimous answer to the question of – "who is the greatest Rangers goaltender of all time?"
---
The Rangers, as you would expect, canceled their scheduled Wednesday practice after last night's marathon.
However, some of the players did report to the team's practice facility for treatment, maintenance and video review sessions.
Gallant also met with the NYR media beat, a mainly young group that's never covered the team during the playoffs before – where of course, only Larry Brooks of the New York Post is the lone exception.
Just based on the stuff that Brooks is writing right now, and the way that Gallant treats Brooks differently than everybody else – you can see the differences between a Hall of Fame writer and the dime-a-dozen transcribers.
Here's Gallant from Wednesday:
---
As mentioned, if there was one thing that Gallant wanted to stress, it was this – "MOVE ON."
While not saying these two words in a defiant manner, what he meant was crystal clear. There's nothing you can do about Game One and his team will have to rebound and take Game Two.
I will say (as I continue to present a positive spin to you), that I think the Rangers have a better ability to rebound than the Penguins do. Of course, I'm saying this because the Rangers are much younger than their veteran-laden opponents.
The head coach also provided us with updates on his players. Gallant said that CZAR IGOR, after the longest game of his career, will be 100% good to go on Thursday night. That was much welcomed news.
Gallant also said that Ryan Lindgren, while dinged up, will also be good to go for Game Two.
When it comes to the officiating, or lack thereof from Game One, the head coach was careful with what he said. After all, he can't risk a fine and/or suspension.
Here's what Gallant said verbatim on the matter:
"There probably should have been a couple of calls made, definitely – but when you look back at it and look at it – we're not going to complain."
When it comes to the loss itself, Gallant reiterated that he wanted to win. He also said that he expected his team to win the series. Gallant later said had the Rangers been playing a power-house team like Colorado, and hypothetically lost a 5-0 game, it would've been tougher to accept.
Gallant added:
"I don't feel like we came in here and got dominated by a team. We played this team well all year and we know what we got and we know we got to be better."
Gallant also said that he'd like to see his team shoot more. I'm hoping that he has a chat with Panarin prior to Game Two!
Gallant didn't reveal anything about his Game Two line-up, nor was the topic of changes brought up.
As noted last night, I'd expect Justin Braun in for Patrik Nemeth. I also wouldn't be surprised to see Dryden Hunt in for Ryan Reaves either.
If there was anything I truly took away from this edition of "TURK TALK," it was this – he's calm, he's cool and he's collected.
While the fan base may be pissed off and chomping at their finger-nails (I know I was/am); Gallant remains focused on the big picture and isn't going to allow one triple overtime loss drastically change his game-plan/strategy.
---
Yes, I know – you can't root for injuries. However, you can take advantage of them when they occur.
As of this writing, while we know that Penguins' starting goalie Tristan Jarry has a broken foot; what we don't currently know is whatever is ailing Pittsburgh's second-string goalie, Craig DeSmith.
During Game One, it was alleged/suspected that DeSmith had cramping issues. However, whatever is bothering him may not be something that two Midol tablets can solve, as the Penguins recalled goaltender Alex D'Orio from their AHL affiliate on Wednesday afternoon.
As of this writing, it's expected that journeyman back-up, the Penguins' third-string goalie, Louie Domingue, will be in net for the black-and-yellow for Game 2. Fourth-string goalie D'Orio is expected to back him up.
And while it's being reported that Jason Zucker could make his return for the Penguins on Thursday; it's also looking like "Rakell, Rakell The Musical" will be out, following the hit he took from Ryan Lindgren during Game One.
To Domingue's credit, he did his job while entering Game One ice cold, where he stopped all seventeen shots he saw. However, the Rangers can't turn another "no-name"/non-household name goalie into the second coming of Patrick Roy either.
We all know that the Rangers' biggest advantage between these two teams is at the goaltending position.
And after the Game One loss, I'd expect the Rangers to play with a bigger chip on their shoulder, in their attempt to knot the series at 1-1.
As Gallant said, and as I know, and as you know, and as everyone else knows – the Rangers must shoot, shoot, shoot the puck, and limit themselves from all of their extra passes that go nowhere – especially against Domingue.
Rather than looking for Harlem Globetrotter goals, the Rangers should be looking for rebounds and puck-on-pads goals instead. They need to challenge Domingue for sixty minutes and make his life a living hell – just as the Penguins tried to do against CZAR IGOR during Game One.
---
Tuesday night was tough. Thursday night will be better. Keep the faith!
PLUGS TIME!
---
On Wednesday morning, Ron Duguay and company returned with another episode of "Up in the Blue Seats." To listen to the program, click the link below:
— Ron Duguay (@RonDuguay10) May 4, 2022
---
My first plug of tonight's blog – the mandatory plug for my book, "The New York Rangers Rink of Honor and the Rafters of Madison Square Garden".
As mentioned previously, the book is now available in hardcover, in paperback and in Kindle formats. To purchase a copy of the book, visit this link:
https://www.amazon.com/Rangers-Rafters-Madison-Square-Garden-ebook/dp/B09CM5N2WD
For those still looking for signed paperback versions of the book, I have re-ordered more copies. I now have a few signed copies for sale at $25 a pop (includes shipping price) through me directly. Here is all the information on that:
---
Here are my last few blogs, in case you missed them:
---

---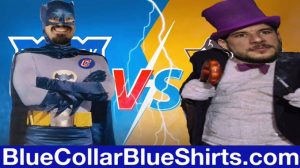 ---
---
---
If you haven't already, subscribe to this blog for the next update:
---
Up next: Thursday night, Rangers vs Penguins Game 2.
As always here, thanks for reading and…
LET'S GO RANGERS!
Sean McCaffrey
BULLSMC@aol.com