Greetings and salutations everyone and welcome to another blog here on BlueCollarBlueShirts.com. The New York Rangers first round series with the Pittsburgh Refguins is now a Best of Five affair, with the series now shifting from "The Big Apple" to the "Steel City."
In addition, the Blueshirts will have to win at least one game in Pittsburgh in order to oust both Crosby and his yellow-and-black striped officials from the playoffs.
On Thursday, May 5th (OH JOE, CINCO DE MAYO JOE, A GREAT DAY FOR A TACO BELL TAKE AND A TACO BELL MIERDA JOE), the New York Rangers knocked off the Pittsburgh Penguins in Game 2 of their first round series by a final score of 5-2.
Despite what the final result may suggest, and despite the Penguins starting third-string goaltender Louis Domingue too – this game was much closer than it appears in the box score.
The Rangers, who took a 3-2 lead into the final frame of the game, were soon dominated during the first eight minutes of the third period, where at that time, CZAR IGOR had amassed a dozen saves – and with each save being bigger than the one that had preceded it.
Despite things looking hairier than George "The Animal" Steele, and in something straight out of the "Bizarro World" too – the Rangers decided to celebrate "Opposite Day" instead on this night, rather than having a "Cinco De Mayo" party – and quickly scored two safety net insurance goals in a time-span of 1:47.
(And isn't it amazing Suzyn, that on "Cinco De Mayo," it were the Rangers who hung a "cinco" spot on the Penguins? "OH JAWN, BUT THE OFFICIALS DON'T PUT THE PENS IN THE BAWX JAWN!")
Now up 5-2, CZAR IGOR, who continues to make history in every playoff game that he plays in; the 2022 Vezina winner held down the fort and completed his flawless third period.
As a result, the series is now tied at 1-1 with a Game Three to be played in Pittsburgh on Saturday night.
(And yep – don't get me started – the Rangers should be up 2-0 – but there's nothing we can do about that. As Gallant said on Thursday, we all have to "MOVE ON.")
---
As noted last night; while not mathematically a "MUST WIN" game – the Rangers had to win this game.
Losing the first two games of this series, home games at that, would've been disastrous – especially with the Penguins dressing a banged-up line-up during Game Two.
The Rangers, who had a few injuries themselves (Barclay Goodrow and Ryan Lindgren – more on these two men during the NEWS segment), relied on their second line, power-play and CZAR IGOR during this tilt.
Arguably, it were the two greatest additions of this year's NHL Trade Deadline that had the most impact – at least from an offensive standpoint.
After Andrew Copp kicked off the scoring, his buddy, and another member of "TROUBA'S TREEHOUSE," Frank Vatrano; #77 finished tonight's game with a three-pointer, behind a goal and two assists.
The alternate captains of this team also pitched in big-time, as Panarin (one goal and two assists) was able to rebound after a tough start, while Ryan Strome scored one goal and Chris Kreider scored another.
Of note, for Chris Kreider, who now has two goals during this 2022 postseason; "CK52" now also possesses 26 postseason career goals in total.
The unofficial captain of the Rangers is now eight goals shy of the franchise record (Rod Gilbert, 34.) Should the Rangers continue to play well, and should Kreider continue his epic season too – the longest-tenured Ranger will soon hold the franchise record all to himself.
And as you may suspect – I'm rooting for Kreider to not only match Gilbert – but I'm also hoping for Kreider to smash #7's record, enroute to a 2022 Stanley Cup victory!
---
Whenever watching a playoff game, this much is obvious – you want your team to play a full sixty minute affair and to dominate their opponent. Of course, this is much easier said than done. After all – the other team is paid to play hockey too.
While I'll get more into this during the GAME REVIEW; for the second consecutive game of this series, the Rangers were absolutely befuddled by the Penguins' top line.
Once again, both Jake Guentzel and Sidney Crosby wreaked havoc on the Rangers, including a back-breaking goal allowed to #87 himself late into the second period, during a play that was reminiscent to Connor McDavid's 1 vs 4 goal against the Rangers from earlier this season.
Not helping matters was that the Penguins pushed their power-play advantage in this series to 6-1 during the first period of Game 2, where a phantom cross-check called against Patrik Nemeth was offensively egregious.
During this same first period, the officials decided to ignore about 7896786789678969 Penguin infractions, where even head coach Gerard Gallant was forced to talk about the inept officiating during his post-game interview.
(I'll have that interview for you at the end of tonight's manifesto – but spoiler alert – Gallant didn't hold back as he did after Game One.)
At the end of tonight's game, the man-advantages are now a bit closer, but like the final score – don't let that fool you either.
With the final result all but decided, the officials were forced to call infractions on the Penguins – especially following Jeff Carter's cheap and illegal hit on CZAR IGOR – a Carter who must have a yellow stripe on his spine in an attempt to match the yellow on his jersey.
For those worrying; after the game, Gallant said that Igor is 100% okay. To help alleviate any potential fears – CZAR IGOR not only posed for "The Broadway Hat" following the game – but he conducted a post-game interview too.
Of course, the Russian superstar, who had to be pumped up with adrenaline at the time of this attack, may feel differently when he wakes up tomorrow.
We can only hope to the hockey gods that the CZAR will remain in tip-top shape come Saturday night in Shitsburgh.
---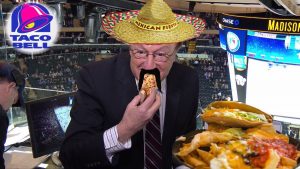 There's a lot to get into tonight, where because of the bullshit displayed by Jeff Carter at the end of this game – it's tough for me to celebrate.
Yes, I'm happy (and relieved) about the win, but at the same time – I want to hear that CZAR IGOR is okay before the Rangers travel to Pittsburgh sometime tomorrow.
While I don't know if saying "the Rangers escaped with this win tonight" is accurate – it kind of felt like it, especially after witnessing what occurred during the onset of the third period.
And just like the final score and the penalty calls – Domingue's five goals allowed and his .875 save percentage is misleading too. That's why the EYE TEST trumps all, and also why analytics are completely worthless.
Mike Sullivan's emergency starter was great tonight. CZAR IGOR was better – even if Domingue was challenged more.
Despite the Rangers having nearly every advantage going into this game, sans an on the level officiating crew – it was tough to feel too confident about the Blueshirts slamming the door.
As I write these words, I feel like I'm writing from a "sigh of relief" perspective; rather than from a KING KONG FTW angle.
However, a win is a win, and that's all that the Rangers needed tonight.
At this time, let's get into the news, interviews and everything else; and then march our way into the GAME REVIEW.
---
Since I covered all of Wednesday's news yesterday (link here: https://bluecollarblueshirts.com/5422/ ), there wasn't much pregame news on Thursday – that is, until pregame warm-ups.
During Thursday's "TURK TALK," Gallant teased the idea of line-up changes, but wouldn't tip his cap on what they would be. However, he did say that Ryan Lindgren would be a game-time decision.
Here's Gallant's short pregame chat from Thursday:
---
When the Rangers hit the ice for their pregame warm-ups, we learned that Ryan Lindgren wouldn't be playing, as he was still hurting after putting his body through hell on Tuesday night. Unfortunately, we also learned that Barclay Goodrow, the only player on the team with Stanley Cup winning experience, wouldn't be playing either.
While we knew going into this game that there was a chance that Lindgren would sit out; we didn't know anything about Goodrow being hurt/his playing status being in jeopardy.
And this should go without saying – for these two guys to miss this game – they must really be hurting. Both are warriors.
Following the game, Gallant said that Goodrow was "week-to-week" and wouldn't say what his injury was – outside of the coach-speak of "lower body."
If you recall, during Game One, and following a blocked shot from #21 – Goodrow was in pain, but smiled and waved off Rangers' trainer Jim Ramsey.
I hate to speculate, but since everyone else and their mother are doing so, I'll throw this out there – maybe Goodrow injured his foot but was fine to play as Game One continued. Perhaps following the conclusion of the game, and once taking his foot out of his skate, then, and only maybe then, did he have swelling issues – just like Ryan McDonagh from many moons ago.
I know others are speculating (some are even down-right falsely presenting this as a fact too) that Goodrow broke his foot – but there is no confirmation about this at all.
The only thing we know for a fact is that Goodrow will be out for the next few games with his "lower body injury."
Here's to a speedy recovery to both Goodrow and Lindgren. The Rangers will need them. And heck, let's hope that Tyler Motte can get back too, as Gallant has previously teased that #64 may return during the latter games of this series.
---
Here's what "The Turk" went with for this "Kevin Stevens" tribute game:
FIRST LINE: Kreider/Zibanejad/Vatrano
SECOND LINE: Panarin/Strome/Copp
THIRD LINE: Lafreniere/Chytil/Kakko
FOURTH LINE: Hunt/Rooney/Reaves
Defensively, we had this:
FIRST D-PAIR: Miller/Trouba
SECOND D-PAIR: Braun/Fox
THIRD D-PAIR: Nemeth/Schneider
And in net, CZAR IGOR.
---
BOX SCORE time.
The following information and graphics come from the new world-wide leader in NHL coverage, ESPN.com:
SCORING:
PENALTIES:
TEAM STATS:
GOALIES:
| | | | | | | | | | | |
| --- | --- | --- | --- | --- | --- | --- | --- | --- | --- | --- |
| SA | GA | SV | SV% | ESSV | PPSV | SHSV | SOSA | SOS | TOI | PIM |
| 40 | 5 | 35 | .875 | 25 | 2 | 8 | 0 | 0 | 57:28 | 0 |
| | | | | | | | | | | |
| --- | --- | --- | --- | --- | --- | --- | --- | --- | --- | --- |
| SA | GA | SV | SV% | ESSV | PPSV | SHSV | SOSA | SOS | TOI | PIM |
| 41 | 2 | 39 | .951 | 36 | 0 | 3 | 0 | 0 | 59:41 | 0 |
---
Tonight's game was broadcasted on both the M$G and TNT networks. Since I'm a glutton for punishment, and loyal to a fault too – I watched the M$GN version – but I did have the TNT broadcast airing (on mute) on my second TV.
M$GN opened up with one of the best clips in all of sports today – "SHESTY, RELEASE US!"
Once it was reported that both Lindgren and Goodrow wouldn't be available, Henrik Lundqvist said, "NO EXCUSES." He was right.
After all, while the Rangers were missing two great players – the Penguins were also without a lot of talent themselves, where need I remind you again – they were starting their third string goalie.
After the wretched Sieve Vagistat promoted his bullshit fake news number company, where his spreadsheets and arts-and-crafts charts told him that CZAR IGOR is pretty good at what he does (he needs his homemade hieroglyphics to determine this fact?); the worst back-up goalie of the Lundqvist era then proverbially fellated the Bobby Bonilla of hockey, Rick Dipietro – and for the third time this season. Ridiculous.
Again – Sieve Vagistat can't be brought back next season. He's useless.
While I don't want to see anyone lose their jobs, at the very least – boot him to Islander broadcasts, where the seven foot doofus, an Isle alum himself, belongs.
At the same time, I was told that Anson Carter, a former NYR in-studio analyst (he did Isle games this season with Shannon Hogan on the M$GN), was once again burying the Rangers. He's been predicting the Rangers to fail all season, so I'm not surprised.
At least Vagistat, for all of his Dipietro love and useless nonsense, does root for the Rangers on-air.
After Vally talked about his love for spicy pork (not surprised), Dave Maloney came on and praised the Rangers' third line of Lafreniere, Chytil and Kakko.
As the M$GN crew lamented over the Rangers' injuries, they never brought up how Brian Dumoulin wouldn't be around to push anyone into a goalie tonight. Also ignored were the injuries of "Rakell, Rakell The Musical," Nathan Beaulieu and Jason Zucker.
Come puck drop, I tweeted the following out – especially after listening to Sam and Joe open the broadcast by professing their deep and burning love for the Penguins:
You guys watching this on M$GN or TNT? #NYR

— BlueCollarBlueShirts (@NYCTheMiC) May 5, 2022
---
The reaction from Ranger fans was evenly mixed, where in the grand scheme of things – that's not a good thing for the M$GN.
Put it this way, this is only a short sample poll sent out two minutes prior to puck drop, where half of the Rangers' fan base opted for TNT over the home crew.
Between the seven foot jackass, Sam Rosen never knowing what's going on half of the time, and Micheletti talking up the other team – not even Henrik Lundqvist can keep some Ranger viewers from channel surfing.
Of course, Kenny Albert, the best in the game today and most likely the successor to Rosen one day; Marv's son was calling the game on TNT. He's another reason why Ranger fans changed the dial, as he's much easier to listen to.
And oh yeah Part I: once again, M$GN couldn't be bothered to show us the National Anthem, nor an electric M$G crowd either. Instead, we were forced to endure 786786796896789687 gambling commercials. TNT aired both the anthem and had shots of M$G all pumped up.
And oh yeah Part II: I can't stand that stupid woman (and this isn't a gender thing, as I hate the never-ending JB Smoove commercials too – something I've previously said about 97676786789 times on this site this season), where every time during these gambling commercials, she tells us to "MAKE IT RAIN," and then comes up with all of these inane and never-heard-of before hockey lingo terms, mind-boggling copy that goes like this:
"He put the cheddar in the cheese basket, stuck a digit up the goalie's crapper, went to the cookie container, wiped the snot out of his mustache, took a key bump with Jarrett Stoll, and cellied with Sieve Vagistat at the Ramrod."
I've never heard anyone talk like this in my life.
GAME REVIEW TIME!
---
In game that was played in front of a skeptical M$G, but would later hit a crescendo during the second period, only to return to a state of nervousness in the third period; Mika Zibanejad won the first draw of the game against Sidney Crosby.
When it comes to the topic of faceoffs, the final tally was 31-27 – in favor of the road team.
I was shocked to see the tiny difference of only four draws between these two warring teams – because it felt like the Penguins won 99% of all faceoffs.
It's a shame that zone faceoffs aren't tracked by ESPN, whose box scores I reference when writing these blogs.
It's late as I write these words, but I wouldn't be shocked to see that the Penguins won 99% of all zone faceoffs tonight, while the Rangers fared better at center ice.
And like most things from this game – this is where the EYE TEST tells all.
The Rangers had their bulk of their success at the dot towards the end of this game.
When the game featured a one-goal difference, and during tight situations, the Penguins won nearly every faceoff imaginable. It was so noticeable, that even Micheletti was forced to bring this up a few times on-air too.
---
The Rangers came out hot to start the game.
Just thirteen seconds in, the Penguins iced the puck – which the officials did call during this go-around, and a call that earned cheers from a mocking M$G crowd.
After Domingue made his first save of the game at the 36 second mark on Vatrano; no less than twenty seconds later, Rodrigues tripped CZAR IGOR behind his own net as the Rangers' goalie was playing the puck. No call – something that Gallant brought up after the game too.
And yep – the officials, while not as horrid as they were during Game 1 – remained brutal tonight. To both the credit of Vagistat and Micheletti – they routinely called out the dipshits in stripes throughout the broadcast.
Following Copp challenging the cowardly Rodridgues after his cheap shot on Igor; Boyle cross checked Rooney from behind. No call.
At the 2:40 mark, Trouba cleanly broke up a Crosby chance and then hit the crybaby for good measure.
With the officials already worried about losing this game; Patrik Nemeth was called for a phantom cross check on Marcus Pettersson at the 3:36 mark.
I know that people like to get on Nemeth (why some fans harp on sixth/seventh defensemen I do not know), but this wasn't a penalty. Nemeth barely made contact.
And after watching Igor get tripped, I guess the message was – it's okay to hit goalies (the Penguins would do it again, as I'll get into during the third period) and that you can't breathe on the black-and-mellow-yellow attack.
After the Rangers killed off this bullshit penalty (puck don't lie – officials do); Domingue, who looked strong tonight, stopped a Panarin-to-Strome attempt with 13:36 remaining.
However, the Rangers' second line, the best on this night, continued to force the issue, and 26 seconds later, this happened:
another look at Bread ➡️ Copp pic.twitter.com/hwe7aPcO8j

— x – Rangers on MSG (@RangersMSGN) May 5, 2022
---
1-0, GOOD GUYS!
That first sound you heard? It wasn't M$G doing the "Hey, Hey, Hey!" goal song. Instead, it was huge sigh of relief, as the Rangers scored the first goal of this pressure cooker of a game.
On the goal, Panarin found Copp in the slot and the best acquisition of the NHL Trade Deadline finished off Domingue. I wouldn't put this goal allowed on Domingue at all, but then again – that's not my concern either!
Worth noting – Justin Braun, in his first playoff game as a Ranger, picked up the secondary assist.
Following the goal, and with the third line on the ice – Domingue then stopped a Chytil backhander.
In a play that you were just hoping wouldn't come back to haunt the Rangers; with 12:06 to go, Schneider blasted a puck off of the back boards and Mika Zibanejad was right there for the rebound. However, Domingue, who wears his glove on his right hand as opposed to his left hand (the more orthodox way that we're accustomed to seeing); the third-stringer was then able to make a clean glove stop on #93's try.
As Ryan Reaves continued to follow up his strong performance from the first game of this series, as he hit anything that moved; #75 kicked off an elongated forechecking attack in the Pens' d-zone, an attack that Pittsburgh survived.
Once the second line returned to the ice, Panarin, who connects on these wild-and-crazy long-distance cross ice passes one out of every fifty times, tried another one – one that Crosby intercepted.
(And don't get it twisted – I'm not knocking Panarin here, but his turnovers have been an issue this season.)
As Trouba tried to make a play – a successful hit on Crosby; Pettersson retrieved the puck, put a shot on net, and after a rebound, perhaps the biggest Rangers' killer in all of the NHL today (besides the officials), Jake Guentzel, scored a goal while untouched.
1-1, with 11:07 to go, as the Penguins erased the Rangers' lead within a time-span of 2:02.
After Domingue and CZAR IGOR exchanged a few more saves, it was obvious – the Rangers had major issues winning faceoffs.
For a stretch here, there would be a Rangers' d-zone faceoff, the Blueshirts would lose it and then Igor would come up with a big save, just as he made on Kapanen with 7:43 to go.
As the game continued, this much was true – the Pens' top line was much better than the Rangers' first line. Crosby and Guentzel have eaten the Rangers alive thus far in this series.
With 4:05 to go, Domingue, who of course had to turn into the second coming of Terry Sawchuk, as all back-up goalies do on M$G ice; the Pens' net-minder then stoned a good try out of Trouba.
After another Panarin cross-ice turnover during an odd-man rush; the Pens' rushed towards Igor, where O'Connor then rang one off of the post. When trying to get the puck out of the zone, Ryan Strome sailed a puck over the glass for a delay of game penalty, a rare legit penalty, and with 3:25 remaining.
CZAR IGOR made two short-handed saves during this, where I thought that maybe he should've started taking faceoffs too – since the Rangers lost every single one of them during this penalty kill.
Once returned to full strength, Carrie Mathison hit Zibanejad right in the face – no call – the usual.
Not to be outdone, Crosby tripped and slashed Fox with five seconds remaining, and right in front of an official. A penalty? Yeah right.
Here were my first period thoughts, where in advance, I apologize for my language – but I don't think that I said anything false here:
1-1 after 1. 1P Thoughts:
— Officials are fucking horrendous. The bias is overwhelming.
— Panarin needs to stop making these wild passes to nowhere. Works once every fifty times.
— SOG 14-11, Hits 19-15 #NYR , FO's 11-8 Pens
— Enough of turning scrub goalies into Roy.

— BlueCollarBlueShirts (@NYCTheMiC) May 5, 2022
---
And yep Part I: one more time – credit to the comedic relief of this blog, Sieve Vagistat, who called out the officials for their piss-poor performance during the intermission.
And yep Part II: I hate, hate, HATE crying about the officials – but you just can't ignore this stuff. It's blatantly apparent.
---
After two opening consecutive faceoff losses by the Rangers; CZAR IGOR came up with back-to-back saves, where he stopped both Guentzel and Pettersson – and during the first fifty seconds of the middle frame.
After two more Ranger faceoff losses; at the 1:05 mark, Marino was boxed for cross-checking Copp. M$G roared as if the ball had dropped in Times Square during New Year's Eve – as an official penalizing a Penguin only happens once a year – or so it seems.
Panarin, who did have a three-point game but still isn't playing at his best just yet; "The Breadman" went wide on two separate occasions, despite having GOOD LOOKS at Domingue.
With 51 seconds remaining on the Rangers' man-advantage, Domingue made a hell of a save on Adam Fox.
After Panarin and Strome came ever-so-close of finding a goal on a set deflection play; the Rangers finally got their PPG, their second of the series, with just six seconds remaining:
STROMER!

IT'S A POWER PLAY GOAL! pic.twitter.com/fu04XjkZ07

— x – Rangers on MSG (@RangersMSGN) May 6, 2022
---
2-1, GOOD GUYS!
On this goal, Panarin and Fox got a bit too pass happy. Finally, Fox blasted it from the point and there was #16 emulating Chris Kreider, for the tip/deflection goal.
"YUGE JERRY, YUGE!"
Right after the goal, the resident mush/jinx, Sam Rosen, remarked – "I wonder if the Rangers can hold this lead Joe?"
Also following this goal? M$G had all the intensity and rage of a California wildfire, as the Garden was amped up to the max. So was the action on the ice.
No play got M$G on their feet faster than when with 15:13 remaining, Ryan Reaves just absolutely leveled that Shrek doppleganger, Evgeni Malkin.
Reaves, and pardon the pun, has been a big HIT during these two games.
As the officials continued to look the other way; Fox was tripped and Carrie Mathison then head-locked Frank Vatrano. However, the Rangers already had their one power-play and Bettman's bozos weren't going to call another – unless they were forced to at gun-point.
In another failed opportunity that you hoped wouldn't blow-black on Drury's team; the Rangers caught the Penguins on a line-change and then went on 3 x 1 odd-man rush. Domingue survived, and immediately after denying the Blueshirts; Rust had a breakaway himself, where somehow, he went wide. However, Igor then stopped the ensuing rebound off of the boards to keep the Rangers' lead at one goal.
Following a camera shot of the New York Yankees boozin' it up, where Aaron Judge was with Anthony Rizzo and DJ L.; the Rangers had another chance to score, as Domingue lost his stick with 12:05 to go. However, the Rangers couldn't put the puck on net during this.
After Igor stopped Guentzel with 10:40 remaining; Copp was interfered with, but akin to Julien Gauthier trying to score a goal – there was no shot that the officials were going to penalize their bed-mates.
As M$G continued in their attempts to blow the roof off; each goalie exchanged a few more great saves. Then, with 7:54 to go, the Rangers got the insurance goal that they so desperately desired/needed:
3-1 GOOD GUYS pic.twitter.com/BxVf1mksN3

— x – Rangers on MSG (@RangersMSGN) May 6, 2022
---
On this goal, Frank Vatrano, THE RIFLE, sniped a shot from the high slot, where of course, and as usual, there was the unofficial captain of the team, Chris FREAKIN Kreider for the tip/deflection goal.
3-1, GOOD GUYS, on Kreider's second tally of this postseason and for the 26th goal of his Rangers' playoff career.
After the Penguins won the next faceoff; Crosby almost scored with 7:17 to go, but his stick shattered on his deflection try from a foot away. Crisis averted.
Up next was CZAR IGOR stopping Friedman on a breakaway, and then with 6:30 to go – the officials actually afforded the Rangers their second power-play of the game, following Kapanen's blatant hold of a streaking-to-the-net Artemi Panarin.
Scumbag Sullivan acted skeptical about this, and actually had the balls to cry to the officials about his coddled team being penalized.
After what felt like a thousand Mika chances that would never connect; towards the end of the Pens' penalty kill, Domingue lost his stick.
No Penguin d-man gave up his stick to his goalie, so Domingue was all alone with his glove in his hand. With just eighteen seconds remaining on the Rangers' power-play – Panarin shot the puck directly into Domingue's glove – another blown Rangers' scoring opportunity.
Now back to full strength; with 2:55 to go, Dryden Hunt almost had a rebound goal. No dice. Igor then made two saves on Heinen and Letang.
Then, in what just took the air out of the room, Sidney Crosby went 1 vs 4, beat everyone (Braun was beat the worst) and then scored on a Rust rebound with 1:26 to go. 3-2, good guys, but a goal that completely returned M$G into a bunch of fingernail biters and chain-smokers.
This was some pretty horrid defense here, as everyone just waved their sticks at #87, and as a result, one of the greatest players to ever do it made mincemeat of the Blueshirts.
3-2, after forty minutes of action.
---
As mentioned earlier, the first half of this period was mostly Pittsburgh – but it were the Rangers who struck twice.
Five minutes into the period, Igor had logged nine saves. Domingue just sat back in a recliner and watched.
With 13:09 remaining, Igor was up to eleven saves in this period, as the 2022 Vezina winner kept the Rangers' slim lead alive.
After eight minutes of watching Igor add to his highlight reel; I said this:
#NYR with their best shift of the period as we approach 12 minutes remaining

— BlueCollarBlueShirts (@NYCTheMiC) May 6, 2022
---
Just seconds later, this happened:
BREAD BANKS IT IN! pic.twitter.com/L6klVO2rA3

— x – Rangers on MSG (@RangersMSGN) May 6, 2022
---
4-2, GOOD GUYS, as the Rangers had now doubled-up their opponents, and with 11:58 remaining!
You need some luck along the way to win in the playoffs.
On this goal, Panarin, from the trapezoid, centered a puck and the vulcanized rubber got a piece of Carrie Mathison's skate. The puck then trickled past Domingue for the puck luck goal. Whatever the case, whether this was Panarin's intention or not – I was happy about this!
I was even happier just 1:47 later, when Vatrano increased the Rangers' margin to three:
FRANK WITH THE MISSILE! pic.twitter.com/h8rqcKGEEj

— x – Rangers on MSG (@RangersMSGN) May 6, 2022
---
5-2, GOOD GUYS.
As opposed to Panarin's somewhat lucky goal; this was an absolute missile from #77, and a pure goal scorer's goal too.
This also pretty much sealed the deal – but the Penguins, unlike a Hunts Point hooker – wouldn't go down easy.
After a scrum between Chytil and McGinn with 7:35 remaining; the two of them took a two minute time-out in the penalty box.
Once the foreplay was over, and with 5:35 remaining – Sullivan pulled Domingue.
As we surpassed the FOXWOODS FINAL FIVE mark of the game; Copp hit a post as M$G chanted "CROSBY SUCKS."
As the clock trickled down to triple zeroes; the crowd belted "IGOR! IGOR! IGOR!" – and not because of any particular save. Instead, they wanted Igor to score the first NHL goal of his career.
Then, with 2:04 to go, we had the most shart-inducing moment of the game, when this cowardly piece of shit named Jeff Carter decided to take a run at CZAR IGOR:
Igor Shesterkin goes down at the end of Game 2 after colliding with Jeff Carter pic.twitter.com/mqRG86FTA7

— Brady Trettenero (@BradyTrett) May 6, 2022
---
Let me get this out of the way – CZAR IGOR said he was fine after the game. So did Gallant. Igor also added that he fell the wrong way and that it looked worse than what this play actually was. Of course, both Gallant and Igor weren't a fan of this at all either.
In what most likely was only 45 seconds, but it may as well have been 45 minutes – Igor just laid on his back, as Jim Ramsey tended to him.
Igor would eventually pop back up, and after getting some time to regain his bearings – finished the game with no issues.
As Igor laid on the ice, M$G started throwing trash on the ice, as the refs only gave Carter a two minute penalty for interference. He should've received a game misconduct. And he should be suspended for at least Game 3 of this series too – or so I say.
Just as ridiculous, was when Lafreniere was penalized for defending his goalie.
In other words, the message being sent here by these bird-brained officials was that teams should sit back whenever some dickhead takes a run at a goalie.
And as stated, and ever since the All-Star Game – Lafreniere is emerging in front of our eyes.
In a game full of men – it's the twenty year old, the youngest player on the ice, who has no problem getting his hands dirty. His physical presence, and much like his offensive game too – has been pleasantly and extremely noticeable.
Once the officials finally returned to this game to order, or at least tried to – Gallant wasn't fooling around.
Yeah, the Rangers were up by three, which is when coaches usually reward their bottom six players during power-play opportunities – but I thought Gallant put his fourth line out there to make sure there was no more bullshit.
Of course, with just 30 seconds remaining, Rodrigues decided to slash Miller for no good reason.
The Rangers now had a 5 x 3 power-play (this will show up in the stats, but this power-play was meaningless), where again, Reaves and his linemates returned to the ice.
The Rangers took the puck and sat behind CZAR IGOR for the final fifteen seconds of the game.
5-2, GOOD GUYS, your final – where again, you just hope that CZAR IGOR wakes up fine on Friday.
---
Here's the head coach after the game:
---
I don't know if tonight's win was a great win – but a win is a win. Let the heart rate and blood pressure increase again on Saturday night.
Lastly, as I close out, I'm just thinking about this- the NHL currently has back-ups and third-string goalies playing a lot of games in these playoffs. Maybe it's time to do what the NFL does with their quarterbacks and crack down? (And yes, I know about Kreider and Price in 2014!)
I know some injuries are unavoidable, as is the case with both Tristan Jarry and Frederik Andersen – but here you have Carter running Igor tonight and David Pastrnak running Antti Raanta this past Wednesday night.
With many goalies as the face/best player of their teams – does it behoove the NHL to lose these guys during the playoffs, when most casual eyeballs/potential future customers are watching?
One more fact before heading home? CZAR IGOR IS UNDEFEATED IN REGULATION TIME STANLEY CUP PLAYOFF GAMES! (Father Fink the bubble!)
PLUGS TIME!
---
Two hours prior to Game 2, "2 Guys, 1 Cup" returned with a new episode. To listen, click the link below:
Game 2 pregame show! #NYR #NYRvsPIT #StanleyCup https://t.co/CSF4LXzNO0

— 2 Guys 1 Cup Podcast (@2G1CRangers) May 5, 2022
---
My first plug of tonight's blog – the mandatory plug for my book, "The New York Rangers Rink of Honor and the Rafters of Madison Square Garden".
As mentioned previously, the book is now available in hardcover, in paperback and in Kindle formats. To purchase a copy of the book, visit this link:
https://www.amazon.com/Rangers-Rafters-Madison-Square-Garden-ebook/dp/B09CM5N2WD
For those still looking for signed paperback versions of the book, I have re-ordered more copies. I now have a few signed copies for sale at $25 a pop (includes shipping price) through me directly. Here is all the information on that:
---
Here are my last few blogs, in case you missed them:
---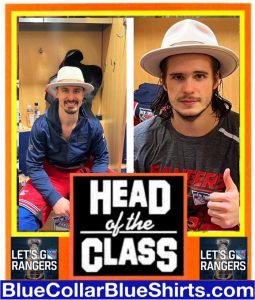 ---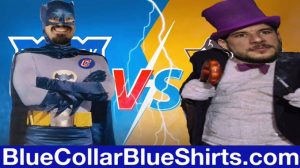 ---
---
If you haven't already, subscribe to this blog for the next update:
---
Up next: Saturday night, Rangers vs Penguins Game 3.
I may go out for this game, which for the people who follow my "live tweeting" of these games – there may not be any of that if I do go out. I'll still get a blog up though – even if I have to write it with one eye open!
As always here, thanks for reading and…
LET'S GO RANGERS!
Sean McCaffrey
BULLSMC@aol.com