Greetings and salutations everyone and welcome to another blog here on BlueCollarBlueShirts.com. That's right, four blogs in four consecutive nights! By the time you read this, we are less than a week away from the Rangers vs Islanders exhibition game in Toronto. BRING IT!
In tonight's blog, in your double main event of the evening, I will be recapping the Ron Duguay "Up in the Blue Seats" podcast. In addition, I'll also recap the Tony DeAngelo "Watch Your Tone" podcast. Of course, I'll have other news, notes and stuff throughout this tome!
It's funny, earlier today, I was playing my music on my iPhone and while on "shuffle" mode, the song "Jane", by Jefferson Starship, came on. In case you're not familiar with this song, here it is:
For some people, they might not be familiar with "Jane", when the song title is just written out in print. However, for people of a newer generation, who saw the movie "Wet Hot American Summer" and the various Netflix television follow-ups, "Jane" is the theme song of that franchise.
I bring this up, because I think "Jane" would be a great backdrop to a Rangers highlight reel package, in an effort to promote the Rangers comeback this Summer. Of course, I also got "Wet Hot American Summer" on my mind here too! Hell, after I finish publishing this blog, I may go back and watch that movie again! (That movie really is a cult classic.)
I should also mention here, that if you've seen any of my photoshops, including the one above, you know that I'm not the best when it comes to the art of mastering Adobe Photoshop. I don't think I'm breaking any news here. That said, I can't imagine the horror show I'd be, while trying to piece a highlight reel together. I'll leave that game to someone else. My forte is writing 10,000 word missives, with no ads, and for one site click!
And spoiler alert – at the end of this blog, I will also be talking about one of my favorite movies, which also happens to be one of Tony DeAngelo's favorite movies too. Stay tuned! (Or for those who are dying to find out, just scroll all the way to the bottom of this blog and return back up here!)
I have received a ton of feedback with my last two blogs, where I gave you the full 2019-2020 NY Rangers regular season rundown and with my 2019-2020 New York Rangers Final Report card blog. I also included a lot of recent news and notes in those blogs too. Where am I going with all of this? Of course, I'm going to the PLUGS segment of tonight's manifesto!
For the regular readers here, say it with me now – "in case you missed any of my most recent blogs, check out the links below:"
---
---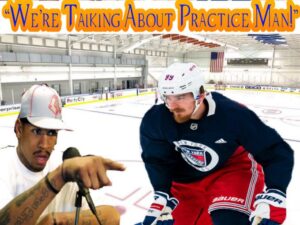 ---
---
---
With this being the fourth blog in as many nights, there's not much news to get into today. Obviously, the shoe that everyone is waiting for to drop, in regards to David Quinn announcing his starting goaltender for the 2020 Stanley Cup Playoffs; well that shoe (or skate) hasn't officially dropped just yet. However, from everything we've seen and know, it looks like David Quinn will be going with CZAR IGOR, come August 1st. For what it's worth, once again at Rangers practice, on Wednesday 7/22, CZAR IGOR took the starter's net, while Georgiev & Lundqvist split the back-up net. That said, there is nothing official regarding this news, as of this writing.
Since I've been asked about this by several readers, I'm going to hold off on a Rangers/Carolina preview, until after the Rangers/Islanders game is completed in Toronto. I want to wait a bit before diving into a series preview, as I want to see how the Rangers (and Carolina, in their game) look. Additionally, I want to see if any injuries or positive COVID-19 tests happen once all these teams get to Toronto. (While injuries can always occur, I really don't foresee anyone popping positive for COVID-19, for reasons already mentioned in prior blogs.)
Before jumping into all the Rangers news of the day, let's take a quick look at the big story in the NHL right now. The biggest story of the day? The Seattle NHL franchise is expected to announce their team name and logo on Thursday morning.
This news was originally broken by the @NHLSeattle Twitter account:
07.23.2020 – 9:00am PT

The 32nd franchise comes to life. pic.twitter.com/4J8k0UTEn3

— NHL Seattle (@NHLSeattle_) July 23, 2020
It's going to be even more interesting, to watch the journey this new Seattle franchise takes, prior to officially entering the league in the 2021-2022 season, just because of this new "Age of the 'Rona".
I've mentioned the following in past blogs already, but it's worth repeating again. For any Ranger fan, or really, for any fan of any team in the league, if you're worried about the 2021 Seattle expansion draft – well you're out of your minds.
No joke, I've seen Ranger fans waste keystroke after keystroke and podcast after podcast, fretting about what the Rangers "SHOULD" do. (You know, "should", because these fans know better than Jeff Gorton.)
My response to all of that nonsensical worrying? How is Oscar Lindberg, the player the Rangers gave up in the Vegas expansion draft, doing today? I'll tell you – after flaming out with one of the worst franchises in the NHL, in the Ottawa Senators, Lindberg jumped over to the National League, which is the top league in all of Switzerland. Father Finkin' Switzerland! However, things seem to now be looking up somewhat for Lindberg, as he just recently signed with the Moscow Dynamo, of the Russian KHL.
My point here, ever since that Vegas expansion draft, the Rangers haven't missed Lindberg for a second. Furthermore, NO ONE, and I mean absolutely NO ONE, knows what deals Seattle General Manager Ron Francis will make with the other franchises in the league, and that includes both public and under-the-table deals.
In conclusion on this, if you're worrying one second about the Rangers and the 2021 Seattle Expansion Draft, get your head checked. There are much bigger fish to fry, especially now, with the playoffs right around the corner.
---
As far as any Ranger news, emanating from Wednesday's practice, there isn't much. Truth be told, there isn't any news at all, except for extremely minor information.
In fact, the only items of interest here, and not to do the "I told you so" nonsense, but the NY Post echoed my thoughts from last night's blog. In two different articles, the Post said that Buchenvich's relationship with David Quinn is much better now. I said the exact same thing last night, and really, this wasn't brain surgery here. You saw Buchnevich getting better as the season went along and the once icy relationship between Buchnevich & Quinn, from last season, has pretty much melted into a love-fest now. So much so, that Quinn has gone out of his way to praise his first line winger in many recent interviews.
The other story, which I touched upon in my Report Card blog, was about Filip Chytil, and how Chytil has a great chance of really making some noise in these playoffs.
Why do I bring all of this up? Quite frankly, it's because I'm excited and I'm glad that the paid reporters, who are there at every practice, have come to the same conclusions as I have. I know I've been walking on rainbows and crapping out sunshine during these last few weeks, and really, that's all because I'm just giddy about hockey returning.
In fact, I have adopted such a positive mindset, that I have pretty much muted any Ranger fan twitter account, that has knocked any Ranger or the Rangers chances at the Cup. In addition, if you're one of these people worrying about the Rangers beating Carolina, thus meaning the Rangers won't land Lafreniere, I've muted you already!
Truth be told, I'm embracing the "power of positivity" here. I'm tunnel-visioned on the Rangers winning the Cup in 2020! Hell, to prove my point here, just last week, I told you that I was retiring my "LUNDSWISS" nickname for Henrik Lundqvist. That's how much I'm trying to stay positive and hoping to see this team go all the way! (With CZAR IGOR as your starting goalie of course!)
And yes, I know I may be delusional here, but I really think the Rangers have a shot at the Cup. Need I remind you – ANYTHING CAN HAPPEN IN THE PLAYOFFS! Any positive story, about any of these players, just has me ecstatic. WE WANT THE CUP!
I guess I should also mention here, that I was inspired a bit by Ron Duguay, who is always overwhelmingly positive on everything. I've seen idiots on social media trash this guy, and he never gives them a second of his time. His good spirits is what makes his podcast so fun and interesting to listen to. And yes, this takes me to the next segment of the blog, the "Up in the Blue Seats" podcast recap!
Ron Duguay, in his penultimate episode before the start of the 2020 Stanley Cup playoffs, returned with another new podcast on July 22nd. His special guest for this episode was reporter Gillian Kemmerer, who is known for her expertise in all things related to Russian hockey. I'm very familiar with Kemmerer's work, as I talked about a year or so ago, when she first appeared on "The Blueshirt Underground Show".
In the player interview segment of the show, Duguay brought Alexei Kovalev on the podcast, as Kovalev's name was in the news this week. Duguay has had many 1994 Rangers & front office people on his podcast in the past. (After all, Mike Keenan was just on last week.) For Kovalev, this was his first appearance on the program.
With this little introduction now aside, let's now get into the recap of the podcast.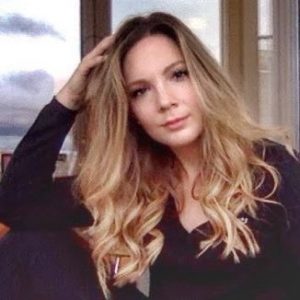 Duguay opens the show hyping up "Hartemi Panarin". I mean, what else would be the lead story of the show this week?
Producer Jake Brown then chimed in and previewed the episode as well. (And kudos to Jake Brown, who is producing about a million and one podcasts right now for the NY Post!) Ron Duguay then comes on and says this episode will be an all-Russian episode. Duguay then says out-right that Artemi Panarin deserves to win the Hart Trophy. I have no problem with that!
Oh, and for those of you not familiar with this podcast, Duguay does a good job sticking with a theme each week & bringing on guests to talk about whatever the theme of the week is. Duguay, along with Brown, are also good at "calling back" previous episodes, whether it be about the 1994 Rangers, the history of the franchise, women's hockey or anything else previously discussed.
Duguay & Brown then welcome Gillian Kemmerer to the show. Brown brings up how Kemmerer broke the news about Alexei Kovalev this week, where Kovalev was named the head coach of the Kunlun Red Star, which is a team in the Russian based KHL.
Kemmerer brings up how she is an avid listener of the show, and jokes about Duguay's Studio 54 story from a prior podcast. Kemmerer clears up any confusion – she's an American, but everyone thinks she's a Russian, due to her affinity for everything Russian hockey. Kemmerer then runs down how she got into Russian hockey and brings up the late 1990's Detroit Red Wing teams. In what I didn't know, Kemmerer even studied Russian culture and history in college as well.
Kemmerer brings up her start covering the KHL and how she started by covering the Kulun Red Star, the team where Alexei Kovalev was once an assistant coach, but is now the head coach today. Kemmerer then brings up how she got to see players like Igor Shestyorkin & Vitali Kravtsov before being signed by the Rangers.
Duguay and Kemmerer then discuss the potential future battle between Shestyorkin and perhaps the Islanders goalie of the future, in Ilya Sorokin. Kemmerer talks about how CZAR IGOR and Sorokin are close friends, their rivalry in Russia and how cool it is for her to see both goalies now involved in the NY Rangers vs NY Islanders rivalry. If you get anything out this, don't expect CZAR IGOR to pull a Dan Cloutier on Sorokin any time soon! From what Kemmerer says, the two are very close.
Duguay then pumps Kemmerer for some more information on CZAR IGOR. Kemmerer calls CZAR IGOR a "steel trap". Kemmerer brings up how Larry Brooks once compared CZAR IGOR to Jacques Plante, and she agrees with him. As someone personally, who knows a ton about Plante's career, let's hope that Igor has a much better run in NY than Plante did. I also don't see Igor knitting while traveling to games, but who knows! (And let me be clear here for people who don't know my sense of humor, Kemmerer was talking about something Brooks said, in relation to the style of play and showmanship of both CZAR IGOR and Plante. I'm just going the extra mile here!)
For anyone looking for more on Plante, check out this book review that I did a while back: https://bluecollarblueshirts.com/plante/
Moving along!
Kemmerer continues to compare and contrast the similarities and differences between CZAR IGOR & Sorokin. Kemmerer tells a previously unknown story to most Americans, about Shestyorkin's helmet.
Kemmerer then talks about how some of the games in Russia are like European soccer games, with all the sing-song stuff, huge flags and a boisterous, but fun crowd. Kemmerer also mentions that CZAR IGOR's father was a professional soccer player too.
Kemmerer and Duguay then talk about this upcoming playoff tournament and how all of this is all unprecedented. Duguay then switches gears to women's hockey and asks Kemmerer about women's hockey in Russia. Kemmerer talks about the state of women's hockey in Russia and how teams in the KHL have women hockey team affiliates. Kemmerer also brings up Chinese women's hockey, as the KHL features teams from China.
Duguay then wraps up with Kemmerer and says he wants her to return to the show once the KHL returns to play.
After saying toodles to Kemmerer, Larry Brooks gets on the horn.
Duguay, like last week's episode, reiterates that he wishes he was at training camp too. Brooks says it's a little bit tough to figure everything out right now and says everything is "out of context". Brooks says it's tough to figure out where the Rangers are under these new conditions. Brooks does mention that he is now seeing more urgency from the team, as each day passes.
Duguay then brings up the topic of goaltending. Duguay asks Brooks if he focuses on the goaltenders at all. I think I know the answer to that one!
Brooks says he thinks the Rangers starting goalie of the playoffs has already been established. Brooks feels that CZAR IGOR will get the nod. Brooks then does his normal stuff of propping up Lundqvist, but does admit that CZAR IGOR should get the call. Brooks brings up a point I always make on these blogs – CZAR IGOR's puck handling skills are a crucial asset. Brooks then brings up the idea that Lundqvist may play the second game of a back-to-back game in this series, but I think that's him just dreaming. After all, if the Rangers go up 2-0, why would David Quinn change his goaltender, especially with a chance to go for the kill?
Duguay & Brooks then talk about the Lemieux suspension. Brooks brings up the Rangers roster depth, or lack thereof, after the first two lines. Brooks then talks about the Rangers bottom six forwards, and how one injury could really damage the Rangers line-up, especially with Lemieux out for two games. Brooks believes that the Lemieux suspension was warranted. I agree.
Duguay then closes off with Brooks by talking Hartemi Panarin. Duguay brings up how Panarin is a cool customer and how modest he was after getting the news about being a Hart Trophy finalist. Duguay then finishes up with Brooks and goes into the next segment of the podcast.
Up next on the podcast, was Duguay's interview with Kovalev. The interview is over 20 minutes long, which I know will make my friend Derek Felix happy!
Duguay hypes up Kovalev's career and brings up Kovalev's new gig in the KHL. Kovalev thanks Duguay for the introduction. Duguay then mentions that he's brought back Gillian Kemmerer onto the show for this interview. Kovalev is highly complimentary about Kemmerer and you can see the two have a great bond.
Duguay asks Kovalev, prior to entering the NHL, what team did he think would fit him best. Kovalev talks about what he knew about North American hockey and how he knew about the Rangers. Kovalev talks about how excited he was to join the Rangers and the great players he got to play with during his run in NY. Kovalev then mentions, that he wouldn't change one thing about his career.
Duguay asks Kovalev if coming to NY as a kid was intimidating or not. Kovalev mentions how he came here not speaking any English. Kovalev then mentions the other Russians that were on the Rangers on the team during his time with NYR and talked about the adjustment period he endured. Kovalev said, since he didn't speak English, he had to communicate with non-Russians, solely by using his "hockey language". (This makes sense when you listen to the interview.)
Duguay then goes into Kovalev's growth with the Rangers and ultimately winning the Stanley Cup in 1994. Kovalev agrees that a coaching change was needed after the 1992-1993 season. Kovalev then talked about the differences between North American and Russian coaches.
Kemmerer asks Kovalev if he noticed any differences between the Soviet League and the NHL. Kovalev talks about how the rinks are bigger in Russia, so he was happy about not having to skate so much in the NHL. Kovalev brings up how the North American game is more physical too. I've heard many Russian players say what Kovalev was saying here.
Producer Jake Brown then asks Kovalev some of the questions he got for Kovalev off of Twitter. Kovalev mentions being one of the first Russians to have his name on the Stanley Cup. Kovalev then talks about the various pit stops during his career. Kovalev talks about adjusting from team-to-team and learning the way different players play.
Duguay then asks Kovalev about his passion for coaching. Kovalev said he got into coaching because he got bored and talks about what he did after his playing career, which included acting. Kovalev said he got sick of staying at home after all of that and how that led him to coaching.
Duguay then mentions how Kovalev and Panarin hung out earlier this week, as this picture circulated around Rangerstown, USA this past Monday: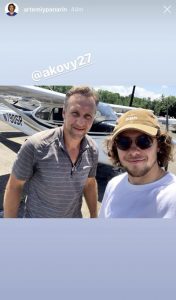 Kovalev talks about his friendship with Panarin. Like most Russians in the NHL, the Russians always find each other and support each other. Just look at that Kasparaitis practice in Florida from several weeks ago, where CZAR IGOR & Ovechkin practiced with each other together. Kovalev then talks about what Panarin has told him about winning and other stuff on Panarin. Interesting stuff here, especially when Kovalev talks about flying.
Kemmerer then talks about Kovalev's new job and his approach to this new head coaching gig. Kovalev brings up how his phone is constantly blowing up. (My phrase, not what he said word-for-word here.) Kovalev brings up all the work that goes into head coaching, and he seems eager to tackle all of it.
Duguay then wraps up with Kovalev and wishes Kovalev all the best in the future. That wraps up this podcast recap.
To listen to the show for yourself, check out the link below:
Always a good show #nyr https://t.co/YObQ6lSncX

— BlueCollarBlueShirts (@NYCTheMiC) July 22, 2020
All in all, another solid episode.
---
I've recapped all of Tony DeAngelo's "Watch Your Tone" podcasts on these blogs. Refer to the archives of this blog for all of the recaps.
In my last recap, where I recapped episode 5, I mentioned how TDA wasn't sure if he'd return again, as once the season starts, his focus was going to be 100% dedicated to the Rangers. However, TDA was able to sneak in one more episode, which dropped on the morning of July 22nd.
In fact, prior to the podcast's release, TDA said the following on Twitter:
Last podcast for awhile.. (hopefully a long while) will be out tomorrow. Enjoy!

— Tony DeAngelo (@TonyDee07) July 21, 2020
For those looking to listen to this sixth episode of "Watch Your Tone", check out the following link:
Episode 6! Enjoy https://t.co/lU0BkxxVT7

— WatchYourTone_ (@WatchYourTone4) July 22, 2020
As usual, we get Frank Sinatra's "New York, New York" to open the show. TDA welcomes all of his co-hosts, including the returning Ron the Gambler. TDA brings up how his brother Louie had a bad week with his UFC bets. Lou brings up how Vegas has been bad at handicapping these fights, and mentioned how he went 2-3 last show. (Not to pat my back here, but I went 5-0!)
TDA mentions that perhaps he's tiring of the UFC a bit, especially since it's the only game in town, and brings up how he's been watching soccer. TDA said the game he was watching was so boring and how he hates soccer again. I agree with TDA on soccer, but I can't agree with him on the UFC. All I need is the NHL and UFC/MMA and I'm good!
The talk then goes to the golf world. After talking golf, TDA & crew talk about MLB's Opening Day, which is scheduled for this Thursday. TDA talks about how players on the Astros are already getting beaned. Pandemic be damned, no one is forgetting about those cheaters. As a Yankees fan, let me say here – "Father Fink the Astros!" The podcast spends a bunch of time talking about the recent controversy & scandal with the Astros here.
TDA then talks about his two underdog picks for the World Series. TDA said that he feels that the Chicago White Sox & the Cincinnati Reds are good dark-horse teams to win it all & brings up their odds as released by the Vegas odd-makers. (Of note, TDA, on previous podcasts, has said he doesn't bet on games, so for his haters, don't try to turn this into a Pete Rose thing! He's just shooting the shit on sports, as most males do.)
After talking baseball, the talk moves to the NHL playoff schedule and how it's going to be an all-day and all-month marathon. Gambling is mentioned here again. Word to the wise, while I know the NHL will continue to pump their fans to gamble on these games, it's a true sucker's bet. No one knows how these teams will play in these games. There are good bets and bad bets and the NHL playoffs were already unpredictable, prior to this pandemic.
TDA talks about how he'll watch all the baseball and hockey in his free time at the hotel, while in the NHL bubble.
TDA then asks his co-hosts a hypothetical, about being a hero in either a Game 7 world championship game in baseball, basketball or hockey and/or the Superbowl. Different ideas are brought up here, including taking a charge in the last seconds of Game 7 NBA Final. This was bar room and/or junior high school banter here. This then turns into talk about each host's recreational basketball games. TDA also brings up how great it would feel to hit a walk-off homerun in a Game 7 of a World Series.
After this chat, TDA asks his co-hosts for their NHL 2020 Stanley Cup play-in round predictions. Obviously, TDA doesn't weigh in here, as his three co-hosts talk & give their predictions for each series. All three co-hosts obviously pick the Rangers over Carolina here too!
After talking about the first round of the NHL playoffs, Tony gives an update about the recent practices the Rangers have had. TDA says he feels a lot better than what he thought he would feel. TDA says Quinn has been great. TDA said he thought he'd feel dead after the first practice, but says he's been feeling very good after each practice.
TDA says the team feels refreshed and does mention how it feels like it's a new season a bit, even if it's not. TDA says he feels this break was good for the players somewhat. TDA says this week is the week where everyone has to dial it in. TDA says everyone has to get serious now, because the trip to Toronto is coming very fast. TDA feels the team is looking good right now.
When asked about hitting, TDA says Quinn has the team doing battle drills. TDA says there has to be some hitting and contact in these practices, because it's going to happen in the games. TDA definitely supports Quinn and his coaching style, and brings up how he's parroting some of the stuff Quinn has said during practice on this podcast.
On the topic of Panarin and how he's a finalist in two different MVP races, TDA obviously says these accolades are well deserved for the Breadman. TDA feels and hopes that Panarin wins both races. I think everyone in Rangerstown, USA will agree here! TDA even says he'll be pissed off if Panarin doesn't win. TDA also brings up how Panarin works hard and how Panarin has his own way of getting ready.
TDA then mentions Panarin's passing skills and how somehow, even to this day, it still surprises him how Panarin can thread the needle. TDA brings up Panarin's no-look passes, including a no-look pass that Panarin made to TDA against Toronto, which went for a goal.
On K'Andre Miller, TDA says Miller looks good and mentions how Miller told him that he's not nervous. TDA is very complimentary of Miller here. TDA says Miller is a smooth skater, especially for his size. TDA brings up how it's tough for young players to start off their NHL career (regarding being nervous) and talks about his own story in Tampa.
TDA then talks about Marc Staal, but says he always calls Staal "Lege", as in "legend". I've talked about the Staal/TDA pairing 676676797896 times on this site and TDA echoes everything I've ever said about Staal in the past. Staal's defensive game obviously helps TDA run wild on offense. TDA then compliments a few more teammates, before stopping himself, saying he could easily "butter up" everyone here if he wanted to.
TDA then answers a co-host question and says he feels that you need 200 NHL games to be considered a veteran. TDA and his co-hosts then talk about how Staal should hit the 1000 game mark soon. One of TDA's co-hosts asks TDA if Marc Staal has a Cup or not. Ugh, let's move on from this and that 2014 Stanley Cup Final.
The topic of conversation then moves to "the best sports movie", which is another bar-room debate. The crew then bring up the movie "Rudy".
Tony DeAngelo mentions the movie "Beer League" and how it's his second favorite sports movie. YES TO THIS! As a die-hard Artie Lange fan, I fist-pumped when I heard TDA mention this movie. (Remember, I've seen Artie Lange do stand-up about 7-8 times in my life. I even recapped one of those shows on this site, when I went to Detroit to see him and the Rangers play the Wings. Hell, I've even seen every episode of "The Norm Show", just because Artie was on it! Sometimes I mimic Artie's humor on this blog, and because we live in a PC world, that is sometimes frowned upon. Thankfully, I don't care what others think!)
No joke, this part of the podcast, where all four guys are talking about "Beer League", was my favorite part of the podcast.
Shockingly, TDA picks "Miracle" as his favorite sports movie. More shockingly? The movie "Slap Shot" is not mentioned. BLASPHEMOUS!
I guess also worth mentioning here, when hearing TDA talk about "Beer League", he brings up the vernacular in that movie and how people from the NJ/NY area speak like the way the characters speak in that movie. He's 100% right. I think for many of TDA's haters, they will shit their pants if they watched "Beer League". The words "jerk-off" and "douchebag" are not offensive! It's just the way people break balls!
To close out the show, TDA mentions that Brother Lou and Huff are now running the Watch Your Tone social media accounts, and will be, as long as this season continues for the Rangers. TDA then plugs the t-shirts. TDA reiterates that he's done with the podcast as long as the Rangers are alive. As mentioned, I hope I don't see another episode in my Apple Podcast feed until late October!
Oh, also of note, unlike the other five episodes, there was no "Mean Tweets" segment in this episode. TDA's better off. Who needs that negative bullshit right now, especially with the playoffs right around the corner?
---
After listening to both the Ron Duguay & Tony DeAngelo podcasts on Wednesday, I ended my night with the "The Blueshirt Underground Show". As mentioned, the BSU guys film/record/whatever word you want to use here, their shows live. I believe they are the only hockey related podcast/show to do so.
Anyway, you can listen/watch their latest episode here:
I know I've mentioned this in the past too – BSU is at their best, when things come natural, are impromptu and when they don't stick to any sort of format.
In tonight's episode, BSU planned to continue their "64 Moments of Rangers Misery" Tournament, which is now in the third round and has been comical (in a good way) throughout the duration of the tourney. However, the hosts Jim S. & Eddie G., opened up the show by riffing. 90 minutes later, the tournament wasn't even mentioned, as cameos by "BSU Whackpackers", in Costa & Cutter, dominated the show.
This episode was another entertaining episode of the program, and for those who don't know about BSU already, know this – you must have a sense of humor before hitting that play button. Check your serious poo-poo at the door! And yes, as I always say when talking about BSU, if you like these blogs, you'll like their show.
---
Barring something extremely crazy happening tomorrow, don't expect a new blog here. After all, with four of these extremely long missives, in four straight nights; well it will wear the fingerprints right off of me! That said, if something crazy or big goes down, I'll post a quick update here. I'm loyal like that!
Tomorrow night, weather permitting, Major League Baseball kicks off their season, with the Yankees in Washington. While I'm a die-hard Yankee fan, and my Yankee fandom goes back to as long as I can remember, I have kind of faded out on baseball over the years. It just got too boring to me. The never ending graphics and meaningless stats bored me. The announcing is horrendous. Give me Phil Rizzuto over the guys of today, any day and at any time of the week!
Like the NHL and like the NFL (gambling/fantasy purposes in the case of the NFL) I can watch any game, between any team, at any time. With baseball, I can only watch the Yankees and that's it.
While I've realized that here in 2020, that all I need is the NHL & MMA, I'm still excited for "Opening Day", even if it's under these circumstances. Let's Go Yankees!
That said, once hockey is back, I doubt I'll watch another baseball game again, until the playoffs are over. After all, we're going to have 12+ hours of hockey, for at least three weeks, once we turn the calendar to August.
If you haven't already, subscribe to this blog for the next update:
I don't know when I'll be back, but I'm sure it will be soon enough. I wrote a ton this week, so there's a lot to catch up on, in case you haven't had a chance.
As far as the next blog, if you subscribe by clicking the form above, you'll get that bad boy delivered to your email box.
As always, thanks for reading and…
"WHY NOT THE RANGERS?!?!"
LET'S GO RANGERS!
Sean McCaffrey
BULLSMC@aol.com
@NYCTHEMIC on Tweeter and the new Parler app