Greetings and salutations everyone and welcome to another blog here on BlueCollarBlueShirts.com. As you read these words, we are less than 72 hours away from the Rangers first and only exhibition game from the NHL bubble in Toronto, where the Rangers will do battle with the NY Islanders. After that, come August 1st, everything gets real again. Are you ready?
In tonight's blog, there are plenty of things to discuss concerning Rangerstown, USA. I'll also have a few interviews to share with you. While I don't think many people are rooting for injuries or for players to test positive for COVID-19 either, the Rangers also got news this week that enhances their chances in their play-in round series with the Carolina Hurricanes. And oh yeah, the new Seattle franchise also announced their team name, the "Kraken", as I'm sure you've heard about already.
As I was starting tonight's blog, I was alerted to a tragic story concerning Barry Beck. Without question, this story takes precedence over everything else. This Beck news is a real-life story; a story that makes the NHL, the Rangers & the upcoming playoff tournament, all feel like nothing of significance.
In fact, I debated about including this story in this blog, because for the last few weeks, I've been extremely positive and rah-rah about the New York Rangers and their chances in the 2020 Stanley Cup Playoffs. It was my goal, going into this blog tonight, to carry over all of that jubilation and ballyhoo too. I know after sharing the following story, it's tough to keep a positive mindset, but news is news and maybe these words will find someone who knows something, which in turn, would help out Barry Beck and his family. And that is what this following story is about – bringing a killer to justice.
Instead of going into the normal PLUGS section of the blog, as I'd normally do at this point, let's just get right into this terrible news.
On the evening of Saturday, July 25th, Barry Beck's son, Brock Cameron Beck, was fatally stabbed in Binbrook, Ontario, which is a suburb of Hamilton, Ontario. As of this writing, no suspect, or suspects, have been arrested in this brutal murder. In fact, the Hamilton Police have used the news & social media, asking people with any information about this murder, to contact them as soon as possible.
For younger fans who may not know who Barry Beck is, Barry Beck enjoyed a solid run with the Rangers, in the early-to-mid 1980's, a run that included Beck as the captain of the franchise for a near five year period. As it stands right now, Brock Cameron Beck's murder has been a major news story in the Ontario media.
To read one of the Canadian news outlets covering this story, check out: https://globalnews.ca/news/7218970/hamilton-police-man-dead-binbrook-road/
Barry Beck, who currently lives in Hong Kong, China, where he has been for many years, wrote the following on Facebook, on Sunday, July 26th:
My son Brock Cameron was stabbed multiple times last night and died on the scene in Binbrook, Ontario, Canada. Brock bled to death on the ground, alone.

Why would someone stab him multiple times if not to kill him?

I love him and miss him desperately.

I called my mother to tell her the news and she was devastated like my two brothers, Brocks's mother and myself. Brock loved my mother and he was like a son to her.

May my saviour Jesus Christ hold him and comfort him until we are reunited again.

If anyone has any info please contact the Binbrook, Ontario Police Department. Binbrook is a 30 minute drive from Hamilton, Ontario.

May god have mercy upon the assailants/souls and may the detectives find them before I do!

I love and miss you my beloved son Brock Cameron Beck for eternity. I never got to say goodbye but I see your face with your beautiful smile.

May God please forgive me for not being there to help my son when he needed me most.

Brock Cameron Beck

November 30 1999 – July 25 2020
Obviously, and this really goes without saying, but my condolences go out to Barry Beck and his family. No one deserves to endure this type of pain with a loved one. And most certainly, no parent deserves this. I can't imagine what Beck and his family are going through right now.
To make this story even worse, if that's even a possibility, as mentioned, Barry Beck lives in China. His son was murdered in Canada. I don't know if exceptions can be made or how these governments are handling such issues, but I would assume Barry Beck plans on entering Canada as soon as possible. With these quarantine rules in effect and with China being the origin country source of COVID-19, who knows how long Beck will have to wait to see his son one last time?
Prior to this tragic news, and as recapped on this site previously, during my Ron Duguay "Up in the Blue Seats" podcast recaps, Barry Beck was the first person to reach out to former Ranger/Team USA Gold Medal Winner Mark Pavelich, after Pavelich's recent issues and battles. Beck has led the charge in bringing awareness to Pavelich's issues and routinely checks in on Pavelich. What Beck was doing for Pavelich here exemplified the old phrase of, "once a captain, always a captain."
For Barry Beck, one of the good guys, to have this tragedy bestowed upon him, and for Brock Cameron Beck to lose his life, this is all just gut-wrenching. I'm sure parents, who are reading these words right now, can't imagine what Beck is going through either. It really is a parent's worst nightmare.
Again, my condolences to Beck and to his family, and may Brock Cameron's killer be caught & brought to justice. As Beck said in his statement, if anyone has any info about this murder, please contact the Binbrook, Ontario Police Department.
RIP Brock Cameron Beck.
---
I know it's tough to forget what you just read about Beck's son, and I'm not encouraging you to forget either. However, and without coming off calloused here, I do want to get into everything else going on in both the hockey world and in Rangerstown, USA right now. To help break things up and to reset a bit, before jumping into all of the news, notes & opinions, here are my last few blogs, in case you missed them:
---
---
---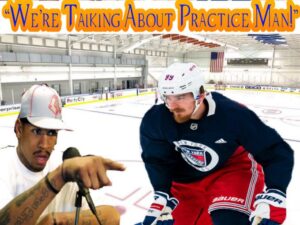 ---
---
---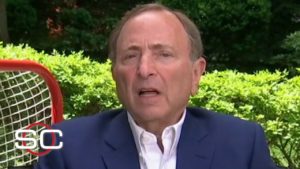 There are a ton of things to get into, when it comes to league news. In fact, it's tough to figure out what's the top story here! Of course, the new Seattle franchise announcing their team name seems pretty big, but the newly named "Seattle Kraken" won't play their first game until the Fall of 2021. For right now, I got tunnel vision on other stories, stories that concern the NHL's soon return to the ice. I'll get into everything Seattle later, as I do have a light-hearted approach to that topic.
To me, the biggest story in the NHL right now, is the fact that all twelve of the Eastern Conference playoff & play-in round teams, are now all safely in Toronto. For what it's worth, all the Western Conference teams are now in Edmonton as well. In other words here, the mini-training camp period is now over. While teams will now practice in their respective hub cities, the "get the rust off" period is now over. The scrimmages are over. The intensity has now been revved up. Quite frankly, shit is real now.
On Tuesday, July 28th, the NHL will host their first set of exhibition games, with Pittburgh & Philadelphia kicking it all off. The NHL, which will hold three exhibition games on Tuesday, wisely spaced them out. After Pittsburgh/Philadelphia, fans will be treated to Montreal vs Toronto. After the battle of the two Canadian Beast of the East franchises, NHL fans will then see the latest chapter in the "Battle of Alberta", as the Edmonton Oilers & Calgary Flames will rough it out.
And oh, as mentioned on a past blog, when I first heard of the NHL doing all-rivalry games for each team's exhibition game – kudos to whoever came up with that idea. What a perfect way to jump-start things and get everything all rolling again. Even better for fans, these exhibition games won't be like your normal preseason game. These teams will play hard. These teams will play their starters. After all, after these one-off exhibition games, that's it. It's all win-or-go home from there. These games are going to be extremely interesting and I can't wait to watch them.
In news related to this, with all the teams now physically present in their respective hub cities, on Sunday, July 26th, the NHL officially announced the rosters for each playoff/play-in round team.  You can read each team's roster here: https://www.nhl.com/news/nhl-rosters-stanley-cup-qualifiers-2020/c-317638524
As far as the Rangers go, there are no surprises, especially if you've been following the team or these blogs in recent weeks. For the sake of posterity, here's the Rangers roster that NHL.com is reporting:
Forwards: Pavel Buchnevich, Filip Chytil, Phillip Di Giuseppe, Jesper Fast, Steven Fogarty, Julien Gauthier, Tim Gettinger, Brett Howden, Kaapo Kakko, Vitali Kravtsov, Chris Kreider, Brendan Lemieux, Vinni Lettieri, Greg McKegg, Danny O'Regan, Artemi Panarin, Ryan Strome, Mika Zibanejad
Defensemen: Brandon Crawley, Tony DeAngelo, Adam Fox, Libor Hajek, Ryan Lindgren, Darren Raddysh, Brendan Smith, Marc Staal, Jacob Trouba
Goaltenders: Alexandar Georgiev, Henrik Lundqvist, Igor Shesterkin
Again, this shouldn't be news to anyone. The only news here is that the Rangers playoff roster is now 100% official.
---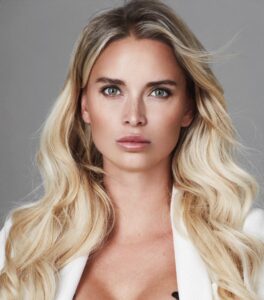 The sibling Chayka's, were on my radar a few weeks ago, when I recapped sister Meghan Chayka's interview on Ron Duguay's "Up in the Blue Seats" podcast. Now, a few weeks later, brother John Chayka is now in the news. Here's the story from https://www.nhl.com/news/john-chayka-out-as-arizona-coyotes-general-manager/c-317637966:
John Chayka quit as general manager and president of hockey operations of the Arizona Coyotes on Sunday and was replaced by assistant Steve Sullivan.
"The club is disappointed in his actions and his timing as the Coyotes prepare to enter the NHL's hub city of Edmonton, where the team will begin postseason play for the first time since 2012," the Coyotes said in a statement. "Chayka has chosen to quit on a strong and competitive team, a dedicated staff and the Arizona Coyotes fans, the greatest fans in the NHL.

"The club is moving forward and has named Steve Sullivan as interim general manager. He has the full support of the entire organization including team ownership, executive leadership, players, and coaches. The club will have no further comment on the matter, as the club remains focused on the opportunity to pursue a Stanley Cup."

Chayka became the youngest general manager in NHL history when he was hired at 26 on May 5, 2016. He was also named president of hockey operations July 12, 2017, and signed a long-term contract with the Coyotes on Nov. 11, 2019.

Among the moves the Coyotes made since Chayka was named GM were trading for forwards Taylor Hall, Phil Kessel, Nick Schmaltz, Derek Stepan, Carl Soderberg, Lawson Crouse and Vinnie Hinostroza, defensemen Niklas Hjalmarsson, Jason Demers and Jordan Oesterle, and goalies Antti Raanta and Darcy Kuemper. They also signed free agent defenseman Alex Goligoski and forward Michael Grabner, and drafted forwards Clayton Keller (No. 7, 2016) and Barrett Hayton (No. 5, 2018) and defenseman Jakob Chychrun (No. 16, 2016).

However, the Coyotes never reached the Stanley Cup Playoffs during Chayka's tenure. Their last postseason appearance was the 2012 Western Conference Final, a five-game loss to the Los Angeles Kings.

This season, Arizona was 33-29-8 (.529 points percentage) and will enter the Stanley Cup Qualifiers as the No. 11 seed in the Western Conference. It will play the Nashville Predators (35-26-8, .565), the No. 6 seed, in a best-of-5 series that will begin in Edmonton, the Western hub city, Aug. 2.

The winner advances to the playoffs, and the loser will have a chance at the No. 1 pick in the 2020 NHL Draft in the Second Phase of the NHL Draft Lottery, scheduled to be held Aug. 10.

The Coyotes will play an exhibition game against the Vegas Golden Knights on Thursday (10 p.m. ET; NHLN, FS-A PLUS, NHL.TV).

"I've got to worry about the team," Coyotes coach Rick Tocchet said July 25. "I'm not an outside noises guy, I don't like outside noises. I cocoon the team here, our players. We had a great practice today and then we'll jump on the plane and we'll see what happens from there. We're just worried about Nashville and how we're going to go to Edmonton and deal with what's there."

Sullivan, 46, was GM of Arizona's American Hockey League affiliate in Tucson for the past three seasons. He scored 747 points (290 goals, 457 assists) in 1,011 NHL games, and 23 points (nine goals, 14 assists) in 50 playoff games.

One of Sullivan's top priorities will be signing Hall, who can become an unrestricted free agent after the season, to a long-term contract. Hall scored 27 points (10 goals, 17 assists) in 35 games for Arizona after he was traded by the New Jersey Devils on Dec. 16.

---
John Chayka released his own statement on Sunday, saying the following:
"The past four years have been the most enjoyable of my life. In Arizona, I became a husband and a father, while working as hard as possible to make the Coyotes a Stanley Cup contender. I love our players, coaches, staff and fans and I very much wish I could be with the team in Edmonton. Sadly, the situation created by ownership made that an impossibility.

That's all I intend to say on this matter for now. A fuller, more detailed explanation may be necessary in the near future. Until then, I wish the Coyotes good luck in Edmonton, and thank every member of Our Pack for the support shown to Kathryn, our daughter and myself over the years. Also, I want to congratulate Steve Sullivan as he steps into a new role. We've worked side-by-side for years. He is a great person and a terrific hockey mind."
As I have been saying throughout this quarantine/"Age of 'Rona" – there's always something to talk about!
I do have this snarky remark – for John Chayka, hired only because of his expertise in the ANALytics field, I wonder if his departure was "EXPECTED"? From anyone from the "EXPECTED" stats world, is Kyle Dubas, another analytical GM, in Toronto, "EXPECTED" to leave next? Har-har-har!
Of course, Twitter being Twitter, decided to troll John Chayka's sister, in the previously aforementioned Meghan Chayka. Here's how she handled one comment:
Also don't tweet/send this to anyone much less a women in sports in 2020.

Thanks. pic.twitter.com/WAlaTe1kxn

— Meghan Chayka (@MeghanChayka) July 26, 2020
For what it's worth, it did seem that John Chayka, despite never making a playoff appearance with the 'Yotes until now, was turning things around there. I'm sure there's a lot more to this story that will trickle out over time.
I do wonder this, and really, we won't know this until the full details of Chayka's departure are made public, will Chayka ever get a GM job in the NHL again? Of course, Chayka is young enough and there will always be GM jobs open around the league. We'll have to get the full story here, before arriving to any conclusion.
For what it's worth, as a Rangers fan, to Mr. Chayka, I say this – thanks for Tony DeAngelo!
---
On Thursday, July 24th, the new Seattle NHL franchise officially announced their team name – the "Kraken". You can read the official press release here: https://www.nhl.com/news/seattle-kraken-nickname-for-nhl-expansion-team/c-317588092
For the jersey buffs that read this site, here is what the Seattle Kraken will be wearing: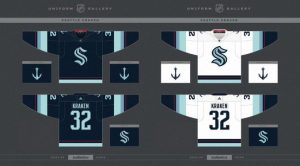 As far as the Kraken jerseys go, I think the jerseys look clean, nice and simple. I also like the attention to detail, with the Space Needle featured at top of the anchor. In a perfect world, the Kraken will have Frasier Crane be their mascot too!
Earlier this year on this site, when the Kraken name was first rumored to be one of the finalists for the Seattle franchise, I said two things. I first said that I thought that Kraken name sounded too "video-gamey" to me, if that reference makes sense. However, I do get it. For marketing and publicity purposes, everyone and every entity (besides seemingly this site!) wants to appeal to the young demographic. The name "Kraken" sounds new and fresh, and does seem like something a younger generation would like. For me personally, and as someone who views themselves as a "traditionalist", this name will have to grow on me. That said, to each their own, and more power to them.
I should also add this too, it seems that someone really loves this Kraken name and logo, as less than 24 hours after the announcement, this photo popped up all over social media:
Not for nothing, I like the two logos blended together like this. In fact, I think this blended logo looks better than either Seattle Kraken logo individually.  However, I think I subliminally enjoy this, because I was a huge Shawn Michaels fan growing up, and the tattoo above kind of looks like his:
Going back to what I originally said, when I first heard that "Kraken" was being considered as a name for the Seattle franchise, the other thing I said at the time, was that this opens up a ton of jokes for people/fans to make. And I'm not saying I was the only person who thought this, because even going back as far as January, I saw other people making the same jokes that I made on this blog at the time, such as:
— The arena will be called the krakhouse.
— The male fans will be known as krakheads.
— The female fans will be known as krakwhores.
You get the idea.
Of course, once Seattle made "Kraken" official on Thursday, aside from all the "SEATTLE GETS THINGS KRAKEN, HAHAHA I AM SO FUNNY GIVE ME A COMEDY SPECIAL ON NETFLIX" headlines, all the "krak-" jokes soon followed. To the latter, I say this – Seattle had to know these "krak-" jokes would be coming. There's no way they couldn't have known this.
What I would like to see, and what I'd like to read, is Seattle's market research when it came settling on "Kraken". There had to be a period of time or some meeting, where the marketing staff told the powers-to-be about the abundance of "krak-" jokes coming their way, should Seattle land on "Kraken". During that time and meeting, whoever was in charge had to make the decision and say something to the effect of, "Who cares? Let them have their silly jokes! After all, any publicity is good publicity!"
While I think the "krak-" jokes will eventually run their course, I'd expect a ton of them to return once Seattle takes the ice. On the flip-side, in what won't look like it will eventually run its course, is the fake liberal outrage about every little thing, cough and fart.
Danny M., an admin over at the NY Rangers Bleed Blue Crew Facebook Group , brought the following tweet to my attention, in regards to some fan reaction regarding the Kraken name:
Of course, here in 2020, the word "Kraken" and any joke you can make about that name, is now "racist". (A word that is now devoid of any meaning or value, as people throw that word around as easily as if they are turning on a water faucet.) To some people, not only is "Kraken" and the jokes you can make about that team name now considered "racist", this Kraken name should also be CANCELED and stricken from the record!
Have I ever mentioned on this site how much I hate cancel culture and all this fake outrage? You can't even make a crackhead joke anymore. Thankfully, I do not care what strangers on the internet think, so I will continue to make my bad jokes, as bad as they may be!
Seriously, any time I see these fake outrage or cancel stories, I feel for the aspiring stand-up comedians of the world. You can't say anything anymore, without having every -ism and -ist thrown at you. The only way to erase the cancel culture lynch mob, is to fight back and not change. Making a crackhead joke is just that – a joke. Learn to laugh people!
Anyway, good luck to Seattle in the future. With my fingers crossed, and hoping the world returns to normal one day, I hope to do a Seattle/Vancouver road-trip during the 2021-2022 season, where hopefully the REIGNING and DEFENDING Stanley Cup Champions, you know, the New York Rangers, visit those cities! LGR!
Speaking of the Rangers, let's get into everything NYR now.
---
There's a bunch of things to get into with the Rangers right now. However, the most important story is what's going on in Carolina, you know the team the Rangers will play in the play-in round of the 2020 Stanley Cup Playoffs.
It's being reported via many NHL news outlets and Carolina Hurricane social media accounts, that defenseman Dougie Hamilton will be unable to play in the upcoming series with the Rangers. You can read more about this story here: https://www.newsobserver.com/sports/nhl/carolina-hurricanes/article244488012.html
Obviously, losing Hamilton is a huge blow for Carolina. For what it's worth, he is listed on Carolina's roster for the playoffs, but due to his injury, he isn't projected to play against the Rangers. Should Carolina defeat the Rangers, Hamilton may be available for later rounds; but that's a scenario the Rangers are trying to avoid.
Compounding matters for Carolina, is that Hamilton's fellow blueliner, in Brett "Don't call me Joe" Pesce, is also banged up and is most likely not available to Carolina for the play-in series with the Rangers.
Previously on this site, I said I wanted to wait until after the exhibition games are completed to give out my series pick and to do a series preview blog. Hamilton & Pesce are examples of why. Until the exhibition games are completed, we won't know who is 100% healthy, who's playing and who's not playing. Furthermore, I also want to see how the teams look in their exhibition games.
I will give you this morsel right now, which isn't much, since you probably know it already. When you try to break down each team, I think you can argue that Carolina & the Rangers are kind of even when it comes to their forwards. Yes, NYR has Mika & Panarin, but Carolina has more depth when you look at each team's four lines, as a complete group. When it comes to the goaltending, I think the Rangers have the clear-cut advantage. In fact, I'll say this here – I rather any one of the three Ranger goaltenders, than whoever Carolina chooses to start in net.
When it comes to defense, Carolina has one of the best defensemen sextets in the league. Now, with both Hamilton and Pesce out, who is going to stop the Rangers? Brady Skjei? As the great Andre from "The League" once said – "CHILD PLEASE!"
Before getting into the Rangers practice news, there a few quick things to bring to your attention here.
Up first, it's being reported that Lias Andersson has committed to the SHL's HV71 for the 2020-2021 season. Who cares? As I've said in the past, I'm over Andersson. May he enjoy his time with COVID-71. Not everyone is cracked out to be an NHL player. (Oh no, I used the word cracked! HOW OFFENSIVE!)
In news that made a turtle head touch cotton for me, there is a rumor about Vinni Lettieri being in his final days with the Rangers. According to https://swisshockeynews.ch/index.php/shn/11-swiss-ice-hockey/nla/20002-maxwell-might-stay-in-langnau-sc-bern-interested-in-lettieri , a site that I don't know if it has much credibility or not, but it seems to be legit enough, is reporting the following:
As for SC Bern, it appears that Alex Chatelain, former team manager of the Bears and now strategic sports director and head scout, has been gathering information on Vinni Lettieri. The right-handed right winger from Minnesota has been part of the New York Rangers' organization for the last three years. Last season, the 25-year-old suited up 61 times for the AHL-affiliate of the Rangers, the Hartford Wolf Pack, collecting 47 points.
All I can say is this. While that report may be true, in regards to SC Bern scouting Lettieri, that doesn't mean he'll go there. From what I know, and from what I can surmise, I don't think Lettieri is frothing at the mouth to play in Europe. I think, and really KNOW, that it's Lettieri's goal to play in the NHL.
From a Rangers front-office perspective, despite my extreme fandom of Lettieri, I think the Rangers have the advantage with Lettieri, in regards to Lettieri's future in the NHL, come this off-season; whenever it may be. That said, while Lettieri had a great season in Hartford (he was even named an All-Star) he didn't play in the NHL this year. However, with the salary cap remaining flat and with teams looking for affordable players, perhaps Lettieri can remain with the Rangers or latch on with another NHL team for a million bucks or less.
And yes, I know, Vinni Lettieri and his contract status is one of the Rangers least of concerns this off-season, especially with guys like Ryan Strome, Tony DeAngelo, Brendan Lemieux, Alexandar Georgiev, Jesper Fast and others all needing attention. And there's that Henrik Lundqvist decision to be made too.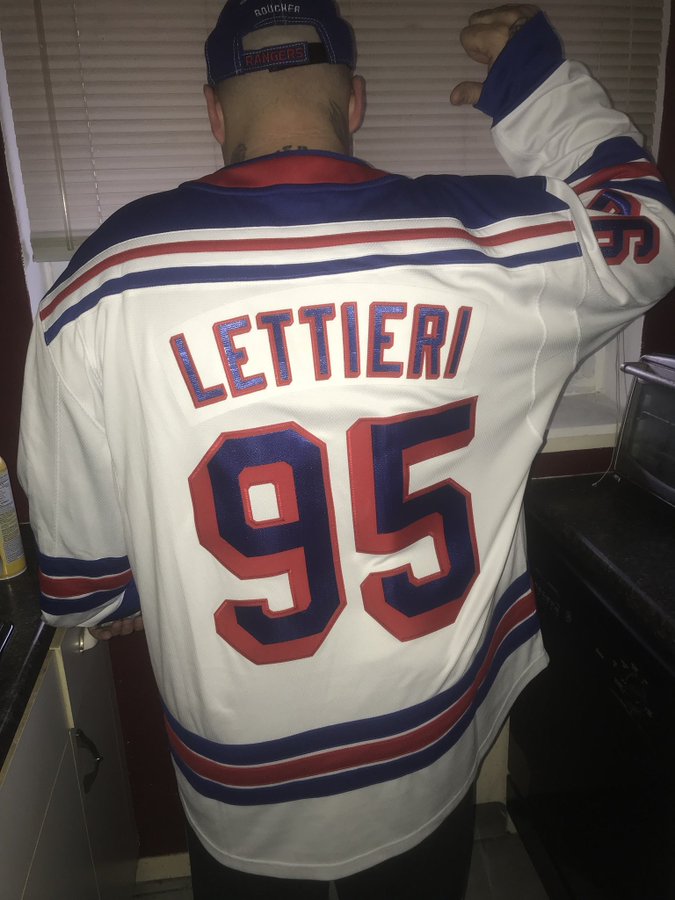 Since my last blog here, which was the fourth blog in as many days, and as all linked up top, the Rangers have held two practices and one scrimmage. You can watch all the post-practice/mini training camp session interviews here: https://www.youtube.com/c/nyrangers/videos
As far as all the practice stuff goes, this stuff is starting to me bore me to tears. I think the NYR lame-stream media are just inventing stories. However, as I opined and stated previously – I don't blame them. I get it. You have to talk about something and fill up that white space on your monitor somehow. Even when I did my blog last week, recapping all the practice stuff, it felt like a chore to write. Plus, as mentioned before, half of these stories by the NYR lame-stream media are stories of nothing, such as "KAKKO QUICK", "K'ANDRE BIG", "BUCHNEVICH BEARD!"
Thankfully, this mini-camp is now over and the real stuff is now here.
If there was anything that came out of the practices that's worth talking about right now, while David Quinn has stated he won't announce his starting goalie until 8/1, through his actions, we learned a bit more about what he's thinking.
In the Rangers final practice in NY, which occurred on the morning of Sunday, July 26th, Alexandar Georgiev practiced with the "black aces"/extra skaters of the team. (Can you say "black aces" in 2020?)
Again, I know I've said it 79667956767575685 times already and I'll say it one more time here – even if Georgiev had a mini-camp that was the second coming of Dominik Hasek, while Lundqvist & CZAR IGOR had a training camp that rivaled Rick Dipietro in his final days, Georgiev never had a chance at this thing. While I think he should be the back-up goalie, for all the reasons I've previously said on this site, I just never envisioned it actually happening.
With Georgiev practicing with the extras, that left CZAR IGOR & Lundqvist with the players who will be playing in this series with Carolina. In addition, in the Rangers third and final scrimmage of mini-camp, it was CZAR IGOR playing the full 60 minutes in one net, with Lundqvist & Georgiev sharing the other net.
While I understand DQ's strategy of giving the illusion of not showing all of his cards here, based on what we know from the mini-camp, CZAR IGOR will be the guy. I think we'll get a better understanding of what DQ will do, come Wednesday night, during the exhibition game with the Islanders. While Quinn could give each goaltender a period or perhaps just split the game between CZAR IGOR & Lundqvist, it's probably in the Rangers best interest to have whoever the starter will be (again, probably CZAR IGOR) go the full game. Whoever the starting goalie will be come 8/1, should play the full 60 minutes, in an attempt to get their legs under them and get the feel for a full 60 minute game again.
Moving forward, in what will hopefully be many weeks in Toronto for the Rangers, the Rangers are scheduled to practice on Monday & Tuesday. From there, it's the exhibition game with the Islanders. After Wednesday night's tilt with NYI, the Rangers are expected to have off Thursday, followed by a light practice on Friday. Then, as we all know, come Saturday, August 1st, the greatest playoffs in all of sports begin, with the Rangers & Hurricanes kicking the whole shebang off. BRING IT!
If you've been following the Rangers YouTube channel, as I linked above, it's a nice collection of interviews with DQ & the players. I don't think there's really much "news content" with these interviews, but you do get the general consensus that everyone is excited to return and to play. That's something.
Switching gears now, let's talk about a topic I've been talking ever since the pause – the Steven McDonald Extra Effort Award.
---
As mentioned a zillion times here, the Rangers and the NYPD have a great relationship. On Thursday, July 30th, the Rangers & the NYPD will keep a tradition alive, when the Rangers announce the winner of this season's Steven McDonald Extra Effort Award. As I've been campaigning for this whole summer, I think it would've been cool to announce the winner, prior to the flight to Toronto and before the playoffs. However, the award will be given out after the exhibition game with the Islanders. I guess this isn't half-bad!
I don't know how the Rangers plan on giving out this award, as the team is scheduled to be off on that Thursday. Furthermore, unless something was prerecorded already, I don't see Conor McDonald, the son of Steve McDonald, being in Toronto either, meaning he won't be there to give out this award. Whatever the case, it's just nice to see that the award will be given out. And yes, as mentioned, I don't see how anyone besides Artemi Panarin, can win it.
---
On Saturday, July 25th, ex-Ranger Eddie Shack passed away. He was 83 years old at the time of his death. While Shack was known for his days with the Leafs, he was originally a Ranger, during a terrible time in Rangers history. In fact, Shack's Ranger teams were so bad, that when the Rangers tried trading him for future Hall of Famer & eventual 8 time Stanley Cup champion Red Kelly, Red Kelly outright refused the trade and decided to retire. (Red Kelly would eventually "un-retire" and would continue his HOF career.)
After Kelly voided the deal which would've sent Shack to Detroit, Shack would ultimately go to the Leafs the next season, in a trade where the Rangers acquired Johnny Wilson & Pat Hannigan. The Leafs would win this trade, and so did Shack; as Shack and the Leafs went on to win four Stanley Cups. In fact, Shack is still part of the last Leafs team to win a Cup, back in 1967.
Shack, who was one of the more entertaining players in the league during his day (prior to his death, in his autobiography, he thought his mouth cost him a shot at the HOF) received a complete obituary over on NHL.com. You can read the full story here: https://www.nhl.com/news/eddie-shack-passes-away-age-83/c-317635794
RIP to the man who made the mustache famous in the NHL.
---
This upcoming week will be a busy week, as we approach August 1st, the start of the NHL playoffs.
Moving forward on this site, I don't see much happening on Monday, as the Rangers get themselves acquainted to their surroundings and new temporary life in Toronto. However, come Tuesday, while we pretty much know it already, we may get DQ's line-up for the exhibition game on Wednesday. Also on Tuesday, the Blueshirt Underground Show are recording their next (and live) episode.
With the Tony DeAngelo podcast on hiatus, there won't be another "Watch Your Tone" podcast recap here, until hopefully mid-October. However, Ron Duguay and his "Up in the Blue Seats" podcast will continue to roll, as I believe they are doing a Rangers/Carolina series preview on Wednesday. I plan on recapping/reviewing the Rangers/Islanders game on Wednesday night, so the Duguay podcast recap may not be as detailed as usual, unless he delays his podcast to Thursday. (In the past, he's moved his podcast a day back, just so he can cover a big event.)
On Thursday, we'll know the winner of the Steven McDonald Award. I'll have a blog about that and that's where I'll do my Rangers/Carolina series and NHL playoff preview stuff. Friday, it's one more Rangers practice and the last day for any big news or notes. After that, Saturday starts the playoffs and we will be rocking and rolling from there.
If you haven't already, subscribe to this blog for the next update: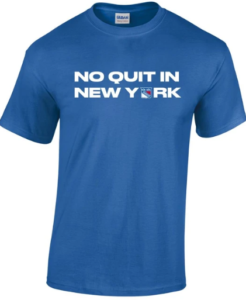 At this time, and as we close out here, I want to thank my webmaster. As she knows, I enjoy writing these blogs, but I hate doing all the webmaster stuff. I just want to write these 10k word missives, and not be bothered with all the tech shit!
Due to heavy traffic (which is partly due to more people reading these blogs and because of my more frequent activity here, which is due to being home more often than any other period in my life) this site kept crashing time and time again, during these recent summer months. This also meant long loading times for some readers. I'm happy to tell you now, that we've moved to a bigger server that can accommodate everything, and in turn, everything should load faster and there should be no more site crash issues.
As far as the next blog, if you subscribe by clicking the form above, you'll get that bad boy delivered to your email box.
RIP Brock Cameron Beck, Regis Philbin and Eddie Shack.
As always, thanks for reading and…
"WHY NOT THE RANGERS?!?!"
LET'S GO RANGERS!
Sean McCaffrey
BULLSMC@aol.com
@NYCTHEMIC on Tweeter and the new Parler app