Greetings and salutations everyone and welcome to another blog here on BlueCollarBlueShirts.com. That's right, my third blog of the week already, and I haven't even got to my usual Wednesday night blog, where I recap the Ron Duguay "Up in the Blue Seats" podcast! If you take anything out of the frequency of these recent manifestos, there are two things that you should notice.
First off, I got too much free time on my hands. But hey, blogging has never killed anyone! It's not like I'm spending my free time using drugs, rioting, looting or creating anarchy. Then again, I'm also not using my free time to cure cancer here either, nor am I an "essential worker", so maybe the self-pat on the back should be put on hold! Of course, I should be working on my book right now, but that can wait, as that's a passion project.
The second thing to take away here, and really, the most important takeaway here, is this – I'm beyond pumped for the Rangers and for the NHL to return. I'll say this, if the Rangers are three and out, come the start of the playoffs/the play-in round, I'll be crushed. Of course, none of this is life or death and there are much bigger problems in this world right now. There are a lot of people out there that have it worse than I do and for them, the least of their concerns and worries is about a hockey team. I am lucky that worrying about the Rangers is one of my biggest concerns in life.
That said, if the Rangers treat the playoffs as an advertiser of the Rangers, in the "Pines Motor Inn", meaning a short stay, it's going to be another four months without Rangers hockey again. And if that happens, the optimist in me says this – at least I got the Yankees!
Oh and I should also give you this warning – this blog will be another long one. Truth be told, whenever you see a long-ass blog here, that means I'm really pumped up and invested in what I'm talking about!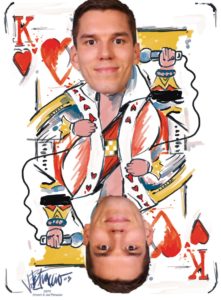 Off puck drop here, I'd like to thank everyone for all the comments I received about my last blog, where I recapped the entire 2019-2020 NY Rangers season and how that roster came to be. Like this blog you're reading now, I know that blog was a mission to read! It's amazing how I can do 10,000 words a blog, and then the very next day, there is still so much to talk about. I guess that's a good thing!
In tonight's blog, I'll have all the latest news updates from Rangerstown, USA, with of course the biggest update being Artemi Panarin officially being nominated as one of three finalists for the Hart Trophy. (The league's MVP in the eyes of the writers/media.)
After that, I shall present to you, my "2019-2020 Regular Season NY Rangers Final Report Card". I should also tell you, since I'm always honest with you guys, that I wrote a mid-season report card back in January of 2020. There wasn't much that changed from January until March 11th, when the Rangers played their last game. However, since the report cards are an annual feature here, I figured I should at least do something this year too. I'll also tell you here, that if you didn't check out my last blog, that blog is a perfect companion piece for the blog you're reading now.
And hell, while speaking of my last blog, what a perfect segue-way to the PLUGS section of tonight's blog. For my regular readers here, say it with me – "in case you missed my last few blogs, here they are, linked below:"
---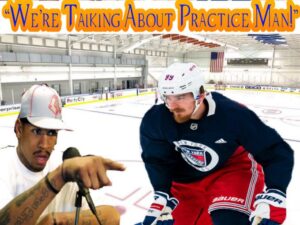 ---
---
---
---
On Tuesday, July 21st, the NHL announced the three finalists for the 2019-2020 Hart Trophy. As expected, the three finalists were also the three finalists announced for the Ted Lindsay Award last week. Those three players are Leon Draisaitl (Edmonton), Nathan MacKinnon (Colorado) and of course, the Rangers very own Artemi Panarin.
Here is what the Rangers had to say about this Panarin nomination, for the top individual award of the league, courtesy of https://www.nhl.com/rangers/news/artemi-panarin-named-finalist-for-hart-trophy/c-317552774?icmp=web_nyr_article_dl :
The National Hockey League announced today that Rangers forward Artemi Panarin has been named a finalist for the Hart Trophy, which is awarded annually "to the player adjudged to be the most valuable to his team." Panarin, who is also a finalist for the Ted Lindsay Award as the "most outstanding player in the NHL" as voted by fellow members of the National Hockey League Players' Association (NHLPA) in 2019-20, is the first Ranger who has been named a finalist for the award since Henrik Lundqvist in 2011-12, and he is the first Rangers skater who has been named a finalist for the award since Jaromir Jagr in 2005-06.
Panarin skated in 69 games with the Rangers this season, registering 32 goals and 63 assists for 95 points, along with a plus-36 rating and 20 penalty minutes. He established career-highs in several categories in 2019-20, including goals, assists, points, and plus/minus rating. Panarin led the NHL in even strength points (71) and even strength assists (46) this season. Since the NHL began to track points by strength (even strength, power play, shorthanded) in 1933-34, Panarin was the fifth Ranger to lead the NHL in even strength points and the seventh Ranger to lead the NHL in even strength assists, and he was only the third Ranger to lead the NHL (or tie for the NHL lead) in both even strength points and even strength assists in the same season (Andy Bathgate – 1955-56; Jean Ratelle – 1967-68). Panarin also led the NHL in 5-on-5 points (59) and 5-on-5 assists (38) in 2019-20.

Panarin ranked second in the NHL (and led NHL forwards) in plus/minus rating, tied for second in the NHL in assists, tied for third in the NHL in points, tied for 13th in the NHL in goals, and ranked 16th in the NHL in takeaways (56) this season. He tallied a point in 54 of the 69 games he played during the 2019-20 season (including 28 multi-point games), and he also registered a point in 34 of the Rangers' 37 wins during the season. Panarin posted a plus-40 on-ice even strength goal differential in 2019-20 (he was on the ice for 89 of the Rangers' goals at even strength and was on ice for 49 of the Blueshirts' goals against at even strength during the season). He led the NHL in on-ice even strength goal differential during the season, and the plus-40 differential was tied for the sixth-best an NHL player has recorded since the league began to track the statistic in 2009-10. Panarin was on the ice for 128 of the Rangers' 233 goals in either regulation or the five-minute overtime period this season (54.9%).

Panarin was the only NHL player who recorded 95 or more points and a plus-35 rating or better this season. He was the first NHL player who registered at least 95 points and a plus-35 rating or better in the same season since 2009-10 (Alex Ovechkin, Henrik Sedin, and Nicklas Backstrom). Panarin was also only the fourth Ranger in franchise history who recorded 95 or more points and a plus-35 rating or better in the same season in franchise history; the only other three players who have done so with the Blueshirts were the three members of the 'G-A-G Line' (Vic Hadfield, Jean Ratelle, and Rod Gilbert) during the 1971-72 season. Panarin was one of only two NHL players who recorded at least 95 points and was assessed 20 penalty minutes of fewer in 2019-20 (Leon Draisaitl). In addition, he was not assessed more than two penalty minutes in any of the 69 games he played this season. Panarin's 2019-20 season was the 40th individual season in NHL history (and the 19th by a player listed as either a left wing or a right wing) which a player registered 95 or more points while being assessed 20 or fewer penalty minutes.

Panarin's 71 even strength points this season were tied for the fourth-most by a Ranger in one season in franchise history (tied with Jaromir Jagr in 2005-06). The only Rangers who recorded more even strength points than Panarin in one season were the three members of the 'G-A-G Line' during the 1971-72 season (Ratelle – 82; Gilbert – 74; Hadfield – 72). In addition, Panarin's 46 even strength assists this season were tied for the most by a Ranger in one season in franchise history (Mark Messier – 1991-92; Wayne Gretzky – 1996-97). Panarin's 95 points this season were the 12th-most in one season by a Ranger in franchise history, and his 63 assists were tied for the 12th-most by a Ranger in one season in franchise history. Panarin's 63 assists were also the most by a left wing in one season in franchise history. He was the first Ranger who registered either 63 or more assists or 95 or more points in a season since Jaromir Jagr in 2006-07 (66 assists and 96 points). Panarin averaged 1.38 points per game this season, which was the fourth-highest points per game average in one season (min. 40 games played) in franchise history (Jean Ratelle – 1.73 in 1971-72; Jaromir Jagr – 1.50 in 2005-06; Frank Boucher – 1.48 in 1929-30).

Panarin won the Calder Trophy as the NHL's Rookie of the Year in 2015-16 and was also named to the NHL's All-Rookie Team as a member of the Blackhawks. In addition, he was named to the NHL's Second All-Star Team at Left Wing in 2016-17 with Chicago.

Four Rangers have won the Hart Trophy in franchise history (Buddy O'Connor – 1947-48; Chuck Rayner – 1949-50; Andy Bathgate – 1958-59; Mark Messier – 1991-92). O'Connor and Messier each won the award in their first season with the Rangers.

---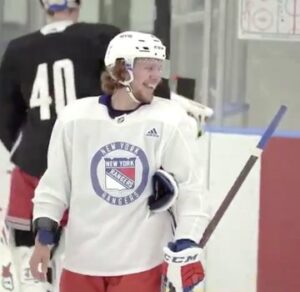 When it comes to Panarin's Hart Trophy nomination, I really don't have anything new to add here. After all, I pretty much talked about it all in-depth already, when I talked about Panarin's Ted Lindsay Award nomination last week. You can read that blog here: https://bluecollarblueshirts.com/71620/
All I'll reiterate here, is that I think Panarin has a better shot at the Ted Lindsay Award, as opposed to the Hart Trophy, as usually the players vote for a player's true worth to a team, rather than pure stats and where a team is in the standings. I think Draisaitl, because of his numbers, will win the Hart. I hope I'm wrong! I'd love to see Panarin sweep both MVP's this season!
It's also worth mentioning, how usually, in the majority of cases, Hart Trophy finalists are always players on a playoff team. If the Rangers had missed the playoffs this year, under a normal 82 game schedule, Panarin may have not been a finalist for the Hart Trophy. As a result of the pandemic, Panarin is in the playoffs and he is now a Hart Trophy candidate.
The only thing left for Panarin, as he caps off his career year in New York? To have a playoff run that is the complete opposite of another former Columbus Blue Jacket, that previously became a big name NYR acquisition, in a one Rick Nash!
Congratulations to "The Bread Man".
---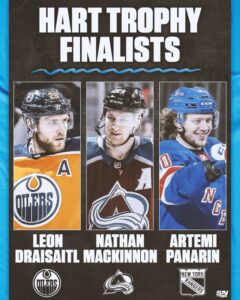 I know this is a super-long blog tonight, so I just wanted to do some quick rapid-fire here, in recapping the news, before getting into the main event feature of tonight's blog. Here we go:
— Pavel Buchnevich is already back skating and practicing with the team. As I opined several blogs ago, I thought his status was a really a non-story, that others made bigger than it actually was. Anyway, he's back and lining up on the Rangers first line, along with Mika Zibanejad & Chris Kreider.
— While we pretty much know the line-up Quinn is going to use for the playoffs, it seems like Libor Hajek will be the team's seventh defenseman, while Steven Fogarty will be the team's 13th forward.
— I brushed on this last blog, but just to put it out here again, Brendan Lemieux will be serving a two game suspension once the playoffs start on August 1st. It's up to the bottom six forwards to really shine here in his absence. After all, if the Rangers take a 2-0 series lead, why tinker with what's working? On the flip-side, if the Rangers go down 0-2 or even if they are 1-1, Lemieux should slip right back into his spot on the roster.
— All of the NYR reporters, some of the players and David Quinn himself, are all raving about K'Andre Miller. As talked about several blogs ago, it's a shame he can't join the Rangers for the ride. I just don't see what's the point in teasing all of these non-roster invites. In the Era of 'Rona, you would think the league would want as many players as available as possible.
— Despite teasing it on Sunday, David Quinn has not announced his starting goalie for the 2020 playoffs… yet. For what it's worth, on practice on Tuesday, CZAR IGOR once again manned the starter's net, while Lundqvist & Georgiev split time in the back-up net.
— Gord Murphy, promoted from Hartford to fill the void after Lindy Ruff left to join the Devils, is assuming Ruff's role with the team, including leading the Rangers penalty kill. While it remains to been seen if he's Ruff's permanent replacement, come the 2020-2021 season; for now, he's the new Lindy Ruff.
That pretty much up wraps up the news. For those looking for more, you can watch David Quinn's press conference from Tuesday here:
And lastly, before jumping into the report card, all I want to say here is what a great week it was in Rangerstown, USA! In just seven days time, we found out that Panarin is now a finalist in two separate MVP races. Henrik Lundqvist is using his celebrity to create good vibes for the NYPD. Every Ranger is healthy and there are no positive COVID-19 tests. The Rangers finally opened up the Steven McDonald Extra Effort Award voting. DQ & JD look extremely focused. The team is displaying amazing chemistry. The only thing left for these 2019-2020 New York Rangers? To win the Stanley Cup!
Without further ado, REPORT CARD time!
At this time, let's go to the 2019-2020 New York Rangers Regular Season Final Report Card. For those new here, let me share with you how I came to each grade.
When it comes to giving out grades, here's the criteria I used, which is the same criteria I've been using ever since doing these report card blogs:
Grades are given out based on production, playing to their role on the team and to the contract of a player. If you're a regular reader of this site, you know how I feel already. I believe that salary cap hits of players is something that also belongs on the back of these player's trading cards.
For example, I expect less from a fourth line player, which is usually a player making a minimal salary, in someone like a Greg McKegg. I expect a lot out of a player like Artemi Panarin, a player that is making mega-bucks. After all, we are playing in a salary cap world, where teams are constantly giving up quality players, even players they drafted, to compete.
To ignore the cap hit of a player would be foolish, which is why they are considered in these grades. Keep in mind, as I reiterate this point again here, to me, the salary cap hit is a stat that belongs on the back of a hockey card, here in this new era. When it comes to building NHL rosters, GM's look at cap hits first. They aren't worried about Corsi's or whatever nerd stat Valiquette has pulled out of his ass this week.
Players who have played less than 10 games with the team, players who have been traded and players who were sent down to Hartford, are all listed in the "Incomplete" section.
I also want to say here, these grades are just my opinion only, so don't get so bent out of shape about them. I'm grading players, that due to a pandemic, have qualified for the playoffs. That said, these Rangers are still a rebuilding team. And I fully admit here, even if other bloggers, podcasters, fans or whoever else won't admit this – when it comes to making lists or report cards like this, all of this is used to drive debate. None of my opinions here are the end all, be all. I'm just having fun talking about the Rangers. In no way, shape or form, am I saying my grades here are the only thing that matters. In fact, I encourage you to challenge me on these grades!
When I did my mid-season report card back in January, the Rangers played five more weeks, before having the regular season paused and then ultimately completed on them. For the sake of posterity and to give you my thoughts from January, I'm including my comments from the mid-season report card in this blog, in italics. After my mid-season comments, I'll give you my final comments too.
I'll say this, even though five weeks is a short amount of time, I thought that many Rangers improved their stock as the season went along. Two players that weren't at an A+ level to me in January, but finished with an A+ grade by the season's end? Tony DeAngelo and Mika Zibanejad.
Furthermore, the Rangers added some players after I wrote this mid-season report card, in most notably, CZAR IGOR. I included all the new additions at the end of this report card, just to highlight these players better.
With all of this preamble finally over, I present to you, "The 2019-2020 NY Rangers Final Report Card!"
FORWARDS
PAVEL BUCHNEVICH. GRADE: B-
In my mid-season report card, written in early January, I said this: "It would be easy to give Buchnevich a grade lower than C-, such as a D or D+, but I think when you look at his production on this team, a grade of a C or under is fair. After all, he is sixth on the team in scoring, with 23 total points.
The criticisms of Buchnevich are well known. He doesn't shoot at open nets. He is scared of contact. He fogs out. He always looks like he's about to cry. I'm hoping that his game in Vancouver, the last Rangers game, becomes the new norm, as I thought that was his best game of the season.
When I look at Buchnevich, he reminds me of the final scene of "Saved By The Bell", where Mr. Belding tells Zack Morris that he knows that Zack has all the potential in the world and he hopes to be alive one day to see it.
I wonder what the league interest in Buchnevich is at, because 9/10 games, I think the Rangers would be better off without him."
As the season progressed, I thought Buchnevich improved. He wound up being fifth overall on the team in points, with 46. He was also fifth on the team for goals scored, with 16. Had the season played out under normal conditions, he may have hit 20 goals and 50 points, which for all intents and purposes, would've been a good season for him.
Away from his point totals, Buchnevich also showed some fire, especially when he went after Brad Marchand during a Sunday matinee game. At times, while I don't think the Rangers would miss Buchnevich, when he's on, the Rangers surely appreciate Buchnevich. I see his career trajectory ticking upwards. I also think he's more comfortable with what he's doing. I think he and head coach David Quinn, started off perhaps a bit rocky, but I think the two now appreciate each other more, at the present date.
---
FILIP CHYTIL. GRADE: A-
In my mid-season report card, written in early January, I said this: "When you see A-, keep in mind, I'm factoring in contract situations. At under a million bucks, Chytil has been great since being called up by the Rangers this season.
While getting a late start with the Rangers this season, due to playing in Hartford at the start, Chytil didn't mope around like his 2017 draft counter-part, in Lias Andersson. Instead, Chytil lit it up in Hartford, thus earning his promotion. In 32 games played with the Rangers, he's fifth on the team with goals, with 10. And that's coming while playing on the third line.
A few times this season, we've seen Chytil's sniping ability, such as in the game in Nashville. If there is anything concerning about Chytil, it seems like he gets crushed a lot. While that doesn't effect his grade or anything, and he has come back to play in each game after getting dinged up, I just hope he's able to stay healthy for the remainder of the season.
When you look at this rebuild and when you look for progression, Chytil is trending upwards. This is great news."
I thought Chytil continued to play well as the season made its way to its eventual conclusion. Chytil had 14 goals in 60 games played. If he was here from day one, and had the season had featured its scheduled 82 games, who knows, maybe Chytil finishes with 20 goals?
While I'm not here to deal with a hypothetical, I thought Chytil continued to grow this season. In fact, I think he can be a sneaky dark-horse scorer for the Rangers, once these playoffs commence. Of the bottom six forwards on the Rangers right now, Chytil presents the most upside, at least in my opinion.
---
JESPER FAST. GRADE: B
In my mid-season report card, written in early January, I said this: "Jesper Fast is a tricky player, when you look at his future with the Rangers. He will be 29 next season and will be free agent this summer. How much money (and years) is this defensive forward worth?
Jesper Fast, not really known for his scoring, still has six goals this season, while bouncing around Quinn's four lines. He's a big asset on the penalty kill. He's also a great locker room guy, which is why it feels like he wins the "Player's Player" award every season.
When assessing players, sometimes you have to throw out the fact that they are a Ranger. How much would another team covet Fast? Is Fast replaceable for the Rangers? I think Fast would fit in great on a playoff team, as defense wins many games and Fast has plenty of that. For the Rangers this season, Fast has been up to snuff as usual. Quinn seems to like him too, by using Fast's defensive set to complement Strome and Panarin."
To go to a point I brought up in the mid-season report card, I still don't know what Fast is worth on the open market. These playoffs will be a great chance for Fast to maximize his worth. Fast finished with 12 goals and 17 assists this season, which aren't bad numbers for a defensive forward. I think Quinn also trusts him a lot, hence Fast being bounced all over the line-up. Come the playoffs, I would expect Fast to get a ton of minutes, as he's one of the few Rangers with playoff experience and not prone to turnovers.
If anything hurts Fast, from a future contract perspective, it is that his numbers aren't "sexy". However, NHL GM's know what Fast brings to the table. I thought he had another solid year for the Rangers during the 2019-2020 season.
---
MICHEAL HALEY. GRADE: D
In my mid-season report card, written in early January, I said this: "Truth be told, I feel bad giving Haley "the D" here, because after all, he's only played 18 games this season and was already waived once. Furthermore, when he does play, he is rarely on the ice for five minutes a game. That said, what does Haley do for this team? Eat ice time? Have a fight here and there? The Rangers have guys like TDA, Lemieux, Lindgren and Smith, who don't mind throwing down. Is keeping Haley on this roster worth it? Evidently not, as the Rangers did try to get rid of him once.
The biggest issue about Haley isn't about what he does on the ice. It's about the players who could be with this team now. Maybe if Lettieri, Gettinger, Kravtsov or whatever forward you like from Hartford, would be better suited with the team. Perhaps that player would allow Quinn to roll out four lines, thus not tiring out his top stars in third periods. As I've been saying since day one, Haley is a one & done Ranger."
After writing my mid-season report card, Haley never played again with the Rangers. He was a healthy scratch for nearly every 2020 game, prior to his injury. In early February, he went to the injured reserve list, as he went under the knife during surgery, in addressing a bilateral core muscle injury.
Haley was pretty much a non-factor for the Rangers this season, and as I opined on previous blogs during this season, I don't envision him ever playing for the Rangers again. That's not a knock on him either, it's just the way it is.
---
BRETT HOWDEN. GRADE: C
In my mid-season report card, written in early January, I said this: "If there is one great thing you can say about Howden, he does play hard. To me, he's still a work in progress and a player Quinn wants to invest in.
What Howden also has going for him, is that when playing with Kakko, Kakko has had his best games on Howden's line. Entering the second half of the season, Howden has 5 goals and 6 assists. He also has a +/- of -8. I know the plus/minus stat isn't as valuable as it used to be and the number can be off (guys jumping on the ice last second while a goal is scored get a minus, just like guys jumping on the ice while a goal is scored earn a plus) but it does feel like Howden is on the ice for a lot of goals against the Rangers.
Like many on this roster, Howden isn't in his prime yet and the Rangers hope the best days are yet to come."
Howden is a tough Ranger to figure out. He's definitely a player that fits a rebuild. At the same token, he hasn't really stood out either. While Howden will have a good game here or there, it's not like he's ever a major force, nor is he designed to be either.
Howden finished up the season with 9 goals and 10 assists, but with the opportunities he had, he should've at least had 12 goals and 15 assists. Maybe this is nit-picking here. After all, I wouldn't write Howden off at all, but there is certainly room for improvement.
---
KAAPO KAKKO. GRADE: C
In my mid-season report card, written in early January, I said this: "This is a tough one. How do you talk about the person who is supposed to be the crown jewel of the organization? Kakko is still a teenager, learning a new language, a new country and also has to battle Celiac Disease, which effects his day-to-day life.
It's up for debate if Kakko should've started off this season in Hartford. Obviously, he did decent in his one game at Traverse City and had an okay preseason. As the #2 pick of the 2019 draft, the Rangers fast-tracked him right to the NHL. Instead of perhaps starring in Hartford, Kakko the kid has had to learn the ropes and at the highest level possible.
Kakko has 9 goals and 16 assists this season. He also has a ghastly +/- of -15. That makes you question his defense a bit. We already know he can play offense, and we have seen some rookie mistakes while puck-hogging during games.
Again, this is tough. What did you guys expect from Kakko going into this season? 20 goals and 30 assists? Kakko might surpass both those numbers this season, so offensively, he's heading in the right direction. Keep in mind too, Kakko missed a few games this season as well. If anything, perhaps when looking at Kakko, you have to forget about how other top lottery picks have performed in their rookie years. It's about the future and not the now. However, saying that, doesn't that come off as trying to find something positive to say? I think many people had Elias Petterson like expectations for Kakko."
Kakko finishes his rookie season with 10 goals, 13 assists and an eye-opening plus/minus stat of -26, in 66 games played. I said at the mid-season report card, that many fans would've liked a 50 point season from him, totals that probably wouldn't have been reached, had the Rangers played the full 82 games.
We all understand that Kakko is a rookie, new to North America and battling Celiac Disease. We all get that. However, as the second overall pick of the draft, Kakko was just another guy this year. Of course, his potential is sky-high and this season were just baby steps. It's not like he's Lias Andersson! That said, when you look at the other rookies on the Rangers this year, Kakko had the worst season of all the rookies. I mean, you can't compare what Kakko did this season to either Adam Fox or Igor Shestyorkin; a Shestyorkin that's not even considered a rookie due to the limited games he played.
I do want to be clear here – this is not me writing Kakko off here. However, I don't think anyone can be too rah-rah about his 2019-2020 season. However, if he can have a good playoffs, feelings and vibes will change tremendously.
---
CHRIS KREIDER. GRADE: B
In my mid-season report card, written in early January, I said this: "As I've been saying for the last several seasons and as I'll say again now, Chris Kreider is the most frustrating Ranger to watch and you never know what you'll get out of him. There are games where he just dominates in and you notice him on every shift. Then there are multiple games in a row, where you don't notice him at all. You have to check the box score to see if he even played.
As we all know, Kreider turns 29 in 2020 and will be an unrestricted free agent this summer. Will he still be a Ranger after the 2020 trade deadline? My opinion is no. That said, as I've said all season, I see both sides, in keeping him and for trading him. I know that sounds wishy-washy, but as I write these words and after watching that JD interview from last week, I don't even think the Rangers know what they are going to do with him.
Heading into the trade deadline, with Taylor Hall off the board, Kreider is one of the most valuable rentals out there. He has 12 goals and 14 assists, but if you're a scout, you know those numbers are inflated a bit, as Kreider has scored 1/6 of those goals in one game against a Ducks team that dressed an AHL roster. Very rarely, do you see CK20 take over a big game against tough competition.
With the Rangers pretty much out of the playoff mix, expect more talk about Kreider's contract. I expect we will have another Zuccarello & Hayes situation with Kreider, come February/March of this year."
I'll tell you what, if you read my blogs from after the Western Canada road-trip, I was really down on the Rangers playoff chances. And as stated last blog, I don't know if the Rangers would've made the playoffs, if it weren't for the pandemic.
That all said, once the Rangers got back to NY after that trip to Canada, the Rangers called up CZAR IGOR and in turn, the Rangers played their best hockey of the season and even went on a 10-2 run.
I fully admit to flip-flopping on Kreider all season. When I wrote the mid-season report card, I totally could see why the Rangers would trade him. However, and why it happened, I don't know. But I do know this – once the calendar turned to 2020, Kreider became a new player. By the time the trade deadline approached, I was all-in on the Rangers re-signing him and showing him the money. I'm still a fan of this contract. That said, I know it's hard to ignore Kreider's "Casper"/ghost past too.
I don't think anyone can figure out Kreider, but I do believe this – the Rangers are better off with him, than without him. For Kreider and the Rangers, Kreider must keep whatever switch he had during 2020 fully on, as the Rangers approach these playoffs and in seasons beyond.
As I said in my mid-season report card, I didn't think the Rangers even knew what they were going to do with CK20 at the deadline, until that date arrived. I'm glad he's still here.
Kreider had a much better second half of the season, even representing the Rangers in the All-Star Game. (Replacing an injured Panarin.) Unfortunately, just days after signing his new deal, Kreider went down with a fractured foot. Fortunately for both he and the Rangers, Kreider will be 100% for the playoffs.
---
BRENDAN LEMIEUX. GRADE: B
In my mid-season report card, written in early January, I said this: "Unfortunately, Lemieux was injured a few games ago and will miss significant time, as he may miss up to a month's worth of games. Prior to his injury, in 35 games played, Lemieux had five goals and eight assists. However, Lemieux, who does want score goals, is more here for his agitator status.
I can't find the stat, but prior to his injury, Lemieux had to either be first or second on the team, when it comes to drawing penalties. Conversely, Lemieux has a healthy lead in minutes in the penalty box for the Rangers, with 87 PIM. That said, the 87 PIM stat is skewed, because Lemieux has gotten a bunch of BS penalties, penalties of the reputation variety. It seems Lemieux can't even take a dump during intermission, without getting a ten minute misconduct.
In his role as team agitator, Lemieux has gotten under the skin of everyone. For under a million bucks, you notice him out there. I've never seen him take a shift off. He blocks shots. He is the embodiment of the phrase "team player."
While you may see the grade of A- and think that's high, keep in mind that Lemieux makes under a million bucks and is always involved in every game he plays."
While I still remain a Lemieux fan, I'm downgrading his final report grade to a B, from the A- I gave him during the mid-season report card. I thought Lemieux, while perhaps targeted by NHL officials, slipped a bit. After all, in the weeks that followed my mid-season report card, where Lemieux had 5 goals and 8 assists, Lemieux would only tally one more goal and four more assists. And this included time playing sporadically on the first and second lines.
I do think Stanley Cup winning teams need a Lemieux type player on their roster. However, Lemieux also has to be smart with his agitating and physicality. After all, as of this writing, Lemieux will miss the first two games of the playoffs, due to a suspension, a suspension he incurred during the final game of the regular season. Of course, there was no way of knowing that March 11th would be the final game of the regular season, but in the same vein, there was no way of defending Lemieux's hit in that game either, which garnered him this suspension. And yes, again, I know he has a target on him. Lemieux just needs to pick and choose his spots better.
---
GREG MCKEGG. GRADE: D
In my mid-season report card, written in early January, I said this: "I know what you're saying – how did I give McKegg a grade worse than Haley? Simple. We know what Haley is. He's here to fight. McKegg has received more playing time than Haley, (10 more games and more time on ice per game) and still has the same amount of goals as Haley, as in one goal.
Like Haley, it's been my belief that McKegg is another one and done guy. With Haley, I understand wanting some physical aspect on the team. With McKegg, you're just taking a roster spot from a kid who could use the experience. I think now, with the Rangers hopes at the playoffs shot to crap, the Rangers may be willing to part ways with McKegg, and sooner than later."
While I'm bumping up McKegg's grade by half a grade here, my opinions are still the same from January. In fact, I'll be shocked if McKegg is here next season.
That said, McKegg finished the season with 5 goals and 4 assists. There were also a few games where he stood out in. For McKegg, while I don't envision him as a Ranger after these playoffs, he can only hope his case moving forward, with a strong playoffs. If it wasn't for the Lemieux suspension, I think you could argue that McKegg should be in the press box for the playoffs. However, Lemieux's loss can be McKegg's gain.
---
ARTEMI PANARIN. GRADE: A+++
In my mid-season report card, written in early January, I said this: "Do I really need to explain this grade to you? As it stands right now, Panarin is one of, and has the potential to be, the best free agent signing in NY Ranger history. He leads the team in goals (22), assists (33) and obviously points, with 55 of them. He makes everyone better. He is a player that the Rangers will need one day to kick ass in the playoffs.
Just think, Panarin is having a career year with a bad team. What happens when the rest of the Rangers get better? Panarin can only improve and it will take some defensive pressure off of him, as we're seeing many opponents stick to him like velcro. After all, as I said above, if Panarin doesn't log a point, the Rangers have a 1-21 record. If you can shut down Panarin, beating the Rangers is a piece of cake."
An A+ grade for Panarin wouldn't have given the season he just had justice. In his inaugural season as a Blueshirt, Panarin was an MVP candidate of the league, an opinion echoed by many of his peers across the league.
Panarin finished the season with 32 goals and 63 assists, good for 95 points overall. Had the Rangers completed a full 82 game season, while they may have not made the playoffs, Panarin would've most likely finished with 100+ points.
Arguably, in year one, Panarin is the greatest free agent in the history of NYC sports. He's the Rangers MVP, just like how he's a MVP candidate of the league.
We now all know that Panarin is dominant. It's up to Panarin now, moving into these playoffs, to not be like another great Columbus Blue Jacket that the Rangers acquired in the past, in Rick Nash. These 2020 playoffs, will hopefully define Panarin's legacy in New York.
Without doubt, Artemi Panarin just had a season that won't be forgotten any time soon. He's arguably the greatest athlete in all of NY today.
---
RYAN STROME. GRADE: A
In my mid-season report card, written in early January, I said this: "The poster boy for chart boy hatred, Strome is currently second on the team in assists and points, with 26 assists and 37 points. Yes, playing with Panarin helps, but at the same time, Strome is finishing and executing. It's not like Fast or Buchnevich, players who have played with Panarin a lot this season, are racking up the points in the same matter that Strome has.
When you look at the value, Spooner for Strome is the second best trade during the Gorton era, with Brassard for Zibanejad being the first.
You can't ask for anymore out of Strome this season, who is having a career year. He's also a free agent at the end of this season. He will be 27 next season, so if the Rangers can get away with a four year deal, the Rangers could keep Strome throughout his prime."
Strome had a career year for the Rangers. Strome finished fourth on the team overall for goals, with 18 tallies. Strome finished second on the team for assists, with 41 apples. Combined, with 59 points, Strome finished third overall in this department, with only Panarin and Zibanejad having higher point totals than Strome.
Yes, yes, and yes – we all know that Strome benefited by playing with Panarin. However, my original point from January remains the same – Strome finished and executed all season. Plus, isn't a player like Panarin supposed to enhance and better his teammates?
I thought Strome put forth a great effort this season, an effort that I hope is rewarded with a re-signing with the Rangers. Away from the on-ice stuff, Strome also emerged as one of the leaders of the locker room. As Panarin has been beneficial to Strome, Strome was just as beneficial to the Rangers this season. Let's hope that trend continues in the playoffs.
---
MIKA ZIBANEJAD. GRADE: A+
In my mid-season report card, written in early January, I said this: "The topic of "Is Mika Zibanejad an elite center?" will be something discussed all season. Does it matter?
Zibanejad missed a chunk of games this season. He's only played 28 games, but even so, he's second on the team in goals, with 16 and third on the team in points, with 31 points.
Some of you may have Zibanejad as an A+, but if he's an A+, then you will have to find a grade higher for Panarin.
If there is one thing to note, the Rangers had their best winning stretches of the season when Zibanejad went down. In addition, Strome picked up more points playing with Panarin than Zibanejad did. That doesn't mean Strome is better or anything. It means that perhaps Quinn was right in breaking up a line of Panarin and Zibanejad, and spreading the offensive weapons onto two different lines."
Well, due to the efforts Panarin and Zibanejad put forth this season, I had to adjust the grading scale! Panarin gets his A+++, while Zibanejad now gets an A+!
You can argue all day, who was better for the Rangers this season – Mika or Panarin. It is my opinion that Panarin was better overall, but I can see the argument for Zibanejad.
In only 57 games played, Zibanejad logged 41 goals, his first ever 40 goal plus season. That was tops on the team. With 34 assists, giving Zibanejad a total of 75 points, Zibanejad finishes only second to Panarin, for points recorded. And oh yeah, in case you haven't heard this already, Zibanejad scored five goals, including the game winning goal, in one of the most exciting games of the season, when Zibanejad and the Rangers knocked off the Capitals, in one of the last games of the regular season.
After returning from his injury, Zibanejad was a man possessed and when the league went into their pause, HANDS DOWN, Zibanejad was the hottest player in all of the NHL. The Rangers will need him to pick this level of play up, come the playoffs.
---
DEFENSEMEN
TONY DEANGELO. GRADE: A+
In my mid-season report card, written in early January, I said this: "Tony DeAngelo is putting forth the best offensive performance, by any Rangers defenseman, since the days of #2.
After being a healthy scratch a lot last season, TDA is now a staple of Quinn's line-up. DeAngelo currently has 8 goals, with only five Ranger forwards having more goals than him. DeAngelo is third on the team in assists, with 21 apples and is currently third on the team in points, with 29.
If there is any knock on TDA's game, it is that he will take chances, leaving himself open to defensive lapses. However, that's the price you pay when you try to get involved offensively. It's also the reason why he's paired with a true defensive defenseman, in Marc Staal.
In a contract year, Tony DeAngelo couldn't be having any better of a season. You know my deal already, as I've typed up about 79678967956795 words on TDA this season. Like Hillary Clinton, LOCK HIM UP! (See what I did there?)"
What more can I say about Tony DeAngelo this season than what I have said already? In fact, I pretty much covered all of TDA's accomplishments here, in a blog posted several days after the NHL went into their pause: https://bluecollarblueshirts.com/31720/
Without question, TDA had one of the best seasons a pending free agent could ever have. TDA finished up third overall on the team for assists, with 38 apples. Along with his 15 goals, TDA's 53 points were not only fourth overall on the Rangers, but fourth overall of all NHL defensemen this season. Show TDA the money!
---
ADAM FOX. GRADE: A
In my mid-season report card, written in early January, I said this: "Just like TDA, Fox is making under a million dollars a year too, hence the high grade. And really, Fox has been a beast in his rookie year, on both sides of the puck.
Do you know what's the best thing about Fox right now? He's getting better with each game. Just recently, he picked up three assists in a game. However, his defense didn't suffer, as he was also blocking shots and breaking up plays too.
As a result of being an everyday player for the Rangers, the Rangers now have to send a second round pick to Carolina. Well worth it. I'll take a proven player over an unknown draft pick any day. Behind DeAngelo, Fox is also the second highest scoring defenseman on the team. Keep that in mind."
Fox only got better as the season went along. While Tony DeAngelo posted gaudier numbers, you can argue that Fox was the better overall defenseman, due to his ability to keep the puck moving when pressured. As TDA even admitted himself, in one of his recent podcasts when interviewing Fox, Fox has the uncanny ability to move the puck when the kitchen gets hot.
When it comes to goals, assists and points, of all Rangers defensemen, Fox was only second to TDA, a TDA that had a career season. However, Fox was better defensively and has been a complete stud, thus earning his first D-pair status with the Rangers, in his rookie year. Hell, he is the rookie of the year for the Rangers!
---
LIBOR HAJEK. GRADE: C-
In my mid-season report card, written in early January, I said this: "Hajek is tough to grade, because he's only played 27 games this season. He's due back shortly, even as soon as this upcoming homestand.
If anything has hurt Hajek right now, it's the fact that Lindgren has looked better and more NHL ready. However, as I'll get into shortly, Brady Skjei has been so freaking bad, that perhaps Hajek will cut into Skjei's playing time soon.
There are times where I question Hajek's toughness as a defenseman, but that could be because he's young. I also wonder if he's injury prone, as this is the second time in two seasons, where he's missed a bunch of games after injury. Just something to think of."
After writing my mid-season report card, Hajek played one more game with the Rangers, before being sent down to Hartford. In other words, none of my opinions above have changed. That said, I'm not writing Hajek off here either – he still has plenty of time to make a case. That said, after these playoffs and come next season, he will have K'Andre Miller looking for the same job.
---
RYAN LINDGREN. GRADE: A
In my mid-season report card, written in early January, I said this: "In 31 games so far with the Rangers this season, Lindgren has shown us who he is. He's a tough-nosed player, who isn't afraid of contact. He reminds me of an old school throwback type of player. In fact, I think he's the player that the Rangers hoped Dylan McIlrath would've been. (I know McIlrath is a forward, but he was drafted to bring a big defensive presence to the club. I know, I know, I know – Tarasenko!)
You don't expect scoring from Lindgren, (1 goal, 7 assists) and that's fine. Many times this season, he's broken up plays, clogged passing lanes, made big hits and hasn't been afraid to throw down.
While I'm not saying Lindgren is all there yet, as he develops, but as we've seen so far, he is the type of player that every playoff roster needs."
Am I being overly optimistic by giving Lindgren the "A" grade here? I don't think so. Lindgren would finish with 60 games played for the Rangers this season, thus officially qualifying him as a rookie. I'll tell you this, I thought Lindgren meant more to the Rangers in this 2019-2020 season than Kaapo Kakko did.
With Hajek struggling, and the Rangers also looking for offense, the Rangers recalled both Ryan Lindgen and Filip Chytil in late October. In turn, the two remained with the Rangers for the rest of the season. While Chytil had great spurts in and out of the season, it was Ryan Lindgren who cemented his status here, even working his way to the top defensive pair of the team, along with fellow rookie, Adam Fox.
Lindgren showed toughness, grit and pure intangibles this season, intangibles that doesn't show up in any nerd's spreadsheet or ANALytic chart. Hell, he even drew the ire and focus of Brad Marchand too! I don't think any one ever envisioned Lindgren being the top LD of the Rangers, but here we are. And as is evident by Lindgren's play this season, it's well deserved.
---
BRADY SKJEI. GRADE: F-
In my mid-season report card, written in early January, I said this: "If there was a grade lower than F-, I would've given it to Skjei here.
When you look at Skjei's season on the ice, and then think about his contract, Skjei has been a complete albatross for the Rangers this year. Skjei has five goals for the Rangers this year, and has scored three more on his own goaltender.
Skjei has been a complete bust since getting that enormous contract. He doesn't block shots. In fact, he skates away from them. He turns the puck over way too much. And yes, turnovers happen. The other team is paid to play hockey too. However, there are so many lazy Skjei turnovers that have went the other way, leading to an opposing goal.
When he's not running away from playing defense, Skjei usually parks right in front of his goaltender. I don't know the stats. I'm an eye test guy and I have seen every game this season. That said, based on what I've seen, there's no other defenseman on this team that screens their goalie as much as Skjei does. The majority of the time, these screens burn the Rangers and it winds up being the difference between a win and a loss.
Running a hockey team is a business. The Rangers need to lock up Strome, TDA and Lemieux this season. They will eventually have to lock up guys like Lindgren and Fox too. The Rangers must get out of this Skjei contract and send him packing.
For anyone who wants to defend Skjei to me right now, ask yourself this – are you getting any value out of Skjei? Furthermore, with K'Andre Miller and Yegor Rykov in the system, why would you pay Skjei disgusting money, when you can get better talent for 1/6th the price? This of course, is the same argument I use when talking Hank's contract.
Let me be clear here in case I'm being fuzzy here – BRADY SKJEI IS THE RANGERS WEAK LINK. His contract is bum too."
Thankfully, Jeff Gorton shared my opinion and dealt off Skjei and his contract to Carolina. Somehow, Gorton even got a first round pick out of this deal!
There's no point in me dumping on Skjei anymore than I already did in the mid-season report card. He's gone. He's now Carolina's problem. While Skjei was a nice guy, he was never the same player after those 2017 playoffs.
---
BRENDAN SMITH. GRADE: B-
In my mid-season report card, written in early January, I said this: "I list Smith with the defensemen here, because that's how the NHL and Rangers list him as. As you may know, Smith plays on the fourth line and plays defense on the penalty kill. He also plays defense if someone gets hurt.
Smith may be the comeback story of the year for the Rangers, but let's take a look at why this is a comeback. Smith got a huge contract, which has not worked out for the Rangers. Smith then came into camp overweight, got punched out by Vinni Lettieri and had his season cut short. In his return with the Rangers, Smith has been a stellar player, a model citizen and willing to do whatever the coach asks him. And not for nothing, while we know the contract is bad, which hurts his grade, he's playing well.
Am I out of line for saying this? This fourth line version of Brendan Smith would've fit in perfect with the 2014 NY Rangers. He could've plugged in with Dorsett and Carcillo.
I applaud Smith for being a team guy and doing whatever is asked of him. However, I'll probably applaud more when his contract runs out."
I don't know how anyone can bad mouth Smith's effort, here in this 2019-2020 season. Yes his contract stinks, but Smith and the Rangers made the best of it. Not only did Smith do everything Quinn asked of him this season, whether it was skating with the fourth line, being a penalty killer or going back to his natural position as defenseman, after the Skjei deal; Smith also took Kaapo Kakko under his wing and helped acclimate Kakko to America & the league.
I thought Smith was one of those quintessential "lunch box" or "blue collar" players this season for the Rangers. You knew what you were getting with Smith and he delivered. While I don't see the Rangers re-signing him once his contract expires next season (they may even try to deal him before that expiration date) I thought Smith helped redeem himself this year.
---
MARC STAAL. GRADE: B+
In my mid-season report card, written in early January, I said this: "I don't hide my biases. I'm a Marc Staal apologist! Just like Dan Girardi, this guy is all beat up in the latter stages of his career, after blocking shots for so many years. While Girardi obviously blocked more, Staal, just like Girardi, is a huge reason why Lundqvist got his lone Vezina in 2012. Give the assist to Tortorella here too.
Often on the internet, I see fans trash and go on & on about Marc Staal. NEWSFLASH: Since the McDonagh trade, he's been the best Rangers defenseman on the whole team. Staal isn't here to score goals. His partner, in TDA, does that.
Let me ask you this – how many times have you seen Staal get burnt by a bad goal this season? The answer is zero. Furthermore, how many times have you seen Staal's name mentioned on the broadcast after an opponent goal. The answer is zero! Often, these unheralded hero types, like Fast and like Staal here, don't get the buzz because they don't play a sexy game. These guys are like offensive lineman, who put in all the grunt work, but very rarely get any attention.
Listen, we know the Staal contract isn't the best, but he's not a freak show out there either. I will say, I think Skjei's horrible play has deflected a lot of the negative comments I usually see about Staal."
I still have the same feelings for Staal, as I did when I wrote the paragraphs above in January. He's still the best stay at home defenseman on the team. Staal still provides leadership to the team. Staal, while no longer in his prime, as he's an old 33 years of age player, still provides value to the Rangers.
Staal's veteran leadership and playoff experience will hopefully be invaluable, come these 2020 playoffs.
---
JACOB TROUBA. GRADE: C+
In my mid-season report card, written in early January, I said this: "I would give Trouba a higher grade, but once again, a reminder, I use contracts in my grading. I can't go higher than a B- for Trouba, because Fox and DeAngelo have been better, and for significantly less money.
I think Trouba is really getting into his wheelhouse now, as we hit the mid-way mark of the season. We've seen his ability to take over games. We've seen him singlehandedly dominate offensively and defensively, especially during this recent Western Canada trip.
Trouba has six goals and 15 assists this season thus far, and I would expect him to post more points in the second half of the season, as he finds his footing. When I do my Final 2019-2020 Report Card, I expect to bump Trouba's grade up."
Just like Staal, my opinions from January remain unchanged on Trouba. That said, as I've said on past blogs, I think Skjei as a partner hurt Trouba, as Trouba played better away from Staal, whether it be on the power-play or with Smith, after the Skjei trade to Carolina.
When it comes to Trouba, I pretty much said everything here on him, two blogs ago: https://bluecollarblueshirts.com/72020/
In short, what really hurts Trouba's stock and grade the most, is the production of the much cheaper and much younger right handed defensemen on the team, in Adam Fox and Tony DeAngelo. Trouba himself has somewhat admitted his topsy-turvy results this season too. Trouba really needs a great playoffs to redeem himself.
---
GOALIES
ALEXANDAR GEORGIEV. GRADE: A-
In my mid-season report card, written in early January, I said this: "When you look at both goaltenders this season, it's a fact that the defense has let down the goalies more times than not. However, it's the same old argument – Georgiev has better numbers, and for $8M less, than Henrik Lundqvist.
I think Georgiev has been solid for most of the season. In his one meltdown game, the game against Edmonton, it was tough to blame him for any of the goals allowed, unlike his loss in Tampa.
Georgiev has the two shutouts of the season for the Rangers goaltending duo. You know my deal already – I find Georgiev to be more cooler, calmer and collected of the two backstops. I think his ability to shrug off craziness and scores keeps the Rangers even-keeled.
This grade probably would've been higher, had I written this blog two or three weeks ago. Even with Georgiev's GAA now at 3.17, the games where the scoring is coming left and right in, feels like games from the 1980's, where it's all run and gun & no defense. Just think of three of those games. The Rangers beat Montreal 6-5 and Toronto 5-4. They also lost to Edmonton 6-5.
I think Georgiev has been solid in his role and we're now seeing him taking the tougher starts, which usually happens every December. It's not like he's being torched by bad teams like LA or Anaheim, as Lundqvist is."
Going into the 2020 playoffs, Georgiev, no matter what he does, is probably the odd-man out. However, that doesn't discount what he brought to the Rangers this year. After all, look at how Georgiev finished this season:

Of the three Ranger goalies (with Shestyorkin joining the team after the disastrous Western Canada road-trip) Georgiev logged the most amount of time in net this season for the Rangers. Just like the season prior, and just like Cam Talbot and Antti Raanta before him, Georgiev out-played Lundqvist and for 1/8th cost.
While I'm a fan and believe that CZAR IGOR is the future, I have no problem with Georgiev being the back-up either. However, like Talbot and like Raanta, for Georgiev personally, he may find more playing time elsewhere. That said, moving past this season, Georgiev's best chances at a Cup may come with being Igor's back-up.
As far as this 2019-2020 season goes, Georgiev had a great season, became an Islander, Leaf & Vegas killer, and was also there to recarry the load, after Igor's car accident at the trade deadline.
---
HENRIK LUNDQVIST. GRADE: D-
In my mid-season report card, written in early January, I said this: "I should really go lower with my grade for Lundqvist here, because of the contract. Instead, I'll just go a full letter grade below Georgiev.
Again, you know the deal. Lundqvist is making a ton of money, for average production. He's a top three paid goalie in the league, but is in the bottom 20% of the league, when it comes to GAA and save percentage.
Playing now against weaker teams, Lundqvist now has a save percentage of .910, as opposed to Georgiev's .909. Georgiev has two shutouts. Lundqvist has none. Georgiev also has won more games for the team. Do I really need to go on here? Lundqvist serves no purpose to the rebuild and CZAR IGOR should be here, unless you want to give CZAR IGOR a chance at a taste of a success in Hartford."
Do I really have to go through all of my "greatest hits" on Lundqvist here? You all know them by now. That said, I'm lowering Lundqvist's grade from my mid-season report card, because of Igor Shestyorkin. After all, like Georgiev, Igor comes to the Rangers at 1/8th the cost and with 8 times the production.
In recent weeks, I've been championing Lundqvist's efforts with the NYPD. However, that doesn't change my mindset – it's time for the Rangers to finally divorce themselves from Lundqvist. It was a run, a run that now needs the baton handed over to the goalies of the future.
In fact, I'll also add this – to increase Lundqvist's chances at a HOF bid, Lundqvist must take a seat in the press box, and allow CZAR IGOR the chance to help the Rangers to the Cup in 2020.
---
INCOMPLETES
Before getting into the new acquistions on the roster, here were my "INCOMPLETES" from my January mid-season report card. Nothing changed from January to March 11th, when the NHL went into their pause:
LIAS ANDERSSON: What a bust. Refer to my past blogs on him. Goodbye and good-riddance. BUST.
---
STEVE FOGARTY: Hasn't done much, but hasn't really gotten much playing time to do so either.
---
TIMOTHY GETTINGER: Quickly canned after two games. He's a big guy, but I rarely see him take advantage of his size.
---
VLADISLAV NAMESTINKOV: Traded after two games. He isn't missed. I'm glad I don't have to spell out his name every blog.
---
BOO NIEVES: After signing a one year deal with the Rangers this past off-season, Nieves didn't do much in his four games here. Might be a career AHLer.
---
Now at this time, let's take a look at the new players added to the roster, players that were added to the roster, after I orginally wrote the mid-season report card on January 6th of 2020.
2020 ACQUISITIONS
PHILLIP DI GIUSEPPE. GRADE: C+
The Rangers toyed around with Phillip Di Giuseppe (PDG) a bit, as he was called up twice at the end of 2019 as an emergency call-up due to various injuries on the roster. Immediately after those call-ups, PDG was sent back down. However, during his third call-up, which occurred on February 3rd, PDG remained with the team throughout the remainder of the regular season.
In twenty games with the Rangers, PDG was a bottom six forward, picking up one goal and three assists. To be fair, PDG seems to have a more defensive style of a game and was used sparingly to grind minutes. As it stands now, PDG is slated to skate on the third line during the 2020 playoffs, along with Filip Chytil & Kaapo Kakko.
Twenty games is a small sample size, but PDG was here for the Rangers best win streak of the season. While I think PDG can easily be replaced, he was serviceable in limited action for the Rangers.
---
JULIEN GAUTHIER. GRADE: C+
The Rangers trading for Julien Gauthier came out of left field, as the Rangers acquired Gauthier on February 18th from Carolina, with the once heralded & AHL All Star defenseman, in Joey Keane, going the other way. From a roster perspective, the Rangers were fairly deep with right-handed defensemen and wanted to add forward depth. This was pretty much a prospect for prospect and roster depth trade, a trade that may have worked out for the Rangers.
Gauthier, who many have described as a "poor man's Chris Kreider", as he plays a physical game and can crash the net, skated in 12 games for the Rangers, where he picked up two goals and two assists along the way. Ironically, when Chris Kreider suffered his foot fracture, Gauthier replaced him in the line-up. Moving forward into the playoffs, it seems like Gauthier will skate on the fourth line, with linemates Greg McKegg & Brett Howden.
Just like PDG, 12 games is a small sample to really make an accurate assessment on a player. However, with Lemieux out of the picture for the first two games of the 2020 Stanley Cup playoffs, Gauthier can really make a case for himself with this opportunity.
---
IGOR SHESTYORKIN. GRADE: A+
Is an A+ grade too high for a player who has only played 12 NHL games in his career? In the case of CZAR IGOR, I don't think so. After all, in those 12 games, Igor finished the season with a 10-2 record. GAA wise, he finished up better than a half a goal allowed than his peers. He also had a significantly higher save percentage than his brethren of the barrel too.
After the Western Canada road trip at the turn of the decade, a disastrous road trip which saw the Rangers go 0-3, DQ went to Hartford. It was time to save the season. With CZAR IGOR with the big club, the Rangers had their hottest win streak of the season. If the win in Montreal on 11/23/2019 was the catalyst of this Rangers season, the recall of CZAR IGOR was the locomotive that flew the team down the rails.
With Lundqvist continuing his erosion and despite a stellar effort from Georgiev, neither goalie was able to instill great vibes and hopes into the team like the way Igor did. Everything started to change once Igor got here, and in turn, Igor helped close a double digit point gap in the standings and got the Rangers within two points of the playoffs, prior to the season's pause.
Of course, 12 games is a small sample size. Could Igor be a flash in the pan? Sure, anything is possible. However, if you're a bettor, place your money on Igor to be here, and to dominate here, for many seasons to come.
---
COACHES/STAFF
GENERAL MANAGER JEFF GORTON. GRADE: A
In my mid-season report card, written in early January, I said this: "As Gorton now becomes entrenched in the organization, he's had more hits than misses. No NHL GM goes perfect, so while his long-term defensemen contracts and Lias Andersson haven't panned out, he did land Panarin here. He also put together a nucleus here, which we really won't be able to judge until time goes on. I can't see how anyone could look at Gorton and not think he's doing a good job."
Listen, no GM bats 1.000, so you have to give NHL GM's a little leeway. Yes, some of the defensemen contracts were bad and yes Lias Andersson was a bust, but just the fact Gorton was able to trade away Brady Skjei and his bad salary and turn that into a first round draft pick? Well to me, that's Executive of the Year material! Gorton has created a new core of Rangers and this core is creating a lot of great feelings in Rangerstown, USA right now.
---
HEAD COACH DAVID QUINN. GRADE: A-
In my mid-season report card, written in early January, I said this: I said this last year and I'll say it again – "Quinn is another tough one to judge, as he isn't here for the now, he's here for the future. Quinn is now starting to feel some wrath, in this world of instant gratification and immediate results. While I don't fault him for going nuts in the game with Edmonton, it did hurt the Rangers. I don't think Quinn gets much respect from the officials, due to not having the tenure that other NHL coaches have. You can tell Quinn wants to win, but it feels like a never-ending cycle of win one, lose two."
We saw a lot more out of David Quinn as the season went along. His naysayers will say that Mika & Panarin carried the team, but they'll forget the only points that matter – this is a rebuild and he's here to develop talent. As Year 2 came to a close, at least regular season wise, Quinn had this team battling for a playoff spot, a playoff spot not many thought the Rangers would attain this season.
Now, you may see the high grade here and ask what am I drinking right now? I'm not saying Quinn is a Jack Adams candidate or anything like that. I just think he's done well in his role and he has the team moving in the right direction. He also gets bonus points for admitting what his predecessor never could – it was time to move on from Lundqvist.
---
ASSISTANT COACH (OFFENSE) DAVID OLIVER. GRADE: C+
In my mid-season report card, written in early January, I said this: "The power-play has been horrendous of late and this is Oliver's area with the team. I know Oliver does more than coach the power-play, but he needs some results. His first PP unit hasn't scored since the Christmas break and there are too many long stretches without power-play goals. There's also many times where this PP doesn't take a SOG. I know the players are on the ice and not the coaches, but if guys aren't listening to the message, sit them."
The Rangers power-play remained topsy-turvy throughout the season, but there were a string of games where the power-play really turned it on. The biggest nag I have about the Rangers PP is the abundance of overpassing at times, in order to find the perfect shot. Sometimes you just gotta fire the disc and hope for a deflection or rebound. Holding the puck for two minutes doesn't help your cause.
---
ASSISTANT COACH (DEFENSE) LINDY RUFF. GRADE: C-
In my mid-season report card, written in early January, I said this: "I don't think Ruff is as bad as everyone says, as the Rangers penalty kill is good more times than not, but there have been games this season where the defense has cost the Rangers games. How much of that is the on the coach and how much of that is on the players? After all, this season is a learning process. I did like Ruff calming Quinn down the other night, in the Vancouver game."
I still feel the same way about Ruff. In fact, I recapped his tenure with the Rangers here, once he left to take the HC job in NJ: https://bluecollarblueshirts.com/7920/
I don't think Ruff's influence will be missed in the playoffs. I also don't think he was truly bad either. He was just there and now he's not.
---
GOALTENDER COACH BENOIT ALLAIRE. GRADE: A+
In my mid-season report card, written in early January, I said this: "I'm going to reprint word-for-word what I wrote a year ago at this time – Allaire is still tops in the NHL and I can't wait for the day that he gets his hands on CZAR IGOR SHESTYORKIN!
Aside from that, goaltending isn't the issue with the Rangers and it seems to be their best asset."
Allaire finally has his hands on CZAR IGOR! Now the big question for Allaire – will he ever get a Stanley Cup on his resume?
---
If you haven't already, subscribe to this blog for the next update: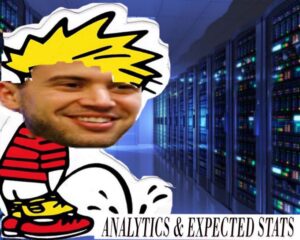 This went on way too long, but there was a lot to talk about!
Moving ahead, in the next blog, I'll have recaps of the Ron Duguay, Tony DeAngelo & BSU podcasts. I'll also have whatever news that comes out of Rangers practice. That's right, I'm aiming to do four blogs in a row this week. I need a life!
As far as the next blog, if you subscribe by clicking the form above, you'll get that bad boy delivered to your email box.
As always, thanks for reading and…
"WHY NOT THE RANGERS?!?!"
LET'S GO RANGERS!
Sean McCaffrey
BULLSMC@aol.com
@NYCTHEMIC on Tweeter and the new Parler app