Greetings and salutations everyone and welcome to another blog here on BlueCollarBlueShirts.com. As mentioned last night – this is a huge week for the NHL, and perhaps even more so, with the stuff that's currently going on in Major League Baseball right now.
In case you haven't heard already, Major League Baseball was forced to postpone two games today, with one of those games featuring the Yankees, due to 13 different coaches & players of the Miami Marlins testing positive for COVID-19. My response to this? As I said on the Twitter machine when the news first broke, once again, Canada was right. Canadian government officials knew that MLB were Father Finkin' ridiculous to fly all over the place & in turn, prior to the Marlins situation, Canada shut down the Toronto Blue Jays from playing in Canada when asked for approval.

Not only was the Canadian government wiser than MLB here, Canadian athletes also respect their flag & national anthem too. Perhaps Americans & baseball players could learn a thing or two here!
In a statement released by the NHL on Monday, July 27th, a statement that may have looked as the NHL patting themselves on the back, the NHL released their latest COVID-19 numbers. However, it should be known and noted, that the NHL has been releasing their findings and testing information every Monday afternoon. In other words, it was just a coincidence that the NHL kicked dirt on the MLB a bit today.
Here's the statement from NHL.com:
In other words, out of all the NHL players, coaches and staff members in the bubble cities of Toronto & Edmonton right now, NOT ONE person has tested positive for COVID-19. Kudos to the NHL, as Gary Bettman continues to write perhaps the finest chapter of his legacy right now.
I don't want to get into a debate or battle of the "my favorite sport is better than your favorite sport" variety, as I'm sure that we all know that stuff is irrelevant and is just a pissing contest anyway. However, it should be stated, that once COVID-19 took over our world, when it comes to the professional sports leagues, both the NHL & NBA decided to hold their playoffs in "bubble cities". (NHL in Edmonton & Toronto, NBA in Orlando.) For whatever reason, despite having bigger rosters than both the NHL & NBA, MLB while cutting their schedule down, did not adopt this bubble city concept. Instead, MLB decided to continue flying around the country, and just three games in, MLB are already having problems.
Part of baseball's problem here, and I hate to say this as a union man myself, is that the MLB players union is the strongest union in the world today. While both the NBA, the NHL and each league's respective player's union, all made safety the number one priority in their return to play plans, for baseball, the number one concern for the MLB players union was money. The topic of safety was a distant second for baseball. That's why, when you look at all three leagues right now, more baseball players have opted out of playing in 2020, than both the players of the NHL & NBA combined.
Moving onto brighter and greener pastures here, during the last few weeks on this site, and even as recent as my last blog, I said I wanted to hold off on doing a 2020 Stanley Cup Playoff preview blog and previewing the upcoming Rangers/Hurricanes series, until after the exhibition games were played. However, as many of you guys pointed out to me on the email machine, what's the point in waiting? After all, everything regarding playoff hockey, is pretty much unknown, even under normal circumstances. As one reader said, "is anything going to drastically change?"
Just look at the two number 1 seeds in last year's tournament – the Presidents' Trophy winning Tampa Bay Lightning were swept in the first round, while the best team in the West, of the 2018-2019 season, in the Calgary Flames, were bounced out in the first round too, only winning one game in the playoffs.
Due to the NHL schedule of this week, and my schedule too, I'm going to be previewing the play-in round of the tournament tonight, sans the Rangers/Carolina series. I'll save a full blog dedicated to NYR/CAR, after the Rangers vs Islanders game, which takes place this upcoming Wednesday night.
I'm only going to be looking at the play-in round in tonight's blog, because with so much uncertainty, I don't see the point in trying to predict every round and winner. I rather wait until the play-in round is complete, to do a whole 2020 Stanley Cup Tournament preview blog. I'll have more on this as we continue.
Elsewhere on this blog, I'll have some comments and news about Henrik Lundqvist, and his recent "King Clancy" award nomination. I'll also have some thoughts on the NYR lame-stream media, in addition to sharing an interview that John Gianonne just conducted with Tony DeAngelo.
What have I been saying on this site for the past few weeks now Part I? There's ALWAYS something to talk about!
What have I been saying on this site for the past few weeks now Part II? In case you missed them or need a refresher, here are my most recent manifestos:
---
---
---
---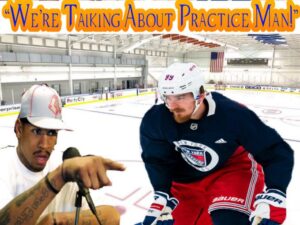 ---
---
We'll kick off tonight's missive by doing all the playoff stuff first, and all the Rangers stuff second.
Before previewing each play-in series, round-by-round, I want to remind you to check out the archives of this site, if you're not familiar with my opinions about the format being used for this year's playoffs. In short, I like it, I support it and I'm ready to see it all kick off.
If anything is worth bearing repeating here, opinion-wise, it is that while I like to make the "Corona Cup" jokes too (as evident by the photo used for this particular blog's header) whoever wins the 2020 Stanley Cup is legitimate in my eyes. I ran this stuff down in-depth previously on this site. The Cliff Notes version? Simple – you can only play in the era you're in.
Let's face it, if you really wanted to be a prick, you could put an asterisk next to any Cup champion. Some Cup Champions were able to hire "ringers". Some Cup Champions didn't have to deal with a hard salary cap. Some Cup Champions had all home-games in the Cup Final. (That damn circus at M$G! It cost the Rangers at least two Cups!) Some Cup Champions took advantage of broke/cash-strapped teams in the league during their time.  Some Cup Champions had first dibs on the rights of players, which is why teams like Toronto, Montreal and Detroit won so many Cups in their heydays.  Some Cup Champions took advantage of expansion teams, whether it was the Bruins winning two of their Cups sweeping the then-expansion St. Louis Blues or Montreal absolutely fleecing the California Seals for the #1 overall pick of a draft, when the Habs landed Guy LaFleur.
Again, you can just go down the list of Cup Champions in the history of professional hockey and make a stink about any one of them if you wanted to. One more time – you can only play in the era you're in, which is why I believe, that the future 2020 Stanley Cup Champion, is just as legit as any other Stanley Cup Champion in league history.
Whew – rant over!
At this time, let's take a look at the entire play-in round of this year's tournament, with my prediction for each series included. And as noted up top, I'm saving my Rangers/Carolina preview for a separate blog, as I'll dedicate a lot of space to that series. After all, that's the series I care about the most!
In the effort of not sounding repetitious as I go through each round, I don't think the times of these games or the fact that there will be no fans in attendance gives any team, in any of these match-ups any sort of advantage. I think every team enters each series at a level playing field ice.
It's also of my belief, that while we can all look at the season records between each teams, I think you can throw all that stuff out the window too. And yes, that includes my Rangers going 4-0 over Carolina this season. Those games took place many moons ago, and with different conditions/different rosters to boot. And really, you don't know who is entering this tournament in peak condition. It's not like any team enters this tournament with any sort of momentum either. It's all a crap-shoot, which makes this more fun.
I'll also say this too, as far as the teams who are in the round-robin, which are the teams that will be awaiting the winners of the play-in round; I think they are at a massive disadvantage as the tournament goes along. Those teams, which are the Boston Bruins, Tampa Bay Lightning, Washington Capitals, Philadelphia Flyers, St. Louis Blues, Colorado Avalanche, Vegas Golden Knights & the Dallas Stars; while these teams will have their little round-robin games, there's just no way any of those games can match the intensity of the do-or-die games, that the play-in round teams will play.
While of course, the play-in teams may enter the first round of the playoffs a little dinged up, they will also be riding a wave of momentum. On the flip-side, the round-robin teams may play their games a little safe, thus not being able to equal the intensity or passion of the teams that win their respective play-in round series.
I'm only predicting and previewing these play-in series in this blog. That said, it wouldn't shock me if half of the round-robin teams, were to be eliminated in the "official" first round of the tournament. After all, even under normal circumstances, and as talked about above, in regards to the number 1 seeds of the 2019 playoffs, ANYTHING can happen. In fact, these playoffs may turn out to be the most exciting playoffs in league history. The NHL playoffs are already the most unpredictable playoffs in all of sports and now you're doubling down on that, and throwing the unknown of the COVID-19 pandemic into the equation.
EVERY TEAM and EVERY FAN BASE should feel good about their chances. That is great for the NHL and for their TV partners.
Of course, the last thing I have to mention here, is that for the losing teams of the play-in round, they will then be entered into the NHL Draft Lottery. Each losing team will then have a 12.5% chance of landing the #1 overall pick of the 2020 NHL Draft, which in turn, will give that team a player that's thought to be an NHL generational player, in Alexis Lafreniere.
While stupid fans may root for their respective teams to "tank", and to lose in the first round, just for a 12.5% chance at Lafreniere; well that thinking is just ludicrous to me. After all, PLAYERS DON'T TANK. NHL players are playing for their jobs and for big contracts. They aren't looking to lose their job or to devalue their stock to the various GM's around the league. Players play to WIN.
And as I've said in the past, I got a feeling in my belly, and it's a big beer belly with a big feeling attached to it, that whoever loses the Penguins/Habs series, will wind up with Lafreniere. Just a beer and whisky rot-gut feeling here!
Finally, without further ado, let's get into each play-in round series.
---
EASTERN CONFERENCE PLAY-IN ROUND (Best of 5)
Outside of the Rangers/Hurricanes series, this is the series I'm most interested in watching. As I just said, I feel that the loser of this series will somehow land Lafreniere. After all, do you think the NHL wants Lafreniere in Florida, in Arizona, with the Islanders, or in another dead market?
Including the Rangers, no other team benefited by this new playoff format as much as the Habs did. As mentioned on past blogs, the Habs enter these playoffs with the least amount of points than any other team in the league. Hell, at the time of the pause, the Devils, who traded away nearly everyone and their mother, fired their coach and fired their GM, were three points out from Montreal and with two games in hand to boot. The same also applies to the Sabres, who were also three points out from Montreal and with two games in hand.
As has been talked about on this site and everywhere else, when it came to a best of five game format for this play-in round series, the Penguins made the most noise, championing for this format, with the thinking that in a best of three series, a hot goalie could steal a round. And really, that's what this series will come down to – how good will Carey Price be?
If Carey Price can echo his Hart & Vezina season of the 2014-2015 season, the Penguins will be in trouble. That said, when it comes to the playoffs, Price doesn't exactly have an illustrious story to tell. For the Habs to have any chance here, Price must make his mark.
On the other side of the things, the Penguins are still the Penguins. Yes they see-sawed a bit during the regular season, but this is a team that brings as much playoff experience to this tournament as any team in the league, if not the most. While Connor McDavid may be the greatest player in hockey today, it's still Sidney Crosby with the hardware & winning pedigree.
Just like most of these teams in this tournament, both teams will have healthy rosters. Had the playoffs occurred in April, the Penguins most likely would've entered the tournament without Jake Guentzel, a playoff hero in his own right.
This is the Canada series, featuring one of the best Canadian players of his era in Crosby, against the oldest franchise in the NHL, in the Habs. That's why the first two games of this series are on during prime-time television hours.
While I'm not breaking any new ground here, and I'm sure everyone else feels the same, this really comes down to goaltending. The Penguins aren't without their troubles at the position, but Murray does have two Cups and does own a better playoff career than Price.
End of the day, the Penguins are just much deeper than the rebuilding Canadiens. Maybe Price steals a game, but I think the Penguins are too good to allow Price to steal the series.
THE PICK: PENS IN 4.
---
With the Rangers/Canes series being the series I care about the most, and with the Pens/Habs series being a series I want to see the most outside of the Rangers/Canes, this Islander/Panther series is the third most anticipated series for me. Of course, as a Rangers fan, I'm hoping the Panthers claw the Islanders up, as if they were the bear in that movie "The Revenant". (I know what Leo does at the end, but just go with me here to make this reference work!)
This series is kind of like the Pens/Habs series, meaning that it could all come down to goaltending. While the $10M goalie Sergei Bobrovsky has all the money & individual hardware, including two Vezina Trophies, just like Carey Price, he doesn't have much success in the playoffs. On the other side of things, while the Penguins have a two-time Cup champion goalie in Matt Murray, Tristan Jarry is challenging for the job. Just like the Penguins, the Islanders have their own decision to make on their goaltender, as they could go with either Thomas Greiss or Semyon Varlamov.
Away from the players in this series, you have two future Hall of Famers behind each bench, with Joel Quenneville in Florida and Barry Trotz in NYI. In a short five game series, coaching will be a major factor and each team has an abundance of talent there.
Gun to the head, I think the Islanders are the better team here. However, and I know you kind of have to throw out everything from the regular season, as this is an all-new ballgame now, but the Islanders had so many games this season, where they couldn't score a goal if their life depended on it. If the Isles goal scoring woes continue and should Bobrovsky return to Vezina form, I don't see how the Islanders have a shot of winning this series. However, it should be stated, that Bobrovsky wasn't that hot this season either.
This could be a boring series for people who have no rooting interest in either team. Both teams focus  on defense more than they do with offense. This could be a series of 1-0 and 2-1 scores.
Whoever wins this series, I see it being evenly matched and going five games, despite the Islanders sweeping the regular season series. Maybe my anti-Islander bias is bleeding into my prediction here, but the Isles lack of scoring concerns me.
THE PICK: CATS IN 5.
---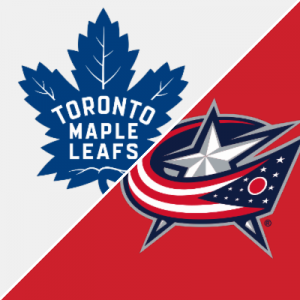 Have I mentioned how much I love these playoffs? This should be another entertaining series of this tournament.
This series is your classic David vs Goliath match-up. It's big market vs small market. It's offense vs defense. Will the team loaded with all the top talent in Toronto move on, or will the little engine that could, show us playoff magic again, in the CBJ?
No team benefited more from this pause than the CBJ, who were the epitome of the walking wounded, prior to the pandemic. CBJ gets everyone back, and they will need everyone back, as they take on a Toronto line-up that looks like a fantasy team.
We all know what Columbus did last year, when they were on the right side of the biggest upset in NHL playoff history. We also know how Columbus lost a ton of talent during the off-season, only for John Tortorella, who should win the Jack Adams Award this year, coaching this team to another playoff berth.
For Toronto, despite the heavy hitters in their line-up, they haven't been able to get out of the first round in recent years. However, while this isn't officially a "playoff" round, Toronto won't have to play Boston here either.
I know the stats and I know the players. A big talking point going into this series is the lack of scoring by Columbus. However, those stats are misleading, as Tort teams always focus on defense and the fact that his roster was banged up for most of the season.
Without question, Toronto has the deeper line-up, but in what is a common theme here, who has the better goaltending? Toronto had shaky goaltending all season, while a new King Elvis has emerged in 2020, in CBJ goalie Elvis Merzlikins. The Leafs enter this series as the heavy favorite, but we all know how that means nothing in this tournament.
Also worth mentioning, Toronto has the "home" advantage here, although with no fans, outside of knowing how the boards react to the puck, that shouldn't factor in too much. And it's not like CBJ is scared of the road either.
I'm going to play the trends here. Torts adds another notch to his belt, while Toronto continues to disappoint their fan base.
THE PICK: CBJ IN 5.
---
WESTERN CONFERENCE PLAY-IN ROUND (Best of 5)
Of all the Western Conference match-ups, this is the one I have my eye on the most. While I think you're a fool if you gamble on any of these games, because you have no clue what to expect and these playoffs were already unpredictable prior to the pandemic; if you're looking for the best bet of the NHL playoffs, it's hammering the OVER in each of these games.
The Blackhawks obviously feature a core of guys who have won in the past and have a ton of playoff experience under their belt, with Toews, Kane, Keith, Crawford and Seabrook. However, there is no other team in the hard salary cap era, that has been more decimated than the Blackhawks.
The Oilers may be a year or two away from being a serious contender for the Cup, but they should be handle a Blackhawks team that's just lucky to be here. The Oilers have the two best scorers in the league, in Connor McDavid and most likely league MVP, in Leon Draisaitl. What the Oilers don't have, is a mettle tested playoff goalie. That said, the Oilers were the best power-play team in the league and the second best penalty killing team in the league. Special teams can swing games, if the Oilers didn't already have the advantage going into this series.
Everything will have to go Chicago's way for them to have a chance of winning this series and Edmonton will have to truly shit the bed to make things right for the 'Hawks. However, stranger things have happened.
How about this scenario? Can you imagine if Chicago upsets the Oilers, and the Oilers land another #1 overall draft pick, which would put Alexis Lafreniere on an already scoring-happy team? That said, I don't envision that happening.
Maybe the Hawks go into the Delorean and steal a game here, but I don't envision this series going to five games.
THE PICK: OIL IN 4.
---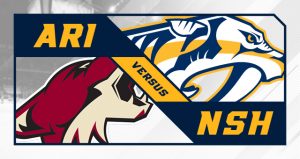 It's the All-Feline series here. The question is – who is going to be left in the litter box?
Obviously, the talk of the town, which I recapped last blog, is the situation with the now ex-GM of the 'Yotes, in John Chayka. However, it's not like his departure will have any effect on these games.
The Predators goaltending situation backs up everything I've been saying for years – you can't win a Cup with a Top 5 paid goalie in this hard cap era of the NHL. Pekka Rinne, just like Lundqvist, Price & Bobrovsky, remains cupless, as he approaches the swansong of his career. However, for what it's worth, new coach John Hynes, was going with Juuse Saros towards the end of the season. Speaking of Hynes, he knows the top player of the desert very well, in Taylor Hall, as Hynes was behind the bench of that Devils team when Hall won his Hart Trophy, in 2018.
I think offensively, Arizona has the advantage over Nashville. However, defensively, with Norris candidate Roman Josi manning the blueline for the Preds, I think the Preds have the advantage over the 'Yotes.
While Nashville's goaltending decision will be questioned, so will Arizona's. Does Arizona go with Darcy Keumper, or the now healthy Antti Raanta? And in a short series, how long is each coach's hook for their goaltenders?
Like any losing Stanley Cup team, (in the cap era, not one losing Cup team has ever returned to the SCF) I think Nashville is trending downwards. While I don't think Arizona is a contender, I can see them, as the lower seed, winning this series.
I think Arizona has more hunger going into this series, and that isn't a Phil Kessel joke, a Phil Kessel that has to be looking forward to showing up his doubters. I think this will be an evenly matched series, but I like the Desert Dogs to advance.
THE PICK: COYOTES IN 5.
---
I think this will be the sleeper series of the play-in round, both literally and figuratively. Unless you care about these teams, I don't see much interest among NHL fans for this one. However, if you're a Rangers fan, it pits two ex-NYR fan favorites on opposite ends, with Mats Zuccarello & the Wild and JT Miller & the Canucks.
I think the Canucks have the deeper roster going into this series, as they have a lot of great young talent, here in the post Sedin brothers era. Guys like Elias Petterson, Quinn Hughes and Brock Boeser should be the future pillars of deep playoff runs to come. The Canucks also have some solid veterans on this team, with JT Miller, Tyler Toffoli and to a lesser extent, Bo Horvat. I also believe that the Canucks got a favorable match-up here, as I really don't see the Wild, despite their team name, making much noise.
The Wild are just an overall mess, which started with all the moves former GM Paul Fenton made, prior to his firing just a year ago. The Wild also fired their head coach this season, replacing Bruce Boudreau with Dean Evason.
I just don't see the Wild displaying any sort of team chemistry or unity, as I see from other playoff teams around the league. They just seem like a bunch of players thrown together, who all just happen to play for the same team.
Alex Stalock has seemingly replaced former starter Devan Dubnyk in net for the Wild, but that isn't 100% confirmed. No matter who the Wild put in net, I like Jacob Markstrom, the man in the barrel for the Canucks, much better.
I don't see the Wild giving the Canucks much trouble here, and I see the Wild vanishing like a fart into the wind.
THE PICK: THE MOTHERCANUCKERS IN 4.
---
In case you're new here, outside of Cam Talbot's family, I'm the biggest Cam Talbot fan in the world. I will go to my grave believing that had Talbot been the starter for the Rangers during the 2014-2015 playoffs, the Rangers would've won the Cup that year. However, that's a topic I've already discussed in-depth 9678967896 times already, so I won't bore you to tears again on this. I just mention this, because I want to be open and disclose my bias here!
My personal fandom of Talbot aside, most likely, it will be David Rittich in net for the "C of Red". However, Talbot really heated up as the season went along, so should Rittich struggle, I could see the Flames making the switch to the GOALBUSTER! (Talbot also had a better GAA & Save Percentage than Rittich this season, for what it's worth.)
Despite my devotion to Talbot and my laissez-faire attitude towards Rittich, without question, hands down, the Jets have the advantage in net, with Vezina candidate (and most likely winner) Connor Hellebuyck between the pipes.
I think when you look at the rosters of each team, and I admit to not watching many Jets games this season (I watched two complete Jets games this season, both against the Rangers, with one of those games occurring back in October of 2019) I think the Jets have the edge all around. While the Jets had some defense injury issues this season and the whole Dustin Bfyuglien drama, I still think the Jets have a better defensive six than the Flames. Plus, from a defensive end of things, we know that Travis Hamonic won't be lacing up the skates for Calgary, as he's sitting out these playoffs to attend to more important matters – his family. (And if you're knocking Hamonic for that, you're an asshole.)
For all the talk about Johnny Hockey in Calgary, it wasn't until late into the season that the Flames really started scoring goals. In fact, in my research, I learned that the Flames scored the fourth least amount of goals of any of the 24 playoff teams in this year's playoffs. Add that fact with the fact that Hellebuyck was the best goaltender in the league this year, I think Calgary flames out.
THE PICK: LAINE, LAINE, LAINE AND THE JETS, IN 4.
---
To wrap-up on these play-in round games, I wouldn't be shocked if I got everything wrong. That's how unpredictable these playoffs can be. I do see a lot of great hockey coming our way, and I'm pumped to see it. Starting August 1st, and at least until August 9th, we'll have 5-6 games a day, spanning a period of 12+ hours. As if our poor couch cushions didn't get enough ass time during this quarantine/lock down!
Let's do some quick Rangers news and notes, before going home here.
---
John Giannone, on behalf of the M$G Networks, is currently doing 10-15 minute interviews with various members of the Rangers roster. On Monday, July 27th, Giannone released his latest interview, with NYR d-man, Tony DeAngelo. You can watch the interview here:
In the interview, TDA is very complimentary about his teammates, in particular, when talking about Artemi Panarin, Mika Zibanejad and Ryan Strome. TDA also talks about his time with Lindy Ruff and how he thought Ruff helped and grew his game. In what may not be known to many, and I didn't know this until TDA said it, TDA already has a relationship with the new and perhaps temporary defense coach of NYR, in Gord Murphy. As TDA says, TDA played with Gord Murphy's son in junior hockey, in Connor Murphy. TDA says while he has never been coached by Gord Murphy before, he likes him personally and in these past two weeks, has enjoyed Murphy's input.
And just for those keeping track, this Giannone interview is uploaded on YouTube under the M$G Networks account, while the NY Rangers are uploading post-practice zoom interviews on their official YouTube account.
Lastly, in an ode to Peter Griffin, let me share with you what really grinds my gears! If you haven't already, grab your favorite beverage, as I jump into the final topic of tonight's blog!
---
On the afternoon of Monday, July 27th, the NHL announced their annual nominees for the King Clancy Memorial Trophy. You can read the press release here: https://www.nhl.com/news/king-clancy-trophy-2019-20-nhl-team-nominees/c-317648724
I talked all about the King Clancy Memorial Trophy last year, when Lundqvist was nominated, as this is now his second year in a row as the Rangers nominee.
For those who don't know what the King Clancy Memorial Trophy is, and are too lazy to click the link above, here's the press release from NHL.com:
NEW YORK — The National Hockey League today announced the 31 team nominees for the 2019-20 King Clancy Memorial Trophy, which is presented "to the player who best exemplifies leadership qualities on and off the ice and has made a noteworthy humanitarian contribution in his community."
The nominees were selected by their respective NHL teams. The winner will be chosen by a committee of senior NHL executives led by Commissioner Gary Bettman and Deputy Commissioner Bill Daly. The selection committee will apply the following criteria in determining the finalists and winner:

* Clear and measurable positive impact on the community
* Investment of time and resources
* Commitment to a particular cause or community
* Commitment to the League's community initiatives
* Creativity of programming
* Use of influence; engagement of others

The three finalists for the 2019-20 King Clancy Memorial Trophy will be announced in early August. The winner will be revealed during the 2020 Conference Finals, with the exact date, format and time to be determined.

The first-place finisher will receive a $25,000 donation from the National Hockey League Foundation to benefit a charity or charities of his choice. The two runners-up each will receive a $5,000 donation from the National Hockey League Foundation to benefit a charity or charities of their choice.

The 2019-20 King Clancy Memorial Trophy nominees are:

Anaheim: Cam Fowler

Arizona: Oliver Ekman-Larsson

Boston: Patrice Bergeron

Buffalo: Jack Eichel

Calgary: Travis Hamonic

Carolina: Jordan Staal

Chicago: Jonathan Toews

Colorado: Gabriel Landeskog

Columbus: Cam Atkinson

Dallas: Tyler Seguin

Detroit: Justin Abdelkader

Edmonton: Leon Draisaitl

Florida: Sergei Bobrovsky

Los Angeles: Trevor Lewis

Minnesota: Matt Dumba

Montreal: Carey Price

Nashville: Pekka Rinne

New Jersey: P.K. Subban

NY Islanders: Matt Martin

NY Rangers: Henrik Lundqvist

Ottawa: Brady Tkachuk

Philadelphia: Kevin Hayes

Pittsburgh: Sidney Crosby

San Jose: Evander Kane

St. Louis: Ryan O'Reilly

Tampa Bay: Alex Killorn

Vancouver: Alexander Edler

Vegas: Marc-Andre Fleury

Washington: Garnet Hathaway

Winnipeg: Blake Wheeler

History

The King Clancy Memorial Trophy was presented in 1988 by the NHL's Board of Governors in honor of Frank "King" Clancy, a beloved figure in the League for decades as a player, referee, coach, manager and goodwill ambassador. A three-time Stanley Cup champion and 1958 inductee to the Hockey Hall of Fame, Clancy was voted as one of the 100 Greatest NHL Players during the League's Centennial Celebration in 2017.
Of note here, only Saint Adam Graves has won this award/trophy, during the magical 1993-1994 season, on behalf of the Rangers.
---
If you're not aware of the Lundqvist/NYPD stories, check out the archives of this site or the previous blog plugs linked at the top of this blog. In short, without a camera on him and without looking for attention, Henrik Lundqvist has been going out of his way to brighten the days of various NYPD officers around NYC.
In my follow-up to my Lundqvist/NYPD story and in recent blog updates, I told you how I was contacted by various people in the NYPD and family of the NYPD, who all told me how Lundqvist visited these various precincts unannounced, as he wanted to show support to NY's finest. Again, refer to the archives of this site for more.
What I also told you, was that NOT ONE member of the NYR lame-stream media reported on this story. However, when Lundqvist was nominated for the King Clancy Trophy on Monday, every NYR lame-stream media reported that, mentioning his charity and all that other rah-rah. However, the now public story of Lundqvist visiting the NYPD? That story remains untouchable to these liberal folk. You see, it's much easier to slam Rangers owner James Dolan all day, for not speaking out against the NYPD, than talk about Lundqvist supporting NYPD. Just check the Twitter account or stories written by NYR reporter Vince Mercogliano, for more.
During my blog last night, I told you about the horrific and tragic incident regarding Barry Beck and the murder of his son, in the 20 year old Brock Cameron Beck. I also told you that the Hamilton Police Department is looking for assistance in the case, as they don't have a suspect/suspects yet. In turn, on Monday, I saw many Ranger fans, on both Facebook and Twitter, share this story and share how the Hamilton PD needs help with this case. Do you know who didn't talk about this story or even do a simple thing, such as retweeting a tweet from the Hamilton PD Twitter account? EVERY SINGLE NYR LAME-STREAM MEDIA REPORTER.
To be clear here, let's name names. When I think of the NYR lame-stream media (and yes, I use "lame-stream" for comedic effect here) I am talking about Larry Brooks (NY Post), Rick Carpiniello (The Athletic), Vince Mercogliano (LoHud), and Colin Stephenson (Newsday). These four are the regulars of the NYR beat. While there are other reporters covering NYR (and I'm not including fan bloggers here, because bloggers are not held to the same standard as reporters are and bloggers/podcasters/fans are free to pick & choose what they want to talk about, such as yours truly, as is evident here) to me, and to many, Brooks, Carpiniello, Mercogliano & Stephenson, and for better or for worse, are the current Mount Rushmore of NYR reporters.
To just expand a bit here, outside of Mollie Walker (brand new to the hockey beat and does spend time covering the Islanders) and a Brett Crygalis who is now off the beat, as he's currently promoting a book and hasn't written anything for the Post since April, I believe these are the only four NY based reporters that are paid to travel to road games and cover the Rangers.
Of note, because I was asked this by several people on Twitter today, the NY Daily News no longer has a dedicated hockey reporter, as the Daily News slashed their hockey department last year.
So yeah, to be clear here, if you're a reporter and paid to cover road games, that means you're legit to me. Everyone else is small potatoes compared to these four.
Where am I going with all of this? Let's dive into it.
As I read all the NYR lame-stream media articles today, which I do every day, I saw a ton of stuff about Lundqvist being nominated for the King Clancy (most charitable player) award. What didn't I see? I didn't see one peep from these professional reporters about Lundqvist's time with the NYPD in the last 2-3 weeks!
I'll also call out Vince Mercogliano by name again here, as he is the biggest offender in my eyes. My reasoning? He was the loudest reporter when James Dolan didn't release a statement burying NYPD, when all the other teams were releasing Black Lives Matter statements a few weeks back. It is my opinion, and I know many of you agree with me, that if you're going to cover a story, YOU COVER EVERY ANGLE OF IT. If you're going to bury Dolan for not trashing NYPD & releasing a pandering statement about BLM, then at the same turn, you must talk about Lundqvist supporting NYPD. By talking about Dolan and his political issues, that means that you're opening yourself up to covering any story regarding this.
Also worth mentioning? If you've ever taken a Journalism 101 class, one of the first things taught to aspiring reporters, is that you leave your own biases out of a story.
(Bloggers/podcasters/fans don't need to adhere to these principles, although personally, I try to. After all, you all know about my opinions about Lundqvist the player, but I was the first to champion him when I saw the unpublicized charity work he was doing. I always try to be fair and give you all sides of each story. I don't think anyone can accuse me of doing otherwise.)
For journalists and reporters, you don't become the story. However, here in 2020, and in this age of "FAKE NEWS", those once heralded principles & ethics, have found themselves at the bottom of a Nassau Coliseum porto-potty.
Hell, maybe it would take Lundqvist rioting, looting and jumping up-and-down on a cop car, for Mercogliano to talk about Lundqvist's position!
And again, let's not overlook the fact that I've been cheer-leading for Lundqvist these last few weeks. ME, of all people! Shit, as I told you, I even retired the "LUNDSWISS" nickname that I coined years ago!
Furthermore, let's not forget that these reporters ALWAYS cover anything Lundqvist related, whether it's a fart, a cough, a good hair day, a new car, his clothes, what cologne he uses – anything! What NONE of these reporters covered, is Lundqvist's charitable efforts with the NYPD. All I can say here, and as I'm doing with this blog you're reading now – CHALLENGE THE MEDIA. Hold them accountable. Don't let them dictate what's a story or not. Ask them to cover the real stories that are out there!
Let's now tie the Barry Beck story into this.
I talked about the Brock Cameron Beck murder last night and again here tonight, how the Hamilton, Ontario Police Department is looking for tips & help in solving the case. All they asked for, was a simple retweet, in an effort to get the message out. Barry Beck then echoed what the Hamilton Police Department said too. You know who didn't echo any of this – NOT ONE OF THESE PAID NYR LAME-STREAM REPORTERS!
I hate talking politics on this site. Sometimes it's unavoidable, especially here in 2020. That said, I don't hide from my beliefs. I rather be hated for who I am, than liked for what I am not. I have no problem saying this – I SUPPORT THE NYPD. One of my best friends, dating back to high school, is in the NYPD. I have other friends that are in the NYPD. I have friends who retired from the NYPD. I had an uncle who was in the NYPD. I have you, several of you readers, who are in or affiliated with the NYPD. And I'm going to go here too – I didn't forget 9/11 either, which apparently, some of the liberal scum, which currently pollutes NYC, Mayor Deblasio included, has completely forgotten about. Boy, do I miss Rudy Giuliani, a true Father Finkin' man, and a uniter at that.
(And just based on what I see on social media alone, 9/11 & NYPD is definitely an age issue. Younger people, who weren't alive or just too young to remember 9/11, don't really understand what happened on that awful day. That's why it's these young liberals who have no problem attacking the police and saying stupid shit about NYPD on social media. Older fans & people (I'm 38, for full disclosure here, meaning I was 19 when 9/11 happened) don't forget that day and can also remember a different time in life, where you didn't have to worry about terrorism, whether it be international or the domestic stuff we're seeing in NYC today.)
Knowing the Lundqvist and Beck stories, I now want to tell you what the top quartet of NYR reporters were talking about on Monday on Twitter.
Let me just preface the following with this – outside of Mercogliano, who is MUCH younger than Brooks, Stephenson and Carpiniello, I don't think any of these guys want to do Twitter. However, in 2020, it's part of the job. Do you think Larry Brooks, who is sitting on 70 years old, wants to be playing around on Twitter? He's old school. He just wants to write and do his job. Vince Mercogliano is in his early 30's, and obviously, he grew up with social media. For these older reporters, they are of the old chain-smoke cigarettes/drink grandpa's cough medicine variety, if you get what I'm saying here.
I also want to say this too, because I don't want people twisting or distorting what I'm saying here. I'm calling these guys out for not acknowledging big stories. However, I do think they are all hard-working and outside of this, do a good job. I might sound like I'm picking on Mercogliano a bit here, but in my opinion, he was the hardest working reporter of the NYR beat this season.
That said, Mercogliano's readership definitely trends younger, which is what websites and newspapers want. Older fans tend to gravitate to Stephenson, Carpiniello and Brooks, because that's what they know and because they are in the same stage of life as them. While I don't have any black and white stats or undeniable proof of what I'm saying here, just look at who responds to each reporter on social media. You don't see many of the 18-36 age demo corresponding with Stephenson, Brooks and Carpiniello; but you do see a vast majority of that demo corresponding with Mercogliano. In fact, Mercogliano tags his articles to some of the people in that demo.
With that said, let's get into what each reporter was talking about on social media on Monday, knowing that the Lundqvist/NYPD & Beck stories were out there.
---
Vince Mercogliano – Vince was promoting his recent articles on LoHud. Not one of them mentioned the Lundqvist/NYPD or Beck stories. He also talked about not being in Toronto, due to the lack of access the media would have there. He also commented on the COVID-19 situation, in regards to the MLB vs NHL situations. While Vince talked about the sushi situation in Toronto, Ontario, a murder of the son of an ex-Rangers captain, which also happened in Ontario, wasn't worth talking or reporting about to him.
Oh and for what it's worth, as previously talked about on this blog, when I asked Mercogliano why he was ignoring the Lundqvist/NYPD story, he told me he didn't like what I was asking him. Of course, he continues to ignore this story to this day, but will rave on and on about what Lundqvist does in practice.
---
Colin Stephenson – I think Stephenson hates social media, and I get why! Stephenson only tweeted twice today (of note, Mercogliano tweeted the most, which again, can be attributed to his age) saying that M$GN was airing all four NYR/CAR games from this regular season. Stephenson also talked about the Rangers roster, in regards who can dress for the exhibition game with NYI. Stephenson is usually just straight news, but as an older reporter, I was shocked he ignored the Beck story.
---
Rick Carpiniello – of the three elder statesmen of the NYR reporting scene, Carpiniello is the most active. On Monday, Carpiniello was talking about NHL rosters, the Rangers flight to Toronto, made a political joke about Donald Trump, plugged his recent articles (which you have to pay for!), the MLB COVID-19 situation, wearing masks, joking around with Sean Avery (referencing Avery's "sloppy seconds", which to his credit, was pretty funny here by Carpiniello), a podcast interview that he did and brownies. It seems that talking about baked goods were more important than talking about a murder or Lundqvist supporting the NYPD.
---
Larry Brooks – You can tell that Larry Brooks, as part of his job requirement, is absolutely disgusted that he has to use Twitter. Of the Rangers reporters, he has the most amount of followers, due to his HOF status and lengthy tenure. You would figure if anyone would talk about Barry Beck, it would be Larry. However, you'd be wrong.
On Monday, Brooks plugged an article about the Rangers being in the bubble and talked about the Rangers roster for the game with NYI. That was it. Not one mention of Beck at all, the same Beck that was on the same podcast as Larry, just months ago.
---
Is it me? Am I making a big deal of this? How can not one of the current "Mount Rushmore" of NYR reporters, not cover Lundqvist/NYPD & Barry Beck? Is it because the Rangers hate their history and don't promote it, that the reporters feel they can ignore Beck? Really, how do you ignore this story?
It would've took less than two seconds to retweet the Beck and/or Hamilton police department statement. Are these reporters so Father Finkin' liberal, that they can't talk about the police in any matter at all? (Of note, Mercogliano has no problem pushing the BLM stuff, using BLM in a feature story on Trouba. However, Lundqvist supporting NYPD? That's a NO-NO!)
I know this blog is going on too long already, so I'll close out here by once again saying this – CHALLENGE THE MEDIA! EXPECT BETTER! A man is dead, and because of politics, these four reporters decided it wasn't worth talking about. That's pure cowardice to me.
---
If you haven't already, subscribe to this blog for the next update:
I know it may come off as bullshit, but really thanks for reading. Hits of this website are through the roof right now, which as mentioned last blog, is partly due to our server change and partly due to the frequency of these blogs increasing. And that's with me continuing 10K word missives every night, rather than breaking these manifestos up, in order to drum up bullshit traffic! I could write three paragraph blogs too, to artificially boost numbers here, but I've never been about that!
As far as the next blog, if you subscribe by clicking the form above, you'll get that bad boy delivered to your email box.
Again, I must say RIP to Brock Cameron Beck, Regis Philbin and Eddie Shack.
As always, thanks for reading and…
"WHY NOT THE RANGERS?!?!"
LET'S GO RANGERS!
Sean McCaffrey
BULLSMC@aol.com
@NYCTHEMIC on Tweeter and the new Parler app