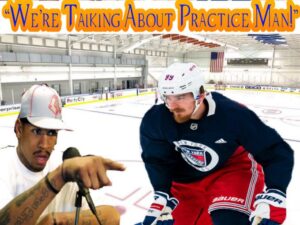 Greetings and salutations everyone and welcome to another blog here on BlueCollarBlueShirts.com.  After pumping out three straight blogs last week, unlike the Rangers, I took the weekend off. While many of us were enjoying beers, booze, bbq's and pools over the weekend, the Rangers took two steps closer to their eventual flight to Toronto. On Saturday, the Rangers held a full team practice. On Sunday, the Rangers held their second scrimmage of the mini-camp. In tonight's blog, I'll recap all of the developments from those two outings.
There's a smorgasbord of material to get into tonight, regarding the Rangers and their roster. I'll also have some player interviews for you as well. In addition, I'll have a Henrik Lundqvist/NYPD update for you. And perhaps more importantly, after campaigning for some sort of announcement by the Rangers, the Rangers finally released some information on the 2019-2020 Steven McDonald Extra Effort Award. Oh, and I'll also have a few comments on the NYR lame-stream media for you too!
However, as usual, before diving into everything – up first, the PLUGS segment of the blog! As always, here are my last few blogs, in case you missed them:
---
---
---
---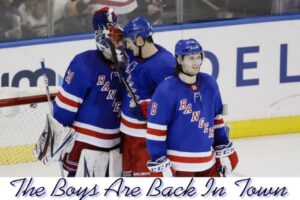 ---
There's a bunch of things to get into tonight, so I'm going to try to do my best to run down everything in chronological order, from the last time I wrote to you. Up first, I have an update on the Henrik Lundqvist/NYPD story, which I originally talked about here: https://bluecollarblueshirts.com/71520/
While I don't want to use real names of NYPD officers or their family here, due to the disgusting climate Bill Deblasio has created in NY, the mother of the police officer shown above reached out to me. Turns out, not only did Henrik Lundqvist have a meet & greet with her son & other fellow officers, Lundqvist also purchased lunch for the entire precinct. I was later told from a buddy of mine in the NYPD, that Lundqvist did the same thing for his precinct too.
If there is one aim I have with this site and blog, it's that I always try to be fair. You know I don't like Henrik Lundqvist's contract. You know I hope he's played his last game here. You know I'm a day one fan of CZAR IGOR. I don't hide any of that. However, in the same vein, when Lundqvist is doing something great for the community, I think that should be publicized too, even if he wasn't looking for any publicity himself during these particular interactions with the NYPD.
What truly shocks me, is that the NYR lame stream media, who will tell you what Lundqvist had for breakfast, what detergent he uses and if he's having a good hair day or not; well every member of the NYR lame stream media, and that includes people like Larry Brooks, Vince Mercogliano, Rick Carpiniello and others, have all stayed away from this story. You would think they would be the first people to shout praises on behalf of Lundqvist. For whatever reason, all of these reporters have decided this isn't a story.
I'll expand more about this in a little bit, when I start talking about Jacob Trouba's interview from Saturday, but it is of my belief, that if these reporters are going to chastise Rangers owner James Dolan for not disparaging NYPD and are going to talk about how Trouba & K'Andre Miller support "Black Lives Matter", then Lundqvist supporting the NYPD also deserves print & attention. For the NYR lame stream media to ignore this Lundqvist story, they are allowing their political beliefs and agenda to cloud their reporting. In other words, right now, I feel that the NYR lame stream media is picking and choosing what stories to tell. Then again, this isn't exactly breaking news here either!
And do you want to know how crazy the year 2020 has been? I'm the only blogger positively talking about Lundqvist here! Go figure!
In news somewhat related to Lundqvist and the NYPD, on Friday, July 17th, the Rangers finally released a statement about this year's Steven McDonald Extra Effort Award voting.
---
For weeks, and really, ever since we knew that the 2019-2020 regular season was complete, I've been advocating for the Rangers to make an announcement about this year's Steven McDonald Extra Effort Award. Just like the Lundqvist story, the NYR lame stream media has decided to ignore the Steven McDonald Extra Effort Award. It seems that reporting such things as, "KAKKO QUICK!", "K'ANDRE BIG!" and "BUCHNEVICH'S BEARD!" were all more important topics than the most prestigious yearly award that only a NY Ranger can win. (And for what it's worth, I've been talking the Steven McDonald Extra Effort Award since 4/2, when I did my "Frank Boucher Trophy" Fan Award. You can read that blog here: https://bluecollarblueshirts.com/4220/)
Anyway, this past Friday, the Rangers finally made an announcement via their social media channels and their website. Here's what the Rangers tweeted out on Friday afternoon:
The voting is open to all fans. You can vote for a winner here: https://www.nhl.com/rangers/fans/extra-effort-award-voting?icmp=int_web_nyr_sma_dl_200716
As previously mentioned, my vote is for Artemi Panarin. I know you can argue for Mika Zibanejad here, but due to Zibanejad missing a chunk of games this season, I'm giving Panarin the nod. I've also seen people argue for guys like Jesper Fast and Tony DeAngelo, but in my opinion, those two are dark horse candidates than anything else. I just don't see how it can be anyone but Panarin.
And for what it's worth, over 48 hours after the Rangers first made this announcement, not one member of the NYR lame stream media has covered this story. I just don't get it. Is an award named after a now deceased NYPD officer considered taboo to talk about in 2020? I mean, I know most of these media types are liberals and that's fine, but how do you ignore this story? Is trying to create fear about Pavel Buchnevich's health that much more important?
And I know I've said it several times before and I'll say it one more time here. I hope the Rangers have Conor McDonald, the son of Steven McDonald, hand out this award before the Rangers depart to Toronto, as a morale boost. Again, I bring up what happened last year, when Jeff Gorton carried Steven McDonald's badge to the NHL Draft Lottery. The Rangers jumped up in the lottery, nabbed the second overall pick of the 2019 draft and in turn, a month or so later, selected Kaapo Kakko with that pick.
While this might be over-doing it or perhaps being total overkill, it might not also hurt the Rangers to name a captain, going into the 2020 Stanley Cup playoffs. It's my opinion that the Rangers will wait until the 2020-2021 season starts, before naming a captain, but I wouldn't be opposed to naming a captain prior to the departure to Toronto. After all, there hasn't been a team in the modern era to win a Stanley Cup, without a having a captain named. (Last franchise to win a Stanley Cup without a captain? The Boston Bruins, who did it in both the 1970 and 1972 Stanley Cup Final.)
Switching gears here, let's get into the player news of the weekend.
---
On Saturday, Pavel Buchnevich departed the ice earlier than everyone else, leaving the ice at about the mid-way point of practice. Of course, once this news broke, and because there isn't much else to talk about, this created a wide array of speculation, with people saying he could miss the playoffs, he got dinged up or of course, "he must have tested positive for COVID-19". Obviously, the latter theory is the most ridiculous, because if had Buchnevich tested positive, he wouldn't have been practicing in the first place.
After the Rangers practice on Saturday, David Quinn was asked for an update on Buchnevich. Quinn said, "Under league policy, I'm not allowed to elaborate on injuries."
I previously talked about the NHL's policy on injuries and illness on my last blog, so refer to that blog for more. In short, the NHL & NHLPA have agreed to a media silence whenever a player gets sick or hurt. As far as these 2020 Stanley Cup playoffs go, no fan or member of the media will be given specific injury or illness information about any player.
While the NHL promotes gambling to their fans, when it comes to the health of the players, the only statement fans & the media will get this summer, in regards to injuries & illness, is "this player is unfit to play". In fact, if you check NHL.com, they have several stories about players being "unfit to play". Hell, "unfit to play" is now one of the new terms and phrases that 2020 has created, such as "the new normal" or "social distancing".
After about 24 hours of "'Rona Rumor Mongering" and crazy speculation about Buchnevich's immediate future, the Rangers returned on Sunday, for another scrimmage. Buchnevich did not take part of this scrimmage. After the scrimmage, Quinn was asked again about the status of Buchnevich. Knowing that Quinn can't say much, all Quinn said, when asked if whatever Buchnevich is going through will hamper his status for the playoffs, was this: "I can say that is not the case."
In other words, and in trying to make an educated guess here, all this means is that Buchnevich twisted or tweaked a body part. Whatever Buchnevich did, according to Quinn, it wasn't serious enough to effect Buchnevich's standing in the Rangers opening round series with the Carolina Hurricanes. Twitter crisis averted!
Moving along, everyone's favorite player, in Tony DeAngelo, talked to the media after the Rangers practice on Saturday. Let's look at that now.
Like any Ranger this season, I've provided a ton of updates and opinions on Tony DeAngelo. In short, and as is evident in the link provided above, I think Tony DeAngelo is going to get a contract to set himself up for life, come this off-season, whenever it may be.
On Saturday July 18th, Tony DeAngelo spoke to the media. You can watch DeAngelo's zoom call with the media here, courtesy of the NY Rangers YouTube page:
As usual, Tony DeAngelo projected an image of being a team-first guy, as he was more concerned about the Rangers immediate future, rather than his own personal future, come this off-season. DeAngelo spent most of the zoom call talking about the Rangers, their chances and his anticipation of these upcoming playoffs.
When it comes to his pending RFA status, Tony DeAngelo said the following:
"I won't touch too much on that, because I think it's (corona virus) affected a lot of people a lot worse than it's going to affect myself and other player across the league. We're all in the same boat, but there's a lot of people that are unemployed and stuff. So we're pretty blessed to still be able to play. Obviously, we'll take care of that in the offseason. Kind of just focused on the playoffs right now. I won't lie (and say) that's not in the back of everyone's mind, I think it's human nature."
Had the NHL not returned and just tossed in the towel on the 2019-2020 season and playoffs, Tony DeAngelo's stock couldn't have been any higher. Now with these 2020 playoffs coming up, TDA has a chance to boost his stock up even more. For TDA, these playoffs could also damper his stock a bit, if he should have a bad showing in the playoffs. In other words, in just the case of Tony DeAngelo and his pending RFA status, a canceled 2020 playoffs wouldn't have been the worst thing, for his contract situation.
Of course, we all want to see the playoffs happen and Tony DeAngelo has been beating that drum too. If anything has truly hurt his future potential earnings, it's the COVID-19 pandemic and the effect the pandemic has made on the NHL salary cap of future seasons.
When the Rangers first traded off Brady Skjei, in order to clear some salary cap room for the 2020-2021 season, it would've been very easy to give DeAngelo a six year contract, worth $36M overall. Now, the Rangers, just like every other team in the league, will have to be frugal in their approach, when it comes to signing free agents, whether they come from the unrestricted or restricted realms.
Listening to Tony DeAngelo's podcast and observing what he writes on Twitter, I do think he wants to remain a New York Ranger. I truly believe that. As far as the off-season goes, I predict both parties coming to a mutually satisfying agreement. However, what happens with DeAngelo, his next contract & the Rangers, is now a topic for after this Rangers playoff run; a playoff run which hopefully ends with the Rangers hoisting the Stanley Cup this Fall!
While on the topic of a Rangers right-handed defenseman that's looking to get paid, let's now take a look at a Rangers right-handed defenseman that has been paid. Of course, I'm talking about Jacob Trouba here.
---
On these blogs, I have always argued that the salary cap hit of these players, is just as important as any other stat on the back of a trading card. In a hard salary cap league, the salary cap hits of these players are the equivalent of playing the stock market. You have to know when to buy and sell. That's been my argument about Henrik Lundqvist for years.
Just to give you some background information here, the Rangers right side of the defense is pretty much a lock for the 2020 playoffs. In fact, if the Rangers do re-sign DeAngelo as expected, we will most likely see the trio of Tony DeAngelo, Adam Fox and Jacob Trouba together for many seasons to come. That said, (and I made this argument about Brady Skjei's contract, when talking about DeAngelo's future in this blog: https://bluecollarblueshirts.com/31720/) if Jacob Trouba is worth $8M a season, what are DeAngelo & Fox truly worth?
For comparison, let's just take a look at Fox, DeAngelo and Trouba, with the 2019-2020 regular season now complete.
Adam Fox is 22 years old. Fox played in 70 games this season, where he picked up 8 goals and 34 assists, good for 42 points overall. He also had a +/- of 22 and logged 32 penalty minutes this season. Fox also made $925,000 this season.
Tony DeAngelo is 24 years old. DeAngelo played in 68 games this season, where he picked up 15 goals and 38 assists, good for 53 points overall. He also had a +/- of 12 and logged 47 penalty minutes this season. Like Fox, TDA made $925,000 this season.
Jacob Trouba is 26 years old. Trouba played in 70 games this season, where he picked up 7 goals and 20 assists, good for 27 points overall. He also had a +/- of -12 and logged 61 penalty minutes this season. Trouba also made $8M this season. In other words, when you combine the salaries of DeAngelo & Fox, Trouba still made four times the money as his fellow right-handed rear guards.
In other words, if Trouba is worth $8M for this production, what are DeAngelo and Fox worth? $20M each?
And if you're a true "salary cap geek" or "capologist", how did Neal Pionk do this season, the player the Rangers traded to Winnipeg in their acquisition of Trouba? Here you go:
Neal Pionk is 24 years old. Pionk played in 71 games this season, where he picked up 6 goals and 39 assists, good for 45 points overall. He also had a +/- of 10 and logged 32 penalty minutes this season. Pionk made more money than DeAngelo & Fox combined, but didn't make nearly as much as Trouba, as Pionk was paid $3M this season.
So what am I getting at here? From a salary cap perspective, Trouba had a horrendous season, although you can argue that Fox & DeAngelo tremendously exceeded all expectations. For Trouba to redeem himself, or at least show he's worth the money in year one (like Panarin was) Trouba is going to need to kick some ass in these playoffs.
On Saturday, after the Rangers practice, Jacob Trouba talked to the media. You can watch the zoom call below:
In Trouba's zoom call with the media, Trouba talked about his wedding and how his wedding plans were effected by the pandemic. Instead of a huge ceremony in Cabo, Trouba had a small ceremony which was local for him. Trouba was then asked about his takes on the BLM movement and social justice issues. Of course, and let me be clear here – I do not care what Trouba thinks politically. Just like TDA, all I want is the best out of these Rangers. I do not care how they feel on social justice issues, who they vote for or anything else with political undertones. I am of the belief that these guys can support anything they want, as long as they aren't violent criminals, a pedophile, an animal abuser, a terrorist or anything like that. Anything else is open game and everyone is entitled to believe in what they believe.
I only bring this up, because I saw the social justice warriors of the NYR lame stream media, colorfully paint Trouba as this saint, for speaking out on social and political issues. That's fine, again, I have no problem if that's your agenda or what you choose to take out of an interview. It's a story. However, when I see the Lundqvist/NYPD stuff ignored, it makes me wonder why that is? If you're going to cover the players and their political beliefs (prior to this Trouba interview, the only other political thing covered by the NYR reporters is DeAngelo's support for Trump)  then you should cover EVERYTHING; not just what suits you best.
(Of note here too: when K'Andre Miller was cowardly attacked by a bot during a zoom call this past Spring, Trouba was one of the players to speak up and on behalf of Miller. That was somewhat brought up here in this interview and by the NYR reporters on Saturday. However, the first Ranger to defend Miller after this attack? Tony DeAngelo, who was not asked about his thoughts on social issues, during the same day that Trouba was asked about his thoughts. Funny how that works out! Always feel free to challenge the media!)
If you take anything from all of this, it's this – if you're going to cover political issues and what the players think on them, then you have to cover everything, not just what fits your agenda best. Where art thou Walter Cronkite?!?!
On behalf of Jacob Trouba, and his disappointing regular season, especially when compared to his counterparts, as I said all season – you do have to look at who he was playing with all season. Adam Fox & Ryan Lindgren, after being paired together, immediately clicked and became the Rangers top pair. Tony DeAngelo & Marc Staal also found chemistry together, as the two defensemen have entirely different games, which in turn, complemented one another. With Staal being a strong stay-at-home defensive defenseman, it allowed Tony DeAngelo to run hog-wild offensively.
With Trouba, he was paired with his buddy Brady Skjei, who without question, had the worst season of any Rangers defenseman, prior to be traded to Carolina. Skjei was a wreck defensively and in turn, it hurt Trouba's numbers, especially that +/- number! As I mentioned on this site several times this season, it seemed Trouba was at his best when he was on the Rangers power-play and away from Skjei. Now, going into these playoffs, Trouba will be paired with Brendan Smith, which may be a small upgrade over Skjei, depending on how you feel.
In the real hockey talk of the interview, Trouba said the following, in regards to his first year in New York:
"There were a lot of adjustments. I came in not really knowing. I'd never been traded. I've never really gone to another team. As much as I want to tell myself I was trying to be as comfortable as I could, I was definitely uncomfortable, and I have the type of personality where it takes me a while to adjust and really get comfortable with the teammates and new coaches and all that. Just coming back from the break and being more comfortable with everyone, I feel way better."
While I get what Trouba is saying here, we all know that NY fans are very unforgiving to high-priced athletes that don't deliver. However, as we've seen time-and-time again, many big name free agents bust out in NY, whether it be with the Rangers or elsewhere. In fact, you can also argue, and in fact most likely state, that Artemi Panarin is one of the few exceptions to this. Hell, Panarin may have had the best first season, of any big name free agent in NY sports history. And should Panarin win the Hart Trophy or Ted Lindsay Award this season? Then I think, HANDS DOWN, Panarin had the best season of any big name free agent in the history of NY sports. Think about it – what other NY high priced free agent won the MVP, in their respective league, in year one, in the history of NY sports?
In closing on Trouba here, I hope he has a great playoffs. I also wouldn't mind if he laid out some Hurricanes, like the way he laid out Michael Dal Colle of the Islanders this season either:
In fact, I think that clip above was Trouba's best highlight of this 2019-2020 season!
Moving on, like a Trouba freight train, we may have an official announcement on the NY Rangers starting goalie of these 2020 playoffs, as soon as of this upcoming Tuesday.
---
On Sunday, the Rangers held their second scrimmage of this mini training camp. I recapped the first scrimmage on my last blog.
During Sunday's scrimmage, it was Henrik Lundqvist getting the full forty minutes, with CZAR IGOR & Alexandar Georgiev playing 20 minutes a piece. As talked about previously, CZAR IGOR got the full 40 minutes during the first scrimmage game. If there is a third scrimmage game, it should be Georgiev getting the full forty minute treatment, if Quinn is still operating under the illusion that this starting goaltender's job is up for grabs. (If it was me, I would just announce Igor as the starter ASAP and continue to give him entire games in net.)
Of course, as mentioned 78575667567576567857858 times on this site, I don't think it matters, as unfortunately for Georgiev, he seems to be the odd-man out. He could have a Dominik Hasekesque showing at these practices and scrimmages, and it wouldn't matter; as I think Quinn is going to go with a CZAR IGOR/Lundqvist tandem.
Again, just like the first scrimmage, I wouldn't read too much into anything, as I think Quinn already has his line-up set in his head already. While Quinn has hinted that Hajek has a shot to break into the Top 6 of Rangers d-men, I think Quinn is going to stick with what he has, until he's forced to make a move. This is just my opinion from what I've heard in these Quinn interviews.
Of note, in the first scrimmage, when it came to the goalies, CZAR IGOR gave up one goal and denied a penalty shot in 40 minutes. Alexandar Georgiev was flawless in his 20 minute outing. Lundqvist gave up two goals in his twenty minutes.
In this second scrimmage from Sunday, both Lundqvist & CZAR IGOR gave up two goals a piece, in the first period of play. With Georgiev replacing Igor in the second half of play, Georgiev gave up three goals, while Lundqvist gave up one. If there is anything you got out of this scrimmage, it was that the goaltending, as a collective unit, wasn't as strong as they were during the first scrimmage.
If you're looking for just the raw stats, and not looking at how these goals were scored, in these two scrimmage games combined, in 60 minutes, Lundqvist has surrendered 5 goals. In 60 minutes, Igor has given up 3 goals. In 40 minutes, Georgiev has given up 3 goals.
After the scrimmage on Sunday, both CZAR IGOR & David Quinn gave interviews. You can watch them below:
Of note, if I wasn't a fan boy of CZAR IGOR already, Igor, when asked about why he stayed in America during the pandemic, rather than going to his native Russia, said he stayed in America because there were issues registering his dog for international travel. As a huge animal and animal rights person, this made me like Igor even more! And not for nothing, staying in America worked out for CZAR IGOR, as he was able to practice in Florida, even getting time against one of the best players of all-time, in Alex Ovechkin.
As far as Igor's quest to remain as the starting goalie of the NY Rangers, Shestyorkin said: "I'm working hard every day, playing at 100%, working hard to reach that goal to be back. But it all depends on the coaching staff. Whatever happens, I'll be supportive of my teammates."
When recapping what Lundqvist said in his interview on this site last week, Lundqvist pretty much said what Igor said here. He's here to support his teammates no matter what. While I think Igor's chances to be the starting goalie of the Rangers for these playoffs are very strong, at least just like Lundqvist (the media hasn't talked to Georgiev yet, which is telling) CZAR IGOR will support his teammates no matter what. That's all you can ask for.
While Igor's interview was pretty much stuff you'd expect him to say, David Quinn hinted that this goalie competition may soon be over.
In his interview from Sunday, David Quinn, when asked about the three-headed dragon of Ranger goaltending, said, "It's a battle. I think we're going to probably have a conversation here. After a week now that we've gone through practicing, I think it's a good time to kind of reassess where we're at and take it from there."
The Rangers have off on Monday, where David Quinn and his staff will "reassess".
As I have been saying all along here, it doesn't make sense to drag out this goalie competition. You want your starting goalie to be focused on the task ahead, which is the Carolina Hurricanes. As you read these words, we are less than two weeks out from Game 1 of the Rangers play-in round series with Carolina. Now I'm not telling you I know more about hockey than David Quinn or I know the first thing about coaching an NHL team, but in my opinion, it makes sense to use these upcoming practices to get CZAR IGOR ready for Carolina.
Rather than Igor dealing with the day-to-day pressure of trying to keep his starter's job over Lundqvist & Georgiev, I think mentally and preparation-wise, it would be smart to give Igor the pipes now. Just make the announcement already. From there, the Rangers can simulate Carolina's tendencies, mimic the game Carolina plays and do whatever else they can do in their power, to have Igor 100% ready and informed about his opponent. I mean, why waste time having Igor worrying about his own teammates, when he can be locked in on the opposition?
For what it's worth, according to the NYR lame stream media, Igor Shestyorkin has been the best goalie during this mini training camp. Neither Georgiev or Lundqvist has outplayed him either. It's time to bestow the mantle on Igor and run with it.
---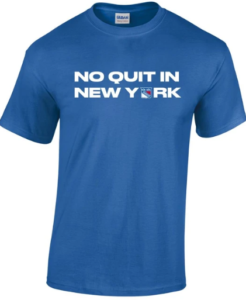 I think I've went on long enough here. I was going to do a "2019-2020 NY Rangers Season in Review" sort of thing here, in preparation for the playoffs, but I'll save that blog for later on this week. I don't want to give you a 20,000 word manifesto here!
If you haven't already, subscribe to this blog for the next update:
Moving forward this week, I'll have the previously aforementioned review/refresher of the 2019-2020 Rangers season. Maybe I'll sneak in a report card blog too, but I know I already did a mid-season report card in January, and not much had changed from January to the second week in March, when the NHL went into their pause.
Elsewhere on this site this week, as usual, I'll have a recap of the Ron Duguay "Up in the Blue Seats" podcast. Of note, as mentioned a few blogs ago, it looks like Tony DeAngelo's "Watch Your Tone" podcast is on hold for now. He didn't return with a new episode this week, and with things ramping up, it's hard to envision him wasting his time doing a podcast, when more pressing matters are at hand.
As far as the next blog, if you subscribe by clicking the form above, you'll get that bad boy delivered to your email box.
As always, thanks for reading and…
"WHY NOT THE RANGERS?!?!"
LET'S GO RANGERS!
Sean McCaffrey
BULLSMC@aol.com
@NYCTHEMIC on Tweeter and the new Parler app