Greetings and salutations everyone and welcome to another blog here on BlueCollarBlueShirts.com. The blog you're about to read is a historic one for this site – I'm retiring the "LUNDSWISS" stuff! And in the effort of full disclosure here, this blog may get a little political, but I'll keep it to a limit!
This will be a special blog for tonight, as I'm going to keep this blog to one topic only, and that is Henrik Lundqvist. I feel that Lundqvist and what he's been doing recently, deserves its own blog. Come tomorrow, check back here on BlueCollarBlueShirts.com, as I'll have a recap of the "Up in the Blue Seats" podcast, where Ron Duguay will be interviewing Mike Keenan. After recapping the Duguay podcast, I'll get into all of the latest Rangers news and notes. In other words – I'll be doing at least three blogs this week! Stay tuned!
However, up first, and as usual, the PLUGS segment. Say it with me regular readers – "in case you missed them or need a refresher, here are my most recent blogs":
---
---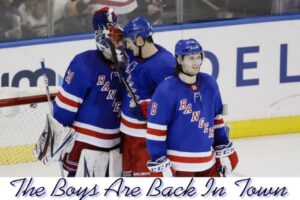 ---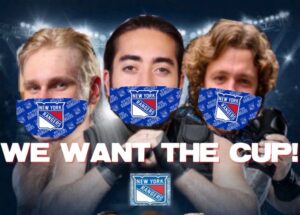 ---
If you're new to this blog, I haven't exactly been the biggest fan of Henrik Lundqvist in the past. In fact, that previous sentence may be the biggest understatement that I've ever made on this site! If you're a regular reader of this blog, you all know my opinions on Lundqvist by now! You need no further explanation!
For those new here (and based on recent site traffic and email correspondence, it seems like we got new eyeballs on this site) I thought the Rangers should've traded Henrik Lundqvist after the 2014-2015 season. I said that at the time and I'm saying it again now. It was my opinion then, and an opinion that I believe that has been proven true over the course of the last five seasons, that Lundqvist was on a slow decline and from a Rangers point-of-view, it was just time to move on. This isn't a new concept either, as in this recent era, we've seen the Devils move on from Brodeur, the Penguins move on from Fleury and the Bolts move on from Bishop.
In recent times, in the wide and wacky world of NYR social media, we've seen fans attack Tony DeAngelo, solely based on Tony DeAngelo's political beliefs. I've recapped all of this on past blogs, so refer to the archives of this blog for more. You can even just google "Tony DeAngelo BlueCollarBlueShirts.com", for all of my blogs about this topic.
I bring up this Tony DeAngelo comparison for one simple reason – in all of my criticism and diatribes about Henrik Lundqvist, it was ALWAYS and ONLY about hockey & what I thought was best for the Rangers. In none of my blogs or social media postings, have I ever questioned Lundqvist's political beliefs or what he does in his free time. That is the complete opposite sentiment of these DeAngelo detractors, who have seemingly dedicated their lives to being hellbent about besmirching DeAngelo. (And really, if you're a Rangers fan here in 2020, how can you hate on a guy who has been the best offensive defenseman for NYR, since the days of Brian Leetch?)
To be completely forthcoming here, sure I may joke when Lundqvist posts a picture of a fancy car or a new hair cut. However, I would think by those comments, you could tell I was joking. If you couldn't tell I was joking, then get a sense of humor.  I really don't care two Swedish poo-poo's on what Lundqvist does in his personal life. I only care about my goal, and that goal is to see the Rangers win the Stanley Cup.
I said it as early as 2014 and I'm still saying it in 2020 – the Rangers will never win a Stanley Cup with Henrik Lundqvist in net. In fact, here in 2020, I 100% believe that Lundqvist's best chance at having his name engraved on the Cup, is if CZAR IGOR is the starting goalie, for these 2020 NHL playoffs. And hell, if Lundqvist has to play cheerleader in the 2020 playoffs, just to get his name on the Cup, it doesn't diminish anything.
Listen, I don't want to bore old readers with all of my stuff on Lundqvist again, but for the new readers, and for back story purposes, I'll give you a few of my greatest hits, regarding why I wanted the Rangers to move on from Henrik Lundqvist, which all started during the 2014-2015 season.
I've done many rants on the ANALytic world, especially these chart-humping momo's, like Steve Valiquette, who believe that their hieroglyphic charts are the end all, be all. Again, refer to my past blogs for my deep comments on the topic of ANALytics. And one more time here – if ANALytics meant anything, someone would be cashing out at the Vegas sports books.
What always surprised me about the ANALytic world, is that for all their talk about Corsi, Fenwick, "EXPECTED" stats, the moon's effect on tidal wives, the carbon dioxide a player emits from their farthole and all that other nonsense; is that in this era, the NHL salary hard cap era, that for all of these Herculean efforts by these heat map cartographers, none of these people have ever really dissected a player's worth against the salary cap. When it comes to other Ranger bloggers, fans, podcasters, whatever; I feel like I'm the only one who has ever really broken down this topic, and on numerous occasions. (And to be fair, I have seen fans and even "The BSU Show" look at this topic, but for the most part, the majority of fans ignore this.)
In the NHL hard salary cap era, which began in 2013, the league officially took a turn into a different direction. In fact, even prior to the hard salary cap becoming official, we already saw a trend – teams were no longer winning Cups based on high priced goaltending. Teams were winning Cups with elite forwards.
Of course, goaltending will always be important. In fact, prior to the hard salary cap being instituted, the two previous Conn Smythe winners were both goaltenders, in Tim Thomas with the Bruins in 2011 and Jonathan Quick with the Kings in 2012. However, since the era of the hard salary cap, not one Top 5 paid goaltender has won the Conn Smythe. More importantly, not one Top 5 paid goaltender has won the Stanley Cup in this era either. (It also should be mentioned, that while Thomas was compensated well during his time, Johnathan Quick had the 24th highest salary, of all NHL goaltenders, when he won the Cup in 2012.)
When it comes to Tim Thomas, in that 2010-2011 season, Thomas had a season for the ages. He was the first goaltender, since Hall of Famer Bernie Parent to win the Stanley Cup, Vezina, and Conn Smythe trophies in the same season. (Parent accomplished the same feat with the Flyers, in the 1974-1975 season.) To this day, it's shocking that Thomas not only isn't in the HOF, but you never hear his name brought into the conversation. (It's also why I don't think Henrik Lundqvist is a lock for the HOF, because if Thomas and others aren't in, how does Lundqvist get in? I tackled this topic in-depth already. You can read that blog here: https://bluecollarblueshirts.com/12920/)
To just close out on Thomas here, because I know people will drop his name to me, over the past ten years (and remember, he didn't win in the hard cap era) Thomas is really the exception to the rule.
I know I'm going off on a tangent here, but I just wanted to give you all the information, when it comes to my opinions on Lundqvist.
Ever since the institution of the NHL hard salary cap, we've seen Patrick Kane, Justin Williams, Duncan Keith, Sidney Crosby (twice), Alex Ovechkin and Ryan O'Reilly all win the Conn Smythe, as they all led their respective teams to a Stanley Cup victory. Notice anything here? Outside of Keith, all of these players are forwards. Ironically, during the Stanley Cup Final victories these teams have collected, several of those victories were over Top 5 paid goaltenders, including Tuukka Rask, Pekka Rinne and Henrik Lundqvist himself.
If you get anything out of what I'm saying here, it is that here in 2020, ELITE FORWARDS win Stanley Cups, not Top 5 paid goaltenders.
If there was ever a WAR stat (Wins Above Replacement) among NHL goaltenders, gun to my head, I would have to envision that Lundqvist would be dead last, of all NHL starting goalies of the last six seasons.
Ever since Lundqvist's gigantic contract went into effect, which went into effect during the 2014-2015 season and which expires after the 2020-2021 season, Lundqvist has been on a steady decline. After all, in his 15 year career, Lundqvist only won the Vezina once, back in 2012. In other words, the 2011-2012 season has to be considered Lundqvist's best season and Lundqvist at his peak. For a "generational" goalie, one Vezina Trophy doesn't sound that impressive.
Furthermore, it's not like Lundqvist had the competition that Mike Richter once had for that award, when Richter was playing against guys like Marty Brodeur, Patrick Roy & Dominik Hasek; three goalies who are considered three of the best goalies of all-time. (And for what it's worth, in my opinion, those three goalies, along with Terry Sawchuk, make up my Mount Rushmore of NHL goaltending.)
I know I'm getting long-winded here, so let me try to speed through this next part.
During Lundqvist's time as the highest paid goalie in the NHL, he was routinely out-played by his back-ups. Here's a stat that Jennifer I. shared with this blog, from earlier this season: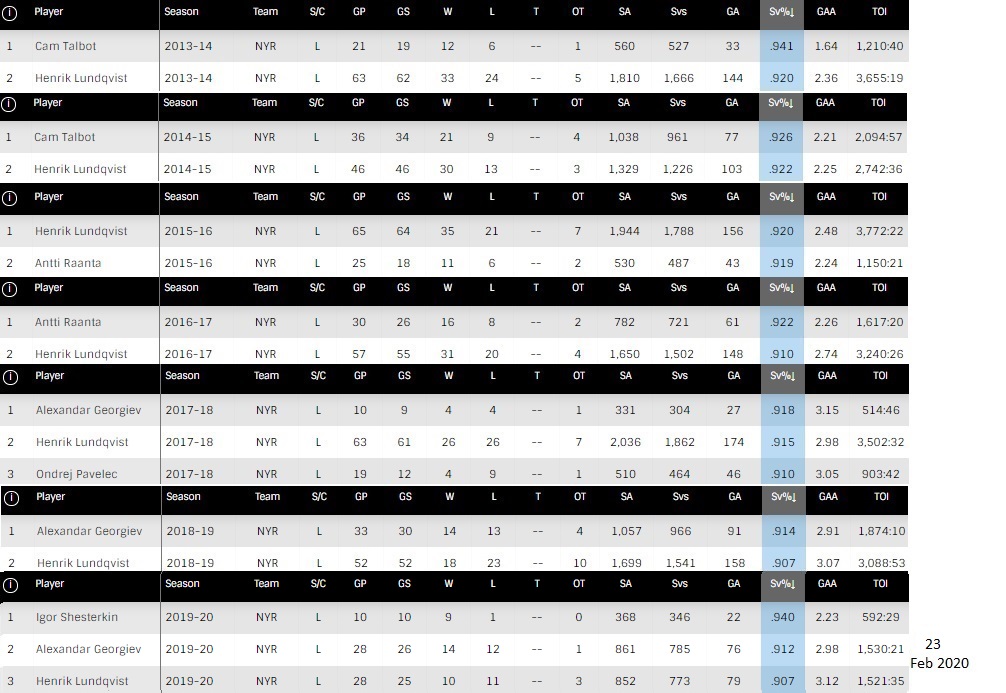 As you can tell, Lundqvist's back-ups have routinely outplayed him, posting better winning and save percentages than Lundqvist. Furthermore, these back-ups were posting these numbers for 1/8th the cost & salary cap hit of Henrik Lundqvist. In other words, and going back to that proposed goaltender WAR stat, Lundqvist's numbers are putrid, when compared to his cheaper brethren of the barrel.
I don't need to sell myself here, because I have six years of blogs to prove it – I have always thought the Lundqvist contract was a mistake. I knew high priced goalies wouldn't work in the cap era, and for the Rangers, at their peak, dedicating 13% of the cap to a goaltender would leave the team weak in other areas. (And yes, for the Rick Nash haters, Rick Nash being a playoff bust (for the money) didn't help either. If Rick Nash played like Crosby or Ovechkin, who knows, maybe Lundqvist has two Cups to his name right now. However, I'm dealing with facts here and not a hypothetical.)
When Cam Talbot came along, I truly believed the Rangers could've caught lightening in a bottle with him. Instead, the Tampa Bay Lightning became the biggest abuser of Henrik Lundqvist during that 2014-2015 regular season, and would go on to post two separate touchdowns against him, in the 2015 Eastern Conference Final, including a game where the Rangers scored five goals in. Say whatever you want about the Rangers goal scoring woes in the latter games of that series – had Lundqvist won the game where the Rangers scored five goals for him in, there is no Game 7 of that series, a fact often ignored by the Cult of Lundqvist.
Cam Talbot was on fire during that 2014-2015 season, where he capitalized on an opportunity after a Lundqvist injury. (Puck to the throat.) When Lundqvist came back towards the end of that season, coach Alain Vigneault sat Talbot, went back to his old horse and the result was the same – another season without a Stanley Cup.
I said then and say now, that teams should always ride the hot hand. Since that time, an unheard of rookie at that time, in Matt Murray, won two Stanley Cups. Last season, rookie Jordan Binnington won the Stanley Cup in St. Louis. Need I remind you, that not one Top 5 paid goaltender has won the Cup in this same period of time?
And again, save me the "DO YOU SEE TALBOT'S STATS NOW?" stuff. When it comes to Talbot (who did have a fantastic season in Edmonton, even leading the team to the playoffs after setting a team record for most goaltender wins in a season) I am looking at him in that 2014-2015 time period. He was better than Lundqvist at that moment in time. AV should've rode him, in my opinion.
After Talbot left to go to Edmonton, Antti Raanta came to NY, where he, just like Talbot, posted better numbers than Lundqvist and at 1/8th the cost. However, just like Talbot, despite his success, Raanta was shipped off to the Western Conference, where he became a starting goalie. And yes, this speaks volumes of Rangers goaltending coach Benoit Allaire, as both of these men, due to their back-up work with the Rangers and under Allaire, got life-changing money, thus setting each man up for life.
In recent times, Lundqvist, despite being one of the best paid goaltenders in the NHL, has produced bottom of the barrel results. (Carey Price and Sergei Bobrovsky have since supplanted Lundqvist as the highest paid goaltender, as the current third string Henrik Lundqvist is the third highest paid goaltender, here in 2020.) In this 2019-2020 season, both Alexandar Georgiev and Igor Shestyorkin have outplayed him. Unlike his predecessor, in Alain Vigneault, current NY Rangers head coach David Quinn has made the tough choice for the betterment of the team, when he made Lundqvist his third string goalie.
Again, I'm not one to try to write revisionist history or imagine impossible scenarios, but you do have to wonder, had Lundqvist played in a different era, or if the era he was in didn't feature a hard salary cap, if Lundqvist would've ever added the Stanley Cup to his resume? After all, we know that James Dolan has no qualms when it comes to spending money. However, we can only deal with the facts, and those facts are, unless Igor Shestyorkin can help to lead the Rangers to the Cup in 2020, then Lundqvist will never lift the holy grail in all of sports.
I know I'm taking a ton of detours in getting to my point, but what I'm trying to say here is that I have never been a fan of this Henrik Lundqvist contract. Former GM Glen Sather made a mistake. Current GM Jeff Gorton has made mistakes too. No GM is 100% perfect. However, unlike Sather, Gorton has righted many of his mistakes that he doled out, as Gorton traded away or bought out bad contracts, such as Brady Skjei, Kevin Shattenkirk, Ryan Spooner and others. What did Sather do? He traded Carl Hagelin for Emerson FATHER FINKIN' Etem!
It is my opinion, an opinion that has gained me many detractors over the years, that the Rangers should've cut ties with Henrik Lundqvist after that 2014-2015 season. They had a cheaper and better alternative than Lundqvist, in Cam Talbot. They had/have Benoit Allaire, the goalie whisperer. It was obvious the league was trending towards cheaper goalies & elite forwards winning the Cup. However, for all the various number crunching you see in the hockey world, even people crunching made-up numbers, such as "expected stats", most Ranger fans turn a blind eye to the numbers that mean the most these days – salary cap hits.
For six years on this site, I have been hammering all of these points, and other points, about Henrik Lundqvist and his contract. I am not a fan of him being on this team, and I haven't been a fan of his contract for years. In fact, many people look to me as the leader of the "DEPORT LUNDSWISS" brigade, a title that has been fairly attributed to me! In fact, I'm the one that came up with the silly LUNDSWISS moniker!
However, I'm now here to tell you, as one of Lundqvist's biggest detractors, that it's now time for me (and hopefully others) to retire the "LUNDSWISS" nickname. Just like other nicknames, from ghosts of Rangers past, that have since been retired, such as "KASPERMINUS", "DEL ZASTER" or my buddy JEFFREY's favorite phrase, a phrase he coined – "GET OFF THE ICE BOYLE!", it's time for me and everyone else, to throw the towel in on the "LUNDSWISS" nickname. This is big stuff folks! After all, this is me saying this!
Mark this date on your calendars folks – at least in the case for yours truly, I'm putting the Lundswiss nickname to bed! While I will always stand by my hockey opinions about Henrik Lundqvist and that god awful contract, I can only rave about the man away from hockey.
On Tuesday, July 14th, friend of the blog, Jeannine Marie, alerted me about Lundqvist's recent endeavors. If you're not familiar with Jeannine Marie, she is a big part of the Rangers fan base and runs the I AM A RANGER Facebook Group, which you fan find here: I AM A RANGER. I've mentioned Jeannine in the past on these blogs, in short, she's a diehard Rangers fan & like any other fan, is strongly devoted & wants to see the Rangers win the Cup.
Jeannine shared this pic with me on July 14th:
Of course, I was happy to see this picture as a supporter of NYPD. While the deranged liberal mob of today chastises our hard working officers, I will never forget the events and aftermath of 9/11. And as someone who has many friends in the NYPD today, and has heard the horror stories of what they have to go through in these current times, I don't envy any of them. They have been sitting targets for years, way before any of the recent political issues. That's what happens when you have a derelict mayor in office, as NYC does today, in Dumbass Deblasio.
When I saw this pic, I just thought it was Jeannine promoting Lundqvist as usual. After all, I knew this was an old picture. I also have a funny relationship with Jeannine, where we like to troll each other about Lundqvist. It's a no harm, no foul type of thing, and since we both know how to laugh, we get a kick out of riling each other up.
As far as this specific picture above goes, I think anybody could come to the conclusion that this is an old picture too; just based on the lack of gray hair in Lundqvist's beard and the fact that someone has a microphone in his face, something that you won't see in today's corona virus world.
However, Jeannine told me to look further and mentioned that Lundqvist recently visited a NYPD precinct in Brooklyn. Of course, I did my due diligence and Jeannine was right:
I want to preface the following with this – in no way, shape or form, do I think Lundqvist is making a political stand here. This is not Lundqvist choosing sides. This is not Lundqvist giving the finger to "Black Lives Matter". This is not Lundqvist telling Deblasio to Father Fink himself. In my opinion, this is just Lundqvist giving back to hard working New Yorkers. This is Lundqvist thanking NYPD for their tireless efforts to protect this great city that Deblasio has thrown into the shitter. This is Lundqvist being a New Yorker.
Lundqvist has been in this city for 15 years now, coming to this country & city four years after the tragic events of 9/11. Back then, under Mayor Rudy Guiliani, the city was united. Mayor Mike Bloomberg would follow Guiliani, and despite his wacky policies, including his proposed bans on the size of sodas, just like Guiliani, would support his police officers. Then after Bloomberg, Deblasio happened and it's been a never-ending war on the NYPD ever since. (Of course, when Deblasio recently defunded the police, to a tune of $1 BILLION DOLLARS, Deblasio didn't cut his personal police protection from the budget. Just like everything else Deblasio does, Deblasio is a hypocrite, who never practices what he preaches.)
When Jeannine told me to search around, I found out that just last week, Lundqvist went to Brooklyn to visit NYPD officers. When I found this out, I tweeted out the following on Tweeter:
I think I might have to retire "Lundswiss". What a complete class act, visiting #nypd during these times, when you got the mayor of this city encouraging a war on cops. My support for Igor as starter won't change, but my respect for Hank increased. #nyr pic.twitter.com/jIy0hWbrfB

— BlueCollarBlueShirts (@NYCTheMiC) July 15, 2020
I'm only 1 small voice, but ask these #nyr reporters who are up Hank's ass all the time, why haven't they covered Lundqvist meeting w/ #NYPD ? Then ask them how come I'm the only person asking about the Steven McDonald Award too. You would think this would be real news to cover! pic.twitter.com/FbmXo5xLsL

— BlueCollarBlueShirts (@NYCTheMiC) July 15, 2020
Of these three stories, which story do you find the biggest and has the most human interest?

— DUH I THINK K'ANDRE MILLER IS A BIG BOY OH WOW!

— KAAPO KAKKO SKATES FAST! MY CLIP-ON TIE FLEW OFF!

— In a city of crisis, the most famous #NYR of this century meets w/NYPD.

— BlueCollarBlueShirts (@NYCTheMiC) July 15, 2020
Of note, that last tweet will make more sense in a little bit.
When I first tweeted out the recent picture of Lundqvist in Brooklyn, where he posed with an NYPD officer, I received a ton of feedback, most of it positive. Of course, some wondered if the NYR "Woke" Liberal Twitter Mafia will now turn on Lundqvist, (as they have done with James Dolan and Tony DeAngelo in 2020) but to me, that's no concern of mine. I just can't waste time wondering what these loony lunatics will think. It's a waste of time, energy and kills brain cells. The only opinions I care about are the ones from my family, friends and you, the readers.
In my opinion, it's one thing for Lundqvist to pose with NYPD in the past. It's harder to do so now, as we now live in an ultra-charged political climate, especially here in NY, with Mayor Deblasio actively disparaging his NYPD officers at every turn.
Let's face it – for a celebrity or anyone of any standing, it's much easier to post a "black box" graphic, hashtag #BlackLivesMatter and shit-talk the NYPD. That's what our Mayor is doing. That's what liberal celebrities are doing. In 2020, it's very hard for someone to actively support the NYPD, without being lambasted for it.
For Henrik Lundqvist, the most famous Ranger of this century, to go out of his way to meet NYPD officers, well to me, that speaks volumes about his character.
Here is why I'm doing an about-face on Lundqvist. After I tweeted these pictures out, I got a ton of feedback, on Twitter, Facebook and on my email. I was told by many people, how Lundqvist has been meeting NYPD officers all week, and in all different boros to boot. In not one of these meetings, has Lundqvist shown up announced, nor has he looked for any publicity from it. Lundqvist was just using his fame to instill good vibes into various members and precincts of the NYPD.
Another thing to take into consideration here, and I got this story from two different people, is how NYPD officers have been told to stay off of social media. NYPD officers have to worry about being doxxed and having people (and gangs) trying to attack them. NYPD officers have also been encouraged to not travel in and out of work, in their NYPD uniforms, due to the war on cops initiative that Deblasio has put into place. In other words, for this officer to share this picture he took with Lundqvist from last week, it took balls. In addition, Lundqvist wasn't looking for any "good-will" or public image boost here either.
Furthermore, I was told by several people who are in the NYPD and by several fans who have NYPD relatives, how also during this week, how Lundqvist met and took pictures with NYPD officers. However, because of the edict and situation described above, NYPD officers aren't sharing these pictures, nor is Lundqvist sharing them either. What I'm getting at here, is that while we know about this one picture from last week, there are probably tons of other pictures out there, with Lundqvist & the NYPD, which remain private. And I totally understand why.
And yes, how SAD is it, that pictures that Lundqvist takes with NYPD officers have to be hidden? Thanks Deblasio.
Really, and let this truly sink in here – Lundqvist is not an American, nor considers NY as his full time home. However, Lundqvist has more class and respect for people who have the worst jobs in NYC today than the mayor of NYC does. The mayor!
With Lundqvist using his fame and image to help support NYPD, in a time where it isn't popular to do so, I have to tip my red, white & blue Rangers hat to him. He isn't looking for the red light of the camera here. (Ironically, Lundqvist is used to red lights, as in the red light giving him a sunburn on his neck, after every goal allowed. BAM, I STILL GOT IT! I haven't gone soft on you yet! I kid, I kid!)
Truth be told, Lundqvist could take pictures with BLM people, Deblasio, AOC or any other cop hater tomorrow, and I wouldn't care. After all, as I said earlier, I don't think Lundqvist is being political here, I just think he's using his fame to create positivity. I really think Lundqvist wants to help unify NYC here, than anything else. Again, I commend him. It's not easy for celebrities to stand up with the NYPD in these liberal times. Again, just look at the backlash DeAngelo gets from the liberal lynch mob.
If you've been reading this blog in recent weeks, I've been challenging the media to bring up the Steven McDonald Extra Effort Award, which for whatever reason, seems like a taboo thing to talk about now. After all, all the prominent members of the NYR media did the fake outrage shit, when James Dolan didn't speak out against NYPD last month. It's nice to see that Henrik Lundqvist, despite all of my negative opinions about him hockey-wise, hasn't forgotten Steve McDonald, his memory or the bond that Lundqvist cherishes with NYPD.
In fact, as I write these words to you right now, I'm the only Rangers blogger or reporter, to bring this story of Lundqvist hanging out with NYPD officers up. Do you know what Vince Mercogliano, Rick Carpiniello and Larry Brooks were talking about today, instead of this story? I shit you not, it was "K'ANDRE MILLER IS BIG!" and "KAAPO KAKKO IS FAST!" What insight! What journalism! Get these guys a Pulitzer! And while I'm half joking here, the other half of me, the serious side, wants to know how if I know about this story, how are these paid reporters not aware of it? Do your job! People want to read about this! This is a great human interest story, and a story of people uniting for the common good. I could give two shits less if Libor Hajek has great cross-ice strides!
I mean, look at this hard-hitting news:
Amateur observation: Kakko looks spry to me — leaner and quicker.

He just held up well in a defensive drill, winning a 50-50 puck battle with Julien Gauthier. (A very big, strong dude).

We'll see how it plays out, but DQ has said Kakko seems more comfortable. #NYR

— Vince Z. Mercogliano (@vzmercogliano) July 14, 2020
Nothing against Mercogliano (who has been killing it this season and may be the best reporter covering NYR today), Kakko or Guathier, but WHO GIVES A FLYING FATHER FINK? Wow, Kakko is quick! Kakko won a 50-50 battle with a guy who was in the AHL prior to the trade deadline! Not for nothing, in these times, I think Lundqvist lending his celebrity and support to the NYPD, is just a tad bigger story than "KAKKO QUICK! K'ANDRE STRONG!"
In closing on this massive missive on Henrik Lundqvist here, while there is no shot in hell that I want to see him as the starting goalie of the New York Rangers in August, because after all, I still hope that he's played his last game as a Ranger; as a person, and as a celebrity, I have a new-found respect for him. I'm sure if the times were different, we'd see countless more pictures of Lundqvist hanging out with the NYPD. The fact that Lundqvist hasn't abandoned the NYPD, in a time where it would be easy to do so – well to me, I only have one word for that – "King".
And one closing salvo here, if you see me using the phrase "LUNDSWISS" again, feel free to call me out!
And oh yeah, one last note – I am publishing this blog very late, into the wee hours of Wednesday morning. I've been talking with several people in the NYPD and people who have heard more about Lundqvist going out of his way to greet NYPD officers. If I get more stories and good things to share with you, I will do that in my next blog. There's just too much bullshit and negativity these days, (and I'm guilty of this too at times) so why not shine a bright light on Lundswiss I mean, Henrik Lundqvist!?!? Hell, with Lundqvist not being afraid of the liberal illuminati, if I ever find myself inside of M$G, on the night that Lundqvist's jersey is being retired, I'll stand up and applaud, with this story being at the forefront of my mind.
#ThanksHank
#SupportNYPD
#BlueShirtsandBlueLivesMatter!
---
If you haven't already, subscribe to this blog for the next update: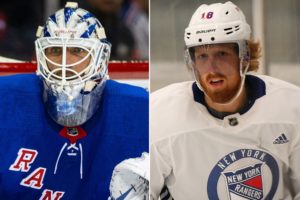 Moving forward here – I may be back with a 24 hour turnaround, by looking at the "Up in the Seats" podcast. In addition, "The Blueshirt Underground Show" is recording live on Wednesday night, so I'm sure I'll have some comments about that too.
In addition, in the next BlueCollarBlueShirts.com blog, I'll have the latest about Panarin & the Ted Lindsay award, Kreider's foot and all the other latest Rangers news and notes from Rangerstown, USA. And really, there's a lot to look at, as the Rangers found out their opponent (The Islanders) and date of their only exhibition game, prior to the playoffs. (July 29th, at 8PM.) I just feel that at 7000 words already, this blog has gone on long enough. I rather dedicate another blog to all of these other topics!
As far as the next blog, if you subscribe by clicking the form above, you'll get that bad boy delivered to your email box.
As always, thanks for reading and…
"WHY NOT THE RANGERS?!?!"
LET'S GO RANGERS!
Sean McCaffrey
BULLSMC@aol.com
@NYCTHEMIC on Tweeter and the new Parler app.