Greetings and salutations everyone and welcome to another blog here on BlueCollarBlueShirts.com.
When I last left you, which was just 48 hours ago, I went to bed thinking that Henrik Lundqvist would remain in Sweden throughout this pandemic. I also thought that the Dallas Stars would advance to the next round, by beating the banged-up Colorado Avalanche in their sixth game of the series. I also thought that the Vegas Golden Knights would wrap things up with the Vancouver Canucks as well, in their sixth game of their series.
In addition, I thought the New York Islanders would close out the Philadelphia Flyers in six games. How did all of that work out? Wrong, wrong, wrong and wrong again!
When it comes to the Isles & Flyers, I am gleefully joyous about being wrong on the Islanders! Chew that gum AV! Flyers in 7 all day!
In other words, everything that I thought would happen, just 48 hours ago, wound up not happening. Such is life!
However, with all of that said, I do have to give myself a pat on the back and an out here. In my Stanley Cup second round preview blog, which you can read by clicking here, I did predict the Tampa Bay Lightning to defeat the Boston Bruins in five games. I also predicted that both the Vegas Golden Knights, and the Philadelphia Flyers, would win their respective series in seven games too. As a result of two Game 6's on Thursday night, those two predictions can now come to fruition. And in the effort of full disclosure here, I also predicted the Colorado Avalanche to knock off the Dallas Stars in five games. However, there was no way of me knowing the injuries that Colorado would endure in this series.
While obviously, the second round of the playoffs have been exciting and fun to watch, as stated last blog, I'm waiting for the second round to be complete, before giving a recap of each series and predicting the Conference Finals. In other words, the genesis of this blog isn't about what happened on the ice on Thursday night; it's about Henrik Lundqvist's return to New York City.
Tonight's blog won't be as long as usual, as I just wanted to focus on Lundqvist's return to New York. I'll also have a few quick thoughts on the playoffs, before sharing information on how you can watch the KHL & Vitali Kravtsov games, if you choose to do so. In addition, I will also talk and plug Seth Kush's "Block Party" podcast, where Kush just wrapped up two great interviews, with two members of the Rangers alumni, in Phil Esposito and Brad Richards. And as mentioned last blog, when it comes to the worlds of sports and politics mixing, I'll save those stories for the end of the blog, for the people who don't want to read anything politically related at all. (And I don't blame those people.)
Before motoring on here, as usual, the PLUGS segment of the blog. When it comes to the stuff that I'm going to say about Henrik Lundqvist in this blog, it will help you if you did in fact read my last few blogs, which you can read by visiting these lovely links below:
---
---
---
---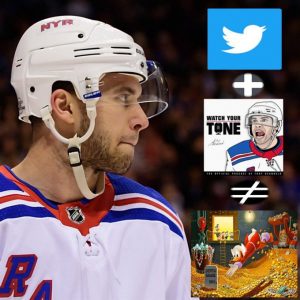 ---
When the Rangers were eliminated from the qualifying round of the 2020 playoffs, Henrik Lundqvist, like every other player on the Rangers roster, returned home. In Lundqvist's case, Sweden is where Lundqvist calls home.
In blogs I wrote after the Rangers elimination from the Toronto bubble, and all the way up to my most recent blog, which was just posted two days ago, I talked about how Henrik Lundqvist was currently in his native Sweden. I also talked about how Lundqvist was reported to be in training and staying in hockey shape. In addition, in that same blog from two days ago, I also shared a news report, from Swedish reporter Johan Rylander, and how Rylander was speculating about how Henrik Lundqvist was currently training with the Frolunda Indians, where Henrik Lundqvist's brother serves as team captain. (Joel Lundqvist.)
While it still isn't known if Lundqvist was training with Frolunda or not (he did train at their facilities during the NHL pause, which was prior to the Rangers mini-camp from this past July) what is known now, is that Henrik Lundqvist is scheduled to return to New York City this weekend.
On Wednesday afternoon, Larry Brooks, of the New York Post, filed a story on Henrik Lundqvist. You can read the story from Brooks here: https://nypost.com/2020/09/02/henrik-lundqvist-returning-to-new-york-amid-uncertain-rangers-future/
In the article, Larry Brooks talked about an email exchange with Henrik Lundqvist, where Lundqvist told Brooks about his plans to return to New York City. Here's the key part of the article written by Brooks:
Henrik Lundqvist is returning to New York.

"We're coming back to NYC to start the school year there. Then we'll go from there."

The 38-year-old netminder and his wife, Therese, have two daughters, eight-year-old Charlise and five-year-old Juli, who are enrolled in school in Manhattan. The crew is scheduled to arrive in New York over the weekend.

---
My first reaction, upon reading the article written by Brooks, was this – "why in the world would Henrik Lundqvist return to Bill Deblasio's hellhole, when Lundqvist has a great home & life in Sweden?"
On my last blog, when I talked about Chris Drury turning down the Florida Panthers general manager job, I talked about Drury's home life in Connecticut and how Drury probably did not want to uproot his family. While hockey-wise, the Rangers are much closer to the Stanley Cup than the Florida Panthers are, which is a good reason to stay with NYR in the first place; personal life wise, it would be a big change for Drury and his family. And it wouldn't have been a change that would've put Drury any closer to the Cup, a Cup that Drury wants to put on his resume.
When I look at this Henrik Lundqvist story, and his imminent return to NYC, I guess I can understand why he's returning – his kids are in a nice private school. Like any parent, Henrik Lundqvist wants to give his kids the best education possible. While I can't say I'm familiar with the schools in Sweden, perhaps Lundqvist feels that his kids are better off at the schools that they currently are at in NYC. And for all I know, Lundqvist's kids may have strong friendships with other kids from school and maybe Lundqvist doesn't want to disturb that either. I can totally get behind that and that makes all the sense in the world to me. I'm sure every parent reading these words right now, are all nodding their heads in agreement here.
However, this now begs the question, a question that we've been asking ourselves all season in regards to Lundqvist's future – WHAT'S NEXT?
There's a bunch of stuff to unpack here.
For starters, I was surprised that Henrik Lundqvist even gave Larry Brooks the time of day here, as just a month ago, and as talked about on this site already, Larry Brooks pretty much wrote the obituary on Henrik Lundqvist's New York Rangers career. While Brooks has had no issues with fan-boying for Henrik Lundqvist in the past (even if Larry Brooks totally ignored Lundqvist's work with the NYPD) Brooks still pretty much jumped the gun and closed the book on Lundqvist's time with New York.
And again, to be fair here, I don't think Brooks was wrong with what he wrote. It just makes no sense for the Rangers to retain Henrik Lundqvist for next season, for all the reasons that I've previously explained on this site. It's just time to move on. It's no longer the Henrik Lundqvist Era. It's the era of Artemi Panarin. It's the CZAR IGOR Era. And soon enough, fingers crossed, it will be the Alexis Lafreniere Era.
That said, just a month ago, Brooks did give the impression that the Rangers were done with Lundqvist, before an official transaction or press release was made; a transaction which still hasn't been made to this very day.
Looking at the facts here, Lundqvist did tell Brooks that he's returning to NYC. Does this rule out a return to his home-team of the Frolunda Indians, of the SHL? While we can't 100% say that scenario is dead in the water, it doesn't seem likely now, with Lundqvist returning to NYC. After all, why would Lundqvist return to NYC, put his kids into NYC private schools and then desert his family to return to Sweden?
What this news also tells me, is that Lundqvist isn't afraid of the complete shit-show Mayor Deblasio has turned NYC into and that Lundqvist isn't afraid of the corona virus in NYC, and all the restrictions in NYC right now either. Of course, while we all know that some NYC schools are not opening their doors and will do virtual classrooms at the onset of this upcoming school year, we don't know if Lundqvist's kids will be physically attending school or not. As an educated guess here, I would assume Lundqvist's kids will be in the classroom, because if they weren't, Lundqvist's kids could just virtually attend their NYC private schools from Sweden.
And in an unrelated point here, this also goes back to what I've been saying about Lundqvist for years, in regards to this current Rangers roster. Lundqvist is in a different stage of life. Most of the current Rangers are young and don't have kids yet. That's why I have always felt that in the past, and even to today, that the Ranger skaters play better for the younger goalies, whether it was Cam Talbot, Antti Raanta, Alexandar Georgiev or Igor Shestyorkin. Due to most of these skaters being at a similar point in life, as these goalies just mentioned, there's just more of a bond there.
Henrik Lundqvist, to me, always came off as the elder statesmen and the "principal" of these recent Ranger teams. There's not much bonding going on between Lundqvist and the majority of the Rangers locker room. The younger Rangers go out at night and hang out together, while Lundqvist, who is much older, goes home to focus on his family, as any good father should. If Lundqvist was without family, perhaps he'd remain in Sweden right now. Instead, he's making a decision on what he thinks is best for his family. You can't knock him for that.
With Henrik Lundqvist returning to New York, putting your money on a Lundqvist return to Frolunda seems unlikely. However, what is also unlikely, is the Rangers retaining Lundqvist.
I know I've talked about why the Rangers need to move on from Lundqvist in the past and the recent stuff Brooks wrote, so let's just bullet point a few things here:
— Henrik Lundqvist still thinks he's capable of being the starting goalie in New York. As we saw this season, that's not true. In addition, IT MAKES NO SENSE, even if the Rangers did trade Alexandar Georgiev, to make CZAR IGOR SHESTYORKIN the back-up goaltender. Lundqvist has had enough "last kicks at the can", in his attempt of trying to win the Cup, as the starting goalie of the Rangers.
— Furthermore, even if Henrik Lundqvist was to accept a back-up role (most former elite athletes do not accept lesser roles, as they'd rather retire than be relegated) for the Rangers, it would create unnecessary attention and stories. Any time IGOR has a bad game, there will be people clamoring for Lundqvist to start. For the Rangers, despite all their recent good fortune with free agency (Artemi Panarin) and the draft (Kaapo Kakko & eventually Alexis Lafreniere) they are still a rebuilding team. Just like how you want to see young guns like Ryan Lindgren, Adam Fox, Filip Chytil, Tony DeAngelo and others get playing time, the same principle must apply to the goaltending position.
— For all of these basement bozos who think the Rangers should trade Alexandar Georgiev, and who think the Rangers will get a huge haul for him, these people are out of their minds. As we saw this week, the St. Louis Blues, who admittedly traded away goaltender Jake Allen as a salary cap dump trade to the Montreal Canadiens; all the Blues got back for Allen was a seventh round pick. Needless to say, Allen is more established than Georgiev.
(And on the Allen trade, I absolutely DESPISED this trade, because I hate the salary cap, a salary cap which has always been the root of my disdain with Henrik Lundqvist. The St. Louis Blues are being punished for being successful. Even sadder, the Blues haven't even been that good for that long. They had a two year run, a run that netted them a Cup. However, they are now forced to tear down, rather than reload. Get rid of the cap already! After all, look at Senile Sather's Rangers teams, prior to the institution of the hard cap. They didn't make the playoffs once! This means money doesn't equate Cups!)
To continue this bullet train here (ironically, I'm enjoying Bulleit Bourbon as I write these words – isn't that amazing Suzyn?) let's continue the conversation on goalies:
— Again, while on Georgiev, and these imaginary fantasies that these basement bozos envision in a potential trade of Georgiev, the goalie market is going to be jam-packed this year. Goalies like Braden Holtby, Jacob Markstrom, Matt Murray, Corey Crawford, Jonathan Quick, Petr Mrazek, James Reimer, Robin Lehner, Tristan Jarry, Marc-Andre Fleury, Thomas Greiss, Cam Talbot, David Rittich, and many others, may all change locales. With the abundance of goalies that will be available, whether through trade or by free agency, it lowers the asking price from a Georgiev suitor. And really, as I've said 7867897958567 times already on this site, it makes no sense for the Rangers to deal a cheap and serviceable back-up anyway.
— And lastly, it just makes no sense to carry an $8.5M back-up goaltender. It never made sense to give Lundqvist that contract to begin with, much less having an $8.5M cap-hit third string goalie today.
So again I ask – what's next?
As talked about on past blogs, if you're Henrik Lundqvist, who has shown that money is more important to him than winning, why would you retire? Of course, it would be the noble thing for Lundqvist to do, and it would help the Rangers going into next season, but why would he walk away from the last big money year of his life? After all, while Lundqvist is loaded, how many of us would poo-poo the chance to make millions and millions of dollars, just to show up to work? Plus, Lundqvist doesn't even have to be good at his job. All he has to do is show up.
(And for the people who suggest that Lundqvist could take an office job or a coaching job and get paid his $8.5M cap hit, there's no way the league would allow that. Other teams would cry foul, saying the Rangers were circumventing the salary cap. Plus, at least from a coaching aspect, what is Lundqvist going to do? Carry Benoit Allaire's Ben-Gay around?)
With the idea of amnesty buy-outs, as a result of COVID-19, being negated by the NHL, the most likely scenario for the Rangers is buying out Henrik Lundqvist, thus saving cap space, cap dollars that can go to the current restricted free agents on this roster, such as Alexandar Georgiev, Ryan Strome, Brendan Lemieux, Tony DeAngelo and others. And while the Rangers currently have dead cap space on their books already, with a young team, a young team featuring many guys on rookie/three year entry level contracts, adding Lundqvist's dead cap space money wouldn't be a crushing blow. (Another reason why the Rangers will draft Lafreniere – they are getting a great player for a bottom bargain price.)
If the Rangers and the Frolunda Indians aren't in Lundqvist's future, what team is?
Going into next season, the NJ Devils have a goalie situation to address. Cory Schneider already seems to be on the outs, as he was bounced down to the AHL during this season, in favor for the now restricted free agent, in MacKenzie Blackwood. In the event that the Rangers do buy out Lundqvist, the Devils would be able to afford Henrik Lundqvist and it could also be a franchise that Lundqvist could be the starting goaltender for. However, it's tough to see this happening.
For Lundqvist to go to the Devils, Lundqvist would be joining a rock-bottom team. For Lundqvist, who does want to add that Stanley Cup to his resume, the Devils aren't the answer. If Lundqvist was to be bought out, the only way I could see Lundqvist even entertaining the idea of joining the Devils, is if he puts his family life first, as he's doing right now with his move from Sweden and back to NY. By playing with New Jersey, Lundqvist would remain close to home with his family. (And in regards to the other local team, in the Islanders, even if Lundqvist would dare trade allegiances, there's no way he would fit in with the Islanders, who already have their goalie of their future in Ilya Sorokin.)
Assuming Lundqvist is to be bought out, there are two interesting franchises that may be interested in him. Keep in mind though, as mentioned earlier, there will be a ton of goaltender talent available this upcoming off-season. How many of these teams will want to take a risk on a 38 year goaltender (who will be 39 come the time of the 2021 playoffs) who was in his prime eight years ago?
The Carolina Hurricanes will need a goaltender for next season, as Mrazek and Reimer, while serviceable, aren't goalies who can steal wins and carry a team to a Cup. While Mrazek & Reimer are contracted with Carolina next season, it wouldn't be that hard to buy either one of them out, or trade one of them. After all, Reimer has been a journeyman goalie his whole career.
Another franchise that would fit Lundqvist's needs to win a Cup would be the Colorado Avalanche, a franchise who has goalies Phillipp Grubauer & Pavel Francouz on the books for next season. However, both of those goalies are cheap, and like Carolina, Colorado wouldn't have cap issues or problems, when trying to move either one of those goalies.
Let's also keep in mind, in the event that the Rangers buy-out Lundqvist, he will get his full contracted salary from the Rangers. He could sign for cheap with a contender, even for as low as $1M, and still be ahead of the curve and game here.
For the last time here, what's next for Henrik Lundqvist? The answer: who knows?!?!
What we do know is this – it does seem unlikely that Lundqvist goes back to Sweden, which in turn, means an answer on his future may not be as immediate as originally thought. (The SHL season starts in less than two weeks time, and if Lundqvist was going to play the full season with Frolunda, we would've most likely got a decision within that time frame.)
We also know this – the Rangers will accommodate Lundqvist by any means possible. The Rangers don't want a messy divorce. They don't want another Giacomin deal here. (Giacomin will only make appearances for NYR if he's paid handsomely, as he still feels burned by the franchise to this very day.)
There's always the scenario where Lundqvist retires and plays Mr. Mom for the rest of his days. However, and according to reports from Rylander and others, Lundqvist still wants to play. He just may not play for the Rangers ever again, which ironically, is due to the salary cap, a salary cap which may have prevented Lundqvist from ever attaining the Stanley Cup.
In any event, once something becomes official, you can bet your bottom dollar I'll have a blog about it!
---
For hardcore Ranger fans who are looking for more hockey in their life and who may not be engrossed in the NHL playoffs right now, I wanted to make aware to you that the KHL has an English app available for Apple users.
In the past, when I wanted to watch CZAR IGOR SKA games, I would go to Reddit and find streams of KHL games from there. For fans looking to track Vitali Kravtsov and his games with Traktor, you can sign into the app and watch his games, legally, on the app.
In addition, for those of you who have Verizon Fios, you can watch KHL games on channel 597, through the Eleven Sports Network.
And as mentioned on past blogs, for more KHL news & notes, you can follow Gillian Kemmerer, an American reporter who covers the KHL, on her Twitter account:
Vitali Kravtsov (74) playing on @HCTraktor1947's second line alongside team captain, Olympic gold medalist and former @hccska Gagarin Cup champ Sergei Kalinin + new #sabres addition Lawrence Pilut on D. #playlikeanewyorker pic.twitter.com/hEI4QrJc73

— Gillian Kemmerer (@gilliankemmerer) September 3, 2020
Of note, Kravtsov's Traktor team lost a 3-1 decision to Avtomobilist on Thursday afternoon. Kravtsov finished with a plus/minus of -1 and didn't make the score sheet. Don't overreact to one game! More impressively, in this same game, was the ageless Pavel Datsyuk, who picked up two assists in Avtomobilist's win over Traktor.
---
I have covered Phil Esposito, and his comments during recent podcast interviews, in the past on this site. In short, while Phil Esposito pretty much hated coming to the Rangers and still doesn't seem to give two craps about the franchise to this very day, Epso is always an amazing interview. If you can't stand the political correctness of the world today, you'll love Phil Esposito interviews.
As mentioned on a prior blog, Dan Girardi, who started the "BLOCK PARTY" podcast with producer Seth Kush, a podcast that is endorsed by the Tampa Bay Lightning, Girardi left the podcast at the start of the pandemic. Girardi has relocated back to Canada and has left the Tampa Bay area. When Girardi left, Seth Kush kept the show going, even maintaining the "BLOCK PARTY" name.
Of course, as we all know, there's a lot of crossover history between the Tampa Bay Lightning and the New York Rangers, which in turn, means the "BLOCK PARTY" podcast features many NYR alumni on their episodes.
In the two most recent episodes, Seth Kush talked to both Esposito and Brad Richards. You can listen to the shows here:
Thank you to Brad Richards (@BRichards_1991) for coming on the podcast. I was a little nervous for this one. 👀 Brad talk about who he hung out with in Dallas one night 🎧⬇️ #GoBolts @BoltsRadio #BeTheThunder

Full show on YouTube, 🍏 and Spotify! https://t.co/1Aq7JfgcPb pic.twitter.com/MTTvJgb057

— Seth (@SethKush) September 2, 2020
New #BlockParty this week with @PhilEspo7!! Espo tells us about all the accommodations they had during the 5 OT broadcast 🎧⬇️ #GoBolts @BoltsRadio @boltsalumni

Full epsiodes https://t.co/LdEsOEmPvZ pic.twitter.com/3fohdpMLGu

— Seth (@SethKush) August 20, 2020
In the interview with Brad Richards, needless to say, Richards was much more tame than the outspoken Esposito.  However, Richards did talk about his recent skydive, meeting Michael Jordan and talked about some crazy John Tortorella stories, one story which included Torts making the Rangers aimlessly drive around NYC with their gear, in an attempt to tell the team to stop wasting the time of Torts!
The Esposito interview, which marked Espo's third appearance on the podcast, was once again fantastic. If anyone needs his own podcast these days, it's Espo. Then again, if Espo had his own podcast, it would only be a matter of time before cancel culture went after him, a fact that he openly admits!
During the podcast, Espo slammed Tuukka Rask a bit, and mentioned how he himself, missed the births of all of his kids, as hockey was more important. Espo also talks about slamming beers, how much he loves the game today, and pretty much offends anyone that subscribes to liberal politics today. It's well worth your time, as Espo never holds back and doesn't care what anyone thinks about him. There's even a Bob Hope story in there for you too.
While on the topic of podcasts, Tony DeAngelo announced that there will be no new episode of "Watch Your Tone" this week. TDA promised a return next week.
---
In a quick news item, Nickey Nuco is reporting that David Quinn said that the Rangers aren't trading the number 1 overall pick of the 2020 NHL Draft, as most people with a brain expected.
While we can argue the veracity of Nuco's report, I don't see why he would make such a story up. Furthermore, it's known that Quinn has a summer residence near Sea Girt, NJ, so the story does check out, from that side of things.
Take what you want out of this Facebook group posting. I tend to believe it, as I have heard in the past about DQ being open when talking to fans about NYR.
---
A few quick thoughts on the recent events of this second round of NHL playoffs:
— Every time I hear Keith Jones commentating a game, he makes me miss Mike Milbury. While I'm rooting for the Flyers to take down the Islanders, every time Jones talks about the Flyers, it's as if he's inhaled a 50 pack of "Blue Chew" boner pills.
— That Game 6 double overtime game, between the Isles & Flyers, was something else. I can't recall a recent playoff game where both teams were trying to actively lose. Whether it was AV with his third failed (and extremely bad) goal review of this series, the Islanders sitting back on their power-play, the horrid level of play from Varlamov, the Flyers dumb penalties and about 100 other things, it seemed like neither team wanted to win that game. Fortunately for NYR fans/Islander haters, the Flyers somehow won that debacle on Thursday night. Can AV make it three in a row against Trotz, when down in a series by a tally of three games to one? We'll find out on Saturday, after the Kentucky Derby. (Busy day for Eddie O.!)
— Goaltender Thatcher Demko, playing in steed for the injured Jacob Markstrom, has been lights out, picking up two huge wins against the Vegas Golden Knights, to even up the series at three games a piece. After an epic performance in Game 5 on Tuesday night, on Thursday night, in Game 6, Demko "DemKO'd" the Knights, by posting a 48 save shut-out. If it were up to me, I'd go to Marc-Andre Fleury in net for Vegas, in the pivotal Game 7. That said, if Vegas does go back to Robin Lehner for Game 7, you have to wonder what team MAF's agent, in Allan Walsh, will be rooting for? Walsh has to be extremely happy about Vancouver lighting up Lehner in their two recent wins. I still stand by my original opinion – MAF should've been given the net until he played himself out of it.
— The Avalanche are currently using their third string goalie, in Michael Hutchinson, in their quest to come back from being down 3 games to 1 in their series with the Dallas Stars. As opposed to the first round, where Dallas made epic comebacks over the Calgary Flames, it's now the Avalanche returning the favor. The Avalanche seem to be a team that will only go as far as their first line will take them. While most expected Colorado to win this series, if Dallas loses Game 7 on Friday afternoon, there will be a lot of "what if's" for Dallas.
And speaking of Dallas, as we close up this blog, I have a story that has political overtones to it. If you don't want politics in your blogs, this is where I bid you adieu.
---
In a story that was first reported by the local Dallas newspapers, and then garnered main stream press (even though NHL.com refused to cover this story) on September 1st, Dallas Stars team president, in Brad Alberts, admitted that the Stars have lost season ticket subscribers, over the teams decision to support a pedophile, a rapist & a career criminal in Jacob Blake.
You can read USA Today's coverage of the story here: https://www.usatoday.com/story/sports/nhl/stars/2020/09/01/stars-president-says-team-lost-customers-over-black-lives-matter/3456201001/
In the article and according to Alberts, it is believed that some Stars fans are no longer giving their money to the Stars, over the franchise's support of Black Lives Matter. However you feel about BLM, and if they are a domestic terrorist marxist group or not, I think Alberts isn't being 100% honest here.
Hockey fans, including Stars fans, aren't against the league for wanting equality, even if the BLM promotion is pandering to liberals. After all, and as stated 7867867896789 times on these blogs, hockey isn't racist. Climate, culture and economics is why you see so many white faces in the NHL, including faces from European, Canadian, Russian and American backgrounds. (Again, for the full spiel on this, check out: https://bluecollarblueshirts.com/82820/ )
(And to just add something here, since I brought up the KHL previously, how come there aren't people going crazy about the lack of black players in the KHL? Again, climate, culture and economics here! And where is the outrage about the lack of non-Asian sumo wrestlers in Japan? CLIMATE, CULTURE AND ECONOMICS!)
Wanting to incorporate different ethnic backgrounds into hockey is fine and good. However, when you align yourself with a group that has openly preached domestic terrorism and violent messages on their website and promotional materials, it's a completely different ball game. And when you openly support a criminal who touches kids? That's the lowest of the lows. Even people in prison hate kiddie touchers, which is why many of these sick freaks go into solitary.
I know it goes against the liberal narrative and what the main stream media tries to promote here, but can we face facts? Jacob Blake isn't a saint or Martin Luther King Jr. here. Blake is freaking Jared from "Subway". He's Jerry Sandusky. All of these guys deserve to rot in prison.
In Alberts interview, where he was upset about Stars fans pulling their dollars from the team, Alberts said:
"The NHL and NHLPA recognize that much work remains to be done before we can play an appropriate role in a discussion centered on diversity, inclusion and social justice."
No one is advocating for black people to be excluded from hockey. However, like any sport, climate and economics are the factors here. Every team, in any sport, would sign any player, from any background or identifying trait, if they can play and help a team win games. Again, as mentioned in-depth two blogs ago, to create an influx of black players in hockey, it all has to start at the youth level. TIME, not money, is what's needed here.
I bring this story up to you, because it will be interesting to see if other fan bases follow suit. I also found it interesting that Alberts talked about this publicly, as if he was trying to disparage the fans who do not support Jacob Blake and his crimes.
Truth be told, I hope all of this goes away, and we can just talk about hockey. However, due to liberal pressure, I think teams will find themselves between a rock and a hard place. Hockey IS and SHOULD BE for everyone, including people who don't support criminals and domestic terrorists.
In closing on this, this all goes back to what I've been saying from day one – when you talk politics, no matter who you are or what company you represent, you will always alienate half of your audience. The Stars are finding this out now.
---
If you haven't already, subscribe to this blog for the next update:
I'll be back either Sunday or Monday, with a recap of the second round of the playoffs and with my Conference Final preview & predictions.
We got a great sports weekend coming up, with three Game 7's, a UFC event and the Kentucky Derby. At least the horses and UFC fighters don't kneel!
As always here, thanks for reading and…
LET'S GO RANGERS!
NYR WILL DRAFT LAFRENIERE!
KEEP POLITICS OUT OF SPORTS!
Sean McCaffrey
BULLSMC@aol.com
@NYCTHEMIC on Tweeter and on Parler