Greetings and salutations everyone and welcome to another blog here on BlueCollarBlueShirts.com. If everything goes according to plan, we're now just a month and a few days away from the start of the 2021 NHL season. That's right folks, it looks like the NHL will be back sooner than you know it!
After several squabbles and numerous rumblings concerning escrow, during this past weekend, the NHL owners have backed away from that topic. As of this writing, the current CBA, which the owners and players just signed this past July, will be honored, as we approach next season and beyond. If the league is to find themselves in any sort of financial strain, it will be up to Gary Bettman to figure it out. While current fiscal matters are a direct result of the coronavirus pandemic, these issues are something that the league will handle. More importantly, these issues won't effect the NHL from continuing play.
And oh, as mentioned previously – the NHL didn't want anything to effect the addition of the Seattle Kraken into the league. With Seattle's expansion money, combined with an upcoming new national TV deal in America, it was imperative that the NHL got things in working order. I'm happy to say that is what is going on right now.
When it comes to the coronavirus and its impact on the 2021 season, there will be changes from the norm. While nothing has been 100% officially announced yet, the league has shown their hand a bit, when it comes to expectations for the 2021 season.
In news which was first reported by the Canadian news outlets in Canada, in TSN and SportsNet, it looks like we will have a 56 game schedule, which will begin on January 13th. Again, nothing is 100% confirmed yet, but this is the news that's currently out there. I should also mention here, that both the league and the players, want as many games as possible. If there's any way to play more than 56 games, the NHL will try to find a way.
When it comes to team rosters, and with the AHL and ECHL both in a state of flux, as Elliotte Friedman first reported, it looks like the NHL rosters will expand from 23 players to 26 players, during this upcoming season. There's also talk of "taxi squads", where players from the AHL will travel with their respective clubs and receive NHL benefits and tenure.
As far as expanded team rosters and taxi squads go, this would definitely benefit all NHL teams. However, it wouldn't necessarily benefit these taxi squad players. Under this likely scenario, teams would be able to carry more players, thus having players available in the event of an injury, or a positive coronavirus test, to a regular everyday roster member. For NHL teams, that would mean not having to worry about getting an AHL player to whatever city the NHL team is in. Furthermore, teams wouldn't have to worry about COVID-19 restrictions and tests for new arriving players, since these players would be already traveling with the club and undergoing all league COVID-19 protocols.
When it comes to the AHL players who would be part of these taxi squads, this season may be a wash and could delay their development.
To illustrate what I mean here, I'll use K'Andre Miller as an example. However, really, you could use a few names as an example here, such as Libor Hajek, Tarmo Reunanen, Brandon Crawley or Matthew Robertson. (For what it's worth, I wouldn't consider Vitali Kravtsov or Nils Lundkvist here, as it's already known that they will finish out their seasons in their respective leagues, which are the KHL and the SHL. As talked about on previous blogs, if the Rangers are in the thick of things, and Kravstov and/or Lundkvist are available, as a result of their season overseas being concluded, then I could see these guys joining the team. Of course, there may be some cap restrictions here, but when there is a will there is a way!)
For a guy like K'Andre Miller, he may not be ready for the NHL right now. It might be better for him to get a year under his belt in the AHL, for seasoning and development purposes. However, under these current conditions, we'll most likely see K'Andre Miller traveling with the team this year. While Miller will get the advantage of traveling and learning the NHL game by practicing and watching the team, he won't get anywhere close to the ice time he would've got, had he played a normal AHL season with the Hartford Wolfpack.
Every team in the league has prospects who are borderline ready for the NHL. All of these teams will lose development time with these players. However, this is just one of the trade-offs, in order to get an NHL season going in 2021. For every team in the league, like everyone else in the world, you just have to roll with the punches. Hopefully, these teams take these punches better than Nate Robinson did in his fight!
That said, I see K'Andre Miller, and players like him who are on the bubble, getting some NHL games this year. After all, as I've said in previous blogs, in regards to back-up goalies; with a condensed schedule, coaches will likely be looking to give some of their veteran players an extra day off here and there. This theory most certainly applies for teams in playoff contention, as these teams would want their full roster as healthy as possible for the Stanley Cup Playoff Tournament.
When it comes to other reports about the 2021 season, it's being reported that teams will begin all COVID-19 testing, the day after Christmas, on December 26th, 2020. From there, training camp is expected to start after the New Year, on January 3rd. In addition, with training camp rumored to begin on January 3rd and the season rumored to begin on January 13th, as of this writing, it's being reported that there will be no preseason or exhibition games. Of course, all of this could change, as again, nothing is written in stone yet.
I'll get more into all of this as we mosey along tonight, but as Rangers Team President John Davidson said this week, it's up to the players to be in game shape, come whenever training camp opens. This isn't the old days, where some players used training camp to get back in shape. Players are 100% expected to be ready to go, once players reconvene with their respective teams. And for what it's worth, I believe the Rangers will be ready, based on what we've seen on social media. Really, the biggest hurdle right now for the Rangers, is getting all of their players back to America. I guess I should also mention here, that Artemi Panarin is already back in New York City, so that's a big step in the right direction.
In tonight's manifesto, I got a ton of different topics to talk about. I have some stuff for you from John Davidson, the league's finances, "reverse retro" jersey sale figures, a Forbes report on the most and least profitable teams in the NHL, Alexis Lafreniere, Kaapo Kakko and more. In addition, in a new feature, I got RANGERS TRIVIA for you. No cheating people! Close up that Google browser and see how you do on your own! I'll then close this blog with the main event – a Top 5 list of things I would do if I were running the Rangers in 2021.
However, as usual, before getting into all of the meat and potatoes of this blog – the PLUGS segment! Say it with me folks – in case you missed them or need a refresher, here are my last few blogs:
---
---
---
---
In an update to the "New York Rangers Rink of Honor" book I'm working on, I'm now up to 200 pages written, edited and formatted. However, like these blogs, this book will be long! I originally estimated that I'd do 300 pages, but now it's looking like I'll hit 400 pages. However, the length of the book is really not an issue for me, as this is just a bucket list thing for me. After all, I won't get rich off of this. In fact, when I think about all the time I've put into this book, I'll probably make something like two cents an hour off of it! Like this site/blog, this book is just a hobby. Plus, I'm cooped up at home, so at least I'm doing something constructive with my free time!
When working on the book, I've had to spend countless hours doing research, talking to people, reading old newspaper articles and doing other things to fact check myself. During these rabbit hole researches, I've uncovered some trivia that at least I found interesting.
I don't know if I'll do this segment every blog, since these blogs are super long already, but if the feedback is good, I'll keep running these trivia bits.
For our first installment, I'll ask you three questions, each with a bonus question attached. All answers will be provided at the end of this blog.
---
TRIVIA QUESTION ONE: Name the player that not only created a rift between Conn Smythe and Frank Selke, but also created a life-long rift between Lester Patrick and Frank Boucher.
BONUS QUESTION ONE: Name the team captain of the Rangers 1949-1950 Stanley Cup Finalist team and how the Rangers acquired him.
---
TRIVIA QUESTION TWO: The 1980's were a hectic and chaotic time for the Rangers, especially when "Trader Phil" Esposito was the team's GM. Name the two skaters that were on the Rangers during the 1983-1984 season and remained with the team through the 1992-1993 season.
BONUS QUESTION TWO: Name the player the Rangers called up during the 1983-1984 season and remained with the team through the 1992-1993 season.
---
TRIVIA QUESTION THREE: This site has spent a lot of time over the years, talking about the Rangers Original Bread Line, which were Bill Cook, Frank Boucher and Bun Cook. Name the second "Bread Line" in Rangers history.
BONUS QUESTION THREE: What forced the second "Bread Line" to break up?
---
Answers at the end of this blog! I aim to educate and always love talking about Rangers team history!
---
On the anniversary of Pearl Harbor, which was this past December 7th, Larry Brooks posted an article featuring quotes from Rangers Team President John Davidson. You can read the article here: https://nypost.com/2020/12/07/john-davidsons-message-for-rangers-amid-nhl-uncertainty/
While nothing JD said in the interview was truly shocking, he did shed some light. Here are some of the key quotes:
"There is so much unknown, we don't know exactly when camp will begin, we could get a call anytime alerting us, but it's going to be really interesting. It's going to be a short camp, we don't know exactly how long and we don't know how many exhibition games, if any, we'll play."

"It is incumbent on every player in our organization to show up in the best shape possible and be ready to go and compete and make an impression on Day One. That's it. Period. There's no way around it. Make sure you are ready to go when it is time to be ready to go."
---
As talked about previously on this site, I told you that it was my opinion, that I didn't see Alexis Lafreniere or Kaapo Kakko, playing in the World Juniors tournament this year. I felt, and still feel, that allowing either player to play in this tournament would be an unwise decision for the Rangers. After all, I'm a Rangers/NHL fan first, and a fan of international teams second. I don't care if it's the Olympics either. I want what's best for the Rangers. I'll take a Rangers Stanley Cup victory over a Team USA gold medal, any day of the week, twice on Sundays!
Prior to the interview with Brooks, the Rangers told both Team Canada & Team Finland that Alexis Lafreniere and Kaapo Kakko would remain with the Rangers and would not be playing in the World Juniors Tournament. Again, I felt this would be the case, as did many of you.
JD pretty much echoed my thoughts and opinions in the same interview with Brooks, as JD was asked by Brooks about the Rangers decision to not allow Lafreniere and Kakko to compete in the tournament:
"I love the World Juniors. It is a fantastic tournament. They've both played in it before. But we talked it through and the timing isn't right. These two young men are very important to the growth of our team. There was no conspiracy.

It was pretty simple. We hope to be playing in January and we just cannot take the chance of an injury. There is no more to it than that."
If you notice, JD used the word "conspiracy" here. For whatever reason, Canadian fans thought JD was holding Lafreniere back, as a way to help Team USA. Of course, while John Davidson works for an American franchise, he himself is a Canadian. In other words, I don't see how any mothercanucker could use the word "conspiracy" here. Instead, the phrase "common sense" should've been used.
In news that made JD's decision look wiser, a day later, Team Canada sent five players home from their World Juniors camp, due to coronavirus issues. One of those players turned out being defenseman Matthew Robertson, a Matthew Robertson who is a Rangers prospect.
While the coronavirus hasn't severely effected the health of any active athlete in America or Canada today, obviously, sending the crown jewel of the 2020 NHL Draft into an unnecessary environment would've been the decision of a fool. In the case of Kaapo Kakko, who does have immune system issues, the Rangers could've never taken that chance with him anyway.
At the end of the day, for John Davidson, for me and for many of you, the Rangers come first. Team Canada and Team Finland will have to make due with what they have.
---
In an update to the ECHL story, where I previously told you that the Rangers ECHL affiliate, the Maine Mariners, and their entire division, the North Division, were suspending all operations for the 2020-2021 season, three more teams this week have bowed out of the 2020-2021 ECHL season. Those teams are the Cincinnati Cyclones, the Idaho Steelheads and the Kalamazoo Wings. For those keeping track, the Cyclones are the affiliate of the Buffalo Sabres, the Steelheads are the affiliate of the Dallas Stars and the Wings are an affiliate of the Vancouver Canucks.
As talked about on past blogs, I don't see how the ECHL and the AHL can have seasons in 2021. The finances just aren't there, especially with fans not being allowed to attend games.
As of this writing, the ECHL still plans on having a 2020-2021 season, but once again, I don't know how the ECHL can have a profitable season. And it's not like the ECHL can afford to take significant fiscal hits either. After all, the NHL can't even afford to take big money hits!
Right now, there are 15 ECHL teams looking to participate in the 2020-2021 season, which is slated to begin this Friday, on December 11th. We'll see if that happens.
---
In an article released on the morning of December 9th, Forbes reported on the financial states of all 31 NHL teams. As they were last year, the Rangers are the most profitable team in the league, with a value of $1.65B. Rounding out the top five are all Original Six teams, with Toronto in second place ($1.5B), Montreal in third place ($1.34B), Chicago in fourth place ($1.085B) and Boston in fifth place ($1B).
You can read the entire article, which covers every team and their finances, here: https://www.forbes.com/sites/mikeozanian/2020/12/09/nhl-team-values-2020-hockeys-first-decline-in-two-decades/?utm_source=TWITTER&utm_medium=social&utm_content=4294944506&utm_campaign=sprinklrForbesMainTwitter&sh=2bdd61d970dd
Worth noting, from that same article, was this:
The New York Islanders lost the most ($39 million), yet we held their value flat versus a year ago at $520 million. They generated the NHL's second-lowest revenue ($93 million after revenue sharing) while splitting its home games between the Barclays Center and Nassau Coliseum, but better financial times are ahead when the Isles move into their new arena by Belmont Park on Long Island for the 2021-22 campaign.
How these losers, known as the NY Islanders, get their 7678967896986th venue in three years, is beyond me. The Islanders have been a money pit, ever since the players from the Islanders dynasty years retired. I know I've talked about this in the past, but let this sink in – THE FLORIDA PANTHERS AND ARIZONA COYOTES OUTDRAW THE ISLANDERS!
Seriously, trying to make the Islanders a financial success is like trying to hold a diarrhea infused dump on a rickety roller-coaster. It's just not going to happen.
But wait, there's more financial news to get into!
---
In another financial report released on Wednesday, Adidas and the NHL released information on the top five selling "Reverse Retro" jerseys. Of note, these jersey sales reflect the number of purchases in the first week of these jerseys release.
The top five selling "Reverse Retro" jerseys are:
The Washington Capitals. This tells me that Ovechkin fans came out. I'm also led to believe that Ranger fans also came out, as I've seen some Ranger fans post online their new Henrik Lundqvist Washington Capitals jersey.
The New York Rangers. I think this was to be expected. If it wasn't for Lundqvist on the Caps, I think the Rangers would've been number one on this list.
The Anaheim Ducks. This surprised me, because their jerseys are so goofy looking and because Anaheim isn't a traditional hockey market.
The Colorado Avalanche. Again, if it weren't for Lundqvist on the Caps, I think Colorado would've finished second on this list. I'm not shocked to see Colorado in the top five here, because they have the best looking jerseys of the lot.
The Arizona Coyotes. This doesn't surprise me either. While Arizona doesn't have a big fan base and there always rumors about moving them to Houston, hockey fans love the Kachina logo.
Of note, because I wanted to follow-up on this report, Shop.NHL.com and Fanatics.com are sold out of all NYR "Reverse Retro" jerseys. The Liberty Head is a hit. Then again, Ranger fans love new and unnecessary shit, yours truly included. After all, check out some of my latest purchases:
I am not a hockey card guy at all. However, sometimes alcohol + eBay + 3AM = "what the hell is in this package?", come 3-5 business days later! All in all, I spent something like $35 the other night, and on Wednesday afternoon, I received a ton of cards, including two team sets of the 2019-2020 Rangers.
As I try to remember what the hell I was doing on eBay that night, I checked my browsing history, where I saw this story: https://www.newsday.com/sports/hockey/rangers/rangers-trading-cards-1.50083321
Anyway, as I read Colin's article, where he talked about the worth of an Alexis Lafreniere rookie card, as I always do whenever I read something, I wanted to fact check it. Turns out, on eBay, Alexis Lafreniere rookie cards are going for $300-$400! The guy hasn't even played one game yet!
Like many young and teenage boys, I used to collect trading cards, but fell out of it when I realized that driving and owning a car was more important than collecting pictures on cardboard.
Every now and then, I'll do a Google and eBay search, and check out the prices of cards. It truly is insane what people deem the worth of these cards. I can understand why a Honus Wagner or a Mickey Mantle rookie card would go for significant cash, but a card made in 2020 going for $300? Insanity.
If anything, I feel bad for the kids, especially kids who are Ranger fans. Not only are they priced out of Madison Square Garden, they are now unable to afford a card of the newest Rangers stud. Something doesn't seem right about that to me.
---
In one final note, as it relates to Rangers players specifically, I wanted to share this link: https://www.oddsshark.com/nhl/odds-win-nhl-calder-trophy?utm_source=sportsnet.com&utm_medium=referral&utm_campaign=editorial
In a story that I first saw on SportsNet, and which is the textbook definition of "sponsored content", is the fact that CZAR IGOR is the current favorite to win the Calder Trophy in 2021. (Rookie of the Year.)
Here's a snippet from the article:
Online sportsbook Bovada has given Shesterkin the best odds to win the 2020-21 Calder Trophy at +175. He's followed by teammate Alexis Lafrenière (+375), Kirill Kaprizov of the Minnesota Wild (+400), Grigori Denisenko of the Florida Panthers (+1000), and Quinton Byfield of the Los Angeles Kings (+1200) to round out the top five choices on the oddsboard.
If you're a regular reader of these blogs, you know I've been following CZAR IGOR since his KHL days. After all, this picture was taken in 2017:
While I'm obviously pulling for CZAR IGOR to win the Calder in 2021, I would have no problem with Alexis Lafreniere winning it either. As long as one of them wins it! More importantly, I just want to see the duo win the Cup together!
One more quick news item on the NHL's return, and then I'll get into the main event of tonight's blog.
---
One thing that I did not get into at the top of this blog, in regards to the NHL's return, is the proposed divisions of the 2021 season. In an interview that ran on NHL.com this past Tuesday, Gary Bettman all but confirmed the fact that there will be an All Canada division. Bettman also confirmed that there will be three other divisions, with the American franchises filling up those divisions.
In the photo above, SportsNet is reporting a division that would include the Sabres, Bruins, Canes, Devils, Islanders, Capitals, Flyers and the Rangers. I've seen other reporters state that the Penguins would remain in the Rangers division and with Carolina moving to a division that would include the Blackhawks, Blue Jackets, Red Wings, Panthers, Predators, Blues and Lightning.
If I'm to root for anything here, I much rather Carolina than Boston in this new "Metropolitan" division, or whatever the hell it will be called. If it were up to me, I'd bring the old school names back, like the Smythe Division, Norris Division, Adams Division and Patrick Division. However, that's me.
Like everything else discussed, concerning the plans for the 2021 season, nothing is official yet. This also includes how the schedule will be made, as there are talks about doing a "baseball" schedule, where a visiting team would play a home team 2-3 times in the same arena. In fact, I'd be surprised if the NHL doesn't do this, especially when it comes to the All Canada division. You don't want the western Canada teams, like Vancouver, Edmonton and Calgary, flying all over the country every week. The same principle would apply for the eastern Canada teams too. It would make sense, for example, for Montreal to play three games in Vancouver, then three games in Calgary, and then finish off with three games in Edmonton. After all, the goal here is to limit unnecessary travel.
In closing on the 2021 schedule, the NHL is still hoping that fans will be able to attend games as the season moves along. This will be fascinating to watch play out. I mean, think about it. COVID-19 restrictions are stricter in New York and California. Is it fair if some teams can have fans in attendance, while some teams can not? It's a question that the NHL and the NHLPA will have to answer. (And if you're a betting man/woman/transgender, bet that the NHL will allow any team to have fans inside the arenas, as long as the local politicians give the okay. As Costa/Gus from BSU always says – "it's all about the mon-aaaaaay!")
From a Rangers perspective, I would say that the majority, and I mean a vast majority, of season ticket holders are 50 years of age or older. After all, who else can afford these tickets and make time to attend every game? A retired person living comfortably. Young college kids can't afford season tickets. People in their 20's-40's, who may be able to afford tickets, have family commitments, and can't make every game.
In the event that NHL arenas open up, who is going to be attending these games? There's going to be some hesitation. With NYR season ticket holders tending to be older, will they unload their tickets, hoping younger fans will buy them at a discounted price?
Another thing to look at here is this – during the lock-out season, which was 2004-2005 season, the Rangers punished any season ticket holder that didn't leave a deposit. In turn, even if those fans came back for the 2005-2006 season, these fans lost "tenure" as a season ticket holder. I know of six different season ticket holders, who had their service interrupted, and had to restart their tenure with the 2005-2006 season. If season ticket holders don't leave a deposit for the 2020-2021 season and want to wait until things are back to normal, will their service/tenure be erased? We'll see.
Main event time.
---
Knowing there will be a 2021 season now, I figured to fill space here and to have some fun, I'll give you 5 things that I would do right now, if I had the power to do so, on behalf of the Rangers organization.
In no order of importance, here we go!
1- Rebuild the Broadcast!
Last season, I bitched and moaned all year, about how bad Steve Valiquette was. I won't rehash all that, but needless to say, he's horrible as a solo act. I could see his worth as a complementary piece, but Valiquette, as a solo act, can't carry a broadcast. While Valiquette may appeal to a younger nerd niche audience, he doesn't appeal to a mass audience.
Put it this way, and I know what I'm about to say is a matter of personal preference. I'm sure many of you guys watch the NFL. Come Sunday, at 12PM, you have two choices – to watch the CBS or FOX pregame show. For me, I've been going with the FOX pregame show for as long as I can remember. The personalities are better. The bond between Howie Long and Terry Bradshaw is always entertaining. The addition of Jimmy Johnson, and later Michael Strahan, strengthens the broadcast. Jay Glazer is great too. In short, the FOX broadcasts are full of great storytellers and personalities. More importantly, you can tell that they are having fun. It's easy to laugh along with these guys.
Over on CBS, you have guys who are full of flavor as a burnt piece of toast. There are no witty comments. There are no larger than life personalities. Like most CBS programs, it feels like the show caters to the 80 years old and over demographic. All that's missing is Angela Lansbury.
While I understand that the Rangers broadcast will always be corporate themed, where 76786789 advertisers will be promoted; it doesn't mean that the broadcast has to be as boring as Steve Valiquette and one of his charts, where he breaks down the hypotenuse of a Royal Road shot, taken on Tuesday nights, in the Chinese Year of "The Dog".
Similar to the NFL on FOX pregame show, when it comes to the NYR broadcast on M$GN, I would like larger than life personalities and people who have actually done something in hockey, besides carry Henrik Lundqvist's bags and hair products around. While I don't think Anson Carter is bad or anything, I don't think he's needed either. There's just no fan attachment to him. He's better off on NBC, where he can talk about the league as a whole. For a Rangers broadcast, Carter, as a player, was never a fan favorite and just doesn't belong, just like Steve Valiquette. Similar to Carter, I think Valiquette would be better off served somewhere else, like Toronto, where they whack off to these stupid charts on a daily basis. (And look at where these ANALytics have taken the Leafs! HA!)
If I were running the show and calling the shots, I'd create a panel of Ron Duguay, Mike Richter and Dan Girardi. See if you can understand why before I even explain myself here!
Ready?
If you had a panel of Duguay, Richter and Girardi, you would cover all demographics and every position on the ice. You also would have three heart and soul fan favorites too. With Duguay, you would cater to an older audience, an older audience that still misses Duguay on the broadcast to this very day. With Richter, you cater to all the 1994 folk. You also would have the greatest goaltender in Rangers history breaking down these games. And for what it's worth, with Richter doing more interviews and work with the MSG Networks and the Rangers, I don't think this is a long-shot either. And really, when it comes to goalies giving an analysis, don't you want to hear from someone who actually did it, rather than the guy who made sure that Lundqvist never had a split end?
When it comes to Dan Girardi, during his Tampa Bay Lightning sponsored podcast, entitled "Block Party" with Seth Kush, he said he already had talks with the MSG Networks. From listening to his podcast and hearing what people who know him say, he's a smart and well spoken guy. He also was a huge fan favorite and would cater to newer Ranger fans.
From a female demographic, whenever I go on the Twitter, I hear older women say how much they adore Ron Duguay. I hear younger women say how much they love Dan Girardi. In other words, a team of Duguay/Richter/Girardi would cover all demographics and make for a great broadcast.
---
2- It's time to find a successor to Sam Rosen and that man's name is Kenny Albert.
Listen, I know that Kenny Albert calls 8678678968967896 different sports and is a busy man. However, and no disrespect, he's getting older too. While I'm sure he enjoys his lifestyle, wouldn't it be nice to be paid and work close to home?
It's time for the Rangers, and perhaps for Sam Rosen, to admit that the game is getting too fast. I say this as a fan of Rosen. We all know the deal on Rosen – he's a Hall of Famer and will always be remembered as one of the best to ever do it. However, it seems like every game, there's some sort of clip on social media where Sam Rosen comes off as a parody of himself. I know that Rosen loves the game and what he does. However, if you can't admit he's slipping, then you have your blinders on.
While I am forgiving of Rosen, I do have to admit, it pains me after every game, where someone has clips of all his mistakes from that game's broadcast. I won't even share them here, but you know this is true. If anything, Rosen may be better off in the studio or as a special correspondent, in the event he wants to continue working.
Seriously, it's time for the Rangers to back up a truck of money to Kenny Albert, who is arguably the best play-by-play man in the game today. Need more evidence of Albert's abilities? Just re-watch the 2020 NHL Playoffs.
Replacing a legend is never easy. However, Kenny Albert would make this transition seamless. There would be no one calling foul, in the event that Albert replaces Rosen.
When it comes to Joe Micheletti, who has just hit the senior citizen age himself, I think he's actually gotten better with age. Despite his never-ending "Pardon Me Sam's", recently, Micheletti has been astute, fair and strong. I think the Rangers demotion of Lundqvist last season strengthened Micheletti's game. Micheletti was able to throw out his Lundqvist "Excuse Rolodex" and just focus on the games & play on the ice.
While I've been extremely critical of Micheletti holding a torch for Lundqvist, (and 9/10 times, for comedic effect) the second David Quinn made Lundqvist a third string goalie, Micheletti was able to showcase what he was doing on the NBC Networks for years. With Kenny Albert, I think the two would make a good pair. I'd also look into an ex-player to groom as Micheletti's eventual replacement. This could be Girardi, Ryan Callahan (who may not want to leave his cushy job with the NHL Network) or another ex-Ranger. Nick Fotiu would be good, but I would assume he has no interest, and at the risk of being called an "ageist" here, may be too old.
---
3- This is an easy one. With the Rangers coming back, and with many of their fans suffering economic hardships, I think a great idea would be for the Rangers to give out "FREE SHIT" on every broadcast.
I don't care what it is – trading cards, signed game used equipment, pucks, jerseys, t-shirts, zoom calls, whatever; the Rangers should just have contests where they give out FREE SHIT. Maybe they can tie this into the #CadillacTrivia question, where the first person to answer correctly, gets some sort of swag.
Giving away FREE SHIT would increase viewership and keep fans hooked throughout games. It's also a nice token of appreciation to fans, and really, outside of shipping costs, wouldn't cost the Rangers a thing. It's all about creating positive vibes and bonds with your viewership, and what better way to achieve that, than by giving out FREE SHIT?
---
4- Pay respect to the alumni!
With the MSG Networks light on original content, and who can bare to watch another repeat of Henrik Lundqvist and that creepy chef on "The Mask", why not do one hour documentaries on the alumni? As I've been hammering home forever on this site, it's also time to give banners in Madison Square Garden to people like Frank Boucher, the Cook brothers, Ivan Johnson, Bryan Hextall, Emile Francis, Lester Patrick and Ron Greschner.
It just boggles me, how the Rangers can watch the Yankees make millions and millions of dollars off of their alumni, with their "Yesographies" and merchandise, yet refuse to honor their own alumni. Right these wrongs already. Of course, this is a topic that my book, which I hope to get done soon, will be dedicated to.
I've been told by two people in the Rangers organization, that they feel no one will care if the Rangers honor deceased players. After all, look at the tepid reactions that both Vic Hadfield and Jean Ratelle got on their nights. With no fans in the arena, you wouldn't have to worry about a silent crowd. Just honor these guys already, promote what these guys have done and then sell merchandise of them. I'll buy a Bread Line shirt!
---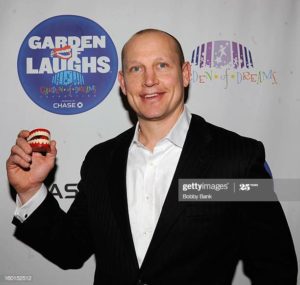 5- Last but not least, continue promoting the Garden of Dreams. While I don't know if this can work, due to that asshole Mayor Deblasio in office, if paying fans aren't allowed in attendance, if possible, allow children from the "Garden of Dreams" into the arena. At the very least, you'll get some noise from the stands and an excited collection of people at that.
If you read and/or watch the stories on the kids who benefit from the Garden of Dreams, all of them have had a rough road and bad hand dealt to them. While there is the issue of logistics here, wouldn't it be great to see these kids having the time of their lives? Plus, with no one else around, they can really enjoy M$G.
The new motto is "Hockey is for Everyone". If paying fans can't attend, why not turn this negative into a positive, and give these kids a night they'll never forget?
---
If you haven't already, subscribe to this blog for the next update:
It's time to answer the trivia questions! Here you go:
TRIVIA QUESTION ONE: Name the player that not only created a rift between Conn Smythe and Frank Selke, but also created a life-long rift between Lester Patrick and Frank Boucher.
ANSWER: Frankie Eddolls. Smythe was pissed at Selke for trading Eddolls away for Ted Kennedy. Lester Patrick was pissed at Boucher for trading for Eddolls and Buddy O'Connor, feeling that Boucher was trading youth for washed up veterans. In both cases, the guy pissed off would be wrong, as Ted Kennedy went on to become one of the greatest Leafs of All-Time, while Eddolls & O'Connor would help the Rangers make the Stanley Cup Final in 1950.
BONUS QUESTION ONE: Name the team captain of the Rangers 1949-1950 Stanley Cup Finalist team and how the Rangers acquired him.
ANSWER: Buddy O'Connor, who was acquired with Frankie Eddolls, via a trade with Montreal.
---
TRIVIA QUESTION TWO: The 1980's were a hectic and chaotic time for the Rangers, especially when "Trader Phil" Esposito was the team's GM. Name the two skaters that were on the Rangers during the 1983-1984 season and remained with the team through the 1992-1993 season.
ANSWER: James Patrick & Jan Erixon.
BONUS QUESTION TWO: Name the player the Rangers called up during the 1983-1984 season and remained with the team through the 1992-1993 season.
ANSWER: John Vanbiesbrouck
---
TRIVIA QUESTION THREE: This site has spent a lot of time over the years, talking about the Rangers Original Bread Line, which were Bill Cook, Frank Boucher and Bun Cook. Name the second "Bread Line" in Rangers history.
ANSWER: Mac Colville, Neil Colville and Alex Shibicky. In fact, it was Bun Cook that taught Shibicky the slap shot! Ironically, the Original Bread Line won two Stanley Cups. The new Bread Line won a Stanley Cup. In 2020, the Rangers have "The Breadman".
BONUS QUESTION THREE: What forced the second "Bread Line" to break up?
ANSWER: World War II, which just absolutely decimated the Rangers at the time. In fact, Frank Boucher, from the Original Bread Line, who was the coach of the Rangers at the time, came out of retirement during the 1943-1944 season, in an effort to give his woeful team some depth.
---
Up next: I'm back to working on my book! If there's a new episode of "Watch Your Tone" this week and/or if something truly breaking occurs, I'll return by Friday night. If not, see ya next week!
As always here, thanks for reading and…
LET'S GO RANGERS!
Sean McCaffrey
BULLSMC@aol.com
@NYCTHEMIC on Tweeter and on Parler
Follow the BlueCollarBlueShirts.com Facebook Group by clicking this link: https://www.facebook.com/groups/1564026407193056/