Greetings and salutations everyone and welcome to another blog here on BlueCollarBlueShirts.com. I hope you guys (and gals, as I don't want to be labeled as a "misogynist" here!) all had a good Thanksgiving. I also hope you didn't bet the Seahawks to cover the spread on "Monday Night Football" either! There are a few things worse in life than being the victim of the dreaded "backdoor cover." That said, when you're on the losing end of a backdoor cover, it's like one big kick to your "Manscaped" region. (And yes, this kind of talk is a prelude in what's to come, during the Tony DeAngelo "Watch Your Tone" podcast recap/review!)
Since I last left you, I told you that I've been spending a bulk of my free time working on my New York Rangers "Rink of Honor" book. In an update on that project, I now have 150 pages written and edited. Most likely, I'm at the halfway mark of the book. As I've been saying along the way, it's a process, with formatting being the biggest pain in the ass. Then, of course, once complete, I'll have to find a real editor.
As you may know, as individuals, whenever we write something, we are our own worst editor. Even when I proof-read these blogs, there will be a couple of times where I'll omit a simple word like "the", because my brain moves faster than my fingers do! I'm sure you know what I'm talking about here. We all have our own styles and when trying to write something legit, you need a different pair of eyes to go over it. Anyway, I hope to get a nice chunk of the book completed this weekend.
And a fair warning here – I never post ads, spyware or break up these blogs for artificial site traffic. That said, if I ever get this book done, as it really is a laborious project, I will be plugging the book non-stop. After all, I think whenever I get it done, based on my own projected sales figure, I might make something like two cents an hour on that book! However, at the end of the day, this is all a hobby for me. Writing a book is a bucket list thing for me and I can't wait to share it with you.
As far as news this week, there isn't that much. As talked about previously, when it comes to the Rangers making any future personnel decisions and/or acquisitions, the Rangers pretty much have their roster set already for the 2021 season, whenever that will be. Then again, who knows if there will even be a 2021 season at this point? I don't intend to piss on anyone's leg right now, but in my estimation, RIGHT NOW, I would peg the chances of having a 2021 season as a 50/50 thing. And to be clear, outside of a few bat-eaters in China, I don't think anyone is at fault here. These are just the circumstances of the times.
Unless you've been living under a rock, or have quarantined yourself from watching the news, as a society, we're currently experiencing a second wave of the coronavirus. Some experts are predicting that the second wave may even be worse than the first wave. Who knows for sure, but what we do know for a fact, is that there has been a major uptick regarding people infected with the coronavirus. I can tell you personally, that the local bar by me had to shut down, after half the staff tested positive for the coronavirus. Needless to say, at the present time, I've been doing all of my drinking from home these days! It's just not worth the risk going out for me, despite my desire to support the local bars and taverns in my neck of the woods.
The coronavirus, as it has been for most of 2020, remains the biggest story in the world today. As talked about over the course of the last few blogs, the coronavirus is now effecting the start of the 2021 season. Currently, NHL owners are looking for the NHLPA to bend again, despite both parties already signing a new CBA this past July.
I'll just quickly reiterate what I said on this topic previously – when the NHL owners agreed to the new CBA, it is my opinion that the owners thought that the coronavirus wouldn't be an issue, come January of 2021. Instead, the coronavirus may be more of a threat now, than it was in July of 2020. After all, NYC is reporting a record number of cases. The NFL, which is pretty much teflon, just had a bunch of issues. Until there is a vaccine, there just seems no way out of this. And even when a vaccine becomes available, it's going to take time for everyone to get that vaccine. You'll also have people who will refuse to take the vaccine as well, which may prolong things getting back to normal.
I don't want to bore you or ruin your day with coronavirus talk all blog, but obviously, the coronavirus remains the top topic in the NHL, and in all of the hockey world, today. On past blogs, I told you how some ECHL teams have already canceled their 2020-2021 seasons, and how I think the rest of the league will follow suit. I also told you that I didn't envision an AHL season either.
Across the pond, over in Europe & Russia, where they are playing hockey, it was announced on December 1st, that all Finnish leagues, including the top league in Finland, Liiga (The Finnish Elite League) have postponed all games from December 3rd through December 26th. Of note, December 26th is just the suggested date, as the postponement/cancellation of games could spill into the New Year. From a Rangers perspective, this effects several prospects, just like how it effects prospects of most NHL teams.
In a recent "Ask 31" podcast episode, SportsNet reporter Elliotte Friedman reported that 6-8 owners are not in favor of having a 2020-2021 NHL season. While those 6-8 owners represent the minority, and not the majority, it just goes to show you that some owners are extremely scared of having a 2021 season. As talked about to the point of redundancy on this site, the NHL has the worst television contract in all of sports and are piss-poor promoters/marketers of their product. Without fans, the NHL is more effected than any other professional mens league in America. In addition, organizations like the WWE, UFC, PGA, NASCAR, etc all have better television deals than the NHL and can sustain themselves without fans in attendance.
When it comes to the NHL trying to generate new revenue streams during this time, Friedman discussed the idea of ads on jerseys and expanding the playoffs. As a Rangers fan, and really, I'm sure fans of any Original Six team will have this same line of thinking – I can't imagine anyone wanting to see a respected and historic jersey littered with ads for gambling, pubic shaving devices and boner pills, which today, are the top three advertisers on hockey podcasts & sports programming.
When it comes to the idea of expanded playoffs, I'm all for it. I know I'm in repeat mode here, but this site constantly gets new eyeballs, so the following is worth repeating again. The NHL used to have four out of six teams in the playoffs. The NHL then grew to 21 teams, where 16 teams made the playoffs. Come the 2021-2022 season, we will have 32 teams, with those same 16 teams making the playoffs, despite the addition of 11 new franchises. Like other sports, such as football and baseball, it's time for hockey to expand their playoff tree too.
Economically, it makes all the sense in the world to add more teams to the playoff mix. With more teams alive, it discourages tanking. With more teams having a shot, it makes regular season games at the end of the season more important, as teams jockey for playoff positioning. Expanding the playoffs also increases fan interest, which in turn, will help the gate and TV ratings. Locally, with more teams playing more meaningful games, it helps the economy, as more fans means more work for the parking attendants, the bartenders, the vendors, and everyone else who benefits from having more asses every 18 inches in those arenas.
The NHL, which desperately needs to grow their profile on television, would see an uptick in television ratings, which also means more advertisers. Boner pills be damned, more ad revenue is a positive thing for the NHL, an NHL that's taking a fiscal beating in 2020. Again, more games means more viewership, which in turn, leads to more money. With the NHL historically having a high percentage of the league involved with the playoffs, I don't think adding more teams to the playoff mix bastardizes the prestige of the playoffs either. Really, I'd be fine with what we saw in 2020, even if Detroit Red Wing fans and Brian Burke wouldn't like it. I don't think bad teams that tank should be rewarded anyway. The Rangers did the right thing, and even though that series against Carolina was a disaster, the Rangers, with their good karma, were rewarded handsomely. I'll take it!
In tonight's blog, our main event is a review/recap of the Tony DeAngelo "Watch Your Tone" podcast. As I've said on past blogs, I'm happy that podcast is around, as it helps fill space! Plus, the show is enjoyable.
Elsewhere tonight, I have stuff on the new Ranger Liberty jerseys, the murder of Barry Beck's son, the NHL's statement on the 2021-2022 season and more. However, before getting to all of that, as usual, the PLUGS segment.
In case you missed them or need a refresher, here are my most recent manifestos and scribblings:
---
---
---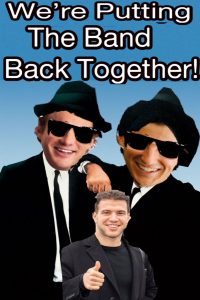 ---
As has been the case recently, whenever doing these Wednesday night/Thursday morning manifestos, I'll kick off tonight's blog by reviewing and recapping the latest edition of the "Watch Your Tone" podcast. This episode was dropped on December 2nd and you can watch the episode here:
As usual, to open the show, we get some bars of Frank Sinatra's "New York, New York". In addition, as talked about last week, Ron The Gambler is no longer part of the show. Perhaps his bookie muzzled him! Furthermore, Aaron Huffnagle, just like last week, isn't on this episode either. However, making his return, after his one week sabbatical to get his teeth fixed, is our host, Tony DeAngelo:
TDA opens up the show by welcoming us and introduces us to his co-hosts for this week. TDA then previews what we'll hear on this episode, including an interview with a self-proclaimed gambling guru, in a one Preston Johnson. Between a 16 year old kid last week and one of these gambling touts, it feels like "Watch Your Tone" is really scraping the bottom of the barrel for guests here. Who's next, Superhumman? (And yes, this isn't a typo, as Superhumman actually spells his name that way.) And if you don't know who Superhumman is, check out this jerkoff:
Butt buster onto gusset plates cheese graters light tubes barbwire door
( EXTREME TRAMPOLINE STYLE ) #superhumman #donttrythisathome #extremetrampoline pic.twitter.com/CJHN4ZFMZt

— SUPER HUMMAN (@superhumman1234) November 28, 2020
Woop Woop. Anyway!
Our first topic of the podcast is the Mike Tyson vs Roy Jones Jr. fight, a fight that had a perfectly fixed decision. As TDA says, Tyson won the fight eight rounds to none, yet the fight was ruled a draw. If you ask me, with 99% of all wagers predicting a win either way, DraftKings, whose ads were plastered all over that PPV, was the real winner here. Sadly, this isn't the first time and it won't be the last time, where a big boxing match has a fixed result. The house (casinos/bookmakers) never lose!
Brother Lou agrees with Brother Tony and he feels that Tyson won the fight too. Brother Lou says at least the fight was entertaining. Alex Gleason agrees. TDA brings up his own age and says he never saw Tyson in his prime, so it was pretty cool just to see Tyson fight live.
TDA says one thing he didn't like about the broadcast was Snoop Dogg's commentary. I'd be in the opposite camp here, as I thought Snoop made that Nate Robinson/Jake Paul fight entertaining. TDA says the Robinson/Paul fight was embarrassing. TDA brings up how everyone now wants to fight Jake Paul. And really, any fringe celebrity should want to fight Jake Paul, as his fights equate to big business and that's what the fight game is all about – big business.
Brother Lou brings up how Jake Paul is a draw and is bringing new eyes to boxing. Brother Lou says he sees Jake Paul doing a few more freak show fights before entertaining a real career in boxing. TDA says he feels bad for Nate Robinson and the smackdown he took. Alex Gleason brings up what was going on in social media during and after that Robinson/Paul fight.
Brother Lou is pretty much on the money here with his opinions, reiterating that boxing and these fighters are all about making cash and how making money is always the number 1 priority. Brother Lou understands why Jake Paul called out Conor McGregor, because while McGregor would never take the fight, it makes sense for Paul to call him out. Alex Gleason says it's a lose-lose situation. Brother Lou shuts that line of thinking down, because after all, how is making Scrooge McDuck money a losing proposition? With some of the opinions Alex Gleason has, Alex Gleason is making me miss Ron The Gambler even more.
TDA brings up his cousin Christian Carto and how Christian is a boxer. TDA says that Christian told him that he thinks Paul isn't that bad for a newcomer. The Evander Kane grandstand challenge is also brought up. In my opinion, I think Paul would beat Kane too. As they say, "you can't play boxing". However you feel about Jake Paul, he's putting the work in.
In closing on Jake Paul, Tony DeAngelo admits that Paul is doing something right, because TDA is interested in seeing him fight again, where TDA will root for him to lose. Like a Mayweather or like a good pro wrestling heel, as long as people pay to see you, that's all that matters.
The guys then switch gears and talk about the NFL. The Chiefs big win over the Bucs is discussed. TDA then talks about the NFL hypocrisy, where the Ravens/Steelers game kept getting postponed and how the Broncos were forced to play their game without a quarterback. As I always say, the National Fixed League has no honor.
Brother Lou backs TDA up and agrees that the NFL favored the Ravens. Brother Lou says there was no way the game would've ever been canceled or forfeited, because in the event of a forfeit, the players don't get paid. As you can tell, making money is a big theme on this episode!
Alex Gleason then mutters something and TDA combats whatever Gleason said. TDA brings up how the Steelers are flirting with a perfect season and all these changes aren't good.
The crew then goes back to the KC vs TB game and how Mahomes is amazing. As has been the case, the boys at WYT are high on Mahomes. After all, how can you not be? The guys then talk about the troubles that the TOMpa Bay Bucs have been having as of late. Brother Lou then puts his Jimmy Johnson hat on and analyzes the Bucs offense. Sean The Producer looks ecstatic during all of this. I've seen mimes show more emotion and speak more!
The guys then bring up the idea of a Bruce Arians vs Tom Brady feud and if Arians will be around next year. TDA makes an accurate statement and says how there is no more defense in the NFL. Speaking of no defense – YOU WILL NEVER SEE DEFENSE IN THE LAST MINUTE OF AN NFL GAME. THAT DAMN BACKDOOR COVER FROM MONDAY NIGHT.
While on that horrible Monday night game, TDA brings up his beloved Eagles and says they stink. I love hearing that! Alex Gleason mentions that he's a Giants fan. Brother Lou says when it comes to gambling, if you want a sure-fire win on a prop bet, bet Carson Wentz to throw an interception during his next game. Sounds good to me!
Up next is an interview with Preston Johnson. Like last week's guest, I've never heard of him. I will say this, "Watch Your Tone" knows their audience. In fact, the hosts on "Watch Your Tone" are also part of the bigger audience, the audience of sports fans that are exposed to gambling promotions, whether it be on TV, the internet or elsewhere, in the never-ending 24/7 cycle. And yes, I'm part of this audience as well. Turn on WFAN 660 – every other ad is for a gambling outfit. Watch any NFL game, and you'll see that every other commercial is for a gambling operation. Hell, just look at Ranger broadcasts from last season – the gambling ads were shoved down your throat like Joey Chestnut eating a hotdog on July 4th.
And to be clear here, I'm not pretending to be a paragon of virtue here. I gamble too. I never go above my means, but over the years, I've lost more than I've won. In fact, anyone who tells you that they have won more than they have lost is flat-out lying to you. Only the bookies and casinos win!
Let's now go to the Preston Johnson interview.
Preston Johnson calls himself the Sports Cheetah. I get the play on words, but needless to say, of all the animals in the African jungles, Preston Johnson doesn't look like he has the speed of a cheetah. I guess I'm not one to talk here either, because all of my shirts are XXL! The only running I do these days is a beer run.
TDA brings up the Eagles game to Johnson. Johnson asked if TDA bet on the game. TDA (as he has always done on this podcast) says he's not allowed to bet on sports. TDA smiles when he says this, and hints that his co-hosts may enjoy placing a wager or two.
For what it's worth, I don't see the big deal if athletes bet on sports that they aren't involved with. If a hockey player wants to bet on a football game or on a boxing fight, with a REPUTABLE and LEGAL bookmaker/casino, what's the big deal? I can see why no league would want their athletes betting with a bookie wearing a Fila tracksuit, as it brings an athlete into that seedy underworld. However, to place a bet with DraftKings, William Hill or whoever; I don't see the big deal. It's not like the Borgata is going to ask Tony DeAngelo to throw a Rangers game as a make good on a debt.
Brother Lou mentions that he's a gambler and talks about the bad backdoor beat from Monday night in that Seattle/Philly game. TDA asks Johnson about bad beats. Johnson says Doug Pederson going for two points at the end of the game didn't surprise him and says some computer charts explain why. Yeah, that excuse isn't going to fly to anyone who bet Seattle!
Johnson brings up how there have been many bad beats this season and says that more times than not, the bad beats go against you. No shit – that's why they're called bad beats! (If you haven't figured it out already, I bet Seattle on Monday night!)
TDA runs down Johnson's credentials and history. Johnson says poker got him into the gambling world and how he was in and out of casinos all the time. Johnson says that through poker, and building a bankroll with his winnings, he was able to take that money and use it to bet on sports.
TDA brings up analytics and says how he hates analytics in the game, but how he understands that gambling analytics are a different animal. Johnson breaks down gambling analytics and uses the Miami Dolphins and college basketball as an example.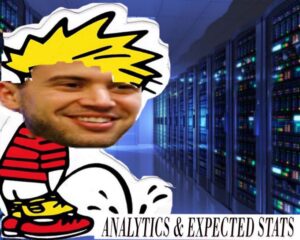 Johnson says that college football has always been his bread and butter. Johnson said the three worst weeks he's ever had, in his twelve years of betting college football, have been during this season, which is most likely Covid related.
TDA asks if no fans makes a difference in these college football games. Johnson feels that fans do have an impact on games. Johnson says he tracks and keeps data on teams playing in front of their home arenas/stadiums. Johnson, just like how most sharp gamblers think, says you have to follow the market and line swings too.
Gleason mentions that Johnson doesn't bet hockey and asks him why. Johnson says he never was a hockey fan, so he can't bet on it. Johnson said he's always tracked and followed basketball, baseball and football, which is why he only bets on those sports. (Of note, two seasons ago, I killed it when it came to betting on hockey. In fact, just go back to my blogs from that time, as I was something like 30 games over .500, when betting the over-under on Ranger games. My strategy from that season? I bet the over whenever Lundqvist started and I bet the under whenever Georgiev started. The proof of this is all in the archives. I'm not pulling your leg here at all!)
Johnson feels there's a market out there for a hockey sharp, but it won't be him.
Brother Lou asks Johnson for gambling advice for casual gamblers. Johnson says if you can hit 60% of your bets, that's a good thing. Johnson feels if you're hot, you should bet more than one game a week. I wonder who sponsors his show? Hmmm.
Johnson brings up sports gambling as a profession vs being a fan, and how sometimes it's better to bet the smaller games than the primetime games. Johnson then breaks down teasers. For what it's worth, I've always been told that teaser bets are a sucker's bet. Johnson pretty much confirms that line of thinking here. When it comes to parlays, Johnson prefers parlays over teasers. Johnson says when he bets parlays, he limits his parlays to 4-5 legs. Johnson feels that once you go past three teams in your parlay, it's just tough to win. He would be right.
Brother Lou asks Johnson about other "gambling gurus" and touts. Brother Lou brings up the George "The Bambino" Kent guy, who went from 70% to 30% on his picks. At this point of the interview, I was hoping for some "VEGAS DAVE" smack-talk! Of note, you can see that TDA is really into this, as he's laughing and grinning during this interview. In addition, it's a shame we didn't have Ron The Gambler on this episode! That said, Brother Lou is up on everything.
TDA mentions again that he's not allowed to bet, but he follows the sports gambling world. TDA asks Johnson about "fading the public" and how people will just bet against the public. I'll say this, fading the public seems like a good idea, especially in the NFL, where the games are fixed and controlled by the referees. Johnson then gives his breakdown and percentages on all of this. A key point Johnson makes, is because of the bookmakers getting juice, they always win when it comes to "fading the public". Johnson feels that a casual gambler should stay away from that strategy.
TDA also brings up how ESPN even gives out the public bets during MNF. Again, look at who is sponsoring/advertising during those games.
Johnson talks about other touts and how some touts can effect sports lines. Johnson feels that in most cases, once a big tout puts out a play, not many people can get the same line on a game, as odd-makers can and will adjust lines/spreads. Of note, I doubt VEGAS DAVE effects Vegas sports books!
TDA asks Johnson about his best run as a sports gambler. Johnson mentions that he has a masters degree in sports psychology. Johnson then says, that in either 2010 or 2011, he wanted to see if a perfect game would effect a baseball team in their next 10-20 games. Johnson says around that period of time, he won 16 straight bets and all of this stuff is documented if you check his Twitter account.
TDA asks Johnson what happens to him when Johnson gives out a losing play, especially since Johnson has a big platform on ESPN. TDA says Twitter can be a bad place and Johnson confirms this, especially if he's way off on a game. Johnson admits he feels some pressure when he gives out his picks, due to having so many eyeballs on his picks. Johnson feels that personally, he likes putting his picks in early, rather than giving out his picks last minute, when the lines have already swung. Makes sense.
Johnson also brings up that it's tough to always be right. Johnson confirms something I've heard for years – the best sports gamblers have something like a 52%-55% success rate. Unfortunately, most people who bet on sports are unaware of this fact. Johnson then says something I was surprised to hear – he feels that NFL prop bets are safer than betting outright winners. This then wraps up the interview.
Overall, I had no clue who Preston Johnson was, but I really enjoyed this interview. Johnson's opinions won't effect the way I bet or watch sports, but it's nice to get different opinions. Needless to say, as TDA said at the end of this interview, most of the "Watch Your Tone" audience is interested in sports betting. Johnson, despite my glum attitude going into this interview, wound up being a great guest. What I liked about Johnson the most, when compared to these other sports betting touts, is that Johnson promoted casual gambling and didn't berate people who just want to put a few pennies on a game for the thrill of the action.
Of note on the Manscaped ads, as I said in my last episode recap, I would like to know who is asking Sean The Producer about shaving pubes?!?!?
Up next is the fan call-in segment.
The first caller says he's from Seattle and is now a "Krakhead". The caller wants to know if Seattle can replicate the run Vegas had. The caller also asks the crew if they see the NHL expanding into any new markets.
TDA feels Seattle will have an advantage going into the 2021-2022 season, because obviously, they will have the most cap space going into that season, a season where there is a flat salary cap. As talked about before, TDA is very intelligent when talking about all NHL financial matters. Fans can learn a thing or two from him when he talks about this topic.
TDA says he doesn't think Seattle will land any high-end top star players, but thinks Seattle will land a bunch of great young players. TDA also thinks Seattle will be able to pluck some solid talent through the expansion draft, because of said cap issues.
TDA kind of smiles a bit, and says some players signed two year deals, with the thinking that they won't be exposed to Seattle. TDA says personally, he doesn't want to play out west, as he's an east coast guy. TDA then says, that in the business he's in, you have to be prepared to play anywhere. (Obviously, TDA and his family live in southern New Jersey, so he's not being a "coastist" here, or whatever label a Twitter hater of his will give him for these comments!)
As far as expansion, TDA brings up Quebec. As someone who travels all over two countries to watch the Rangers, I'd love to see the return of the Nordiques too!
The second caller asks the WYT crew, "what's the percentage of games that Henrik Lundqvist will start with the Capitals?" TDA says 50% or less. That sounds about right to me, as all back-up goalies will play more next season, due to the condensed schedule.
The third caller mentions that he's from Boston and asks about the worth of champions. The caller then mentions his cousin and asks if his cousin can be on the show one day. When it comes to the champions during the Age of Corona, TDA feels that baseball was a bit tainted, due to the short schedule and players not being able to get to peak form. TDA feels it was harder to win a championship in a bubble environment and credits the Bolts & Lakers for their wins.
The guys then discuss both the NFL & college football in these times and how the college football schedule has been severely effected by Covid.
Our fourth and final caller is a caller from two episodes ago, a guy named Will. Will asks TDA if it's taboo to talk about his contract with a teammate? Will's second question, is if the guys were an NHL GM, who is the one player that they'd like to build around?
TDA says his teammates talk about what they'd like to get paid, but once they get a deal, they don't show off or anything like that. TDA says that before getting a deal, guys will compare themselves to what other players are getting, but once signing a deal, the chatter stops.
TDA says if he was a GM, he'd try to sign Nathan MacKinnon. Brother Lou goes with Mika Zibanejad. Gleason says he'd go with Connor McDavid. This then concludes the fan question segment and the episode.
All in all, I thought this was a solid episode of "Watch Your Tone". Maybe it's because I used to be a Howard Stern listener and have been a WFAN listener my whole life, but I'm surprised the guys don't go to Sean The Producer more. In radio, we've seen producers become part of the bits. After hearing two episodes with Alex Gleason, could Sean The Producer be that much worse? I'm not trying to take a dump on Gleason here, but he hasn't really added much to the show. At least Ron The Gambler would make you laugh, especially whenever he was bored out of gourd.
It seems that the fan call-in segment has replaced the trivia segment of the show, which may be good for the podcast. After all, it encourages fan engagement, which in theory, should increase the viewership of the show.
I'll tell you what, during these times where all of our free time is spent in our domiciles, I'm glad to have these podcasts to kill time with. The best part of "Watch Your Tone", as it has been throughout the show's run, is whenever TDA breaks down the finances and the inner workings of the NHL. In addition, I think Brother Lou is hitting his stride and in his comfort zone.
NEXT.
---
In an update to the Brock Cameron Beck story, his killers have been found and now await trial. The following comes from: https://globalnews.ca/news/7486092/arrests-brock-beck-murder/
Hamilton police have arrested four men in connection with the stabbing death of 20-year-old Brock Beck at a Binbrook, Ont., home early in July.

The arrests come just two days after former NHL player Barry Beck and family members made a plea on video for help from the citizens in the Hamilton area and offered a $20,000 reward for information leading to an arrest.

Two men from Stoney Creek, Cam-Thai Khath, 18, and Petar Kunic, 19, each face charges of second-degree murder and assault causing bodily harm.

Thomas Vasquez, 22, from Hamilton is also facing a second-degree murder charge.

A fourth person tied to the incident is also in police custody. Investigators have yet to reveal if that person is facing any charges.

---
While it's tough to use the word "positive" or the phrase "good news" here, at the very least, I'm glad to see that the killers of Brock Beck have been found, arrested and charged with murder. I can't imagine what these past few months have been like for Barry Beck. I can't profess to know all the in's and out's of the Canadian court system, but I'm hoping that this trial (if it goes to trial) moves swiftly and quickly.
What can you really say here? While it's great that the Hamilton Police Department found these killers, nothing will bring Brock Beck back. I'm sure the arrests and knowing who did it (and hopefully seeing all of these people go to jail) is somewhat a relief for the Beck family. That said, there's really no way to find a silver lining in this story. A young man is dead. Four more young men, who made the worst decision in their lives, and in no way deserve any sympathy, have now caused pain and ill-feelings among their own family. The whole story just sucks.
Let's switch gears to a completely different topic, as there's no way to make a funny transition joke here.
---
The Rangers are now taking orders directly on official Statue of Liberty "Reverse Retro" jerseys. You can order one of these puppies by visiting: https://shop-msg.com/?cmp=web_nyr_RR_DL_201127
In addition, the official online store of the NHL & Fanatics, also have these jerseys up for purchase. Of course, despite Shop.NHL.com and Fanatics.com running 30% off sales, all Liberty items are excluded:
While the prices for all Liberty swag and merchandise are jacked up, which was to be expected; in what I didn't expect, is that as of right now, you can only purchase an Artemi Panarin and/or a Mika Zibanejad Liberty jersey from the NHL store & Fanatics. In addition, the NHL store & Fanatics are selling a blank back Liberty jersey. If you decide to purchase the jersey from the Rangers directly, the only item that the MSG Shop has, that Fanatics & the NHL store do not have, is a Kaapo Kakko Liberty jersey.
This is just example #785675675675785 of the NHL & the Rangers missing out on extra revenue. There should be an option to purchase a custom jersey. In addition, how do you not have Liberty jerseys up for sale, with players like Alexis Lafreniere, Chris Kreider, Adam Fox, Jacob Trouba, Igor Shestyorkin, Tony DeAngelo and others? It always baffles me how a large entity like the NHL always leaves dollars on the table. While I'm sure that eventually, custom jerseys and jerseys of the players listed above will be available for purchase; all of these items should be up now for Christmas shoppers. For a league desperately needing money, which is why these "Reverse Retro" jerseys were released in the first place, I don't understand limiting the choices available.
And yes, all this jersey talk is talk for a slow news day. That said, let's get to the real big news story of the day – the NHL's latest statement on the 2021 season.
---
On my last two blogs, I told you how the NHL, despite their transparency and complete openness throughout the course of the coronavirus, have been hush-hush publicly, in regards to the start of 2021 season. However, with the NBA announcing a start date, the NHL has finally been forced to comment on this matter, especially after reports from both the Canadian media and agents of NHL players.
On Wednesday afternoon, the NHL released a statement on NHL.com. You can read the statement here: https://www.nhl.com/news/bettman-nhl-focused-on-health-safety-in-planning-2020-21-season/c-319748708
For those of you too lazy to click that link, here's the story:
The NHL is planning for what could be an unusual 2020-21 season with the goal of returning to normal in 2021-22.

The League has targeted Jan. 1, 2021 for the start of this season.

"That is a work in progress, influenced largely by what we're hearing from the medical experts, and we talk to some pretty highly placed people without name-dropping," Commissioner Gary Bettman said Wednesday.

"COVID[-19] is going through a second wave, which could be worse than the first wave, and between Thanksgiving and the aftermath and what they think is going to happen for Christmas and the aftermath, we are taking our time and making sure that as we look for ways to move forward we're focused on health and safety and doing the right things."

Commissioner Bettman made the comments in an online interview during Sports Business Journal's Dealmakers in Sports conference.

The Commissioner said the NHL Players' Association would sign off on a training camp of appropriate length, which might be slightly shorter than past seasons. Teams probably would want to play a preseason game or two, he said.

Based on what the NHL is being told by medical experts, particularly regarding the availability of vaccines to the general public, Commissioner Bettman said arenas could be full in 2021-22, when the Seattle Kraken begin play as an expansion team.

"I think this is perhaps the most important thing," the Commissioner said. "What we're focused on is trying to get through the '20-21 season so that we can be back in position for '21-22 to normalcy. … We are hopeful and optimistic based on everything we're hearing that we can look at normalcy by the time we get to '21-22 whatever happens this season."

Commissioner Bettman said the NHL has not asked the NHLPA to renegotiate the NHL/NHLPA Collective Bargaining Agreement after the League and union announced a four-year extension July 10 that takes the agreement through 2025-26.

The Commissioner said the NHL and NHLPA are discussing short-term issues and the long-term economic impact.

Short-term issues include what the season will look like; whether teams will play in home arenas, hubs or a hybrid; and potential for temporary divisional realignment.

The Canada-United States border is closed to nonessential travel, and Canada has said it will remain so until the pandemic is under control. Commissioner Bettman said even if NHL teams could cross, the issue of quarantine remains.

"If you're playing a regular schedule of games, you can't quarantine players for 14 days as you're moving in and out of the country, which is why, among the other issues that are going to impact a possible season, is we literally would have to realign and create a situation where maybe the teams in Canada only play each other, and we have to realign the way all of our teams are playing competitively," the Commissioner said.

"It's part of the myriad of issues that we're dealing with, which is why when people say, 'Oh, well, they're trying to renegotiate,' the answer to all of this is, we've got a lot of issues and a lot of problems to deal with, and the system is going to be stressed for everyone. And is there an appetite for working through all of those issues?"

The owners and the players split hockey-related revenue 50-50 under the terms of the collective bargaining agreement. A portion of players' salaries is held in escrow during the accounting process. The extension capped escrow, starting at 20 percent for 2020-21 and descending to 6 percent by 2023-24.

The NHL salary cap is tied to hockey-related revenue under the teams of the collective bargaining agreement as well. It will remain at $81.5 million until hockey-related revenue surpasses $3.3 billion, according to the extension.

It is unclear how many fans, if any, could attend games in 2020-21. Governmental limits on gatherings for public events vary from market to market.

"Whatever the revenues are, the players only get 50 percent," Commissioner Bettman said. "And if we overpay them and they don't pay us back in the short term, they have to pay us back over time. There will be stresses on the system, and we've had discussions about what those stresses are and how they might be dealt with, but we're not trying to say you must do X, Y and Z. We're trying to look for ways to continue to work together.

"I know it's being portrayed as something else, and it's unfortunate and it's inaccurate, because at the end of the day, if the system gets stressed, it's going to be stressed for both of us.

"If we have to pay out lots of cash, two-thirds of which is going to come back to us, that may cause some stress, but we'll have to deal with it if we're going to move forward. And by the same token, if the players owe us more money than anybody imagined, the salary cap could be flat or close to flat for the next five or six years, and players into the future will be repaying what we're owed.

"So the [situation] isn't like, well, we demand a renegotiation. To the contrary, it's we see the way the system is going to be impacted. Is it something that makes sense to deal with in the context of everything else that we may have to do, which is out of the ordinary and unanticipated, in order to be in a position to possibly play?"

---
As I've been saying all along, I've slammed Bettman over the years when it's been warranted. This isn't one of those times. No one knows what the hell is going to happen next, so how can anyone make a concrete decision on what to do? Obviously, it's in the NHL's best interest to play a 2021 season, as it gets them closer to negotiating a new TV contract, a contract that will be significantly larger than the one they currently have now in the United States. For the players, no games means no money, so you know they want to be back on the ice too.
If there is anything I'm 99.9% sure of, it's that the NHL won't open on 1/1/21, as originally targeted. This will be the story to watch in the days and weeks ahead.
---
If you haven't already, subscribe to this blog for the next update:
Before going home here, I'd be remiss if I didn't mention that after a 8 month layoff, Cam Connor has returned with a new episode of his podcast, entitled "View From The Penalty Box". You can listen to the episode, the 44th episode of the podcast, by clicking the link below:
After a bit of a break, we're back with episode 44 of the View From the Penalty Box podcast. Topics include NHL during COVID, thoughts on Guy Lafleur and can hockey make it in the UK? Give us a listen anywhere you listens to podcasts. Nice to be back. https://t.co/2CEpyzi2WI

— Cam Connor (@CamConnorNHL) November 30, 2020
As I've discussed on past blogs, Cam Connor is a great story teller and keeps up with the game of today. If I didn't like the show, I wouldn't plug it here!
As always here, thanks for reading and…
LET'S GO RANGERS!
Sean McCaffrey
BULLSMC@aol.com
@NYCTHEMIC on Tweeter and on Parler
Follow the BlueCollarBlueShirts.com Facebook Group by clicking this link: https://www.facebook.com/groups/1564026407193056/