Greetings and salutations everyone and welcome to another blog here on BlueCollarBlueShirts.com. As I write these words to you, lawyers from both the NHL and the NHLPA, are going back and forth on issues, as the two parties work together to get the 2021 season started. It is hoped by that the end of this week, all the t's will be crossed and all the i's will be dotted, as a final proposal will then be brought to the players to agree on.
As talked about on last week's blog, when it comes to the 2021 NHL regular season, for all intents and purposes, all of the big stuff is pretty much out of the way and agreed to. The money is agreed to. The schedule is agreed to. Players are already skating at their team's facility. Everything is looking onward and upwards.
While the word "minor" might not be the right word here, as that word may trivialize the seriousness of the coronavirus; right now, when it comes to negotiations, simply put, there are just minor issues to attend to. Those minor issues would be bubble cities, what to do in the event someone tests positive for the coronavirus, and other issues that I'll address later on during this blog.
And again, I'm not trying to downplay the severity of the coronavirus here or anything. I'm just saying that the major obstacles are out of the way, which by the way, is a great thing – as just two weeks ago, it seemed like the league was heading into a war with their players and owners over previously agreed to finances.
When it comes to Rangers news this week, I can't lie to you here – there's really not that much. However, the little news that we do have, I'll have covered in tonight's blog. Elsewhere in tonight's blog, I have stuff for you on the Zdeno Chara/Rangers rumor, quotes from Gary Bettman on where the league is currently at, the NHL and the Rangers failing their alumni again and a special look at a debate featuring the legacies of Stephane Matteau vs Henrik Lundqvist. And oh yeah, the return of TRIVIA!
However, as usual here, before getting into everything, the PLUGS segment. Here are my last few blogs in case you missed them:
---
---
---
---
As mentioned on last week's blog, I am continuing to hammer the keyboard, as I continue to work on my "New York Rangers Rink of Honor" book. While I knew writing a book wouldn't be easy, it has been a fun journey for me.
Going into the project, I thought I had a decent amount of knowledge about the history of the New York Rangers. As I continue to work on this project, it's watching, reading and listening to old interviews, where I have really discovered some gems. I have about 300 pages written and edited now. With where I'm at, I'd peg the book at 75% complete. Of course, once complete, that's where the real fun starts, as that's when I have to get the book edited, find pictures that I can use for cover art (and when it comes to selling a book, books ARE judged by their covers) and deciding to go with this independent publishing company that contacted me or just self-publishing on Amazon.
As of right now, I'm leaning to pass on the independent publishing company, because as you'd expect, the offer isn't really that mind-blowing. While self-publishing with Amazon will create more headaches, at the end of the day, 85% of people purchase their books through Amazon. That seems like the route to go down.
In a way to start promoting this book (I have no clue of a release date yet) I am now doing trivia segments during these blogs, which also admittedly, is a way to fill space during a slow news period. Just like last time, I'll give you a trivia question, then follow it up with a bonus question. All answers will appear at the end of this manifesto.
Here are your three trivia and bonus questions:
TRIVIA QUESTION ONE: The Rangers have honored two #9's in their rafters, with banners for both Andy Bathgate and Adam Graves. Who was the first player in Rangers history to wear #9?
BONUS QUESTION ONE: This player, who was the first player to wear #9 for the Rangers, had two members of his extended family eventually become Rangers. Who were these two players?
---
TRIVIA QUESTION TWO: There are eight sets of different brothers to play with the Rangers. In each case, each set of brothers also played together, while with the Rangers. Name all eight sets of brothers.
BONUS QUESTION TWO: (And this is an easy one to boot!) What set of brothers played for their father, who served as the team's head coach, all while with the Rangers?
---
TRIVIA QUESTION THREE: What goalie in Rangers history was known as "The Glasgow Gobbler?" Hint: This goalie won a Stanley Cup with the Rangers.
BONUS QUESTION THREE: What goalie would go on to replace "The Glasgow Gobbler" and become the next starting goaltender in Rangers history?
Again, all answers at the end of this blog.
---
In an update to last week's blog, where I told you that Artemi Panarin was back in town, it's now being reported that the majority of the Rangers are now back in New York. CZAR IGOR returned to New York on December 15th. I know I made this joke, and I'm sure several of you had the same joke in your holster, but it's worth printing here – I hope he, and Pavel Buchnevich too for that matter, took an UBER back to his residence/hotel!
Larry Brooks, of the New York Post, is also reporting that 15 Rangers entered the training facility this past Monday for skating purposes. While teams can't officially hold practices yet, the training facilities across the league are open, should a player want to take advantage of that fact, in an effort to keep their legs fresh.
According to Brooks, the players skating this past Monday were Artemi Panarin, Alexis Lafreniere, Chris Kreider, Adam Fox, Tony DeAngelo, Brendan Smith, Brendan Lemieux, Brett Howden, K'Andre Miller, Julien Gauthier, Morgan Barron, Kevin Rooney, Keith Kinkaid, Brandon Crawley and Justin Richards. Of note, due to COVID restrictions, the players were split into two different groups.
The top names not at the training center were the two goaltenders, in CZAR IGOR and Alexandar Georgiev. As depicted above, CZAR IGOR is now back in New York. Georgiev is expected to arrive back into New York imminently.
When it comes to the skaters, Mika Zibanejad, Pavel Buchnevich and Kaapo Kakko were not present, as they too, like Georgiev, are making plans to return to New York and may be back in town by the time you read these words.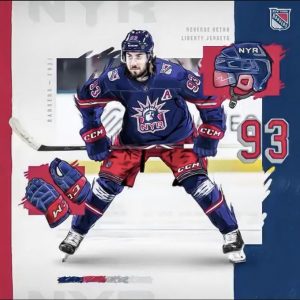 It's great to see the bulk of the Rangers roster back in New York and getting back into the swing of things, especially since this is their free time. To me, and to you, it shows us that these guys are itching, like a cheap hooker, to get back on the ice.
If there was anything that shocked me, and really this is more of an observation than any sort of criticism, it is that Anthony Bitetto wasn't reported by Larry Brooks as being in attendance. After all, Bitetto lives locally and you'd think he'd want to be with his new teammates. Again, I don't know the full story here, so I'm just commenting and not admonishing.
What I do know for a fact, as someone who lives five minutes away from Bitetto, is that Bitetto has been skating at local rinks. In fact, in a local town Facebook Group, I have seen parents talking about how Bitetto took time out of his practices/skates to take pictures, sign autographs and greet local children at the rink.
In addition, when it comes to my observations, I'm surprised Jack Johnson isn't in New York yet. If anyone needs to come flying out the gate in 2021, it's Jack Johnson.
I also want to add here, it's great to see the AHLers and prospects already skating with the varsity guys, in players such as Lafreniere, Miller, Barron, Richards and the others. While travel restrictions and other mitigating factors could explain some absences, it's nice to see these guys already in town and looking to improve themselves.
Lastly on the current Rangers, on Wednesday, which is usually the day where Tony DeAngelo releases the latest episode of his "Watch Your Tone" podcast, Tony DeAngelo tweeted out this update:
Sorry for delays on podcast lately. Been busy heading back to NY and getting situated. Be back soon! -TD

— WatchYourTone_ (@WatchYourTone4) December 16, 2020
Needless to say, while I enjoy the "Watch Your Tone" podcast, DeAngelo's hockey career is more important than his podcasting career!
Speaking of the Rangers roster, I'd be remiss if I didn't talk about the latest silly rumor that's floating out there – the idea of Zdeno Chara joining the Rangers.
---
In recent days, the website BostonHockeyNow.com, has been running articles, stating that there has been some interest in the Rangers acquiring Boston Bruins captain and long time NHLer, Zdeno Chara. You can read their first article, of several, regarding this story here: https://bostonhockeynow.com/2020/12/14/boston-bruins-off-the-record-rangers-after-chara-nhl-trade-talk-heats-up-bhn/
And oh, user beware, that BostonHockeyNow.com website is full of ads and spyware. It's the super-spreader of pop-up ads.
Doubling down on their story, one of their writers, Jimmy Murphy (because nothing is more Boston sounding than the last name of "Murphy"!) tweeted out the following:
An NHL agent who read the column below pointed out another Chara connection with the Rangers. Like Chara, #NYR defenseman and former Harvard standout Adam Fox is a client of Matt Keator. My bad for not picking that up but interesting. https://t.co/eqdPGo8CMW

— MurphysLaw74 (@MurphysLaw74) December 15, 2020
When it comes to this Chara to the Rangers rumor, while I can't profess to having any sources here, there's just no way I see this happening, despite Rangers general manger Jeff Gorton's past with Boston and his affinity for making trades with his former club. And oh, based on Murphy's teaser, it sounds like he sells a lot of "what if's", in an attempt to get clicks.
I'll preface what I'm about to say with this – I like watching Zdeno Chara. I think he's a great player and a future Hall of Famer. He's also a great guy off the ice, who is always involved with charity events in the greater Boston area.
Chara is also part of one of my favorite hockey memories, from a game I attended live. While I can't remember the exact date, but I think it was during the year 2000, the Rangers played the Islanders at the Nassau Coliseum. After a whistle, and with the referees breaking up a scrum elsewhere on the ice, that little bastard Theo Fleury, who was about 24 inches shorter than Chara, wound up his stick, as if he was a slugger competing in a "Homerun Derby", and swung his stick right at Chara's leg. Chara immediately turned around, in an effort to see who the culprit was, only to see Theo Fleury high-tail it up the ice.
While this play from Fleury was 100% cowardly and dirty, as a diehard Rangers fan and as an Islanders hater, I thought this was great. As a hockey fan, this act was despicable. Fortunately, Chara wasn't hurt at all, but yeah, in the modern day and with television replays, Fleury would've been suspended for this blindside attack.
Back to Chara.
In my opinion, and really, using facts and common sense, a Chara and Rangers marriage doesn't compute. Do I really need to break this all down? However, I guess I should give you the rundown here, especially in the event that this actually happens, just so you can all screenshot this and troll me!
For starters, come March 18th, 2021, Zdeno Chara will turn 44 years old. He could be the father of some of these Rangers! Hell, he's old enough to be the father of the majority of the Ranges on this current roster!
As it stands right now, the Rangers are undergoing a rebuild and a youth movement. For comparison, the three oldest players on the Rangers roster right now are Brendan Smith (30) Chris Kreider (29) and Artemi Panarin (29). With it being all but a given that Smith won't be a Ranger during the 2021-2022 season, if you took Smith out of the equation, the Rangers wouldn't have a player that's over 30 years old on their current roster. Again, Chara will turn 44 years old in 2021!
Chara, who already has his name etched on the Stanley Cup, is a future Hall of Famer, is the captain of the Bruins and has been with the Bruins for 14 seasons. In addition, Chara has no allegiance or ties to New York, outside of the Islanders erroneously trading him away nearly 20 years ago, for Alexei Yashin.
Come the 2021 season, the Rangers aren't exactly a clear-cut Stanley Cup contender. While anything can happen in the playoffs (except for Henrik Lundqvist winning the Cup) in the present day, and using the futures given out by the odds-makers in Las Vegas, the Boston Bruins have a better chance at winning the Stanley Cup than the New York Rangers do. So I ask you, why would Chara, if he's looking to extend his career, sign with the Rangers, when he has a better situation in Boston?
For Chara, this isn't a Ray Bourque/at the end of the road situation, a Ray Bourque who was also a defenseman and a captain of the Bruins. When Bourque left Boston for Colorado, in a quest to win the Stanley Cup that had eluded him for twenty-something seasons, Bourque was chasing the Holy Grail. For Chara, he's already won it. Chara's legacy has been secure for years. If I heard a rumor about Chara wanting to leave Boston, (ironically, just like Bourque) and if I saw Chara being linked to the Colorado Avalanche right now, then it would be somewhat understandable. After all, Colorado is a strong candidate to win the Cup in 2021.
For the Rangers, the only thing they'd possibly get out of Chara is a bonafide leader, a leader who could serve the team as a captain. However, adding Chara would be a detriment to the overall growth of the roster. In 2021, it should be Mika Zibanejad or Chris Kreider stepping up as the team's captain. On the ice, you want to see a young defenseman get time, whether it's K'Andre Miller or someone else, in an effort to continue to grow this new core and era of Rangers.
And let's not forget this either – while Chara isn't completely washed up, he's far removed from his prime. Playing a likely Cupless season, in what could be the last year of his NHL career, just doesn't seem to make much sense.
If I were to make a guess on Chara's future, I see him playing 2021 in Boston and finishing up his career with the Bruins. These Chara rumors, in my opinion, sounds like pure fan-fiction, just like the "Jack Eichel for the Rangers number 1 pick" ill-advised speculation and talk, previously touted by fools just several months ago.
How about a positive story in the NHL right now? Here you go:
In some great news, it was reported on Wednesday, December 16th, that Oskar Lindblom, of the Philadelphia Flyers, is now cancer free. Previously, Lindblom was diagnosed with a rare form of bone cancer, a bone cancer that robbed him of most of the 2019-2020 regular season. However, things were looking up for Lindblom, as he was able to return during the 2020 Stanley Cup Playoffs. Today, Lindblom's cancer is now in remission.
As a hockey fan, and as a human, I'm glad to hear the news. As a Rangers fan, with Lindblom now healthy, it's okay to root against him and all things Flyers again!
While on the topic of rare diseases, remember Dan Boyle's time with the Rangers? I bring up Dan Boyle here, because recently, all over my social media timelines, are pictures of Hunter Biden. I'm not here to talk politics, but it can't just be me – doesn't Dan Boyle look exactly like Hunter Biden:
Let's continue this magic carpet ride. Up next, the latest from Gary Bettman.
---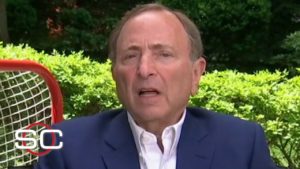 On Wednesday, December 16th, Gary Bettman appeared on a video conference, during the World Hockey Forum from Moscow. Bettman pretty much reiterated what's he said previously. Among the highlights from the press conference:
— Bettman wouldn't confirm the January 13th start date, the date that has been rumored for several weeks now. Bettman did confirm that we wouldn't get an 82 game schedule, which was pretty much known.
— Bettman talked about the idea of returning to the bubble, but said it wasn't practical or economical to keep players in a bubble for a period that could last up to six months or beyond.
— Bettman once again brought up the idea of divisional realignment, where there will be an all Canadian team division. In some new news, Bettman said that once the playoffs start, the Canadian teams will be integrated with the American teams. Whether the playoffs are then held in a bubble or not, that is still up in the air and will most likely depend on where the world is at, come whenever the playoffs will be.
— Bettman confirmed that current plans are for teams to just play teams in their own division. While the idea of a "baseball" schedule has been discussed, Bettman didn't 100% confirm that idea.
— While the regular season won't be played under bubble conditions, Bettman talked about the idea of having "hub cities", as a response to current restrictions in NHL cities. Bettman referenced what is currently going on in California with the San Francisco 49ers and how due to politicians, they are currently playing their home games in Arizona. Bettman brought up that he did not want teams having unfair advantages, due to COVID-19 restrictions in certain cities, states and provinces.
— Bettman then concluded his appearance by saying, "The biggest challenge is making sure that our players and supporting personnel are safe and healthy and making sure that we're not doing anything that puts the communities in which we're playing at risk either in terms of spreading COVID or taking medical resources, whether it's testing or vaccinations."
In short, not much was learnt here. Hopefully we'll have more concrete information soon. After all, January 13th is now less than a month's time away.
Let's get back to positive vibes. Let's talk #68, the legendary Jaromir Jagr!
---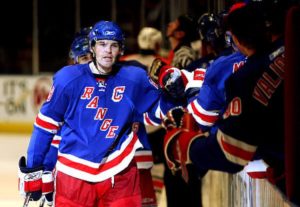 Whenever you go on Netflix, Hulu or Amazon Prime, there is something like 7676976896 B-movies, all with silly titles, titles full of ridiculous plot holes, plot holes that are wider than Steve Valiquette's five-hole. If there's a B-movie that ever needs to be made, that movie should be "JAROMIR JAGR WILL NOT DIE!"
I mean, who wouldn't enjoy a movie, featuring Jaromir Jagr, teamed up with Danny Trejo, as the two go on a bad guy killing spree, kicking ass all over the world? Shit, maybe I should patent this idea! I mean, 90 minutes of just Jagr & Trejo blowing up bad guys, in order to save the world? The plot writes itself!
I bring up Jagr here, because on December 16th, Jagr began his 32nd season in professional hockey. At 48 years old, Jagr is currently playing for Kladno, the team that he owns in the Czech Republic.
In Kladno's game against HC Dukla Jihlava, Jagr's Kladno won the game, by a final of 7-5. The highlight of the game, at least for NHL and Jagr fans? Jagr's assist:
Jaromir Jagr is 48 years old and still dishing out assists. 😱

📽️ via @RytiriKladno pic.twitter.com/o4SbRcBmPA

— Sportsnet (@Sportsnet) December 16, 2020
Whenever I think of Jagr, I always think of the lost years, between the lock-outs and the three seasons that followed his stint with the Rangers, where he spent three years in the KHL. If he were able to spend those five seasons combined in the NHL (the lockouts of 1994, 2004-2005 and 2012 included) I think Jagr would've easily surpassed Wayne Gretzky's total goal record of 894. (Jagr has 766 NHL goals.) At the very least, with five full seasons, Jagr would've joined Gretzky and Howe (801) in the 800 club.
Whatever the case, Jagr is a first ballot Hockey Hall of Famer, come the day he ever retires!
And now for the main event of tonight's tome, "The Legacy Fight", between Henrik "Money" Lundqvist and Stephane "The Goal" Matteau!
---
Of course, this topic, like many topics written about hockey right now, is one of those bar-room debates type of arguments, where really, there is no right or wrong answer. And yes, this is also something to fill up white space on a monitor. That said, I think the way you answer this question will be very telling, even if you just answer it to yourself.
I'll reprint the question one more time here. Take a deep breath, take a minute and then think about your answer. "Whose legacy means more to the Rangers – Stephane Matteau or Henrik Lundqvist?"
To me, without a doubt, it's Matteau, and this isn't me being a "Lundqvist hater" or anything like that. I'll explain my reasons why I'm taking Matteau here very shortly. However, before explaining myself, if you think Lundqvist's legacy was stronger than Matteau's, I would be of the assumption that winning Stanley Cups isn't important to you and that you probably weren't alive or perhaps you were too young during the 1994 Stanley Cup Playoffs.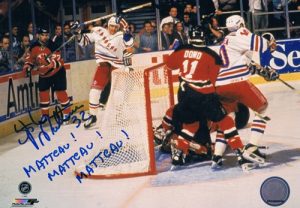 When it comes to Matteau vs Lundqvist, obviously, Lundqvist had the better career. There's no two ways about it. Lundqvist is a borderline Hall of Famer candidate and a starting goaltender who should surpass 900 NHL games played next season. Matteau was mostly a career bottom six left winger, who got the bulk of his playing time under Mike Keenan, as Matteau played for Keenan with four different franchises. (Blackhawks, Rangers, Blues and Panthers.) And to be clear, there's nothing wrong with that.
When you look at the Rangers, as a franchise, they are 94 years old. Despite their longevity as one of the oldest teams in the league, they have only won four Stanley Cups, with 75% of those Stanley Cups coming in the first 14 years of the team's existence. In the 80 years that followed, the Rangers have only won the Stanley Cup once. Get what I'm saying here? The Rangers winning the Stanley Cup is as rare as seeing a solar and lunar eclipse at the same time, post 1940.
While I've talked about this subject at length on prior blogs, and it's a key part of my upcoming "New York Rangers Rink of Honor" book, there are various reasons to explain away the Rangers failure at winning the Cup. You can blame the circus at MSG, which led to no home playoff games for the Rangers, until Emile Francis took over in the 1960's. You can blame World War II. You can blame drafting rights of players. You can blame enormous injuries during deep playoff runs, such as the injuries received by Jean Ratelle (1972), Ulf Nilsson (1979) and Ryan McDonagh & Mats Zuccarello (2015). However you want to dice it, the bottom line is this – Stanley Cups and the Rangers feels like oil and water, it just doesn't mix. But hell, we love them anyway!
To understand the true importance of the 1994 Stanley Cup Champion New York Rangers, you have to also know the history of the team too. I've stated on past blogs, when 1994 happened, I just turned 12 years old. I had no clue about the Rangers numerous failures, nor did I truly comprehend "The Curse of 1940". While now, I can tell you about each Rangers season, and in-detail, in 1994, I had no clue about the failed efforts in 1950, 1972 or 1979. For fans older than me at the time, including my own grandfather, who was at MSG during Game 7 of the 1994 Stanley Cup Final, they were more than aware of the Rangers many failures during the playoffs than I was.
Truth be told, if Matteau, who actually scored two overtime goals in that 1994 Eastern Conference Final series against the Devils, with obviously the double overtime goal in Game 7 being the one goal he'll always be known for; if Matteau didn't go on to win the Cup with the Rangers, during the 1994 Stanley Cup Final, there would be no legacy to talk about. If the Rangers lost to Vancouver in 1994, Matteau, in the present day, would've been compared to Peter Stemkowski.
For those not aware of that Stemkowski reference, during the Rangers 1971 semifinal series with the Chicago Blackhawks, Stemkowski scored two overtime goals in the series, including a triple overtime goal in Game 6 of the series. Unfortunately, the Rangers would then lose the next game, Game 7, thus being eliminated from the playoffs. That series is another big "what if", when talking Rangers history.
However, Matteau did score a double overtime goal, which propelled the Rangers into the 1994 Stanley Cup Final, a series that they won, which in turn, ended the 80 year Cupless drought by the franchise. While Matteau has been sober for over 20 years now, he could walk into any bar in NYC, right now, some 26+ years later, and Ranger fans will still be asking for his autograph and asking to buy him a drink.
Matteau experienced the ultimate high that any Ranger can get. It's a high that's rarely seen, and that's hoisting the Cup with the New York Rangers.
Conversely, when you think of Henrik Lundqvist and the playoffs, it's nothing but heartache and heartbreak.
When it comes to the Lundqvist Era, and Lundqvist's biggest games of the playoffs, every story has a sad ending. Whether it's Adam Henrique in 2012, Alec Martinez in 2014 or giving up back-to-back touchdowns to Tampa in 2015, there's nothing good to write home about.
Say whatever you want about Henrik Lundqvist, good or bad, but this fact can't be disputed – in the playoffs, he was always the bridesmaid and never the bride. Lundqvist could just never get that ring.
When you look at Matteau and his goal, that 1994 Stanley Cup win is magnified even more, when you consider all of the Rangers failures along the way. Had the Rangers won the Stanley Cup in either 1972 or 1979, I don't think 1994 or Matteau's goal would've been as big. Yes, winning the Cup is always big, but when you think that it took 54 years for the Rangers to win it again, it just makes the 1994 Cup that much bigger.
There is no denying what Lundqvist meant for the Rangers, but when I think of a true legacy and when I think great moments, what Matteau did on that fateful night in May of 1994 – it easily surpasses whatever Lundqvist did in 15 years for the Rangers.
And really, with four Cups in 94 years, when you think of the word "legacy", you usually think of positive feelings and adjectives. Lundqvist had an era. Matteau will always have a legacy.
Speaking of Rangers history, one more topic before giving you the trivia answers.
---
Originally, I was going to do another one of my long-winded rants on this recent graphic that the NHL Twitter account sent out, on behalf of the Rangers. As usual, 75% of the Rangers Stanley Cup wins are ignored in the graphic. Even worse, Hall of Fame players, who spent their entire career with the Rangers, are also ignored. And as you may know by now, it's things like this idiotic picture, that is the genesis of my "New York Rangers Rink of Honor" book.
In a rare display, similar to the Rangers winning a Stanley Cup, I'll go short here. Say it with me folks – Frank Boucher, Bill Cook, Ching Johnson and Davey Kerr.
Let me hit with you a joke, some plugs and go home with the trivia.
---
Two great podcasts released new episodes this week, in Cam Connor's "View From the Penalty Box" and "The Blueshirt Underground Show". Connor's podcast may have been one of his best yet, because as a wrestling fan too, I always enjoy stories about Connor's friendship with Roddy Piper. (The two were close friends since childhood.)
Anyway, to listen to Connor's podcast, check out the link below:
Episode 45 of the View From the Penalty Box podcast is out and lots of fun topics are covered, including did Mike Tyson inspire me to do one last fight; Roddy Piper inviting me to join the WWF as a tag team; WHA record breaking bench brawl; con't… https://t.co/y00uDgNAFC

— Cam Connor (@CamConnorNHL) December 15, 2020
Elsewhere, the reigning and defending champion Rangers themed podcast, BSU, returned on Tuesday night with a new episode. You can watch it here:
---
If you haven't already, subscribe to this blog for the next update:
Time to answer the trivia questions. Here you go:
TRIVIA QUESTION ONE: The Rangers have honored two #9's in their rafters, with banners for both Andy Bathgate and Adam Graves. Who was the first player in Rangers history to wear #9?
ANSWER: Murray Murdoch, who was known as "The Ironman". Murdoch never missed a game in his 11 seasons played with the Rangers. In later years, he would also pose for pictures with "The Ironman" of the Yankees, in a one Lou Gehrig.
BONUS QUESTION ONE: This player, who was the first player to wear #9 for the Rangers, had two members of his extended family eventually become Rangers. Who were these two players?
ANSWER: Don Murdoch and Mark Messier. Murray Murdoch was also a cousin, twice removed, of the Dryden brothers, in Dave and Ken Dryden.
---
TRIVIA QUESTION TWO: There are eight sets of different brothers to play with the Rangers. In each case, each set of brothers also played together, while with the Rangers. Name all eight sets of brothers.
ANSWER: The Cook's (Bill & Bun), the Patrick's (Lynn & Muzz), the Colville's (Mac & Neil), the Bentley's (Max & Doug), the Maloney's (Dave & Don), the Patrick's (Steve and James, with no relation to Lester, Lynn or Muzz Patrick), the Ferraro's (Pete & Chris) and the Staal's (Marc & Eric).
BONUS QUESTION TWO: (And this is an easy one to boot!) What set of brothers played for their father, who served as the team's head coach, all while with the Rangers?
ANSWER: Lynn & Muzz Patrick, who played for their father Lester Patrick, in the late 1930's. All three would win the Stanley Cup together in 1940, with the brothers winning the Cup as players and with Lester Patrick as the team's general manager. (Frank Boucher was the head coach.)
---
TRIVIA QUESTION THREE: What goalie in Rangers history was known as "The Glasgow Gobbler?" Hint: This goalie won a Stanley Cup with the Rangers.
ANSWER: Andy Aitkenhead, who was the goaltender of the 1933 Stanley Cup Champion team.
BONUS QUESTION THREE: What goalie would go on to replace "The Glasgow Gobbler" and become the next starting goaltender in Rangers history?
ANSWER: Davey Kerr, a Kerr who most likely would've been a Hall of Famer today, had a contract dispute not ended his career during his prime.
---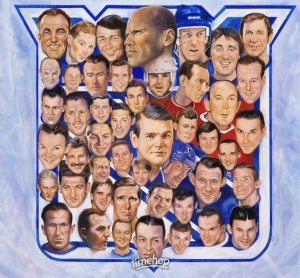 Up next: I'm back to working on the book, a project you're probably sick of me plugging so much already!
Unless something truly breaking happens, I'll be back next week.
As always here, thanks for reading and…
LET'S GO RANGERS!
Sean McCaffrey
BULLSMC@aol.com
@NYCTHEMIC on Tweeter and on Parler
Follow the BlueCollarBlueShirts.com Facebook Group by clicking this link: https://www.facebook.com/groups/1564026407193056/