Greetings and salutations everyone and welcome to another blog here on BlueCollarBlueShirts.com. Can you believe that not only 2021 is now here, but the 2021 NHL regular season is almost upon us too?
And oh, let me start off by saying, CONGRATULATIONS USA HOCKEY! As I was putting the finishing touches on this blog, USA Hockey defeated Team Canada, 2-0, to take home the gold medal in the final game of the World Junior's Hockey Tournament. Of course, Team Canada was missing that Alexis Lafreniere guy, but some things are more important than Canada – like the New York Rangers! In any event, like Hacksaw Jim Duggan, let me say this: "USA! USA! USA!"
As we speak, the Rangers, along with the rest of the other thirty teams in the league, are currently in training camp, getting ready for puck drop. My initial feeling about the Rangers returning to training camp was excitement, but after three days at it, I'm already over it. I just want to see the team back in action! After all, what can you really learn from these post-practice interviews anyway?
I'll get more into this as we move along tonight, but really, all the news out of training camp is pretty much white noise to me. While the NYR beat reporters give us their "PROPOZED LINES and PAIRINGZ"; to me, I don't really get much out of that news. After all, if we've learned anything about head coach David Quinn over the last two seasons, it's the fact that he's always willing to change his lines and pairings not only game-by-game, but in-game as well. In fact, with the condensed schedule and Quinn's history, I wouldn't be surprised to see the line-up on Opening Night differ, come the second game of the season.
In tonight's manifesto, the biggest news story covered will be the NHL's willingness to allow sponsors to advertise anywhere and everywhere. While I understand the NHL's current financial plight, I think that once you open this box, you can't close it. It's like the old adage – "you can't be half pregnant". With the NHL now allowing sponsors to take over the names of the divisions, I think this will eventually have a snowball effect, where one day, even the Stanley Cup will have some sort of corporate logo or tagline associated with it. Of course, that all remains to be seen. That said, no joke, one day, I can see the NHL hosting the "My Shiny Hiney Stanley Cup Final".
Elsewhere tonight, I'll have all the latest on the Rangers for you, as I sort out the good stuff out of the miles of unnecessary crap that's currently out there. Sometimes, I feel some of the news out there is like one of those word problems from middle school, where you have to sort out the useless information from the pertinent facts. I mean, does stuff like "K'Andre Miller is big!", "Jack Johnson put a puck in the net during practice!" and the never-ending love affair Larry Brooks has for Henrik Lundqvist, really mean much in the grand scheme of things? In an attempt to get you to laugh, I'll have more on the NYR media and Larry Brooks in tonight's episode.
If there is any real big news story coming out of Rangerstown, USA right now, it's the fact that the schedule, with all the times of the games, was released this week. Plan accordingly!
There's a lot of mini-stories to get into tonight, so kick back and crack open a bottle of your favorite refreshment. However, as usual, before getting into everything, the PLUGS section!
Here are my most recent blogs, in case you missed them: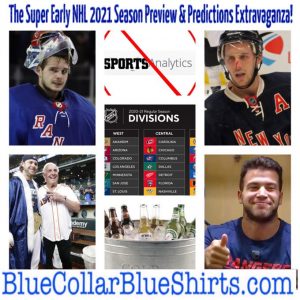 ---
---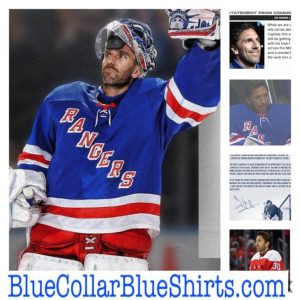 ---
---
As talked about previously, the NHL is now allowing ads on player helmets for the 2021 season. When it comes to ads on the helmets, I'm fine with it. It's not like a helmet is sacred or anything like that. After all, helmets first became mandatory in the NHL in 1979. In other words, when you look at the entire history of the NHL, there have been more seasons with players without helmets than seasons with players wearing helmets.
When it comes to ads on jerseys, I think that's a trickier slope to navigate, especially in regards to the Original Six teams. Of all the franchises in the NHL, I would equate the Montreal Canadiens to the New York Yankees, a Yankees franchise that is the most profitable in all of North American sports. The Canadiens, just like the Yankees, are the most successful franchise in their sport. Both the Canadiens and Yankees have the 100+ years of history. These two franchises also have the most championships in their respective sport and they have also produced the most amount of Hall of Famers in their sport as well.
I wasn't a fan of the Yankees putting logos on their iconic pinstripes, as they did this season, when they added the Nike "swoosh" to their jerseys. In that same vein, I also wouldn't be a fan of seeing ads for "PIZZA 73" on the legendary crest of a Montreal Canadien jersey either.
As far as the Rangers go, the Rangers do a horrible job promoting and respecting their history anyway, so if they wanted to put a small ad their jersey, I wouldn't really be that fired up about it. I mean, after all, the Rangers and Madison $quare Garden have catered to corporations and sponsors for so long, that it would be hard for me to feign any ill-will for a small Delta Airlines ad on a Rangers jersey. That said, I wouldn't want to see the Rangers, or any NHL team for that matter, wearing jerseys that look straight out of a European hockey league or NASCAR. Again, this is a fine line here, where I'm willing to give some leeway, but ultimately remain old-school and conservative on this topic.
On Tuesday, January 5th, 2021, the NHL took their sponsorship game to the next level, where the league announced the divisions would be renamed for the 2021 season, with all four divisions now having sponsorships behind them.
Here's the official NHL press release concerning the name changes, courtesy of https://www.nhl.com/news/nhl-announces-sponsors-for-realigned-2020-21-divisions/c-319981824:
NEW YORK & TORONTO – The National Hockey League (NHL®), in partnership with Discover, Honda, MassMutual and Scotiabank today announced the official division names for the 2020-21 season: Scotia NHL® North Division, Honda NHL® West Division, Discover NHL® Central Division and the MassMutual NHL® East Division.

As previously announced, in reaching agreement on the format for the 2020-21 season, the NHL and NHLPA determined that the ongoing closure of the U.S.-Canada border required realignment, with teams realigned as follows:

•   Scotia NHL® North Division (Calgary, Edmonton, Montreal, Ottawa, Toronto, Vancouver, Winnipeg)
•   Honda NHL® West Division (Anaheim, Arizona, Colorado, Los Angeles, Minnesota, San Jose, St. Louis, Vegas)
•   Discover NHL® Central Division (Carolina, Chicago, Columbus, Dallas, Detroit, Florida, Nashville, Tampa Bay)
•   MassMutual NHL® East Division (Boston, Buffalo, New Jersey, NY Islanders, NY Rangers, Philadelphia, Pittsburgh, Washington)

Each team in the MassMutual NHL® East Division, Discover NHL® Central Division and Honda NHL® West Division will play every other team in its division eight times while each team in the Scotia NHL® North Division will play every other team in its division nine or 10 times, to minimize team travel as much as possible.

---
I know some people will say, "why make a big deal out of this?", but to me, this is just the beginning of everything being up for sale by the NHL. Then again, it's not like the NHL has been adverse to new advertising streams in the first place.
In case you've been living under a rock or unaware, the NHL is doing everything in their power to recoup losses from last season and figuring out ways to limit losses for this upcoming season. Of course, financially, despite the idea of expected losses for the 2021 season, it behooves the NHL to have a season, just so they can fulfill their paltry American television contract with the NBC Network. Once the 2021 season is complete, the NHL can then shop around for a new American television deal, a deal that will pay ten-fold when compared to the current deal the NHL has now.
While ultimately, I think we would've seen ads on helmets eventually, if it weren't for the pandemic, the NHL wouldn't have sold the rights of their division names to sponsors. And on a side-bar here, do any of these four sponsors of these divisions, in Honda, MassMutual, Scotia and Discover, encourage you to become a customer of these brands/companies? I mean, the Rangers are now in the MassMutual division. It's not like I'm going to run and give my business to MassMutual now. Hell, prior to today, I didn't even know what MassMutual was.
Personally speaking, when it comes to sponsors, outside of Budweiser products, which I was going to drink anyway, the only sponsor that has ever influenced me, was Chase. Prior to two years ago, I never had a credit card in my life, as I hate being in debt to anyone. Outside of a mortgage, I'm only going to buy something if I have the money in the bank already. However, when the Rangers opened up a new side entrance to the building, called, you guessed it, "The Chase Entrance", I signed up for a card. For me, even though I never use the credit card, just having the card allows you to bypass all the foot traffic and long lines at the front entrance of M$G.
While obviously, the NHL and their official broadcasting partners will have to plug and use these new division names, I'll be interested to see how websites like SportsNet, TSN, ESPN and others cover these divisions. Will these sites use the new corporate names, or will they just shorten it to "East", "West", "North" and "Central"?
I totally get why Gary Bettman and the NHL did what they did. These four sponsors will give the league a major cash influx, an influx that could get the league quicker to increasing the salary cap in the upcoming seasons. Currently, it's being reported, by the top reporters out of Canada, that this is most likely a one season and done deal. However, if you're the NHL, now that you've received a taste of this money, why would you spit it away next season? This isn't a wine tasting club, this is a business. Economically, it makes no sense to give the cold shoulder to someone who wants to give you millions of dollars.
It's my contention that the league will continue to whore themselves out, as if Gary Bettman was running the Bunny Ranch out of Reno, Nevada. Again, while I understand that this is all a business, this all comes off as the NHL looking like the poor little orphan in the sports world. In fact, I'd take it one step further and say all of this reminds me of that meme, which features the poor African kids. You know, the meme where it says "(Insert loser of a major championship in sports here) world champion t-shirts arrive on Friday!" I'm sure by now if you're a sports fan, you've seen these kids and the memes associated with them:
When I see Gary Bettman and the NHL spreading their legs for any corporate John with some spare change, to me, it's the equivalent of Bettman wearing a "New York Knicks 1994 NBA Champions" t-shirt. (I only use the Knicks here, because that was the first "fake news" t-shirt I ever saw people wear around publicly. At the time, in June of 1994, all of these Rangers and Knicks pop-up stores were all over the place, like a "Spirit of Halloween" store in the month of October. These stores would have all the Rangers and Knicks 1994 merchandise, and despite the Knicks Game 7 loss in the NBA Finals to the Rockets, these stores still sold 1994 World Champion Knicks gear! Hey, gotta pay the rent somehow!)
As I said earlier in this blog, once you open this box, I don't know how you close it. Ads on the boards, the ice, the helmets and elsewhere in the arena is just doing business. Once you allow ads and sponsors to influence time-old traditions and divisions, what starts off as a trickle will grow to a mass flood, as corporate money breaks though the proverbial levee. In addition, with these corporations forking over major dough for these division name rights, the NHL is also at the mercy of their sponsors. Would it be that out of the realm to see one of these corporations influencing how the NHL conducts business and player suspensions?
And really, when it comes to the hockey world, the NHL is the last of the major hockey leagues to fend off corporations from taking over everything. After all, in the 1970's, you had the World Hockey Association around, a WHA that promoted the "AVCO Cup", with AVCO, a defense contractor, sponsoring the league and its championship. Then, if you take a look at the leagues in Russia and Europe, they may as well put racecars on skates:
The NHL, at least publicly, can give us all the talk about upholding the prestige and legacy of the game, the awards and the Stanley Cup. However, I wouldn't be shocked to see, that down the line, even if it's ten years from now, where the Stanley Cup is renamed or has a corporate byline preceding it. It wouldn't shock me to see traditional trophies and awards, like the Conn Smythe, the Hart, the Vezina and the other prestigious awards in the NHL to be taken over by corporate rebranding. Here's CZAR IGOR, the BLUECHEW Vezina winner! Here's Alexis Lafreniere, your BIDET TODAY Hart winner! And excuse me Sam, I'm Joe Micheletti, and let's talk about the Bud Light Seltzer Cup Final!
I'll always understand that sports are a business, but I think you lose a piece of the purity of the game with every ad. Plus, when it comes to hockey, do you really want to see this from your seat:
Call me crazy, but one day, the NHL will look like the movie "Rollerball". Over time, a generation of fans will only know the NHL in this form, just as previous generations of today can still remember a time where the NHL boards (at least on Opening Night, before all the black puck rubber marks) were clean and white, just as the freshly driven snow.
If there's any silver lining here, at least hockey is back, with these new found revenues being the trade-off.
How about some good news now?
---
With the Rangers now at training camp, things are starting to feel very real again. What once seemed so far away is almost now here. In turn, there are a bunch of little things to discuss. Let's get the easy stuff out the way first.
First on the docket, here is the complete roster that is at Rangers training camp right now: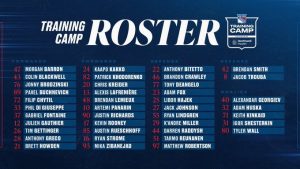 The biggest news right now, when it comes to the roster, is the fact that Mika Zibanejad is listed as day-to-day. The Rangers, at the time of this writing, have held three separate practices, where Zibanejad was not at any of them. This could mean a couple of things, with the majority of people suspecting COVID-19 being involved. While Zibanejad could have COVID-19 or could have been exposed to it, no one, at least the media or fans, can say this with 100% certainty. For all we know, Zibanejad had a bad California roll from "THE SUSHI HOUSE, the official sponsor of the first three rows at Madison $quare Garden!"
It's also worth noting that Zibanejad does have a history with concussions, but that seems highly unlikely to be the cause of Zibanejad's absence right now.
Without question, the Rangers need a healthy Mika Zibanejad to make a playoff run this season. Missing these limited practices is not a good thing, but if the cause for Zibanejad's absence is COVID-19 related, at least for professional athletes, that is easy to overcome and Zibanejad should theoretically be back in no time.
---
This past Saturday, the Hallmark network debuted their latest movie, "Taking A Shot At Love". The plot of the movie is a ballet dancer trying to help a hockey player make it back to the New York Rangers. Originally, out of boredom, I was going to watch this movie and do a review here, for comedic purposes. However, after five minutes, I deleted this crap off of my DVR. Needless to say, this wasn't SLAP SHOT! And for those interested, when I visited IMDB.com to see who was in this movie, I didn't recognize one cast member. If this movie starred Ben Savage opposite of Danielle Fishel, (yes that's a "Boy Meets World" reference) I probably would've sat through it!
---
One of the biggest topics this off-season, in regards to the Rangers, is who will be the next team captain? While some people may say that a captain isn't important, the last team to win a Stanley Cup without a captain were the Boston Bruins teams of 1970 and 1972. As of this writing, David Quinn somewhat blew off this topic, leaving the next captain of the New York Rangers to still be decided.
If you check the archives of this site, I have done a few blogs talking about this topic. In short, I see the cases for both Chris Kreider and Mika Zibanejad. I wouldn't be opposed to seeing either one of these two being named as the next captain in franchise history. However, gun to my head, if I was making the decision, I would go with Chris Kreider for reasons I've previously discussed at length. (Kreider has the tenure, the new contract, needs to step up, etc.) Again, if Zibanejad winds up getting the "C", I would support and be a fan of that too. (And as noted, I don't see Artemi Panarin becoming team captain, since he doesn't speak English in a league where the officials do.)
With Zibanejad currently unavailable to the media, due to his day-to-day status, Chris Kreider has been the featured Ranger during post-practice interviews. If anything, as we saw last season, Kreider is stepping up as a team leader. In 2021, Kreider is now the longest tenured player on the team and there's no better time than right now for Kreider to grab the brass ring and become the voice of the locker room.
Right now, with the world being what it is, the NYR beat reporters and media aren't allowed to attend practices. Instead, the media is given a link, where they can watch the practices and then talk to the players and coaches afterwards. To me, this is a missed opportunity, especially for a league looking to increase revenue.
Think about it. Right now, no one is watching the MSG Networks in the middle of the day, much less DVRing anything. If the Rangers were to air these practices and intra-squad scrimmages, it would boost the ratings of the MSG Networks. And hell, you can throw in all of your nice little sponsors. I can see it now, "At 12PM, tune into the M$G Networks for the Sbarro's Scrimmage, followed by the Papa John's Post Practice Wrap-Up with John "Viagra" Gianonne and Steve Vagisil at the Bud Light Bar!"
Outside of making some coin, boosting ratings and increasing DVR+3 numbers, by making the practices public, you're getting hockey fans, Ranger fans in this case, back into the swing of things. With no preseason games, every team should be making their practices public, in an effort to get fans back and ready for hockey.
I mean, really, what's the reason NOT to do this? Maybe a "F-bomb" flies out of the mouth of David Quinn? Who cares? If that's such a pressing concern, use a ten-second delay.
To the credit of the M$G Networks, if you visit their YouTube channel, they have complete post-practice interviews up with the players and coaches that were interviewed that day. You can watch all of it here: https://www.youtube.com/playlist?list=PLmofErGZetbgkn4jrKm8bths6H0J_IkXN
To me, I much rather watch the interviews themselves, than read everyone from the NYR beat scene transcribing and saying the exact same thing. Speaking of, let's talk about the NYR beat reporters real quick!
---
I know I've talked a lot about the NYR beat reporters during 2020, because after all, there were a lot of slow days and I had the time for it! However, what bothered me in 2020 was prevalent this week, as the NYR beat scene returned to active duty.
For the sake of this writing, when I say "the NYR beat reporters", I'm specifically referring to Larry Brooks (NY Post), Rick Carpiniello (The Athletic), Vince Mercogliano (LoHud) and Colin Stephenson (Newsday). I previously talked about these guys in-depth here: https://bluecollarblueshirts.com/72820/
Outside of Larry Brooks, who really is the pulse of the beat, if you read one of these guys reports, you've read them all. And I get it – it's tough being a sports reporter in 2021, especially a hockey reporter in NYC. After all, the Daily News doesn't even have a dedicated reporter to the NHL anymore. Reporters are now a dime a dozen and can easily be replaced. Just ask Rick Carpiniello who has bounced around a lot recently, with even Vince Mercogliano, who comes at a cheaper rate, (because he's newer) taking over at one of Carpiniello's old posts.
Even the NY Post is somewhat phasing Larry Brooks out a bit. While Brooks still remains the ace, Mollie Walker has really stepped up over the last year. (Walker, who mostly covers the Islanders in the regular season, has also presented unique and fresh stories, including a story about Barzal and a fan.)
In fact, I believe Brett Crygalis, who previously covered hockey at the NY Post, is now done. And to be clear, Walker and Mercogliano seem dedicated and do a good job. In my opinion, most of their stuff comes off as people who have their dream job and can't believe they are being paid to do what they love. (And that's a good thing!) However, in this world and in that business, they can be replaced by a kid out of zoom college tomorrow. As I've said on past blogs, that is why we don't get any challenging or different material from the NYR beat reporters today – one bad article, in this now super-sensitive PC world, and you're gone. And this applies to the old guard too. Just ask Don Cherry.
After reading all the articles and social media postings this week from the NYR beat reporters, it was all the same stuff. And to be fair here, part of this is because the reporters are confined to their own homes. None of these reporters have locker room access, which would give them an opportunity to run a unique angle.
The only way to differentiate the reporters and their articles this week is by their individual styles and references. For instance, Rick Carpiniello has to work in a Seinfeld reference in every report he does. Vince Mercogliano tends to use millennial vernacular in his heavily opinionated reports. Colin Stephenson is straight to the point, with no BS or opinion sprinkled in. And when it comes to Larry Brooks, he has to mention Henrik Lundqvist in every article, with Lundqvist's work with the NYPD always being excluded.
In fact, for the purpose of this blog, I went back at looked at the ten most recent articles written by Larry Brooks. IN EVERY SINGLE ONE OF THEM, LARRY BROOKS WORKS IN HENRIK LUNDQVIST'S NAME INTO EACH ARTICLE!
And let me say this, before I get all the negative feedback – Brooks was doing this before Lundqvist's recent heart condition. We all sympathize for Henrik Lundqvist, the human being, and we all hope he makes a full recovery and can be there for his young family. However, when it comes to covering the Rangers of today, every Brooks article mentions Lundqvist in some form. Here are just a few screenshots from the NY Post:
I mean, no joke, Larry Brooks and his love affair with Henrik Lundqvist has grown to a comedic level that rivals Rodney Dangerfield in his prime. (Or as Rick Carpiniello would say, "a comedic level that rivals Jerry Seinfeld!") Brooks can't go one article without working Lundqvist's name in somehow! Hell, Hallmark should come out with "Take a Shot At Love II", featuring Brooks following around Lundqvist like a love-sick puppy. I'd watch that movie, regardless of the cast!
While these reporters all have their own style, (and I know I do too with these blogs) all of the information they report is all the same. No one tries to approach anything from a different angle. It's all the same. It makes me long for the days when Larry Brooks had a little fire in his belly and would go toe-to-toe with John Tortorella.
And to be clear, I'm not advocating for any of these reporters to be adversarial or combative, because really, there's no reason to right now. All I'm saying is that I'd just like to see these guys try to cover the team uniquely, rather than all of them coming off as the team's PR agent with every article.
While I don't want to go down the road of politics here, outside of Stephenson, the NYR beat scene all made the same joke when this news broke:
Of course, because Tony DeAngelo is a Donald Trump supporter/Republican, everyone had their unoriginal jokes of "HOW WILL TONY ADJUST FROM THE RIGHT TO THE LEFT? I AM FUNNY! I MADE THE SAME JOKE EVERYONE ELSE MADE!"
I mean, if you're going to make a joke about DeAngelo going from the right to the left, at least come up with something original.
Of course, there's no joke about Trouba playing the right side, despite Vince Mercogliano throwing a celebration when Trouba tweeted out "BLM" over the summer. I mean, wouldn't it be funny and wouldn't it make one of these reporters stand out, if after the latest big Trouba hit (think about the hit Trouba laid on Dal Colle in a game against the Islanders last season) one of these reporters said, "THAT HIT FROM TROUBA CREATED MORE CHAOS AND DESTRUCTION THAN A BLM CIVIL PROTEST!"
That said, I guess only Larry Brooks, because of his standing and tenure, could get away with that one.
And I guess while on Trouba and DeAngelo, this is the team's latest pairing. With Fox and Lindgren being the other set-in-stone defensive pairing, that leaves the third defensive pairing up for grabs, with guys like Brendan Smith, K'Andre Miller, Anthony Bitetto, Jack Johnson and others vying for the final two spots.
Also of note, as talked about during my "Watch Your Tone" podcast recaps, prior to training camp, Tony DeAngelo has said he's played the left side of the defense before and would be comfortable with this challenge, should it be presented to him. Tony DeAngelo, similar to me, also said if anyone is going to make political jokes, at least come up with something original. The fans await for the NYR media to do so! Somehow, I think Carpiniello will attempt this joke, using FDR from "Seinfeld" as the punchline!
One last thing on Larry Brooks and I'll wrap this segment up!
---
On the morning of 12/24, I released this blog: https://bluecollarblueshirts.com/122420/
In that blog, I talked about how the Rangers (and other teams) could circumnavigate the salary cap, by placing players with bad contracts on their taxi-squad and creating a paper trail on the waiver wire.
Two weeks later, Larry Brooks came up for air, took a time-out from brushing his Henrik Lundqvist hair doll, and reported on this story. Kudos to Larry!
But seriously speaking here, from what I see around the league, this story isn't getting much play. Expect this story to get a ton of play once the season gets kicking, especially as teams make moves daily, in order to get ready for the trade-deadline.
I know I might be beating the same old drum here, but going into this 2021 season, goaltending and head coaching will swing games and seasons. Refer to my last blog, where I previewed the 2021 NHL season and all 31 teams, for more on this.
In a story that even got front page status on NHL.com, was the story about the two Ranger goaltenders, in CZAR IGOR SHESTYORKIN and the KING OF KINGS ALEXANDAR GEORGIEV. And for anyone calling Igor "Prince Igor", as Vince Mercogliano is currently doing, please inform them of Chuck Rayner. Unfortunately, it's up to us fans to educate others, as the Rangers, organizationally, ignores every Ranger pre-1960, sans Harry Howell and Andy Bathgate, two men who the Rangers honored some 45 years after their prime.
Anyway, in interviews you can watch on the MSG Networks YouTube Channel (Once again, here's the link: https://www.youtube.com/playlist?list=PLmofErGZetbgkn4jrKm8bths6H0J_IkXN ) both CZAR IGOR and David Quinn talked about the starting goaltender position. While most assume the job is CZAR IGOR's to lose, both Igor and DQ left the topic open-ended, in addition to talking about a two-goalie system.
On the topic of his netminders, Quinn said:
"In this season, every team in this league is going to have to rely on their two goalies. We're fortunate because we feel that we have two No. 1 goalies. I'm not just saying that. He [Georgiev] has had a good career so far. I think he's ready to make the next step. [Shestyorkin], in a small sample, certainly proved he can be a really good goalie at this level. We feel we have great goaltending depth and both of these guys are going to be contributors. We're certainly going to lean on both of them during the course of the season."
Not for nothing, I thought this was a good approach from DQ. While it's nice for a starting goaltender to not look over their shoulder every day, under the conditions of the 2021 season, this is perhaps the right mindset.
Shestyorkin also made these comments, through a translator:
"My expectations are to work even harder to increase the win column for the team, to increase all the goaltending statistics that are trackable and try to become the No. 1 goalie on this team. I think we have two really good goalies who will do whatever it takes to help the team win. Obviously it would be quite an experience to be the face of the franchise, but so much has to be done to achieve that level of success. I began working very hard in an attempt to not disappoint myself and the fans before last season and take it very seriously, but much work has to be done to get there."
Again, I thought these comments were perfect from CZAR IGOR, as he isn't expecting the job to be handed to him on a silver platter.
Of note, Alexandar Georgiev wasn't interviewed. Under normal conditions, meaning the media being allowed in the locker room, perhaps he would've.
With Shestyorkin mentioning the phrase "face of the franchise", how about a little talk on Alexis Lafreniere?
Alexis Lafreniere, who is thought to become the next "face of the franchise" is obviously the talk of the town right now. In his interviews, which again, you can watch on the MSG Networks YouTube channel, Lafreniere has been very modest when predicting his own success for 2021. Other people, such as Chris Kreider and David Quinn, have been very complimentary about Lafreniere, as they try not to put unrealistic expectations on the number 1 pick of the 2020 NHL draft.
Currently, Lafreniere is skating on a line with Julien Gauthier and Filip Chytil. While some people have advocated for Lafreniere to either play with Panarin and/or Zibanejad, this is pretty much what I thought we'd see on day one. As mentioned on previous blogs, Lafreniere has previously played with Gauthier, so there is some chemistry there. And again, what Quinn does with his roster in game one doesn't mean that's what the lines and pairings will be moving forward. That said, for now, DQ is taking a wait-and-see approach, and in my opinion, I think it's the right one.
I definitely understand why some fans and people in the media would want Lafreniere, right out of camp, to be slotted with the top players on the team. However, by skating on the third line, Lafreniere will have a chance to be the best player on the ice during his shifts.
In a super-competitive BUD LIGHT DELTA MY SHINY HINEY CIALIS DUDE WIPES East Division, by starting off on the third line, Lafreniere will avoid Boston's strong top line. He'll avoid Crosby and Malkin. He'll avoid Ovechkin. He'll avoid Taylor Hall and Jack Eichel too. To start the season, Lafreniere can pop his cherry and get his feet wet by playing on the third line. From there, all you can hope for is progression and growth, where Lafreniere eventually becomes a featured member of the first or second line. There's just no reason to rush Lafreniere right now.
That said, the idea of these two teaming up is exciting:
As you'd imagine, both Panarin and Lafreniere were very complimentary of each other during their media calls. On Lafreniere, Panarin said:
"My advice [to Lafreniere] was now that he's playing at this level it's all about mental stability and preparation. It's maybe no longer about skating laps but really working on the mental part of the game and your psychology. I see a lot skill, a lot skating [in Lafreniere]. Fearless hockey."
While I won't be recapping the daily minutiae of every second and every day of Rangers practice, for those who want such coverage, follow the MSG Network YouTube channel link I provided above and this link, from the New York Rangers themselves: https://www.nhl.com/rangers/team/training-camp?icmp=int_web_nyr_TC_dl_210103
Switching gears here, we now have news on the AHL's return.
---
On past blogs, I told you how the ECHL schedule was effected by COVID-19 and how the Rangers ECHL affiliate, the Maine Mariners, would not be playing this season.
On Monday, 1/4, we found out news about the AHL and the Hartford Wolfpack.
The following comes from https://theahl.com/28-teams-participate-2020-21-season:
SPRINGFIELD, Mass. … American Hockey League President and Chief Executive Officer Scott Howson announced today that the 2020-21 season will include 28 teams when it gets underway on February 5.

The AHL will operate in five divisions this season. Further details, including schedule formats and playoffs, are still to be determined.

Four teams have been granted provisional relocations for the 2020-21 season: the Binghamton Devils will play in Newark, N.J.; the Ontario Reign will play in El Segundo, Calif.; the Providence Bruins will play in Marlborough, Mass.; and the San Diego Gulls will play in Irvine, Calif.

The Charlotte Checkers, Milwaukee Admirals and Springfield Thunderbirds have elected to opt out of play for the 2020-21 season. All three teams will return to play in 2021-22.

In operation since 1936, the AHL serves as the top development league for all 31 National Hockey League teams. Nearly 90 percent of today's NHL players are American Hockey League graduates, and more than 100 honored members of the Hockey Hall of Fame spent time in the AHL in their careers.

---
Quite frankly, I'm shocked to hear that the AHL is even having a season, due to the fact that NHL teams will be rostering their top AHL players with their taxi squads in 2021. With the NHL bleeding money, I'm surprised they would take on the AHL, as it's being reported that the Rangers will cover the Wolfpack's expenses in 2021.
I just don't see a way how the AHL can make a dime this season. For all this talk about financial losses, outside of giving some players some ice time, I just don't see the reasoning in having a season, other than for the sake of having a season. As it stands right now, there aren't even any plans for the AHL Calder Cup Playoffs yet, so all of this seems to be done by the seat of the AHL's pants.
In any event, all the best to the Hartford Wolfpack and the AHL in 2021.
We also had some sad news on Monday, as former Rangers head coach John Muckler passed away.
---
As is the case with many men in the NHL, whether it be players, coaches or general managers; the majority of these men were successful somewhere else, only to come to New York and have the worst period of their career. John Muckler, along with his buddy Glen Sather, are two shining examples of this. For every Mark Messier or Adam Graves, you have had guys like Eric Lindros, Jacques Plante, Bobby Holik, Wade Redden, Ken Hodge, etc.
John Muckler's time in New York was during a Dark Age in Rangers hockey. It's tough to find one highlight during Muckler's reign as the bench boss of the New York Rangers. So, with that said, all I'll say here is rest in peace John Muckler and my condolences to his friends and family.
---
If you haven't already, subscribe to this blog for the next update:
---
As I close off this blog, I'm still hammering away on my "New York Rangers Rink of Honor" book, a project that has now reached a monstrous 500 pages. Needless to say, this book is going longer than expected. In addition, it's been more time consuming than expected. That said, if I'm going to write one book, I want to give it my all, and leave nothing incomplete. Just last night, I finished 50 pages on just "The Bread Line" alone, pages that feature exclusive and never before told stories. Hopefully, this book will go to the editor soon!
I'll try to return Thursday night with my 2021 NYR season preview, as we inch closer to puck drop on January 14th.
As always here, thanks for reading and…
LET'S GO RANGERS!
Sean McCaffrey
BULLSMC@aol.com
@NYCTHEMIC on Tweeter and on Parler
Follow the BlueCollarBlueShirts.com Facebook Group by clicking this link: https://www.facebook.com/groups/1564026407193056/