Greetings and salutations everyone and welcome to another blog here on BlueCollarBlueShirts.com. As you read these words, it's Christmas Eve and for Christmas, Santa Bettman has brought all the good little boys and girls the gift of hockey, starting on January 13th, 2021. As far as Santa Sean goes, I got a 10,000 word manifesto for you tonight! If that's too long for you, bah humbug!
It's been a long and rough 2020 for all of us, but as 2020 comes to a close, at least we now have light at the end of the tunnel. While we may still remain indoors during the early weeks and months of 2021, at least we have something to watch and get excited about again. It will soon be time to give our Netflix, Hulu and HBO Max accounts a break, as we wipe the dust off of our NHL Network accounts.
As talked about on recent blogs, I have been spending my pandemic free time working on my "New York Rangers Rink of Honor" book. Just like these blogs, this book is going to be long, as I just surpassed 350 pages (single-spaced) on Monday night. Despite this project taking longer than originally intended, I want to present the best product possible, leave nothing incomplete and leave a book that Ranger fans of future generations can buy online for three cents used!
Seriously speaking for a second here, I can tell you that this book will be like no other Rangers book on the market, as over 100 players and people are profiled in this book and with extreme detail. There was just no way I'd mail in a project like this. I'm going all out and I truly think you'll enjoy and get a lot out of this book, should you choose to purchase it. (I'm thinking of a $9.99 price point, despite all the hard work, research and hours involved. As a future first time author, I think asking for more than $10 is greedy and a stretch.)
In another update to the book, I have received quotes, exclusively for this book, by several members of the Rangers alumni and their families. Once the project is complete and I go into full blown marketing mode, I'll give you the list of contributors.
That said, the heavy lifting is completing the manuscript/rough draft. Once that's done, it's all about getting everything else finished, such as graphic inserts, editing, formatting and all that other stuff you probably don't care about! With the NHL announcing their return date of January 13th, it's my mission to haul ass and finish the manuscript by the time the league drops the first puck of the 2021 season. After all, with a condensed 2021 season, with this blog/site & game-by-game recaps, it will be tough to find free time to work on the book!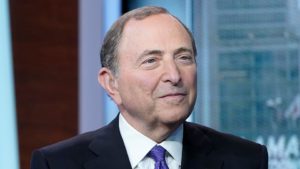 I'll have everything you need to know about the return of the NHL and the Rangers in tonight's blog. However, I do want to say here, love him or hate him (and many of you understandably hate him) at least Gary Bettman got this done. It's not easy for any entity, person or business right now. In addition, while there will be more advertising than ever before, due to the league agreeing to ads on helmets in 2021, the league, under current conditions, will most likely take a major financial loss in 2021. This is something that the NHL will have to deal with in the future, but for now, hockey is back and that's all you can ask for.
I should also mention here, that while the league will most likely bleed money in 2021, there are two major financial incentives in having a 2021 season. The first incentive is by playing the 2021 season, the NHL will have fulfilled their television contractual agreement in America, with NBC. Once the season is complete, the NHL can shop around for a new TV deal. While you can't rule out NBC to retain the television rights, what you can guarantee here, is that the next television contract in America will be much more significant than the current one. In turn, that's more money in the NHL coffers.
The second major incentive is that come the 2021-2022 NHL season, a season where the NHL hopes to get back to normal and play a full 82 game schedule, the Seattle Kraken will become the 32nd team in the league. As part of Seattle entering the league, the franchise will pay the NHL an expansion fee of $650M. That $650M will be broken up into 30 separate shares, with every team besides the Vegas Golden Knights receiving a payment of $21,666,666.70. With each team getting a little bit over $21.5M, this money will go a long way.
There's a lot to get into tonight. In tonight's blog, aside from everything regarding the return of the NHL and the Rangers, I also have a recap/review of the latest episode of Tony DeAngelo's "Watch Your Tone" podcast. I also have some news tidbits on current Rangers and the Rangers alumni.
However, as usual, before cracking the knuckles and getting down to it – the PLUGS section. Say it with me folks, "for those of you who may have missed them or need a refresher, here are my most recent blogs:"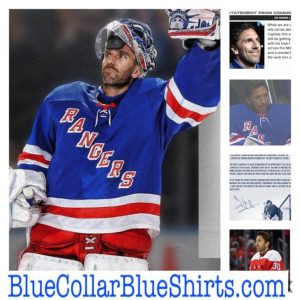 ---
---
---
---
---
Two things before beginning. First – I'll give you all the facts and the news first, and then all of my opinions and thoughts. Second – for anyone still talking about "Festivus", let it go. I enjoyed "Seinfeld" as much as anyone else, but it's time to leave "Festivus" in the past. Plus, "Frasier" was the better show of that era anyway! With that said, let's begin!
To start, here's the NHL's graphic announcing their return:
The Rangers pretty much posted the same release on their website, with a few tweaks. Here's what the Rangers said, courtesy of https://www.nhl.com/rangers/news/2020-21-season-announce/c-319845238 :
NEW YORK/TORONTO — The National Hockey League Players' Association (NHLPA) and National Hockey League (NHL) announced an agreement to play a 2020-21 regular-season schedule of 56 games beginning Wednesday, Jan. 13, 2021, and concluding on May 8. As part of the agreement, the Stanley Cup Playoffs would feature 16 teams in the traditional best-of-seven, four-round format and conclude around mid-July with the plan of returning to a "normal" hockey calendar for the 2021-22 season (regular season beginning in October).

Given the unpredictability of the COVID-19 pandemic, the NHLPA and the NHL intend to be flexible and adaptable in their approach during the coming weeks to ensure compliance with directives from both local and national governmental and health authorities focusing on the health and safety of the players, other game-related personnel and the communities in which we play. The priority will continue to be focused on the health and safety of our fans and Players and Club, League, NHLPA and arena personnel.

"The National Hockey League looks forward to the opening of our 2020-21 season, especially since the Return to Play in 2019-20 was so successful in crowning a Stanley Cup champion," NHL Commissioner Gary Bettman said. "While we are well aware of the challenges ahead, as was the case last spring and summer, we are continuing to prioritize the health and safety of our participants and the communities in which we live and play. And, as was the case last spring and summer, I thank the NHLPA, particularly Executive Director Don Fehr, for working cooperatively with us to get our League back on the ice."

"The Players are pleased to have finalized agreements for the upcoming season, which will be unique but also very exciting for the fans and Players alike," said Don Fehr, NHLPA Executive Director. "During these troubled times, we hope that NHL games will provide fans with some much needed entertainment as the players return to the ice."

In reaching agreement on the format for the 2020-21 season, the NHL and NHLPA determined that the ongoing closure of the U.S.-Canada border required realignment and the League and the Players also sought to minimize team travel as much as possible by shifting to exclusively intradivisional play. It is the current plan to play games in the home arenas of participating teams while understanding that most arenas will not, at least in the initial part of the season, be able to host fans. However, depending on prevailing conditions both in local markets and across North America, the League will be prepared to play games in one or more "neutral site" venues per division should it become necessary.

For the 2020-21 season, teams will be re-aligned as follows:

North: Calgary, Edmonton, Montreal, Ottawa, Toronto, Vancouver, Winnipeg

West: Anaheim, Arizona, Colorado, Los Angeles, Minnesota, St. Louis, San Jose, Vegas

Central: Carolina, Chicago, Columbus, Dallas, Detroit, Florida, Nashville, Tampa Bay

East: Boston, Buffalo, New Jersey, NY Islanders, NY Rangers, Philadelphia, Pittsburgh, Washington

Each team in the East, Central and West divisions will play every other team in its division eight times while each team in the North Division will play every other team in its division nine or 10 times.

The top four teams in each division will qualify for the Stanley Cup Playoffs, with intradivisional play in the first two rounds (#1 vs. #4; #2 vs. #3). The four teams that advance to the Semifinal Round would be seeded by their regular season points total, with the No. 1 seed playing the No. 4 seed in one series and the No. 2 and No. 3 seeds meeting in the other.

Formal training camps will begin on Jan. 3. There will be no pre-season games. The seven teams that did not participate in the 2019-20 Return to Play will be permitted to open their training camps as early as Dec. 31.

---
The NHL also released a FAQ section on their website, where the NHL addressed all concerns about the 2021 season. You can read that article here: https://www.nhl.com/fans/2020-21-nhl-season-faqs
Perhaps the three biggest things of importance to most fans, are the new divisions, the key dates for the 2021 season and the off-season that follows, including information on the Seattle Kraken and the 2021 NHL Draft. Here's this graphic, once again, courtesy of the NHL:
Before getting into the key dates and the division talk, I know some people may be interested in the COVID-19 protocols for this upcoming 2021 season. All of that information is included in the FAQ link I posted above.
In short here, because I really don't want to bog down all of this good news by writing a billion words on COVID-19, the NHL is doing everything they can to prevent the spread of the virus. The NHL is using common sense here. If you test positive, you're not playing. It's as simple as that. The NHL is also taking precautions to limit the risk of their players and staffs contracting the virus, including instituting protocols on travel, hotels, what the players can and can't do at night, and so forth.
When it comes to the NHL, their 2020 Stanley Cup playoffs were a smashing success. Not one player or person working for the NHL, while in the two bubble cities of Edmonton and Toronto, tested positive for the coronavirus. No league, outside of the UFC, were as safe as the NHL was during their 2020 playoffs.
When looking at the other major sports leagues in America, the MLB had huge problems keeping their players safe. There's been a slew of NFL players testing positive every week this season, to the extent where the NFL had to constantly shift the dates of their games around, including by scheduling NFL games on Tuesdays and Wednesdays, days that the NFL never schedules games on.
The NBA, which just returned this week, in night one of the Houston Rockets season, had to postpone their season opening game, due to a mask-less idiot visiting a strip club. Don't even get me started on the NBA culture. We're in a world-wide pandemic, and NBA players are still looking to get their willy wet in a strip club. I understand grown men and their desire for female body parts, but for an NBA player, you know you're a celebrity. If you visit a strip club, you know your visit will be plastered all over TMZ and social media. Use your top head, and not your bottom head here!
To conclude on this topic of COVID-19, and as it relates to the players and NHL staffs, the NHL has protocols in place and I'm sure there won't be any issues. In addition, as the season hums along, the vaccine will be wide-spread, thus decreasing the risk of players testing positive.
---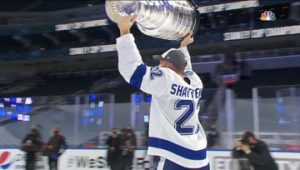 While this isn't truly a big deal, although it could give some teams an edge in the first week of the season, the NHL is allowing the seven teams that didn't qualify for the 2020 Stanley Cup Playoffs a jump-start on the 2021 season. Those seven teams are the Anaheim Ducks, the San Jose Sharks, the LA Kings, the Ottawa Senators, the NJ Devils, the Detroit Red Wings and the Buffalo Sabres. These seven teams will be allowed to open up their training camps three days before the rest of the league does. To me, this doesn't really make much sense.
I mean, just think about it. As just mentioned, Kevin Shattenkirk went from first to worst, when he left Tampa and signed with Anaheim this season. You also had a Taylor Hall, who was in the playoffs with the Arizona Coyotes, signing with the Sabres this season. You can literally go up-and-down the list of the free agency moves made during this off-season for more examples of non-playoff players now on playoff teams and vice-versa.
And when you look at the Rangers, does their three horrible games from August of 2020, where the team got swept by the Carolina Hurricanes, really give them an edge over the Sabres or the Devils, the two non-playoff teams now in the Rangers division?
While I get why the NHL did this, I just think the logic is flawed. That said, by the time the 2021 playoffs roll around, who opened their training camp when and on what date, will be a forgotten afterthought.
---
Let's now talk about the divisions. As was rumored for weeks, the NHL will be going with four new divisions for the 2021 season, divisions that take into account the country where a team plays and their geographical location.
As talked about last blog, the NHL is currently having issues with the Canadian government, as the provinces of Quebec, Ontario and British Columbia are putting up roadblocks right now. While it remains to be seen what happens, as the NHL is at the mercy of both provincial and Canadian governments and their respective health agencies, it should be noted that the province of Alberta has no problems with the NHL returning. There could be a chance that the NHL uses Edmonton as a hub city for all of the Canadian teams, at least to start the 2021 season. (It won't be Calgary, because Edmonton has the new rink, better facilities and the NHL, due to the 2020 Playoffs, knows Edmonton can handle it.)
As a reminder, the Rangers are now in the new "East" division. Those teams are: Boston, Buffalo, New Jersey, NY Islanders, NY Rangers, Philadelphia, Pittsburgh and Washington. As you can see, this is pretty much the Metropolitan division, with Carolina and Columbus now out and Boston and Buffalo now in. In another fact, once again, the Rangers remain in the toughest division in hockey.
No one knows what the future holds, due to injuries, COVID-19 and how these players show up to camp. Of course, it's imperative that teams come out with a hot start, as a slow start could just bury a team. For a prior example of this, look at the 2012-2013 Buffalo Sabres. At the time, many predicted the Sabres to be the top team in their division. Instead, the team came out flat and six weeks later, the Sabres blew up their roster.
With each NHL team playing every team in their division eight times, rivalries will be much stronger than they've been in recent years. I think we'll also see an uptick in fighting this season, COVID-19 be damned. Since each team will play their rivals so many times and very frequently in 2021, bad blood is bound to spill over to one game to the next. For fans of the art of throwing the dukes; this season should be for you.
When I think of this current schedule and recent bad blood in Rangers history, I'm brought back to the 2015-2016 season. In early February of 2016, during a Rangers vs Flyers game in Philadelphia, Wayne Simmonds landed a dirty hit on Ryan McDonagh, which gave McDonagh a concussion. McDonagh, the captain of the Rangers at the time, would miss several games after the hit. Just a few days later, on February 14th, 2016, in a game that I dubbed "The St. Valentine's Day Massacre" (how creative) the Rangers hosted the Flyers. Not even a minute into the game, there were two fights, as both Tanner Glass and Dylan McIlrath picked fights, in order to avenge their captain.
And on a side note, to show you what a Romeo I am, my Valentine's Day present to my girlfriend at the time, was a ticket to this game. While this didn't really go over well initially, as the game played out, she got into it, due to the rare intensity that was displayed on that night inside of M$G.
If you look at the Rangers roster of today, when it comes to fighters, you pretty much have Brendan Lemieux, Ryan Lindgren and Brendan Smith. To a lesser extent, you also have Tony DeAngelo, but with what the Rangers are now paying DeAngelo and due to DeAngelo's offensive emergence, you probably don't want to see him fighting much. Now just think, with so many games, and in such a short time against rivals, the odds of seeing more fights per game this season than last season seem pretty good.
Personally, I don't have time for the crybabies who want fighting out of the game. I think you'll see an abundance of fights and big hits this season, and in turn, the same crybabies that whine about everything will bawl their eyes out. However, as a Ranger fan, don't you want to see some more juice during a game with the Islanders? Hell, I would love to see Lindgren take a run at Brad Marchand again too!
Of note, as a hockey fan, I can't wait for the BATTLE OF ALBERTA games, which is whenever the Oilers play the Flames. I would expect some blood and teeth to fly in those games!
---
On Wednesday 12/23, the NHL released the schedules for all 31 teams. Here's the Rangers schedule:
As it is for every team, these schedules were designed to limit travel and the risk of anyone contracting COVID-19. Of note, I love how the NHL scheduled two NYR/NYI games at the start of the season. That should create immediate interest for all New York hockey fans.
When I look at the Rangers, there is a lot of great competition in their division. Based on what we saw this summer and what we know from prior seasons, the Bruins, the Penguins, the Capitals, the Islanders and the Flyers can all be contenders for the Cup. The Sabres, a perennial playoff failure, even improved their team this off-season, landing the biggest fish of the available forwards this off-season, in Taylor Hall. In addition, the Devils, who had a bad season in 2019-2020, actually seemed to be turning the corner prior to the league's pause. Had the Devils had one more point prior to the pause, it would've been the Devils, and not the Canadiens, playing in the qualifying round.
While I'll do a more in-depth season preview and predictions as we get closer to puck drop, I want to say here that I've seen a ton of Ranger fans feel down about this upcoming season, due to this tough division. I've seen fans say that there's no way Artemi Panarin and Mika Zibanejad can replicate the seasons they had in 2019-2020. I've seen some fans worry about Igor Shestyorkin's health. I've seen most fans fret about the left side of the defense. (You may have heard about that Jack Johnson guy, who some silly Ranger fans are going off a cliff about.)
And hell, I'll make the argument that it might be tough for Tony DeAngelo to continue his offensive success, since he'll no longer have Marc Staal with him, a Staal that complemented DeAngelo's game perfectly. With Staal staying back and being a stay-home defenseman, DeAngelo was able to run haywire. In addition, with Adam Fox only going to continue his growth, DeAngelo may lose the power-play minutes he got last season, in favor of Fox.
That all said, the biggest advantage I see the Rangers having over everyone in their division is their goaltending depth. In a condensed schedule, where back-up goalies will get more games than ever before, goaltending is going to swing games. As it stands right now, the Rangers have two qualified goaltenders, with their back-up goaltender, in Alexandar Georgiev, being able to be a starter himself. After all, Georgiev started and won the most amount of games, of all three Ranger goaltenders, from last season.
The only other team in the division, that doesn't have a question mark next to one of their goaltenders, would be the Boston Bruins, and even then, one can question where Tuukka Rask's head is at and if Jaroslav Halak can still go.
With the thinking that only the Bruins can match the Rangers goaltending, now take a look at the rosters of the two Original Six teams. The Bruins have peaked. They are getting old and they are on their last legs. In a short and condensed season, the Bruins may tire quickly. Conversely, the Rangers have the youngest roster in the division and a lack of energy for the Blueshirts should never be an issue.
Once again, I'll do a full preview during a future blog, but spoiler alert: I'm picking the Rangers to finish in third place and make the playoffs! (I see the Capitals, now under Peter Laviolette, finishing first and the Pittsburgh Penguins finishing in second.)
Let's continue!
---
Another topic to discuss, when talking the NHL's return, is each team carrying a taxi squad and the effect that taxi squad will have on each team's salary cap. Truth be told, while I understand all of it, I also know that most of this feels like mumbo-jumbo and can be migraine-inducing.
I thought the website CapFriendly.com had the best and easiest to understand write-up about taxi squads. Here's the report from CapFriendly.com:
If this didn't boggle your brain down, this will – expect NHL general managers to make a flurry of transactions on any given day, as they juggle their taxi squad call-ups and their main roster. You will see a lot of the cap ceiling and cash strapped teams play around, and try to use this pandemic rule as a way to circumnavigate around the cap.
For example, Brendan Smith has a salary cap hit of $4,350,000. That's not a pleasing cap hit for the New York Rangers. Due to his salary cap hit, if the Rangers were to expose him on waivers, it's highly unlikely that another team would claim Smith, thus ridding the Rangers of Smith's cap hit.
What the Rangers could do (and what other teams in similar situations could do) is move Smith to the taxi squad after he clears waivers. In turn, the Rangers could then replace Smith with a player who is on a league minimum contract during an off-day or even on a game day for that matter. If you make these moves on every off-day, you will accumulate some extra cap savings, which in the Rangers case, will help them with all of the bonuses they are paying out to their rookie and sophomore players.
If you take this proposed scenario one step further, these savings could also open up the door for Vitali Kravtsov, once the KHL season is complete.
That said, I do wonder in the case that this does happen, if the NHL will try to amend this rule. In either event, these potential cap moves will be something to watch out for.
---
But wait, there's more!
On Tuesday, December 22nd, the NHL announced that they have amended their offside rule, an offside rule that had decreased scoring around the league.
Here's the NHL's press release on the rule, courtesy of https://www.nhl.com/blackhawks/news/news-critical-dates-for-2020-21-season-medical-protocols/c-319867534
NHL Rule 83 (Off-side)

Beginning in the 2020-21 regular season, a player's skate will not have to be in contact with the blue line in order to be on-side. The updated language for NHL Rule 83.1 follows.

83.1 Off-side – Players of the attacking team must not precede the puck into the attacking zone.

The position of the player's skates and not that of his stick shall be the determining factor in all instances in deciding an off-side. A player is off-side when both skates are completely over the leading edge of the blue line involved in the play.

NEW: A player is on-side when either of his skates are in contact with the blue line, or on his own side of the line, at the instant the puck completely crosses the leading edge of the blue line. On his own side of the line shall be defined by a "plane" of the blue line which shall extend from the leading edge of the blue line upwards. If a player's skate has yet to break the "plane" prior to the puck crossing the leading edge, he is deemed to be on-side for the purpose of the off-side rule.
In short, this should limit lengthy reviews and commentators having to analyze if a skate broke the plane of the blue line or not. This will also increase scoring, as previously, way too many goals were called back under the old rule. This amended rule is a win for the skaters, and perhaps not so much for the goalies. Ultimately, this is a win for the fans.
---
In a story that just broke on Christmas Eve, Canadian health officials are now willing to work with the NHL on their return. TSN broke the story and you can read it here: https://www.tsn.ca/talent/provinces-provide-road-map-to-potential-green-light-for-nhl-s-canadian-teams-1.1568375
My prediction: everything will work out. There's just too much money to be lost and too much negative publicity if Canada doesn't allow the NHL to play in their country.
I think I've pretty much covered all of the important stuff. Let's get into some quick Ranger news and then into the "Watch Your Tone" podcast recap.
---
After a bump in the road, all of Alexandar Georgiev's work visa issues have now been resolved. Newsday reporter Colin Stephenson broke the story, with this tweet from this past Monday:
Alexandar Georgiev's work visa issue has been settled. He is expected to arrive in New York later this week. He'll have to quarantine upon arrival, of course.

— Colin Stephenson (@ColinSNewsday) December 21, 2020
Welcome back Georgiev! The Rangers will need him. Now let's talk about a goalie from the Rangers alumni.
---
Over the weekend, it was announced by the Chilliwack Chiefs (sounds like a fantasy football team name) of the British Columbia Hockey League, that former Rangers goaltender, "The Buffalo Killer" Mackenzie Skapski, has joined the organization as a goaltending coach. While Skapski has been coaching a bit over the last few years, hopefully this promotion could be a new career path to the NHL for him.
As talked about on previous blogs, Skapski had to deal with tragedy and injuries before making it to the NHL, with his only NHL call-up taking place because of a throat injury Henrik Lundqvist suffered during the 2014-2015 season. Skapski would win in both of his two starts that season, defeating the tanking-for-McDavid Sabres each time, with Skapski even posting a shut-out in one of the games.
In any event, congratulations to Skapski and all the best. From all reports, he's a great guy and I hope this works out for him. Speaking of Rangers goaltending alumni, there's a shocking update on Henrik Lundqvist and his heart condition.
---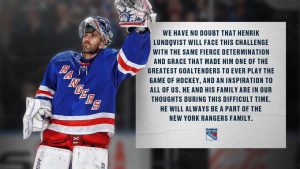 On Wednesday, December 23rd, Washington Capitals general manager Brian MacLellan, held a zoom call with reporters who cover the Capitals. During the call, MacLellan leaked out information about Lundqvist's medical history, with these quotes:
"He's had a — I'm not going to get into the whole situation with his health — but he's had a heart issue all along that he's managed that's been fine. We anticipated it would be the same as it's been for all of his career. A routine physical – an early physical – turned into 'we need to explore further what's going on with you.' Following along, our trainer Jason Serbus did an unbelievable job. Our doctors. The cardiologists. The specialists. It kept getting deeper and deeper. As we went that far, we got a lot more knowledge about what his situation is and where it's going, and what his risk levels were.

Obviously, we were all excited to add him to our team and he was excited to come. It looked like a perfect fit for both sides. Everybody within the organization, his family, everybody was excited to see how it would play out. And then I think we started further exploring where he's at physically, his risk level is not acceptable for him to continue to play. It's unfortunate. It was emotional for him and his family. I think we're grateful that he went down that road. Our medical staff, our trainer pushed him down that road and explored it more."
Obviously, the eye-opening sentence here is "he's had a heart issue all along."
Who knows what period of time "all along" covers? Was it since birth? Was it since Lundqvist's teenage years? His entire NHL career? Whatever the case, all we can say for certain, is that Lundqvist knew about a previous condition with his heart.
If anything, while I thought there would be a decent chance of Lundqvist returning one day, this interview makes me less optimistic about those chances. If one previously had a condition, and it only gets worse, it doesn't seem likely that this condition would allow an athlete to return.
While the heart and cancer are two different things, if there's one person Lundqvist could draw inspiration from, it's WWE Champion Roman Reigns. For those unaware, Roman Reigns has had leukemia for his entire adult life. However, despite the leukemia, Reigns went on with his life, played college football and got into pro wrestling. Unfortunately, last year, the leukemia flared back up, which jeopardized the career and life of Reigns. Fortunately, Reigns was able to overcome the leukemia, where today, he's back wrestling and is the current champion of the WWE.
As of this writing, Lundqvist hasn't murmured the "R" word yet, as in retirement. Once we get more news on this, I'll have it for you here.
"Watch Your Tone" podcast recap time!
---
On Wednesday 12/23, Tony DeAngelo and company returned with the 20th episode of "Watch Your Tone". For whatever reason, the podcast decided to release an audio version only and did not upload a video version of the show on YouTube.
To listen to the show, click the link below:
At this time, let's get into the recap!
As usual, to open the show, we are treated to a few bars of Frank Sinatra's "New York, New York".
Tony DeAngelo (TDA) welcomes us to the show, stating that's everyone back. Since this wasn't on YouTube, it's hard to assume who "everyone" is, due to the ever-changing and rotating hosts during recent episodes.
DeAngelo then mentions that Brother Lou isn't on this episode. Replacing Brother Lou is some guy named Louie Salerno. The name of Louie Salerno sounds like someone you would hear about while watching a documentary about the mafia in the 1980's. I can hear it in my head now, "On September 18th, 1982 Lefty Louie Salerno whacked Joey Baggadonuts after Joey Baggadonuts stole Salerno's goomah".
TDA then mentions that Aaron Huffnagle (Huff) is back, after Huff missed the last few episodes. In addition, Alex Gleason is back as well. Of note, Ron "The Gambler" is still retired.
The Watch Your Tone crew kick off episode 20 by talking the NFL, including the two major upsets in the league, where the Jets beat the Rams and where the Bengals beat the Steelers. Obviously, talk about the Jets hurting their chances at Trevor Lawrence is discussed in-depth. For what it's worth, the Jets have sucked, currently suck and will always suck. If Lawrence somehow winds up with the Jets, that long flowing hair he has will be reduced to a bald spot after his rookie year!
TDA and the crew talk about Sam Darnold's future. The WYT boys also have high opinions on Lawrence. Of note, some of this talk is hard to follow, because despite yours truly listening to every episode, I'm not really familiar with the new voices of Louie Salerno and Alex Gleason. The YouTube version of this show makes things so much easier to follow.
In addition, and for what it's worth, if Lou DeAngelo or Huff take off, I'd just rather hear TDA talk to one of his regular co-hosts or Sean The Producer. In fact, one of the best episodes of the show was just TDA & Huff riffing with each other, at least in my opinion, as a listener and recapper of every one of these episodes!
TDA and Huff then spin this Jets talk into Eagles and Nick Foles talk. Huff admits that he was wrong on his opinions of Wentz, as Huff was a huge fan of Wentz. TDA says he really can't shit on Huff too much. That's a visual. TDA feels that Wentz is most likely a goner in Philadelphia after this NFL season, despite Wentz having a major $100M contract. The crew then talk about possible landing places for Wentz, including Washington and New England.
After mentioning the idea of Wentz to the Patriots, the topic of the conversation moves to the Patriots. TDA brings up how great Tom Brady looked last Sunday, while the Patriots are now mathematically eliminated from the playoffs. A story about where a reporter asked Cam Newton if it's time to retire is also discussed.
While still on the topic of the NFL, TDA brings up the Steelers and Ju Ju Smith-Schuster's celebrations. Gleason or Salerno bring up how JJSS seems more excited about releasing videos on Tik-Tok than anything else. The guys then joke about the idea of Tony DeAngelo filming himself dancing. It's brought up that maybe DeAngelo should dance on the Islanders logo. DeAngelo shuts that talk down, bringing up the respect hockey players have for logos, both on the ice and in the locker room.
DeAngelo brings up how he doesn't like seeing NFL players laughing it up and swapping jerseys after games. He says while he doesn't mind seeing NFL players praying after games, DeAngelo feels there should still be something to rivalries. In other words, don't expect DeAngelo to be palling around and trading jerseys with Matt Martin anytime soon.
The guys then talk about NFL commentators and joke about how ridiculous Cris Collinsworth can be. The crew then praise Tony Romo for his ability to predict plays before they happen. After talking broadcasters, the guys then talk about Baker Mayfield and how great he's been this season for the Cleveland Browns. The guys then wrap up on the NFL and start talking about the NBA.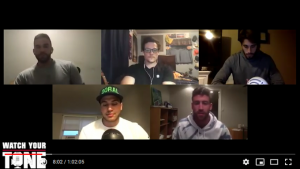 The guys preview the upcoming NBA season and give their picks for the 2021 NBA Finals. As noted on past blogs, I do not give one "flying Father Fink" about the NBA.
When talking about the NBA, Tony DeAngelo talks about one ex-NBAer that I actually am a fan of, in a one Sir Charles Barkley. Barkley is always on the money with his opinions. Apparently, Charles Barkley called out that pissant Kyrie Irving this week and how some people took Barkley's comments the wrong way. Isn't that always the case with Barkley? Barkley has made a career of talking straight facts and in turn, people get upset with him.
After side-barring on Barkley, the guys go back to giving out their predictions on the 2021 NBA Finals, including each host's dark horse pick. It seems like it's impossible to give out picks right now, due to this pandemic. After all, in just the first game of the season, the Rockets had to cancel their game because a mask-less James Harden was out at a strip club, thus exposing his team. What a moron.
TDA then switches gears and says the best thing he saw in sports this week was Tiger Woods playing golf with his son. Since this podcast's inception, TDA has routinely mentioned that he's a diehard Tiger Woods fan. Just as I thought we were out of the NBA talk, the guys jump right back into the NBA, talking Lebron James & Lebron's son, "Bronny". Of note, I can't stand Lebron James!
If NBA talk wasn't enough, the guys then talk about college basketball and Arizona State University Football. This type of talk seems like something no one in the Watch Your Tone demographic would care about. To be fair, maybe it's just me. That said, who tunes into a hockey podcast (a northeast podcast at that) to hear a breakdown of the state of the Arizona State University's football and basketball programs? I get riffing on different things, but this subject was a snoozefest for me.
At the 31:35 mark of the show, and with just under 23 minutes remaining in the podcast, the guys finally talk about hockey. As you may have heard, the NHL is back! You'd think that would be the lead story for this episode, but you'd be wrong. Then again, there's always that old adage of "save the best for last!"
TDA breaks down the new divisions for the 2021 NHL season. TDA says it's going to be an absolute battle, as each team plays their own division "a million times".
TDA feels that an All Canadian division is the best thing for the NHL, revenue wise. TDA talks about the old days of hockey, where you wouldn't play every team at home every season. TDA likes the modern set-up, where fans could see each team and the stars of the league, naming Connor McDavid by name.
TDA has the same opinion as me – you'll see a lot of heated games this season. TDA says this season will be a "quick run". On the new East division, TDA says it's going to be "real tough". It's also brought up here how we'll see more fights this season, something that I said earlier on this blog.
TDA then asks his co-hosts to give us their top four teams (playoff teams) for each division. In the East, Huff likes the Flyers, the Rangers, the Bruins and the Islanders. Huff then gives us his top four teams in the other divisions.
TDA then gives us his picks. In the North division, TDA likes the Flames, the Leafs, the Canadiens and the Canucks. In the West, TDA likes the Golden Knights, the Avalanche, the Blues and the Wild. In the Central, TDA likes the Hurricanes, the Blue Jackets, the Lightning and the Stars. In the East, TDA likes the Rangers (obviously), the Capitals, the Penguins and the Bruins. TDA says he could never pick the Islanders or the Flyers. He's learning!
TDA is asked, "who are you most excited to play 8 times?" TDA says the Islanders. TDA then laughs and says maybe the Devils. While these two teams are obviously the Rangers biggest rivals, TDA remarks that he can sleep in his own bed after those road games. Makes sense.
TDA brings up, that while there will most likely be some 4-4 splits this season; in order to make the playoffs, a playoff team is going to need to beat some teams in their division, 5, 6 or 7 times.
When it comes to only playing the same seven teams, DeAngelo says he'll miss visiting Arizona, Florida and Las Vegas. TDA says he'll also miss the California trip.
Huff changes the topic completely and brings up Kevin Durant and the Nets. Ugh. TDA says they talked about basketball already and then talks about YouTube boxer Jake Paul. TDA hopes that Conor McGregor smashes Jake Paul's head in. I would think McGregor has bigger fish to fry. TDA calls out Paul for just trying to get his name out there. TDA says Paul should take a fight against a big name and not take any money. Well that won't happen.
TDA says he hopes Jake Paul gets his ass kicked badly and says he wouldn't mind slapping Paul around himself. TDA was disgusted how Paul brought McGregor's girlfriend into Paul's endless self promotion for a life-changing payday.
Up next is the fan question segment.
The first question is would you rather block a slapshot/one-timer from Shea Weber or take an upper-cut from Tyson Fury? TDA says he'd take the slapshot from Weber, since he'd have pads on.
The second question is what record do the guys think is least likely to be broken – Selanne's 76 goals from his rookie season or Gretzky's 215 points in a single season. TDA and the co-hosts feel that neither record will ever be broken. Gun to the head, TDA feels that Gretzky's record may be easier to chase, because no rookie is going to walk into the NHL right now and score 76 goals. However, TDA reiterates that he doesn't see anyone beating either record. TDA does say that "it would be nice" if Lafreniere scores 76+ goals! (TDA said this jokingly, so don't twist his words around!)
Our third and final question, is if had DeAngelo chosen to play college hockey, rather than starting his career in the OHL, which college would've DeAngelo chose to play with? DeAngelo says he would've went to Boston University. DeAngelo also mentions that ASU and Penn State would've interested him too. TDA liked ASU and Penn State because he had friends there and would've enjoyed the nightlife in those college towns.
TDA closes the show by thanking the fans for listening. TDA says he should have a guest on the next episode. It's also mentioned that Watch Your Tone has partnered with a small business tee shirt company, in an effort to help boost their business. After wishing us a Merry Christmas, the episode concludes.
All in all, this was a skippable episode of "Watch Your Tone". After all, 75% of the show was about the NFL and NBA, with the NBA being a topic I do not care about. It was also hard for me to get into the new co-hosts, especially with only an audio version. That said, it was nice to see the podcast return, as I expect the frequency of episodes to decline when the season starts. As I've said previously, playing for the Rangers is more important for TDA than a podcast!
One last bit and I'm out.
---
In news that was announced during the NHL's return, the NHL will now accept advertising on the helmets of players. It's also rumored that advertisements on the jerseys of players will be coming soon. It has also been reported that the NHL is aware of the legacy of the Original Six teams, and while the league may take ads on those jerseys, they don't want to turn a player into a walking billboard, as you see over in Europe or in NASCAR.
I've often talked about the insane amount of plugging, advertising and never-ending shilling on MSG broadcasts. I get it, it's a business. However, whenever you watch a Rangers game on the M$G Networks, you can't go two seconds without a plug for the Bud Light Bar, where nobody even drinks a beer! On top of that, you have incessant ads promoting gambling, as the Rangers, like every other professional team and league in America, does their best to part marks from the money in their wallets.
And if that isn't enough for you, you have Steve Valiquette, John Gianonne, Sam Rosen and Joe Micheletti effortlessly working in the words "Delta", "Coca-Cola", "Mercedes Benz", "Papa Johns" and about 10,000 other companies on any given broadcast.
With the NHL and the Rangers now accepting ads on player equipment, it won't be long before you see this: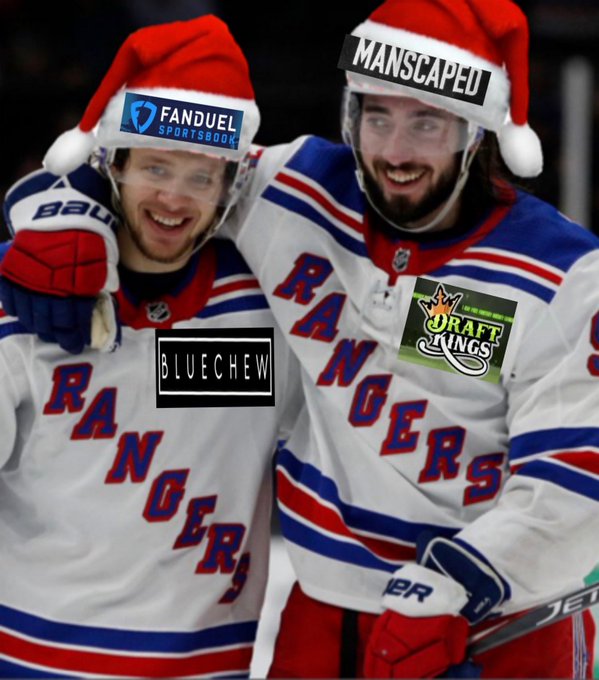 As talked about on past blogs, I'm not a man – I'm a GUY. I'm your stereotypical male, who enjoys his sports, drinking and over-the-top comedy. I don't wear suits or fancy clothes. I wear blue jeans and a t-shirt, hence the title of this website to begin with!
Since most of the content I consume is typical guy stuff, whether it be podcasts, television shows or movies; I'm subjected to a lot of ads for gambling, booze and boner pills.
Who wants to bet against me here? I bet that next season, we'll hear this from Joe Micheletti:
"Pardon me Sam, that's a Bluechew ad on his helmet! Bluechew will always help your schmekel! It's FABULOUS!"
Of course, Sam Rosen will reply with:
"And it's a power-play goal from Brad Park, I mean Brian Leetch, I mean Adam Fox! His 12th, I mean 18th of the season! This power-play goal replay is presented to you by Manscaped! Shave your mother-effing sack today Joe!"
I think you get my point!
---
In our last plug for the night, the boys from "The Blueshirt Underground Show" returned on Wednesday night, recapping all of the events in the NHL this week. As I always say on these blogs, there's not a better Rangers podcast/YouTube show than BSU.
You can watch the newest episode here:
If you haven't already, subscribe to this blog for the next update:
---
Up next: I'm trying to finish this book/manuscript by 1/13! As far as an official release date, that's still to be determined, as fortunately, I got options!
As far as the next blog on this site, barring something truly breaking, I'll be back next Wednesday night. Until then, Merry X-Mas, let the Festivus jokes die out and always remember, don't forget to fart.
As always here, thanks for reading and…
LET'S GO RANGERS!
Sean McCaffrey
BULLSMC@aol.com
@NYCTHEMIC on Tweeter and on Parler
Follow the BlueCollarBlueShirts.com Facebook Group by clicking this link: https://www.facebook.com/groups/1564026407193056/