Greetings and salutations everyone and welcome to another blog here on BlueCollarBlueShirts.com. This will be a much shorter blog than usual, as I recap two Rangers themed podcasts that I enjoyed on Thursday. And spoiler alert – at the end of this blog, I have some information about a podcast that I will be appearing on, video and all!
As far as current Rangers news items that weren't talked about during last night's blog, which was the Rangers/Bruins recap; there isn't much, as the team did not practice, nor meet with the media on Thursday. In other words, there isn't an update on Artemi Panarin's injury just yet. We'll find out about Panarin's status around 12PM on Friday.
However there are some light news and notes, which I'll now get into.
On Thursday 2/11, Filip Chytil, who is currently on the IR list, was also placed on the NHL's COVID-19 list. This could mean anything. However, it's very likely that just like Kaapo Kakko last week, Chytil either had a false negative test or was exposed to someone with the virus. If you recall, Kakko only missed one game after being placed on the NHL's COVID-19 list last week, before returning to the line-up. In addition, with Chytil still out with injury, this current designation shouldn't effect anything at the present time.
Speaking of COVID-19, and in update to last night's story about fans soon returning to M$G; I'm being told that not only will fans have to supply a negative test within 72 hours of whatever game they are attending, that in addition, fans will also have to submit themselves to rapid test at M$G as well. (Thank you to NYR season ticket holder Padma R. for supplying me with this information.)
Of course, this news makes the 72 hour test more meaningless than it already was. I have no issue with M$G or another NYC venue asking fans to take a rapid test, prior to entry. That makes sense to me. However, if you're going to administer a rapid test to fans/customers, what's the point of fans/customers having to get a 72 hour test too? If anything, asking healthy fans to go to doctor's offices/doc-in-a-box facilities, where sick people congregate daily, seems stupid to me. The rapid test at the door should be more than suffice. (Of note, I don't know if fans will have to pay for this rapid test or if M$G is covering these costs.)
I also don't know this for a fact, but I am assuming M$G will be testing fans in the same manner that they test the media and other building employees. After all, this system has been working, as there are no reports of any member of the NYR media or M$G employee contracting the virus while inside of M$G.
Again, refer to my blog from last night for more on this. All I'll say again here is this – everyone can make their own decisions and I support everyone's right to do so.
Again, in an effort to not repeat what I said just last night, despite the league asking fans to attend games, the league is still currently having issues with keeping their own house in order. As mentioned at the end of last night's blog, the Philadelphia Flyers are the latest team to have COVID-19 issues; issues so bad, that the Rangers vs Flyers game, which was scheduled for Sunday 2/14, has now been postponed.
It's now being reported by multiple sources, such as TSN, SportsNet, ESPN and David Pagnotta, that should the Flyers issues with COVID-19 continue, that the Rangers are willing to help out the league in the event that the Flyers are unable to play, in regards to the upcoming national outdoor game. As it's scheduled right now, for some reason, the Bruins and Flyers, both of the East Division, are scheduled to play on 2/21 at Lake Tahoe, which is located across the country, in Nevada. Again, for a league that issues out press releases about COVID-19 daily, it makes no sense to take two teams from the east coast and have them travel to Nevada. To me, this is a case of cash > corona.
I mean really, the league has changed the divisions and the schedule this year. There is no All-Star Game. There is no Winter Classic. Outside of Canada, there is no criss-crossing a country this season. To throw two East Division teams in Nevada for one game seems silly. Why take the risk?
And I'm not trying to sell fear or anything like that here. I'm just saying that none of this makes sense, especially when you see the NHL announcing new COVID-19 protocols every day. Hell, JUST TODAY, the NHL was urging their players to limit everyday contact with the general public, asking their players and staff to just travel to arenas, practice, hotels and their homes. Not only does a grand event like an outdoor game seem like a useless and unwarranted undertaking, but it just makes less sense to have two East Division teams travel to the Pacific Time Zone for one game either. Am I the only one who thinks this way?
Anyway, with the Flyers currently battling the coronavirus, should they be unable to play/travel for this 2/21 game, the Rangers are the team most likely to replace them in this game against Boston. If you are to assume that even playing this game makes sense, the Rangers are the best substitute for several reasons:
— The Rangers don't have any coronavirus issues.
— The Devils, Flyers, Capitals and Sabres all have had coronavirus issues.
— Rangers vs Bruins is an Original Six rivalry.
— The Rangers are the most profitable team in the NHL and have a bigger fan base than the Penguins and Islanders, the other two teams that I haven't mentioned yet, of this East Division. With this game being a cash grab/TV ratings draw, the Rangers make much more sense than the Islanders. (The Penguins are a good draw, but as stated, the Rangers have the bigger fan base.)
We'll see what happens as we get closer to this date. Perhaps the Flyers get healthy and will be able to play. It's being reported that the Rangers, at least organizationally, do not want to play in this game. However, they will if asked, in order to help the league.
And let's face it, while perhaps the Rangers don't want to take this risk, should they play in this game, it's a way for them to hawk new swag and merchandise. I would be shocked if the Rangers aren't already working on a new jersey and clothing line (hats/shirts/hoodies) just for this one game.
The Rangers may have only won one Stanley Cup in the last 81 years, but you can never accuse them of passing up the chance to make a quick dollar!
---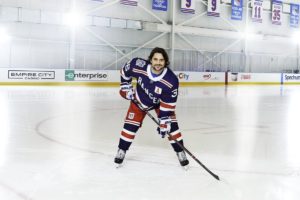 Before getting into the two podcast recaps, where "Up in the Blue Seats" had an amazing interview with Chris Kotsopoulos and where "The Broadway Hat" had an excellent interview with Mackenzie Skapski, the PLUGS segment!
Here are my last few blogs in case you missed them:
---
---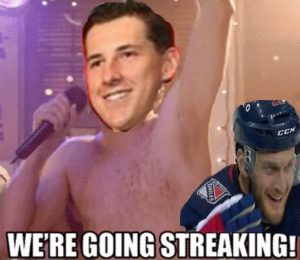 ---
---
---
On Thursday afternoon, Ron Duguay and company dropped the latest episode of "Up in the Blue Seats". You can listen to the show by clicking the link below:
— Ron Duguay (@RonDuguay10) February 11, 2021
Let's get right into the recap!
Mollie Walker kicks off the show by saying "Mika Zibanejad is still nowhere to be found." Walker recaps the Rangers loss to the Bruins and then gives us a preview of what we'll hear on the episode.
After the musical intro, Jake Brown does his spiel where he asks us to rate and review the show. Done and done!
Ron Duguay, who missed last week's episode, is back. Duguay says that when assessing the Rangers, he looks at the Rangers week-to-week, when trying to figure out if the team is improving/growing or not. Duguay talks about the 2-0 loss to the Islanders from this past Monday. Duguay then talks about the loss to the Bruins on Wednesday and how all of these Ranger games are coming down to goaltending.
Duguay feels that the Rangers are missing Filip Chytil right now. Duguay, in his opinion, says that Zibanejad is competing hard but it's just not happening for him right now. Duguay feels that Kreider has been working hard, but feels that Kreider hasn't been much of a power forward this season, as Kreider has been in the past. Duguay says, that despite all of that, as a whole, you can feel optimistic about the team's direction.
Walker goes back to the Boston game, mentioning how Rangers killer Brad Marchand did it again. Walker then adds, "at least he didn't lick anybody." Walker talks about how good the Rangers fourth line was in that game. Walker says it's huge that the Rangers were able to hang with the best team in the division. To that I say – it would've been huger had the team won! (Yes, my nickname is "Captain Obvious".)
Walker then talks about the Zibanejad quote that I talked about last night. Walker says Zibanejad is in a slump and how he was robbed twice against Rask. Walker then brings up Zibanejad's poor stats from this season. Walker simply says that Zibanejad's production has not been enough. That's an understatement. Walker goes on to add that Zibanejad isn't helping the team right now.
Duguay then talks about Artemi Panarin and says that Panarin over-passes too much. That's another understatement. Duguay adds that he'd like to see Panarin shoot more. Duguay talks about the injury Panarin suffered in the game against Boston and hopes Panarin won't miss any time. Duguay then talks about the new Rangers fourth line and how they've impressed him. Duguay says he thinks Lemieux should get a chance to play as a top six forward, mentioning Lemieux's style of play and how he could incite some spark. Walker brings up how DQ was down on himself for not giving the fourth line more minutes in the loss against Boston. Walker then compares the Rangers fourth line to the identity fourth line of the Islanders.
Walker feels that Kreider should be contributing more and how he's not playing as physical as he used to. Walker talks about how Kreider has stepped up as a team leader. Well, he is leading the team in taking penalties in the offensive zone this year!
Walker feels that Kreider has been a big part of the locker room and brings positive vibes to the team. Walker thinks that while Kreider isn't producing the way he should be, he does bring intangibles to the team. Duguay says that's great, but he'd like to see Kreider "play angry", hoping that by playing with some snarl, it could inspire other players on the team to play that way too. Duguay brings up the great work that Tom Wilson does with Washington and says outside of Lemieux, the Rangers don't have a guy like that.
After wrapping up on Kreider, Jake Brown cuts in to talk about the news about MSG re-opening. Brown seems extremely excited about all of this, and mentions how fans will need to take a COVID-19 test to get in. Brown thinks this will help bring a sense of normalcy to the Garden. Nothing says normal like taking two COVID-19 tests and wearing a mask for three hours. My apologies – I don't mean to be a buzz-kill. I guess this is a first step towards normalcy.
In regards to COVID-19 testing, Walker says that MSG has a well-run operation. Walker says there are people there wearing hazmat suits while administrating tests. That should enrich the fan experience! Walker says she feels extremely safe when covering Ranger games at MSG.
Duguay says going to Rangers games brings the best out of him, mentioning how he loves interacting with the fans. Duguay says he really misses not being at MSG. Duguay says he plans on attending a Rangers game in March. Jake Brown, who's partied with Duguay at MSG before, says the bartenders better be ready, mentioning that there is no such thing as single pours! Everything must be double-pours only! I knew I liked Duguay for a reason! My type of guy! (And screw those jiggered/measured out shots too. Give me a freehand pour and a bartender with a heavy hand any day!)
After talking boozing at MSG, Larry Brooks, who writes articles that sometimes will lead you down the path of full blown alcoholism, joins the show.
Walker says she missed not having Larry Brooks on last week. Walker brings up the latest article Brooks wrote on Alexis Lafreniere and gets him to expand on that confusing article. Brooks feels that DQ has picked his spots with Lafreniere during close games in crunch time, bringing up Lafreniere's lack of minutes in those games. Brooks says this isn't unique to DQ, saying most coaches will go with players that they trust in the most, during the final minutes of a tied or one goal game. According to Larry, since Lafreniere's best work comes during open ice situations, it's easy to understand why DQ doesn't use him when the ice gets tight in the final minutes of such games.
Brooks goes back to stuff he's previously said on this podcast, saying how the Rangers have a glutton of wingers. Brooks wonders if perhaps Buchnevich should be slid down to the bottom six. Brooks says the Rangers really miss Filip Chytil, saying that Howden can't drive offense like Chytil can. Brooks thinks that outside of McDavid and Matthews, maybe teams shouldn't allow teenagers in the line-up. Brooks says everyone wants "the spigot to open" with Lafreniere, meaning that everyone wants to see the goals come for the #1 pick of the 2020 NHL Draft. Well he's dead-on accurate with that take!
Duguay says he really likes Lemieux's game, his energy and what he represents. Duguay asks Brooks about giving Lemieux a shot as a top six winger. Brooks mentions that when Lemieux first got here, (the Kevin Hayes trade) how Lemieux started off in the top six, but since Lemieux wasn't used to playing in that role, he didn't have the stamina for it. Good point.
Brooks says he remembers writing about Lemieux when Lemieux first came to New York. Brooks says he remembers writing that if Lemieux could work out, then Lemieux could perhaps influence the Kreider contract talks. Brooks then asks Duguay, if you bump up Lemieux, whose place would he take in the line-up? Duguay says Lemieux, in this scenario, might have to move to the right side. Duguay says Lemieux could be the Rangers version of Tom Wilson. Brooks then says that Kreider should be that guy for the Rangers, but right now, he's not. Brooks also adds that Lemieux doesn't have the scoring ability of a Wilson, but Kreider does.
Brooks says a ton of focus on the Rangers current struggles is on Zibanejad, but Kreider's work should be questioned too. Brooks thinks Strome has played better this season, at least better than Zibanejad and Kreider. Brooks says the team is sacrificing offense for defense and that there is no balance.
Walker asks Brooks about the crazy stuff that happened recently in a game between Columbus and Carolina. (A goal counted when it shouldn't have and due to COVID-19 protocols, a headset was being sterilized as the league was trying to contact the referees to tell them that the goal shouldn't have counted.)
Brooks thinks that errors will be made during video replay. Brooks says the league set the wrong precedent during this particular gaffe. Brooks recaps the situation and how the league allowed the Carolina goal, but wiped out the delay of game penalty issued to Columbus. Brooks said none of this made sense and the league sent out the wrong message here. Brooks thinks the whole incident was "embarrassing".
Duguay talks about the front office shake-up in Pittsburgh. Brooks thinks that Mario Lemieux wanted Brian Burke. Brooks lets it be known that he's not a fan of Brian Burke. Brooks wonders if Pittsburgh really needs an extra suit around. Brooks thinks that the Penguins need to rebuild on the fly and this is going to be a tough job for both Burke and Hextall. This then wraps up the conversation with Brooks.
Up next is a returning guest of the show, in a one Chris Kotsopoulos, or "Kotsy", as he's better known as. (This is his third appearance.) Walker asks Kotsy about Adam Fox. Kotsy says Fox's puck handling skills are really good. Kotsy says that Fox does all the little things well and how Fox is very mobile.
Duguay then asks his old pal about K'Andre Miller. Kotsy says Miller has a major upside. Kotsy says he would've liked to see Miller here last season. Kotsy says in today's NHL, you can't be one-dimensional and Miller is multi-dimensional. Kotsy says that Miller could win the Calder Trophy this year.
Duguay wonders if the Rangers are missing toughness right now. Kotsy says toughness has been an issue for the Rangers for years. Kotsy thinks the Rangers lack size and don't play physical. Kotsy says the Rangers miss DeAngelo and what happened, happened. Kotsy feels there's no going back at this point with DeAngelo and how he feels that we don't have all the information on this story. (That's what I've been saying this whole time too.)
Walker asks Kotsy if the Rangers need to replace DeAngelo with an offensive-defenseman like him. Kotsy says he thinks so. Kotsy says Adam Fox can only do so much. Kotsy says this is a young hockey club, yet they've been in nearly every game this season, sans the home opener vs NYI.
Duguay feels the Rangers have ran into some great goaltending, while the Rangers goaltending has been average. Kotsy says this team could be a playoff team and how if the Rangers won some of these one-goal games, they would be. Kotsy says Kreider needs to step up more and talks about Zibanejad's struggles.
Jake Brown cuts in and says it's hard to spell Kotsy's last name. Brown asks Kotsy what was it like to play with Duguay. Kotsy says Duguay was one of the best players he ever played with. Kotsy says Duguay's aura off the ice impressed a ton of people. Kotsy says Duguay is a great person. Brown goes into his Studio 54 line of questioning, where Kotsy responds by saying that he was never part of that scene.
Kotsy brings up a fight he once had on the ice with Duguay during their days in junior. Kotsy says neither one of them won or lost. Kotsy then brings up the fight he had with Duguay in their NHL days. Kotsy says he won that fight, and as the two went down to the ice, Duguay said "Kotsy, don't hit me in the face, I just signed a new modeling contract!" This was freaking hilarious. I was crying laughing when listening to this.
Duguay confirms the story, saying how he and Kotsy were always friends. Duguay says even when you're friends with guys, sometimes you'll have a fight on the ice. Duguay brings up a fight he had with Barry Beck too. Seriously, this is one of the best stories in the history of this podcast and you can hear the excitement in the voices of both Kotsy & Duguay when talking about all of this.
Kotsy said he never hung out with Duguay in NYC, but would hang out with Duguay on the road. Kotsy and Duguay then talked about how sometimes, after getting off a plane, Duguay would have a limo waiting for him. This stuff is priceless. Walker and Brown were marking out listening to all of this as well. This then wraps up the podcast, because really, there was no way of topping this!
---
This was another great episode of "Up in the Blue Seats". As I said a few blogs ago, when recapping the Mike Bossy episode, if "Up in the Blue Seats" is only going to get 45 minutes a week, I want to hear everything about the current Rangers. We got all of that in this episode, between the reporting of both Walker and Brooks. I also said I wanted to hear more out of Duguay, and his current thoughts on the team. We got that too. The Kotsy interview was just the cherry on top, and you should really listen to the episode to hear the story for yourself. Good job all around!
---
As fans, we all connect to different players differently. While I can't say I know the guy or ever had a conversation with him, Mackenzie Skapski has always been a player and person that I've always wanted to see succeed. After all, as fans, wouldn't it have been something to be playing for the Rangers at the age of 20 years old?
While scrolling on Twitter the other day, I saw that Skapski recently gave an interview to the new "Broadway Hat" podcast. Prior to this week, I never heard of this show and I have listened to every NYR podcast that's out there. With Skapski rarely doing interviews, my interest in this podcast was piqued when I heard Skapski was on it. (And really, as talked about on other blogs, I have no issues with plugging anyone else's Rangers-themed endeavors. Anyone can click or listen to whatever they want. On this site, if it's news, I'll cover it and I root for everyone to do well and grow their audience, except for that little liar with his pants on fire, in Adam Hermtrans!)
As I did my research on this podcast, I was brought to this link, with all nine episodes of the podcast featured on it: https://linktr.ee/TheBroadwayHatPodcast
As a fan who enjoys stories from lesser known Rangers, I was impressed with the guest list that host Kyle Hall has interviewed. Prior to Skapski, host Kyle Hall had interviewed Vince Pedrie, Daniel Lacroix, John Ogrodnick, Dan Blackburn, David LeNeveau, Jason Ward, Rob O'Gara and Greg Gilbert. Of these eight names, while Greg Gilbert is a member of the 1994 New York Rangers, Ogrodnick is perhaps the greatest player on this list. As mentioned on past blogs, as someone who is currently in the final stages of a book that talks about all of the Rangers alumni, I'm going to have to go back and listen to that Ogrodnick interview. After all, in my upcoming "New York Rangers Rink of Honor" book, Ogrodnick's name is included!
Anyway, to listen to Hall's interview with Skapski, click the link below:
Episode 9 of The Broadway Hat Podcast is live! This week we talk about the DeAngelo drama aftermath. We have a great guest, @Skaps29 joins the show to talk about his playing career. We talk about his time with the Rangers, playing with @hlundqvist35, and his new coaching gig #nyr pic.twitter.com/9qWT3QBBUM

— Kyle Hall (@KHallNY) February 9, 2021
With all of this said, and now that you know that I was/is a fan of Skapski, let's get into the podcast recap.
The show opens up with Kenny Albert telling us that this is the number one podcast out there for Rangers hockey. I guess Kenny Albert is on Cameo! (After all, this show is only nine episodes old!)
Of note, wouldn't it be funny if a podcast, or even a blog like this one, said "We're the #3 podcast/blog for Ranger fans!" It's like all these Chinese restaurants I see in New York City, which all have a name of "#1 Chinese Food". I mean they can't all be the best at whipping up a fresh batch of pork lomein. If a Chinese restaurant called themselves "#4 Chinese Food", I'd give them a shot due to their modesty! (I would then most likely shit my pants 10 minutes later.)
The host Kyle Hall recaps all of the Tony DeAngelo stuff. I think I've said enough about this incident already!
After talking DeAngelo, Hall recaps the recent games that the Rangers have played. After that, it's the Mackenzie Skapski interview.
Hall refers to Skapski as "Mac", so that's what I'll use for this interview recap, as Mac is easier to type out!
Mac talks about the infamous bus accident that he was part of when he was only 15 years old. Mac says he missed a season with his midget's club due to injuries suffered in that accident. Mac talks about the recovery process and how he eventually resumed his hockey career. Upon resuming his career, Mac would be forced to compete for a spot on a team, where the spirit of competition helped him forget the major trauma that he went through.
Mac talks about his Junior B career, where he played with Sam Reinhart. Mac speaks highly of Reinhart. Mac is then asked about Kris Knoblauch, who he once played for and a Kris Knoblauch who is currently the head coach of the Hartford Wolfpack. Mac says Knoblauch wasn't much of a yeller or a screamer. Mac says that he was a back-up goalie under Knoblauch, so he didn't have much of a personal relationship with him.
Mac talks about the 2013 NHL Draft, where the Rangers selected him in the sixth round. Mac says the Rangers never talked to him before the draft and being selected by the Rangers was to his surprise.
Mac is asked about the Rangers goaltending depth chart of the time. Mac says as a goalie, you're told it's going to be a while before getting a chance at the NHL. Mac says there was never a time where he thought that he would one day take Lundqvist's job. Mac said he looked at the rest of the goalies in the organization, where he then sized up the competition a bit.
Mac says walking into his first training camp is when things really got real for him and where it all kicked in for him. Mac says everyone treated him great. (He was only 19 years old at the time.)
It's brought up how Mac was sent to the ECHL (Greenville Road Warriors) right away, before being called up to the AHL (Hartford Wolfpack) after one game in the ECHL. Mac said he was happy to be placed in the organization, rather than being returned to the junior hockey level.
Mac talks about the differences between playing in the AHL versus the other levels he previously played at. Mac said his time with the Wolfpack really grew his game, where Mac had to approach the game differently.
The Henrik Lundqvist injury from the 2014-2015 season is discussed, which led to Mac being called up to the Rangers, where he would then back up Cam Talbot. Mac goes back to what he said previously in this interview, about how he was just happy to make it to the ECHL and now, here at this point in time, he was now playing for the Rangers.
Mac talks about how he got the news about being called up by the Rangers. Mac said this all happened very quickly for him. Mac says that right after getting the news, he was told he wasn't needed. However, after traveling with the Wolfpack to Syracuse, he got another call, stating that he would be needed by the Rangers, mentioning how the Rangers sent out a private car to him, in order to take him to the airport.
Mac says after the call-up news was confirmed, he called up his brother and parents with the good news. Mac talks about how his brother and parents attended Mac's first game at MSG. (Mac was the back-up goalie for the game.)
For sixteen days with the Rangers, Cam Talbot took all the starts, as even to this day, this may have been the best stretch of goaltending in Talbot's career. (Talbot had one amazing season in Edmonton, the 2016-2017 season, but Talbot was just lights out for the Rangers during this period of time.) Mac says he took everything day-by-day and no one told him if he'd ever play or not. Mac said the practices were tough to start, but he felt like he turned a corner two weeks in, telling himself, "hey, I am an NHL player!"
Mac's first start against Buffalo is brought up, where Mac gave up a goal within the first minute of the game. (He'd never let up another goal in the NHL after this one.) Mac says after giving up that first goal, he questioned himself a bit. However, Mac said he was able to regroup and after making his first save, he gained confidence. Mac says after the game, he was super excited. Mac said all the hard work and support from his family made it all worth it.
Mac's second (and last) start is brought up, where Mac shut out the Sabres. (If you recall, the Sabres were tanking during this season, as they were trying to win the Connor McDavid sweepstakes. They eventually landed Jack Eichel instead. This is why Mac got these two starts, as the Sabres were the worst team in the NHL during this time. This was a smart move from then Rangers coach, in a one Alain Vigneault.)
Mac said he got the shutout and he was proud of that accolade. Mac said that Rangers goaltending coach Benoit Allaire really helped him out. Mac said that Allaire instilled a lot of confidence in him. Mac also mentioned how great the Rangers were that season and how that helped him out too. (The Rangers would win the Presidents' Trophy this season, as the best regular season team of the league.)
Mac says that Allaire is a great coach and simplifies things for the goalies that sit at his learning tree.
Once Lundqvist came back from his throat injury, Mac was sent down to Hartford. From there, Mac would spend the next two seasons bouncing around the Rangers organization, both in the AHL and in the ECHL.
Mac says he thought he was 100% recovered from his accident, but as he continued to play, the damage to his hip severely effected his game, where he wasn't the player he thought he could've been. Mac says when he first came back from his injury, he may have rushed his return, mentioning that he wasn't in the same physical condition that he once was. Mac says that his hip constantly bothered him and how he started questioning himself. Mac talks about how he was eventually sent back to the ECHL and how Brandon Halverson replaced him on the Wolfpack.
Mac talks about the end of his time with the Rangers and how would then go on to sign a PTO with Toronto. Mac talks about how he was originally rejected by the Leafs and how he started asking himself, "what did I do wrong?" Mac brings up his mental health, saying how all of this started weighing on him and how the mental part of the game is huge.
Mac talks about going overseas after being turned away from the Leafs. Mac says playing in Slovakia helped out his mental state and his sense of ego. Mac said the games were easier there and how results followed for him. Mac said during his time overseas, he realized that he really wanted to be a coach. Mac also brings up his hip injury again, saying that his hip pretty much ended his playing career.
Mac said going into coaching was a natural fit for him. Mac's current role with the Chilliwack Chiefs, of the BCHL, where he serves the team as their goaltender's coach, is then brought up. Mac says he stresses the mental game to his goaltenders. Mac says he wants to be in the court of his players. Mac talks about his own shortcomings and says how he hopes to teach future goaltenders from his own mistakes and past experiences.
Mac talks about how there are different ways to be successful as an NHL goalie, saying how Lundqvist does stuff differently from Carey Price and vice-versa. Mac says he really doesn't have any good Lundqvist stories, but tells a story from a Rangers training camp, regarding Lundqvist's compete level.
Mac is asked about the Rangers he played with. Mac says Cam Talbot was great to him and tried to help him out. Mac then talks about the great 2014-2015 season the Rangers had and how in game two of his career with the Rangers, how he was forced to read out the line-up card and how the guys were great to him.
Mac closes the interview out by talking about how he chose the #70 while with the Rangers.
---
All in all, I thought Hall was a great host and that this was a solid interview. If I didn't feel this way, I wouldn't waste your time with this recap.
And before going home here, speaking of podcasts, for those of you interested in my days in the pro wrestling circuit, I recently took part of a Zoom call, with five wrestlers that once worked for me, in order to promote the 14 year anniversary of my old wrestling company. (I sold the company in 2012 and the company still operates to this very day.) The host of the podcast, pro wrestler Sassy Stephanie, did a great job and once the podcast is up (I believe it's being released on March 1st or around that date) I'll plug it here, for those of you who may be interested about old wrestling war stories. It was a fun trip down memory lane for me, as my company set many "firsts" in the pro wrestling world. And like anything else, it's always great catching up with old friends.
If you haven't already, subscribe to this blog for the next update:
---
A different blog for usual for sure, but I hope you enjoyed it.
The Rangers and Bruins are back at it Friday night. I'll have a game recap for you here after the game.
Until then, and as always here, thanks for reading and…
LET'S GO RANGERS!
Sean McCaffrey
BULLSMC@aol.com
@NYCTHEMIC on Tweeter
Follow the BlueCollarBlueShirts.com Facebook Group by clicking this link: https://www.facebook.com/groups/1564026407193056/