Greetings and salutations everyone and welcome to another blog here on BlueCollarBlueShirts.com, as we eclipse the one week anniversary of the New York Rangers landing the number 1 overall pick of the 2020 NHL Draft!
For those who may need a reminder, just over a week ago, Rangerstown, USA was presented this image, an image that will live in Rangers lure forever:
During the past three weeks, starting with the exhibition games held prior to the qualifying round of the 2020 Stanley Cup Playoffs, it's been non-stop hockey. It's literally been eat, sleep and watch hockey; with a few or many adult beverages sprinkled in during the waking hours! For those who had a dire thirst for the return of the NHL during this pandemic; well that quench has been satisfied ten times over already! What a time to be alive!
I know I've said it 786785956 times before, but it's worth repeating again – these 2020 Stanley Cup playoffs, which looks all but guaranteed to crown a Stanley Cup champion in 2020, well to me, this is Gary Bettman's finest moment. (And of note here, on Monday, August 18th, the NHL released their latest COVID-19 testing results from their two bubble cities. Once again, the NHL had no positive COVID-19 tests to report about.)
I'll get more into this tonight, but the work the NHL has done during these times has been outstanding. That previous sentence not only includes the league itself, but it also includes the staff working in these arenas, the players, the teams, the NBC Sports Network, the SportsNet crew and all the various commentators & announcers, who have all made this happen.
I mean, just the other night, you had the NBC Sports Network crew in Edmonton, which includes both Kenny Albert & Pierre McGuire, working basically a 15 hour day. And as someone who has watched all of these games, you never felt a sense of fatigue from the broadcasters and announcers either, despite the heavy-work load, a work-load that has never been seen before.
Fortunately for guys like Albert and McGuire, and perhaps for hockey fans looking to take control over their lives again, the schedule will be lessened sometime next week, once the first round of the NHL Stanley Cup Playoffs is complete. However, ever since the calendar flipped to August 1st, it's been a non-stop marathon of 13+ hours of hockey everyday, marathons that have included multiple overtime games on seemingly a daily basis!
In tonight's blog, I'll have all the latest updates from the world of the New York Rangers. After getting through all the Rangers stuff, I'll toss in some stuff about what's going on around the league and with this first round of the NHL Playoffs.
However, as usual, before diving into everything, the PLUGS segment of the blog.
Here are my last few blogs, in case you missed them:
---
---
---
---
---
---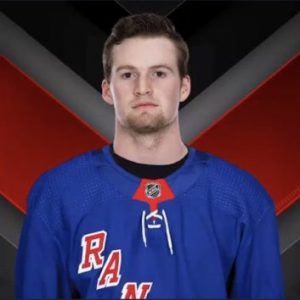 As I start off the Rangers portion of tonight's manifesto, there's not much to update you on, concerning the status of the Rangers and Alexis Lafreniere. If you have a functioning brain, you know that the Rangers will eventually select Alexis Lafreniere, come the first scheduled day of the 2020 NHL Draft, which is slated for October 9th.
As outlined last blog, for some people, people who are too cooped up at home and with too much free time on their hands; well these people are all coming up with 7867866897689 and one different trade scenarios for Lafreniere. I'm not going to rehash all of that, as I just talked about all of this stuff last blog, a blog you can read by clicking this link: https://bluecollarblueshirts.com/81320/
In short, the NHL didn't rig a draft to favor the league's biggest U.S. market, the Rangers aren't going to step back from this first-ever in franchise history moment. The Rangers will make the right choice and will choose this potential generational talent, in Alexis Lafreniere.
All of these Lafreniere trade scenarios, that you may have seen thrown around on social media right now, are just click bait and are theories from people trying to create conversation. Rather than be excited about the Rangers being in this fortunate position, you have some fans and reporters trying to create excitement about the other side of the fence. It's like the old adage goes, "some people can never be pleased." That's what I get out of anyone suggesting the Rangers trading their first overall pick of the 2020 NHL Draft!
Just to confirm what I told you last blog, Lafreniere is tunnel-visioned about making his NHL debut, as he won't return to the QMJHL, nor is he looking at biding time in Europe. Lafreniere is all-in on making an NHL roster on day one of his career and will continue to train, for whenever that day comes. And as stated, it will be with the Rangers!
Moving on, as even speculating about a potential Rangers trade of their number 1 pick of the 2020 NHL Draft is a waste of time, let's talk about another first round pick in Rangers history, in a one Lias "Ugh" Andersson.
---
The name of Lias Andersson is back in the news again.
With the SHL anticipating starting their 2020-2021 regular season in late September of this year, the SHL is currently hosting preseason games. In the first game of the SHL preseason, which took place last week, on August 13th, HV71 defeated the Frolunda Indians, by a final score of 4-1. Of note, not only did Lias Andersson score a goal in this game for HV71, but so did Karl Henriksson, on behalf of the Indians. This is the same Henriksson that the Rangers took with the 58th overall pick of the 2019 NHL Draft. (And isn't it amazing Suzyn, how the Rangers have prospects named Henriksson & Lundkvist? It always goes back to Henrik Lundqvist with this franchise!)
Of course, with Lias Andersson having a decent game, Andersson was once again interviewed by Johnan Rylander, who writes for the GP sports site of Sweden. If you didn't know, in the past, Rylander usually has in-depth interviews with both current Rangers and Rangers prospects, of Swedish descent. Henrik Lundqvist has been one of these players over the years.
While I'll talk about Lundqvist in the next segment, for now, let's stay on Andersson.
In Rylander's interview with Andersson, when asked about a potential return to the Rangers (Andersson has already committed to play for HV71 for the entire 2020-2021 SHL season) Andersson said, "you should never say never." When I read that quote, it reminded me of this guy:
After quoting a Russian cartoon mouse, Andersson, when asked about why he refused the Rangers invite to mini-camp, said, "I felt before the playoffs that I was not really ready to come back over. I didn't feel like I had it mentally, nor did I have the energy to enter the Stanley Cup Playoffs."
As I've said a bunch of times on this site, some players just don't have it. Not every draft pick is home-run, and if you're a Rangers fan, I don't have to give you any evidence here!
In regards to Andersson, you can also argue that North American players just want the Stanley Cup more than their European counterparts. After all, North American players grow up with wanting to win the Stanley Cup, while the majority of European players grow up with dreams of winning their respective league's championship. It is my belief, that because the NHL didn't come easy to him, that Lias Andersson is just happy to be a big fish in his small native pond of Sweden. And that's okay too. It just sucks for the Rangers. (It's also why it's hard for these prospect reporters, scouts and sect of fans that analyze NHL prospects, to give out 100% accurate projections. After all, none of these people can ever get into the mental make-up of a player.)
We all know the deal about Andersson already. His heart isn't into it. He's happy to stay home. Who knows if there's even a trade to be made, as who wants to take a risk on someone who may not have any sort of NHL aspirations at all? Of course, if you're the Rangers, you want to get the most out of all your assets, so they will explore any trade offer for Andersson, while they will NOT trade away the future rights to Lafreniere!
If you're looking for a silver lining here, be happy that Vitali Kravtsov, who like Lias Andersson, is a first round draft pick of the Rangers, passed up on his own sister's wedding, just to make it to Rangers mini-camp. And let's face it – there was no way Kravtsov was going to play in any of the Rangers playoff games, unless a large portion of the roster was hit with COVID-19.  Where Kravtsov, like Andersson, struggled out the gate in America, Kravtsov, unlike Andersson, has seemed to have done an about-face, and looks eager to begin an NHL career.
Speaking of Sweden and NHL careers, let's once again look at the latest in the world of Henrik Lundqvist rumors.
---
A few months ago on this site, I openly wondered about a potential Lundqvist & Frolunda reunion. In a blog from two weeks ago, I pondered the idea of Lundqvist "retiring" from the NHL, going back to Sweden during this pandemic to play (SHL season starts in late September, the 2020-2021 NHL season won't potentially start until December 1st and perhaps as late as January 1st) and perhaps signing a cheap one-year deal with an NHL team for the 2021-2022 season. (I thought the Seattle Kraken would be a situation that would be a win-win scenario for both Lundqvist & the Kraken.) Now, fast-forward to today, it looks like the Lundqvist return to Frolunda rumor is getting stronger by the minute.
After Frolunda's 4-1 loss to Andersson's HV71, the previously aforementioned Swedish reporter, Johan Rylander, talked to Frolunda's Director of Media Relations, in Freddie Sjostrom. Rylander asked Sjostrom about a potential Lundqvist return to the club. Sjostrom gave Rylander a short, yet respectable answer, saying, "Henrik Lundqvist is under contract for another year with the New York Rangers. Right now, there's not much to comment on. The Rangers season just ended, so we will see what happens when the next season starts."
(Of note, all translations come through GOOGLE translate. You can read the interview from its original source here: https://www.gp.se/sport/ishockey/h%C3%A5rda-krav-p%C3%A5-r%C3%B6nnbergs-nya-resa-med-fr%C3%B6lunda-1.32387100)
So what does this tell us? Well if you're really looking to dig deeper and pry a bit, it tells you that at least Sjostrom, if not other members of Frolunda's front office as well, aren't shutting down these Lundqvist return to Frolunda rumors. From Sjostrom's quote, it looks like Frolunda has a wait-and-see approach.
But wait, there's more!
On Sunday, August 16th, the New York Times ran a story on Henrik Lundqvist which you can read here: https://www.nytimes.com/2020/08/16/sports/hockey/henrik-lundqvist-rangers-contract.html
The biggest news item from the article, an article that was written by NY Times reporter Dave Caldwell, was this:
Lundqvist intends to continue his career, perhaps for a couple more years, according to someone familiar with his thinking who spoke on condition of anonymity.
While I think it was known by many that Lundqvist intends to continue playing, whether it be with the Rangers or elsewhere, the Frolunda rumors have continued to gain momentum.
I've talked about all the possible Lundqvist future scenarios on past blogs, so I'm not going to repeat what I've said previously. All I'll say here, is that with Frolunda needing a goalie and an economic shot in the arm, a Lundqvist return would be great for both parties. It would be even better if Lundqvist retires from the NHL, to get his $8.5M salary cap hit off of the Rangers books. As I'll soon get into, Lundqvist is a finalist for the "King Clancy Memorial Trophy". What act would be a better showing of philanthropy, than Lundqvist taking his cap-hit off of the Rangers books?!?!
I only bring up this Frolunda/Lundqvist talk again for this reason – the SHL is already in preseason mode and will start their regular season soon. Perhaps we will get an answer on Lundqvist's future within these next two weeks, as the SHL & the Frolunda Indians go full-force into their 2020-2021 season. Stay tuned.
And while speaking of Lundqvist, there's this:
The following comes from the New York Rangers and NYRangers.com:
The National Hockey League announced today that Rangers goaltender Henrik Lundqvist has been named a finalist for the 2019-20 King Clancy Memorial Trophy, which is awarded annually "to the player who best exemplifies leadership qualities on and off the ice and has made a noteworthy humanitarian contribution in his community." Lundqvist was also named a finalist for the award last season. Over his 15 seasons with the Rangers, Lundqvist has not only established himself as one of the greatest players in franchise history, but also as an exceptional ambassador in the New York Metropolitan Area.
In April of 2014, Henrik and his wife, Therese, founded the Henrik Lundqvist Foundation (HLF). Through its fundraising efforts and community outreach, HLF strives to create positive change in the lives of children and adults throughout the world through education and health services. HLF's four charitable partners span from New York City to Sweden to the Dominican Republic, and since its inception, over $3.2 million has been raised to benefit HLF community partners, and HLF's own program, the HLF Young Ambassador Program. In addition, HLF has directly given grants and made commitments of over $1.5 million supporting children's health and education.

In January of 2009, Lundqvist became the official spokesperson for the Garden of Dreams Foundation (GDF), and in 2012 he received the Garden of Dreams Hero Award, which annually honors a person or organization who embodies the spirit and commitment of the Garden of Dreams Foundation, with active, on-going dedication to children facing obstacles. Over the last six seasons, Lundqvist has hosted approximately 1,450 children from various Garden of Dreams partner organizations and their families in "Henrik's Crease" for a Rangers game experience at MSG, courtesy of donations from HLF. Lundqvist's support and active involvement helped Garden of Dreams Foundation raise $650,000 during the 2019-20 season, including over $330,000 during the Rangers' annual Casino Night.

Through the HLF Young Ambassadors Program, which was created in 2015, Lundqvist has also helped inspire young people to make a difference in the world. The Program is open to young women and men ages 12-18 who reside in New York, New Jersey or Connecticut, and over a nine-month period, requires Young Ambassadors to complete 15 hours of community service, organize one independent service project in support of HLF's mission, team up with HLF on a service project, and make a presentation to his/her class, team or other community group about HLF's mission and his/her work as an HLFYA.

Lundqvist has also been active in relief efforts around the COVID-19 pandemic. As part of the Fanatics "ALL IN Challenge", Lundqvist auctioned off his game-worn mask from the 2010-11 season to benefit Feeding America, Meals on Wheels, World Central Kitchen and No Kid Hungry, and the mask was sold for $37,000. Through HLF, Henrik and Therese donated $100,000 to feed New Yorkers in need, which provided approximately 68,000 meals and helped approximately 8,000 children and their families. In addition, HLF encouraged supporters & Young Ambassadors to help with additional donations to the Food Bank, which raised in excess of $5,000.

On the ice, Lundqvist has established over 50 franchise records during his 15 seasons with the Rangers, including all-time records for wins (459), appearances by a goaltender (887), shutouts (64), save percentage (min. 75 appearances – .918), playoff appearances (by either a skater or goaltender – 130), playoff wins (61), playoff shutouts (10), and playoff save percentage (min. 10 appearances – .921). Lundqvist won the Vezina Trophy as the NHL's Best Goaltender in 2011-12, and he has been named a finalist for the award in four other seasons throughout his tenure with the Rangers (2005-06, 2006-07, 2007-08, 2012-13). A five-time NHL All-Star (2009, 2011, 2012, 2018, 2019), Lundqvist was named to the NHL's First All-Star Team in 2011-12, the NHL's Second All-Star Team in 2012-13, and the NHL's All-Rookie Team in 2005-06.

Lundqvist has earned numerous team awards as a member of the Rangers. He has been named the team's Most Valuable Player in nine different seasons, including seven consecutive seasons from 2006-07 – 2012-13. Lundqvist has twice been named the winner of the Steven McDonald Extra Effort Award (2005-06 and 2017-18), which is presented annually to the Ranger who, as chosen by the fans, "goes above and beyond the call of duty." He has also received the Lars-Erik Sjoberg Award as the Rangers' Best Rookie in Training Camp (2005), the John Halligan Good Guy Award for cooperation with the media (2007-08), the Rangers Fan Club Frank Boucher Trophy as the team's Most Popular Player on and off the ice (2006-07 and 2009-10), the Rangers Fan Club Rookie of the Year (2005-06), and the Rangers Fan Club Ceil Saidel Memorial Award for Dedication to the Organization on and off the ice (2005-06 and 2008-09) during his career.
Of note, the New York Rangers & the New York Rangers lame-stream media (which includes people like Larry Brooks, Vince Mercogliano, Colin Stephenson and Rick Carpiniello) didn't mention ONCE, in any of their Lundqvist/Clancy stories, that Lundqvist also donated time and meals to the NYPD, during this recent times. However, all of those parties did mention when Jacob Trouba tweeted out "BLM!", as if Trouba's tweet was heroic. Again – throw the political stuff aside. The NYR lame-stream media thought a tweet from Trouba was more important to cover than an act from Lundqvist. I was always under the impression that actions spoke louder than words. I guess the NYR lame-stream media doesn't feel the same!
I know this isn't the first time I've brought this up before, but it still amuses me how the NYR lame-stream media, who will tell you what shampoo Lundqvist uses, what shoes Lundqvist wears and if Lundqvist's manhood is tilting left or right on a particular day, have all flat-out ignored Lundqvist donating time and meals to the NYPD during this pandemic. CHALLENGE THE MEDIA! Why are these NYR lame-stream reporters ignoring a story? You know they all would've been doing cartwheels and back-flips if Lundqvist said "BLM", while urinating on a cop car. Again, CHALLENGE THE MEDIA! Why is Trouba tweeting out "BLM" a story, a story of praise from these folks, but multiple stories of Lundqvist using his celebrity to help the NYPD ignored?
If you haven't figured it out already, all of these NYR lame-stream media folks have huge liberal agendas and will hide & bury any story that goes against their plebeian political beliefs.
Anyway, good luck to Henrik Lundqvist as he tries to win this King Clancy Memorial Trophy. Maybe if he sets fire to an American flag, beats up an innocent bystander or throws a brick through a store front, he'll get some positive attention and stories from the NYR lame-stream media.
Next! Let's now talk about another possible name moving on from the Rangers organization.
---
In the past during these blogs, I have plugged "The Blueshirt Underground Show" podcast/YouTube show, as my favorite Rangers podcast out there today. I enjoy the differing personalities that Jim S. & Eddie G. bring to Rangerstown, USA. When it comes to the two hosts, I tend to agree with Jim a lot, as we are the two biggest advocates, of the Rangers fan universe, of a one VINNI LETTIERI. Another one of Jim's strong opinions, is an opinion that I also feel strongly about – I can't stand Chris Drury.
Listen, Chris Drury, from all reports, is doing a great job as the general manager of the Hartford Wolfpack and as the assistant GM of the New York Rangers. However, when I see his name, I just think about his disappointing New York Rangers career, which ended with a buy-out of his contract. I have no other justifiable reason to have any sort of disdain for Drury, outside of the way his Rangers playing career went.
To me, celebrating Drury's playing days with the Rangers would be the equivalent of giving Ryan Spooner a statue outside of MSG. Again, I admit I'm being unreasonable here, and of course I'm exaggerating a bit for comedic effect, but I am just not a fan of Chris Drury. That said, I can admit he's doing well in his current role with the club and Drury seems to be well liked by all that work with and/or under him.
Last week, SportsNet & NHL reporter, Elliotte Friedman (who recently shaved his beard!) reported that the Florida Panthers were interested in talking to Chris Drury for their newly vacant general manager position, a position which was vacated after Florida decided not give Dale Tallon a new contract. (His contract expired and Florida decided to move on.)
You can read what Freidman originally wrote on August 11th, regarding Drury, here: https://www.sportsnet.ca/hockey/nhl/31-thoughts-will-dubas-handle-maple-leafs-off-season/
Ironically, it was Friedman, who reported back on March 7th (prior to the pandemic) that the Rangers extended Drury's contract. However, as it goes in the majority of these cases, teams will not stand in the way of either assistant coaches or assistant general managers getting a chance to be a head coach or general manager, respectively. It's an unwritten rule, that NHL clubs will allow people to advance to greater jobs, when possible. (This really goes for all sports.)
For what it's worth, while Friedman is reporting that the Rangers have given Florida permission to talk to Drury, Friedman also said this, while on the topic:
I think Chris Drury is high on Florida's list, but I'm not convinced it's a fit. You're also going to hear Scott Mellanby, Laurence Gilman, Michael Futa and more. (Mellanby's history there is not insignificant.) Those names have something in common: They've been around and want the opportunity. The Panthers spent a ton in free agency last summer and want to get away from that. Identifying players before you have to throw barrels of cash at them is key, and they are going to look at organizations that do it well.
While it remains to be seen if Drury is offered the job, I for one, wouldn't be sad to see him go! Also worth mentioning here, is that Chris Drury has lived in Connecticut for a long time and has three children. If Drury is to take the job in Sunrise, he would have to uproot his family. Drury might find the situation he's currently in to be better than whatever Florida is offering.
Once there's an update to this story, I'll have it for you.
That about wraps up the Rangers news of this blog. Let's get into some quick NHL thoughts and take it home here.
---
I have literally watched nearly every minute of these NHL Stanley Cup playoffs. Even as I write this blog, I'm writing it in increments, during commercial breaks and intermissions of these games. As I said at the top of this blog, the NHL and all of the people involved in making these games happen; well they deserve all the credit in the world.
During my last blog, I talked about Milbury and about the length of overtime games. In short – sign me up for all the overtimes. After all, how often do you get a five overtime game in the playoffs to begin with? To start changing the rules and all that, well that's just reactionary. And as I stated in that blog, that Columbus vs Tampa Bay five overtime game produced the highest ratings of the playoffs. Furthermore, nationally, that TV rating did better than any nationally televised baseball or basketball game during this pandemic too. In other words – fans love these grueling affairs.
The terms "Mike Milbury" and "NHL Playoffs" were once again trending this week, after the news concerning Tuukka Rask. In case you didn't hear the news about Rask, on August 15th, the Bruins announced the following:
Of note, Tuukka Rask, while in competition, has now become the first player, and really, the only NHL employee, to opt-out of the playoffs and leave a bubble city, since the NHL moved all of their games to both Toronto and Edmonton.
You can read more about Rask leaving the bubble in Toronto here: https://www.espn.com/nhl/story/_/id/29666909/boston-bruins-goalie-tuukka-rask-opts-ahead-game-3
When it comes to Rask leaving the Bruins, while in the middle of a playoff series, all I can say is that the optics don't look good for two reasons. Those reasons are:
1. This is probably Boston's last chance to win with this core. Everyone is getting older, the Chara era may soon be over and after a run that saw these Bruins lose Game 7 of the Stanley Cup Final last season; for Rask to bail out now, he's leaving his teammates hanging.
2. After Boston's 3-2 game 2 loss to the Hurricanes, Tuukka Rask said the following:
"To be honest with you, it doesn't really feel like playoff hockey out there. You're trying to play as hard as you can. Obviously, you're playing a best-of-seven series so there's going to be some battles going on and whatnot. But when you play at your home rink, you play at an away rink, and there's fans cheering for you or against you … that creates another buzz around the series. There's none of that, so it just feels dull at times. There might be five minutes and it's just coast-to-coast hockey and there's no atmosphere. It just feels like an exhibition game."
After making those comments, Rask announced he was departing the team and the bubble for the remainder of the season. This is why I think it just looks bad, because while Rask may have noble intentions for leaving, for Bruins fans, this doesn't sit well for many of them. If Rask hadn't made these comments, prior to his departure, I think it would've been easier for Bruins fans to accept Rask's decision.
I want to preface with what I'm about to say with this – I am not a fan of Mike Milbury. Hell, even as recent as May 1st of this year, I named Milbury the second most hated person or thing in Rangers history. (You can read that blog here: https://bluecollarblueshirts.com/5120/)
That said, I totally understand why Milbury has a job with the NBC Sports Networks, even if everyone in the world hates him. Simply put – he gets people talking. For every Batman, you need a Joker. In the world of TV, everything can't be vanilla. It can't be all peaches and cream. You need different flavors and you need some sour too. You need someone to go against the grain. If everyone on every sports broadcast agreed, it would be boring. That's why the Rangers M$G Networks panel needs a shake-up. Everyone says the same thing and agrees on everything. You need different voices on these panels. You need to stir up controversy. You need debates. If everyone in the world agreed on everything, the whole world would be one long drone of a snooze-fest.
If anything, Mike Milbury, in pro wrestling terms, is a heel, and it's a role he embraces. While some of his opinions may seem dated to newer fans, to older fans, many agree with what he says, especially when it comes to the topics of physical play and fighting. And when you look at the TV ratings, it's the older demographic that watches these games more than the younger demographic. (The opposite is true in basketball, where a younger demo is attracted to the NBA. For what it's worth, Major League Baseball attracts the oldest demographic in all of sports, as their average television viewer is 60+ years of age. It's the NFL that does the best job of drawing all demos, which is largely due to fantasy football.)
Back to Milbury.
After Rask went back home, prior to Game 3 of the Bruins/Carolina series (a game Boston won with Henrik Lundqvist killer, in Jaroslav Halak, in net for the B's) Milbury said the following:
Mike Milbury on Tuukka Rask: "Nobodies simply opted to leave the bubble just because they didn't want to be here and they needed to be with their family. I would've not have done it, the rest of the league's players have not done it." #NHLBruins pic.twitter.com/6Hc2tnuHVk

— NHL Watcher (@NHL_Watcher) August 15, 2020
Since Milbury's opinions were unpopular and didn't fit a liberal agenda, his comments received a ton of derision and even garnered mainstream press, with USA Today also covering Milbury's comments: https://www.usatoday.com/story/sports/nhl/2020/08/15/mike-milbury-critical-bruins-tuukka-rask-opting-out-nhl-playoffs/5590621002/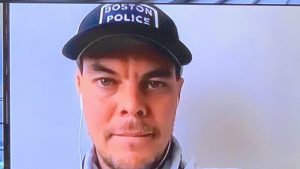 In my opinion here, who is anyone to tell Rask what to do here? He wants to be with his family, a family that includes a newborn child. While I'm not here to rah-rah his decision, I can understand his decision. When it comes to family, family comes first and there's no way you can hate on the guy for wanting to be with his family
Of course, there are many different opinions on this story. I've seen ex-military members and military family members say how they weren't allowed to leave their jobs to see their family. While I can understand that opinion, at the same time, when you join the military, that's part of the job. You know that you will lose family time going in. That's why our military is to be respected. They make plenty of sacrifices to protect our freedom.
For Rask, he's playing a kid's game. Outside of short road-trips, Rask didn't sign up to miss his family when he signed his contract with the Bruins. As many opined, including Larry Brooks (I covered this last blog) as these playoffs get deeper and deeper and as players remain cut off from their family and friends, mental health is going to be a big factor in these playoffs. It's why the NHL is looking to allow family and friends to enter the bubble in the later rounds, as it's just not fair to these players, especially players with young kids, to lose a ton of time from their families. As anyone with kids would know – you miss a lot, even if you're gone for one day.
I totally get where Rask is coming from. I can't question him. After all, I have no clue what goes on in his personal life. I just stand by what I originally said – the optics look bad, because of that post-game Game 2 quote.
When it comes to Milbury, when I look at what he said as a whole, while it will remain unpopular; he's not wrong either. While some players didn't enter the NHL bubbles, due to family or health reasons, Rask is the only one to leave the bubble while as an active participant. Does Milbury's comments come off as callous? Perhaps. But is he wrong? I don't think so. Unfortunately, being rational is not a requirement when having a social media account, so Milbury, as usual, is getting torched for his comments.
I know I sound like I'm talking out of both sides of my mouth here, but I don't think Rask is wrong and I don't think Milbury is wrong to have his opinion either. I get wanting to be with your family. I also understand what the NHL playoffs mean and what every other player (and broadcaster too for that matter) are going through too. It should be noted, Milbury is in the Toronto bubble too, so he has every right to state his opinion, even if the guy doesn't know the difference between the CN Tower and the Seattle Space Needle!
One last parting shot on this story – and maybe I'm reaching here, but you have to wonder if some of this goes back to what I was saying about Lias Andersson before. North American players grow up dreaming of the Stanley Cup, many European players do not. Just something to think about. At the very least, I think this helps explain Milbury's point-of-view.
---
As I wrap up this blog, as stated earlier, I'm writing while watching the Stanley Cup Playoffs. I'm currently watching the middle stanza of Game 4 between the Canucks and the Blues. In other words, my beer bottle/whisky glass coaster continues to get a heavy work-out: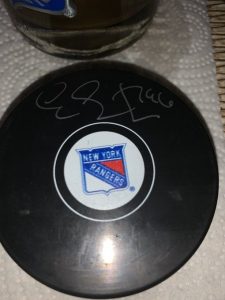 To tie everything together here, as I approach the go-home portion of the blog, the work the NHL and NBC has done throughout these playoffs has been tremendous. I can't be the only person who thinks this – when watching these games, I don't even think about the empty arenas. The NHL, and whoever is working that soundboard, has done a great job of making these games feel as authentic as any.
I also think the broadcasters, whether it's Kenny Albert, Pierre McGuire, Mike Milbury, John Forslund or the guys in the studio, have all done a terrific job. These guys are working around the clock and you can never sense an ounce of regret or fatigue in any of their work. And if you think broadcasting is easy, you try talking for three hours at a clip, while trying to follow the fastest sport on Earth; a sport that features frequent player/line changes. Then try imagine doing that three times a day/night. Again, with Milbury in Toronto, it makes it easier to understand where he is coming from, in regards to the comments on Rask.
As far as each series goes, the Bruins, with the HALAKNESS MONSTER in net, are now up 3-1 over Carolina. This is great news for the Rangers, as they have Carolina's first round pick of the 2020 NHL Draft. The faster the Canes get knocked out, the higher that pick will be for NYR.
In another Eastern Conference series that's 3-1, the Tampa Bay Lightning have a commanding lead over the Columbus Blue Jackets. While it's a tough task to win three in a row against this Lightning team, CBJ has done it before, as recent as a season ago, when CBJ won four straight. CBJ has gotten tremendous goaltending out of Korpisalo in this series, but Tampa is making sure that this series won't be a collection of 1-0 and 2-1 scores. As I said way back in September, I think the pressure is off of Tampa a bit, as compared to last year. They can play more relaxed, even if the expectations are still high.
The Islanders have a commanding and surprising (at least to me) 3-0 series lead over the 2018 Stanley Cup Champions, in the Washington Capitals. It looks like Ovi and company are going home early. Say what you want about NYR owner James Dolan, but unlike his owner counterpart in Washington, in Ted Leonsis, there's no way Dolan would've held back the purse strings on Barry Trotz. How the Caps let Trotz walk over a million bucks or so is beyond me, (and to remain in the same division no less) especially after Trotz was in the trenches with the Caps for such a long time and delivered them a Cup. That decision by Leonsis is now poetic justice, in its purest form.
In the last first round series of the Eastern Conference, as expected, the Flyers hold a 2-1 series lead over the Canadiens. The Habs, who have lost their head coach Claude Julien due to health ailments, rallied in support of Julien in Game 2 of that series, beating the Flyers by a final of 5-0. However, in the very next game of the series, which was Game 3, the Flyers eked out a 1-0 victory over the Habs. For the Habs to have any shot of making this series interesting, someone on the rouge, bleu and blanc will have to show up, in support of Carey Price, a Carey Price who has had a tremendous showing in these playoffs so far.
In what could be a nightmare scenario for Rangers fans, there's a chance we could see a Flyers vs Islanders Eastern Conference Final. Let's Go Western Conference! Let's go Bruins and Lightning!
---
Over in the Western Conference, as a result of a Game 4 overtime win, the Stars & Flames are now playing a best of 3 series, to see who moves on into the second round. Since I'm watching these games through eyes guised as a temporary Flames fan, all I can tell you, is that in the two Flames losses, Cam Talbot cost them one game and the Flames, due to their attraction to the penalty box & never being able to win a special teams face-off, cost them another game.
To me, the Flames have been better in this series, but they have to stay out of the penalty box. Losing Matt Tkachuk for the last two games hasn't helped either. With Joe Pavelski getting hot for Dallas, it's imperative that the Flames shut him and the Stars down in Game 5.
Elsewhere in the West, both the Avalanche & Golden Knights have dominating 3-1 series leads over their first round rivals, in the Coyotes & Blackhawks, respectively. This doesn't surprise me one bit. Going into both of those series, I thought the Avalanche & Golden Knights would cake-walk into the second round. The Avalanche are just much better than the Coyotes in every facet of the game. Ditto Vegas with the Blackhawks. While I think the Coyotes are the better team than the Blackhawks on paper, I thought the Blackhawks were just happy enough to upset Edmonton. Against a real contender like the Golden Knights, I just didn't see the Blackhawks making much noise.
In the last series of the Western Conference, the Canucks are surprisingly up, two games to one, over last year's Stanley Cup Champions, in the St. Louis Blues. As mentioned, Game 4 is taking place as I write these words. In fact, this series could've been 3-0, in favor of the 'Nucks, as it took an overtime goal in Game 3, for the Blues to lessen the damage and make this a series. (UPDATE: The Blues have now evened the series at 2-2. The Cup Champs are motoring now and looking like the team we thought they would be in these playoffs. The Canucks are in trouble.)
Once the first round is over, I'll be back to recap each series and predict round two of the playoffs. That said, who can predict any of this shit?
---
If you haven't already, subscribe to this blog for the next update:
When it comes to the next blog on this site, Tony DeAngelo, who hasn't left Twitter (he's still involved with wars with Twitter trolls, wars I no longer have any interest in recapping anymore) has announced plans to release a new episode of his "Watch Your Tone" podcast this week.
I'll be back later this week with a recap of "Watch Your Tone". Aside from any other future update on this site (I'm not taking a vacation from this blog/site with NYR out of the playoffs) subscribe to the blog by clicking the button above.
As always, thanks for reading and…
LET'S GO RANGERS!
NYR WILL DRAFT LAFRENIERE!
Sean McCaffrey
BULLSMC@aol.com
@NYCTHEMIC on Tweeter and on Parler