Greetings and salutations everyone and welcome to another blog here on BlueCollarBlueShirts.com. Today is July 29th, 2020, or as you may also know it as – the first day for the rest of your life! That's right, come 8PM tonight, the New York Rangers will play their first game in over four months, when they do battle with the NY Islanders, at the Scotiabank Arena in Toronto.
After that exhibition game with the Islanders (which I'll have a recap of on this site after its completion), the Rangers will announce the 2019-2020 Steven McDonald Award winner on Thursday. Then, on Friday, the Rangers will have their last practice before things get real again. Come Saturday, August 1st, the New York Rangers will take on the Carolina Hurricanes, for the right to play in the first round of the 2020 Stanley Cup playoffs.
I know I have been pumping out a lot of content lately on this site, and the reason for that is two-fold. Obviously, here in the "Age of the 'Rona", I'm home more, thus having time to write these daily Magna Carta's. Secondly, and more importantly, I'm pumped to get these playoffs going!
Off puck drop here, this blog will be shorter than usual, as I pretty much have covered everything of importance in Rangerstown, USA during my last few updates. While I'll have some quick Rangers news & notes in this blog you're reading now, the main feature of tonight's blog will be focused on the NHL's return, as on Tuesday, July 28th, we got our first taste of hockey for the first time in over 18 weeks. And spoiler alert – I loved every minute it, with the Oilers vs Flames game standing out the most.
Furthermore, if you missed any of the three exhibition games on Tuesday, this blog will give you an idea of what to expect from the Rangers/Islanders game tonight.
Let's just dive right into everything. However, before doing so, and as you probably expected – the PLUGS section of tonight's manifesto. Say it with me – in case you missed them or need a refresher, here are my latest writings:
---
---
---
---
---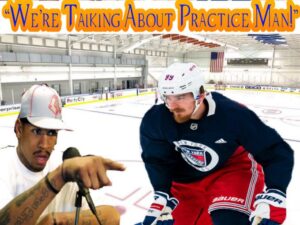 ---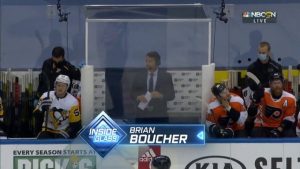 On Tuesday afternoon, at 4PM, I turned on NBC Sports, where I was treated to the first NHL game in over four months. While this game between the Philadelphia Flyers and Pittsburgh Penguins was just an exhibition game, it was nice to have hockey back.
I'm not here tonight to break down this game or give you a recap of all the plays on the ice. After all, I'm a Rangers fan and this was an exhibition game. What I am here to tell you is everything else that went down. Let's go through all of it.
I really don't want to talk politics here. However, once again, I'm forced to talk politics, just because the NHL, these two teams and NBC, all decided to make politics an issue, prior to puck drop of this game. What happened prior to this game's commencement is news and a story. That's why I'm talking about it.
If you want to read the full story, which is a featured story over on NHL.com, regarding the Flyers & Penguins making a political statement, you can read the story here: https://www.nhl.com/news/pittsburgh-philadelphia-unite-in-solidarity-for-social-justice-opening-exhibition-game/c-317669636
The short of it here? Here's part of the joint statement that the Flyers & Penguins released, after the game:
"The Penguins and Flyers, two of the fiercest rivals in sports, united in solidarity this afternoon, to stand up against social injustice, racism and hate. The two teams stood as one, merging players from both franchises together across each club's respective blue lines prior to today's game."
After this political pandering, Anders Lee, of the NY Islanders, said he hoped to do something with the Rangers on Wednesday night, akin to what the two Pennsylvania teams did. Rangers and Islanders, all standing together as one? They didn't even do that after 9/11! (Of note, in the two other games, which featured only Canadian franchises, there were no political statements made. Maybe it's best to let the Flyers/Penguins have their moment, rather than having to talk about politics prior to every puck drop.)
Listen, I really don't give a shit if these guys want to look for liberal brownie and social media points. All I can say here is that I'm happy to see that both teams stood proudly during two National Anthems. Every player on the ice, from both Pennsylvania franchises, respected both the American and Canadian flags and their respective National Anthems. That's all I care about and need to see. I want to talk about hockey and the sport of hockey, and not talk politics and who's kneeling and who's not kneeling. Save these political discussions for your family at your Thanksgiving dinner this November. I heard those discussions always go over well!
That said, is there anyone really out there, promoting and campaigning for social injustice, all-out racism and for pure hatred world-wide right now? If anything, most of this stuff is created by the people who claim to be the most tolerant. For whatever you want to say about Donald Trump or however you feel about him, I don't see his supporters looting, rioting and smashing up public & private property. I can't say the same about the BLM movement or these young college-aged liberals.
If you've been reading these blogs regularly, you know that I'm pro-NYPD, pro-Armed Forces, pro-America, and hell, I love Canada too! I've had plenty of great times in Canada & I love their whisky too!
What just bothers me about saying you're standing up, or speaking out against "social injustice", that means that you're trying to be a hero. You're saying there is a wrong out there, and you're in the right. If there's a hero, that means there's a villain. And in 99% of these public statements or acts, who is painted out to be the villain? The police. I just can't get behind that, which is why I found it so ironic that these guys were protesting the police, by standing on each blue line.
Do you need more evidence of what I'm saying here? Continue reading.
During the first intermission of the Pens/Flyers game, NBC cut to an interview with Tuukka Rask. At the time, I didn't really pay much mind to it, but as is evident in the photo above, he was wearing a "Boston Police" hat. After all, people wearing hats to support the police don't bother me and I wasn't really looking at his hat when the interview was being conducted.
However, to the liberal lynch mob, this was BLASPHEMY! This was HEINOUS! According to these mentally disturbed people, by wearing a hat supporting hard working Americans, Rask was doing the equivalent of dressing up as Adolf Hitler.
I don't want to spend too much time on this, but there thousands of tweets, from both the lame-stream media and fans, who just went after Rask for showing support to people who have the most unenviable job in America today.
Here are some of these idiots:
Tuukka Rask is currently on TV wearing a "Boston Police" hat, so this statement is empty. https://t.co/PWJgdny4A3

— Dave 🏳️‍🌈 (@baltimoredavey) July 28, 2020
Tuukka Rask is wearing a "Boston Police" hat on NBCSN right now. https://t.co/EOt7gSfPYv

— Mark Lazerus (@MarkLazerus) July 28, 2020
tuukka rask watches police porn

— bea (@xoxbea) July 28, 2020
Tuukka Rask has 3 K's in his name and he shared duties with Tim Thomas. We should have known.

— Pat Quinn Hughes (@slaythedragon14) July 28, 2020
yes, during a time of social injustice and unrest, i, Tuukka Rask, will wear a hat supporting the police 🤡🤡🤡 pic.twitter.com/T7SrduonJz

— ً (@hyeriii_x) July 28, 2020
I will beat Tuukka Rask's ass. No questions asked

— Jacket #BlackLivesMatter (@JackyMichie) July 29, 2020
Tuukka Rask wearing a "Boston Police" cap after his team releases a statement about social justice is all one needs to know when it comes to hockey culture.

— Evan F. Moore (@evanFmoore) July 28, 2020
As you can imagine, the Tuukka Rask hate party just continued and continued all over social media. Again, the people who preach tolerance and unity the most, well they are the first people to attack anyone who doesn't agree with them.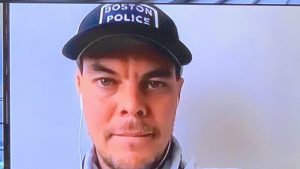 If there is anything that I learned today, even when a great thing happens, like the return of hockey, there will always be people out there looking to be offended by anything, even something as stupid as what hat a player wears.
If I learned anything else, this is just example #78678689678967896789 of why sports and politics don't mix.
Put it this way, if you were able to attend a playoff game of your favorite team, and your team scored a game winning goal, would you ask everyone sitting next to & near you, what their thoughts on politics were, before exchanging high-fives? Of course not. That's why sports is the great UNITER. It doesn't matter what color you are, what religion you practice, who you have sex with or anything else. When you're at a game, and your team does something good, the only thing that matters is what colors the fans sitting next to you are wearing. When the sports world tries to mix in with the political world, that's when you create dissension, as we are seeing with Rask today.
The craziest thing about all of this? It were the Flyers & Penguins actively trying to make a political statement today. All Rask did was put on a hat that was laying around his hotel room.
As I've said always on this site, even as recent as last blog, and I'll say it again here – I rather be hated for who I am than liked for what I am not. I just can't not pander or cater to a larger audience, by saying anything disparaging about the police. It's why I'm disappointed in the Rangers and the NYR lame-stream media, for basically ignoring the Steven McDonald Extra Effort Award this year. One bad cop doesn't erase all the good work that the majority of cops do. Hell, McDonald was shot by a career criminal and what did McDonald do? McDONALD FORGAVE HIM! McDonald took the worst moment in his life and created positivity, despite how this incident made McDonald a quadriplegic for life.
And truth be told, as long as the players are standing for the anthem, I don't care what political statement they make, just like how I don't care what hat a player wears during an interview. However, the police aren't the bad guys here. I just can't get behind that thinking at all. It's like these fans forgot about 9/11, the Boston Marathon bombing and about 677678967896789 other incidents where police officers went beyond the line of duty.
Unfortunately, this crap will continue. After all, look at the recent blogs on this site this month, where I recapped Henrik Lundqvist supporting the NYPD and doing charitable endeavors for the NYPD. Not one NYR lame-stream media member has reported on any of this, despite these stories all being well known. However, if Lundqvist wore a BLM hat and was pissing on cop cars, the lame-stream media would be applauding and showering him with praise.
Thankfully, that covers all the political crap for this blog!
---
This Flyers vs Penguins game, the first of the three games that were played on Tuesday, saw the Flyers win by a score of 3-2, in overtime. That's right, in the first NHL game in over four months, it took overtime to settle it!
Again, while I'm not here to recap all the play of the game here, I do want to comment on the play itself. This game (as well as the Montreal/Toronto game, and this Calgary/Edmonton game that I'm currently watching as I write the words) featured everyone breaking their holes out there. This wasn't your normal preseason game, as I originally predicted once these games were announced. All the starters played, and they played hard. In this game between the two Pennsylvania teams, we even saw a few post whistle shenanigans. I'd expect that stuff to pick up once these games count.
If I found anything interesting here, especially in the case of Pittsburgh, who starts their do-or-die series this weekend, is that both teams played both of their goalies. I kind of expected Philadelphia to do so, as they are a play-in round bye team. For Pittsburgh, I figured they'd want to give Murray or Jarry the whole game, in an attempt to get whoever their starter will be, a full 60 minute game.
Of note here, while on this topic, it is being rumored that NYR head coach David Quinn, will employ the same strategy in the Rangers/Islanders game tonight. It is expected that CZAR IGOR and Henrik Lundqvist will split time. Again, because I don't want to come off as a know-it-all here, DQ obviously knows this team and the sport of hockey better than I do. It is just my thinking, that you'd want to give your starting goalie a full 60 minute game, just to get ready for the playoffs. After all, none of these play-in round goalies, have played a full 60 minute NHL game in months. You don't want a game one of a series decided because a goaltender isn't used to the grind.
As I mentioned above, as I write this blog, I have the Oilers/Flames game on. Worth mentioning – the Flames & Oilers did NOT stand together prior to puck drop, despite the two teams honoring the recently deceased Colby Cave.
If you look at the picture of the Scotiabank Arena in Toronto, and when you look at the arena in Edmonton, Rogers Place; both arenas are dressed up exactly the same. And let me say it here – I think the NHL did a glorious and wonderful job with their presentation. These rinks couldn't have looked any better.
In all three games on Tuesday, each game and broadcast was presented the same for NHL television viewers. By keeping the broadcasts uniform, I found them all enjoyable. Everything just looked crisp and fresh, just like a sheet of ice, that was freshly cleaned by a zamboni.
Each arena features tarps over the seats in the lower bowl, in a successful attempt to kill the reality of empty and dead space. I'm just surprised there are no sponsors/ads on them! (I may have just given the NHL an idea!) Instead of ads, the tarps covering the lower bowl feature the NHL logo, the name of the arena or are otherwise left blank. From TV, the tarps have a light blue/grayish tone to them. They look extremely clean and sharp. Maybe I'm giddy about hockey being back, but I thought this all looked perfect.
At center ice, the 2020 Stanley Cup logo is featured. Various ads are placed elsewhere on the ice and on the boards. It's just like any other playoff game.
When it comes to the topic of noise, light crowd noise is piped in. I'm not a fan of the canned noise at all, as I mentioned on previous blogs. I would prefer these broadcasts to be authentic as possible. And let me be clear here, so my words don't get twisted – I'm down for all the goal horns, music between stoppages and all of that other jazz. I just don't like the fake crowd noise.
That said, while I'm not a proponent of the fake crowd noise, it didn't bother me one bit. In fact, about ten minutes into the first game of Tuesday's slate, I pretty much forgot about it. It just blended in. The fake noise wasn't overbearing. It didn't drown out the shouting on the ice or the sounds of the sticks. More importantly, it didn't drown out the announcers either.
Just like the UFC, the lack of a crowd at these games didn't bother me. In fact, unless you're going out of your way to look for it, the fact that there are no fans in attendance is barely recognizable. After all, when you're watching any sporting event on TV, when do you go out of your way to look at the fans in the crowd, unless you have a buddy or family member sitting in the first few rows, hard camera side?
As I watched all of the games today, I found each broadcast to be slick and clean. The ugly netting is gone, netting that only obstructs some fans at games. At times, I can see why some people would equate the look of these games to an IIHF game. However, the product on the ice is anything but. In fact, as I write these words, I'm watching "THE BATTLE OF ALBERTA" and the Flames & Oilers are hitting each other with everything they got and there have been plenty of post-whistle shenanigans.
Of the games from Tuesday, I watched the national broadcasts, which were featured on both NBC in America and Sportsnet in Canada. The announcers are in the arena and in Toronto, there is a reporter in between the benches, in an enclosed glass house.
When it comes to the regional networks, such as MSG, the announcers will NOT be in the arena. In the case of the Rangers, Sam Rosen & Joe Micheletti will be calling the games from a monitor at the M$G Network studios. As I talked about previously, when Kenny Albert first brought this up, it's going to be tough for the regional announcers. They won't be able to see any plays away from the puck, have any pregame personal chats with the players and could lose the puck during frantic plays.
Tonight, when the Rangers play the Islanders, the game is being broadcasted on both the NBC and M$G Networks. Of course, I'll stay true to M$G and watch that broadcast, even if that broadcast includes Steve Valiquette. However, for fans who just love hockey, you're probably better off with the NBC broadcast, as those announcers are there live, as opposed to Sam & Joe being huddled around a TV, with the sound of the word "FABULOUS" echoing all over the place.
All in all, I thought the NHL did a "FABULOUS" job with these three game broadcasts. Unless you're really looking for it, it's like nothing has happened in 2020. The players are playing hard, the games are intense, the stylistic approach of airing these games is smooth and it was all great entertainment. I might sound like I'm being a cheerleader here and maybe I'm too amped over hockey's return, but really, I didn't see one fault in any of these games at all. Great job to Bettman, the NHL, the NHL's broadcasting partners and most especially, to the players, who came to play.
Let's do some quick Rangers/Islanders notes and I'll wrap it up.
As mentioned a few times already, on July 29th, at 8PM, the Rangers & Islanders will do battle for the first time in Toronto. The game will be aired on both the M$G & NBC networks.
As far any sort of NYR/NYI game preview, we know that each team is allowed to dress two goalies, where everyone assumes it will be CZAR IGOR and Lundqvist. It was also reported today, that in the rare case that both CZAR IGOR & Lundqvist get injured or sick during a game in Toronto, the Rangers are allowed to pull Alexandar Georgiev out of the stands. In other words, teams won't have to worry about having to use an emergency back-up goalie. Then again, the "EBUG" did work out for Carolina earlier this year!
Each team for these exhibition games are also allowed to dress one extra forward and one extra defenseman. While I think DQ has his line-up pretty much set in his head already, it does allow him to experiment a bit, as he looks to cement a replacement for the suspended Brendan Lemieux.
As far as any news that I haven't previously covered on this site, when I looked at what the NYR lame-stream media was reporting on Tuesday (still nothing from these guys about Lundqvist/NYPD or the murder of Barry Beck's son) it's all a bunch of nothing puff-pieces.
Of the "Mount Rushmore" of NYR reporters that I talked about on my last blog, only Larry Brooks wrote anything of merit or that was challenging. Brooks did his weekly "SKY IS FALLING" stuff, where he basically debated himself in print, about what trades the Rangers could make in the off-season and what the 2020-2021 roster could look like. To me, that's all just filling up white space on a monitor. I'm just tunnel visioned on this NYR/NYI game and the upcoming series with Carolina. I'll worry about next season after this season is over.
On Tuesday, John Giannone, of the M$G Networks, continued his one-on-one interview series, this time with Mika Zibanejad. You can watch it here:
There's not much news coming out of that interview, but it is content.
Also on Tuesday night, the Blueshirt Underground Show released their latest episode. You can watch it here:
Of note, BSU got down to their Final Four of their "64 Worst Moments in Rangers History" tournament. Spoiler alert – it looks like the 2014 Stanley Cup Final vs the 2015 Eastern Conference Final will be squaring off in the final bracket of this tournament. Most of the BSU audience, and the hosts themselves, usually have the same mindset as me. I'd expect the 2015 Eastern Conference Final to win this tournament. As I've said 7867895 times on this blog, the 2014 Rangers were a Cinderella team. The 2015 team should've won the whole thing, especially since they dominated the league and won the Presidents' Trophy that year. If only they started Cam Talbot!
Elsewhere, on what was an entertaining show as usual, BSU did a fantastic bit on Matt Barnaby, which regular BSU listeners will love. BSU also announced that they will return this Friday night, where they will preview the NYR/CAR series. BSU also plans to recap each game of the NYR/CAR series, although you will have to pay to listen/watch those shows. That said, I believe for only a $1 a month, you will get all of those shows. (All money BSU takes in, goes into the production of their show and for items that BSU gives away at their watch parties.)
Speaking of podcasts, Ron Duguay announced what will be on his show Wednesday, when he tweeted out the following on Tuesday evening:
Tomorrow on #Upintheblueseats nypost podcast my special guest clark_gillies_foundation @nyislanders @davemaloneymsg @nyrangers brooksie_nypost We talk playoffs!! @nhl @NHLAlumni https://t.co/WJz2uv9ruJ

— Ron Duguay (@RonDuguay10) July 29, 2020
With the Rangers/Islanders game tomorrow, I don't think I'll be able to do a detailed "Up in the Blue Seats" podcast recap as usual. Maybe I'll include it in a separate blog, when the Rangers announce the Steven McDonald Extra Effort Award winner, which is scheduled to take place this Thursday.
Told you this would be a short blog for me tonight!
If you haven't already, subscribe to this blog for the next update:
Up next – Rangers vs Islanders tonight! I may have mentioned that once or twice during this blog. I'll have a full recap of that game on this site after the game.
As far as that blog, if you subscribe by clicking the form above, you'll get that bad boy delivered to your email box as soon as I post it.
As always, thanks for reading and…
"WHY NOT THE RANGERS?!?!"
LET'S GO RANGERS!
Sean McCaffrey
BULLSMC@aol.com
@NYCTHEMIC on Tweeter and the new Parler app