Greetings and salutations everyone and welcome to another blog here on BlueCollarBlueShirts.com. It's the first game review blog in a while! After all, since the Rangers last game, which took place on March 11th, we had to wait 140 nights for this Rangers vs Islanders exhibition game, which took place on July 29th. And I don't think I'm breaking any news here – a lot has changed during these past 140 days.
I want to preface this blog/game review with the following – I AM 100% AWARE THAT THIS IS ONLY AN EXHIBITION GAME! I understand, that in a game like this, you might want to try out new things, shuffle up the lines, give different guys a look and all of that other blah blah blah. That said, as mentioned last night, and really, as mentioned ever since this exhibition game was first announced – this also wasn't a preseason game either. As you'll see as you read along, or if you watched tonight's Rangers exhibition game for yourself, Brendan Lemieux exemplified this point!
In the sole exhibition game prior to the start of the play-in round, the Rangers lost a 2-1 decision to the NY Islanders. I thought we saw some good, some bad and some ugly in this game. I also found the range of emotion from Ranger fans on social media to go from one extreme to the other. I saw some fans say that the Canes will sweep the Rangers. I saw some fans throw away what they saw tonight and say the Rangers will sweep the Canes. When I watched this game, I fell somewhere in the middle. There was a lot of good stuff in this game, but at the same time, with only one goal scored (which came in the waning minutes of the game) that fact will raise some eyebrows.
If you're an optimist, which I'm trying to be, your reaction is likely – "they got the rust off, they know what they have to do now and they just have to get ready for Carolina." If you're a pessimist, and with four Stanley Cup wins in 93+ years, I can understand that position, your reaction is likely – "they had two weeks to prepare for this game and let Seymon Varlamov look like the second coming of Dominik Hasek."
The other thing I want to say here, before getting into this game and everything surrounding it, is for the purpose of this game recap, I'm treating this game as if it were a regular season or playoff game. After all, it's been over four months since I last did a game review too! Just like the Rangers, I got to knock off some rust as well!
That said, despite the 140 days in-between games, I haven't missed a beat on this site. And yes, this is how I'm transitioning into the PLUGS segment of tonight's manifesto!
In case you missed them or need a refresher, here are my most recent blogs:
---
---
---
---
---
---
Prior to tonight's Rangers vs Islanders exhibition game, the Rangers announced the following awards:
I don't see anything shocking here with these team awards. While some would make the case for Mika Zibanejad as the team's MVP, when you got Artemi Panarin currently sitting as a finalist in two separate NHL MVP races (The Hart Trophy & The Ted Lindsay Award) I don't see how anyone BUT Artemi Panarin could be named team MVP. And as mentioned several times this summer, Zibanejad missed a chunk of games this season, which in my eyes, gives Panarin the edge/tie-breaker for team MVP.
Jesper Fast won the teams Players' Player Award for the fifth time in a row. Once he retires, the Rangers may as well name the award after him.
The John Halligan Good Guy Award is awarded to the player who the media liked interacting with the best. Kreider had to deal with a lot this season, including his status as a pending unrestricted free agent, yet remained calm in all his interviews this season. I'm not surprised to see him win this award.
And again, as mentioned (I think I'll be saying that phrase a lot tonight) the Rangers will announce the Steven McDonald Extra Effort Award winner on Thursday. (By the time you read these words, the award may have already been announced.)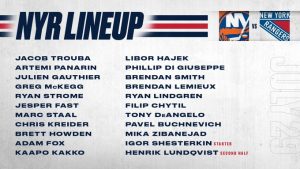 As far as the Rangers roster in tonight's game with the Islanders, there were no surprises. Here's what Quinn went with at puck drop:
FIRST LINE: Kreider/Zibanejad/Buchnevich
SECOND LINE: Panarin/Strome/Fast
THIRD LINE: Di Giuseppe/Chytil/Kakko
FOURTH LINE: McKegg/Howden/Gauthier
FIRST D-PAIR: Lindgren/Fox
SECOND D-PAIR: Staal/DeAngelo
THIRD D-PAIR: Smith/Trouba
But wait, there's more!
Outside of the starting lines and defensemen, (and again, as mentioned previously on this site!) each team were also able to dress an extra skater & extra defenseman. NYR head coach David Quinn decided to dress Libor Hajek and Brendan Lemieux, which we pretty much knew going into this game. Both of these players got time in this game, especially Libor Hajek, as I'll now get into.
During this game, David Quinn played around with his lines and tried to go with what was working. Very quickly into this game, and I'll get more into this in a little bit, DQ promoted Kaapo Kakko to the second line and downshifted Jesper Fast to the third line. When you look at this move, this move was made because of how great Kakko was playing and not because of anything Jesper Fast did.
With the benefit of having an extra defenseman, David Quinn decided to ice Marc Staal in the third period, for precautionary measures. DQ felt there was no reason to give a perennial playoff player, and the second most tenured player on this franchise today, a full 60 minute game. In turn, Marc Staal only played the first two periods of this game, as DQ went with Libor Hajek for the final stanza. This was DQ taking advantage of the extra players given to him.
Goaltending wise tonight, David Quinn started CZAR IGOR for the first 29+ minutes, and gave Henrik Lundqvist the final 30+ minutes of the game. I'll break down the goaltending in this game as we move along. However, based on DQ going with Igor to start and with Georgiev not dressed tonight, I think as we all know & think, it will be CZAR IGOR as the starter in the playoffs and with Lundqvist backing him up.
---
As far as any other news from today, usually on these game recap blogs, I share with you my over-under total goals Twitter pick. However, I didn't see any over-under or gambling lines earlier in the day, as the site I usually take that information from, in VegasInsider.com, didn't have any exhibition lines listed. So what did I do? I just made up my own line! Here's what I said on Twitter, prior to puck drop:
I don't see any betting lines for tonight's #nyr v #isles game, so for the blog & for this twitter machine, I will make up two different over-under lines.

Over-under on total goals -6. I'll go under.

Over-under on Joe Micheletti saying the word "FABULOUS" -9.5. I'll go over!

— BlueCollarBlueShirts (@NYCTheMiC) July 29, 2020
Going into this game, I had a 35-32-3 over-under record this season. Additionally, as game time approached, gambling odds were actually released, and the boys in Vegas had this game at -5.5 total goals. Either way, I was half a goal off on my over-under line, and I had the under anyway. (I liked the under because of the Isles recent history of having a lack of goal scoring.) That said, I'm counting tonight's game as a win! My record now improves to 36-32-3 on the season! (And these aren't my last words on gambling tonight, as you'll soon see.)
Unfortunately, I'm sad to report that Joe Micheletti only said the word "FABULOUS" seven times tonight. My over-under pick here busted! Perhaps if the Rangers scored a PPG in this game, the over would've hit!
And just to be funny here, here's what I also said, prior to puck drop tonight:
The oddest thing about 2020 – The King of Kings, in Alexandar Georgiev most likely won't be playin tonight. For those who don't know, Georgiev has been an Islander killer for most of his short career. #nyr #noquitinny pic.twitter.com/Xwtq7xi71M

— BlueCollarBlueShirts (@NYCTheMiC) July 29, 2020
Poor Georgiev. DQ was never going to give him a chance, despite Georgiev winning the most amount of games for the Rangers this season.
This is now where I'd usually give you the ESPN.com box score of the game. However, since this was an exhibition game, ESPN doesn't provide box scores for these games. However, you can find the full box score at NHL.com, by visiting this link directly: https://www.nhl.com/gamecenter/nyi-vs-nyr/2020/07/29/2019011008#game=2019011008,game_state=final,game_tab=stats
Come Saturday, the usual box score and stats section will be included on this site.
---
Real quick here, and I know I've mentioned this in the past already, but I also know that many people are now returning to this site, the Rangers are "allowed" to be a home team in these upcoming play-in round games, without having to worry about their tax-exemption status.
As you may know, M$G gets a tax-exemption by NYC, as long as every Rangers home game is played inside of M$G.  This is why the Rangers are always the road team during the outdoor games. However, the contract also gives the Rangers & MSG an out, as they have an "act of god" clause. This corona virus pandemic is considered an "act of god", which means that the Rangers can have "home" games in Toronto, without losing their tax-exemption status.
As far as the pregame show goes, there wasn't much there. All of the prerecorded segments were previously aired across the Rangers social media channels. As mentioned, Sam & Joe were absolutely giddy all night and I had fun listening to them. They did a great job tonight. John Giannone did a good job in his role as the host. Of note, no Al Trautwig (who may have been patient zero of the corona virus) and no Bill Pidto and his "150 Fastest Seconds in the NHL" segment.
We did have Steve Vagistat on the broadcast, and as usual, he made your ears bleed with his made-up stats and pure bullshit. No joke, Steve Vagistat said this, when talking the upcoming Rangers/Carolina series – "A team that wins a game one has an 89% chance of winning their series."
What this doofus omitted, was the fact that technically, the Rangers/Canes series isn't a playoff series. Furthermore, I don't know which hole Vagistat picked that 89% number from, but how could that apply to what we're going to see this weekend? These are unprecedented times and this is all the great unknown right now. In addition, I assume Valiquette was talking about the Stanley Cup playoffs as a whole, when arriving to his fake news number of 89%. (And that number seems awfully high to boot.)
Making Vally's number sounding even more fugazi, was the fact that he was likely talking about the modern era of playoffs, where you know, all those series are contested under a best-of-7 format. This Rangers/Canes series will be a best-of-5 format. And again, it's a QUALIFYING series and not technically a playoff series either.
The other thing of note during the broadcast, something I've brought up a lot on these blogs – is the topic of gambling.
---
Listen, I'm not blaming John Giannone here, because he's only doing his job and reading the copy given to him. However, it's just amazing how the NHL will force gambling on to their viewers. Even during this broadcast, Giannone was pumping out "live in-game odds". Again, here's the NHL & in this case the Rangers, pushing gambling on everyone. At the same time, the NHL withholds all injury and illness information. They want you to bet blind! And let's not even talk about how all of this gambling stuff is being pushed to minors and how it comes off that "if you're not gambling, you're not watching the game right."
I'll tell you what, while you don't see cigarette ads on TV anymore, you do see a ton of alcohol ads. If you smoke and drink, while it's not great for your health, it's a slow walk to death. One bad gambling experience can wreck your life. I predict within ten years, you'll have a bunch of college graduate aged people, increasing the suicide rate in America, as they gamble away every penny they have. Am I exaggerating and being too bleak here? I don't think so.
---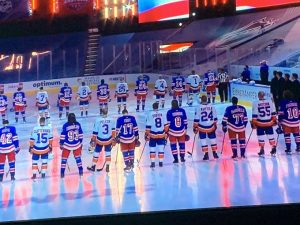 After the pregame show, and prior to puck drop, we went to Toronto for the National Anthems. The Rangers & Islanders did what the Penguins & Flyers did yesterday. I recapped all of that, the social injustice stuff, the police departments across North America and everything else related to these rivals lining up together in last night's blog. I won't repeat everything I said last night, so just check out this blog for my take on this: https://bluecollarblueshirts.com/72920/
(Also in that blog from last night, were all my thoughts on the presentation of these games. The only thing I didn't mention yesterday, which I'll mention here, is that for each game, each team's local advertisers are featured on the boards. That means we saw the "RAO" ad, for people who care about this stuff. That's got to be a pain in the ass for the rink employees, who have to change the ads on the boards after every game! And yes, of course, all goal sounds and team music is also featured.)
If I have anything specific to say about the Rangers & Islanders doing this, well I'm not shocked. After all, the Rangers franchise and the NYR lame-stream media have both ignored the Lundqvist/NYPD stories. Neither one of these entities could be bothered to mention the murder of Barry Beck's son either, and how the Hamilton Police are looking for tips on the case. While other awards were mentioned on this broadcast, NOT ONCE, was the Steven McDonald Extra Effort Award mentioned on this broadcast. What a drastic 180 here, even from a year ago.
It's really telling of the times, where the Rangers & Islanders didn't even line-up together after 9/11, but nearly 20 years later, here they are, all lined-up together, in Toronto of all places. Maybe Tina Forte, the woman pictured in tonight's blog photo header, can give them a history lesson! (And if you're not following Tina Forte or understand the reference, follow her on Twitter @TinaForte7 . Viewer beware – if foul language offends you, you're not going to be a fan of hers!)
And for those keeping track (I'm surprised John Giannone wasn't plugging bets on this) everyone stood for both anthems. At the end of the day, that's all I care about anyway, although I do admit to being disappointed about the Rangers, by their silence, running away from their previous support of the NYPD. As I said last night, NYPD, nor is any police department, the enemy or villain.
Finally, GAME TIME!
---
If there was one positive trend, for both teams, and as a 2-1 final score would suggest, all four goaltenders who played in this game, were pretty solid.
Seymon Varlamov played two periods for the Islanders, making 19 saves on 19 shots. CZAR IGOR played the first 30 minutes of the game, making 6 saves on 7 shots. (More on Igor later on in this blog.) Henrik Lundqvist entered the game right near the mid-point of the game and made 11 saves on 12 shots. Thomas Greiss played only the third period for the Islanders and made 7 saves on 8 shots faced. And when it all came down to it, if you were looking for a "MVP" of this game or a first star, it was Seymon Varlamov for the Islanders. He's the reason why the Rangers couldn't score in the first 40 minutes of the game. As Joe Micheletti would say, Varlamov was FABULOUS!
The Rangers had a hot opening minute, which saw Pavel Buchnevich log the game's first shot on goal. I may as well get this out of the way now – three Rangers really impressed me tonight. They were Buchnevich, Kaapo Kakko & Jacob Trouba. Without question, these three stood out the most to me, of all the Ranger skaters tonight.
When it comes to this trio, I saw all three of these Rangers play physical and tough, which says a lot about Buchnevich & Kakko, more so than Trouba, who we've seen truck Islanders in the past. Kakko was winning one-on-one puck battles and constantly drove to the net, believed in his game and had a shoot first mentality. I LOVED SEEING THIS. Buchnevich, who can be up-and-down, was also hitting anything that moved, while Trouba, who has a tendency to always shoot wide, was ripping shots right at the net. All three of these guys get my Rangers 3 Stars of the Game.
I've said it in the past, I'm saying it here and I'll say it again during my next blog, when I preview the Rangers/Canes series, but the Rangers are going to need the younger players to step up. Along with Filip Chytil, who had the only Ranger goal of the game, this game was encouraging from that aspect. I know Kakko had 2-3 great games this season, but this felt like a whole new Kakko out there. I don't know if Buchnevich's beard brought along a new attitude or something, but he was also a different player, and a better player in my eyes. Yes, again, it's an exhibition game and all that jazz, but don't think for one second that this game wasn't meaningful either.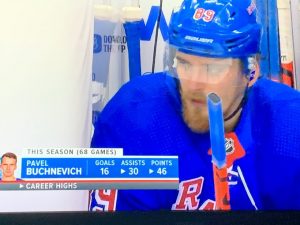 After Buchnevich's SOG, Trouba came right at Varlamov for a shot of his own. Varly stopped this too. However, the Rangers offense was then thwarted, as just 90 seconds into the game, Tony DeAngelo was boxed for slashing Matt Martin.
Let me say this here, throughout the game, from both sides, I thought some of the penalties were ticky-tacky. I don't think you'll see some of the penalties called tonight, being called once the games become real on August 1st. I don't know if these cheap calls were encouraged or not, because after all, as I said previously on this site, these teams want to work on their special teams.
In fact, I'm sure some coaches want as many penalties as possible called, because each team only gets 60 minutes this summer against a real NHL opponent, to work on their special teams, prior to the commencement of the qualifying round of the playoffs. I say all of this now, because I'm not going to analyze every penalty and if it was legit or not, because I don't think that matters and because I think these calls may have been encouraged. (Again, I have no way of knowing this.)
Gord Murphy, the new coach of the penalty kill, couldn't have liked what he saw from this first Rangers PK. The Islanders had the puck in the Rangers zone for the entire NYR PK, until Jesper Fast was boxed with 33 seconds remaining on TDA's penalty. That gave the Islanders 33 seconds of a 5 x 3 power-play. However, once the 5 x 3 Isles PP started, the Rangers PK buckled down, made the clears, and in turn, would kill the two man disadvantage, as well as killing the penalty on Fast. So right off the bat here, just four minutes and change into this game, the Rangers PK was 2-2.
I know I've talked about this topic before, but Sam & Joe were remotely calling this game from the M$G studios. There were several times, as predicted, where Sam missed plays and just like as he's been doing all year, Joe cleaned them all up. It has to be hard calling a game from a TV, but I thought Micheletti was excellent tonight.
10 minutes into the game, the Islanders only had one shot on net, while the Rangers had 8. As talked about a few blogs ago, the Islanders scoring woes are a real issue. They were shooting wide and missing passes all game. Of course, because of the penalty kills, the Rangers offense was stop and go, yet they were able to log shots.
During this point in the game, this is when you started noticing Kakko & Buchnevich. Kakko was winning all of his puck battles and was flying to the net. Buchnevich floored Nick Leddy with a hit. With about five or so minutes left in the period, Brendan Lemieux & Johnny Boychuk got into the first scrap of the NHL exhibition games:
#NYR Brendan Lemieux and #Isles Johnny Boychuk drop the gloves pic.twitter.com/zG6QfejYjr

— Here's Your Replay 2 ⬇️ (@TheReplayGuy) July 30, 2020
After this fight, this is when you had all these liberal crybaby members of the NYR media, whining about fighting in this game. To them I say – SACK UP BUTTERCUP! I loved this fight.
Let me say this, when the NYR lame-stream media were crying foul about this fight, on their tear-soaked keyboards, not one of them mentioned how EVERY PLAYER HAS BEEN IN THE BUBBLE, how EVERY PLAYER HAS ROUTINELY TESTED NEGATIVE FOR COVID-19 and oh yeah – HOW THE LEAGUE AND EVERY PLAYER WANTS TO PLAY THESE GAMES AS IF THE PANDEMIC NEVER EXISTED!
Furthermore, for guys like Lemieux (despite being suspended for two games) and Boychuk, this fight helps get them back into the swing of things. It's just like hitting, blocking shots and checking – you won't see crazy hits, shot blocking and checks in practice. You will only see these aspects of the game during a live game, against opposing competition. The league and these teams don't want to walk into the playoffs cold. You needed this exhibition game, so the players could get used to the physical aspects of the game again too. To cry about fighting? To that I say, go watch tennis!
After the fight, with under four minutes to go, Kakko was boxed for slashing. This gave the Isles their third PP of the game. However, on the ensuing face-off and just three seconds into the Isles PP, Barzal was banged for hooking Ryan Lindgren. This gave us our first four-on-four foreplay of the game!
During the four-on-four, Varly came up big again, denying Trouba and Kakko, who again, were net first all game.
As the clock ticked down on the first period, we remained scoreless and with the Rangers having a 12-6 SOG advantage.
As we broke to intermission, we went to the M$G studios, where for the 8th time on the broadcast, Valiquette was talking about his lousy career again, as if it had anything to do with this game. This is when I walked away from the TV to take a Valiquette. (Those sausage and peppers I had for dinner got to me.)
As the second period started, both teams picked up where they left off, with the Islanders shooting wide, and with Kakko continuing to go to the net. Early into the period, Varlamov made a great save after a Strome-to-Kakko one-timer. After this, Mika hit a crossbar. Of course Rosen said something else happened and Big Joe Micheletti had to make the correction. In defense of Rosen here, it was hard to see this puck in real-time.
As the period progressed, Jesper Fast was owned by Varlamov, as Varly made three straight saves on Fast, including a stacked pads save. A goal could've occurred here had Fast lifted the puck, but it's not like Fast is known for his scoring presence anyway. These were Varly's best saves of the game.
Later on, Brendan Lemieux would draw Mayfield for a penalty. However, a dubious embellishment call was also called against Lemieux, so we went back to four on four foreplay. As the two teams returned to even strength, and nearing the half-way mark of the game, I thought Fox, Lindgren, Trouba and Staal all stood out defensively.
I'll also say this here. Everyone knows that I'm a huge fan of Tony DeAngelo. However, and to not show bias here, I did not think TDA had a good game tonight, as he was turnover prone and didn't do much on the power-play. In fact, when it comes to the high scoring talent on the Rangers, in guys like Panarin, Kreider, Zibanejad & DeAngelo, they were never able to take over the game or make their presence truly felt. As stated, I thought Kakko, Buchnevich and Trouba stood out more. For the veteran and scoring talent on this team, let's hope that changes, come Saturday.
With the game nearly at the half-way point, and with the Rangers holding an 18-6 SOG advantage and with both goalies posting a shut-out, I said this at the time:
0-0 as we approach the halfway mark. If I'm Quinn and Trotz, I wouldn't change my goaltenders. #nyr #NoQuitInNY

— BlueCollarBlueShirts (@NYCTheMiC) July 30, 2020
Of course you know what happened next PART ONE – the Islanders scored.
On the Islanders goal, RIGHT BEFORE it was scored, we went to a camera shot of Henrik Lundqvist getting ready to go in. At the same time, CZAR IGOR was looking towards the Rangers bench, anticipating that he'd be turning over the net. Then, Andy Greene made a long stretch pass to Anthony Beauvillier, which gave the Islanders a two-on-one breakaway. Rather than passing, Beauvillier took it to the hopper himself and beat CZAR IGOR. 1-0, bad guys.
Immediately after this goal allowed, DQ pulled CZAR IGOR. Obviously, this was because we were near the exact mid-mark of the game and not because of the goal allowed. I saw some fans complaining and saying that DQ should've given Igor more time in net, because you don't want to leave after giving up a goal, but I didn't think it was a big deal. I thought the big deal was that Igor only faced 7 shots in nearly 30 minutes played. I don't think that's enough work for your starter. I would've kept CZAR IGOR going here, just to give him more work.
Of course you know what happened next PART TWO – the second CZAR IGOR was pulled, just as it has been ever since Henrik Lundqvist signed that ridiculous contract so many moons ago, the Rangers defense just stopped playing to the level they were playing at, once Lundqvist entered the game. Need more proof of this theory, a theory that goes back to the days of Cam Talbot, Antti Raanta, and to the present goalies of today, in CZAR IGOR & Alexandar Georgiev? Here you go:
Just minutes upon entering the game, Lundqvist made seven saves on seven shots. In just a few mere minutes, Lundqvist faced as many shots as CZAR IGOR faced in nearly 30 minutes. As it has always been since that mega-contract, the Rangers always play better for the goalie that's not named Henrik Lundqvist. That's just another reason to start CZAR IGOR, come Saturday.
When Lundqvist entered the game, the SOG were NYR 18, NYI 7. When the second period was over, the SOG were NYR 19, NYI 14. This never ceases to amaze me!
With Lundqvist in the game, the Rangers would get their first true power-play of the game (they had a three second PP in the first period) when that goon Johnston interfered with Adam Fox. DQ employed his normal PP1 unit, of Panarin, Zibanejad, Kreider, Strome and DeAngelo out there. To say that the power-play was less than underwhelming here, well that would be an understatement. This quintet of scorers didn't even get a SOG, during this period of time.
With 6:52 remaining in the period, Trouba hooked Clutterbuck, giving the Isles another power-play. The NYR PK remained flawless once again, which was partly due to the Rangers PKers and the fact that the Isles stink at scoring.
As we got under a minute to go in the second period, Kakko, who had four shots overall in this game, all of the high variety, was stopped once again by Varlamov.
At the end of two periods, the score remained 1-0, bad guys.
If there is anything you should take notice of, as Varlamov's night was done after this second period, it was that just like the regular season, the Rangers struggle tremendously whenever a goalie gets in the zone. During this 2019-2020 season, the Rangers have a tough go of it, whenever they are trying to crack a goaltender that's having the game of his life. The Rangers must break through in these situations. Far too often, despite not being shut out once during the regular season, the Rangers have had games with only one goal for, (with most of these goals being scored in the final minutes of a game) because they weren't able to figure a goalie out.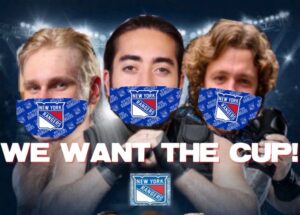 While we haven't seen the Rangers for the last 140 days, this third period very quickly felt like a 10:30PM EST west coast game, where you just wanted to get to the finish line. It just seemed that the Rangers would never put the puck into the net.
As mentioned, Thomas Greiss entered the net for the Isles in this third period. Marc Staal was also pulled here, as a precautionary measure.
In a play that gave me flashbacks to 2017, new Islander, Jean Gabriel Pageau, nearly had Lundqvist beat, as he caught Lundqvist off-guard. Lundqvist, due to being in the right place at the right time, made the save.
With the Rangers struggling to score, they got a break with 13:05 remaining, when the Isles were caught for having too many men on the ice. However, just 55 seconds into the Rangers power-play, Panarin of all people, was called for holding. Once again, another failed Rangers power-play and another stretch of four vs four foreplay.
As we got to ten minutes remaining, both teams were back to full strength. As the clock continued to trickle down, this is when I saw a bunch of Ranger fans do the "SKY IS FALLING", "WE'RE GOING TO GET SWEPT BY THE CANES", "SAME OLD SHIT" and "THEY'RE DONE" stuff. While I try to maintain a positive outlook, and while I can see some of the good stuff in this game, let's face it – you can't win if you don't score and we've seen enough Ranger playoff games in recent years, where this principle has been exemplified.
Not mentioned once during the broadcast, but now mentioned here on this blog for the second time tonight, the Rangers were not shut-out once during the 2019-2020 regular season. They were the only team in the league to avoid being no-no'd. (They did have plenty of one goal for games though, especially scoring one late against Vancouver during that horror show known as the Western Canada road-trip.)
As we got to the FOXWOODS FINAL FIVE portion of the game, and with the score still 1-0, in favor of the Islanders, for all of the stuff the league is doing to make these games feel as authentic as possible, I'm surprised the M$G Networks didn't cut to a Dancin' Larry video!
With 4:27 left to go, Devon Toews rocketed a puck past Lundqvist, while on a breakaway. 2-0, bad guys.
Less than a minute later, Jesper Fast took a shot. On the rebound, Chytil easily scored:
🚨 HEY HEY HEY HEY HEY 🚨 pic.twitter.com/57s8XPckqx

— Rangers on MSG (@RangersMSGN) July 30, 2020
2-1, bad guys. On the goal, two things here. First, for all the stuff I've said about Fast being a defensive forward, AND HE IS, Fast provided more offense than Panarin, Zibanejad or Kreider tonight. He gets the assist here and also had those series of shots, previously saved in this game, by Varly. Secondly, in the playoffs, especially with this play-in round series with Carolina, Panarin and Zibanejad will be the focus of the opposing defense. The Rangers will need secondary scoring. If Chytil and Kakko can pick up the load here, the Rangers will be in good shape.
With 2:29 remaining, David Quinn took his time-out, talked to his 6 vs 5 unit and pulled Henrik Lundqvist. The Rangers wouldn't get a shot on goal for the remainder of the game. This was particularly bad, considering the Islanders iced the puck twice and couldn't change. They had their PK plus one unit out there for nearly two minutes, yet the Rangers didn't challenge Greiss once. NOT GOOD!
2-1, Islanders, your final from Toronto.
---
When it comes to my final impressions on this game and knowing what it was, I do see why some people are concerned. You would've liked to see Panarin or Zibanejad score. You would've liked to see DeAngelo pick up a point. You would've liked to see Kreider present himself as a factor.
From a glass half-full perspective, Kakko, Buchnevich, Trouba and Chytil all looked good. Fast had a few scoring chances. The defense, despite giving up a bevy of shots after Lundqvist came in, were solid for the most part.
Of course, the talk of Rangerstown, USA will be about the starting goalie. It has to be Igor. And I would give him a long hook too, because there have been many games this season where he allows a goal early in the game in, but after that goal allowed, CZAR IGOR then turns into a steel-trap afterwards.
For what it's worth, I thought both goalies looked good tonight. The goals each goalie allowed were during a breakaway. Nothing soft here.
If you're looking for more positivity, the Rangers PKers were perfect tonight, even drawing a penalty while on the kill. That said, the Isles are one of the worst power-play teams in the league, if any of the stats from four months ago means anything to you. At the same time, the Rangers power-play didn't instill much faith into Ranger fans either, and the final 2:29 of this game will make you throw up and give you gas.
As far as wrapping up this game and the M$G Networks broadcast, the post-game showed all the zoom call interviews with the players. It also featured more absurdity from Steve Valiquette. Valiquette said, and I'm not joking here, that "the Rangers all support each other, as they all celebrate after every goal scored." Really? CAN YOU TELL ME ONE TEAM IN THE LEAGUE THAT DOESN'T SUPPORT THEIR TEAMMATE AFTER HE SCORES A GOAL?
And I know I'm using my dislike for Valiquette as a solo act for comedic effect on this blog, so let me expand here. I didn't think he was bad when he had Ron Duguay to balance him out. However, as the sole ex-player analyst on these broadcasts, he's been a shit-show. And here's some constructive criticism too – nobody cares about Valiquette's NHL 30 games career and all of his stories, where he tries to relate his career to the games of today.
I know the M$G Networks have no interest in bringing Duguay back, which sucks, but I sure as shit hope that the Dan Girardi rumors are true. The M$G Networks need another ex-Ranger, an ex-Ranger that's actually beloved and remembered by fans, to counter-act Vally and all of his never-ending bullshit. Vally is at his best in a secondary role, and not as the featured analyst.
---
As I go home here, I'll be back sometime tomorrow night. That's right, I'm going for the drive for five here, with five blogs in five nights! Tomorrow's blog will talk about the Steven McDonald Extra Effort Award winner. I'll also have my NYR/Carolina series preview, as I watched some of Carolina's exhibition game with Washington on Wednesday. Furthermore, I'll also recap the latest episode of Ron Duguay's "Up in the Blue Seats" podcast, which you can listen to for yourself here:
— Ron Duguay (@RonDuguay10) July 29, 2020
One last note, because I was asked this on social media and on email – Kenny Albert & Dave Maloney return to the radio, starting with the series with Carolina on Saturday.
If you haven't already, subscribe to this blog for the next update:
See you tomorrow night folks. Keep the LGR faith!
As always, thanks for reading and…
"WHY NOT THE RANGERS?!?!"
LET'S GO RANGERS!
Sean McCaffrey
BULLSMC@aol.com
@NYCTHEMIC on Tweeter and the new Parler app