Greetings and salutations everyone and welcome to another blog here on BlueCollarBlueShirts.com. Off puck drop here, I must tell you, I didn't expect to do a blog this weekend. In fact, in my head, I thought if I was going to do a blog this weekend, it would be about the Rangers bidding themselves adieu of the Henrik Lundqvist era. While the Rangers may still say toodles to Lundqvist, on Saturday evening, on the date of September 26th, the Rangers said goodbye to the second longest tenured Ranger on the team, in a one Marc Staal.
In a trade that initially floored and shocked me, the Rangers have dealt Marc Staal to the Detroit Red Wings. There are also additional parts of this trade, which I'll soon get into.
Like most breaking Rangers news, this news came out of Canada, rather than from any of the beat reporters that regularly cover the NY Rangers. Funny how that always happens.
Even with the Rangers sometimes leaking ideas, where the Rangers front office uses the NY Post as their messenger pigeon, (Larry Brooks specifically) when it comes to real breaking news, all real news comes out of Canada. (I just covered this a few blogs back, when Larry Brooks was talking about the Rangers trading TDA, in an attempt to make room for Nils Lundkvist.) To make this Marc Staal story even crazier, before news of this trade circulated all over on social media, there was nothing to suggest that the Rangers were even considering trading Marc Staal, much less to the Detroit Red Wings.
And let this also be said, because this is really important – nobody foresaw the Rangers being able to trade Marc Staal and absolve themselves entirely from Marc Staal's salary cap hit. Let that sink in here – the Rangers are entirely free of Marc Staal's $5.7M cap hit, come the 2020-2021 season. If anything, outside of Staal's legacy and run with the Rangers, that's the biggest news story coming out of this trade.
There truly is a ton to unpack here. As I write these words, several minutes removed from Game 5 of the Stanley Cup Final, we don't have all the details from this trade. I'm sure we'll get more details on Sunday morning the earliest, or on Monday the latest. While obviously this is a big trade, especially for NY Ranger fans; the hockey media had bigger fish to fry on Saturday night. In addition, with this trade taking place 30 minutes before Game 5 of the SCF, the media, as you'd expect, were more concerned with the Stanley Cup Final than with Marc Staal and the Dead Wings.
Before getting into all the speculation, the salary cap, buy-outs, the roster and the future of the New York Rangers, let me give you all the facts about this trade first, and everything else after that. I have a ton of opinions and thoughts about this trade, but it's important to know what both the Rangers & Red Wings had to say about this deal.
First up, here's how the Rangers & Red Wings broke news of this trade, via their official Twitter accounts: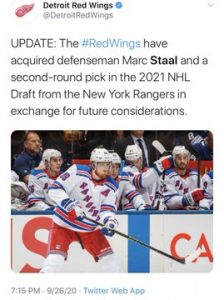 Here's the Rangers official press release, which covered this trade, courtesy of NYRangers.com:
The New York Rangers announced today that the team has traded Marc Staal and a second-round pick in the 2021 NHL Entry Draft to the Detroit Red Wings in exchange for future considerations.

"Marc Staal has been an exemplary hockey player, teammate, and person from the moment he joined the New York Rangers organization," Rangers President and Alternate Governor John Davidson said. "A consummate professional, Marc's perseverance and dedication to the game made him such an integral part of our organization. Marc, his wife Lindsay, and his children Anna, Emily, and Jack will always be a part of the Rangers family, and we wish them all the best going forward."

"I would like to thank Marc for everything he has given to the New York Rangers during his 13 seasons with the team," Rangers General Manager Jeff Gorton said. "The success we had throughout Marc's tenure, including a trip to the Stanley Cup Final, would not have been possible without his tireless efforts on and off the ice. The respect we have for Marc is immeasurable, and we wish him and his family all the best."
Staal skated in 892 career games with the Rangers over 13 seasons (2007-08 – 2019-20), registering 43 goals and 145 assists for 188 points, along with a plus-46 rating and 432 penalty minutes. He ranks sixth on the franchise's all-time games played list, trailing only Harry Howell (1,160), Brian Leetch (1,129), Rod Gilbert (1,065), Ron Greschner (981), and Walt Tkaczuk (945). Staal played in 471 games which the Rangers won throughout his tenure, which is the third-most for any player in franchise history; the only players who appeared in more games which the Rangers won are Leetch (515) and Gilbert (487). Staal appeared in a game in three different decades with the Rangers (2000's, 2010's, 2020's), and he is one of seven players in franchise history who have appeared in a game with the Rangers in three different decades, along with Frank Boucher (1920's, 1930's, 1940's), Tkaczuk (1960's, 1970's, 1980's), Greschner (1970's, 1980's, 1990's), Leetch (1980's, 1990's, 2000's), Mike Richter (1980's, 1990's, 2000's), and Henrik Lundqvist (2000's, 2010's, and 2020's).

During Staal's tenure with the Rangers, the team advanced to the Stanley Cup Final in 2013-14, advanced to the Eastern Conference Final three times in a four-year span (2011-12, 2013-14, 2014-15), and won 10 different playoff series. In addition, he helped the Rangers finish in first place in their division twice during the regular season (Atlantic Division – 2011-12; Metropolitan Division – 2014-15) and finish with the best record in the NHL during the regular season in 2014-15, as the Blueshirts established single-season franchise records with 53 wins and 113 points. He helped the Rangers advance to the postseason 10 times in his 13 seasons, and he is one of only 10 players who have appeared in a postseason game in 10 or more years with the Rangers in franchise history (along with Ron Greschner, Henrik Lundqvist, Frank Boucher, Rod Gilbert, Dan Girardi, Ott Heller, Ching Johnson, Murray Murdoch, and Walt Tkaczuk).

Staal served as one of the Rangers' alternate captains for 10 seasons (2010-11 – 2019-20). Since the Rangers/NHL began to have players wear an 'A' on their jersey as an alternate captain during the 1985-86 season (after not doing so for approximately a decade), he was one of only three players who have either worn a 'C' or an 'A' as captain or an alternate captain with the Rangers for 10 or more seasons. The only other two Rangers who have done so over the span are Brian Leetch (13 seasons – alternate captain from 1991-92 – 1996-97; 2000-01 – 2003-04, and captain from 1997-98 – 1999-00) and Mark Messier (10 seasons – captain from 1991-92 – 1996-97; 2000-01 – 2003-04).

The 6-4, 209-pounder was credited with 1,308 hits and 1,162 blocked shots over his 13 seasons with the Blueshirts. Since the NHL began to track real-time stats at the start of the 1997-98 season, Staal's 1,162 blocked shots are the second-most by a Ranger (trailing only Dan Girardi), and his 1,308 hits are the third-most by a Ranger over the span (trailing only Girardi and Ryan Callahan). Staal also logged 18,394:47 of ice time with the Rangers, which is the most by any Blueshirts skater since the league began to track ice time in 1997-98. He averaged 20:37 of ice time per game with the Rangers, as he averaged more than 20:00 of ice time per game in six of his 13 seasons, as well as more than 19:00 of ice time per game in 10 of those seasons. Staal also posted a plus/minus rating of even or better in nine of his 13 seasons with the Blueshirts.

Staal skated in 107 career playoff games with the Rangers, registering seven goals and 13 assists for 20 points, along with 42 penalty minutes. He is one of only three players (and one of only two skaters) who have appeared in at least 100 career playoff games with the Blueshirts in franchise history (along with Henrik Lundqvist and Dan Girardi). Staal became the fifth defenseman in franchise history to register a playoff overtime goal when he recorded the game-winning goal at 1:35 of overtime in Game 5 of the Eastern Conference Semifinals vs. Washington in 2012. He also recorded the first goal of the game in the Blueshirts' Game 7 win against Ottawa in the Eastern Conference Quarterfinals in 2012.

Staal earned several team awards and received several team and league recognitions throughout his time with the Rangers. He represented the Rangers at the 2011 NHL All-Star Game, and he established career-highs in points (29), assists (22), and average ice time (25:44) during the 2010-11 season. Staal was twice selected as the Rangers' nominee for the Bill Masterton Trophy (2012-13 and 2014-15), which is awarded annually to the NHL player who "best exemplifies the qualities of perseverance, sportsmanship, and dedication to hockey." He was named the winner of the John Halligan Good Guy Award for cooperation with the media in 2013-14 and received the Lars-Erik Sjoberg Award as the Rangers' Best Rookie in Training Camp in 2007.

The Thunder Bay, Ontario native was originally selected by the Rangers in the first round, 12th overall, of the 2005 NHL Entry Draft.
Of note – a rare Frank Boucher mention in a Rangers press release!
---
As I always like to do during big trades like this, here's how the Detroit Red Wings covered their newest player:
The following is taken from https://www.nhl.com/redwings/news/red-wings-acquire-marc-staal-in-trade-with-rangers/c-319199800
DETROIT – The Detroit Red Wings today acquired defenseman Marc Staal and a second-round pick in the 2021 NHL Entry Draft from the New York Rangers in exchange for future considerations.
Staal, 33, skated in 52 games with the Rangers in 2019-20, totaling 11 points (2-9-11), a plus-five rating, 16 penalty minutes, 69 hits and 76 blocked shots in 17:39 average time on ice, while also playing in all three postseason contests, notching one point (1-0-1). The 13-year NHL veteran led New York in shorthanded ice time per game in 2019-20 and ranks among the longest-tenured players in Rangers history, placing sixth in franchise history in regular-season games (892) and second in playoff games played (107). He also served as an alternate captain for the Rangers for a decade (2010-20). Staal has totaled 188 points (43-145-188), a plus-46 rating and 432 penalty minutes since making his NHL debut in 2007-08, adding 20 points (7-13-20) and 42 penalty minutes in 107 career playoff games. The 6-foot-4, 209-pound blueliner was an NHL All-Star in 2011 when he set career offensive bests with 29 points (7-22-29) in 77 games. He also twice participated in the NHL YoungStars Game during his first two NHL campaigns in 2008 and 2009.

A native of Thunder Bay, Ontario, Staal was originally a first-round pick (12th overall) of the Rangers in the 2005 NHL Entry Draft. Prior to turning professional, Staal racked up 123 points (23-100-123) in 236 Ontario Hockey League games with the Sudbury Wolves from 2003-07. He capped off a decorated major-junior career in 2006-07, captaining the Wolves en route to capturing the Max Kaminsky Trophy as the league's most-outstanding defenseman and Wayne Gretzky 99 Award as most-valuable player of the playoffs, while earning a spot on the OHL First All-Star Team and CHL First All-Star Team. On the international stage, Staal helped Canada win back-to-back gold medals at the 2006 and 2007 IIHF World Junior Championships and was named the tournament's best defenseman in 2006. He previously captured a gold medal at the 2003 World Under-17 Hockey Challenge and debuted for the men's national team at the 2010 IIHF World Championship.

The Red Wings currently hold 20 draft picks combined over the next two NHL Entry Drafts, adding to the league-high 32 players the team selected over the last three drafts (2017-19). For the upcoming 2020 NHL Entry Draft (Oct. 6-7), the Red Wings have six of the first 65 selections in the draft, including their own pick in each round except the fourth, two additional picks in the second round (via Edmonton and Washington), San Jose's pick in the third round and Edmonton's pick in the fourth round. Detroit also has all seven of its original selections for the 2021 NHL Entry Draft and now own three picks in the second round (adding the Rangers' pick to one previously acquired from Edmonton) and an additional third-round pick via Vegas.

Marc Staal, Defenseman
Born Jan 13 1987 — Thunder Bay, ONT
Height 6.04 — Weight 209 — Shoots L
Selected by New York Rangers round 1 #12 overall 2005 NHL Entry Draft
---
But wait, there's even more facts and official news!
In addition to their press release, the Rangers tweeted out official statements from both Jeff Gorton and David Quinn. Here they are:
And lastly, from the Detroit Red Wings end of things, they announced the following on their website:
Although the Red Wings aren't in the playoffs, it turned out to be a busy day for them Saturday.

Early in the day, the team announced that it had signed veteran forward Sam Gagner to a one-year contract extension.
In the evening, the Wings said they had acquired veteran defenseman Marc Staal and a second-round draft pick in the 2021 NHL Entry Draft from the New York Rangers for future considerations.

"The trade accomplishes a couple things," executive vice president and general manager Steve Yzerman said in a Saturday night Zoom call. "One, as part of our rebuilding process we're trying to add draft picks, prospects, young players and future assets to help us down the line. That's kind of where we are.

"In this trade, we get a second-round pick in the '21 draft but also we have to ice a team. We're trying to be competitive, we trying to improve at the same time. In this deal not only do we get a defenseman who'll go right into our lineup, that plugs a huge hole for us, but we add future assets as well."

Sandwiched in between the Gagner and Staal deals, the Wings also signed center Turner Elson, who has spent the last three seasons with the AHL's Grand Rapids Griffins, to a one-year extension.

One thing that made Staal an attractive asset was he is a left-shot defenseman.

The only other left-shot defensemen on the Wings roster are Danny DeKeyser, Patrik Nemeth and Dennis Cholowski.

"We're looking to fill spots on the left and right sides," Yzerman said. "He plugs a huge hole on our D. We won't be bringing back Jonathan Ericsson, we won't be bringing back Trevor Daley, so there's two spots on our left side that need to be filled. We have Patrik Nemeth, Danny DeKeyser. Marc Staal fits in nicely on the left side. He's a good, solid defender, good size, he's been in the league a long time, he's a good penalty killer, so he plugs a hole for us on the back end."

Staal, 33, had spent his entire career with the Rangers, as he was New York's first-round pick, 12th overall, in the 2005 draft.

In 892 career games, Staal, who is 6-foot-4, 213 pounds, has 43 goals, 145 assists and is plus-46.

This coming season will be the last one in Staal's six-year, $34.2 million contract.

The Rangers get $5.7 million in cap space, although Staal only gets $4.2 million in salary, $1 million of which was paid as a signing bonus on July 1.

According to CapFriendly.com, the Wings will now have $27,375,000 left in projected cap space.

That kind of space allows for more trades to be made if teams are willing to make them with the Wings.

"For the Red Wings, we are in a position, we do have cap space, we can use it," Yzerman said. "I hope to use it wisely but one way we could like to try to use it is to acquire future assets should any teams be in a position where they really have to move contracts and don't have any other options. Nobody wants to give up picks or prospects, but sometimes you have to do what you have to do to make your team better. We're trying to, I don't want to say take advantage of that, but we're trying to find teams that are in a position and need to do that. We're trying to add picks or prospects and at the same time ice a team."

Yzerman was also asked about the Tampa Bay Lightning, who lead the Dallas Stars, 3-1 in the Stanley Cup Final, about the possibility of his former team winning the championship.

"I definitely will watch," Yzerman said about Game 5. "I'm not sure if it's satisfaction, but I would be really happy for the organization – (owner) Jeff Vinik, (general manager) Julian Brisebois, the players, the coaching staff, and that community. It's a really, a great little hockey market, really cool community, and they've really embraced the Lightning so I think it would be fantastic. I have great friends and a lot of the players, got to know them well and they've worked hard and have built up towards a championship so yes, I will watch and I really hope for them and would be thrilled.

"Down in Dallas, on the other side, we have (former Wings assistant general manager and current Stars GM) Jim Nill, Rick Bowness, he was one of our coaches in Tampa, it would be wonderful for them to win as well. But being so close to the Tampa franchise, I think it would be wonderful and I'd be thrilled for them to win."
With all of these official news items and statements covered, let's now unpack everything and take a look at things moving forward, for both Marc Staal and the Rangers.
---
I'm still in a state of awe and shock, as I write these words, nearly five hours after this trade was first reported. I don't even know where to start, as there's so much to get into here!
For starters, this was a bittersweet trade, but a GREAT trade. It's also one of those trades that I hate, as someone who despises the hard salary cap. This was a SALARY CAP DUMP trade, and not a HOCKEY trade. For Marc Staal, he just becomes the latest NHL veteran to be cast aside, because of salary cap reasons. That said, for the Rangers, this is an addition by subtraction trade, as it frees up $5.7M of salary cap space. (Of note, Detroit is assuming the entire $5.7M cap hit. However in real money spent, Detroit will only have to pay Staal $3.2M, as Staal was due $4.2M this season, with a $1M bonus included, a bonus that the Rangers have already paid out.)
Again, there's so much to get into, that as I'm writing this, I don't know where to go next. How about I go to Rangers General Manager, in Jeff Gorton, first?
As it stands right now, as a result of this trade, in next year's NHL Entry Draft, the 2021 NHL Draft, the Rangers have eight picks.
The Rangers just traded away their 2021 second round pick, in this trade of Marc Staal, as a sweetener for Detroit. In case you don't know what I mean here, the Rangers, in order to get Detroit to take Marc Staal & his salary cap hit, tossed in a second round pick, as in incentive for Detroit to accept the trade. For a rebuilding Detroit team, a rebuilding team that has $27M of cap space, the Rangers second round pick was valuable to them.
In the 2021 NHL Entry Draft, the Rangers have six of their own picks and also have Buffalo's third round pick and Ottawa's fourth round pick. Like the 2020 NHL Draft, the Rangers have a nice cupboard of draft picks going into that 2021 NHL Draft. In other words, the Rangers aren't hurt by including this 2021 second round pick sweetener to Detroit.
At the trade deadline of the 2019-2020 NHL regular season, the Rangers had four bad contracts. Those contracts were the contracts of Henrik Lundqvist, Marc Staal, Brendan Smith and Brady Skjei. As I write these words on September 27th, the Rangers have gotten rid of half of them, with a possible Lundqvist buy-out still pending.
While I'll get into Marc Staal's career as a Ranger in a bit, it's hard to deny that he was overpaid in 2020. That said, coupled in with the amazing trade of Brady Skjei to Carolina, Jeff Gorton has now literally traded two bad contracts worth $10.95M and a 2021 second round pick, and in return, received $10.95M in cap relief and a first round pick in the 2020 NHL Draft. (The #22nd pick, which was a result of the 2020 Stanley Cup Playoffs.)
In a league where your salary cap hit is now as important as any other stat, Jeff Gorton deserves a gold medal for these two trades!
It's also worth mentioning here, that with the freed up $10.95M, the Rangers now have $20,091,867 of cap space going into this off-season. For you people good at math, that's a tad over $20M!
What Gorton does with this new found cap space remains to be seen. To pretend to know what Jeff Gorton is thinking or planning right now would be futile. However, to make an educated guess here, not only does this new cap space mean that Jeff Gorton now has more wiggle room to sign all of his UFA's, (if he chooses to do so) it also means that it will be easier to buy out Henrik Lundqvist.
---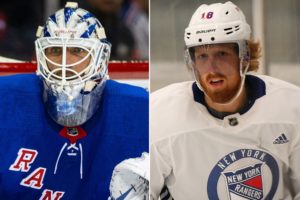 I've already talked about the Rangers UFA's & RFA's on past blogs. By now, I think you know already that the Rangers have to make decisions on their restricted free agents, in Tony DeAngelo, Ryan Strome, Alexandar Georgiev and to a lesser extent, Phil DiGiuseppe. When it comes to their unrestricted free agents, the Rangers will have to make decisions on Jesper Fast, Michael Haley & Greg McKegg. I think it's safe to assume that the Rangers will say goodbye to both Haley & McKegg.
With now an additional $5.7M of salary cap space, this Staal trade makes things easier for Jeff Gorton to retain Tony DeAngelo, Ryan Strome and Alexandar Georgiev, if that's Gorton's plan. And really, I think it should be, unless the Rangers are really thinking big and thinking about offer-sheeting someone. As mentioned on past blogs, "offer-sheets", among NHL GM's, are considered as dirty as kissing your cousin. You rarely see them.
In what's kind of ironic here, considering his own RFA status, Tony DeAngelo suggested on his "Watch Your Tone" podcast, that someone should offer-sheet the Islanders Mathew Barzal, a centerman, who is also a restricted free agent.
On a previous blog, I wrote that I doubt that Jeff Gorton would offer-sheet anyone from Boston or Tampa. I also said that I doubt Gorton would specifically put in an offer-sheet on Anthony Cirelli, of the Bolts. I felt that way, and still feel this way, because both of those clubs have been a frequent trading partner for Gorton. I just don't envision Gorton stepping on anyone's toes, at least not with those two franchises.
That said, when it comes to the Islanders, why not offer-sheet Barzal? It's not like the Rangers make trades with the Islanders anyway. In fact, ever since the Islanders debut into the league, back in 1972, the Rangers have only made two trades with the Islanders in that time. Neither trade was of any significance. My point here is this – if Jeff Gorton was to make an offer-sheet on Barzal, a centerman who would fill a major hole on the Rangers roster, there wouldn't be any blow-back, outside of the Islanders trying to pull the same stunt on him. At the end of the day, Gorton wouldn't be offending a potential trading partner. Gorton would be turning the screws on a heated rival.
If there's any player on the Rangers roster who benefits from this Marc Staal trade, it's the previously mentioned Tony DeAngelo. I'm not going to do my greatest hits on Tony DeAngelo here, so I'll just refer you back to this blog: https://bluecollarblueshirts.com/31720/
With this money opened up, Jeff Gorton can now give Tony DeAngelo the contract he's seeking, should Gorton choose to do so. Of note, two current Rangers commented on this Marc Staal trade on social media, both Rangers who are RFA's right now, in both Tony DeAngelo & Ryan Strome.
Responding to the trade, Tony DeAngelo posted a "frown" emoji. Ryan Strome said, "one of the best to do it. #Legend". Ironically, this Staal trade is in the best interest of both Strome & DeAngelo, as both have made it known that they want to continue their careers with the Rangers.
I want to save all of my thoughts on Marc Staal, the player and the Ranger, for the end of this blog, and continue with looking at what the Rangers & Gorton could do next.
With Marc Staal now out of the picture, let's take a look at the current left defenseman (LD) position.
---
When you look at the left defensemen on the Rangers right now, you have Ryan Lindgren, who's on the first d-pair with right defenseman Adam Fox. While this probably won't be the case on opening night, whenever that date will be, Brendan Smith is currently your number two left defenseman. Again, that's what the Rangers have RIGHT NOW, and not what they may have in the future.
Who knows what the Rangers will do next, in regards to filling the third left defenseman roster spot on the team. Who knows if Brendan Smith will even be here? (I think we can all agree that it's a given that Ryan Lindgren will remain in his role with the club.) After seeing the returns Gorton got for Staal & Skjei, I wouldn't be shocked if Gorton now found a suitor for Smith.
When it comes to the LD talent in the Rangers system, you obviously have K'Andre Miller, the same K'Andre Miller that practiced with the Rangers during the mini-training camp, prior to the start of the 2020 NHL playoffs. I think the Rangers are all-in on him, and barring something crazy happening, I think Miller will be on the team, come game one of the 2020-2021 NHL season.
Elsewhere in the system, the Rangers currently have Libor Hajek, a player the Rangers thought would become a regular defenseman with this club during the 2019-2020 season. It didn't work out, as Hajek was sent down to Hartford, while Lindgren was called up & excelled. Hajek, as mentioned a few blogs ago, is currently sharpening up his game overseas, as he awaits the return of the NHL regular season.
When it comes to other LD's, the Rangers also have Yegor Rykov, who was acquired in the Micheal Grabner trade from two years ago. Rykov had an unfortunate 2019-2020 season with Hartford, as he was plagued by injuries. Like Hajek, he's currently overseas too.
To round out the rest of the Rangers young LD prospects, the Rangers have Brandon Crawley, who played a few games with the Rangers this season. He wasn't that impressive, but as Alain Vigneault likes to say, "it's a PRO-CESS". The Rangers also have Tarmo Reunanen and Matthew Robertson, two prospects who may not be ready to play with the Rangers in 2020-2021. That's not to say these guys don't have a chance, but it's more likely that Miller will get a roster spot. With the assumption that Brendan Smith isn't the guy, Hajek is up next on the depth chart, providing the Rangers don't try to land someone else through free agency or trade.
If you get anything out of my exciting after dark rambling right now, it's this – the Rangers will continue to be busy during this off-season.
---
Looking at things from a Marc Staal & a Detroit Red Wings perspective here, there's been conflicting reports about how this trade went down. As you may know, Marc Staal has/had a no-move clause with the Rangers. While his no-move clause is modified (meaning Staal has to approve a team from a list he provides, prior to a trade) as of this writing, no one is 100% sure on how Staal waived his NMC. Again, as mentioned earlier, we might have the full details later this week.
For Marc Staal, who will be 34 years old on January 13th, 2021, time is running out. While I've always said I'm a "Marc Staal apologist" on these blogs, I've also said that he's an "old" 33 year old player. Due to his style of play and his injuries, it just feels like the sand in the hour glass is winding down for him. That's why I'm wondering, and why many fans are wondering, is why in the world did Staal waive his NMC to go to Detroit? And in the event that Staal did have to submit a list of teams to be traded to, again, why in the world would Detroit be on this list?
Prior to doing this blog, I consumed every Marc Staal tweet and every article that's out there. Some people are saying he waived his NMC. Some people are saying he didn't have to. Some people are saying that the Rangers promised him a job for life if he waived his NMC to go to the bottom of the cellar Red Wings. To the latter, I say that's just wishful thinking.
I don't know if Marc Staal is having a mid-life crisis or what, but what cupless NHL veteran would want to go to the worst team in modern day NHL history? Furthermore, who in their right mind, would want to live in Detroit?
I've heard some people mention how Staal is from Thunder Bay, Ontario, and has family there. When I hear that, I wonder if these people realize that a flight from Thunder Bay to Detroit is a near five hour flight or a 12.5 hour car ride? In comparison, a flight from NYC to Thunder Bay is only 15 minutes longer than traveling from Detroit to Thunder Bay.
Furthermore there's this – Staal's immediate family lives with him in NYC. I think we can rule out family as a reason to wanting to go to that hellhole known as Detroit.
Again, with this news just breaking, we don't have all the details yet and there are conflicting reports out there.
When Staal was traded to Detroit, many fans, yours truly included, wondered if Staal was traded to Detroit, with the idea of him being a salary cap buy-out for Detroit. In essence, in this proposal, Detroit would basically assume Staal's salary cap hit (and then buy him out), in exchange for the Rangers second round pick of the 2021 NHL Draft. This deal would also help Detroit reach the NHL salary cap floor.
However, it's being reported out of Detroit, in a statement from both Yzerman and the Detroit media themselves, that the plan is for Staal to play for the Wings. Yzerman also said in his statement, which was included earlier in this blog, how the team is now moving on from defensemen Trevor Daley & Jonathan Ericsson. In other words, it doesn't seem like Staal was traded to Detroit for the purpose of becoming a salary cap buy-out.
That leaves me with this – did Marc Staal really waive his NMC to play with a terrible franchise right now, a franchise that has no shot in hell of winning the Stanley Cup in 2021? If anything, Staal should've tried to get himself traded to the Lightning, like his d-man pals in McDonagh & Girardi!
Marc Staal hasn't commented on this trade yet. Perhaps, due to the fact that he will be an unrestricted free agent after the 2020-2021 season, that Staal feels like he will get a ton of minutes in Detroit, minutes where Staal will bank on himself to get one last big NHL contract. That's the only explanation I have here, because like I said, who wants to play for Detroit, nevermind living there?
---
I guess it should also be mentioned here, that the Wings could treat Marc Staal in the same way that the Rangers recently dealt with Adam McQuaid.
In September of 2018, the Rangers traded for McQuaid, giving up Steven Kampfer and a fourth pick to Boston. In February of 2019, in that same season, the Rangers traded McQuaid to Columbus, gaining Julius Bergman, a fourth round pick and a seventh round pick. In other words, the Rangers got a player in Bergman, who they thought was better than Kampfer and added a seventh round pick to boot. (Of note, the Rangers traded Staal to Detroit for "future considerations", which could wind up being that infamous seventh round pick.)
While Yzerman and the Detroit media is hyping up Staal as a leader (and he is) and as someone who could mentor their young roster, who knows, maybe Detroit flips Staal at the 2021 NHL trade deadline, for a pick and/or a prospect? Maybe that's how Staal gets himself on a 2021 Stanley Cup contender.
And really, if you're Detroit, and assuming the team doesn't have a chance at the Cup in 2021, with Staal being a UFA, it makes all the sense in the world to hope that Staal plays well next season and that some contender will give them a nice haul in return for a veteran left-handed defenseman. The Wings could add more draft picks at the 2021 NHL trade deadline, in a potential Staal trade. That's why this trade is good for Detroit, providing Staal plays well.
Obviously, there will be more to this story, as Marc Staal will eventually comment on the new sweater that he'll be wearing next season.
It should also be mentioned here, before I move on, that Steve Yzerman once used to be the GM of the Tampa Bay Lightning, a GM that Jeff Gorton had made a lot of moves with in the past. (That's why I feel Gorton won't offer sheet anyone from Tampa.) Perhaps this was a favor from Yzerman? If anything, based on recent history, we know that Yzerman & Gorton have a good relationship. Detroit adding Staal's cap hit should only better the relations between the two GM's.
---
Without question, this was a great trade for the Rangers. As the adage goes, "you root for the front of the jersey, not the back of it." That said, it's just human nature to have emotions for your favorite players, and/or players who were part of many huge moments for your team. Marc Staal is one of those guys for Ranger fans, despite whatever some jerkoff with a chart has to say.
While the #18 will never be raised into the rafters of M$G, Marc Staal is a slam-dunk candidate for my Rangers "Rink of Honor" idea. Similar to the great Rangers from those old Emile Francis teams, Marc Staal was part of a big era in Rangers history, which unfortunately, like the Emile Francis Rangers, never won the Stanley Cup.
Marc Staal played at a high level for many years, with an injury and a concussion in February of 2011 slowing him down a bit. While he lost a step or two over the years, it is arguable (and my opinion) that he was the best stay-at-home defensemen the Rangers had, after the Rangers moved on from long-term Rangers in Ryan McDonagh & Dan Girardi.
Anyone shit-talking Marc Staal right now is foolish. Unlike Henrik Lundqvist, Marc Staal never took a spot away from anyone when he was here. There was no one else who was out-playing Staal and deserved his playing time on the team. And even as Staal slowed down and went down to either the second or third defensive pair for the Rangers, it's not like the Rangers had a left-defenseman that was being screwed out of playing time by Staal. It should also be mentioned, that in his now final season with the Rangers, Staal was often on the ice against the top lines of the opposition.
I'd also add here, as I said a lot during the 2019-2020 season on this site, that without Marc Staal, Tony DeAngelo never has the career season he had. With Marc Staal staying back, TDA was allowed to run amok, and become the fourth highest scoring defenseman this season.
Marc Staal was part of many huge moments in Rangers history, including the deep playoff runs of 2012, 2014 and 2015. He was also a true leader and a great representative of the Rangers. Marc Staal deserves the highest of remarks from Ranger fans. While it is a shame that he will no longer be a Ranger, quite frankly, it was time. Even if Staal wasn't traded to Detroit, it was most likely that the Rangers would've moved on from him, at the conclusion of the 2020-2021 season.
---
I totally get the excitement from Ranger fans right now. This was an amazing trade, a trade that helps accelerate the rebuild. It's also a trade that will lead to a domino effect, as the Rangers lock up their RFA's and perhaps test the free agency market. However, it shouldn't be lost that Marc Staal was a great Ranger, a Ranger that should have the respect and admiration of every Rangers fan.
Often, when it comes to defensemen (just look at my recent rants on the Norris Trophy) defensive defensemen are overlooked. Marc Staal and his contributions to the Rangers shouldn't be forgotten. He was a key player during many great Ranger runs, and was a great person off-the-ice too, as he took part in many different charity drives.
While there is no way anyone could question Jeff Gorton here (everyone should be buying Gorton a steak dinner after this trade) Marc Staal's career with the Rangers should also be appreciated and commended.
In closing on Staal here, here is the best thing about him no longer being a Ranger – I'll never have to read some idiot spelling Staal's name as "Stahl", "Stoll" or "Stall" ever again!
Thank you Marc Staal & all the best.
---
As mentioned at the top of this blog, I wasn't expecting to do a blog tonight. It's nearly 3AM as I hit print on this, and I have a full day of fantasy football ahead of me! I just wanted to get something up here, as without doubt, this is a huge story. Expect a new blog to follow this one within 24-48 hours, as I'm sure we'll get more details about this trade, the NMC and comments from Staal. And hell, if you have any personal Marc Staal stories/memories, feel free to hit me up, and I'll post them on the next blog I do.
With an NHL off-day tomorrow, as a result of the Stars Game 5 victory over the Bolts on Saturday night, perhaps the Rangers could make more moves on Sunday. You know what player I'm watching here!
At this time, before wrapping up, let me do the PLUGS segment of this blog! Here are my last few blogs, in case you missed them:

---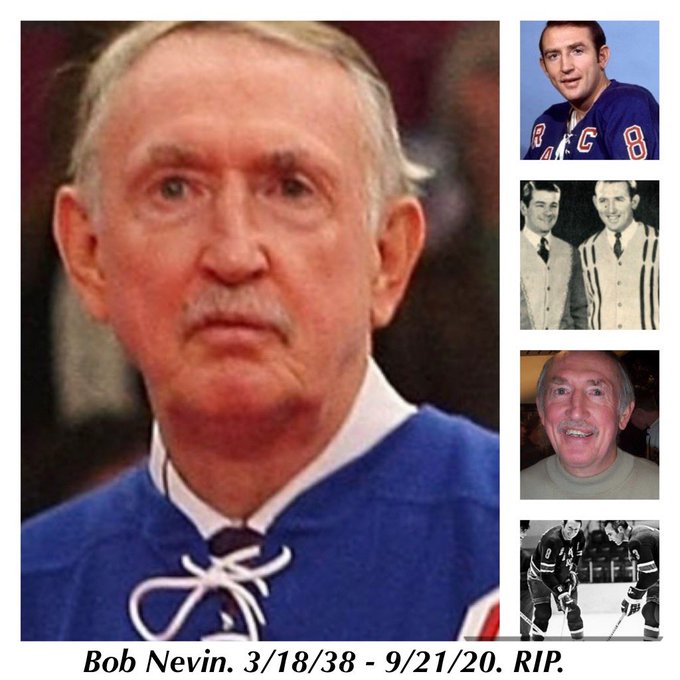 ---
---
---
---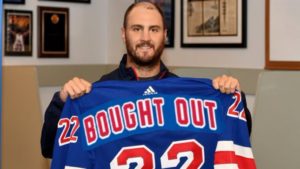 If you haven't already, subscribe to this blog for the next update:
Moving forward, I'm hoping for a quiet Sunday. I think I'll come back Monday night, barring something crazy happening on Sunday. I guess I should be happy that the Stars won on Saturday night, or else I'd be up until 5AM talking about the Stanley Cup Final, Ryan McDonagh and Kevin Shattenkirk! That said, whenever the Stanley Cup Final is complete, I'll have something up on this site about it.
As always here, thanks for reading and…
LET'S GO RANGERS!
LET'S GO BOLTS!
LET'S GO MCDONAGH!
NYR WILL DRAFT LAFRENIERE!
HI TRAVIS, I STILL HAVE TO DO A BLOG ABOUT THE STUFF YOU GAVE ME!
Sean McCaffrey
BULLSMC@aol.com
@NYCTHEMIC on Tweeter and on Parler