Greetings and salutations everyone and welcome to another blog here on BlueCollarBlueShirts.com. I'll probably say this a lot tonight and over the next few days (and maybe for the next few years too!) so let me kick off this blog by saying this – Ryan McDonagh is a Stanley Cup Champion!
Ryan McDonagh, a heart and soul Ranger and a casualty of both the Rangers salary cap & the Rangers rebuild, has now finally won the Stanley Cup. As I write these words right now, I couldn't be more happier for the guy.
In a career full of many heartbreaks and headaches along the way, in his second season removed from the Rangers, Ryan McDonagh saw his dream come true on the evening of September 28th, 2020, as he and the Tampa Bay Lightning defeated the Dallas Stars, in six games, to win the Stanley Cup Final. Have I mentioned that Ryan McDonagh is now a Stanley Cup champion?
I've said my long piece in the past about these 2020 Stanley Cup Playoffs. I won't do my whole spiel again here. I'll summarize what I've said in the past with this – these 2020 Stanley Cup Champions do not deserve an asterisk next to their name. While the "Covid Cup" jokes are humorous, these Tampa Bay Lightning shouldn't be the butt of anyone's joke, nor should this championship be diminished. In fact, I think you can argue that this was one of the hardest routes, that any Stanley Cup champion have ever had to go down. This Cup win was unprecedented.
Whether it were the strict confines of the bubble, not seeing your family for over two months and really, with the great unknown circumstances of this pandemic, the Lightning were able to overcome a ton of obstacles, while on their path of winning the Stanley Cup. And let's not forget that this was the same Stanley Cup, that has eluded this core of Tampa Bay Lightning for years. The "choker" label has now been erased.
From day one, and as I'll soon show you evidence of for the 789678678969th time on this site, I felt strong about the Tampa Bay Lightning winning the Stanley Cup this year, even going all the way back to September 3rd of 2019. As I'd say then, and then repeat all season long, is that I thought this 2019-2020 Tampa Bay Lightning team reminded me a lot of the 2017-2018 Washington Capitals team. You can read that blog here: https://bluecollarblueshirts.com/20192020/
After years and years of failing in the playoffs during many deep runs and despite winning a Presidents' Trophy along the way, just like the Capitals who once had the choke label affixed to them, Tampa Bay finally broke loose in these 2020 Stanley Cup Playoffs and are now the king of the mountain. Like the Capitals core that finally got the monkey off their back in 2018, here in 2020, Tampa Bay are no longer a "we did everything but win" team. This Tampa Bay Lightning core are now a group of winners. And no one, and I mean no one, is more ecstatic right now than Tampa Bay captain Steven Stamkos, despite his extremely limited availability in these playoffs.
Real quick here – if you want to know who the idiots are on social media, just search "Steven Stamkos" and "doesn't deserve". Even if Stamkos didn't play for less than three minutes in Game 3 of this series, there weren't that many people in all of the NHL, much less in that bubble in Edmonton, who deserved to win a Cup as much as him. While an injury prevented Stamkos from making a significant impact in these playoffs, as team captain, he was with this team every day in that bubble. The goal that Stamkos scored in Game 3 was just the cherry on top.
I have to admit, after the Lightning won the Cup and before they did their celebration, I was cheering and clapping on my couch, when I saw the Tampa Bay Lightning players welcome Stamkos to the ice, as Stamkos was the first Bolt to touch the Cup. Sure, while Andrei Vasilevskiy, Brayden Point & Victor Hedman were the true heroes of these 2020 Stanley Cup playoffs; the efforts of Steven Stamkos, who has been with the Bolts for twelve years now, were presented first row and center, immediately after the Bolts Cup clinching victory. For life-long Bolt fans, this moment had to be epic.
While this is a Rangers blog and I'm a Rangers fan first, as a hockey fan, I thought this was amazing. It's one of those hockey moments no one will ever forget anytime soon. It's just like the Alex Ovechkin celebration that preceded this celebration by two years. For fans of the Tampa Bay Lightning, you'll never forget this moment. It was an act of pure class from the teammates of Stamkos. It was also an emotional moment for all that were involved and for all the fans who were invested in these Tampa Bay Lightning.
There's so much to get into tonight, from the ex-Ranger connections on the Lightning, the Lightning themselves, the NHL playoffs as a whole, where the NHL goes from here and so much more. I also want to add, that I find some sort of cruel irony for Marc Staal, who was just traded by the Rangers on Saturday, and then a few days later, one of his long-time teammates, in Ryan McDonagh, goes on to win the Stanley Cup. That's business.
Speaking of Marc Staal, what a perfect time to work in the PLUGS segment of this blog! Before wrapping up on the 2019-2020 NHL regular season, here's my blog on Marc Staal and all of my other most recent blogs, in case you missed them:
---
---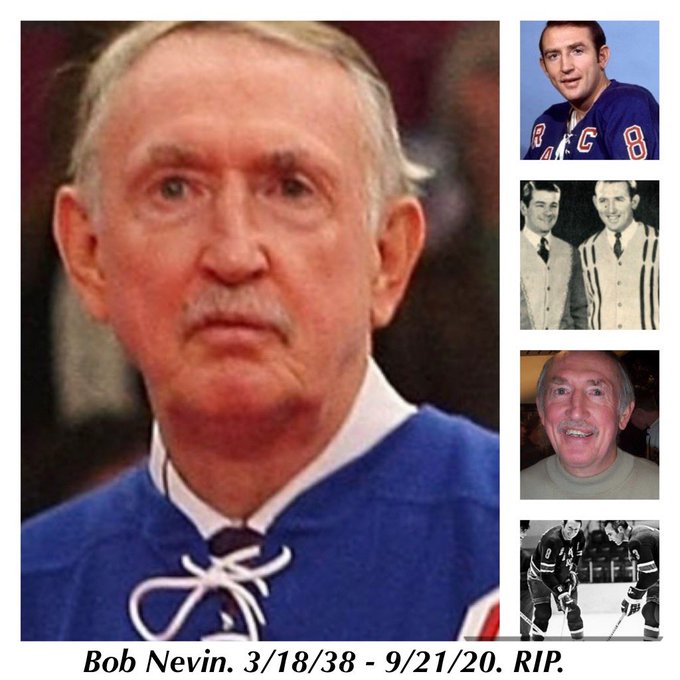 ---
---
---
As a Rangers fan, I've been pulling for Tampa Bay in these playoffs ever since they knocked off Columbus. When the Bolts made the ECF, I became the biggest Bolts fan you'd ever see, as they were the only team left to prevent the Islanders from making the Stanley Cup Final! For regular readers, you may remember this horrible photoshop made by yours truly:
I guess I'll start off with the ex-Ranger angle here, get into everything else and then tie a bow on all of this, with the ex-Rangers stuff. After all, that's what I'm most giddy about right now anyway! Ryan McDonagh is a Stanley Cup Champion!
If you're a regular reader here, or just follow me on social media, most of you know me as the "Cam Talbot" guy. Lost in that fact sometimes, is that I'm also a Ryan McDonagh guy. I hated, hated and did I mention HATED, when the Rangers traded him. That said, I also understood the trade. It's a business. It was the Rangers way of saying that they'd rather to continue to lose with Henrik Lundqvist, rather than invest long-term in a defenseman, that age-wise, would be at the wrong end of his 30's. For the Rangers, was moving on from Ryan McDonagh the right move? Perhaps. However, in what we know now, Tampa Bay investing in Ryan McDonagh was definitely a wise move.
When the Rangers sent out their rebuild letter in February of 2018, it signaled the end of many long-term Rangers. Some Ranger fans may argue that the first domino fell in the off-season prior to the letter, when the Rangers said goodbye to alternate captain Derek Stepan. However, when the Rangers sent away Ryan McDonagh, and to a lesser extent, JT Miller too, the letter became real. The Rangers were going to enter a new era in franchise history.
When the Rangers dealt Ryan McDonagh to the Tampa Bay Lightning, McDonagh had one year left on his contract. If McDonagh fulfilled his entire contract with the Rangers, he would've been an unrestricted free agent at the age of 30. For the Rangers, they knew that they weren't going to renew Ryan McDonagh. After all, McDonagh would be seeking a long-term contract and when it comes to NHL defensemen, not many continue to play at a peak level after they turn 30. In addition, not many defensemen remain in their prime after playing for John Tortorella, a coach that McDonagh spent many years with.
McDonagh, who had a modified no-move clause in his Rangers contract, waived that NMC when he heard that Tampa Bay was one of the teams interested in him. Even better, McDonagh's long-term partner of the blue-line with the Rangers, in Dan Girardi, was with Tampa too. In addition, McDonagh's former captain with the Rangers, and the man McDonagh succeeded as a captain with the Rangers, in Ryan Callahan, was also in Tampa. For McDonagh, it was a perfect fit. There was a sense of familiarity in Tampa.
For Ranger fans, prior to these playoffs, Ranger fans had an incentive in rooting for Tampa to win the Cup, during the past two seasons. Not only would ex-Rangers in McDonagh, Girardi, Miller, Callahan and Anton Stralman be on a potential Cup winning team, but had the Bolts won the Stanley Cup in either 2018 or 2019, the Rangers would get Tampa's first round pick of that year's draft. For the Bolts & the Rangers, it was never meant to be.
In the 2020 playoffs, while there was no longer a draft pick hanging in the balance, come the Eastern Conference Final, it behooved every Ranger fan to root for the Bolts, as the Bolts took on the dreaded Islanders. Plus, while both Girardi & Callahan had retired, JT Miller went to Vancouver & Stralman flew south to Sunrise; the captain, in Ryan McDonagh was still there. Ironically, also along for the ride was Kevin Shattenkirk, a Shattenkirk I'll soon get into on this blog.
McDonagh, who was dealt to Tampa at the trade deadline of the 2017-2018 season, would team up with Dan Girardi again. The Lightning, who perhaps featured the sexiest roster in all of hockey, with guys like Stamkos, Kucherov, "The Triplets", Hedman and others, were thought to be the favorite to win the Stanley Cup in 2018. However, just like they did two years prior, during the 2016 playoffs, the Bolts were ousted in Game 7 of the 2018 Eastern Conference Final. It was heart-break again. For Ryan McDonagh, this was another dagger, as it were these Lightning of Tampa that eliminated the Rangers in seven games during the 2015 Eastern Conference Final. Like the 2018 Lightning, those 2015 Rangers were also the favorite to win the Stanley Cup. It never happened.
Ryan McDonagh, who for those wondering, has the same June 13th birthday as me (I'm 7 years older) got the long-term contract he wanted, just a tad over two weeks after his 29th birthday. On July 1st, 2018, McDonagh signed a seven year deal with the Lightning, worth $47,250,000, which breaks down to $6,750,000 per year.
This long-term contract, and this near $7M salary cap hit, was something the Rangers were just not interested in giving to their former captain. For McDonagh, this contract, given to him from the Bolts, was a huge home-run, because not only did he stay with a contending team, he also signed this mega-deal without having to worry about state income taxes. The same contract with NY would've been less dollars in McDonagh's pocket. (Refer to my past blogs on this site on why I think the NHL needs to amend their salary cap structure, in order to off-set the advantages no state income tax teams have over heavily taxed state/province teams.)
For the Lightning, they aren't stupid. They know that defensemen, especially one that took the beating that McDonagh took in his prime, regress rapidly with age. However, the Bolts were all in on a Cup run and going into the 2018-2019 season, it was going to be now or never.
The 2018-2019 regular season for the Bolts was a magical one, as they smashed and set many records along the way. However, when it mattered most, the Bolts choked in the playoffs that year, as they were swept by the Blue Jackets in the first round of the 2019 playoffs. For all of the success the Bolts had in the regular season, it meant nothing at playoff time. Also of note here, the 2018-2019 season marked the last year of McDonagh's contract with the Rangers, as his new contract with Tampa would begin in the 2019-2020 season.
In the off-season prior to the 2019-2020 season, McDonagh said goodbye to all of his old Ranger pals, while a new acquaintance, in Kevin Shattenkirk, came to the Bolts, fresh off a Rangers buy-out of his contract. Perhaps with less pressure on their backs after their record setting regular season, the Bolts were more relaxed. In addition, the Bolts added some sandpaper types to their team, realizing that just pretty goals weren't going to get the job done in the playoffs.
As we'd all see, after a strong regular season, and in the aftermath of the NHL pause, due to the pandemic, the Bolts would go on to win the Cup. After going all-in on Ryan McDonagh, in addition to giving goalie Andrei Vasilevskiy a mega-deal that goes into effect next season, the Bolts accomplished their goal and won the Stanley Cup on September 28th.
Would the Bolts have won the Cup, had they not had Ryan McDonagh on their roster this season? It's debatable. What is a fact, is that the Bolts did indeed win the Cup in 2020. Whatever happens now until the summer of 2026, which is when McDonagh's contract expires, won't matter. There will be no buyer's remorse. McDonagh and these Bolts will go down as Stanley Cup champions, even if this McDonagh long-term contract was risky. McDonagh, while he will always invoke fond memories for the Rangers, will perhaps now illicit stronger memories for Bolt fans. It's all well-deserved.
At this time, before getting into everything else, let me give you my final review of the SCF and look back at my Stanley Cup Playoff prediction record!
Going into this final round of the playoffs, here was my prediction record:
NHL PLAYOFFS PREDICTION RECORD: 10-12.
QUALIFYING ROUND: 3-5
FIRST ROUND PREDICTION RECORD: 4-4.
SECOND ROUND PREDICTION RECORD: 2-2.
CONFERENCE FINAL ROUND PREDICTION RECORD: 1-1.
To read my full preview of the 2020 Stanley Cup Final, check out this blog: https://bluecollarblueshirts.com/91820/
Lastly, before getting into my final thoughts of the Stanley Cup Final, I have to pat myself on the back here and give myself a self-high five here as well! If you check out my Stanley Cup Final preview blog, I predicted the Bolts to win this series in six games. They did just that. In other words, my final NHL Playoffs Prediction record finishes at 11-12. That damn qualifying round cost me a shot of finishing over .500!
Similar to the start of the ECF, the team that had the longer break won Game 1 of this series, as Dallas gave Tampa a shock, winning that game by a final of 4-1. If anything, Tampa realized that Dallas were not similar to any other team they've seen in these playoffs, until this point in time. Both the Islanders & Blue Jackets played a defensive style, a brand of hockey where these teams would score goals off of strong defensive play. While the Bruins were able to combine offense and defense, they were also old and without their starting goalie. Tampa handled the Bruins with ease. The same wouldn't apply to the Stars, a team that could both score goals and clamp down defensively. It also didn't hurt Dallas that goalie Anton Khudobin, who would've won the Conn Smythe had Dallas won the Cup, was playing at a level that was never before seen from him.
In Game 2 of the series, the Bolts would edge out the Stars by a score of 3-2. As it would be for most of this SCF, both goaltenders were simply phenomenal, as Andrei Vasilevskiy and Anton Khudobin put on shows. However, as the series progressed, even with Vasilevskiy playing every minute of these playoffs for Tampa, it would be Khudobin, who was never a starting goalie until the injury to ex-Bolt Ben Bishop, wearing down first.
Game 3 was perhaps the most emotional and best game of this series for Tampa, as all of their name players showed up and scored, including Steven Stamkos, returning from injury. While Stamkos only played three minutes in that game, and would never return again, his presence provided an emotional lift, as Tampa destroyed Dallas to the tune of 5-2. This win would give the Bolts a 2-1 lead in the series.
Game 4 of this series was a marathon, as each goalie showed they were human, giving up four goals a piece in regulation. In overtime, it would be Kevin Shattenkirk, who just had an amazing run with Tampa this year, scoring the ninth and final goal of this game, giving the Bolts the 5-4 victory and the 3-1 series lead. Tampa could smell the Cup.
With their backs against the wall, in Game 5 of this series, the Stars beat the Bolts 3-2, in a game that went to double overtime. For the Bolts, who have been so close before, they failed to win the Cup in this potential clinching game. For the Stars, after this game, all they needed to do was win the next game and then it would be anyone's series in Game 7. However, that moment never came.
In what turned out to be the final game of this series, the sixth game between these teams, the Bolts came out looking for blood. The Bolts would own this game. Brayden Point, as he did throughout these playoffs, scored another important and game winning goal. However, this GWG came at the 12:23 mark of the first period. Blake Coleman would add a second goal, an insurance goal, at the 7:01 mark of the second period. The Bolts never looked back, as Andrei Vasilevskiy would log 22 saves in his 2-0 shutout of the Stars. While 22 saves sounds like a good night at the rink, the fact of the matter is the Bolts limited the Stars to 8 shots in the first forty minutes of this game. That said, in crunch time, and with the game on the line, Vasilevskiy was an absolute beast, perhaps showing the hockey world why he got that 8 year contract worth $76M overall, prior to the start of this season.
While the Game 3 5-2 victory will go down as a huge win in the history of the Lightning, it was the defensive effort, and the way the Tampa offense kept Dallas away from the puck, in Game 6 of this series, that may have been the most impressive showing that the Bolts displayed in all of this series.
---
As you'd imagine, when you look at the roster of the Bolts and their organization as a whole, there are a lot of winners here.
For starters, you could make cases for Victor Hedman, Andrei Vasilevskiy, Nikita Kucherov & Brayden Point, when trying to figure out who to give the Conn Smythe to. While Hedman ultimately won it, and he deserved it as much as anyone, Vasilevskiy was a complete stud in these playoffs. As I've said numerous times, I think Vasilevskiy gets lost in the shuffle a bit, because of all the high-octane offense in Tampa, including Hedman, a defenseman, himself.
Kucherov & Point finished 1-2 for most points of these playoffs, with 34 points and 33 points respectively. Point had the most goals of these playoffs, including several game winners, finishing with 14 goals overall. Kucherov led the league with the most amount of assists in these playoffs, totaling 27 apples.
Elsewhere on the Tampa roster, the two other members of the "Tampa Triplets", which includes Kucherov himself, in Ondrej Palat & Tyler Johnson, also got their names on the Cup. While Johnson wasn't as impressive as he once was in 2015 (groan), Palat certainly was.
Patrick Maroon, "bolting" from his native St. Louis and that epic Cup win from last year, becomes another name in NHL history to win a Cup in consecutive years with different teams. He also had a solid playoffs. Other sandpaper types, like Zack Bogosian, Erik Cernak, Cedric Paquette and Braydon Corburn, all made an impact on these playoffs too.
Homegrown talent, like Yanni Gourde & Alex Killorn are now Cup Champions. Mikhail Sergachev, originally drafted by Montreal and came over to Tampa, also is a Cup Champion. This is the same Sergachev the Rangers wanted in the McDonagh deal, but Tampa told the Rangers there was no way they were trading this kid. Instead, the Rangers got Brett Howden. Smart move by Tampa!
Perennial back-up goaltender, in Curtis McElhinney, is now a Cup champ. McElhinney, who is 37 years old and has an NHL jersey collection big enough to open up his own store on Fanatics, now has a story for his family for future generations.
But it doesn't end there.
---
For Tampa Bay head coach Jon Cooper, the coach behind the bench for the Bolts for the last seven seasons, and who has been there for a Presidents' Trophy win and during many ECF appearances, is now a Stanley Cup champion. It was argued, had the Bolts failed to win the Cup this season, and with a roster blow-up imminent, that his future was in question. Instead, with this Cup victory, Cooper will continue his status as the longest tenured coach in the NHL today.
When you look at the General Manager position, Julien BriseBois, named executive of the year in 2020, adds the hardware to his name. Steve Yzerman, who really assembled the nuts and bolts of this team, before departing to Detroit this season, also deserves mention. He built this core. He built a winner. This should create hope in lowly Mo-town right now.
And of course, the one name I haven't looked at yet is this guy: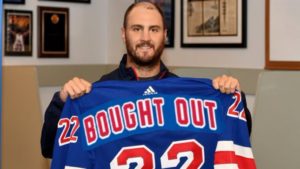 When it comes to Kevin Shattenkirk, I've already done a full-length feature blog on him. You can find it here: https://bluecollarblueshirts.com/811b9/
Listen, I truly understand why Ranger fans are pumped up about Ryan McDonagh right now. I'm one of them. However, for some Ranger fans to disparage the good name of Kevin Shattenkirk right now, well to me, that's foolish.
As I've said repeatedly on this site, Shattenkirk's run with the Rangers was the purest example of Murphy's Law possible. Anything that could go wrong, went wrong. From trying to prove that he was worth the money he was earning, to playing while hurt, and signing with a team that was supposed to be a contender, Shattenkirk and the Rangers could never reach the heights they both richly sought.
What really gets lost by all Ranger fans is this – Shattenkirk gave up $25M-$30M guaranteed, by signing his deal with the Rangers. The hometown deal Shattenkirk gave to the Rangers completely backfired on him. (And while yes it was a big deal, it was a hometown deal regardless, as Shattenkirk could've got more money and more term at the time.)
While not many will cry over a player who's made more money then he could ever spend in a lifetime, Shattenkirk didn't maximize his potential earnings when he gave the Rangers that hometown deal. However, for Shattenkirk, who certainly is well off financially in life, here's a fact for you – Shattenkirk basically gave up at least $25M in career earnings when he gave NYR that hometown discount. However, at the present time, Shattenkirk is certainly smiling right now, as he's still a rich man, but at this point moving forward, he's now a rich man with a Stanley Cup to his name.
If Kevin Shattenkirk was an asshole, I could understand the disdain for him by Ranger fans. However, Shattenkirk is the furtherest thing from being an asshole. He did everything he could to embrace himself to Ranger fans, but as I've said, anything that could go wrong for him here went wrong for him here.
In perhaps in some form of poetic justice, after telling everyone how hurt he was after being bought out by the Rangers (his buddy David Quinn, who attended his wedding, didn't even give Shattenkirk a hint about the buy-out that was to come) the Rangers actually paid Kevin Shattenkirk to win the Stanley Cup with Tampa this year. How's that for a story that has now come around completely?
Kevin Shattenkirk, who earned $6,650,000 from the Rangers this year, and who will be paid $6,650,000 next year by the Rangers, took a chance on himself after his buy-out from the Rangers, and signed a one year deal for $1,750,000 with Tampa Bay for the 2019-2020 season. So not only did Shattenkirk get his money from the Rangers, Shattenkirk wound up earning $8.4M overall this year. And he got the Stanley Cup to boot. Not too shabby! Even better for Shattenkirk, he played extremely well in these playoffs, and should earn a lot more than the $1,750,000 he got from Tampa this year. That said, with the Rangers money coming in next season, perhaps Shattenkirk will remain in Tampa, as it seems like a great situation for him.
---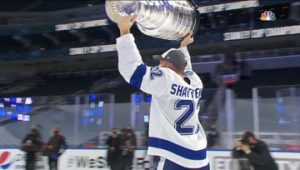 As we all know by now, 2020 is unlike any other year. Not only did Tampa not get a chance to celebrate in front of their fans, who knows what the victory parties and parade will be like? Perhaps the Lightning can say they are having a peaceful protest, and that will allow them to have their celebrations! I'm sure even with Covid-19, Ferguson's, a bar outside of the Amalie Arena, was rocking!
While I'm a Rangers fan and what Tampa does next doesn't effect me, it should be mentioned that Tampa's celebration will be short-lived. With the next few weeks having a ton of deadlines and dates effecting rosters for next season, Tampa, who will have cap issues next season, will have a ton of issues to address, including their homegrown centerman in Anthony Cirelli. As mentioned in the past, Cirelli is a RFA that's due for a heavy raise, and a name that the Rangers may be interested in. (Refer to my last few blogs for more on this.)
The Bolts have a bunch of free agents, both of the unrestricted and restricted variety, to address. All of these free agents will want pay-raises after this run. If Tampa has anything good going for them here, it's the fact they play in a no-state income tax state, which makes them attractive to free agents. Plus, coming off a Cup victory will help matters too.
While retaining Vasilevskiy helps the Bolts, he will now get a $6.1M raise. You already know my thoughts on paying goalies insane money. Not one Top 5 paid goaltender in the salary cap era has ever won a Stanley Cup. Will this curse continue for Tampa? Or will Tampa break this curse, just like how Shattenkirk broke his curse, of being a guy who saw his former teams win Cups after trading him? (Hopefully NYR are next!)
---
For the Stars, who definitely over-achieved and shocked some people with this run, they will have their own cap issues too. Captain Jamie Benn, who was crying and pretty much speechless after Game 6, may never see his Stars back in the SCF again. The Stars have a ton of UFA & RFA issues to address with their roster, with Corey Perry, Radek Faska, Roope Hintz, Mattias Janmark, Denis Gurianov, Andrej Sekera, and the biggest name of this list, in Anton Khudobin, to deal with. Goalie Ben Bishop is also on payroll for the next three years, eating up nearly $5M of cap room too. As we saw, Bishop wasn't needed for this run.
As I've said a lot recently, with the SCF now over, expect a ton of roster moves, from all 31 NHL teams, in what will feel like a series of "July 1st's".
---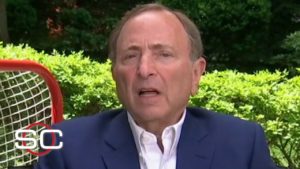 In concluding my thoughts on the 2020 Stanley Cup playoffs, I would like to once again congratulate and thank Gary Bettman, the NHL, the NHLPA, NBC, SportsNet, the arena crew, the players and everyone else involved with making these 2020 Stanley Cup Playoffs happen. The NHL did something like 33,000+ Covid-19 tests during these playoffs and not one person tested positive. There were no issues. That's a major feather in the cap of the NHL.
While this may not be a popular opinion, and maybe it's because I'm home more because of this pandemic, I really thought these playoffs were the best NHL playoffs in some time. I say that, because due to the pandemic, I was pretty much able to watch every game, something I wouldn't be able to do under normal conditions. These playoffs were exciting and needed.
A special stick tap goes to both Kenny Albert and Pierre McGuire, who called three games in a 13 hour time period. Talk about going above and beyond. The pair even called two separate Game 7's, during the second round of the Western Conference playoffs.
The NHL is going to go bonkers these next few weeks, with the NHL draft, free agency and buy-outs. However, the 2020 Stanley Cup Playoffs, the hardest thing to pull off, has now been pulled off, and with great success. Kudos to everyone who made it happen. This hockey fan is more than grateful.
Let's now close out this blog with some Rangers news & notes. However, before doing so, one last time for now – RYAN McDONAGH IS A STANLEY CUP CHAMPION!
---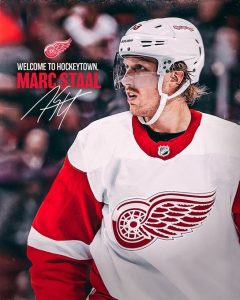 When it comes to the Rangers trade of Marc Staal, there isn't much else to report here. Marc Staal still hasn't commented on this trade, nor have the details been released about him waiving his NMC. The only other news coming out of this trade, aside from this picture above, is Jacob Trouba and Tony DeAngelo added more comments about this move.
Using Twitter, DeAngelo said, "Sad to see Marc leave. One of the best teammates/guy I've ever played with. On the ice as D partners and off the ice. Legend! Won't b the same without this beauty."
Also using Twitter was Trouba, who said, "Incredible leader and teammate."
Once again, all the best to Marc Staal, and refer to my blog linked above, for more on this trade.
---
In an interview with Mattias Ek, of the Hockey News website in Sweden, Henrik Lundqvist's twin brother, in Joel Lundqvist, commented and nixed a potential Frolunda return of his brother. You can read the full interview (in Swedish) here: https://hockeynews.se/articles/16155/
Using Google translate here, which means the translation may not be a 100% word-for-word translation, Joel Lundqvist said the following, when asked about Henrik & a return to Frolunda for the 2020-2021 season:
"No. That door is closed. I can say that. It's not going to happen. There is a lot that comes into play in such a decision. I get that question constantly and just to kill speculation and other things, that's not going to be the case."
As anyone with a brain knows, it's expected that the Rangers will buy-out Henrik Lundqvist. Check out my last blog for more on this. If anything, once Henrik Lundqvist returned to New York at the start of this month, I think that pretty much killed any idea of Henrik returning to Frolunda.
---
These Jack Eichel to NYR rumors have been all over social media as of late. Bob McKenzie decided to do some digging. Rather than re-writing what's already out there, here's this article from https://www.nhl.com/news/sabres-jack-eichel-trade-request-report/c-319217950:
Jack Eichel has not asked to be traded and is preparing to play for the Buffalo Sabres next season, his agent said Monday.
"I hear that (trade talk) a lot," Eichel's agent Peter Fish told reporter Bob McKenzie. "Jack wants to win, he's frustrated (not winning) but, no, he doesn't want out. Jack is preparing to head to Buffalo at some point here and prepare for the season, whenever that may be. That's all he controls."

The 23-year-old center has played 354 games for Buffalo since it selected him No. 2 in the 2015 NHL Draft. The Sabres (30-31-8) finished 13th in the Eastern Conference this season and extended their Stanley Cup Playoff drought to nine seasons, the longest active streak in the NHL.

"Listen, I'm fed up with [losing]," Eichel said in May. "I'm fed up and I'm frustrated … I'd be lying if I said I'm not getting frustrated with the way things are going. … It's definitely not an easy pill to swallow right now. It's been a tough couple of months, it's been a tough five years with where things have went."

Kevyn Adams was hired as Sabres general manager on June 16, replacing Jason Botterill.

"Had a great call with Jack this morning just to start to talk to him a little bit," Adams said then of the Sabres captain. "I'd be lying if I didn't tell you after a few hours on the job that the (to-do) list is long. You can only tackle one at a time."

Eichel has six seasons remaining on an eight-year, $80 million contract ($10 million average annual value) he signed Oct. 3, 2017.

"I'm a competitor," he said. "I want to win every time I step on the ice. I want to win the Stanley Cup every time I start a season. I've already started to prepare for next season. I'm already back on the ice, I've already started training to try to better myself for next season, whenever that is."

Eichel scored 78 points (36 goals, 42 assists) in 68 games, including a 17-game point streak from Nov. 16-Dec. 17 (16 goals, 15 assists), the longest in the NHL this season. His goals were an NHL career high, and he was four points from his high in points (2018-19).
As it looks right now, Eichel is staying put in Buffalo. While who knows if anything changes from now to the start of the 2020-2021 season, it looks like the Rangers will have to look elsewhere for center help.
---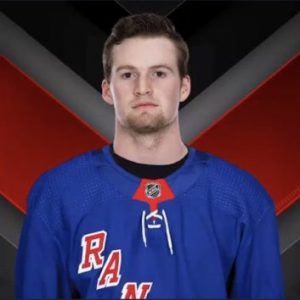 On Tuesday, October 6th, the Rangers will make it official, and will select Alexis Lafreniere with the number 1 overall pick of the 2020 NHL Draft. You can expect a blog about that pick once it happens! There's so much to be excited about in Rangerstown, USA, and Lafreniere will be the crown jewel story next week.
While there is no way in hell the Rangers are trading this first overall pick of the 2020 NHL Draft (despite what some idiots may lead you to believe) the Rangers may explore trading the #22 overall pick of that draft. We'll see!
Lastly, as far as when Lafreniere will make his Rangers debut, that question is still up in the air. No one knows for certain. It's being reported that the NHL has looked into different scenarios, such as a worst case, medium case and a best case scenario. Both the dates of 12/1/20 and 1/1/21 have been suggested for the start of next season.
What is 100% known, is that the NHL wants to play as many games as possible in front of fans. However, like every other entity, the NHL can't predict the future. One idea that is being explored, is the idea of a hybrid bubble season, where the league starts the 2020-2021 season in bubble cities, but eventually opens up in front of fans. Again, no one knows what will happen for sure, so I'm not going to worry about this stuff until the NHL makes some sort of official announcement. Once something is official, I'll report back to you.
---
If you haven't already, subscribe to this blog for the next update:
Moving forward, outside of the promised 1988-1989 Rangers blog, I'll be back later this week, most likely recapping the latest episode of the "Watch Your Tone" podcast. I'm also crossing my fingers for the news of the official end of the Lundqvist era too!
I do want to make mention here, because I had some people ask me about this (especially since I've made it known that the Guy LaFleur & 1988-1989 Rangers blog is already "in the can") – I have not written one word in advance, about what I hope to be, the end of the Lundqvist Era. I feel my best writing, (at least when it comes to current events, because this LaFleur blog is amazing) is when I'm in the moment. That's why I write these blogs into the late hours of the night.
It is my opinion, when writing, for anyone, myself included, that you lose emotion and real feeling when you try to predict an event. After all, I thought Tampa was going to win the SCF prior to puck drop of Game 1. I felt really strong about Tampa winning the SCF after Game 5. However, I waited until the SCF was over before doing this blog. It's always better to write in the moment. In addition, I didn't want to mush anything!
I'll see you later this week for sure!
As always here, thanks for reading and…
LET'S GO RANGERS!
RYAN McDONAGH IS A STANLEY CUP CHAMPION!
CONGRATS SHATTY!
HI TRAVIS, I STILL HAVE TO DO A BLOG ABOUT THE STUFF YOU GAVE ME!
Sean McCaffrey
BULLSMC@aol.com
@NYCTHEMIC on Tweeter and on Parler