Greetings and salutations everyone and welcome to another blog here on BlueCollarBlueShirts.com. Let me start off tonight's blog by saying this – I did predict the Rangers to win this series in 5 games, so we're not dead yet. Come on everyone, say it loud and say it proud – "HEAVE HO, THREE IN A ROW!"
Despite my half-hearted attempt of opening up this blog optimistic here, after watching the Carolina Hurricanes 4-1 win over the New York Rangers on Monday afternoon, right now, I truly feel like Krusty The Clown from "The Simpsons":
After all the ballyhoo and good vibes about the Rangers returning to action, within a quick 48 hour time period, all of the "WHY NOT THE RANGERS!?" thoughts have now quickly turned into, "WHY, THE RANGERS, WHY?!"
In Game 2 of this series, while the Rangers played their best hockey in this "Age of The 'Rona", during today's first period; today's loss was more of the same, from the Game 1 loss from this past Saturday.
Once again, just like in Game 1, Carolina dictated the pace and tone of this game. The Rangers couldn't get much going. Carolina had the better goaltending. The Rangers, while actually scoring a power-play goal in this game, which was of the five vs three/two man advantage variety, are still without a power-play goal during the traditional five vs four/man advantage. In addition, in now 120 minutes of hockey played, the Rangers only have one even-strength goal in the series, a goal which came after a deflection & a screen.
While I will get into Henrik Lundqvist and the goaltending soon enough in today's blog, truth be told, the team can't score. If you can't score, you can't win. That said, the Rangers really needed a lead and a break today, and all of these patented early period goals that Lundqvist gives up doesn't help matters.
Making matters worse for the Rangers, is the fact that there's barely been any stretches of time, where the Rangers controlled the tempo and puck in these games. Simply put, as I originally feared in my Rangers vs Canes series preview blog, the overall roster depth & experience of the Canes are taking over the series. Unfortunately, and not as I predicted, Carolina's top players, in Andrei Svechnikov and Sebastion Aho, are out-playing the Rangers top two players, in Mika Zibanejad & Artemi Panarin. And oh yeah, there's an APB out there, concerning the whereabouts of Chris Kreider too.
Before getting into everything concerning today's 4-1 Game 2 loss to the Carolina Hurricanes, here's my Game 1 review and my other most recent manifestos:
---
---
---
---
---
On Sunday afternoon, the day in-between Games 1 & 2 of this series, after the Rangers practice, the Rangers announced the following: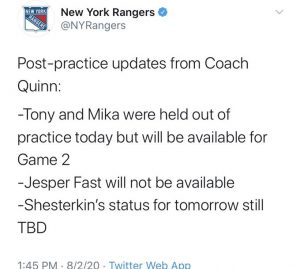 As stated in the Rangers tweet, both Mika Zibanejad and Tony DeAngelo did wind up playing in Game 2. Jesper Fast did not. With Fast unavailable, the Rangers allowed Steven Fogarty & Vitali Kravtsov to practice with the roster. Here's what I said on Twitter about this:
It's going to be Fogarty, but Vinni Lettieri should've got the nod for Game 2. He has the most offensive skill of the extras & #nyr needs scoring. Plus, he never threw a tantrum about being in Hartford all year either. If he was a draft pick, he probably would've been considered. pic.twitter.com/8XzxuXyiGV

— BlueCollarBlueShirts (@NYCTheMiC) August 3, 2020
I'm not going to bore you with another one of my long-winded diatribes about why I'm a fan of Lettieri and why I want him to get a shot, but really, outside of the fact that Steven Fogarty is a penalty killer, what did he do in any of his games with the Rangers this season?
While I wouldn't advocate for a call-up of Kravtsov, just because he is still too new, didn't have a great season, was a crybaby, doesn't 100% grasp the Rangers systems and you just don't want to throw him into the fire; I would've much rather seen Kravtsov get the nod over Fogarty. My reason for this feeling is simple, as it goes back to what I've been saying about Lettieri – the Rangers need offense.
Trust me, I am fully aware that the Rangers top players must step up in this series. A fourth liner playing less than 8 minutes a game isn't going to swing this thing. However, with the Rangers just putrid at scoring goals, ever since arriving to Toronto; I'll take offense from anywhere I can get it.
The other big news, and perhaps the biggest pregame news item, was the situation surrounding CZAR IGOR.
---
For the second straight game in a row, CZAR IGOR was ruled "unfit to play". "Unfit to play", may be the three words that we, as Ranger fans, remember this series as, as time moves along.
I don't think I have to rehash all of this for you, as you can just check the main page or the archives of this site for more on this, but I was extremely excited about the Rangers chances of winning this series, prior to puck drop of Game 1. However, Igor, who has some sort of injury and not anything corona related, has not been able to play in this series. It truly is a shame we aren't being told what's going on with Igor, but that is how the NHL wants it, even though the NHL, the Rangers & the MSG Networks will plaster gambling ads over every broadcast, as they once again did today:
As I said after Game 1, and as I'll say here with Game 2, I had no problem with David Quinn going with Henrik Lundqvist in net. As I've been saying ever since mini-camp started, Alexandar Georgiev was the odd-man out. He could've had a mini-camp that made him look like the second coming of Dominik Hasek, while Lundqvist & CZAR IGOR could've looked like Rick Dipietro and it wouldn't have mattered – Georgiev was never going to get a chance.
Once DQ came to that decision, which started during the final day of mini-camp in NY and was then cemented when only Lundqvist & CZAR IGOR were dressed in the Rangers exhibition game loss to the Islanders; Quinn had to go with Lundqvist for Game 1, once CZAR IGOR was ruled out. Between Lundqvist and Georgiev, Lundqvist was the only one to have "real-game" experience, in this new era of the NHL. Furthermore, Lundqvist had the playoff experience and great history against Carolina too. In other words, I can't knock DQ for going with Lundqvist for either of these games.
What I will say is this, DQ wanted to start CZAR IGOR for this series. That statement has been confirmed, by both Quinn and Lundqvist. Like yours truly, many of you agree with me, when I say that CZAR IGOR gives the Rangers the best chance to win. In addition, CZAR IGOR is much better at handling the puck than Lundqvist, which helps the Rangers, especially against a heavy forechecking team like Carolina.
And let's not forget this either – ever since Lundqvist signed that ridiculous contract, for whatever reason (and I've explored this topic in the past, on numerous blogs, so check out the archives of this site for a more in-depth look) the Rangers just play better whenever Lundqvist isn't around.
While who knows how this series would've played out, had CZAR IGOR been able to play; with CZAR IGOR out, it does allow the mind to wander a bit. In my opinion, the injury of CZAR IGOR is the latest "WHAT-IF" injury, in NY Rangers history.
For those who need a history lesson or explanation here, let me expand my thoughts here.
While every NHL team suffers injuries and ailments during the course of the playoffs, the two most famous, or should I say infamous here, injuries in Rangers history, are the ankle injuries of Jean Ratelle in 1972 and Ulf Nilsson in 1979. And if you know your history, in both the 1972 and 1979 seasons, the Rangers made it all the way to the Stanley Cup Final, before taking the loser's share of the purse.
With 15 games remaining in the 1971-1972 season, Jean Ratelle's ankle was hit by a slap shot from Dale Rolfe, of the since been folded California Seals. At the time, Ratelle was challenging for the league scoring title and was arguably the best Ranger on a team full of future Hall of Famers. While Ratelle would be able to return for Game 1 of the 1972 Stanley Cup Final, he wasn't at 100%. The Rangers lost the series to Boston in six. When the series was complete, all Ranger fans could do at the time, and as many old-timer fans still do today, was wonder – would have the Rangers won the Cup, had Ratelle been 100%? It's a question we'll never know the answer to.
(And really, to make matters worse, this Stanley Cup Final appearance was the peak of the Emile Francis era of Rangers, an era which included talent like Rod Gilbert, Brad Park, Vic Hadfield, Eddie Giacomin and others. That's what makes this injury sting even more.)
---
While not as severe as the 1972 Ratelle injury, during the 1978-1979 season, Ulf Nilsson injured his ankle after taking a hit from Denis Potvin. As a result of the hit, Nilsson's ankle fell into a rut of the M$G ice, which in turn, not only derailed Nilsson's season, but led to the famous chants of "POTVIN SUCKS", chants that still continue to this day.
Like Ratelle, Nilsson would gut it back and return just in time for the Stanley Cup Final. However, he wasn't the same player and the Rangers lost that 1979 Stanley Cup Final in five games, to the Montreal Canadiens.
Obviously, the Ratelle & Nilsson injuries were more severe and more impactful than whatever CZAR IGOR is going through right now. In addition, it's not like the Rangers were strong Stanley Cup contenders going into these 2020 Stanley Cup playoffs, unlike the Ranger squads from 1972 and 1979. That all said, one can only wonder, WHAT IF – as in what if CZAR IGOR was 100% healthy right now?
Would the Rangers, had Igor been healthy, be in the despairs of desperation that they currently find themselves in right now? Would the Rangers be in this "win three in a row or go home hole", had CZAR IGOR been able to start these last two games? Just like in 1972 and in 1979, we'll never know.
---
I'll get into all of the Rangers goaltending issues and what we might see in Game 3, at the end of this blog.
With Igor & Fast out, Lundqvist kept his spot as the starting goalie for Game 2 and Steven Fogarty replaced Fast. It should be mentioned here, that now with these two games over, the suspended Brendan Lemieux can now return to the line-up on Tuesday night, for Game 3. Should Fast be unable to play, Lemieux should replace Fogarty in the line-up. In the event Fast can play, I'd expect Lemieux to be re-inserted into the line-up anyway, for most likely Greg McKegg.
Speaking of the line-up, here were the line-ups, for each team, of today's game:
I don't want to get too much into this, but I have to mention this – Steve Vagistat was beyond brutal on the M$G Networks pregame show today, much worse than usual.
To start off the pregame show, we got this graphic:
Not mentioned on the broadcast? Clear Sight Analytics is Vally's nerd charts company, a company that the Rangers don't use, but the recently shut-out Toronto Maple Leafs use!
And really, do you need these stupid charts that Vally displayed here, to tell you that the Rangers power-play sucked in Game 1? 0-7 is the only stat you need! Eye test trumps all!

To make matters worse, not only did Vally ignore this game, nor did he try to instill confidence in Ranger fans about Game 2, he went on and on about his crappy career again and continued to push his bullshit "EXPECTED" foo-foo nonsense.
I don't want to turn this into the VALLY SUCKS blog, because I've done those blogs already. I'll say the following and move on. Vally is probably someone who would be good to host his own podcast for his legion of chart geek followers. He might even be a good podcast guest. However, what he shouldn't be, is a featured analyst, especially in the biggest US market in all of the NHL.  The Rangers/MSGN really need to bring in an ex-Ranger, a fan-favorite Ranger at that, to take over, or to at least neutralize Vally's nonsense. These broadcasts need to bring more personality and true color to the show; they don't need some 7 foot geek going on and on about his EXPECTED stats and charts, and his affinity for using compasses and T-squares.
NEXT.
---
GAMBLING segment time. Here's what I said prior to the game:
Season over-under record: 36-33-3

Who knows who the goalie will be? -5.5 seems the right line. I'm going the over, just because of all the penalty calls & hoping #nyr scores at least one. pic.twitter.com/EGnbJUAta7

— BlueCollarBlueShirts (@NYCTheMiC) August 3, 2020
Well the over-under line of -5.5 goals was right on the money. NYR did get their PPG as I thought they would, but that was it. My over-under pick was wrong, so my over-under record goes to 36-34-3 on the season. If there is any bright side to this, if the Rangers are swept, at least I'll finish with an over .500 over-under record for this season. Blah.
---
At this time, let's go to the ESPN.com box score.
The following information comes courtesy of ESPN.com:
SCORING SUMMARY: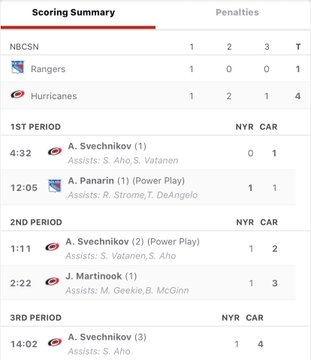 PENALTIES: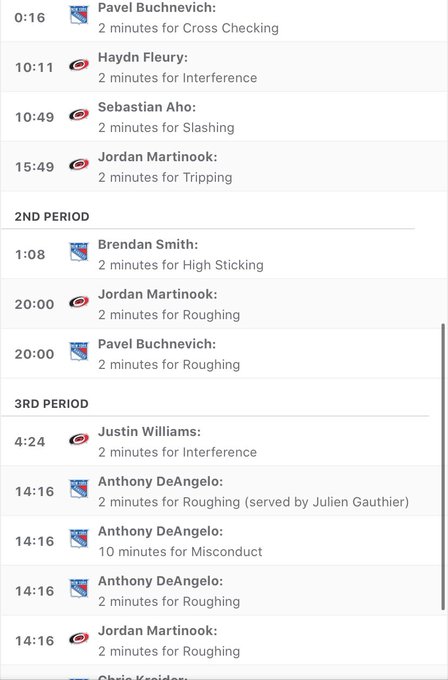 GOALIES:
NYR:

CAR:

---
Going into this game, I felt, like many of you probably felt, that the Rangers top stars had to show up, especially in the newly minted Chris Kreider. I also felt that the power-play had to be better. In turn, the Rangers scored one power-play goal in this game and that was that. Carolina just owned the Rangers. For a Ranger team that does have play-makers, it's like Carolina took the batteries right out of them.
In something that I felt the strongest about, I felt that the Rangers had to take the lead in this game. Ever since going to Toronto, the Rangers haven't had a lead yet in any of their games. Pavel Buchnevich, in today's Game 2, almost put the Rangers in a hole quicker than the one that they found themselves in during Game 1.
Just 16 seconds into this game, Pavel Buchnevich was boxed for cross-checking, while in the Rangers offensive zone. Dumb. Fortunately, the Rangers penalty kill was strong here and made several clears. Making one of those clears? The newly inserted Steven Fogarty.
This first period then took a turn for the better for the Rangers, as they were getting shots off. If you recall, they only had 1 shot in the first twelve minutes of Game 1 and finished up the first period of Game 1 with four shots overall. In this game, the Rangers finished with seven SOG in the first period, and limited Carolina to only six shots on goal, as opposed to the twelve shots the Rangers gave up in Game 1. Unfortunately, Carolina would score an easy goal in this period, despite the Rangers playing their best period of this series here.
After a Petr Mrazek save on Adam Fox, the Canes had a two on one, but Brock McGinn, rather than passing to the open man, took the shot himself. Save by Lundqvist. However, after the save, Lundqvist started doing the same stuff as last game, where rather than letting his d-men move the puck up ice, Lundqvist would play the puck himself and turn it over.
As we moved out of the first two minutes of the game – SURPRISE! Lundqvist didn't let up a goal. Instead, Lundqvist waited until 4 minutes and 32 seconds expired, before giving up this soft goal to Svechnikov, the first of Svechnikov's three hat trick goals of the afternoon:
Andrei Svechnikov opens the scoring. Bad goal given up by Lundqvist. #NYR pic.twitter.com/Rb8uTqVu2A

— Rob Taub (@RTaub_) August 3, 2020
1-0, bad guys.
On the goal, this was kind of similar to Slavin's goal from Game 1, but this one was way worse. Svechnikov placed the puck right between the window between Lundqvist's right arm and chest. When Joe Micheletti is saying Lundqvist gave up a bad goal, you know it was a bad goal.
After the bad goal to put the Rangers in the hole, Chris Kreider checked Skjei twice. It would be nice if someone dropped gloves with Skjei, but maybe that's Lemieux's role for tomorrow, although now with the Rangers in a series 0-2 deficit, you don't want to take any stupid penalties.
Aho would then get the puck behind Lundqvist. I thought he was going to go for one of his patented lacrosse style goals, but Aho opted not to.
After this, in perhaps what was the save of the game and helped keep Carolina's cause, Mrazek denied a perfect opportunity for Howden to score:
Oh man #NYR https://t.co/XlT06ex5s7

— BlueCollarBlueShirts (@NYCTheMiC) August 3, 2020
As you can see, McKegg charged the full length of the ice with the puck, fed Howden all alone, a Howden who was in front of Mrazek, but Howden couldn't finish the job. While the top players need to show up, it wouldn't hurt the Rangers if they got secondary scoring either. This was a blown opportunity.
The Rangers, despite the bad goal allowed, at this point in the game, were playing better here than at any point of time in Game 1. The Rangers would get a break at the mid-way mark of the period, when Fleury took an interference call. 38 seconds later, Aho was boxed for slashing. This gave the Rangers 1:22 of a five on three power-play.
On this two-man advantage, Mrazek would stop Mika. Then Mika hit the post. It looked like nothing could go right. However, with six seconds remaining in the two-man advantage, Tony DeAngelo faked a pass to Panarin, went to Ryan Strome and Strome fed Panarin. Panarin then cashed in, with this skillful power-play goal:
Artemi Panarin. First of the postseason. Tie game. pic.twitter.com/4SnEKQN7ad

— Rob Taub (@RTaub_) August 3, 2020
1-1 game, with just under eight minutes to go in the game. Even better, the Rangers would have 40 seconds or so of power-play time remaining. Unfortunately, not only would this be the lone power-play goal of the game, it would be the lone Ranger goal of the game.
The Rangers 5 vs 4 PP wouldn't be successful. In fact, they allowed Carolina to get a two-on-one shorthanded chance.
If there was anything noticeable here, it's the fact that Brady Skjei, as he said prior to this series, has been a man on a mission. These past two games have been the best of his season. And isn't that the way it always works out for the Rangers?
As the period progressed, Brendan Smith made a god-awful turnover, which Lundqvist erased. While we wouldn't see it until the game moved along, Lundqvist started to look shaky, as he was giving up bad rebounds and was bobbling pucks. While this didn't go against him, you could see he wasn't as locked in as he was in Game 1.
The Rangers would then get their third power-play of the game, with just under five minutes to go in the period, when Jordan Martinook was busted for tripping. The Rangers did nothing on this power-play. For those keeping track, the Rangers, at this point in the game, were now 0-9 this series, during their 5 x 4 power-play.
As we hit the final horn of the period, the score remained 1-1 and with the Rangers with a 7-6 SOG advantage. However, what we didn't know then but now know, is that the Rangers would never look this good again in this game.
---
This game result was decided in the opening 2:22 of this second period, as Carolina scored a pair of quick goals in a 71 second time-span. As was evident as the game went on, and as David Quinn said in his post-game press conference, once the score became 3-1, in favor of Carolina, the Rangers were deflated and dejected. However, at the same time, it is his job as head coach, to get his guys going. I don't think you'd ever see a John Tortorella team slink like the way the Rangers did here.
At the 68 second mark of the period, Brendan Smith high-sticked Aho. Just three seconds into Carolina's power-play, Svechnikov scored his second goal of the game:
Andrei Svechnikov is 20 years old pic.twitter.com/g3fiLl0jDn

— Carolina Hurricanes (@Canes) August 3, 2020
2-1, bad guys.
This was another bad goal allowed by Lundqvist here, even if it was a PPG. This was an unobstructed point blank shot from deep. Lundqvist, who as I mentioned, was jittery all game, was just beat here.
71 seconds later, the fourth liner Jordan Martinook scored:
Martinook's first career NHL Playoffs goal! pic.twitter.com/UehAJuMoGj

— Tobacco Roots (@RootsTobacco) August 3, 2020
3-1, bad guys.
On this goal, you can't really hang Lundqvist here. All I'll say, is that I've seen every single one of these NHL play-in round series games. (I just can't get into the round-robin stuff. Those games is when I do the other things in my life, like pooping and showering, and in that order!) In most of these play-in round games, I've seen some great goaltending. Hell, we saw Mrazek make a bunch of huge saves in this game too. Where am I going with this? Easy – Henrik Lundqvist, and I'm not even getting into his contract here, is not going to win games by just being serviceable. Of course, while the Rangers offense has been piss-poor, we have seen some shutouts in this tournament.
Once Carolina scored here, that was it. This is when I started seeing the Alexis Lafreniere tweets.
Of course, if the Rangers lose this series, they will have a 12.5% chance of landing the number 1 overall pick of the 2020 NHL draft. And if Lundqvist continues to have a save percentage of 12.5% in these games, then the Rangers will have a 100% chance of entering the NHL draft lottery.
I guess I should keep recapping this game here, but really, once Carolina made it 3-1, despite there being 37 minutes and change left of game-time, for all intents and purposes, this game was over, right here and there.
After Carolina took their two goal lead, Mrazek would stop Lindgren and Kreider. Jordan Staal then took one of the lamest and most "eh, I'll just throw it on net" shots you'll ever see, yet Lundqvist struggled with it and gave up a bad rebound. Lundqvist would then make another save, but didn't even realize he had the puck. Again, while these gaffes didn't bite him in the ass, those two soft goals allowed did.
Carolina just swarmed and stormed the Rangers here. The Rangers couldn't do anything. From here on out, it felt like Carolina always had three skaters back, in the rare times when the Rangers would break up the intense Carolina forecheck.
As the Rangers offense continued to produce a wet fart, a wet fart that was elongated and a stench that reeked until the final horn of this game went off, DQ would tinker with his line-up. Most noticeably, Panarin & Mika were teamed up together, as DQ tried everything to get some offense.
As the period finally crawled to the end of play, Pavel Buchnevich & Jordan Martinook got into it. Every player on the ice, sans the goalies, got into the fracas, but only Buchnevich and Martinook got two minute roughing calls here.
At the end of two periods, Carolina 3, Rangers 1. The fat lady had already sung, despite there being 20 minutes left of game time.
---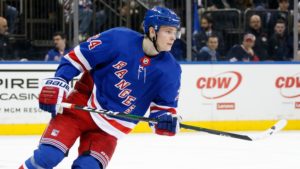 Unlike the second period, which seemed to drag at times, the third period flew by. In the Rangers race against the clock in the third period, well the Rangers lost that race by a landslide. It felt like the clock flew by, as the Rangers feeble attempt to make a comeback completely faltered.
I really thought Georgiev should've started this period, if only to give the Rangers a breath of fresh life. I don't know if it would've worked, but I do know that the Rangers couldn't afford to watch Lundqvist give up another bad goal, just early into the period.
Fortunately, for Lundqvist & the Rangers, Carolina did not get that early goal in this period. Instead, Carolina just sloooooooowed the Rangers down, with their defense. Whenever Carolina was on offense, they seemed more content to keep the puck in the Rangers zone, than try to score. With Carolina's defense looking like the 1985 Chicago Bears and with an offense that had the Rangers spinning like tops, all of the Rangers roster, including the play-makers of Mika, Panarin, Kreider and DeAngelo, were all kept in check.
With the score 3-1 and after the Rangers failed on another power-play, (not one SOG here) a PP that was granted to them when Justin Williams was called for interference at the 4:24 mark of the period, this game became the equivalent of walking on broken glass and Lego's.
This game was so over, that even with 10 minutes left to play, Sam Rosen & Joe Micheletti started talking about the recently signed Morgan Barron. (I recapped that signing last blog.) When the announcers are talking about some college kid, during the middle of a playoff game in the third period, you know you're in trouble. No joke, Sam & Joe yammered on about Barron for about two minutes here, and I guess I can't blame them – there was just nothing else to talk about. Carolina just kept playing keep-away.
As we got to under six minutes remaining, Svechnikov picked up his hat trick, as he scored his third goal of the game, after a perfect feed from Aho. Lundqvist just flailed at the puck, but this was a tough puck to stop anyway.
4-1 bad guys, as we continued the death march to the finish line.
I mean, nothing of Rangers significance occurred in this third period, until the 5:44 mark, when Tony DeAngelo & Jordan Martinook had a scrap:
Tony DeAngelo and Jordan Martinook drop the gloves, sorta. pic.twitter.com/tSnTsfKQQG

— Here's Your Replay ⬇️ (@TheReplayGuy) August 3, 2020
For some reason, after TDA & Martinook had two minute roughing calls assessed to them, TDA was also called for a ten minute game misconduct too. This seemed like one of those Lemieux reputation calls, more than anything else. In any event, this gave Carolina power-play, but before talking about that, let's just get the TDA stuff out of the way first.
There are two things I'm sick of talking about on this site and those two things are politics and all the hatred about Tony DeAngelo, just because he makes his non-liberal opinions public. If TDA was at AOC rallies or pissing on cop cars, the twentysomething basement monsters on social media would love him.
I bring up TDA individually once again on this site, because after this game, Tony DeAngelo was trending on Twitter. 95% of the tweets about TDA were negative, with a bulk of them coming from Ranger fans, the same Ranger fans who get enraged when I mention that Lundqvist is overpaid and isn't what he once was. In fact, I saw fans today, that at the same time they were bashing DeAngelo, they were also defending Lundqvist's performance in this game.
I'm not going to waste my time showing you some of the garbage that was written about Tony DeAngelo today by Ranger fans, because that's what it is – a waste of time and garbage. However, I get these tweets sent to me all the time, from readers of this blog, defenders of DeAngelo and from people who just hate these liberal cretins on social media. All I'll say is this – look at who it's coming from. In 99.9% of these anti-DeAngelo tweets, it comes from people in the 18-25 age group, who all live at home with their parents. Would you converse with such people in real life? If your answer is no, then these morons aren't worth your time in your social media life either. At least that's the policy I have chosen to adopt.
I just found it disgusting that Ranger fans are rooting for TDA to get injured, wish him death threats and stalk his family on social media. So much for tolerance. So much for being anti-bullying. The hypocrisy displayed by these people is mind-numbing.
Again, none of this stuff is new, but because it's the playoffs and because many people are home right now, a lot of this stuff is in overdrive and it is more prevalent.
And to be fair here, I even saw fans of DeAngelo, questioning him about having a podcast during this recent NHL pause. Like talking on a telephone for an hour has anything to do with these games. What NO ONE is mentioning, is the fact that TDA is playing hurt right now and it was his play today (which he got an assist for) that led to the only Rangers goal in this game. However, you know the motto – "never let the truth get in the way of a good story."
---
Carolina had two power plays to close out this game, as after this penalty on TDA was called, Kreider was called for an elbow on Vatanen. This is where it gets truly sad.
During these two Carolina power-plays, despite the Rangers ability to have comeback magic in the past, Carolina HC Rod Brind'Amour, put out his fourth line on both power-plays. This was the equivalent of not running up the score in football. While Brind'Amour is obviously rewarding his fourth line grinders, it also shows you that Brind'Amour had no worries about the Rangers staging a comeback. And he was right.
4-1 Carolina, your final from Toronto. The Rangers are now in an unenviable 0-2 hole.
---
Here's what DQ said after the game, as transcribed by NYRangersNews.com:
On being deflated with the two goals in the second, "without question, we got deflated after giving up those two goals in the first two-and-a-half minutes in the second. It changed the whole game, I liked our first period, we did a lot of the things we are going to need to do. We have been a mentally tough and resilient group and a two-goal deficit hasn't bothered us at all in the last two-and-a-half months, but it certainly got in the way today. Give them credit, they are playing smart, experienced playoff hockey. Between now and tomorrow night we have to learn that we can't keep shooting ourselves in the foot. Our lack of patience is killing us right now. Is it better than it was the other night, yea, it was, but we didn't come here to get incrementally better, we came here to win hockey games and we aren't doing enough. We need everyone in that room to be a little bit smarter, a little more patient, work a little harder, win more wall battles. All these things add up. We draw the first penalty because Phil Di Giueseppe wins a 50/50 puck battle off the faceoff, all those things add up. We did it for 20-minutes and then when we got down 3-1 you could just feel it on the bench and that is not a feeling we have had very often since the turn of the calendar."


---

On Lundqvist and the goalie tomorrow, "I thought Hank was solid. Listen, we get one goal, we aren't going to win scoring one goal. Certainly left him out to dry with the last two, for sure." We haven't decided internally what we are doing tomorrow."


---

On the bottom six being out-worked, "I don't think it was our bottom six forwards that have to be better, I think our top six forwards have to be better. If you are going to win, your best players need to be your best players and out play their best players. That is something we certainly have to have tomorrow night."


---

Is Carolina taking you out of your game, "I think it might be a little bit of both. They are doing things that they have done to be successful, they are a really good hockey team, played in the Eastern Conference Finals. As I alluded to earlier, we are getting frustrated. There is no easy ice out there and we need to understand that and be consistently trying to earn our ice and they do a good job taking it away. I give them credit, you never want to take credit away, but I know we can be better and we have to be better in a hurry."


---
Moving forward, as the Rangers possibly play their last game of the season on Tuesday night, I think DQ should go with anyone but Lundqvist, in net, for this Game 3. I know the plan was to start CZAR IGOR for every game of this series, providing he wasn't embarrassed out there, but if he can't go for Game 3, then you have to give Georgiev a chance. After all, Georgiev won the most amount of games for the Rangers this season. He also had better numbers than Lundqvist this season too.
Again, I understand and am not criticizing DQ for going with Lundqvist in either of these two games, knowing that Igor couldn't go. However, unless DQ wants Lundqvist to have one last game as a Ranger, there's just no point in having him out there.
Of course, it should also be stated, that goaltending isn't really the main topic of concern in this series, despite Lundqvist's poor showing tonight. The Rangers aren't scoring. However, you have to go with someone who isn't prone to all these bad goals allowed. Plus, I'd rather see David Ayres at this point, just to give the Rangers a jump. The old blood in net has the Rangers stagnant.
For what it's worth, two of the biggest Lundqvist fans in the world, in Sam Rosen & Joe Micheletti, basically said the same thing during the post-game show, in regards to making a goaltender change. Based on what Quinn said in his post-game interview, I think we'll get that change.
If you haven't already, subscribe to this blog for the next update: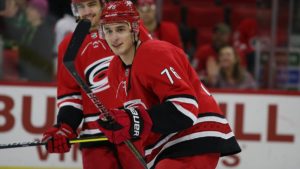 See you Tuesday night, with hopefully not the last game recap of this season.
As always, thanks for reading and…
"WHY NOT THE RANGERS?!?!"
LET'S GO RANGERS!
Sean McCaffrey
BULLSMC@aol.com
@NYCTHEMIC on Tweeter and the new Parler app