Greetings and salutations everyone and welcome to another blog here on BlueCollarBlueShirts.com. As I write these words to you now, the Rangers must win three out of their next four games, in order to advance to the first round of the 2020 Stanley Cup Playoffs. Judging by what we saw in the Rangers 3-2 Game 1 play-in round loss to the Carolina Hurricanes on Saturday afternoon, it's going to be a tall order. In fact, it could be an impossible task, especially if the Rangers power-play continues to provide no results.
Prior to puck drop, of the opening game of this play-in round series, the Rangers were dealt a major blow, when it was announced that CZAR IGOR was ruled "unfit to play". As I talked previously, ever since the NHL & the NHLPA agreed to withhold all information about any player injury or illness during these summer games, those three little words, "unfit to play", will lead to rampant speculation. This is what occurred today, regarding Shestyorkin's unknown mystery ailment.
As I've said in the past, the NHL, by design, is allowing "'Rona Rumor Mongering", by not disclosing injury & illness information. Quite frankly, and again, I know I've talked about this before, it's also a slap in the face to fans, the same fans that the NHL is pushing gambling to. And if you've seen any NHL game from this season, including these bubble games, you will see gambling ads multiple times, during every broadcast. As this blog moves along, I'll get into everything CZAR IGOR.
In fact, there is a ton of Rangerstown, USA stuff to get into, so let's get into the PLUGS section of tonight's blog and then get into everything regarding this Rangers vs Carolina game.
In case you missed them or need a refresher, here are my most recent manifestos:
---
---
---
---
---
---
---
---
On Friday, July 31st, the day prior to this Rangers vs Carolina game, the Rangers announced the signing of college prospect, Morgan Barron. Here's what the Rangers had to say about the deal, courtesy of https://www.nhl.com/rangers/news/rangers-agree-to-terms-with-forward-morgan-barron/c-317745158:
The New York Rangers announced today that the team has agreed to terms with forward Morgan Barron on an entry-level contract. Barron's contract begins at the start of the 2020-21 season.
Barron, 21, skated in 29 games with Cornell University this season, registering 14 goals and 18 assists for 32 points, along with a plus-17 rating and 24 penalty minutes. He was named a First Team All-American, and he was selected as one of 10 finalists for the Hobey Baker Award as the top player in collegiate hockey in 2019-20. Barron was named the ECAC Hockey Player of the Year this season. In addition, he was named to the ECAC Hockey First All-Star Team and was a unanimous selection to the All-Ivy League First All-Star Team this season. Barron, who was a tri-captain with Cornell in 2019-20, led the team in several categories during the season, including goals, points, and shots on goal (103), and he was tied for second on the team in assists. He helped Cornell post a 23-2-4 record and win the ECAC Regular Season Championship during the 2019-20 season.
The 6-4, 220-pounder skated in 98 career collegiate games over three seasons (2017-18 – 2019-20) with Cornell, registering 34 goals and 50 assists for 84 points, along with a plus-36 rating. Barron was selected to the ECAC Hockey First All-Star Team and the All-Ivy League First All-Star Team in each of his last two seasons. He established collegiate career-highs in games played (36), goals (15), assists (19), and points (34) in 2018-19, and in addition to being named to the ECAC First All-Star Team and All-Ivy League First All-Star Team during the season, he was also a finalist for ECAC Hockey's Best Defensive Forward. Barron led Cornell in goals and points in each of his final two seasons at Cornell, and he also led the team in shots on goal in each of those seasons, recording 255 shots on goal in 65 games (3.92 shots on goal per game over the span). Barron tied for third in the NCAA in shots on goal in 2018-19 (152).
The Halifax, Nova Scotia native was selected by the Rangers in the sixth round, 174th overall, of the 2017 NHL Entry Draft.
---
Apparently, Barron signing with the Rangers was a huge deal to a lot of people. For the media, they all commented how Barron was torn about whether to stay in the college ranks or turn pro. Apparently, due to the COVID-19 pandemic and the uncertainty about the immediate future of collegiate hockey, Barron's decision to turn pro was easier to make.
Of course, you also had a group of Ranger fans, heralding this signing, as if Barron was the second coming of Wayne Gretzky. I guess these fans have already forgotten about Jimmy Vesey, you know, the last big player the Rangers got out of the college ranks, and a player that was promised the keys to the city, had celebrities begging him to sign here and was even offered free drinks for life from certain NYC watering holes. While of course, none of these high expectations are Barron's fault, I do think the media & some fans hyping him up to be a major factor in a Rangers Cup run are silly. All of this hype just puts unnecessary pressure and unrealistic expectations on this kid.
I've never seen Barron play, so I can't comment about what his future may be with the Rangers. I wish him all the best. I just hope he isn't "barren", when it comes to scoring and putting one past the goalie. Har-har-har! That said, as long as Barren can jump over a camera wire, he'll be much better than Lias Andersson ever was, a player taken in that same 2017 NHL draft!
Sadly, those may be the last two jokes I have for you on this blog, unless you consider the Rangers power-play from Saturday afternoon the biggest joke of them all.
---
During the NHL's pause, the Rangers were one of the most fortunate teams in all of the NHL. Not only were they a major beneficiary of the new playoff format, a format that was only introduced because of the pandemic, but the team was able to get to full health. Even better, after the two-week mini-camp, the Rangers were entering these playoffs at 100%. Outside of Pavel Buchnevich missing one practice, there was no cause for concern about the health of the Rangers. That all changed on the evening of Friday, July 31st, less than 24 hours prior to puck drop.
The first shoe dropped on Friday evening, when the Rangers announced the following: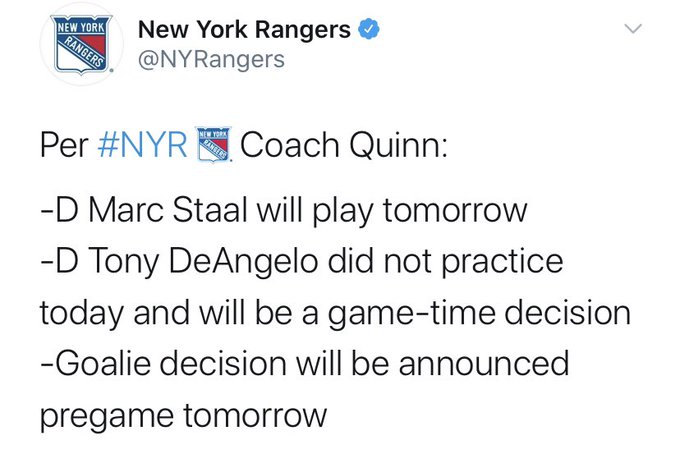 Obviously, it was good news that Marc Staal was going to be able to play. The Ranger with the second longest tenure is a huge asset to this team, despite what others may try to tell you. It's Staal's style of game, that allows his partner, Tony DeAngelo, to run wild on offense.
As I've mentioned, the NHL will not disclose any injury or illness information, so when the Rangers announced the information above, we had no clue what was bothering Tony DeAngelo. Fortunately, Tony DeAngelo was able to play in today's Rangers vs Carolina game, but just like the game with the Islanders from Wednesday, it doesn't look like TDA is at 100%. In these two games played, TDA hasn't looked like the play-maker that he was during the regular season. Something must be bothering him.
The biggest injury/illness information dropped about two hours or so before puck drop, when Barstool Sports tweeted out the following:
"I'm not gonna ruin anyone's Saturday with the Igor information that just hit my DMs but apparently there's a higher percentage of seeing Hank between the pipes today than I thought. Like I said though, I'm not gonna ruin anyone's day so just pretend you didn't see this."
Of course, just prior to that tweet being released, I tweeted out this:
Wardrobe for today's tilt! I have to be the only person to have a signed CZAR IGOR jersey! LGFNR!#nyr #PlayLikeANewYorker #NoQuitInNY #FlushTheCanes pic.twitter.com/XS0ppfb5jx

— BlueCollarBlueShirts (@NYCTheMiC) August 1, 2020
I'm such a Father Finkin' jinx, it's incredible.
When I originally saw this tweet from Barstool, they were the only ones to have this story. However, I didn't blow it off. After all, back in February of this year, some random twitter account first broke the Buchnevich/CZAR IGOR car accident injury news. At the time, everyone dismissed that tweet and referred to the tweet as "fake news". A couple of hours later, the Rangers confirmed the car accident injuries themselves. All I can tell you, is that when you see such news tweeted out by a random account, give it some time and see if the team weighs in. I wouldn't be so quick to blow off everything you read.
---
To fast-forward a bit, after the game, it was being reported that CZAR IGOR doesn't have the corona-virus. He had some sort of injury, an undisclosed injury at that. We kind of knew this to be a fact too, while during the game, when this image was shown:
As anyone could deduct, if CZAR IGOR had any sort illness that was COVID-19 related, he wouldn't have even been allowed into the arena. I'll also get more into this at the end of the blog, but it's also being reported that CZAR IGOR is day-to-day, and could return as soon as this Monday. Again, I'll dive into this deeper later on.
With CZAR IGOR being "unfit to play", that meant Henrik Lundqvist got the start, while Alexandar Georgiev was the back-up.
When Lundqvist was officially announced as the starter, my first reaction was this:
Maybe Lundqvist will have some extra motivation behind him today. Lundqvist gets the chance he didn't think he'd get. Time to turn back the clock. And for the detractors of mine, you idiots I am rooting for a Hank shutout. LGR! Time to get first win of 19! #nyr #NoQuitInNY #nypd pic.twitter.com/JGqPAQW49Q

— BlueCollarBlueShirts (@NYCTheMiC) August 1, 2020
Truth be told, obviously, like many of you, I wanted a healthy CZAR IGOR to be the starting goalie of the Rangers for these playoffs. However, with that not possible, I had no problem with Lundqvist going today, rather than going with Georgiev. After all, it's Lundqvist who got the most work in the exhibition game on Wednesday night and he did look good in his 30 minutes of game time played. Quite frankly, Lundqvist was more prepared to play this game than Georgiev would've been.
In addition, when it comes to Lundqvist vs Georgiev for the start in this game, Lundqvist has the more than favorable history with Carolina, so it totally makes sense to go with Lundqvist over Georgiev. If there was any disadvantage Lundqvist has, of the three Ranger goalies, it's the fact that he is terrible at playing the puck. We saw that on display in this game.
I don't know if the Rangers win this game with Igor or not, but I know Igor gives them a better chance against this heavy forechecking Carolina team. There were plenty of times in this game, where Lundqvist had to make extra saves or turned the puck over, because he couldn't move the puck to his own teammates. That's why Lundqvist's save totals against Carolina are so high, because he gives Carolina more chances to shoot than the other goalies do on the Rangers.
I also thought Lundqvist was the right choice over Georgiev due to the fact that he knows this is most likely his last and final chance. I thought Lundqvist would enter this game hungrier than Georgiev would've and would use his anger of being relegated to a third string goalie to motivate himself. And outside of the usual goal allowed within the first two minutes of a game, Lundqvist was more than serviceable in this game. You could argue, like many Ranger playoff games of the past, that he was the best Ranger on the ice today. However, at the same time, just like many Ranger games of recent history, for whatever the reason, the team always plays better for the goalie that's not named Henrik Lundqvist.
Little did we know at the time, that CZAR IGOR wouldn't be the only Ranger whose health we'd have to worry about. I'll get more into Jesper Fast and his status, once I get into the game recap portion of this blog. However up next, the GAMBLING segment of the blog.
Here's what I said before the game:
Season over-under record: 36-32-3.
Lundqvist v presumably Mzarek.

Tough one to bet here. Hank looked good on Wednesday. Mzarek did not. I see a 4-3 final so I'm going OVER. #nyr pic.twitter.com/vNk7x92pyF

— BlueCollarBlueShirts (@NYCTheMiC) August 1, 2020
With a final score of 3-2, in favor of Carolina, we had five total goals scored, so just like the Rangers today, I lose too. My season over-under record drops to 36-33-3.
And now lastly, before getting into the game recap, here is the box score of this game, courtesy of ESPN.com:
SCORING SUMMARY: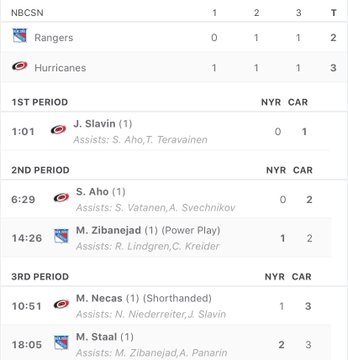 PENALTIES: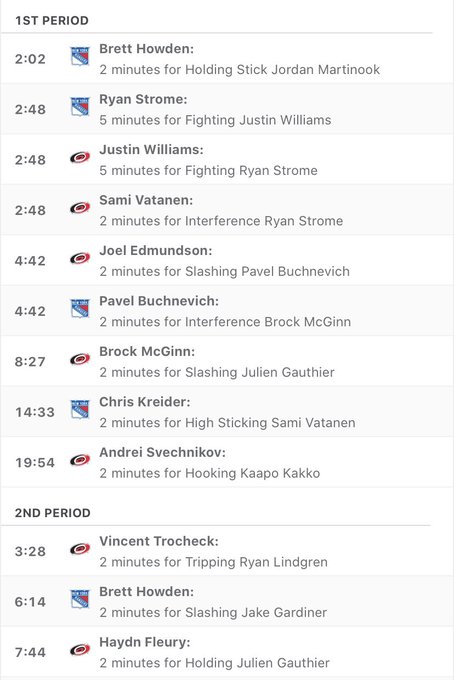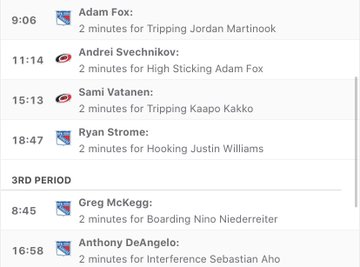 GOALIES:


---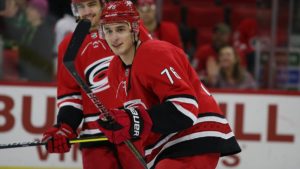 Off puck drop here, if you were worried about players being hesitant, being afraid of contact or playing a soft game, well within the first five minutes of this game, all of your concerns were thrown out the window. Within five minutes, we had a goal, a fight, big game-changing hits and six penalty calls. If you're a Ranger fan, this game didn't go your way. However, if you are just a hockey fan with no rooting interest, you got a very entertaining and exciting game.
Not even a minute into this game, Brady Skjei trucked Jesper Fast with a big hit. Artemi Panarin of all people, quickly retaliated. While we wouldn't know it until the end of the first period, this Skjei hit changed the game:
Brady Skjei gets the playoffs started with a huge hit on his former teammate Jesper Fast pic.twitter.com/wTbSR0dyvZ

— Brady Trettenero (@BradyTrett) August 1, 2020
After this hit, Carolina then immediately scored, just 61 seconds into the game. Yes, there was a lot going on here, so let's break it down piece-by-piece.
First, and most importantly, this Skjei hit on Fast ended the day for Fast. After the first period, the Rangers tweeted out the following:
For those keeping track, that means the Rangers lost their second line winger and one of their top forwards of the penalty kill. While I think you can argue for Mika Zibanejad a bit here, the Rangers also lost perhaps their best defensive forward on the team. So right out the gate, not even a minute in, the Rangers were down a man.
With Fast out, defenseman Jaccob Slavin, who didn't seem to mind not playing without his usual partner Dougie Hamilton, immediately scored:
First official goal of the restart goes to Slavin and the #Canes pic.twitter.com/muneGBvrWf

— That's Hockey Talk (@ThatsHockeyTalk) August 1, 2020
1-0 bad guys, just 61 seconds in.
Obviously, Fast being hurt didn't help matters, but Lundqvist has to have this save. Slavin scored from a very bad angle and it was over the stick & glove of Lundqvist. It's also Lundqvistesque, to give up these early goals within the opening two minutes of a game. It's been the story about him since 2015.
Fortunately, for both Lundqvist and the Rangers, we wouldn't see another bad goal allowed again in this game. In fact, Lundqvist would go on to make two highlight reel saves in this game, one on a breakaway set up by a referee pick on Brendan Smith, where Lundqvist stopped Foegele and another by using the shaft of his stick during a east-west Carolina one timer attempt.
With the score 1-0, in favor of the Canes, just a minute after Slavin's goal, Brett Howden was boxed for holding the stick of Jordan Martinook. On Howden, I didn't think he had a great game today. While the officiating was beyond atrocious today, Howden took multiple penalties in this game.
And before moving on, when I say the officiating was horrendous, I'm not saying that the officials favored either side. I'm saying the officials went hog-wild with their whistles in the first forty minutes of this game, but once the third period started, the officials stopped making the calls they were calling in the first two periods. There was just no consistency. This goes without saying too – the officials killed any pace or flow to this game in the first two periods, with their never ending parade of sending both teams to the box.
With Carolina on the power-play, just 40 seconds into that said power-play, two players not known for their skills in the fine art of pugilism, in Justin Williams and Ryan Strome, decided to have a scrap:
Justin Williams and Ryan Strome drop the gloves. Great tilt. #NYR pic.twitter.com/vHqolDpxX6

— Rob Taub (@RTaub_) August 1, 2020
While Strome got the win here, he also was cut on his nose. With the five minute major for fighting, Strome went to the locker room for repairs. This also meant, that with Fast done for the day and Strome out for five minutes, this left Artemi Panarin, of the Rangers second line, all by himself. All that practice and all of those repetitions, and just two minutes and change into this game, Panarin was bounced around and playing with different linemates.
Also during this Strome fight, it was a Sami Vatanen interference call that started the donnybrook. Vatanen was boxed, and the Carolina PP was over. This gave us some four on four foreplay action. Once the Rangers got on the power-play, Pavel Buchnevich, whose balls have seemed to grown as fast as his beard, got into it with Joel Edmundson. These two players took off-setting penalties, giving us more four vs four foreplay.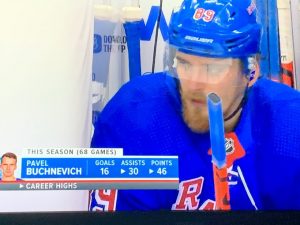 Please keep in mind here, as you're reading, I haven't even recapped the first five full minutes of this game yet. That's how wild and chippy this game was to start.
With 11:33 remaining, Brock McGinn slashed Julien Gauthier. The Rangers would go on their second power-play of the game, where they didn't get a shot on goal. In fact, as the ten minute mark expired into the period, each team had one shot on goal a piece. Of course, Carolina scored on their shot, while Carolina goalie Petr Mrazek made an easy save on a nothing shot from Artemi Panarin.
In an example of what I was talking about earlier on this blog, and in stuff I've said in past blogs, Lundqvist's deficiency in puck-handling created several hairy situations in this game.
As we got under eight minutes to go, Ryan Lindgren was all by himself, waiting to take the puck and move it up ice. Instead, Lundqvist cut him off and whipped the puck around the boards, essentially passing the puck to a Carolina player, all to their lonesome. Lundqvist made the save on the ensuing shot, but needless to say, this was a save that he shouldn't have had to make. There were a few plays like this in the game, where Lundqvist turned over the puck, rather than letting his defensemen get the puck out of the zone. This is stuff you will never see with CZAR IGOR. Lundqvist has to let his skaters do their jobs, especially with Carolina possessing an aggressive forecheck.
With under five minutes to go, Chris Kreider, who was in GHOST mode today, which is obviously not a great sign for Ranger fans, high-sticked Sami Vatanen. The Rangers PK was awful here, as I think Lundqvist made four saves during this PK. After killing off the penalty, Kaapo Kakko gave the Rangers their best offensive showing of the period, logging two shots, which doubled up the Rangers SOG stats of the period from two to four.
As we got to six seconds remaining in the period, Svechnikov hooked Kakko, thus giving the Rangers 1:54 of power-play time to open the second period.
After one period, Canes 1 – Rangers 0. This was a horrible period for the Rangers, as Carolina just smothered them. Worth noting, the SOG totals after one period? Canes 12 – Rangers 4. In other words, Carolina tripled the Rangers shots on goal output.
---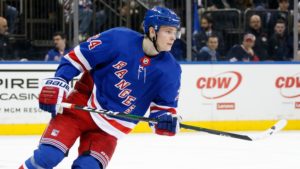 Before moving into this second period, I'd be remiss if I failed to mention this. Kakko had five shots on goal in this game. He didn't score once. I'm not going to knock the rookie for not finishing, because he is playing hard and has adopted a shoot-first mentality. He's improving.
As mentioned, in the first period, Kakko had a shot and got his own rebound. Two saves. However, as the game went on, Kakko had three more shots and on each of them, Mrazek gave up a juicy rebound. The Rangers didn't capitalize on any of these rebounds that Mrazek gave up during this game (and there were about 5-6 of them in total) and it cost the Rangers a chance to score. I'm not an NHL coach, as you may know, but there has to be something David Quinn can do to get these guys to be more aware about rebounds or at least on a "puck-on-pads" pass.
With the Rangers opening up the period on a 1:55 PP, they wouldn't get one shot on goal. In fact, they helped Carolina's PK out, when Fox made an errant drop pass to Jacob Trouba, which put the puck out of the zone. The Rangers were now 0-3 on the power-play at this point.
A minute after the Rangers PP expired, the Rangers would get their fourth power-play of the game, after Vinny Trocheck blatantly tripped Ryan Lindgren. This time, David Quinn started off the power-play with his second unit. The second unit here were better than the previous three power-play attempts from the Rangers first unit, but they netted the same result – no goal. The Rangers power-play was now 0-4.
After the PP expired, Lundqvist would make one of his best saves of the game, after a ref accidentally set a pick on Brendan Smith. Lundqvist would stop Warren Foegele here, one-on-one. Right after this save, Howden took another penalty, this time for slashing Jake Gardiner.
Just 15 seconds into the Carolina power-play, Sebastion Aho scored, with a beautiful and skillful deflection:
Gorgeous power play puck movement. Sami Vatanen feeds Andrei Svechnikov, who puts it right on the tape of Sebastian Aho in the slot. Aho gives the Hurricanes a 2-0 second-period lead on the Rangers in game one. Vatanen's first point as a Cane. pic.twitter.com/eCK4PF1E69

— Brett Finger (@brett_finger) August 1, 2020
2-0, bad guys. As you guys know, I'm anything but a Henrik Lundqvist apologist, but there was absolutely nothing he could do here. You had both Justin Williams and Sebastion Aho behind the Rangers defense. Aho is one of the best forwards in the game and he made the Rangers pay.
After this goal, Hayden Fleury was boxed for holding Gauthier, at the 7:44 mark of the period. This gave the Rangers their fifth power-play of the game. However, with 38 seconds remaining on the Rangers power-play, Adam Fox got boxed himself, after he was bagged for tripping Martinook. So for those keeping track here, the Rangers power-play were now 0-5.
As we hit the mid-way mark of the period, with the Rangers getting smacked and Carolina on the power-play, Sam Rosen started doing cheery ad-reads. Not good timing here.
The Rangers would go on to kill Carolina's abbreviated power-play here. The Rangers would then get another power-play, their sixth of the game, when Svechnikov high-sticked a returning to the ice Adam Fox.
The Rangers would fail once again on the power-play, with Aho making the best play of the Carolina PK, when he blocked a Mika Zibanejad shot with the shaft of his stick.
With the game approaching five minutes remaining in the second period, the two-time, reigning and defending Steven McDonald Extra Effort Award winner, in Mika Zibanejad, finally got the Rangers on the board:
GOAL!

Mika Zibanejad redirects a wrist shot from Ryan Lindgren.

🍎 Lindgren (1) and Kreider (1) pic.twitter.com/L4vWqWmWh9

— Rangers Report (@rangersreport) August 1, 2020
While Zibanejad gets the goal and while Lindgren & Kreider get the assists, this goal never happens without Pavel Buchnevich, who is looking like a hardcore communist warlord these days.
On the goal, Buchnevich got the puck into the zone, won a puck battle, out-muscled a Cane, got the puck deep, wrapped around the net, tried to make a play to Lindgren and then saw the puck land on Kreider's stick. Lindgren then took his shot, Mika put some wood on it, and boom 2-1, just like that. Also, as Mika was deflecting the puck, Buchnevich was crashing the net too. If anyone deserved an assist here, it was Buchnevich.
Right after this Zibanejad goal, Vatanen was called for tripping Kakko. This gave the Rangers their seventh, and ultimately final, power-play of the game. The Rangers, who could've used a huge momentum goal to tie the game, just let Carolina shove it up their ass. As a result, the Rangers power-play finished 0-7 in this game.
Let that sink in.
0-7!!!!
You're not going to win any games when you can't even capitalize once on seven different power-plays. And that's what wound up happening here.
With 73 seconds remaining, Strome hooked Justin Williams. Carolina's power-play went to work again. The Rangers held Carolina off the board here, as the horn went off to signal the end of the second period.
After forty minutes, Canes 2, Rangers 1.
---
I haven't talked much about the M$G Networks guys as I usually do on these blogs. To give you the quick 411 here, I thought Sam & Joe were stellar. I really think Micheletti has done his best work during this season, especially when covering up for the aging Sam Rosen.
As far as Steve Valiquette goes, who continues to talk about his meaningless career and pumps out more fake news than CNN, I think this tweet sums up my opinion on him:
Vally said the same exact thing about himself during intermission #nyr https://t.co/Is3kaNc0Te

— BlueCollarBlueShirts (@NYCTheMiC) August 1, 2020
Thanks for the set-up @NYRKELSMADS, the person who gave us the DeMAGAngelo nick-name!
The Rangers opened up the third period by killing the time left on the Strome penalty. Crisis averted. An early period goal allowed here would've been a dagger.
Mrazek would be challenged after the Carolina PP expired, as he made two big saves on Buchnevich and Kakko. However, after these saves, it would be Carolina surging, and smelling blood as if they were sharks. (Not the ones from San Jose.)
With the Rangers looking for the equalizer, Greg McKegg boarded Niederreiter with 11 minutes and change left to play. McKegg quickly whined to the refs about the call, but to me, this call was clear as day.
Mika Zibanejad made the biggest play on this Rangers PK, when he blocked a shot and cleared a puck from his knees. That's the only time I want to see any of these hockey players kneeling!
After the McKegg penalty came off the board, Carolina was still doing work. This then led to this unfortunate goal allowed by Lundqvist:
Way to go, Martin Necas!👏🇨🇿 pic.twitter.com/HHP8jbUD2k

— CJB737 (@CJB_Dazzling737) August 1, 2020
3-1, bad guys, at the near mid-mark of the third period. What happened here was Necas took a shot, and the tip of Marc Staal's boot pooched the puck right between the wickets of Lundqvist. Lundqvist has always had a problem with his five hole, but Staal accurately pin-pointed the puck between the legs of Lundqvist.
As the clock went tick-tick-tick, with 3:02 remaining, Tony DeAngelo was sent to the penalty box after interference on Aho. So much for pulling Lundqvist for the extra attacker.
However, with the Rangers on the penalty kill and with 1:54 to go in regulation, Marc "Bobby Orr" Staal ripped this shot past Mrazek:
🚨 MARC STAAL WITH THE SHORTY 🚨 pic.twitter.com/xL0p2bVm5N

— Rangers on MSG (@RangersMSGN) August 1, 2020
If you wanted to find the biggest long-shot prop bet, going into this game, it would've been Marc Staal blasting a puck from the blue line, while short-handed and scoring. As they say, ANYTHING CAN HAPPEN IN THE PLAYOFFS!
3-2, bad guys.
From here, DQ took his time-out, while Carolina still had 52 seconds remaining on their power-play.
After killing the Canes power-play, and as we headed into the final minute of regulation, Carolina just swarmed the Rangers. Lundqvist wasn't able to leave the net until there were 45 seconds left in the game. Carolina just took over the puck. The Rangers would get one last go of it, after DeAngelo took a shot and Mrazek gloved it. The ref blew a quick and favorable whistle for the Rangers here. With two seconds remaining, we had one last faceoff, to the circle right of Mrazek. The puck didn't come close to the net and as triple zeroes flashed on the scoreboard, the score remained Carolina 3, Rangers 2. Carolina takes game one of the series.
---
To wrap-up this game, as is obvious, the 0-7 Rangers power-play cost the Rangers the game. That's all. While I think Lundqvist could've been better in the first minute of this game and made the save on the first shot he faced, goaltending wasn't the issue in this game. The power-play was.
I don't want to be THAT GUY, but because I alluded to this in the past, Artemi Panarin was silent today. I know he got the secondary assist on the Staal goal, but there was not one point in this game, where Panarin took over. Carolina shut him down, just like they did with all of the Rangers top guns.
The Rangers can't afford to have Panarin turn into Rick Nash in the playoffs. However, to be fair, and to reiterate this point one more time, it just wasn't Panarin either – all of the Rangers top play-makers were pretty much held in check. Yeah, Mika Zibanejad scored, but it was off a lucky deflection, and really it was Pavel Buchnevich who made that goal happen.
If any three Rangers impressed me today, it were Kaapo Kakko, Pavel Buchnevich and the $8.5M man, in Henrik Lundqvist, himself. Everyone else were barely noticeable. I guess I should say, that I thought Lindgren, Smith and Staal all played well defensively, much better than their right-handed counter-parts, which usually isn't the case.
Obviously, losing Fast changed the dynamic of this game and was one of the reasons that the Slavin goal even happened. However, to use injuries as an excuse for this loss, especially with the injuries on the other side, well that would be a cop-out. Plus, again, must I mention the 0-7 power-play, a power-play that Fast doesn't even play on in the first place?
Moving forward, this was an opportunity thrown away. The Rangers are now one loss away from needing to win three in a row to move on. Quinn will have some decisions to make, as the Rangers and Carolina do battle again, this Monday, at 12PM, for game 2 of this series.
We don't know what's up with Jesper Fast, so DQ may have to use one of his reserve players to fill the void on Monday afternoon. Even if Fast does return, and I know you're going to groan when I say this, but I would put Vinni Lettieri into the line-up on Monday. I would scratch Howden or McKegg for Lettieri, just because the Rangers, in the exhibition game with the Isles and in this game today, have had huge goal scoring woes. The Rangers need some offense big-time. Lettieri had a great season offensively in Hartford and isn't afraid to shoot the puck.
As far as the goalie of Monday goes, if Igor is healthy, I think you have to give him a go. Lundqvist admitted in his post-game interview, that the original plan was for Igor to go today. Lundqvist found out Friday night about Igor's situation and that's when he learnt that he would be manning the barrel today.
Again, there's no way you can blame Lundqvist for this loss (and you know I would if I could) but Igor gives the team a better advantage, for all the reasons previously outlined.
The Rangers will practice tomorrow, where I hope for two straight hours, they do nothing but work on the power-play and the offense. In both the Islander game and in this game today, the Rangers found a late goal, with just mere minutes remaining in regulation. The Rangers need to grab a lead in game 2 and take it from there. Playing from behind, against a team that's both strong with their forecheck and on defense, is a recipe for disaster.
Also worth noting, during these two past games, for now a span of three plus minutes with the goalie pulled, the Rangers were completely steamrolled and made out to be anemic, while with the extra skater on the ice. Again, the offense has looked bad.
One last closing note and I'm out of here.
---
I really don't want to talk politics here, but I always comment on everything that's NHL news on this site.
For what it's worth, during the Rangers vs Canes game, everyone stood for both national anthems. This is a great non-story.
However, in the Oilers/Blackhawks game, from Edmonton, Matt Dumba came out and made a three minute speech, calling for an end of racism in hockey. As if that's really a thing. I haven't seen any evidence of any team or any GM of being racist. Whoever plays the best, no matter what their color, creed or sexual orientation is, is who plays.
If there was a person, who was a black Jewish transgender, of Indian or Inuit descent, who was a great hockey player, he would be playing. NHL teams will always play the best players available. I don't think there is one case of any NHL team, shunning any player over race. If you can play, you will play. (I do know there have been racist incidents hockey, most notably in John Vanbiesbrouck and his comments about Trevor Daley, from 17 years ago, but when Beezer made his comments, he was immediately fired.)
I just want to say this piece for the last time on this site and move on from this topic for the remainder of the season, and hopefully forever:
As I've been saying, if you want more blacks/minorities in hockey, it all starts at the youth level. For REAL CHANGE, you have to donate money & time to these youth programs, like NYR does with their Hockey in Harlem program. Pandering speeches & kneeling like a spoiled brat does NOTHING. For these athletes who want to preach to NHL fans about wanting more minorities in the sport, these athletes have to put their money & time where their mouth is.
Time is a bigger asset than money here. People can open their wallets, but you need people to be there to teach these kids the game, coach these youth games and be a role model for these youngsters. And really, you need black ex-NHLers to be there for these kids, so these kids can say, "Hey, this guy looks like me and he did it and I bet I can too." Matt Dumba would make a bigger statement by coaching a black youth hockey team, rather than kneeling like a multi-millionaire jackass.
Hockey is the most expensive sport for any kid to play. It's much easier & cheaper to give a kid a basketball & show them where the park is. The only way to increase diversity in hockey, if that's your mission, is to invest in youth programs. This is the only way to attract minorities to the sport. Kids at 15, 16, 17 years old aren't going to start playing hockey. You must encourage, financially support and invest time with young black kids, if you want to see an influx of black hockey players in the future. Black hockey players aren't just going to come out of the woodwork overnight.

(I also find it ironic, that no one is advocating for white NBA players or white NFL wide receivers or running backs, but you know how that goes! Is it that hard to admit that different sports, due to the way different races and people of different ethic backgrounds grow up, just feature more players of one certain race, throughout the various sports?
Baseball is huge in Latin America. That's why you see a lot of Latin Americans in baseball. Canada has a high white population, which means young white kids grow up with the game there, in a climate that is favorable to hockey, just like how the climate in Latin America favors baseball. MMA is huge with the Brazilians. Basketball is huge with the African-Americans. Sumo wrestling is huge with the Japanese. Sometimes we need to admit facts and understand why these are facts (climate, culture, etc). None of this stuff is racist.)
To close up on this topic, all I know is this – when these millionaire athletes do their liberal speeches for brownie points, they are guaranteed to offend 50% of the audience. If these spoiled brats donated money & time to the causes they talk about, rather than preaching and dictating what others should do without the same financial resources as them, 100% of the audience would support these athletes & there would be no controversy.
Simply put, if you want to grow hockey into the black community, whether it be to Americans or Canadians (there's not much of a black population in the European countries, where again, BECAUSE OF CLIMATE AND CULTURE) the people advocating for this, must be willing to donate time and money at the youth level, to help change the climate & culture and to create interest in the sport to a new generation.
---
If you haven't already, subscribe to this blog for the next update:
See you Monday night, with a Game 2 recap.
As always, thanks for reading and…
"WHY NOT THE RANGERS?!?!"
LET'S GO RANGERS!
Sean McCaffrey
BULLSMC@aol.com
@NYCTHEMIC on Tweeter and the new Parler app