Greetings and salutations everyone and unfortunately, I welcome you to the last Rangers game review blog of the 2019-2020 season.
On Tuesday night, in a must-win Game 3, the Rangers faltered, losing to the Carolina Hurricanes by a final score of 4-1. With the loss, after a night moping around their hotel rooms, the Rangers will leave the NHL bubble on Wednesday afternoon. For those looking for the Rangers flight information out of Toronto, one of you readers alerted me and showed me this tweet:
Down 0-2 with Game 3 tonight, NY Rangers' flight home is on the board for tomorrow at Noon. 👀 #NoQuitInNY

(This would be the case with any team facing elimination 😉) pic.twitter.com/qRVNMCLWVN

— Sports + Aviation (@SportsAviation) August 4, 2020
In other words, if any of the Rangers are like me, and knowing the border restrictions in Canada right now, this is the last time any of the Rangers can pick up some Gretzky 99 Whisky!
Perhaps I'm stalling a bit, by talking about whisky right now. I guess deep down, I don't want to admit this season is over. Hell, I usually try to do these blogs right after the game, but once this Rangers Game 3 loss was complete, I just sat there, watching the M$G Networks post-game show, which I'll get into at the end of this blog.
I do want to preface this blog by saying this – while the Rangers season is over, and we might not see them again until 2021, I don't think you can be truly angry about how this all went down. Upset? Sure. Disappointed? Definitely. But to be outraged or just pissed off? That's horse-crap to me.
I think I have written about 78678657895 million words about the Rangers during this quarantine/lockdown/bubbleboy hockey. While I will do the PLUGS segment in a second, I do want to rehash three things I've said in previous blogs:
1. The Rangers were a beneficiary team of the 2020 Stanley Cup Playoff format. Only the Montreal Canadiens were more fortunate to make these playoffs than the Rangers. Who knows if the Rangers would've even made the playoffs, had the season not entered a state of pause?
After all, the Rangers had 12 games left in their season, prior to the pause, all against top playoff teams (sans a road-game to Buffalo, which I was supposed to attend) and were missing Chris Kreider. Furthermore, CZAR IGOR was also just returning & was still not 100%. These 2020 playoffs were house money, which unfortunately, the Rangers pissed away like a drunk college kid at a high stakes poker game, full of high rollers.
2. This season was never about the playoffs. It was about growth and development. As this series concluded, and I'll get more into this as we go along, I saw people calling for the heads of Tony DeAngelo and David Quinn. As mentioned, TDA played this entire series hurt. David Quinn's team and experience couldn't match Rod Brind'Amour's team and experience. The fact that the Rangers were even considered a playoff team, was again, house money. It was a free learning tool and experience. Furthermore, with this kick-in-the-ass and embarrassing loss, the Rangers should be extremely fired up, during the 2021 playoffs, a playoff tournament that I think they will qualify for, with or without an extended playoff format.
3. Going into the playoffs, the Rangers were one of the biggest underdogs. While we all adopted the "WHY NOT THE RANGERS?" mentality, truth be told, a lot of things were going to have to go the Rangers way, for them to win 19 games. While it sucks they only played 3 games, out of a potential 33 games, the fact is this – the Rangers weren't going to be good enough to win the Stanley Cup this year. They just didn't have the roster depth to do so. Once CZAR IGOR missed the first two games of this series, as mentioned last blog, it just turned into the latest "WHAT IF" in Rangers history. And even had CZAR IGOR played in Games 1 and 2, when you score only four goals in three games, you're not going to go very far anyway.
---
At this time, before chugging along on this monster manifesto of a blog (there are no more Ranger games, until at least December of 2020, if not January of 2021, so you have plenty of time to read every word of this blog!) let's go to the PLUGS segment.
As always, in case you missed them or need a refresher, here are my most recent diatribes:
---
---
---
---
---
---
When it comes to the news before this Game 3, the Rangers announced that Jesper Fast was still out. Replacing Fast in the line-up was the returning Brendan Lemieux, fresh off his two-game suspension.
In the biggest news prior to this game, the Rangers announced that CZAR IGOR was healthy enough to play. I know I talked about this last blog, but let me say this one more time here – if anyone loves a good Henrik Lundqvist conspiracy story, it's me. I've been championing Lundqvist's ousting from NY for five plus years now. However, to suggest that DQ wanted to give Lundqvist one "last hurrah" or that there was some sort of JFK conspiracy concerning Igor – well to me, that's all hogwash.
DQ doesn't want to be embarrassed. DQ doesn't want to lose. DQ wants to do whatever is possible to get his team to win. It's just unfortunate, that due to the NHL rules during this pandemic, that no injury information was able to be released. Maybe we'll find out what was plaguing Igor sometime later this week, when the Rangers do their final interviews of the 2019-2020 season.
With Igor & Lemieux back, here were the Ranger lines for Game 3: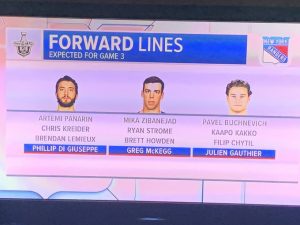 Unfortunately, and in what we didn't know at the time, while everyone, yours truly included, were all rah-rah about CZAR IGOR returning, Carolina also made a goalie change. Petr Mrazek, who had been great in both games 1 and 2, was being replaced by journeyman goalie, James Reimer.
For those who didn't know, prior to this series, Carolina head coach Rod Brind'Amour promised to give Reimer a game in this series. With Game 3 being the second game of a back-to-back set and with the Rangers looking lifeless in the first two games, there was no better opportunity for Brind'Amour to fulfill his promise to Reimer, than here in Game 3. And what did Reimer do with his opportunity? He stole the game, was the first star of the game, and now becomes the latest villain in the history of the NY Rangers.
Henrik Lundqvist. CZAR IGOR Shestyorkin. Alexandar Georgiev. Petr Mrazek. Hell, David "Father Finkin'" Ayres. Going into this series, I would've rather seen any of these goalies in net for my team, than seeing James Reimer. Instead, what happened in Game 3? James Reimer put forth a masterful performance, absolutely robbing the Rangers of a chance to extend this series.
Make no bones about it. In this Game 3, the Rangers played their best 40 minutes of hockey of these bubbleboy playoffs. However, James Reimer displayed the greatest art of goaltending in this series, for a 60 minute period of time, here in this Game 3. Had Reimer not channeled the spirit of Dominik Hasek here, I would probably be talking about the Rangers chances in a Game 4 right now. Instead, once again, the Rangers turned a mediocre goalie into Jacques Plante reincarnated.
And I guess to be fair here, who knows what would've happened if Mrazek started? It's not like he was a slouch in games 1 or 2. However, what I do know is this – Reimer completely changed the course of this game, with a bevy of saves, on sure-fire "EXPECTED" goals, late into the second period of tonight's affair. Reimer would finish the game, making 37 saves on 38 shots, for a save percentage of .974. I don't even think Canes fans were expecting to see that.
---
As far as the pregame show went tonight, the main focus of conversation was about the goaltender change, from Lundqvist to CZAR IGOR. This was kind of fake news a bit, as the M$G Networks crew were pushing that Lundqvist was passing the proverbial torch to CZAR IGOR. This couldn't be any further from the truth. After all, after the Rangers game 1 loss, the first thing Lundqvist said was how happy he was to be the starting goalie.
FACTS TIME: CZAR IGOR was always supposed to be the starting goalie for these playoffs and of this series. However, a mystery ailment prevented that. This wasn't a passing of the torch moment. Lundqvist didn't do any honors here. CZAR IGOR (and Georgiev too for that matter) is better than Lundqvist. IGOR is the starting goalie of the Rangers. Lundqvist was the third string goalie of this team, which dates back to eight months ago, in January of 2020.
And really, and I can't knock Lundqvist for this, because every athlete should have this mentality – Lundqvist still thinks he's a starting goalie. In addition, as Zuccarello said earlier this season, Lundqvist feels wronged a bit. However, when it comes to feeling wrong or slighted, Lundqvist needs to get his head out of the sand. Father Time is undefeated and the Lundqvist Error Era has been over for some time. I'll get more into this in a bit, but the Lundqvist Era may now be officially over, as a result of this series sweep.
As far as anything else from the M$G Networks pregame show, it was the same old stuff – YOU MUST GAMBLE ON THESE GAMES! LUNDQVIST IS A FUTURE HALL OF FAMER! (And to read why I don't think he is, read this blog, where I go in-depth on why I feel this way, concerning Lundqvist's potential HOF bid: https://bluecollarblueshirts.com/12920/)
I should also mention here, while talking about the M$G Networks pregame show, that Micheletti called out Chris Kreider during his "Taco Bell Take" segment. Big Joe was right on the money here. Again, while I have been critical about Micheletti's infatuation for Lundqvist in the past, I thought Micheletti did his best work this season, when he was forced to talk about other things.
---
No joke, with this season now over, I'm going to miss Big Joe and counting how many times he says "FABULOUS" on every broadcast. (Micheletti said "Fabulous" at least 20 times tonight.) In fact, with 3-4 months off now, I think Micheletti would be a good life-coach or motivator. I think he should sell Joe Micheletti "pull-string" dolls, where when you pull the string, he says "FABULOUS, ABSOLUTELY FABULOUS!"
Shit, can you imagine Micheletti as a professional confidence booster? He could rent himself out to people with low self-esteem, where Micheletti shadows these people at work, and just tells them how FABULOUS they are!
Man, I'm really stalling and trying to avoid getting into the game recap portion of this blog! Let's just hit one last thing and we'll get into the game. Of course, the last thing to talk about here, and as I've done in every game review blog this season – the GAMBLING segment of the blog.
Here's what I said before the game:
Season over-under record: 36-34-3

Well if this is it for #nyr, at least my o/u record will remain over .500.

Each game has been 5 total goals & with many missed Ranger chances.

I'll go UNDER here, with Igor and the Rangers winning a nail biter, 3-2. pic.twitter.com/wDIWjywbXJ

— BlueCollarBlueShirts (@NYCTheMiC) August 4, 2020
Well, the Rangers didn't win and this game wasn't a nail biter at the end either. However, I do close this season off with a win, in regards to my over-under prediction.
With a 4-1 final, this game hit the under. I now finish the 2019-2020 season with a 37-34-3 record. That's three games over .500, as opposed to going 26 games over .500 last season. Of course, CZAR IGOR threw my over-under predictions out of wack this season. Last season, I just bet the over on every Lundqvist start and the under on every Georgiev start and that worked out pretty well for me!
---
At this time, let's go to the ESPN.com box score. The following information, as you may have guessed, comes courtesy of ESPN.com:
SCORING SUMMARY:
PENALTIES:
GOALIES:
CAROLINA:
NEW YORK:
---
The Rangers played their best period of postseason hockey in the first period of tonight's Game 3. The Rangers even had more shots in this first period, than they did in the first periods of both Games 1 and 2 combined.
CZAR IGOR, taking the net for his first postseason start, made his presence immediately felt in this period, and as he did all game, Igor was able to clear pucks, make passes and limit rebounds. Those are three things that Lundqvist wasn't able to do in his two starts. While I don't know if the Rangers would've won the first two games with Igor in net, just because of the Ranger scoring woes, I do know that Igor made them better & enhanced their chances in this Game 3.
Kreider, who was a ghost in the first two games, showed up to play today, as he was much better in the first two periods of this game than at any other point in the series. Unfortunately, just like the other top Ranger names, he couldn't do anything in the third period; a third period that was the most important period of this season.
Kreider, who won a puck battle to start off the game, did a good job with his skating and with his ability of crashing the net. That was a good sign and something that would pay off later in the game. Also early into this first period, Igor was making clears and passes. That was great to see too. Of note, no opening minute goal allowed by Igor, nor did the Rangers take a penalty! Progress!
At the 3:33 mark of the period, Tony DeAngelo fed Ryan Strome. Strome streaked to the net, where he got a shot off, but while in the process, was hooked by Sami Vatenen. This gave the Rangers their first power-play of the game. While on the power-play, the Rangers had two chances, with TDA trying to score by deflecting a puck off of Kreider and with Chytil just missing a rebound by Trouba. However, at the end of the day, the power-play, as it did all series, failed again.
Just to fast-forward a bit, when you look at the Rangers, in this series, they finished 0-13 on the 5 vs 4 traditional power-play. The team finished 1-14 overall on the power-play, when Panarin scored during a Rangers 5 vs 3 power-play in Game 2. That's really one of the main themes, when dissecting the Rangers loss – no 5 vs 4 power-play goals and only two 5 vs 5 even-strength goals, in three games played.
With Brendan Lemieux back in the line-up, he made his presence felt early, hitting anything that moved. Everything was clean, as I'm sure DQ warned Lemieux about his status as a target by the NHL officials and how stupid penalties had to be avoided. I thought Lemieux had a great game tonight, in his one and lone playoff appearance.
As the first period continued, CZAR IGOR was clearing pucks and limiting Carolina from getting anything going. In fact, due to Igor's stellar play, he & the Rangers defense, limited Carolina to only one shot in the first ten minutes of action.
James Reimer would have a much busier night, as during this time, he stopped Brett Howden and watched Jordan Staal break up a scoring chance from the stick of Filip Chytil.
With 8:32 remaining, Filip Chytil was boxed for tripping. The Rangers PK, who finished 3-3 on the night, was a bit hairy here, but once again, there was CZAR IGOR clearing pucks and limiting the Carolina offense.
After the Rangers killed the Chytil penalty, Reimer's name was called again, this time stopping Ryan Strome. In what would be foreshadowing of what was to come, Panarin had an all alone chance, but Reimer just gloved Panarin's sure-fire shot, to knock a puck wide.
In what was a big play, that may have prevented a four on two Carolina scoring chance, Brendan Smith, without a stick, absolutely crushed Ranger killer Andrei Svechnikov:
Monster (and clean) hit from Brendan Smith on Andrei Svechnikov, who skated right up the ice with his head down. pic.twitter.com/9dWRL2XeIt

— Brett Finger (@brett_finger) August 5, 2020
It looked like Smith was an usher out there, as he gave Svechnikov a seat!
On the other end of the ice, Reimer kept doing his thing, even stopping Mika & Panarin on a two on one. Again, Carolina's best players delivered all series on these chances; Mika & Panarin did not.
As the first period closed, the score remained nil-nil. However, the Rangers were the better team and had a SOG advantage of 14-6. However, SOG advantages don't win games, as we saw tonight.
After Reimer denied the Rangers on every shot they took in the first period, Reimer would be beat on the Rangers first shot of the second period:
CHRIS KREIDER HOW WE DOIN' pic.twitter.com/ZQfivBrauJ

— Rangers on MSG (@RangersMSGN) August 5, 2020
1-0, GOOD GUYS, just 12 seconds into the period! This was the Kreider we want to see all the time, a guy just busting his ass, getting to the net and finishing.
Unfortunately, for both Kreider and the Rangers, this would be the lone Rangers goal of the game. Carolina would score the next four goals of the contest. However, at the time of Kreider's goal, you felt a little less nervous and a little bit better. After all, it was the first time the Rangers took a lead in any of these games from Toronto.
The good feelings from Kreider's goal would be short-lived.
About two minutes into the period, Carolina got the puck and had it in the Rangers zone for 90 seconds. During this time, Carolina was able to make changes, while the Rangers gassed out. Making matters worse, defenseman Marc Staal broke his stick. Instead of a forward giving Staal his stick, as Micheletti screamed about 10 times (and Joe was right) Staal was left defenseless out there.
With the Rangers unable to make a clear, Staal without his stick and the Rangers on the ice for a near two minute stretch, Carolina finally capitalized. Once again, Carolina's top line scored, with this time, Teravainen scoring, thus equalizing this game:
Teuvo Teravainen deposits a gorgeous back-hand shot and ties the game at 1-1. Andrei Svechnikov worked the puck to the front of the net, Sebastian Aho lifted a stick in the slot, and the puck got to Turbo. The Hurricanes quickly tie the game in the second period. pic.twitter.com/x4dYxsCfVr

— Brett Finger (@brett_finger) August 5, 2020
Had a forward lent his stick to Staal, it's highly probable this goal never happens. Micheletti was going nuts about this, as mentioned. David Quinn seemed irate and annoyed, in his post-game interview, when discussing this play. At this level of hockey, it's just common sense that if a defenseman breaks his stick, a forward gives up his, just like if a goalie loses his stick, a defenseman gives his backstopper his stick. For whatever reason, fundamentals weren't on display for the Rangers and it cost them.
Even sadder, in the Rangers four games in Toronto, (Isles exhibition game included) this is when the Rangers took the lead for the first time in any of these games. The Rangers held this lead for only three minutes. That's not how you win games, unless you're the 2014 LA Kings and see Henrik Lundqvist in net.
At this point in the game, the Rangers had to get back to what they were doing from the previous 23 minutes. The Rangers did just that, with Adam Fox getting a good scoring chance. However, James Reimer threw off his mask, Holtby-style, to get a whistle. I thought this should've been a delay of game call here, but I guess it doesn't matter. After all, the Rangers power-play sucked all series.
On the next shift, the Rangers third line and Brendan Smith were crashing the net and absolutely buzzing like a bee-hive. However, Reimer kept the Rangers off the board, as he did all game, sans the Kreider goal.
With 14:42 remaining in the period, Lemieux, as he did all season, drew a penalty, this time on Jake Gardiner, for roughing. Once again, the Rangers power-play was abysmal, with Carolina getting the best chance to score, while short-handed, as CZAR IGOR was forced to stop Brock McGinn on a two-on-one chance.
After the Rangers power-play had their usual outage, the tide turned a bit. This time, it was Carolina waking up and employing their devastating forecheck and their 1985 Chicago Bears defense. This is when CZAR IGOR really stood out, as he made a ton of saves and was flashing the cow on his left hand all over the place.
With 7:18 to go in the period, Brendan Smith was penalized for interference. Despite this penalty, I thought Smith had a good game overall tonight. The Rangers PK came up big once again, with Marc Staal disrupting a Carolina breakaway chance.
As we got under three minutes to go in the second period, James Reimer had the hockey gods deploy angels around him:
JAMES REIMER ARE YOU KIDDING ME!? WHAT A SEQUENCE OF SAVESpic.twitter.com/khdIxpaInA

— NHL Nosebleed (@NHL_Nosebleed) August 5, 2020
This, my friends, was the turning point of the game. The Rangers had four chances to score here, with Chytil having the easiest of opportunities to score, but Reimer and the horseshoe up his ass made all the saves, including two on Lemieux.
This was just sickening as a Rangers fan. If you couldn't score here, when were you going to score? As we'd find out – the Rangers would never score again this season.
Reimer also made me eat my words. Going into this series, I thought the Rangers biggest strength and Carolina's biggest weakness was goaltending. Instead, we saw Reimer do his "Ode to Terry Sawchuk" here. At least I got one of my predictions right – Carolina's biggest strength was coaching, and Rod Brind'Amour sure as hell, out-coached David Quinn in this series.
As the second period concluded, the score remained 1-1. If there was anything good about the score being tied, it was that this Reimer performance came late in the period, which allowed the Rangers to go into the locker room, in an attempt to forget what just happened.
In what would be the biggest and most important period of the season, with a 1-1 score and in a do-or-die game, the Rangers just crapped out.
Whatever the Rangers did in the first period of this game; well it was all forgotten in this third period. Carolina absolutely smothered the Rangers here. I would've loved to know what DQ told his team during this second intermission. Too bad Tina Forte wasn't there!
Here's what I said before the third period began:
This game has a puck off a Rangers skate into the net for the GWG all over it #NYR

— BlueCollarBlueShirts (@NYCTheMiC) August 5, 2020
Five minutes later, this happened:
Warren Foegele with a tremendous tip to give the Hurricanes the lead in the third!#LetsGoCanes pic.twitter.com/ucl0z2kLCZ

— Hockey Daily 365 (@HockeyDaily365) August 5, 2020
2-1, bad guys, after a double deflection goal, a puck deflected by a skate no less. Even worse, this was all set up by Brady Skjei, a Brady Skjei that fulfilled his promise to get revenge on the Rangers in this series.
From here, it was fingernail biting time, especially after Kreider was boxed seconds later, for hooking.
CZAR IGOR, who was great in net tonight, kept making the saves. Unfortunately, tonight belonged to James Reimer.
With 12 minutes left in regulation and with the Rangers PK now perfect at 3-3, the Rangers looked like they were skating on quick sand. They just couldn't do anything.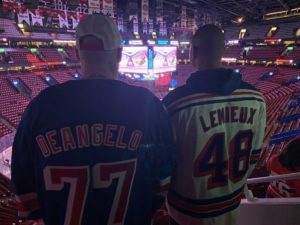 I've mentioned my buddy Ten O'Clock Tommy on these blogs before. In short, he's a good friend of mine, that also lives in the same building as me. We usually watch these Ranger games at my place. As usual, Tommy was at my place tonight. Unfortunately for Tommy, he starts work at 5AM, which means he's up at 3:30 AM every day. However, Tommy, being a diehard Rangers fan, will always sacrifice sleep for hockey, unless it's a west coast game. That's when he calls me the next day for the recap, because he knows I can run on no sleep the next day!
Anyway, with less than ten minutes to go in the period and of the game, Sebastion Aho sent a pissed-off Tommy from my place and straight to his bed:
Sebastian Aho. WOOOOW. Enjoy every angle of this highlight-reel goal from Aho, who strips the puck from Trouba and walks DeAngelo for a goal that puts the Hurricanes up 3-1 on the Rangers in game three. pic.twitter.com/YfGH9VeYVm

— Brett Finger (@brett_finger) August 5, 2020
3-1, bad guys.
Tommy's last words, as he raced out the door – "$56M for this shit!!?!?!?!"
On Aho's dagger goal, Aho strips the puck from the $56M overall man, in Jacob Trouba, dekes out DeAngelo and beats Igor one-on-one. Of course, this is when the jackals on social media started going after DeAngelo, as if he was the person who turned over the puck to Aho.
All I'll say on this goal, is that Aho is one of the best forwards in the NHL. He stripped Trouba as if he was a carjacker looking for parts. Aho, who again, is one of the best forwards in the NHL, then made a move on the injured DeAngelo and beat CZAR IGOR.
Sometimes you have to remember the other team is paid to play and score too. Unfortunately, Mika Zibanejad, Artemi Panarin & Chris Kreider forgot that, as they teamed up for three total goals this series, where Carolina's top line left those three top forwards of the Rangers in the dust. We should've seen Mika, Panarin & Kreider make plays like this all series, against the decimated Carolina defense. Instead, Carolina bubbled up the Rangers top play-makers, just like the bubble these games were played in.
Keep this in mind, even for the people who want to get on Trouba too – in the biggest and most important period of Rangers hockey of this season, the Rangers had only four shots on goal in this third period, with six minutes remaining. Where was the desperation? Where was the motivation? Where was the strive and drive to win? Where was this "NO QUIT IN NY" mantra?
At 3-1 Carolina, and with under ten minutes to go, this is when I saw Ranger fans on social media check out. It was all about next season. And I can't lie – I was one of those people. The Rangers just couldn't score in this series. That's the story.
This is also when I tried to do my glass-half full stuff. Here are some things to be optimistic about:
— No Steve Valiquette for at least four months.
— The Rangers now have a 12.5% chance at Alexis Lafreniere. And hell for me personally, if the Rangers do land Lafreniere, there's a good chance he'd wear #22. I have a Shattenkirk jersey, that I'm looking to rip the name plate off of. I was going to turn it into a Nick Fotiu jersey, but maybe I'll wait until after the second phase of the NHL draft lottery, which is scheduled for this Monday!
— No more stress about the playoffs. I can watch all the games stress-free now and just enjoy it!
— Tony DeAngelo can now return to his successful "Watch Your Tone" podcast. Plus, based on the crap I saw from these basement monsters, he now has plenty of "Mean Tweets" to go through!
And yes, truth be told, this is my feeble attempt about being joyous about the Rangers one-week vacation in Toronto.
As we got under two minutes to go in this game, CZAR IGOR was pulled and DQ took his last timeout of the season. With just 91 seconds to go, Jordan Staal was called for hooking. This gave the Rangers a 6 vs 4 empty net attack. Instead of forcing the issue, in one last desperate attempt to make this game interesting, the Rangers passed the puck around, as if they were playing "monkey in the middle".  Sebastion Aho would finally have enough, and seal the deal, as if it wasn't sealed lock-tight already, with an empty net goal, with just 29 seconds remaining in regulation.
4-1 bad guys. 4-1, your final, in the Rangers last game of this season. And let me say this here – this season was much better than the last two seasons.
Furthermore, even as I write the obituary of this 2019-2020 season, I feel much better now, here at the end of this 2019-2020 season, than I did at the end of the 2015 (Rangers best chance at the Cup, which was pissed away), 2016 (Rangers dominated by Pittsburgh), 2017 (Embarrassing upset to shitty Ottawa), 2018 ("The Letter" Season), and 2019 (first year of the rebuild) seasons. I believe there is a lot to be happy about, when you look at the Rangers going into 2020-2021 and beyond.
---
There's a lot of stuff to say about the Rangers season, with it now complete. However, as I write these words, it's very late, everything is very fresh and I do want to see the player exit interviews, whether they take place tomorrow or on Thursday.
However, as I wind down this blog, I do want to give you a few parting shots, points that I will later expand on in a future blog. After all, I know this blog is long enough already.
Up first, here's what DQ said after the game, as transcribed by NYRangersNews.com:
On what went wrong, "I know our guys internally have talked about the way this series got off in the first-two of the series and thought that being overly physical was the way we were going to have success instead of just playing our game, that certainly wasn't the case. Give them a lot of credit, after two games you watch the tape and are like 'who is this?' This isn't the team we've had the last 2 1/2 -3 months since March 11th. One of the things that I thought happened tonight, for two periods we looked like the team everybody had been watching the last 2 1/2 months. We just weren't able to get it done, some great scoring chances in the first two periods. Their guy made some great saves, weathered the storm. The situation we are in, we will probably have more pushback. I'm sure they were feeling good after two periods. We had some chances to pad a lead or have a lead and weren't able to do that. They get the second and then third one, we haven't, in this stretch here, – give them credit they did a great job of locking things down. The better team won the series, call a spade a spade. You play three games and they unfold the way they did and the best team won."


---

Was this good experience, "As I sit here right now I don't view this as a good experience in any way, shape or form. Maybe when the dust settles and emotions subside, you look back at this season and the last 2-3 weeks we've been together and think 'we continue to move forward as an organization, but that is certainly not how I feel today."


---

On his own experience in the playoffs, "you are always learning as a coach regarldess of the scenario or situation, always trying to make yourself a better coach during the regular season and through playoff experiences. This is a little different playoff experience than if we were home and home and playing in buildings that were packed and atmosphere, it's just a different experience. Obviously the stake were higher than the regular series, I've referenced that we feel like we've been playing playoff hockey type games since January. For me it didn't feel much different at all. Looking for an opportunity as a coach to get better and learn lessons with each game I coach."


---

On Shesterkin's game, "He played well, certainly our goaltending wasn't the problem in this series. Our offense, we scored 4 goals in three games, you are not going to win a series doing that. Our goaltending was the least of our problems."


---

What happened on their first goal and shouldn't a forward give Staal his stick, "yes he is. A laundry list of mistakes during that stretch, we don't get it out, running around in our own end, we don't box out, Staalsie loses his stick, we don't give him a stick. Mistake after mistake and it's 1-1 and we were able to ride any momentum after getting our lead."


---
I'll get deeper into Quinn, during a future blog of this website, but for right now, you could see he was pissed off about how this all went down. No one wants to be the first one out of a tournament, much less being swept out of it.
All season long on this site, I have defended David Quinn. I like him and I know the front office likes him. For all the people who are screaming "FIRE DQ" from the rooftops right now; well that isn't happening. You have to keep in mind what this season was about. Again, these playoffs were house money. The Rangers over-achieved by even having these games. I think the Rangers are further ahead in this rebuild, RIGHT NOW, than where they expected to be at.
At the same token, I don't think you can give DQ a "get-out-jail-free" card here either. He is on the hook for this series loss too. For whatever reason, while I get Carolina is the better team, the Rangers were horrible throughout this series, with a few hope spots sprinkled in. The Rangers were just never prepared. That's on DQ.
While I do understand injuries played into this series (Fast/Igor/DeAngelo/and who knows who else was hurt during these games?) Carolina was banged up too.
Lastly on DQ, as many people said, even my own dad, a fan of the Rangers for nearly 70 years – "these games looked like men vs boys". Why were the Rangers so over-matched in this series?  Why did they look lost for long stretches of time? Why did they give up in games? These are the questions at DQ's door-step right now.
One last time here, I'll get more into this during a blog in the future & after I hear DQ's exit interview.
---
As far as all the free agents that the Rangers have to sign for next season, I don't think any of these games will play a factor into the Rangers decision making, regarding who to keep and who to pass on from, while moving into the 2020-2021 season.
You just can't forget 70 games, because of three games against a better team under never-before-seen conditions. And again, let me point out for the last time, that the Rangers may have not made the playoffs anyway, had the season not been effected by the pandemic.
For all these people who hate Strome & DeAngelo and want them gone, are you also discounting the seasons Mika & Panarin had too? After all, none of the Ranger play-makers showed up in these playoffs.
Again, I'll expand on all of this stuff in a future blog, but I do see Ryan Strome, Brendan Lemieux, Tony DeAngelo and Alexandar Georgiev, all returning to the Rangers for the 2020-2021 season. To a lesser extent, I see Jesper Fast returning too.
The one hold-up I see with Fast, is that with the salary cap staying flat, I don't know if the Rangers will want to give him a long-term deal, especially with Fast due for the biggest contract of his career. Other teams may out-bid the Rangers for the services of Fast. Had the cap gone up, then I think a Fast return would be a no-brainer. However, when I look at Fast as opposed to Strome/Lemieux/TDA/Georgiev, all four of those players are younger and are either in their primes or about to enter their primes. I think Fast's best days are behind him.
Of course, the biggest topic here? Why once again, it's Henrik Lundqvist.
For the last time on this blog, I'll say this – I will talk about all of these topics, in-depth, on a future blog. However, I have to chime in a few thoughts on Lundqvist here, as he was a topic of this entire broadcast.
With the Rangers pretty much done in this game and series tonight, Sam Rosen & Joe Micheletti editorialized the end of Lundqvist's career, as if Lundqvist was 100% a goner. Then, in the M$GN post-game show, Steve Valiquette, the biggest Lundqvist cheerleader around, pretty much threw the dirt on the casket of Lundqvist's Rangers career.
I'm not going to rehash all of my stuff on Lundqvist here. You know my "greatest hits" by now.
I do want to say this – I think Lundqvist is a goner too. It's just a shame the Rangers didn't trade him five years ago, when I first suggested it; a suggestion that has led to a lot of hatred my way from many NYR fans. However, now that I was proven right about all my points about Lundqvist, the salary cap and everything else, ask yourself this – "What would've been better? The Rangers trading Lundqvist after the 2014-2015 season, and getting a major haul back; or being forced to buy him-out in the present time & have more dead cap space on their financials?"
And yes, while Lundqvist has one more year remaining on his contract, you heard it from the M$GN guys tonight – his time is done. Micheletti & Rosen even went out of their way to talk about how Georgiev is beloved and needs to stay. As everyone knows, Igor is the guy now.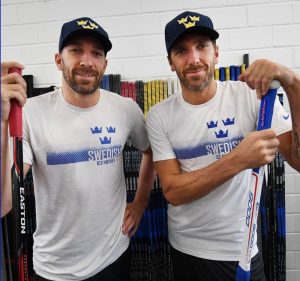 When you look at Henrik Lundqvist and the history of NYC sports of the last 30 years, he is one of three beloved athletes to never win a championship in NY. Like Patrick Ewing & Don Mattingly once were, Henrik Lundqvist is synonymous with NY sports. While I have always looked at Lundqvist through the eyes of a GM, I understand why so many fans love him. After all, I was heartbroken when Mattingly called it a career too. I can still remember to this day, 25 years after the fact, talking to my grandfather in my parents living room, and being irrationally pissed about Tino Martinez replacing Don Mattingly. However, while we didn't know it then, Tino would do great in replacing Mattingly. What we do know now, is that CZAR IGOR can replace Lundqvist, without the Rangers missing a beat.
We all know that I would've got rid of Lundqvist years ago. He would've been my first name to go, in a Rangers on-the-fly rebuild. As I've said for years, you just can't win a Cup with a Top 5 paid goaltender. You need to invest your money elsewhere, as the Rangers are now doing with Artemi Panarin.
I understand what Lundqvist has meant to this franchise and this NYC community. However, we've hit the final stop of the Swedish train. I think from everything we've read, seen and know – Lundqvist won't be back.
So what happens next? I don't see any team trading for Lundqvist, even if Lundqvist waives his no-move clause. After all, with the salary cap flat, who is trading for a $8.5M cap hit goalie? In addition, even if the Rangers would assume half of Lundqvist's salary, who's trading for him? The other teams in the league have to worry about their cap issues and their goaltenders. The only "ready to win" team of next season, that could use a goalie, would be the Oilers, but I can't see Lundqvist wanting to play there. And the Oilers have cap issues to boot, so I don't see them taking on the $4.25M cap hit for Lundqvist either.
In a perfect world, at least from the eyes of the Rangers front-office, like Eli Manning, Henrik Lundqvist would retire, thus giving the Rangers $8.5M of salary cap relief. However, if you're Lundqvist, why would you give up your $10M annual salary? After all, after this 2020-2021 season, it's hard to envision seeing Lundqvist ever earn this type of money in his lifetime ever again. While he's set for life, who is giving up $10M, just by showing up to work every day?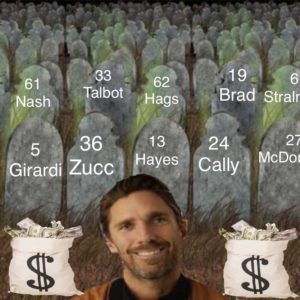 I don't see a scenario where a team takes Lundqvist's contract or where he retires. In what may be a possibility, perhaps if the corona virus pandemic is still raging in December, NHL players will be offered the opportunity to opt out of the season. This would give the Rangers salary cap relief. From there, Lundqvist's best move may be to rejoin his home team of the Frolunda Indians, where he can try to win a championship with his brother Joel Lundqvist.
In the event the Rangers are forced to buy out Lundqvist, it may be in Lundqvist's best interests to play the 2020-2021 season in Sweden anyway, just because of this pandemic. Lundqvist would get more work in Sweden, and assuming a COVID-19 vaccine is available after the 2020-2021 season, perhaps Lundqvist can try to "Ray Bourque" it, with an NHL return. Of course, he would be 40 years old by then, but perhaps if he's willing to accept a back-up role in the latter stages of his career, he could finally win the Cup that he so desperately wants.
Of course, for people like Lundqvist, athletes who are used to playing at a high level, he may feel that a back-up role is beneath him. However, if he looks at Cup winning & Hall of Fame goalies from NHL history, he'll see that guys like Jacques Plante, Gump Worsley, Glenn Hall, Terry Sawchuk and others, all accepted these roles, which in turn, extended their careers and their hardware.
I think the writing is on the wall. Lundqvist has played his last game as a Ranger. These exit interviews may give us more information.
Oh, and raise your hand if you're looking forward to my blog when the Rangers sever ties with Lundqvist!
---
If you haven't already, subscribe to this blog for the next update: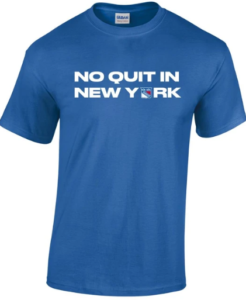 Despite this Rangers season being complete, I'm not going anywhere, although I do want to carve out time to finish this book I started.
Moving ahead, I may even be back as soon as tomorrow, by recapping the latest Ron Duguay "Up in the Blue Seats" podcast. I doubt we'll see a new episode of "Watch Your Tone" though!
I'll also have any news and information, regarding the NYR exit interviews.
As we get deeper into the playoffs, I'll have some NHL playoff blogs too, as I'm loving these games, despite the Rangers ousting. I'll have a playoff preview blog, once the round-robin and play-in round games are over.
If you get anything out of this closing – I'm not going anywhere. Plus, fingers crossed, the Rangers may land the #1 overall pick of the 2020 draft on Monday! It's the last thing we have left to root for, as this season now comes to a close.
One last thing before the sign-off. I know this all sucks now, but be proud of these guys. The future is bright. The Rangers aren't saying goodbye to the playoffs. They are saying "See you later." The Rangers will be back and they will be better.
Keep the faith.
LET'S GO RANGERS!
Sean McCaffrey
BULLSMC@aol.com
@NYCTHEMIC on Tweeter and the new Parler app